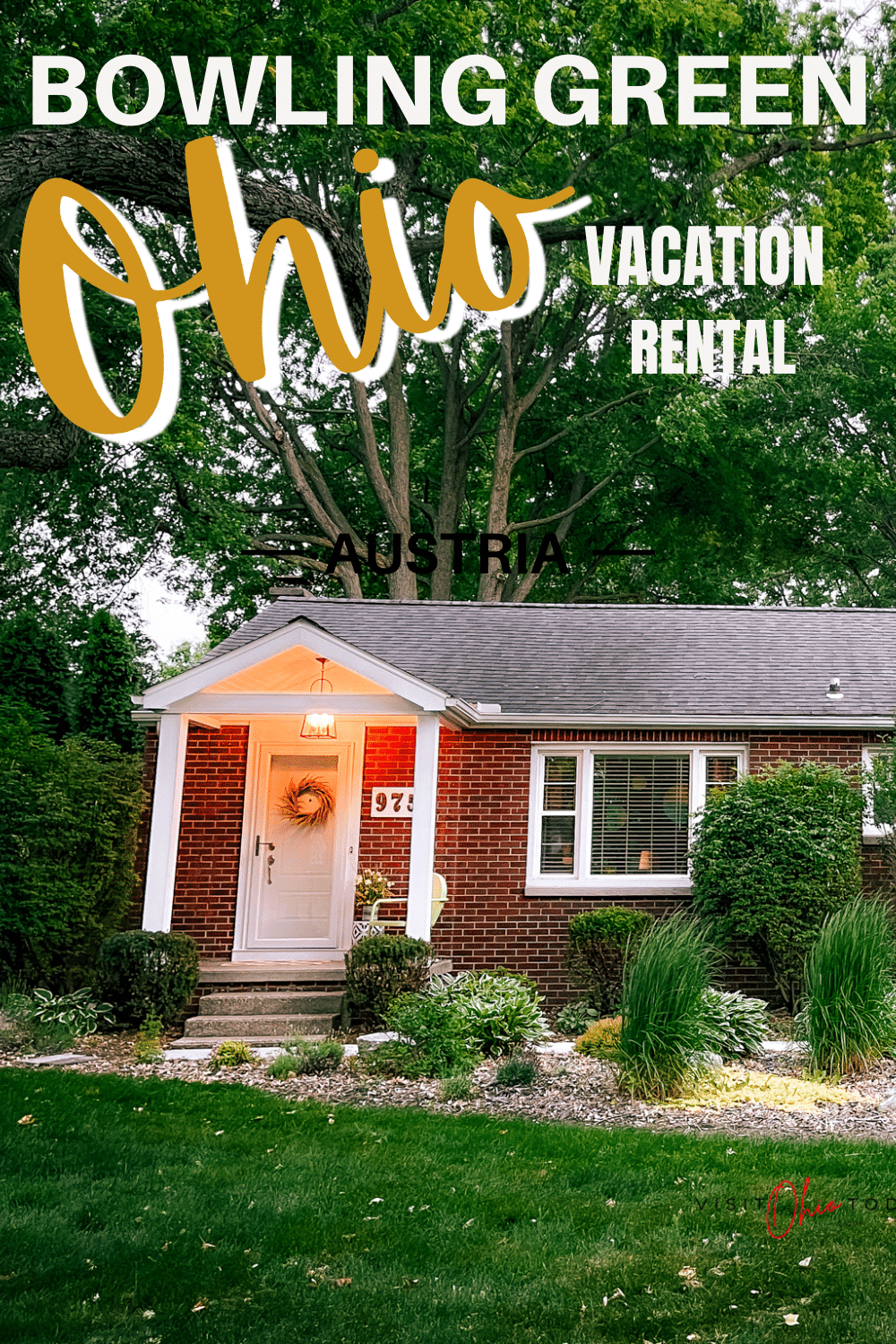 Step into mid-century modern magic at this exquisite Airbnb rental in Bowling Green, Ohio. Immerse yourself in stunning decor, pristine cleanliness, and ultimate relaxation with 3 bedrooms, a game room, and an indoor/outdoor hot tub nestled in a breezeway with access to a backyard oasis.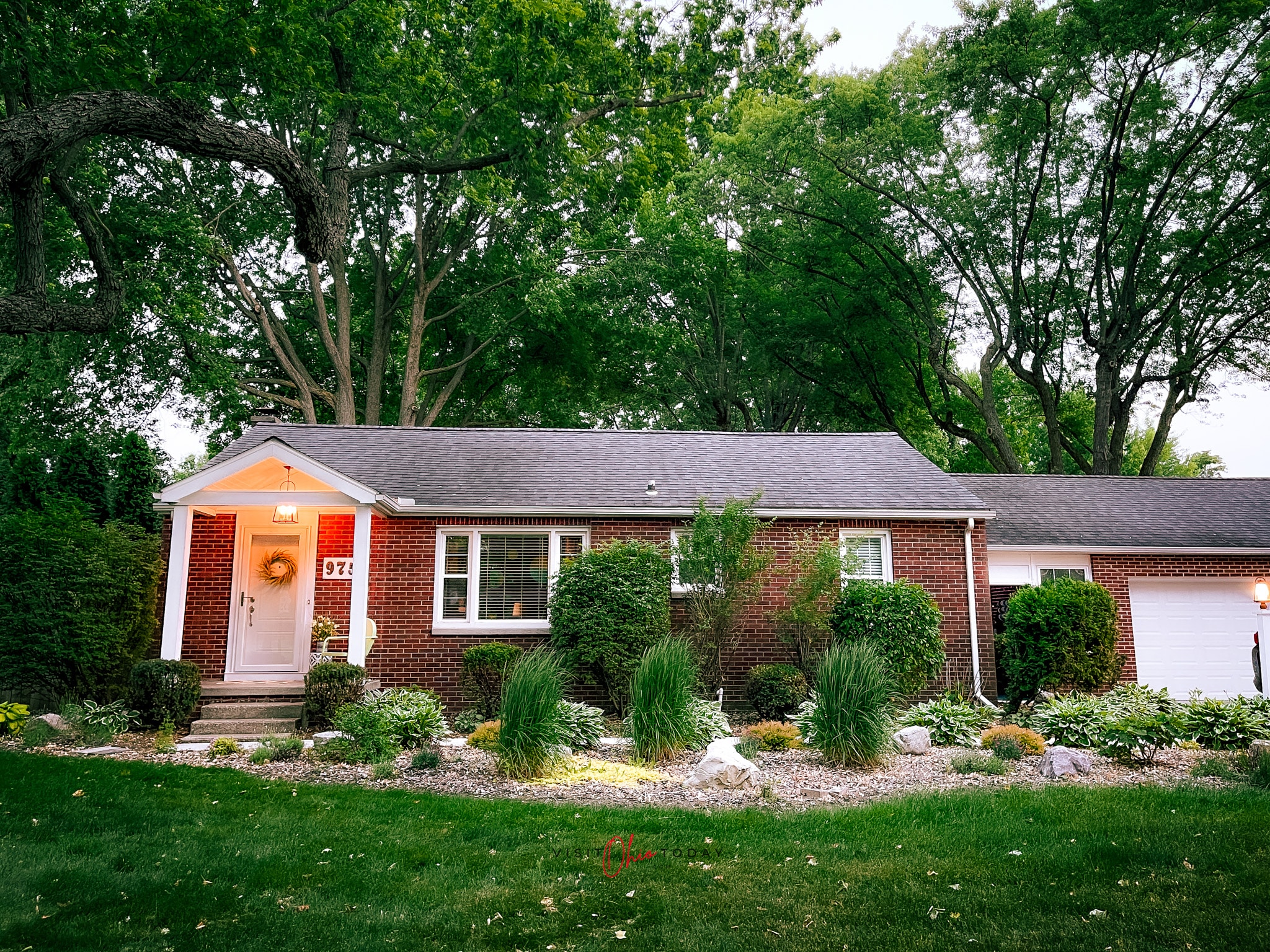 Chic Mid-Century Getaway
Pulling up to this home, you can tell this isn't your typical rental. Plenty of private parking, a fully landscaped front yard, and a welcoming porch (perfect for enjoying your morning coffee).
Entering the front door, it immediately hits you how clean and well-thought-out this home is. The color scheme, thoughtful choices of decor, and extra amenities provided by the owner go above and beyond what is expected.
Starting with the retro keys on the entry table. As a note, throughout the house, outlets are childproofed, lighters for the fire and detergent tablets are put out of the reach of children.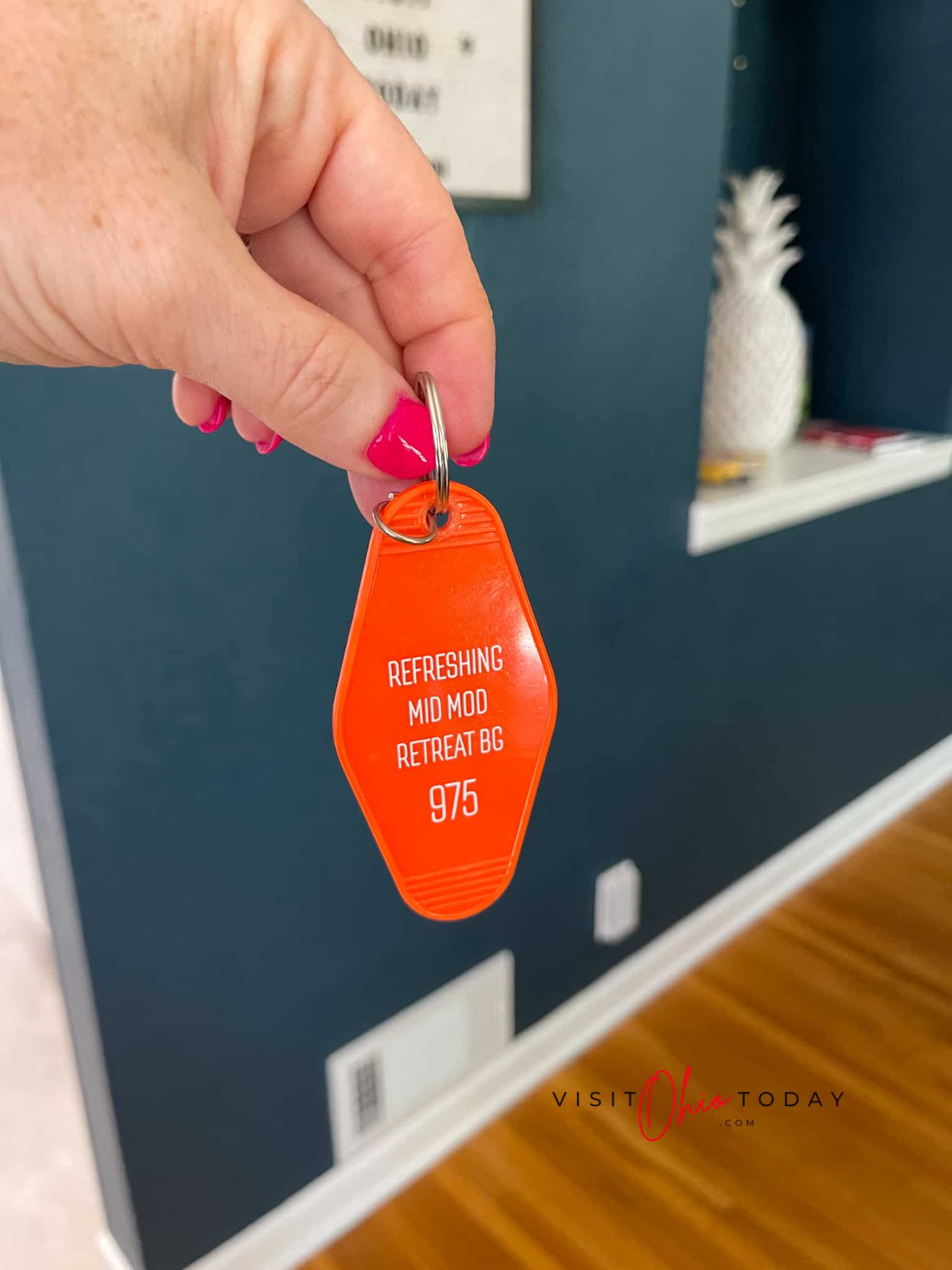 The owners take hospitality to the next level. If you need something, don't be afraid to ask. But if you need space, this is your place for some R&R.
I had the pleasure of having a conversation with the owners of the property and was fascinated that they took the time and care to deep clean and sanitize between each guest, including ozone cleaning, a powerful oxidizer that destroys a host of germs, bacteria, and other contaminants. Due to these cleaning processes, there are no back-to-back bookings.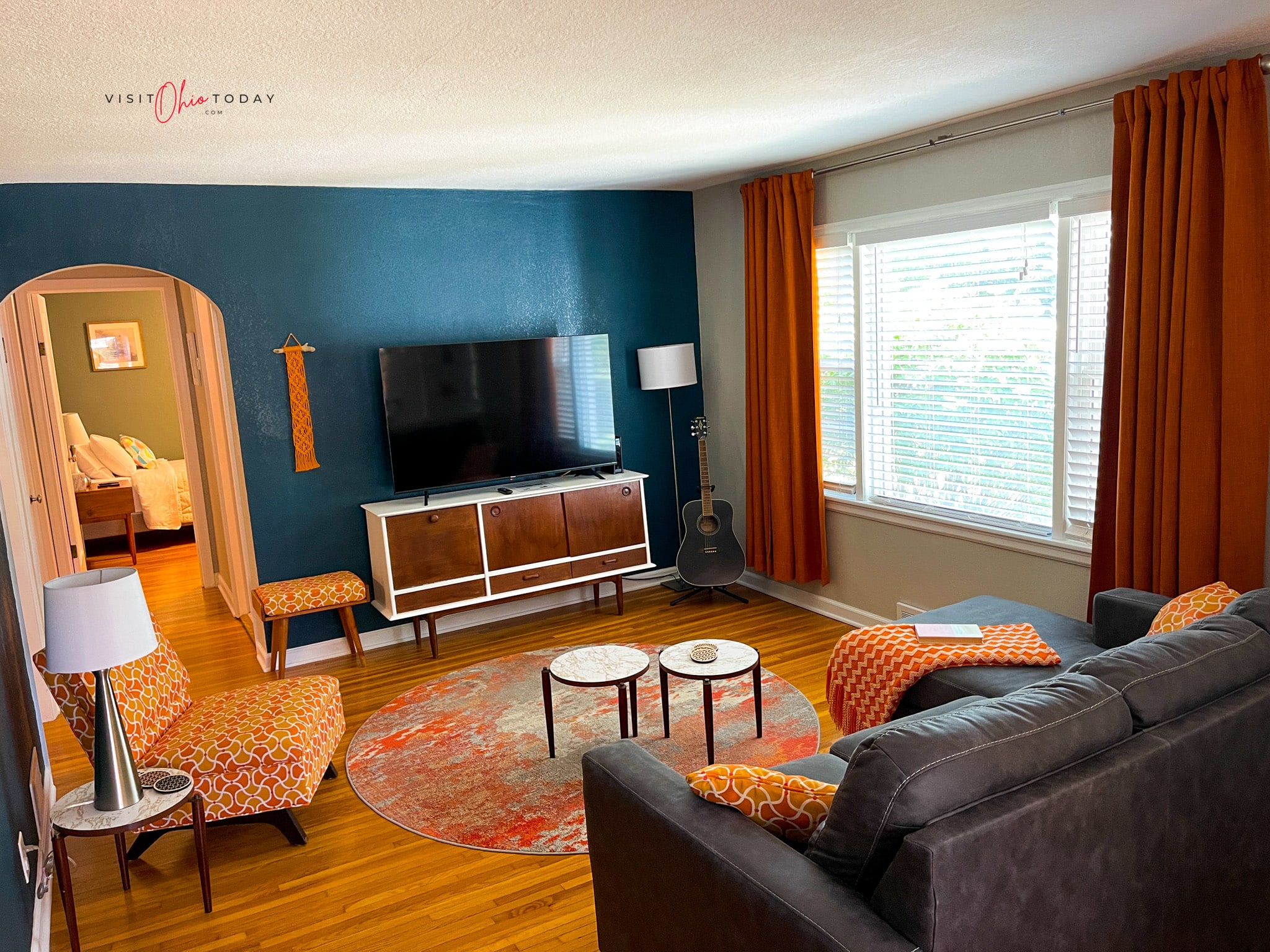 Living Room
This living room is not just fitting of the time period of the house, but comfortable and welcoming. Hanging out on the couch and picking out a good movie to watch would be the perfect activity for a rainy or snowy day.
The original hardwood floors are in pristine condition and have a round area rug if you want to play a game on the coffee tables. The couch also converts to a bed for additional sleeping.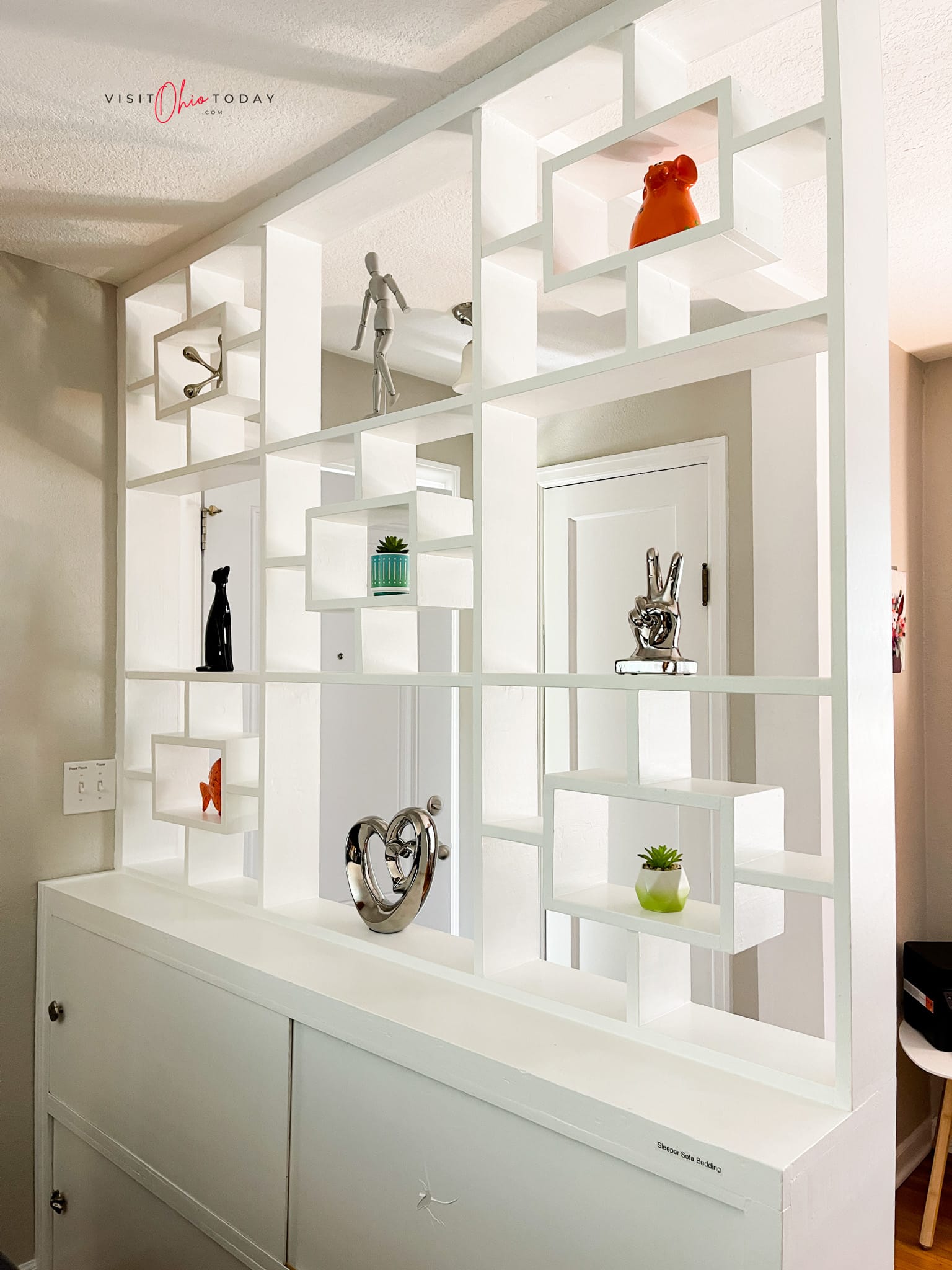 My favorite part was the decor pieces around the room. They fit with the style perfectly without the visual clutter you see in many rentals. It's the perfect balance between decor and minimalism.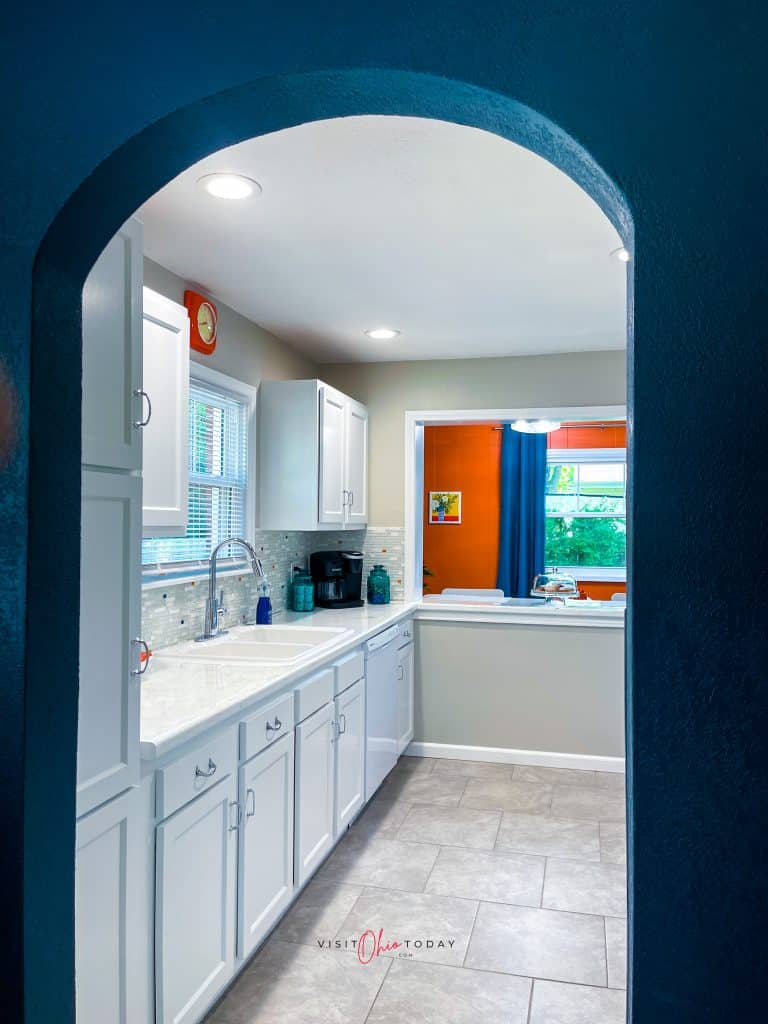 Kitchen
The kitchen is fully stocked and neat as a button, this is not a rental where you would be wary of using the crockpot, utensils, spices, or anything provided!
Nothing is left from the previous guests, giving you a clean slate for whipping up your own culinary creations. Although there are a plethora of local eateries, I was excited to use the high-quality pots, pans, and cooking utensils to whip up a meal!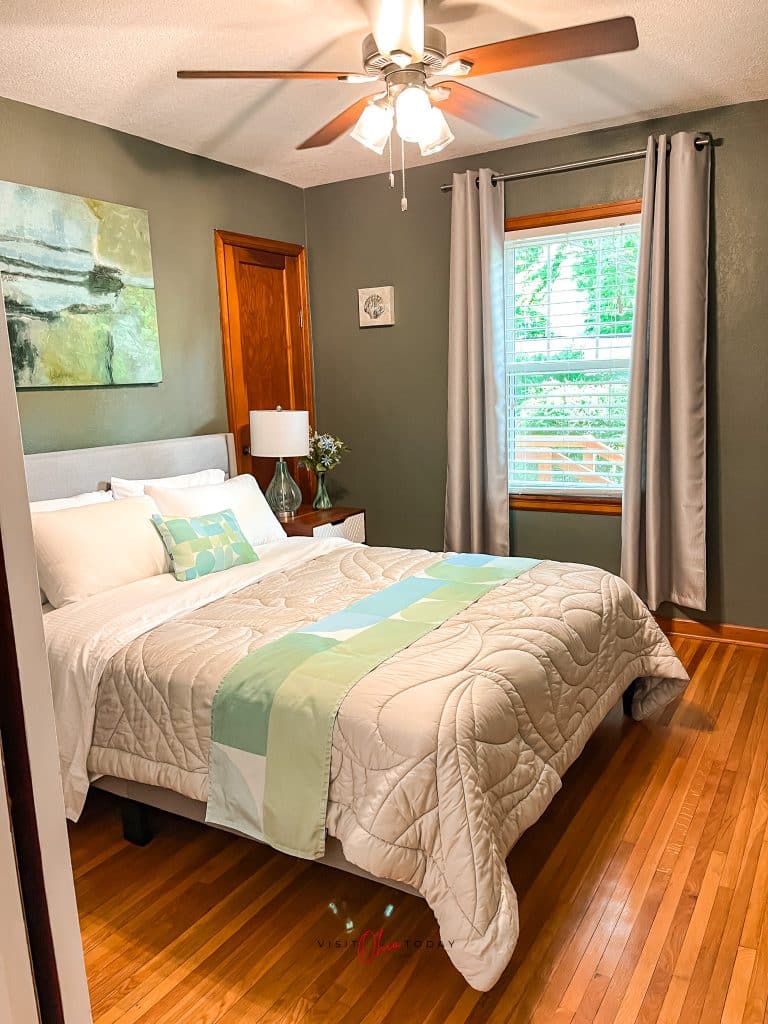 Bedrooms
The ambiance of this house continues throughout the three bedrooms. All the bedrooms include televisions and bedside tables perfect for charging your electronics.
Hardwood floors and mid-century modern touches continue throughout the three bedrooms, including artwork from local artists. The beds are comfortable with lux linens and each room is equipped with ceiling fans and nightlights.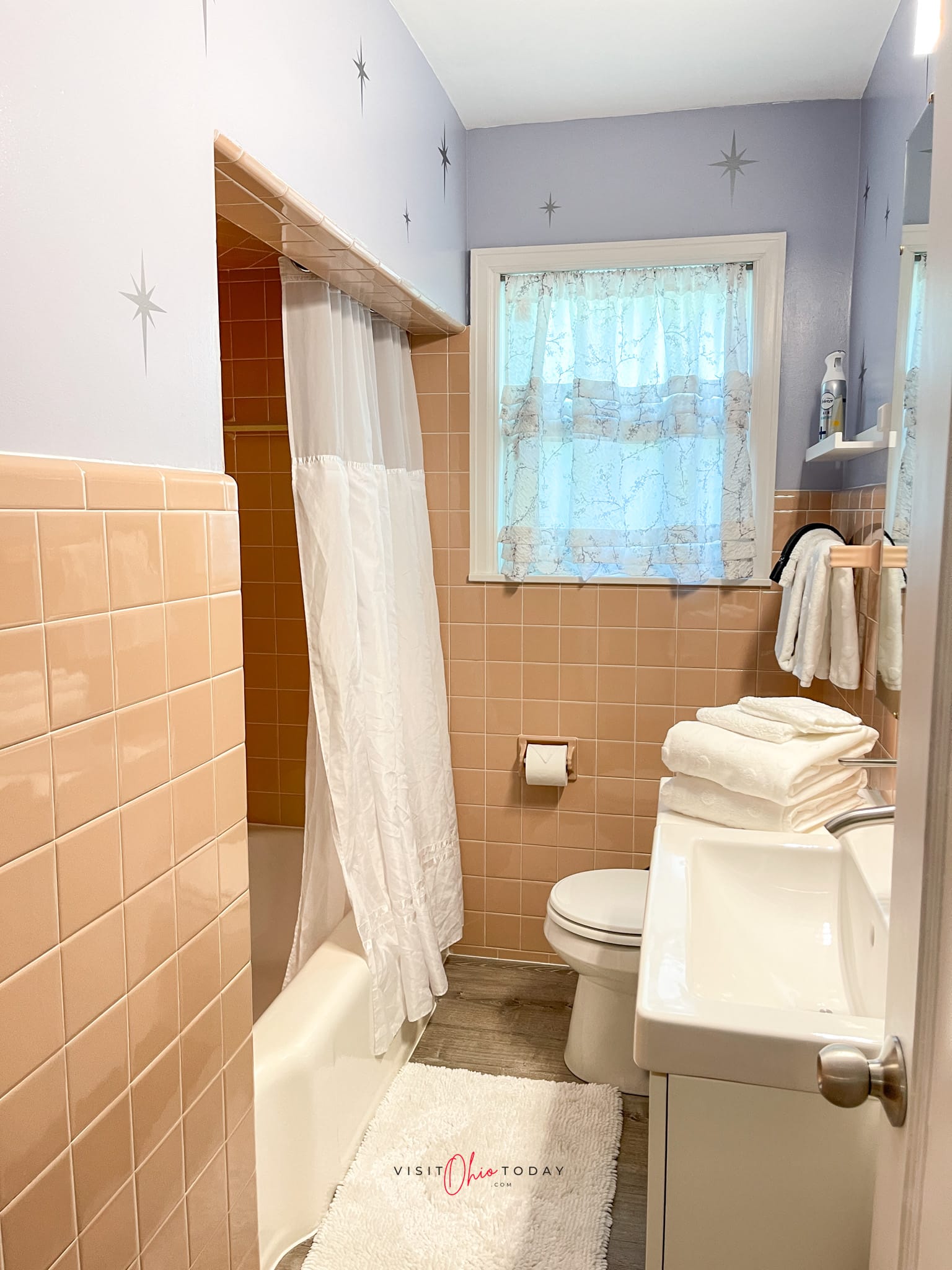 Bathroom
The bathroom is immaculate. The pictures DOES NOT do justice for how beautiful this bathroom truly is!
The original mid-century modern tiles are so clean they look like reproductions. Plush towels add to the luxuriousness of this small but ample bathroom.
The hostess has also included Doterra shampoo, conditioner, body wash, and lotion for use during your stay. Need an extra towel, band-aid, or stain stick? Check the hall linen closet for anything you might need.
Basement
The basement has amenities that would draw any game-lover in. The foosball table was the first eye-catcher, fully decked out with comfort mats to stand on.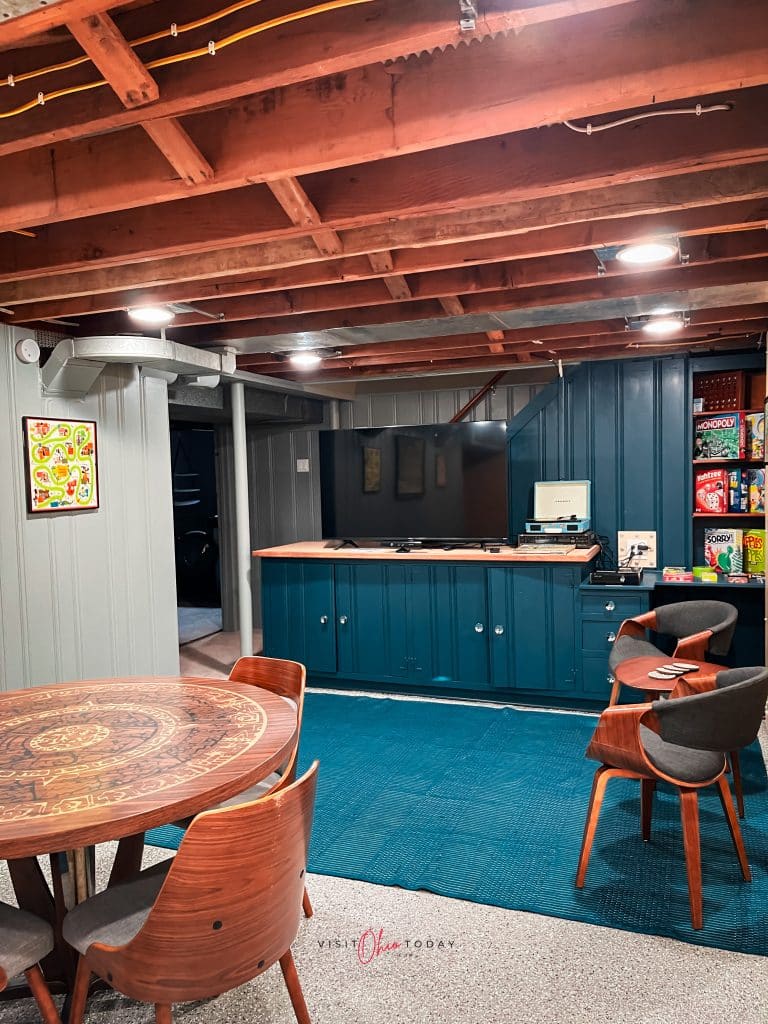 There are board games, card games, and Xbox games galore. Not up for a game? Try out the record player and listen to some records, including some of my favorites Tony Bennet and Dave Brubeck or go instrumental with some Orchestral or Polka music.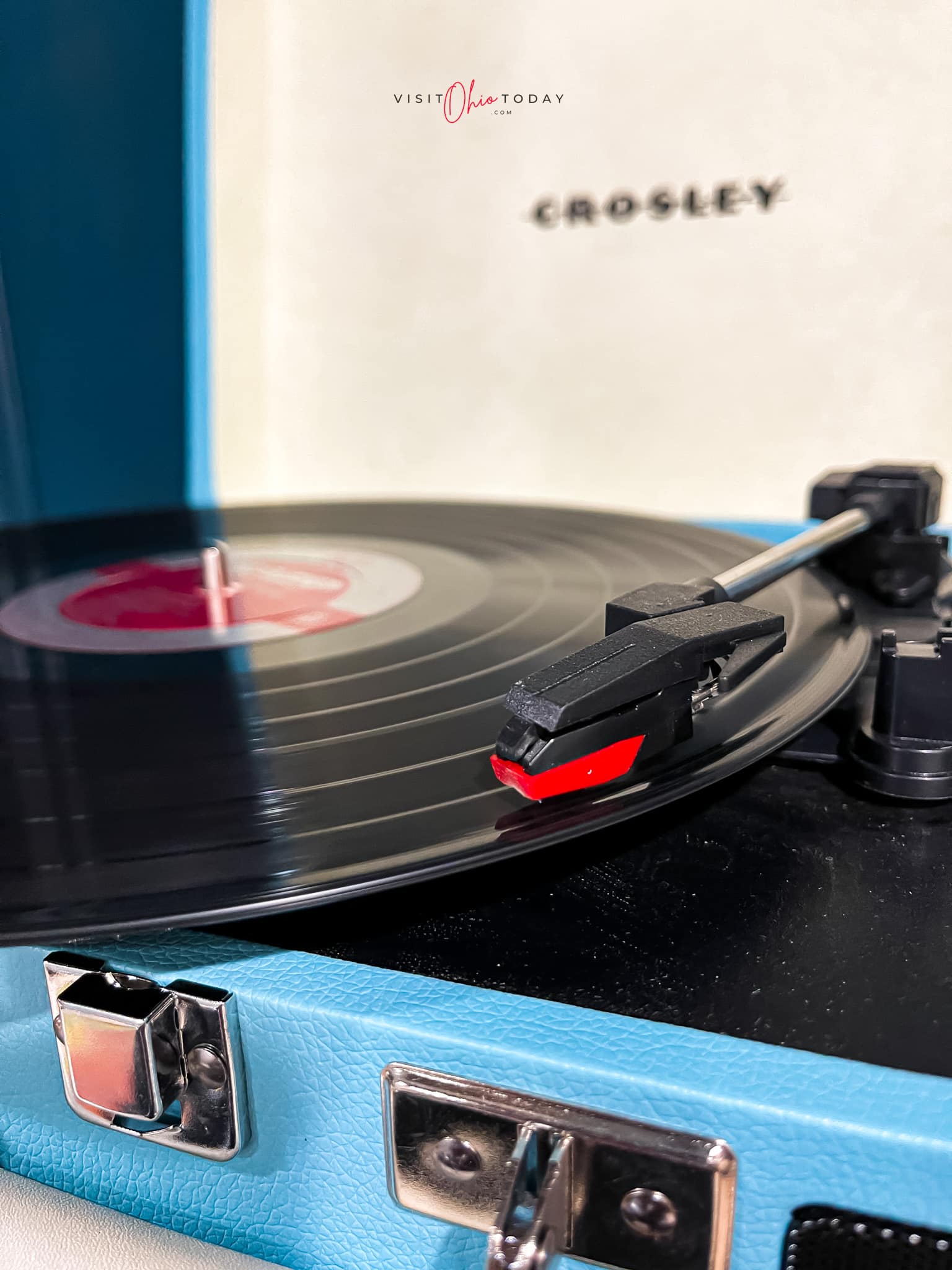 Have littles? Try out the wooden puzzles or let the hostess know and she will put up the circus tent. The basement floor have been epoxied and has a beautiful area rug in front of the television, perfect for sitting and playing games on.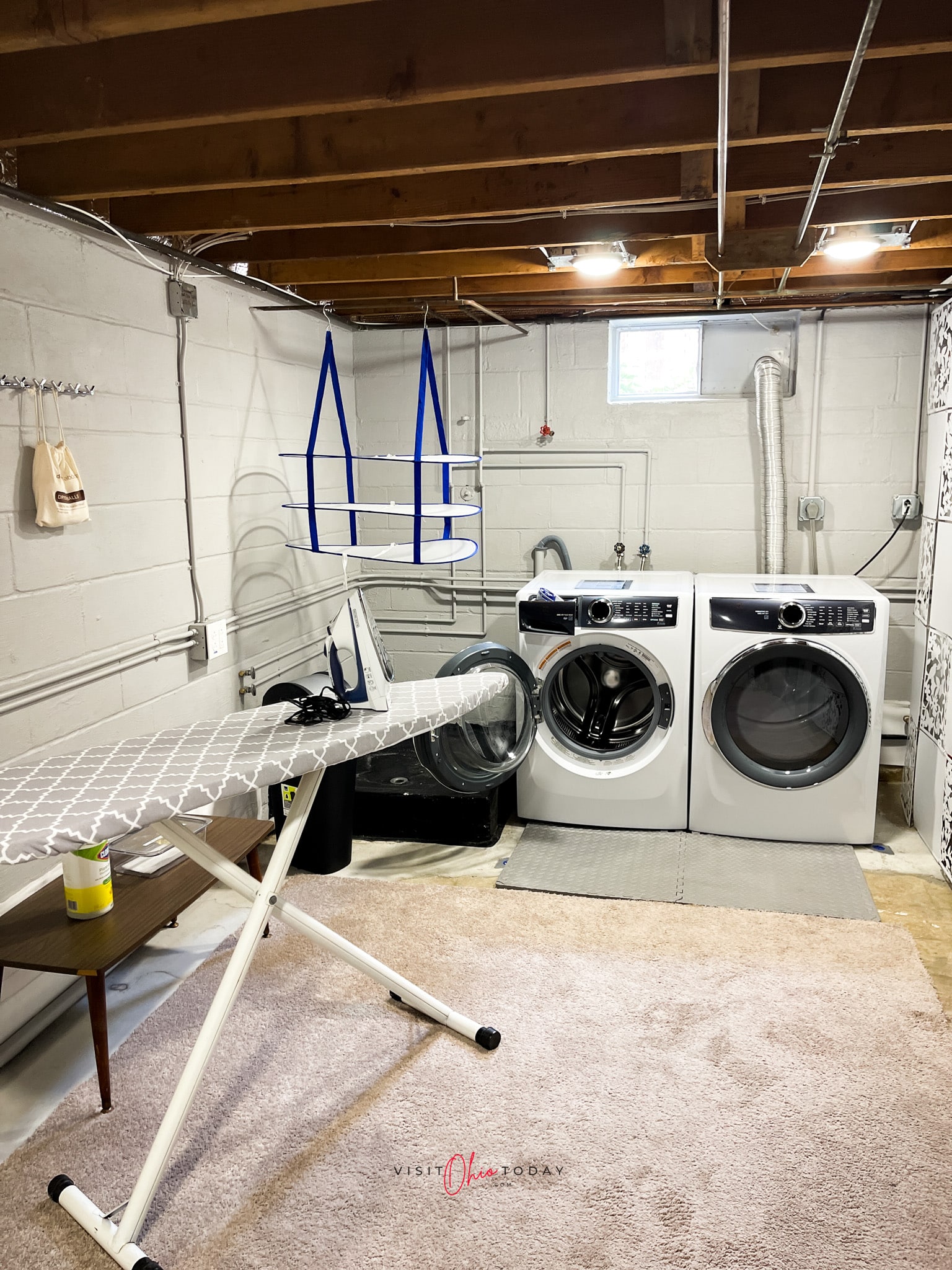 Also available for use are a full-size washer and dryer, iron, and ironing board.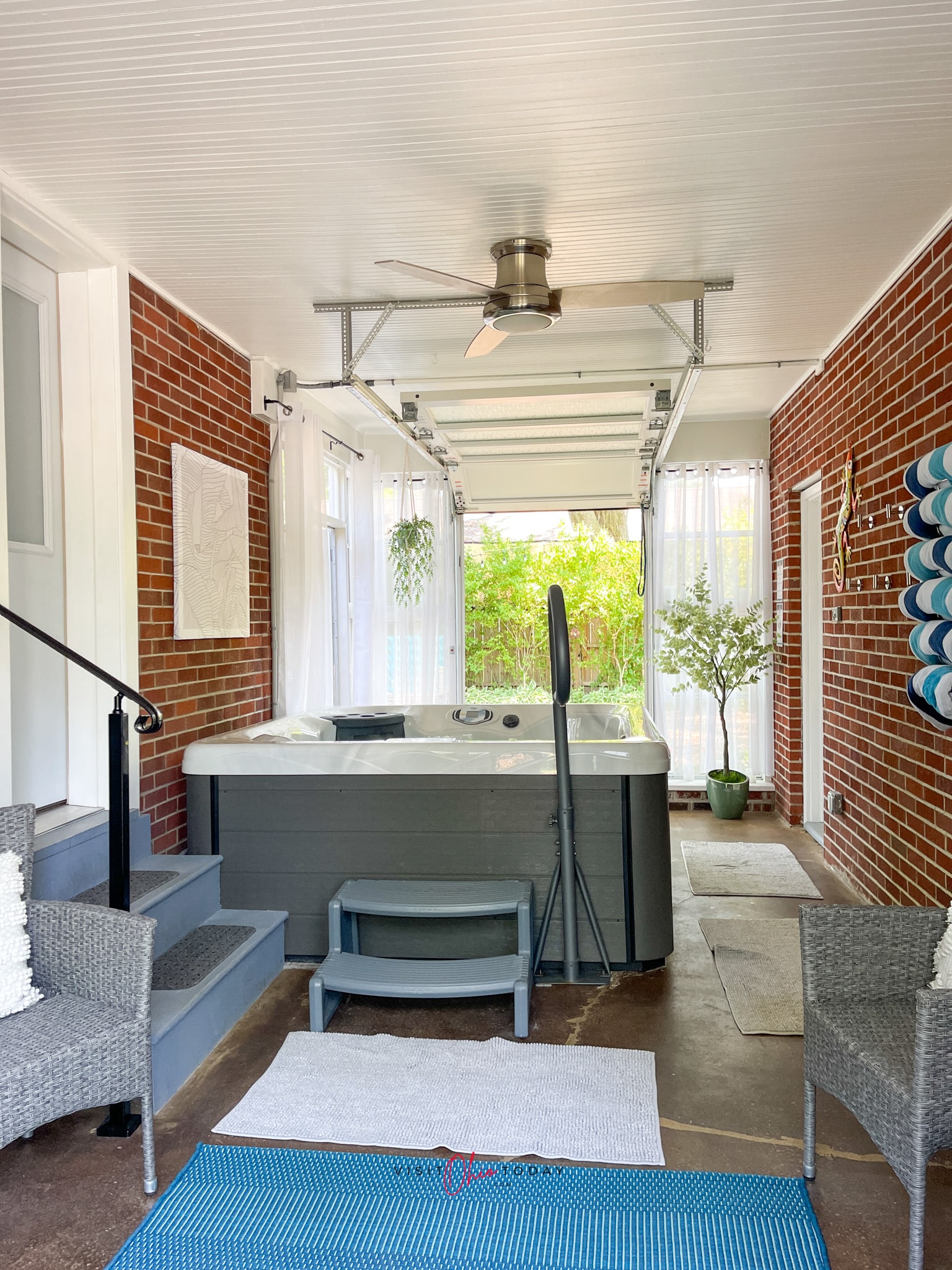 Breezeway
The breezeway may be one of the most well thought out hot tub experiences. Looking for privacy? Keep the garage door closed. Want to enjoy nature? Open the garage door to enjoy the breeze, sunshine, or nighttime air.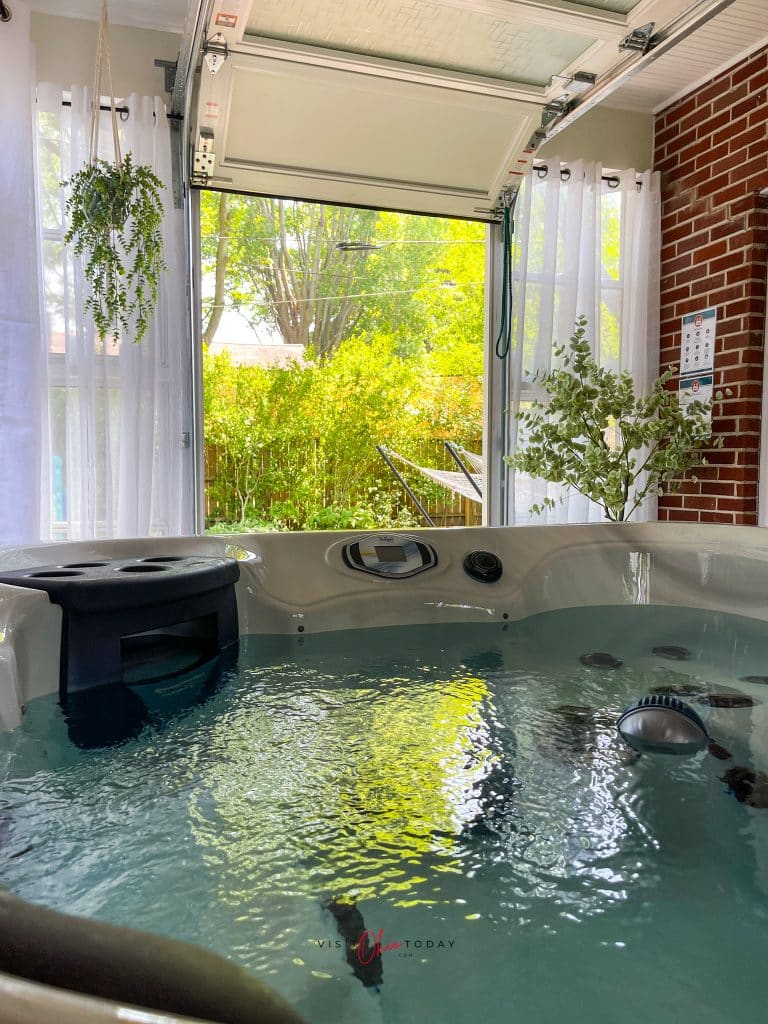 Even on the coldest winter night, this hot tub experience would be enjoyable, especially in the evening with the battery-operated candles aglow. Plenty of towels and towel hooks for use.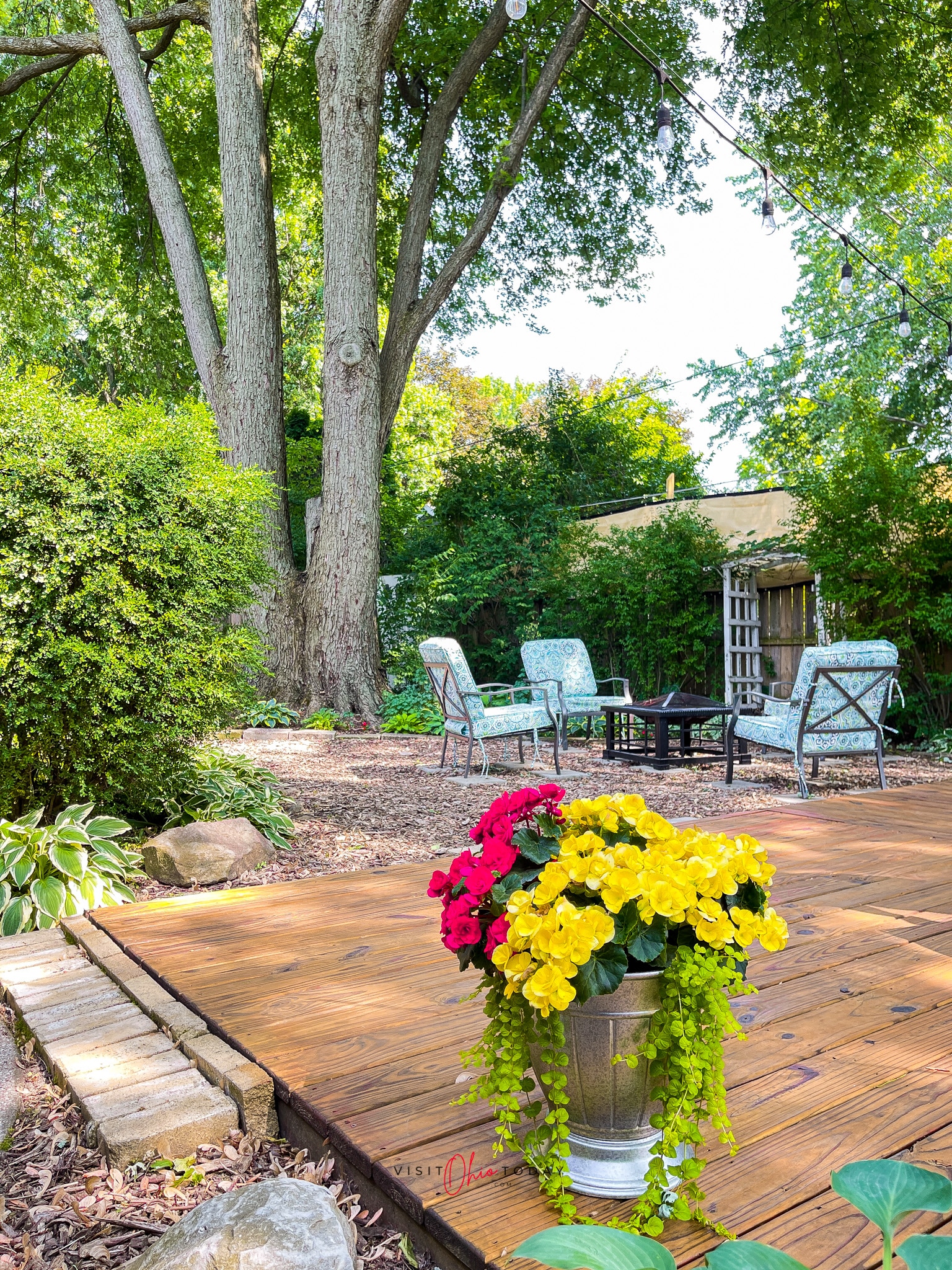 Outside
The backyard is a private oasis for all ages. Are you ready for full relaxation mode? Take a nap in one of the two hammocks under the tree canopy.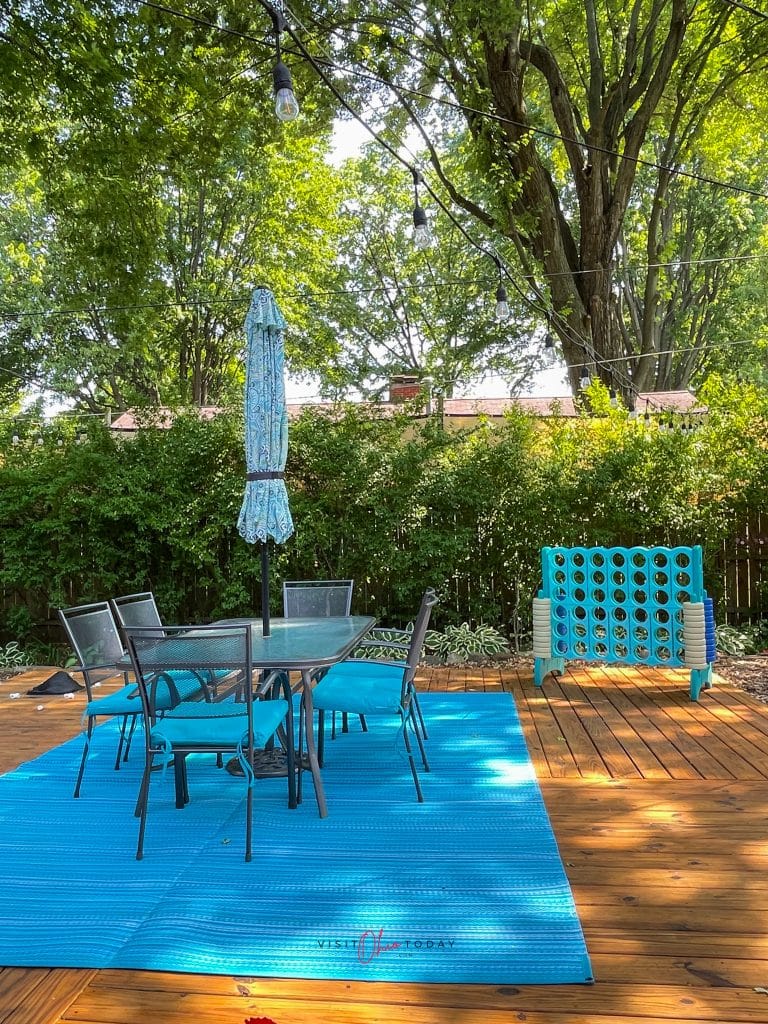 Then enjoy dinner with your loved ones at the 6-person glass patio table surrounded by the lush landscaping and beautiful flowers before making smores at the fire table. There is ample room to spread out or enough seating to be together. The connect four and light-up tic-tac-toe games are fun and add to this family-friendly fenced-in backyard.
Let's go to Bowling Green
A HUGE thank you to the owner Michelle, for hosting me. Her dedication and enthusiasm in hosting me, sharing captivating stories about the house's history, and guiding me through its unique features truly made my stay unforgettable. And Michelle does this for each and every guest!
I genuinely appreciate the effort she puts into creating an unforgettable experience for the guests. I look forward to returning in the future and creating more cherished memories in this remarkable Mid-Century home.
Connect with Michelle and her Bowling Green, Ohio rental at their website, here. This mid-mod century rental is also on Facebook and Instagram. You can also book directly on AirBnb.