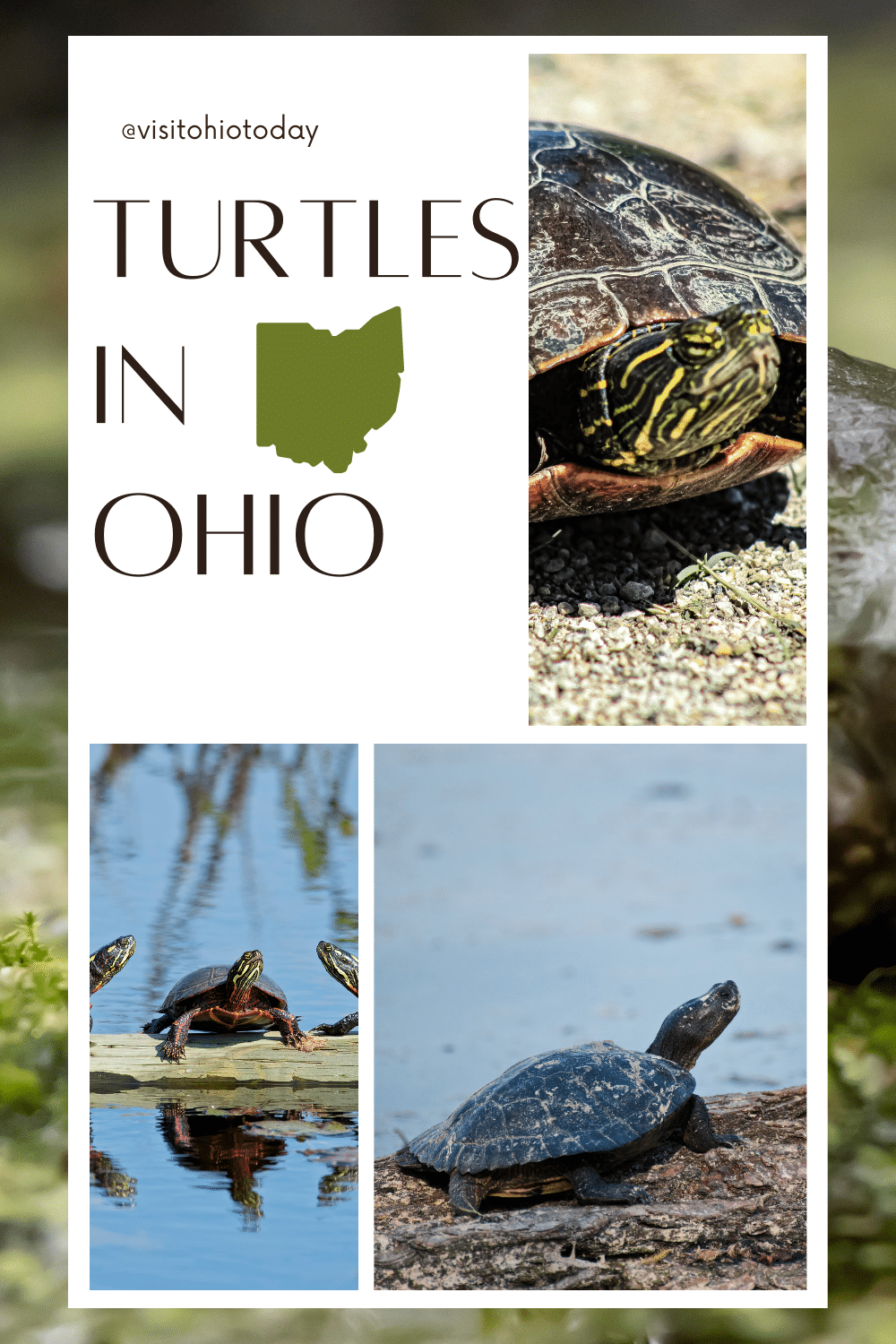 There are 12 species of turtles in Ohio. Read on to learn about all Ohio turtles and learn how to identify turtles in Ohio.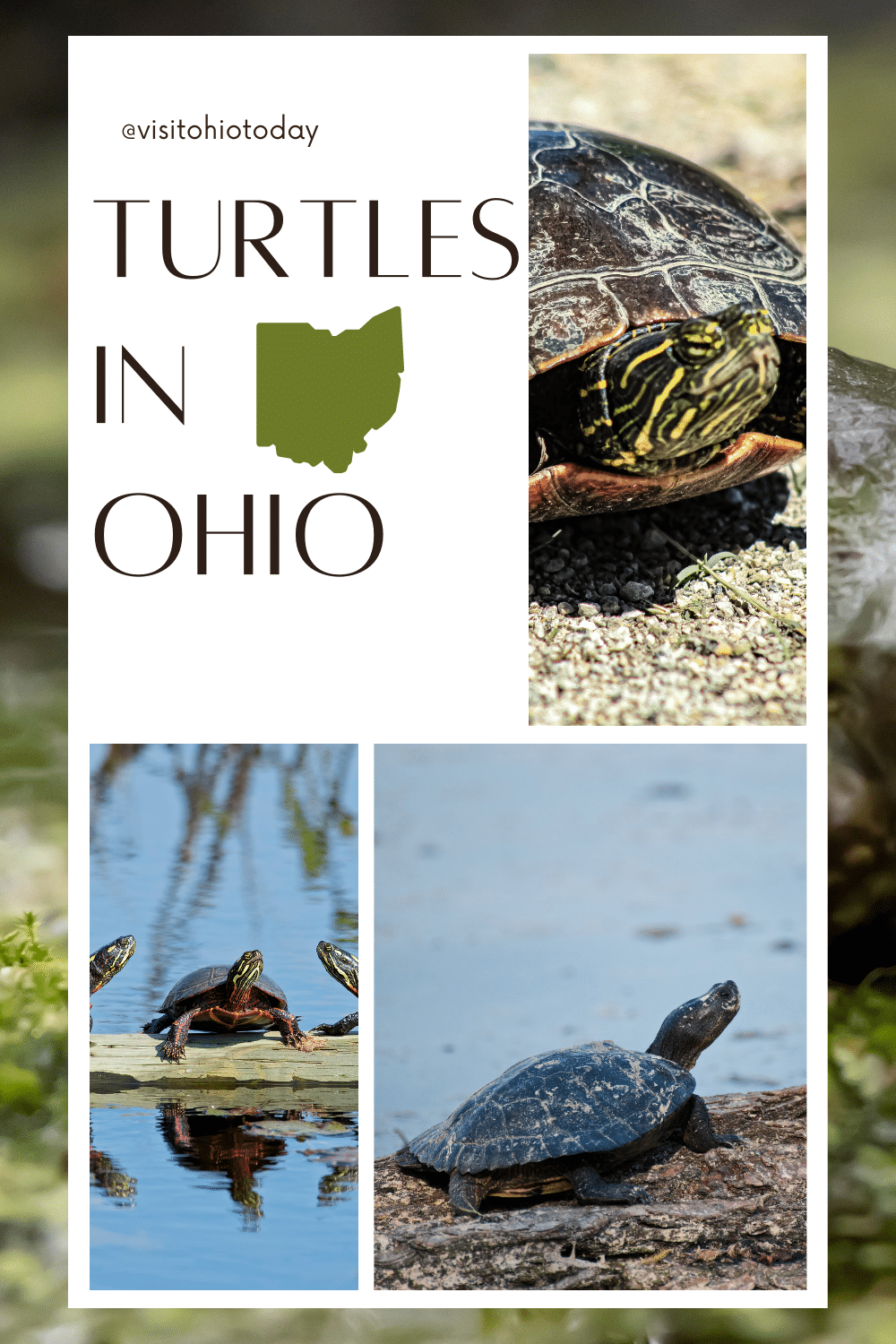 Turtles in Ohio
Turtles may seem low-key, but they are truly fascinating animals. Did you know that turtles live all over the world? There are currently 12 species of turtles in Ohio. We'll go over all the specifics of Ohio turtles in the sections below. When it comes to turtles and tortoises you might be wondering if they are the same. They are not. Technically speaking, the word "turtle" is an umbrella type of term that includes both groups of turtles and tortoises.
Ohio Turtles
Turtles are actually some of the oldest animals around. They are among the oldest group of reptiles. Fun Fact: some turtles can live to be 150+ years old! Some of the largest turtles can weigh more than 1000+ pounds. Turtles also have a second shell. They have their outer shell, which we can see. They also have a lower shell which is called the plastron.
Have you ever heard a turtle make a noise? Turtles actually are not silent. They make a range of noises, depending on the species.
Midland Painted Turtle - Turtles in Ohio
While there are lots of Ohio Turtles, the Midland Painted Turtle is the most common of the turtles in Ohio. Midland Painted Turtles like to lay in the sun, so chances are, if you've been on a nature walk and seen a turtle in the sun, it is probably one of the many Midland Painted Turtles in Ohio! These turtles like to lay on logs near the water's surface
This Ohio turtle is recognizable in a few ways, when looking down on the top of the Midland Painted Turtle, you will see little red dots on the outside edges of the shell. You may also see some red color markings on the turtle's tail, neck or legs. The red markings are what helped to give this turtle its name: painted turtle.
The upper (or outer) shell of the Midland Painted Turtle usually measures 4.5 inches to 5.5 inches in length. The shell is typically dark green and sometimes appears to be almost black. This particular Ohio turtle can be found in most Ohio counties.
Red-Eared Slider - Turtles in Ohio
The Red-Eared Slider is a thick red marking on the side of it's head behind it's eye (or where it's ear would be). This makes this Ohio turtle easy to identify! It does NOT have any other red markings on his shell, neck, legs etc. The only red marking is behind it's eye. The dark green, almost black color of the shell reminds you of the Midland Painted Turtle. These turtles are found mostly in southwest Ohio.
How big do red eared slider turtles get?
Full grown adult red-eared sliders can reach 12 inches in length. Usually the female red-eared sliders are bigger in size. It usually takes 5-6 years for the red-eared slider to reach its full length, however it can take up to 8 years in some cases.
How long do red eared slider turtles live?
In captivity (as pets) red-eared sliders can live up to 20 years. In the wild, these turtles can live up to 70 years.
What do red eared slider turtles eat?
Red-eared sliders are omnivores. When these turtles are in the wild, they eat small fish, and other decaying materials such as frogs or dead fish. If the red-eared slider is a pet, they will need commercial grade turtle food so they get all the nutrients they need.
Wood Turtle - Turtles in Ohio
These turtles are on the endangered list. They live 40+ years and weigh anywhere between 1-3 pounds. They have a brown outer shell and burnt orange colored skin. Their outer shell ranges from just over 6 inches to almost 10 inches in length. Wood Turtles are omnivores, they typically eat insect larvae, fish, invertebrates, plant matter and crayfish.
These turtles are hard to find in Ohio, if you are lucky enough to spot a Wood Turtle in Ohio, it will more than likely be in the Northeastern part of the state. Wood Turtles prefer to be in an area with moving water and are most active during the daytime hours. They like to spend their time sunning on a log or a bank of a stream.
What do wood turtles eat?
Wood Turtles are omnivores, they typically eat insect larvae, fish, invertebrates, plant matter and crayfish.
Spotted Turtle - Turtles in Ohio
The Spotted Turtles in Ohio tend to be a bit smaller. Their outer shell is usually between 3 inches to just short of 5 inches in length. The outer shell has a black to bluish color and it is sprinkled with lots of yellow dots.
This Ohio Turtle likes to hang out in shallow water areas, such as wetlands and small streams. Sometimes you might find the spotted turtle around wet prairie areas and some woods. These turtles can be found in much of Ohio, including central, northwest and northeast.
Eastern Box Turtle - Ohio Box Turtle
The Eastern Box Turtle is found in southern and western Ohio. There is debate on whether the eastern box turtle is a native species in the northeast region of Ohio, The outer shell of the Eastern Box Turtle is dome shaped. The turtle generally reaches between 4.5 inches and 6 inches in length. The outer shell of this turtle is usually brown/black and it has some yellow markings.
What gives this turtle it's name is that the lower shell has "hinges" in the front and back. This allows the turtle to retreat completely into its shelf and shut the doors, hence the "box" name. It is a slow to mature turtle, but in the wild it can reach 100 years of age! This turtle is on the move, which makes it an easy target to be hit by a car as it tries to cross the road.
When it comes to habitat, the Eastern Box Turtle likes woodlands, meadows, hillsides, fields, marshy areas and even sand dunes! They like to soak in shallow puddles of water, edges of ponds and also shallow streams.
What do Eastern Box Turtles Eat?
Eastern Box Turtles like to feed on vegetation, berries, fruits, seeds, roots, grasses, slugs, worms and mushrooms. The turtles will also eat carrion and hunt for invertebrates fish and eggs.
Do Eastern Box Turtles bite?
Eastern Box Turtles rarely bite, snap or hiss. These turtles are typically not aggressive. It is an animal so it can bite. The turtle does not have any teeth, but it has a beak that can "bite". Generally, these turtles are not bothered, if they feel threatened they will withdraw into their shell typically before biting
Can Eastern Box Turtles swim?
Eastern Box Turtles can swim! When spotted in the wild you can see them swimming but they often do not look like great swimmers. They can come across as clumsy when swimming. The Eastern Box Turtles prefer the wetlands and marshes with shallow water, but when it comes to deeper water, they can swim if needed.
Blanding's Turtle - Ohio Box Turtle
The Blanding's Turtle has a darker outer shell with yellow speckles that often come together to form streaks on the turtle. The turtle has a yellow throat and chin. The outer shell reaches between 7 inches to 9 inches in length.
Just like the Eastern Box Turtle, the Blanding's Turtle has hinges on its shell. The front hinge doesn't close as tight as the back hinge. So the shell cannot be closed completely. This turtle likes to hang out in shallow water, marshes, bogs, swamps and also ponds.
Snapping Turtle - Snapping Turtle Ohio
The Snapping Turtle is the largest species of turtle in the state of Ohio. These turtles can grow to weigh up to 55+ pounds! Its outer shell can range from 8 inches to 18 inches in length. With the snapping turtle, the males are bigger than the females. Snapping turtles typically aren't basking in the sun, they prefer a muddy bottom area that is full of vegetation. You can often find a snapping turtle in a shallow stream or pond.
The snapping turtle's eyes are very high on their heads. This allows the snapping turtle to see above the water's surface while their body is still underwater. The snapping turtle gets its name from its powerful jaws and pointed beak.
The snap can inflict a very painful bite to a finger, so it's best to keep your distance from this Ohio turtle! The turtles are far less aggressive in water than on land. During the winter these Ohio turtles hibernate in shallow water or mud. They bury themselves in the mud and only light their heads to breathe. They tend to hibernate in groups.
What do snapping turtles eat?
Snapping Turtles eat a variety of things such as fish, reptiles, worms, mammals, amphibians, invertebrates and more.
What do baby snapping turtles eat?
Baby snapping turtles will eat tadpoles, small fish , insects and earthworms. As baby snapping turtles grow larger they will feast on frogs and mice.
How long do snapping turtles live?
Snapping turtles generally live 8-10 years, however some snapping turtles have lived up to 40 years!
What does a snapping turtle look like?
If you are wondering what a snapping turtle looks like, you can identify it a few ways. The size of the snapping turtle's outer shell is usually between 8 inches and 18 inches in length. The shell is generally a dark tan or brown and can even appear black. There is often a yellow color to the neck, legs and tails, however the head is dark.
How big do snapping turtles get?
Snapping turtles can grow to weigh up to 55+ pounds! Its outer shell can range from 8 inches to 18 inches in length.
Common Map Turtle - Types of Turtles in Ohio
It is said that the Common Map Turtle gets its name from the yellow lines that decorate their shells. The yellow lines look like elevation lines on maps. The yellow lines are vibrant within younger turtles, but fade with age. It has a ridge on its shell going from the neck area to the tail.
When it comes to length, the females win this game. The average common map female turtle is 10 inches in length compared to only 5 inches in length in males. Common Map Turtles like deep water, so you can find them in lakes or larger rivers. The common map turtle is not too fond of humans, usually when they spot a human they slip back down under the water to hide.
Ouachita Map Turtle - Turtles in Ohio
The outer shell of the Ouachita Turtle can grow to about 11 inches in length for females but the male Ochita Turtles are much smaller at about 6 inches in length. This Ohio Turtle has a yellow marking under each eye and the side of his mouth area. The Ouachita turtle has a ridge on it's back that forms spines upward. This turtle likes to live in large river areas and mostly eats aquatic invertebrates. It can be found mostly in the southern areas of Ohio.
Common Musk Turtle - Turtles in Ohio
Common Musk Turtles are pretty small. They are usually between 2 inches and 5 inches in length. Their shells are a very dark brown or black and often streaked. Their shells typically have an accumulation of algae growth. Another way to identify the common musk turtle is the yellow stripe or streak near each eye.
These turtles are mostly nocturnal. Common Musk Turtles like to eat seeds, insects, tadpoles, snails, algae and sometimes fish carrion. The common musk turtle will secrete a very harsh stinky yellow musk when they feel threatened or alarmed.
Eastern Spiny Softshell Turtle - Turtles in Ohio
The Eastern Spiny Softshell Turtle is one of the largest freshwater turtles in the United States. What makes this Ohio turtle very different from the other turtles is that it's shell is actually soft, flat and rubbery. The edges of the Eastern Spiny Softshell Turtle are quite pliable. Females range in length from 7 inches to 19 inches, whereas males range from 5 inches to 10 inches in length.
When looking at the face area of the Eastern Spiny Softshell Turtle, you will notice that the nose is long and almost like a pig. This turtle will eat almost anything, such as insects, fish, crayfish, etc.
Midland Smooth Softshell Turtle - Softshell Turtle Ohio
The Midland Smooth Softshell Turtle is another softshell turtle found in Ohio, just like the Eastern Spiny Softshell Turtle. This turtle swims very quickly, it is how it escapes danger, since it does not have a hard shell to defend itself.
Typically, Midland Smooth Softshell Turtles have an olive gray or brown shell that has spots of gray, olive green or brown colors. The lower shell is a lighter cream color. The male turtles of this species have very faint markings whereas the females have more pronounced markings.
Ohio Turtles Post
Have you spotted any Ohio Turtles during your outdoor adventures? We'd love to know what turtles in Ohio you have spotted! Drop us a comment below and let us know!