Caves In Ohio
This post contains links to affiliate websites, such as Amazon, and we receive an affiliate commission for any purchases made by you using these links.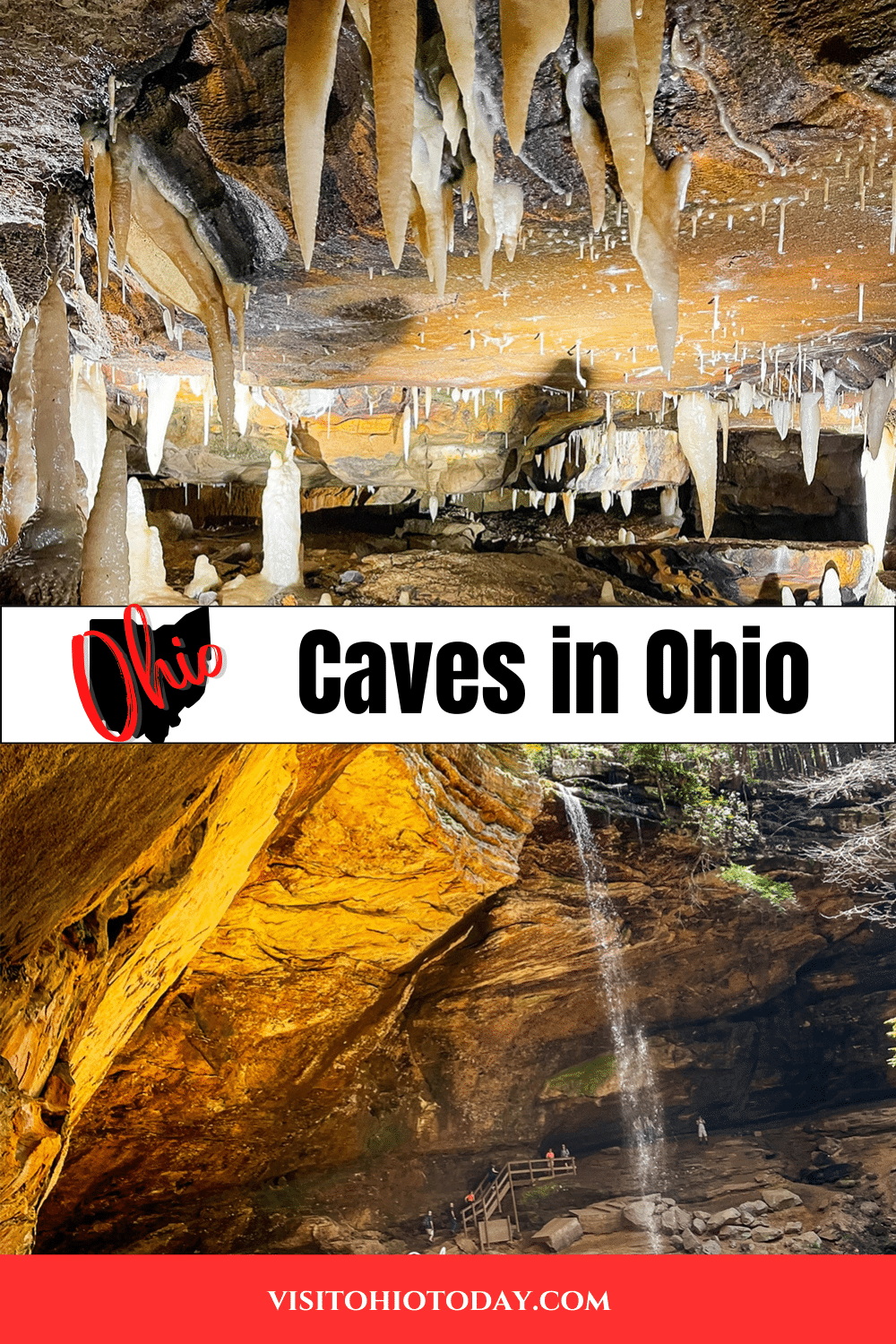 There are some stunning caves in Ohio, situated in beautiful surroundings. Explore nature's ancient secrets beneath the ground and be amazed by the hidden treasures you will find there.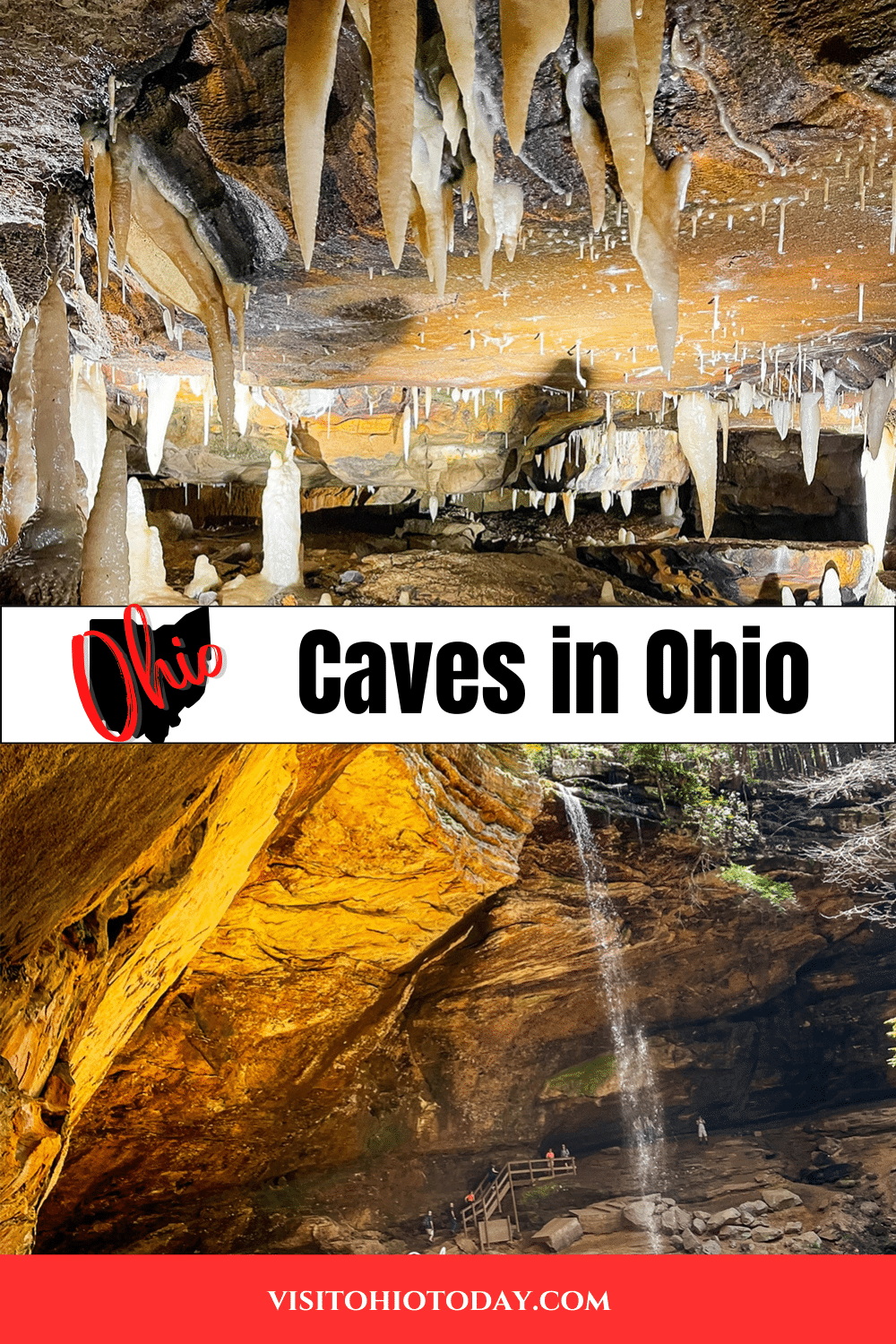 Map of Caves In Ohio
Visit Caves in Ohio
In this post, we are not only talking about the kind of cave houses you would expect to see in an episode of The Flintstones! We are also talking about caves that are more like caverns, and caves that are an overhang or shelter…nonetheless, they still fall under the category of caves!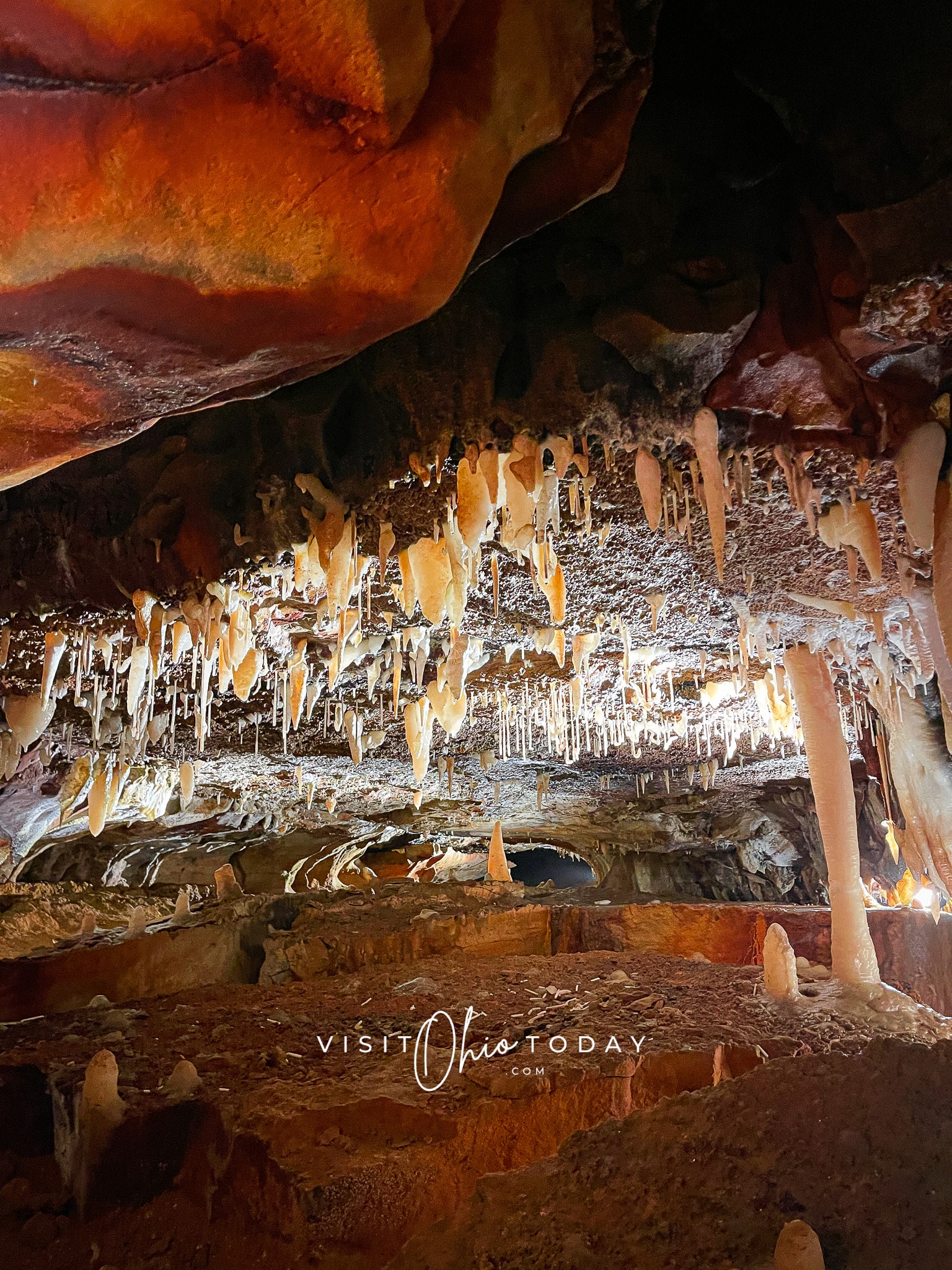 Northwest Ohio Caves
Seneca Caverns
Walk and climb natural stone steps and pathways to reach Ole Mist'ry River at the lowest level of 110 feet below the surface. The crystal-clear flowing stream is part of the groundwater system beneath the surrounding area.
Seneca Caverns are Ohio's largest caverns and are the only safe and passable earthquake crack beneath ground level.
Perry's Cave and Family Fun Center
Perry's Cave, a natural limestone cave and an Ohio Natural Landmark, is the main draw of Perry's Cave and Family Fun Center at Put-in-Bay. The cave is 52 feet underground and was discovered by Commodore Oliver Hazard Perry in 1813.
There is a freshwater lake in the cave which was used by the troops during the war of 1812 who desperately needed drinking water.
The lake rises and falls with the Lake Erie tides, but it is unknown how they are connected.
Crystal Cave
Crystal Cave is the world's largest geode. Crystals line the walls and ceiling of this cave which is 40 feet below ground.
Heineman Winery owns and operates the cave, and it saved the family-run business from bankruptcy during prohibition.
Northeast Ohio Caves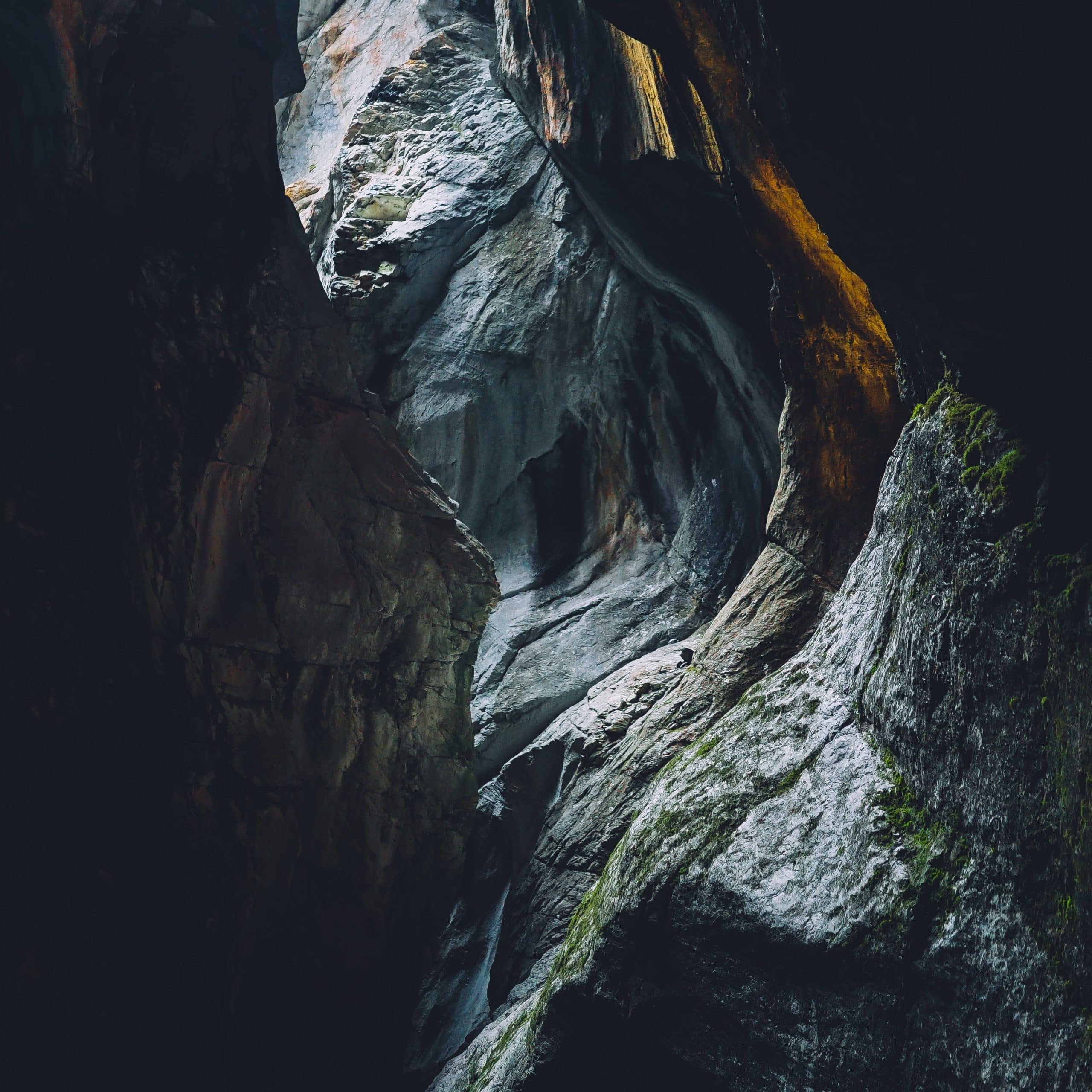 Old Maid's Kitchen
Old Maid's Kitchen, formerly Mary Campbell Cave, is a rock shelter situated in Gorge Metro Park which straddles Cuyahoga Falls and Akron. The cavity is approximately 130 feet wide, and up to 50 feet deep in places.
The cliff and cave roof are a sandstone formation, while the cave is shale. The cavity in the cliff was formed by water passing through the sandstone and eroding the shale.
The shelter was named after the young Mary Campbell, who was kidnapped in 1759 and held by the Lenape (Delaware). According to legend, she, along with other captives, was held in the cave.
Central Ohio Caves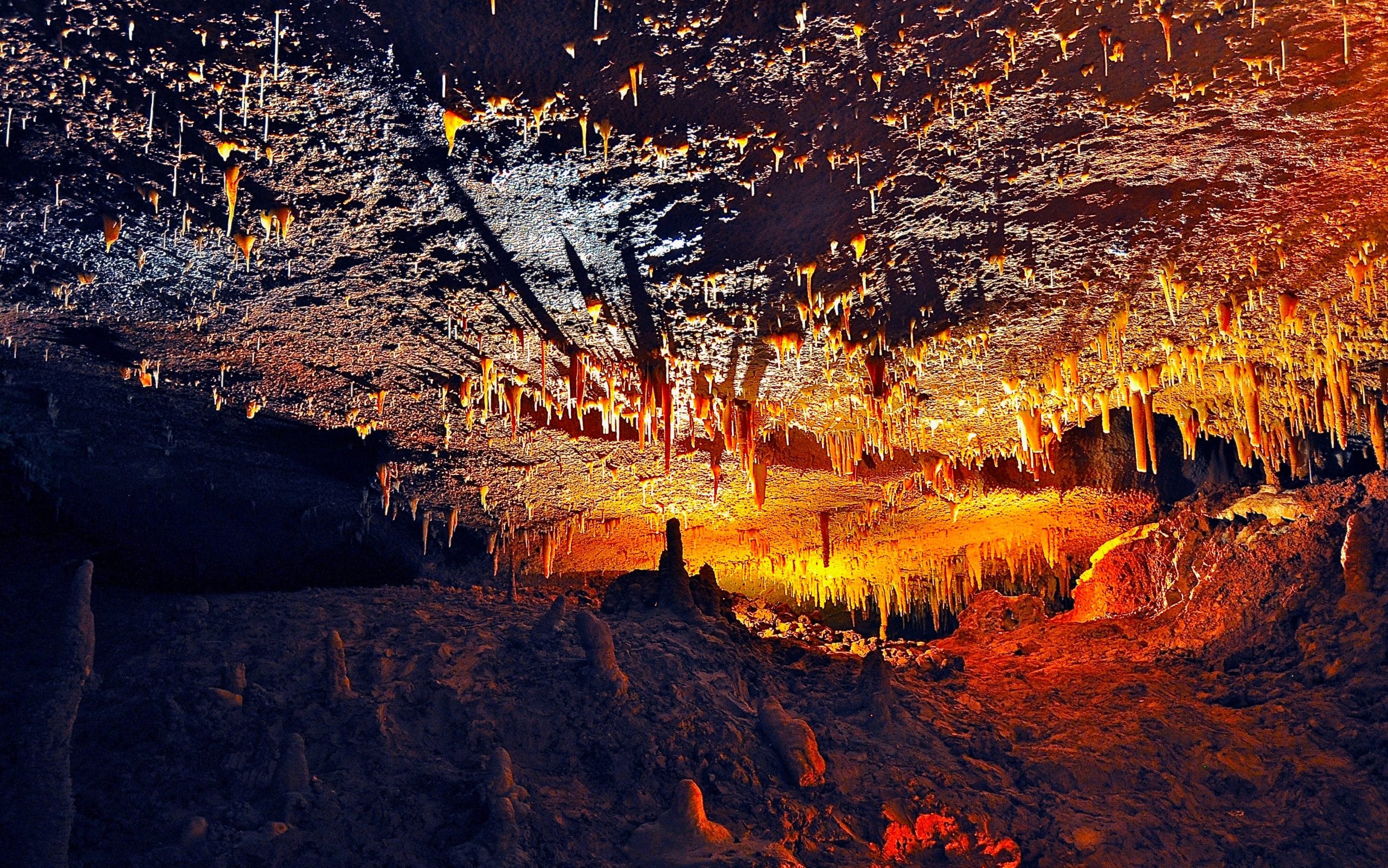 Olentangy Caverns
The Olentangy Caverns are relatively small caves in Delaware, and unusually, self-guided tours are offered here.
Environmental disruptions have had significant negative effects on these caverns, including Native American inhabitants during the 1700s and 1800s, westward settlers during the 1800s, filling-in of the caverns for perceived safety reasons in the late 1800s, and being excavated for tours in the 1930s.
The positive aspects of the Olentangy Caverns include the maze of winding passages and large underground rooms. Concrete stairways descend 55 feet to the passages and rooms that are on three different levels.
Southwest Ohio Caves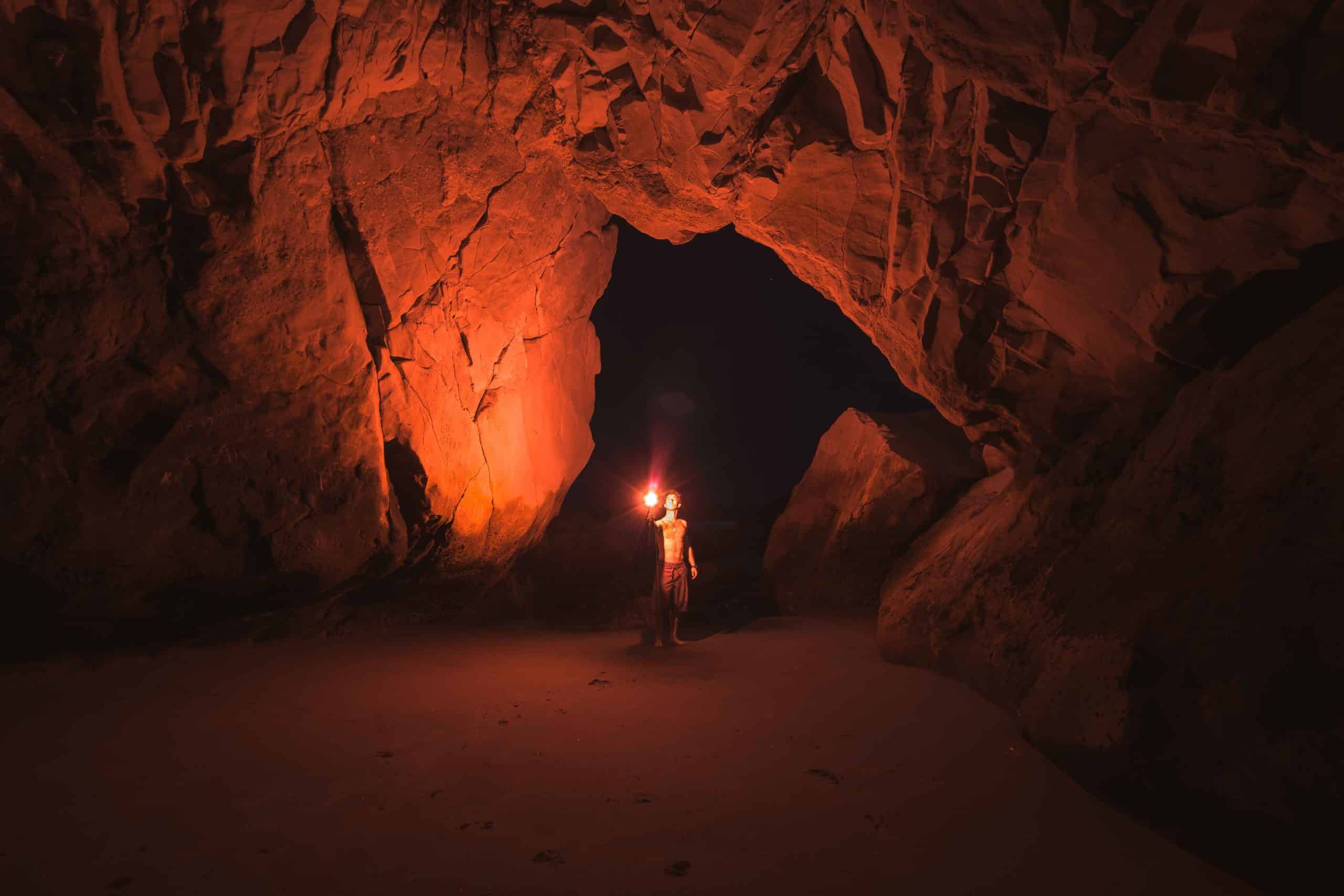 Ohio Caverns
Ohio Caverns contain stunning crystal formations, including The Crystal King, a massive column of sparkling crystals.
These caverns have underground rivers and unique geological features. There are more than two miles of passageways ranging in depth from 30 feet to over 100 feet.
Guided tours enable you to explore the natural wonders hidden beneath the Earth's surface.
Zane Shawnee Caverns and South Wind Park
Zane Shawnee Caverns is an amazing experience with fantastic shapes within the caverns. The owners of this park are the Remnant Band of the Shawnee Nation.
There is the Shawnee Woodland Native American Museum and Pioneer Village on the same site.
Southeast Ohio Caves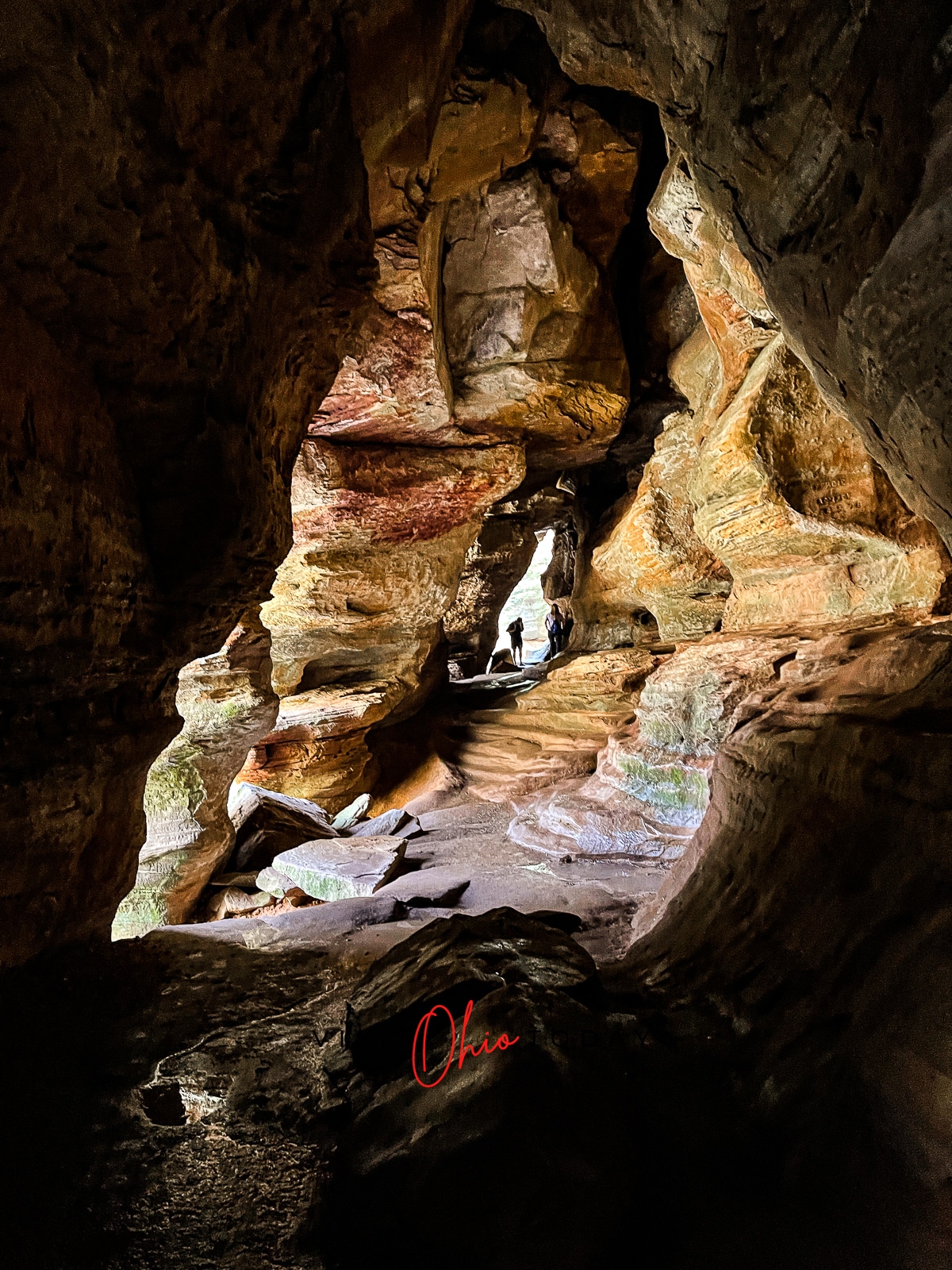 Rock House in Hocking Hills State Park
Rock House is unique within the Hocking Hills region, it is one of 7 hiking trails in the area. It is the only true cave in the park. It has a tunnel-like corridor and is up a 15-foot cliff.
This House of Rock has a 25-foot ceiling and the main corridor is 200 feet long and around 20-30 feet wide. It is formed from Black Hand Sandstone.
Rockbridge State Nature Preserve
This is a stunning place to visit if you are in the area. Rockbridge is a true highlight of this area's beauty. It gets its name from the rock formation that spans across the area and is in use as a bridge.
This is a wonderful place to go hiking and to also explore the local flowers, trees, and wildlife.
There is also a rock in the formation of an overhang cave, the "Rock Shelter"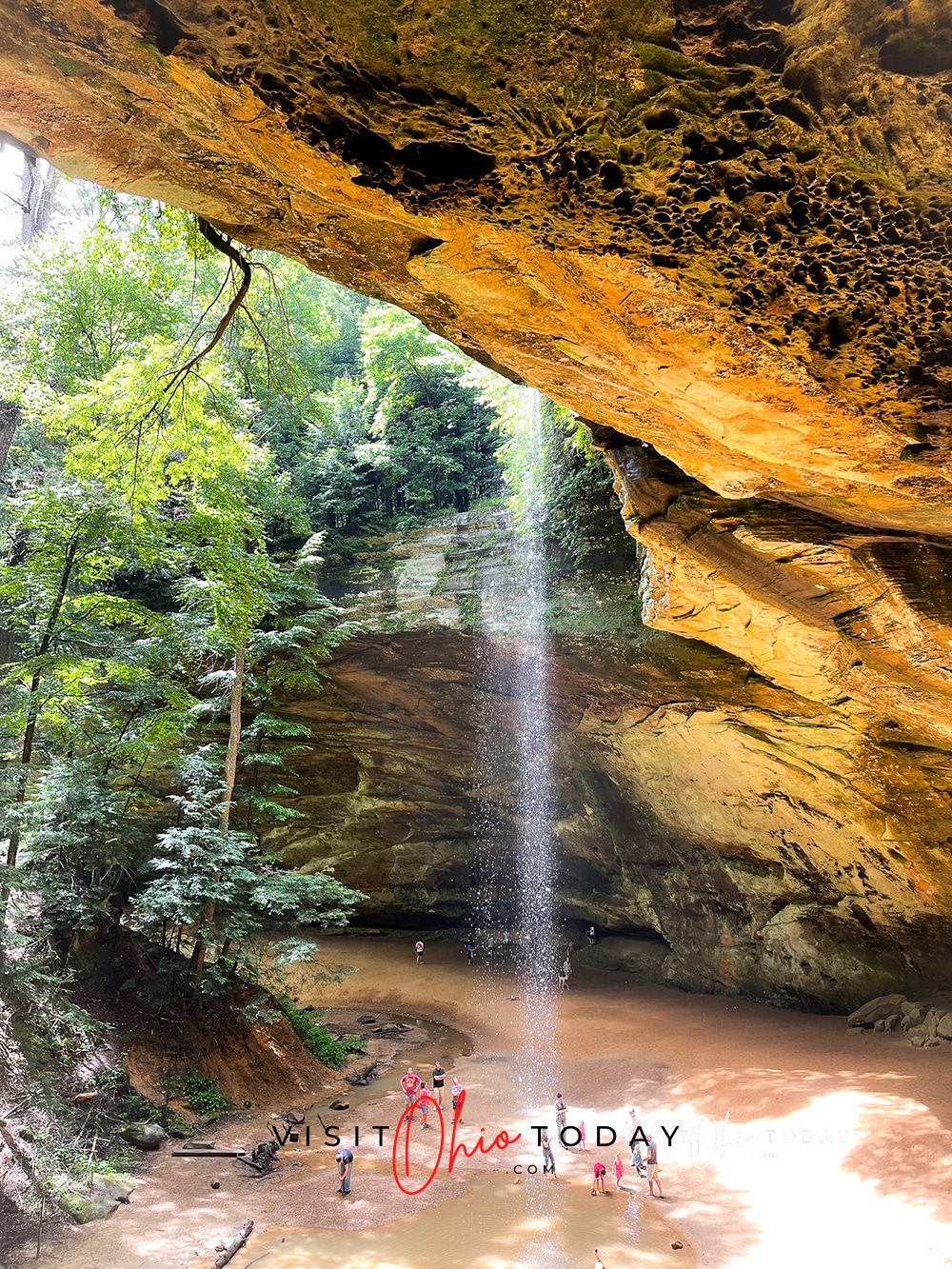 Ash Cave
Ash Cave is in the stunning Hocking Hills State Park. It is the largest recess cave located east of the Mississippi River! Ash Cave is open all year round, and is a must-see for visitors to the Hocking Hills area! Even in the cold of winter, it truly is a sight to behold!
Old Man's Cave
The actual cave located at Old Man's Cave is not what you could consider as grand as others we've mentioned, but it is still definitely worth a visit! The small cave is located on-site and was once lived in by brothers Pat & Nathaniel Rayon, who arrived in the area in 1795.
(Ohio Caverns) We've been in caves all over the US and this really is the most colorful cave we have been in. It's truly a beautiful cave. So many colors and variety.

David C, (Trip Advisor)
Cindy's Insider Ohio Tips!
I've been a cave enthusiast since childhood, touring many across the US, and I have some tips for you! Remember, caves are consistently cool, so bring a light jacket regardless of the outdoor weather. Comfortable, sturdy shoes are essential as cave pathways can be wet and slippery. Check the rules regarding photography before entering, as some caves allow photos but not videos and some do not allow flash photography. Ohio's caves are a remarkable part of its history, contributing to its beauty, so please follow 'leave no trace' principles to preserve these natural wonders!
Let's Visit Caves in Ohio!
There are so many amazing caves in the Midwest! Even outside of Ohio, you can find some beautiful sites! I have fond childhood memories of visiting caves in springfield mo!
Do you have a favorite cave to visit, or maybe know of some we didn't include? Drop us a comment below and share your experience!
If you love discovering historical places, check out our article Covered Bridges in Ohio. National Parks in Ohio also includes historical places to visit. Maybe you would like to escape with your partner to a Romantic Getaway for the weekend?
Hello! We have done our very best to ensure that the accuracy of events, hours, addresses, etc, are up to date. Please know that information can change due to weather, updated health and safety challenges, etc. If you find incorrect information, please send us an email at [email protected], and we can get it updated.

To be updated and stay connected, subscribe to our newsletter.