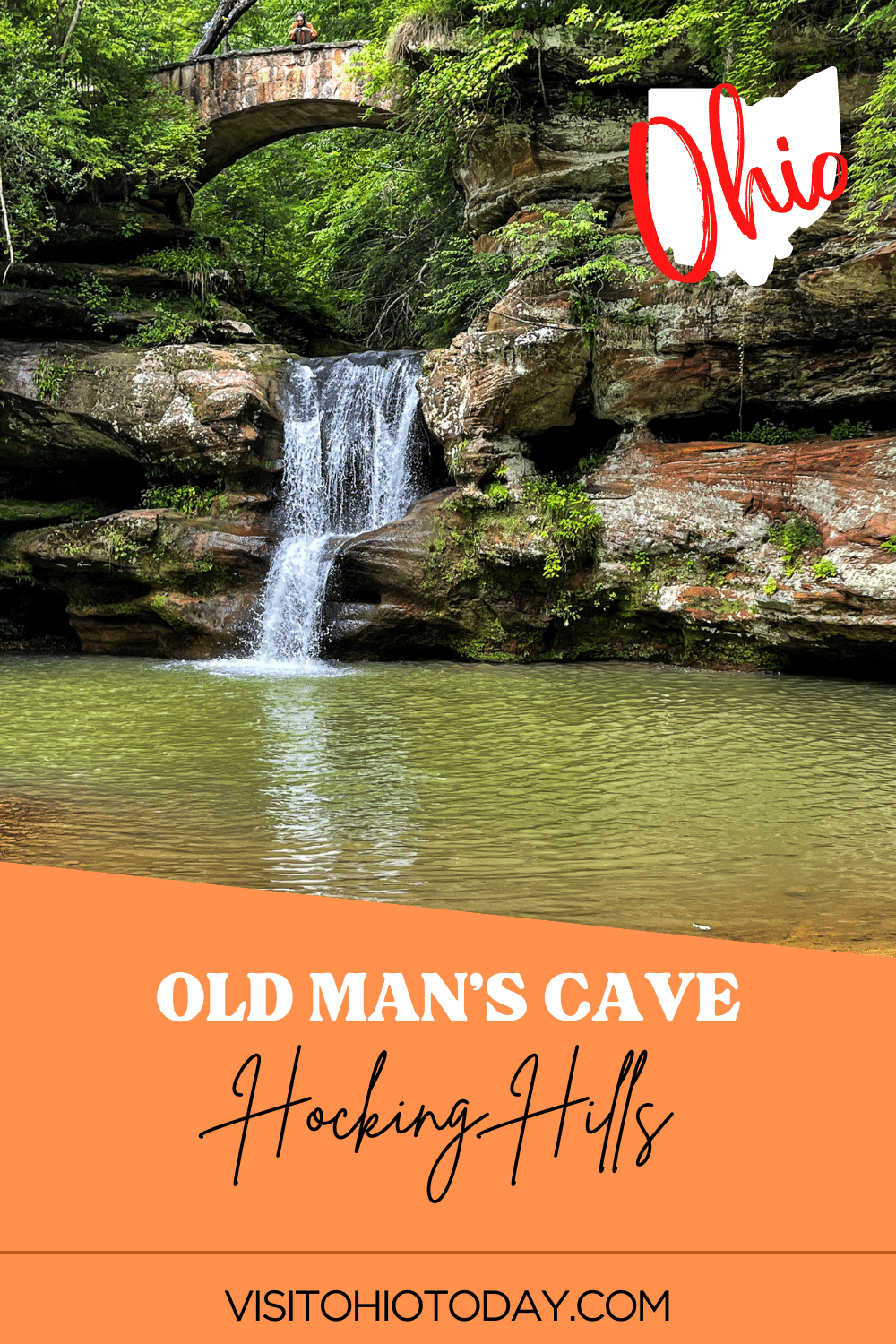 Old Man's Cave travels through an amazing gorge, that is cut through a 150-foot thickness of Blackhand sandstone.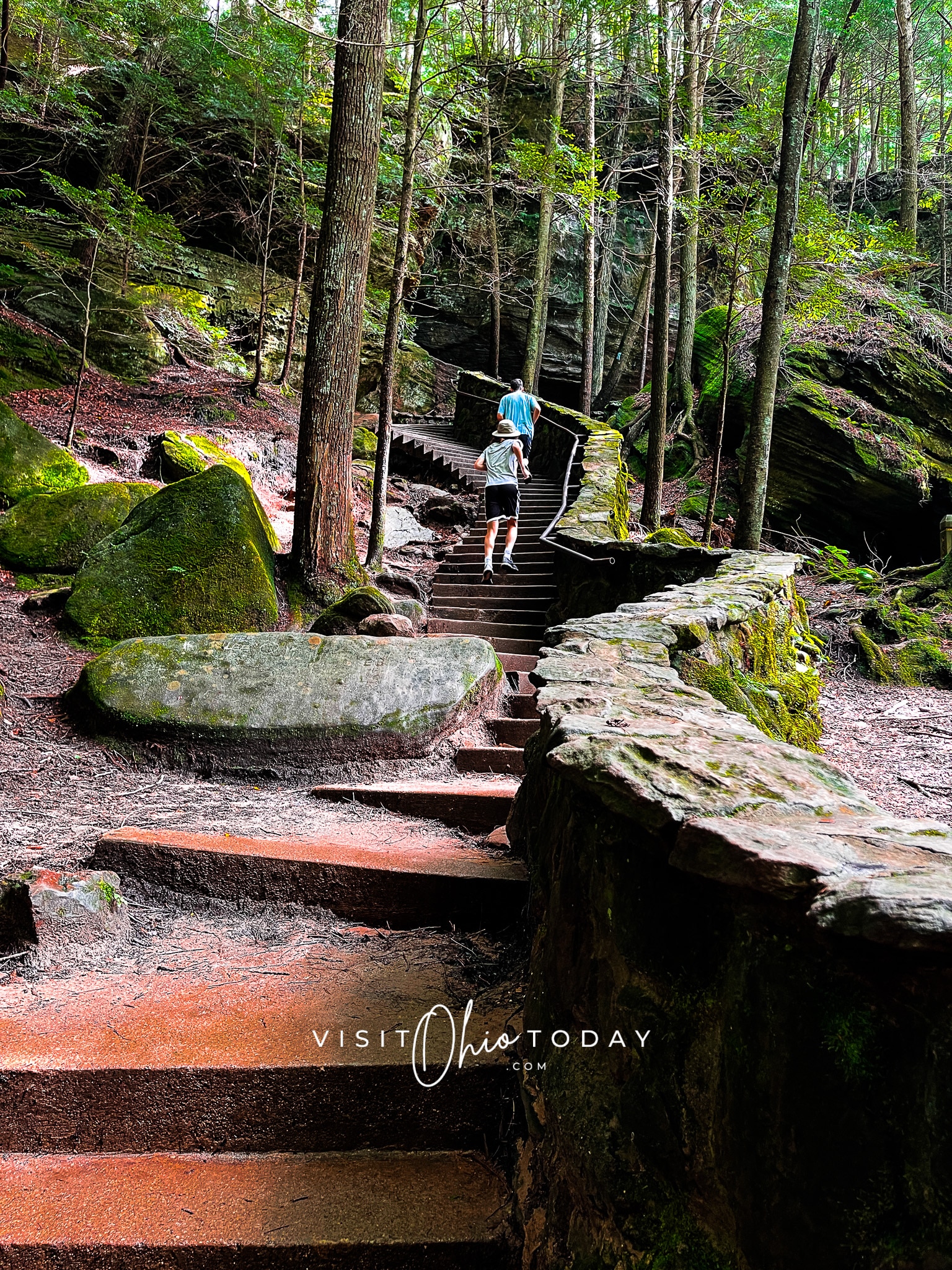 Where Is Old Man´s Cave?
Old Man's Cave is a fantastic place to visit and is one of 7 trails in Hocking Hills State Park. Old Man's Cave received its name from the hermit Richard Rowe. Richard Rowe lived in the large recess and his family moved here in 1796 from Tennessee. They decided to move to Ohio to set up a trading post.
What Is Old Man's Cave Like?
Old Man's Cave is a one-way trail system that is around 1.5 miles long. This entire loop takes you through the Lower Falls, Lower Gorge, Middle Falls, Upper Falls, and Upper Gorge.
This is a hike that is quite rewarding as you will go over quaint bridges and go through tunnels. This is not your standard hike!
Also what is interesting are the stunning rock formations, wonderful waterfalls, and the amazing recess cave. It has been long debated that this hike could arguably be the best hike in Ohio.
The hike is probably in the moderate bracket as there are stairs, and it can be quite steep in places. You can skip the Lower Falls if you think the hike will be a bit much for you.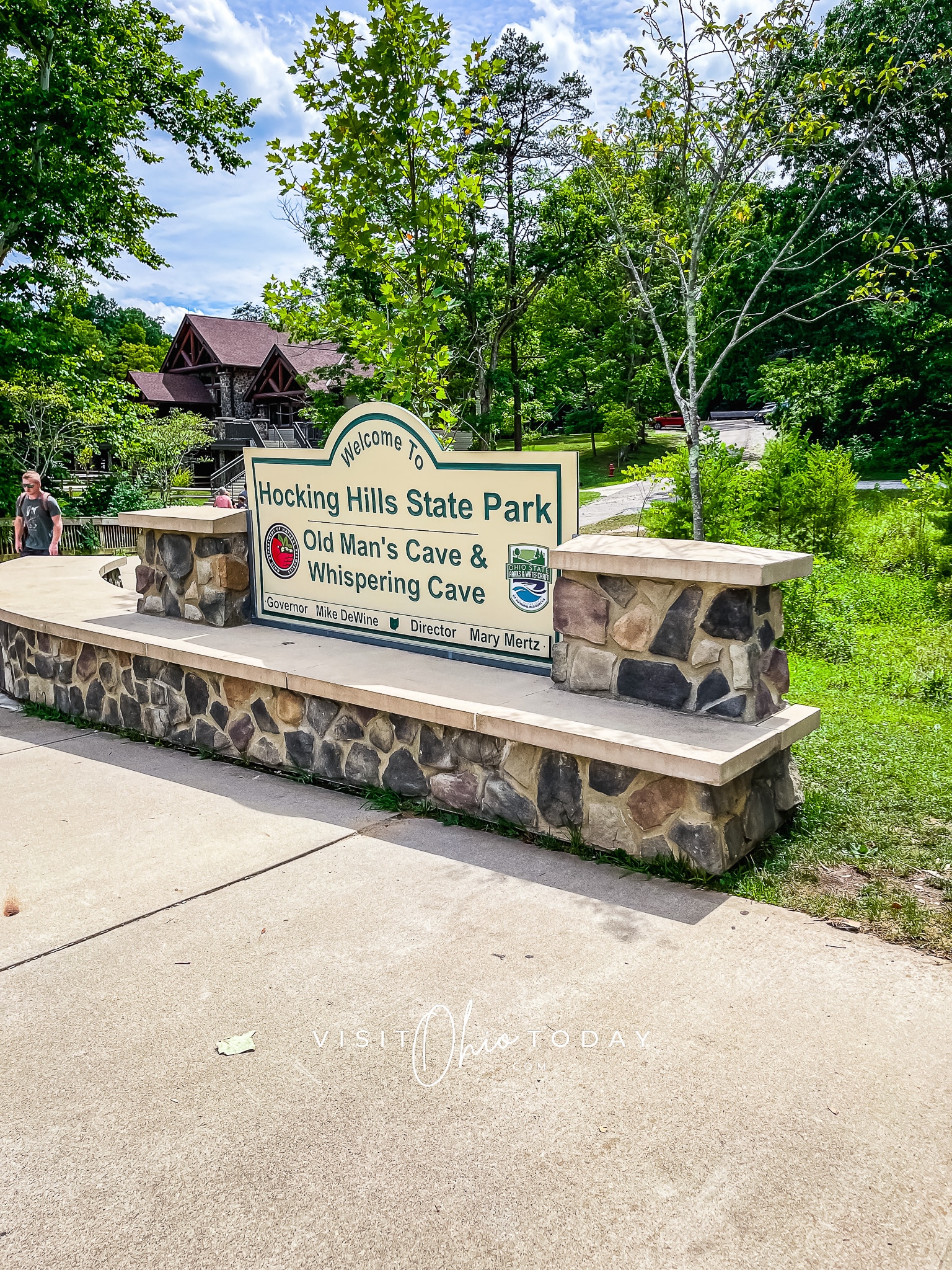 Tell Me More About The Old Man's Cave Trail
There is one trail for Old Man's Cave which is divided up into five sections:
Upper Falls
Upper Gorge
Middle Falls
Lower Falls
Lower Gorge
The good news for people who want to hike here for the first time is that all the trails are quite well marked out, so visitors should not get lost.
This trail is a one-way looped trail and the full hike is 1.5 miles. As mentioned above, you can shorten the trail down to 1 mile. However, please note, that if you choose to do this, you will miss out on some of the lovely bits of the hike.
If you would like a map, you can print one here.
What Is The Size Of Old Man's Cave?
Old Man's Cave is a large recess cave. The cliff is of a vertical nature and reaches a height of 75 feet above the creek.
The cave is quite long at around 250 feet, with a height of around 50 feet. These days it would be tough to imagine that people actually lived here in this cave, but it cannot be denied that it is stunning, extremely large and it has a spectacular view!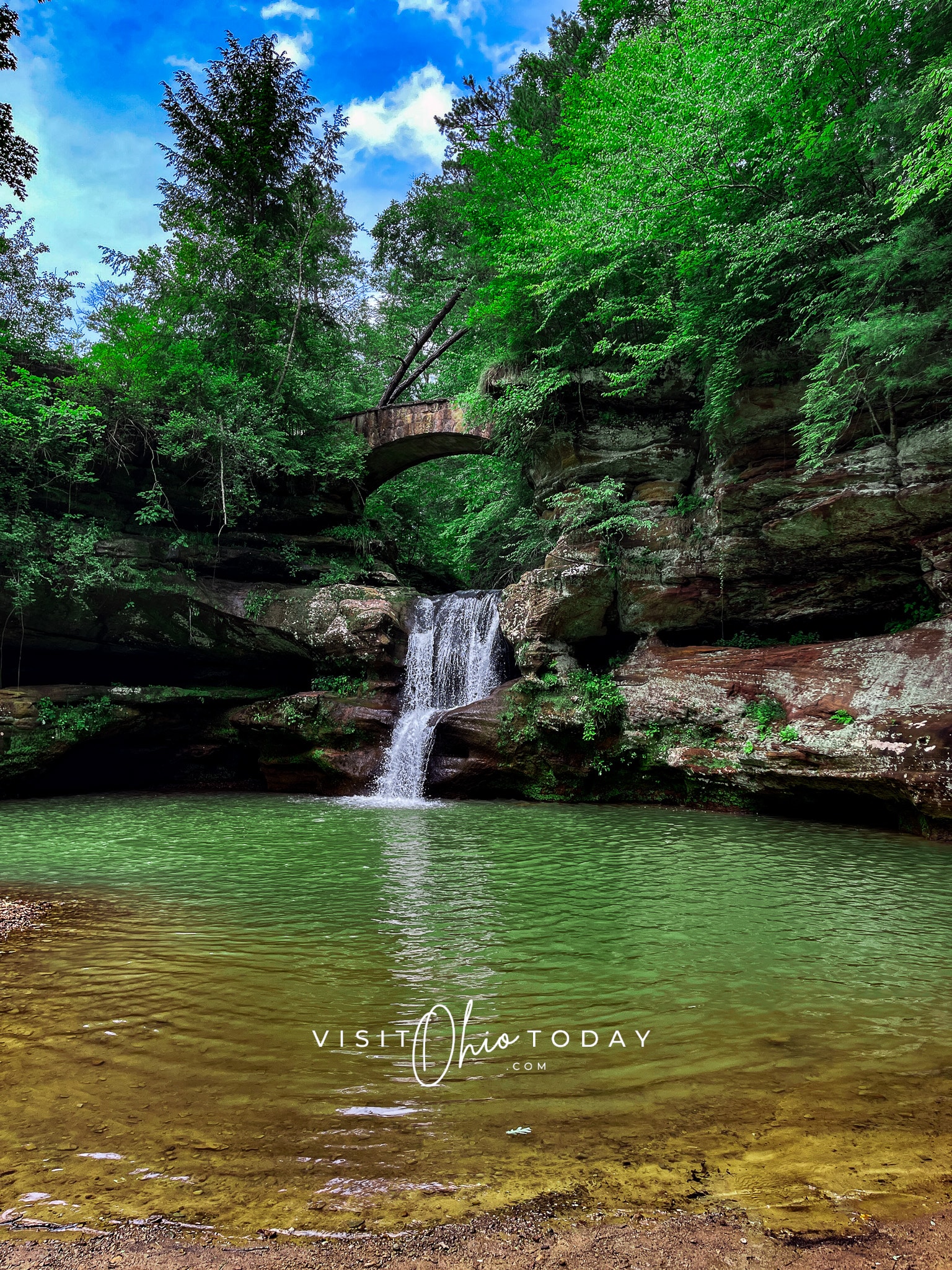 What Is The Devil's Bathtub At Old Man's Cave?
The Devil's Bathtub is a unique waterfall that is tiered between the Upper Falls and Old Man's Cave. The Bathtub has gotten larger over time due to the swirling of the water.
The upper part of the falls drops into a basin and this makes a whirlpool before the water drops further down into the large pool.
Rumor has it, that Devil's Bathtub goes 'all the way down'. The real reason it has formed is that the water had nowhere else to go!
In reality, Devil's Bathtub is actually just a few feet deep, but please note that swimming in it is not allowed.
What Items Should I Bring When I Visit Old Man's Cave?
Things you should bring:
A camera - Some of the photographs that can be taken here will live long in the memory, so we recommend that you bring a digital camera.
Layers of Clothes - As people know, Ohio's weather can throw up some surprises, so it is advised to check the weather before one ventures out and pack some thin layers.
Hiking Shoes - This is highly recommended, as some parts of Old Man's Cave can be quite steep, so shoes with a good grip are a must.
Backpack - A backpack is needed to carry items such as snacks, drinks, and clothing.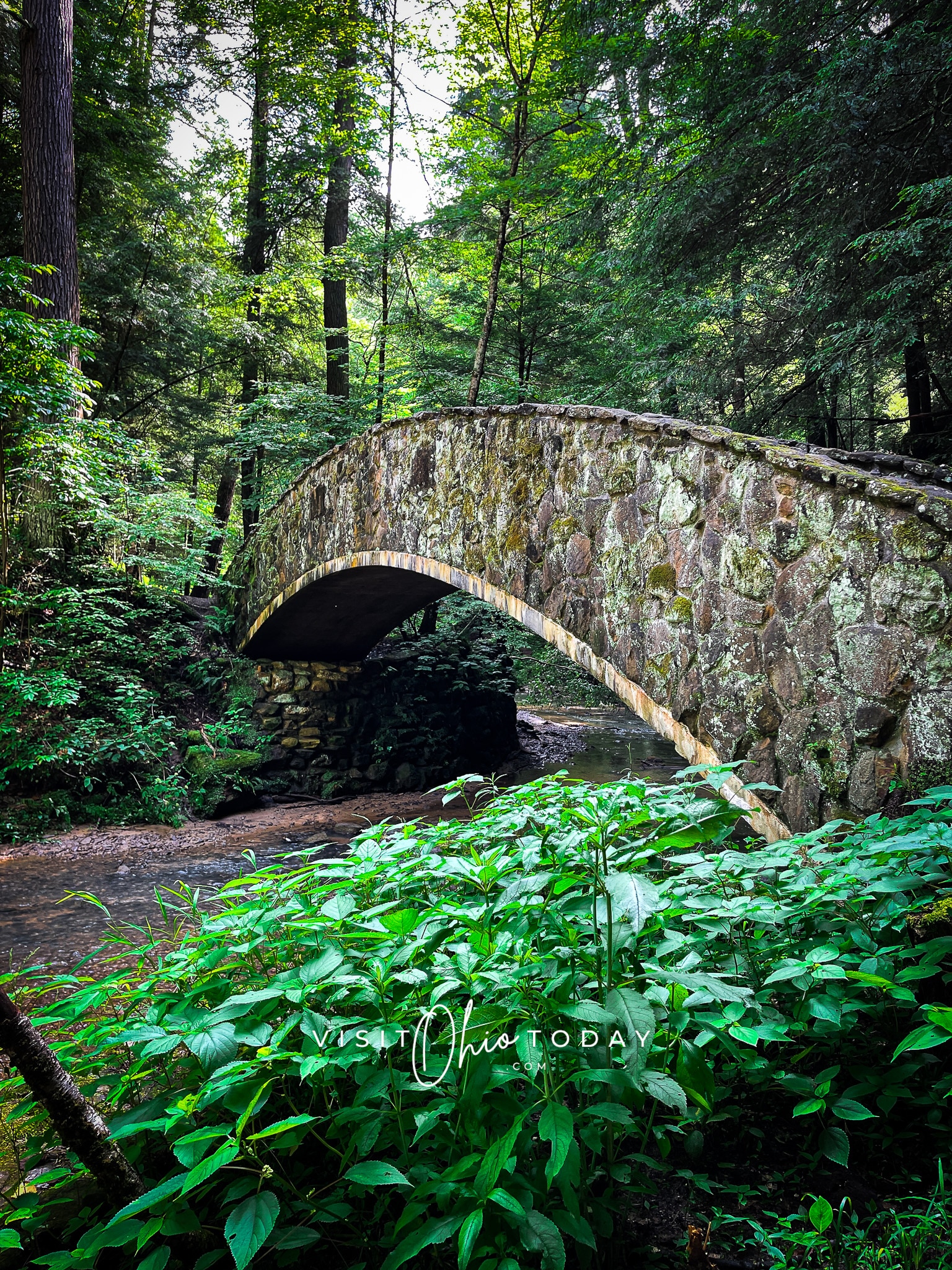 Does Old Man's Cave Have A Visitor Center?
Yes, it does! There is a new visitor center that opened its doors in 2019.
This is a really good visitor center that is worth a look. In this center, there are displays that go through the history of Old Man's Cave. It also discusses the geography of the area as well.
Snack items are available to purchase and visitors also have the opportunity to browse and purchase items from the gift shop. Restrooms are also provided.
Does Old Man's Cave Have A Campground?
There is a campground for the Hocking Hills State Park.
This superb campground is located right next to Old Man's Cave. This campground is very popular so it is recommended that bookings are made well in advance.
Some of the facilities that are available to campers include:
Dumps station
Heated showers
Flushing toilets
Campground store
Horseshoe pit
Volleyball court
Playgrounds
The telephone number for the campground store is 740-385-6842.
Old Man's Cave Quick Tips
Opening times are 'From dawn until dusk'. All year.
Parking is free.
The cave is free to visit.
Hiking
Campground
Visitor Center
Official Website: Old Man's Cave-Hocking Hills
Where Is Old Man's Cave Located?
Old Man's Cave is located at 19852 Ohio State Route 664 South, Logan, Ohio 43138 | GPS Tracking: 39.434686, -82.541574
This is also a really good user-created (unofficial) Facebook page for Old Man's Cave.
What Are People Saying About Old Man's Cave?
"One of MANY great hikes in Hocking Hills area. Like many of the trails in the various parks and preserves, this one is also one-way, with well-marked signs along the way. We got there early in the morning before the crowds. The trail is great, as is the scenery along the way…" - SC, (Wadsworth OH.) April 2023.
"This is truly a Hidden Gem. To get to the cave (which really isn't a cave it is an opening under a giant rock) you must traverse a ½ mile trail which has many, many steps to climb up and down…" - KK, (Onsted MI.) April 2023.
"This was a great easy walk. Had a blast. Lots of fun and really beautiful took less than 30 minutes to walk. Plus all the trails are connected together." - A9, (Arusha, Tanzania.) January 2023.
"Beautiful scenery and picture opportunities! The trail is one-way. The walk down was easy, but MANY steps to get out may leave you panting. Definitely worth the hike." - GC92 (Sparta, KY) October 2022.
Let´s Visit Old Man's Cave
Have you found your way to Old Man´s Cave yet? What is your favorite trail? We'd love to know what you think about the area! Let us know by leaving a comment below or drop us an email: team@visitohiotoday.com.
Did you know that Old Man's Cave is just one of 7 major hiking areas of Hocking Hills? Make sure you check out our round-up post dedicated to those areas here: 7 Major Hiking Areas Of Hocking Hills!
Cedar Falls, Ash Cave, Conkles Hollow and Clifton Gorge are at the top of my favorite places to explore in Hocking Hills! Full of wondrous sights and beautiful wildlife, be sure to let us know if you visit!
If hiking is your passion, have you considered Yellow Springs Hiking?
Make sure you check our round-up of Ohio State Parks, where you can find lots of information about other activities in the great Ohio outdoors!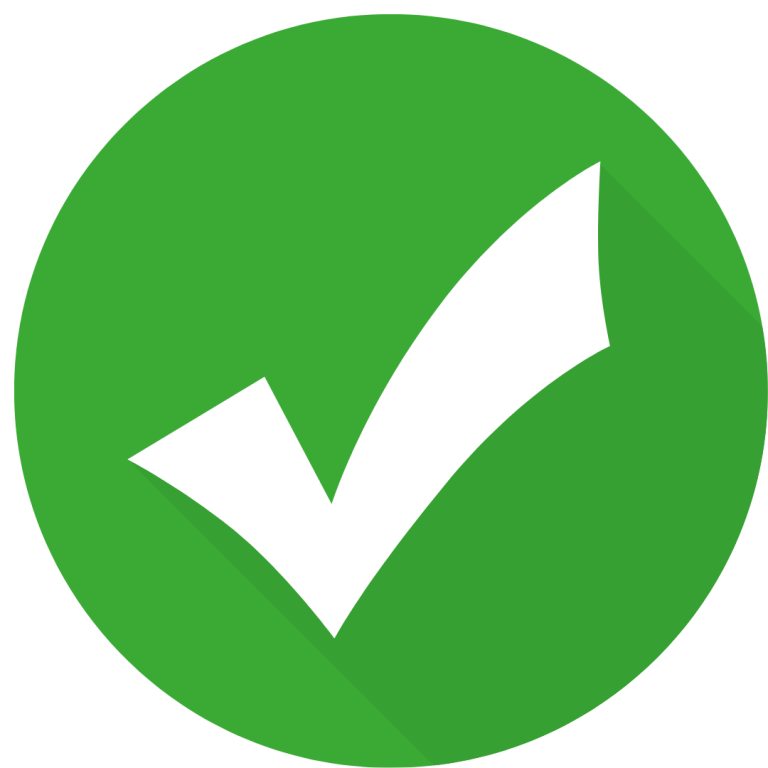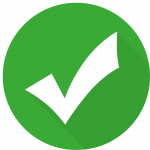 Hello! We have done our very best to ensure that the accuracy of events, hours, addresses, etc are up to date. Please know that information can change due to weather, updated health and safety challenges, etc. If you find incorrect information, please send us an email and we can get it updated.
To be updated and stay connected, subscribe to our newsletter.