Woodland Lodge
This post contains links to affiliate websites, such as Amazon, and we receive an affiliate commission for any purchases made by you using these links.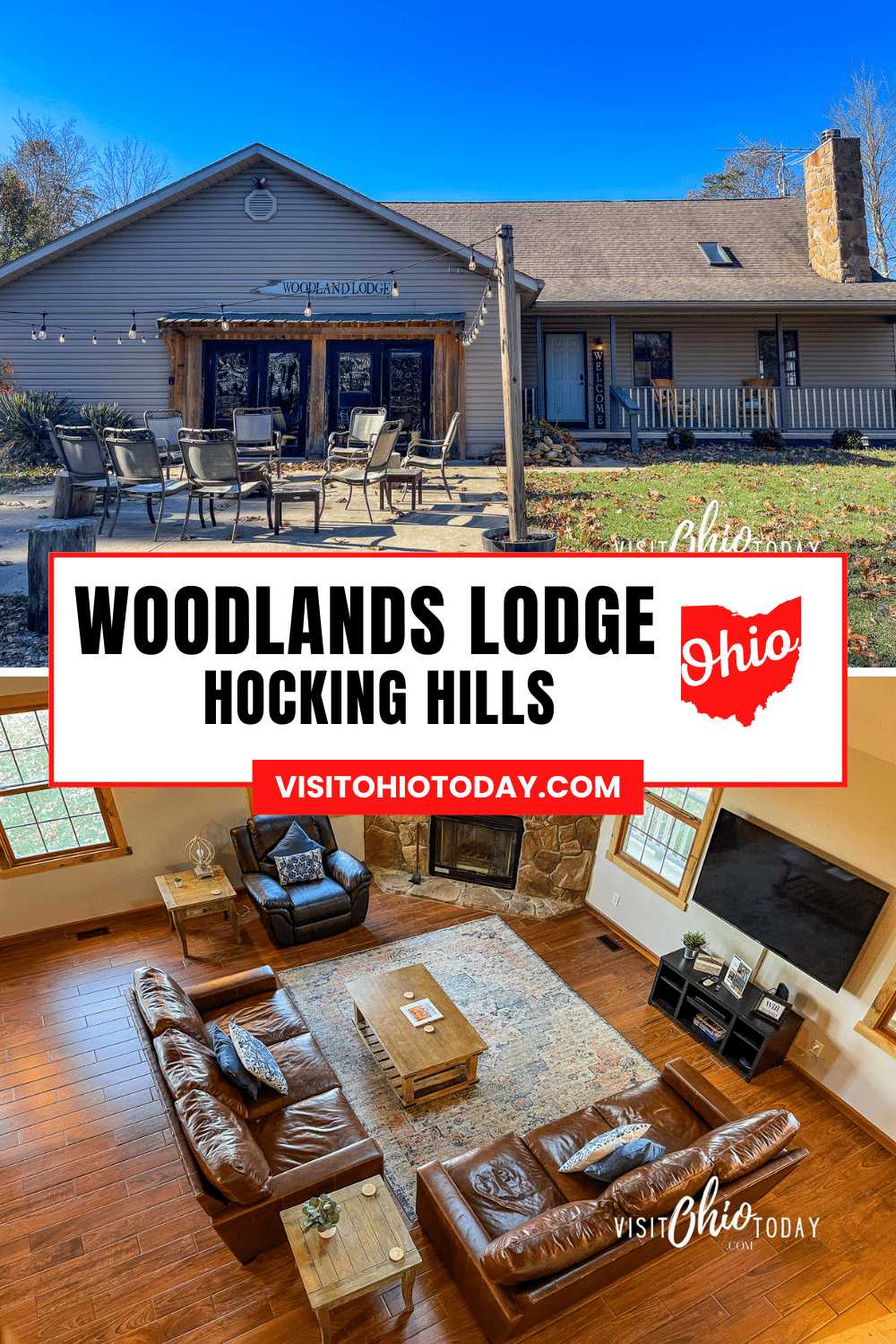 Escape to The Woodland Lodge in Hocking Hills – a 5-bedroom retreat with a hot tub, theater, and game room, just 5.6 miles from Hocking Hills State Park. Experience ultimate comfort, outdoor bliss, and the joy of giving back with 5% of each rental supporting chosen charities.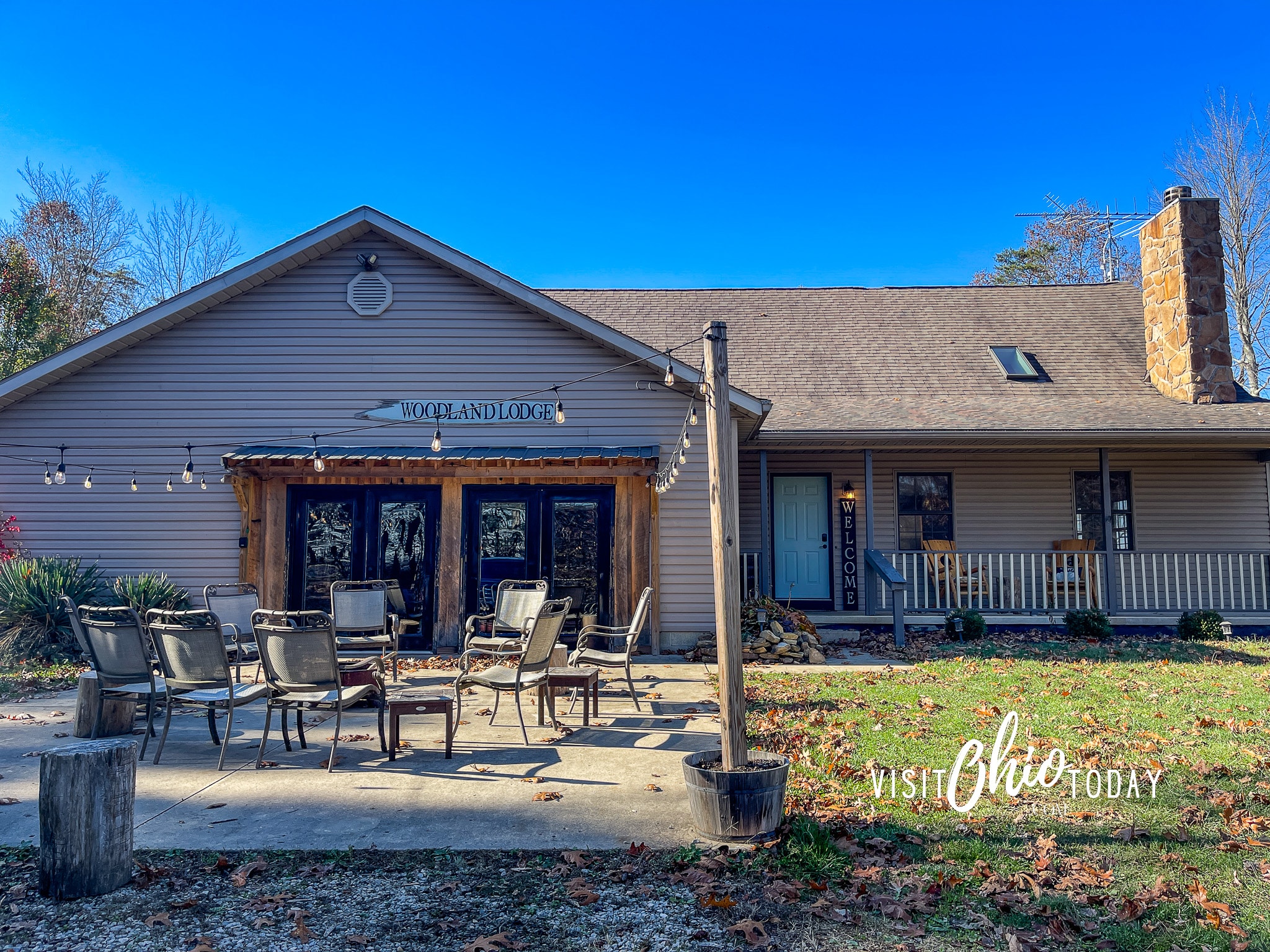 Thank you to Debbie and her family for hosting Visit Ohio Today! It was a pleasure to visit your property and to share it with Ohio! The opinions and photos in this post are my own.
Discover the ultimate Hocking Hills retreat at The Woodland Lodge – a 5-bedroom haven with a private hot tub, in-home theater, and game room. Perfect for large groups, this spacious cabin offers both comfort and adventure just 5.6 miles from Hocking Hills State Park. Enjoy indoor entertainment galore and outdoor bliss with fire pits, walking trails, and more.
Plus, feel the warmth of giving back – 5% of each rental supports charities chosen by the owners' kids.
Photo Credits: Cindy Gordon of VisitOhioToday.com
The Perfect Setup
What's better than having the best of both worlds? At The Woodland Lodge, you get a cozy home base and quick access to the breathtaking Hocking Hills State Park. It's a dream come true for large groups looking to have a blast. Think family reunion, yoga retreats, girls weekends and more! With a private hot tub, in-home theater, and game room, this cabin is a haven for fun and relaxation.
Property Highlights:
4,500 Sq Ft of Pure Awesome
Hot Tub, Theater, & Game Room
A Mere 5.6 Miles to Park Entrance
Ideal for Group Events & Retreats
tip!
Be sure to check out the photo album in the living room. It has some amazing photos of the before and after of the cabin. The Todd family did an amazing job renovating the property.
Sleeping Arrangements for Everyone
The Woodland Lodge doesn't mess around when it comes to space. With five bedrooms, a loft, and additional sleeping options, there's room for the whole gang. From kings and queens to bunk beds and a sleeper sofa, everyone's covered. I love the bunk rooms in the lower level, here you can find two rooms that each feature a queen bed and two sets of bunks. This is perfect for families!
Photo Credits: Cindy Gordon of VisitOhioToday.com
Indoor Entertainment Extravaganza
Inside the lodge, you've got it all – 4 cable TVs, foosball, basketball, air hockey, ping-pong, shuffleboard, ring-toss, and more. It's basically a paradise for game enthusiasts. I can bet this is where all the action will be. You can have the game or games (since there are TWO tvs) on, and you can be enjoying all the game tables at the same time!
Photo Credits: Cindy Gordon of VisitOhioToday.com
And did I mention the hanging swings? Yup, they have those too! You can find two ultra cozy hanging swings in the sunroom, just off the kitchen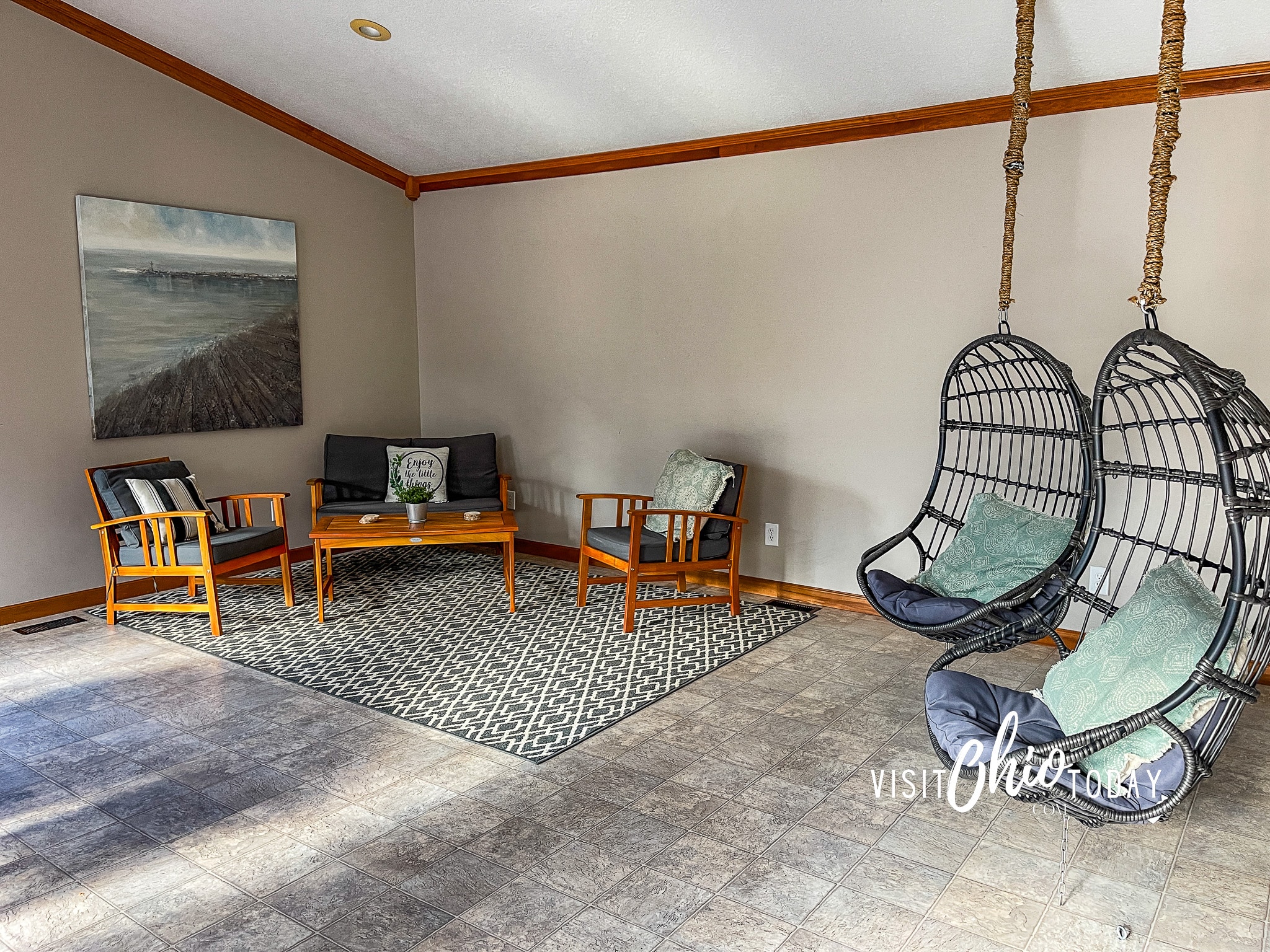 Outdoor Bliss
Take the party outside with a deck, gas grill, fire pits (yes there are TWO), and on-site walking trails. Whether you're into grilling, stargazing, or just soaking up the fresh Ohio air, The Woodland Lodge has you covered.
Photo Credits: Cindy Gordon of VisitOhioToday.com
Fully Loaded Kitchen
No need to worry about cooking up a storm – the kitchen is fully equipped with everything you need. From a breakfast bar to a coffee station, this place has it all. There are plenty of plates, glasses and silverware to serve the 20 guests this lodge can accommodate.
Photo Credits: Cindy Gordon of VisitOhioToday.com
Giving Back to the Community
Here's the heartwarming twist – The Woodland Lodge isn't just a vacation rental. The owners have a big heart for charity. 5% of each rental goes back to one of three worthy organizations chosen by their kids: Special Olympics, St Jude's Research Hospital, or The Humane Society. Talk about spreading the love!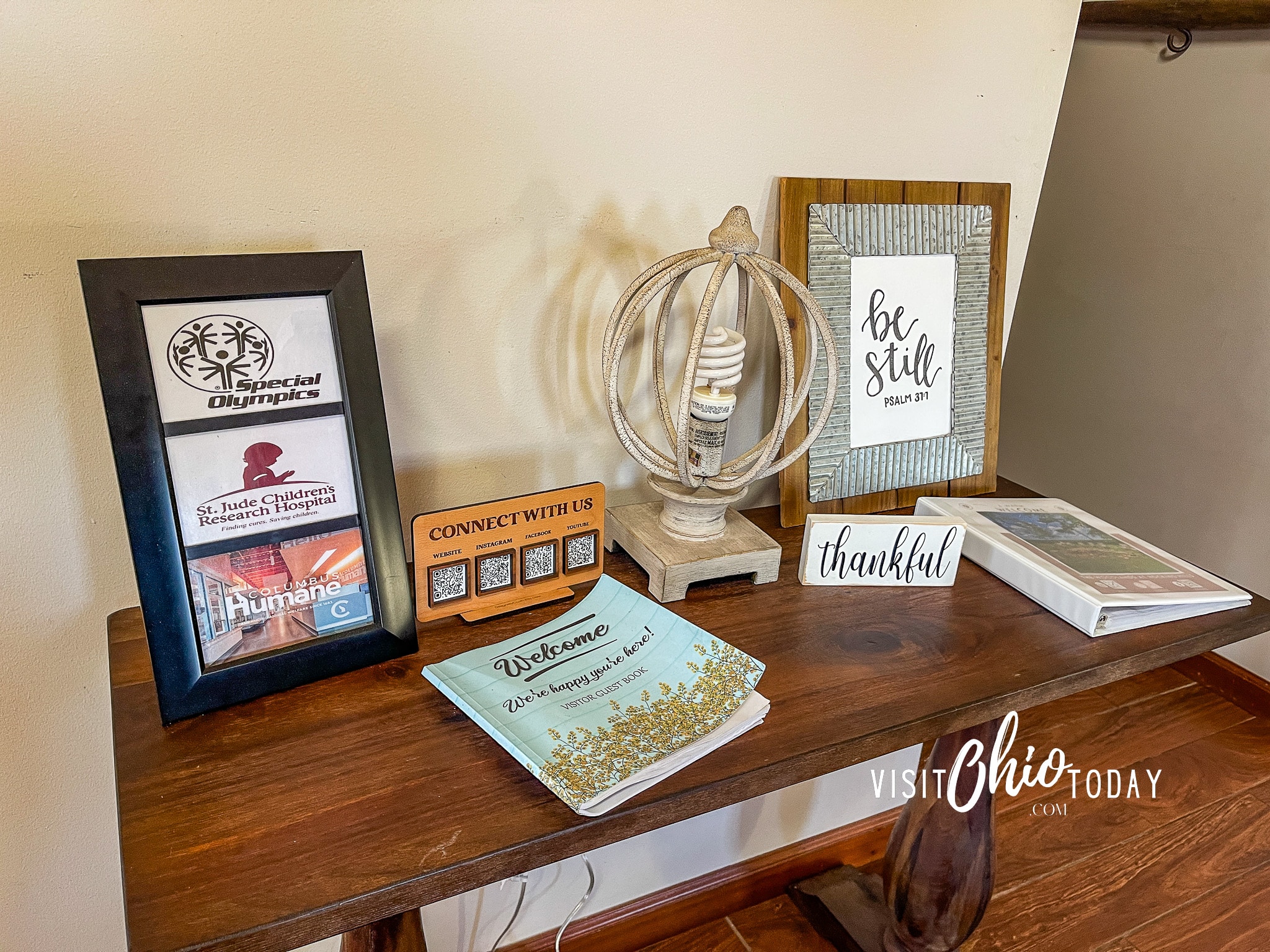 Community Partnerships
They're not stopping there. The Woodland Lodge has teamed up with Torke Family Coffee to give back 5% of every 'Woodland Lodge' coffee purchase to Meals on Wheels of Hocking County. And guess what? Soapbox soaps is also on board, donating a bar of soap to those in need with every product sold. In addition to those companies, The Woodland Lodge also partners with several other companies, read about them here.
Photo Credits: Cindy Gordon of VisitOhioToday.com
Meet Debbie – A Community Dynamo
I can't wrap this up without giving a shoutout to Debbie, one of the co-owners. I met her in 2022 and she has become a big part of my life and community. Her dedication to the community, guests, and other short-term rental owners is making waves. The lodge is not just crazy big; it's crazy clean AND crazy amazing, thanks to Debbie's commitment and warmth. She's not just someone to watch; she's someone to admire.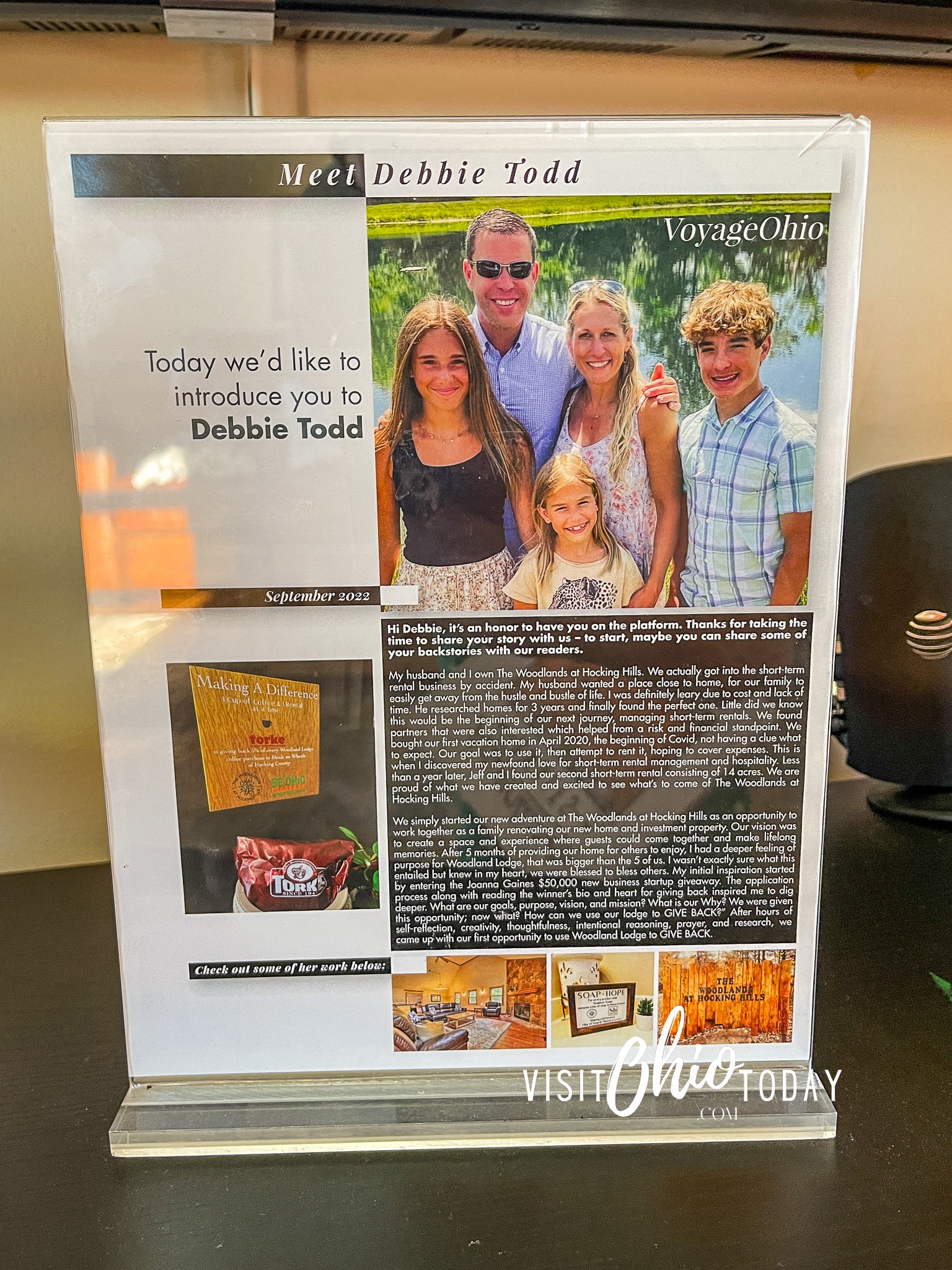 Cindy's Insider Ohio Tips!
There are so many places to relax in this rental! One of my favorite places was sitting on the front porch each morning with a cup of Torke Coffee! It was a great place to relax, watch the sunrise and enjoy the beauty!
Let's go to The Woodland Lodge
So, if you're planning a trip to Hocking Hills and want a stay that's big on comfort and even bigger on heart, The Woodland Lodge is your go-to spot. Book your stay, have a blast, and make a difference in the community. Happy travels, Ohio explorers!
Woodlands Lodge Website | Book Direct | Facebook | Instagram