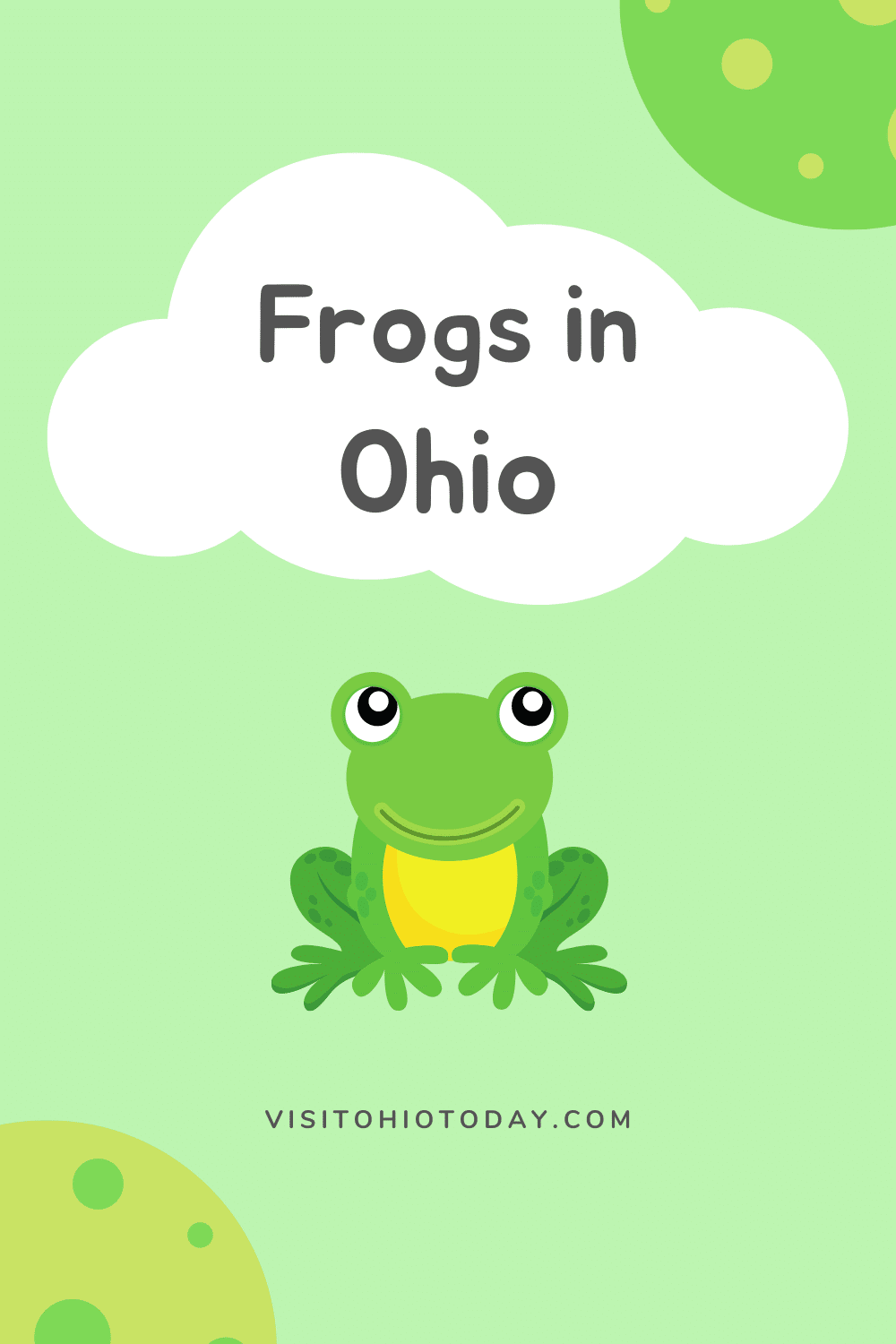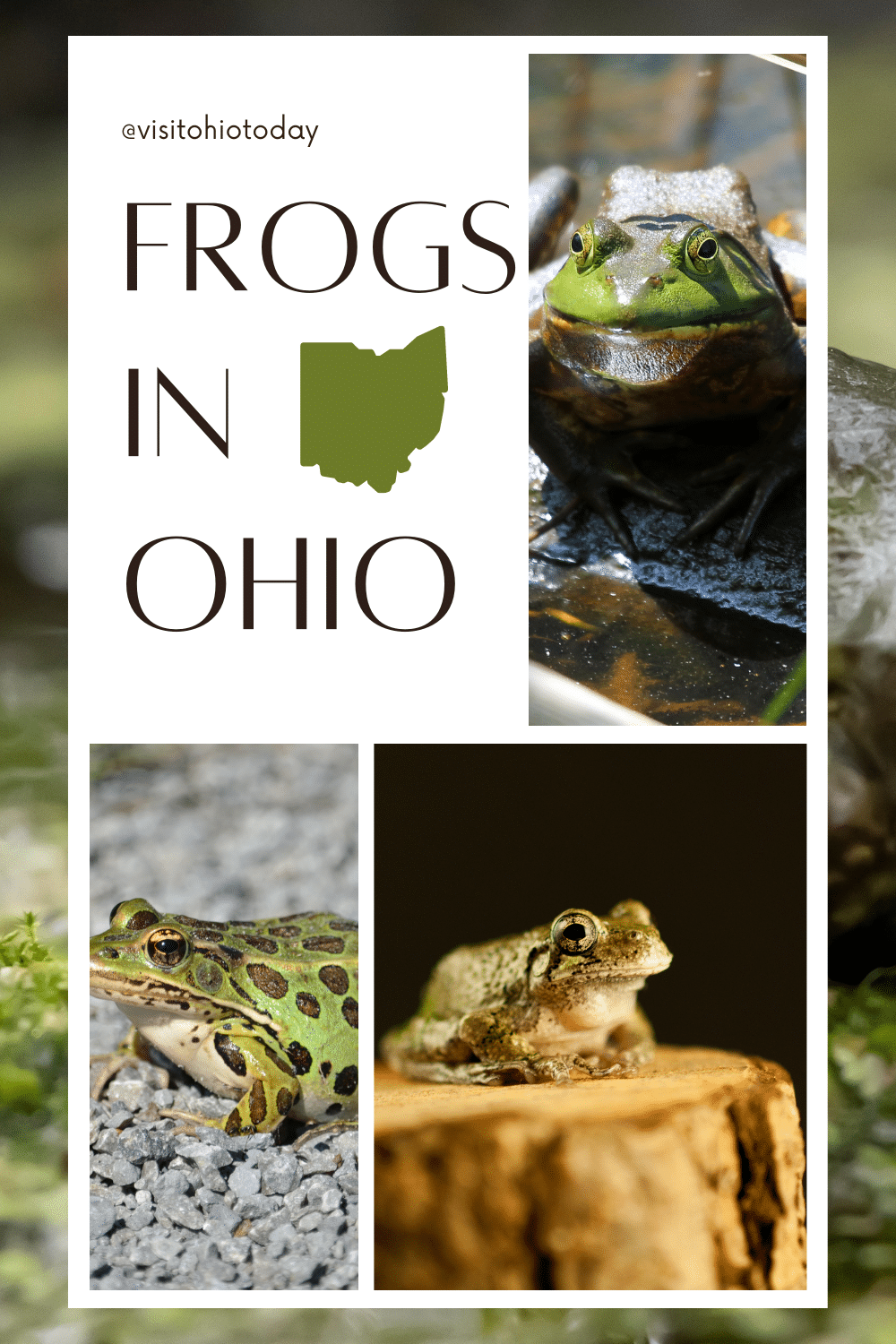 Ohio is home to at 15 species of frogs and also toads. If you are looking for some simple facts about Frogs in Ohio, this is your place. This is a simple guide to help you identify the Frogs in Ohio.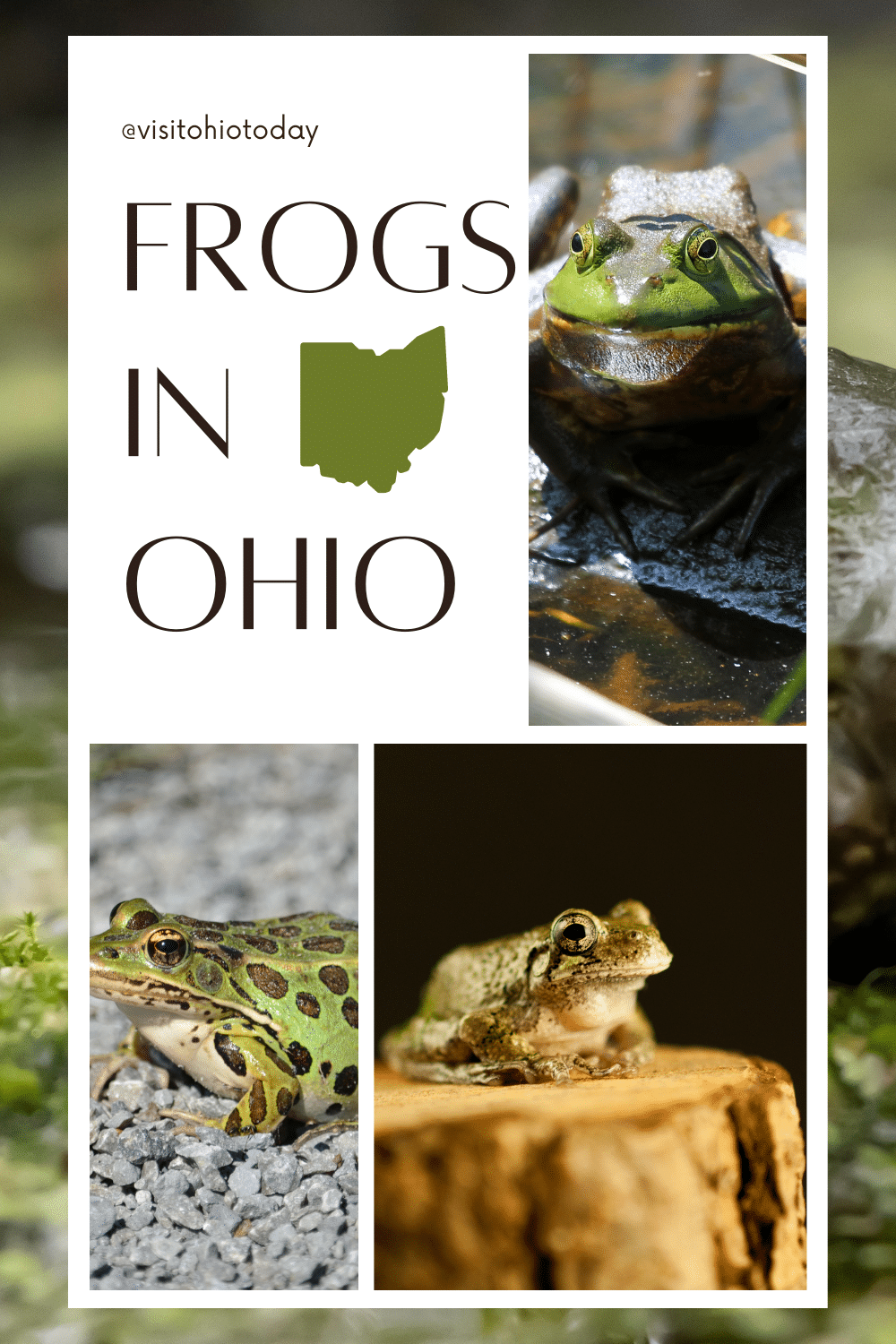 Frogs in Ohio
Blanchard's Cricket Frog - Frogs in Ohio
The Blanchard's Cricket Frog is one of the many frogs in Ohio. It is usually just over 1.5 cm to 3.8 cm in length. This Ohio frog has some distinctive features. It has a dark triangle between the eyes along with a jagged dark line down the back of each thigh. The Blanchard's Cricket Frog is usually brown, gray or olive.
Some of these Ohio frogs may appear with red or green markings as well. This frog has scattered warts on it's back and it's belly is white. The frog likes sunny areas along water, such as shores of rivers, creeks and ponds. It prefers these sites due to the vegetation and algae. You can find the frog in most parts of Ohio, though the most common place to find this frog in Ohio is in Southwest Ohio.
Mountain Chorus Frog - Frogs in Ohio
Mountain Chorus Frogs are found mostly in Southeastern Ohio. They are about 1 inch in length. The frogs are mostly shades of tan or brown and some have darker markings on the back. The Mountain Chorus Frog has a distinct marking; it has two crescents that run down the back, bowing towards the spine. This frog also has a darker triangle between the eyes. They like woodland as their habitat and use small pools and puddles in or near forests.
Northern Spring Peeper - Frogs in Ohio
It is said that the Northern Spring Peeper may be the most popular frog in Ohio! It is one of the first signs of spring with it's shrill peep or whistle sound. This call is made typically during March to May, which is the breeding season for this Ohio frog. Females rate the male by the quality of their call. The voice of this frog is loud, but it is hard to spot one. They are small in size, only 0.75 inches to 1.75 inches.
The Northern Spring Peepers are usually ranging from gray to brown. They camouflage very well with their surroundings. They do have a distinct marking; they have a dark (and very large) X on their back which make them easy to identify, if you do spot one.
Western Chorus Frog - Frogs in Ohio
You can find the Western Chorus Frog throughout Ohio. If you are in the eastern or southeastern part of the state, sightings of this Ohio frog may be more sparse. This is a small frog, coming in at approximately 1 inch in length. It is very similar to the Spring Peeper.
It is usually brown, tan or gray and has three dark stripes on its back. Sometimes the stripes are broken up and look more like spots on the frog's back. The Western Chorus Frog likes smaller pools, standing water, etc They usually pick spots with thick grasses and other vegetation.
American Bullfrog - Frogs in Ohio
The American Bullfrog is actually the largest species of frog in Ohio and in North America. American Bullfrogs are usually green - yellow in color and have some dark coloring across their body. You can tell the difference between and male and female by the size of their ear drum. The female American Bullfrogs have eardrums the size of their eyes! They are much much larger than the size of the males.
These frogs are active from April to October. Their call can be heard from a quarter mile to a mile away.
Northern Green Frog - Frogs in Ohio
Northern Green Frogs are green to brown in color. Sometimes they will have noticeable spots. It has a ridge going down each side of it's back, which differentiates it from the American Bullfrog. Typically, the Northern Green Frog is between 2.25 inches to 3.5 inches in length. It likes to hide out in shallow freshwater. It's croak can be described as sounding like a loose banjo string.
Pickerel Frog - Frogs in Ohio
You can find the Pickerel Frog near clear, cool streams as well as woodland springs or meadows. The frog ranges from 1.75 inches to 3 inches in length. It is typically tan, light brown or green on it's back, with the belly being white in color. What is unique about the Pickerel Frog is that when it's inner thighs are exposed they are bright orange or yellow.
Northern Leopard Frog - Frogs in Ohio
This Ohio frog is mostly brown and green but has black spots like a leopard. It likes to hang out in open areas like meadows and fields away from the water. It is often called a grass frog or meadow frog for this reason. Full sized Northern Leopard Frogs are usually 2 inches to 3.5 inches in length. When they feel threatened or frightened they will leap in a zig zagged pattern until it reaches the water.
Southern Leopard Frog - Frogs in Ohio
The Southern Leopard Frogs range in size from 2 inches sto 3.5 inches. They are usually green or brown and their bellies are white. You may see along the backs of these frogs, two or three rows of random black spots. They do not have a black spot on their snout. They like meadows, pastures, wooded areas and some aquatic habitats.
Wood Frog - Frogs in Ohio
Wood Frogs like to hang out in woodlands that have deep and moist soils. They range in size from 3.5 cm to 7 cm. They are typically darn brown or tan, but some have been found with red to pink colorings. They typically do not have markings on their backs. Their call is a series of short clucks. It is said that from a distance, it can sound like a flock of mallard ducks.
Tree Frogs in Ohio
Gray Treefrog - Tree Frogs in Ohio
It is said that the Gray Treefrog is magnificent at disguises. THis is the largest tree frog in Ohio. When it comes to color the Gray tree frog can actually be brown, green, gray or black. It uses camouflage to blend into surroundings. Typically, this Gray Tree Frog can be found in the northern most parts of Ohio, specifically the northern two-thirds of Ohio.
They like to spend their time near small trees and shrubs. They have large sticky pads on their toes that help them to climb. YOu will often hear their woodpecker-like call right before or after a rain. They are generally 1.25 inches to 2 inches in length.
Cope's Gray Treefrog - Tree Frogs in Ohio
The Cope's Gray Tree Frog and the Gray Tree Frog are nearly identical when it comes to physical characteristics, how they behave and where they live. The basic difference between the two tree frogs in Ohio is their call. It is very hard to tell the difference but there is one.
Toads In Ohio
Eastern Spadefoot - Toads in Ohio
The Eastern Spadefoot Toad (Family Pelobatidae) is a large toad. It ranges from about 1.5 inches to just over 3 inches in length. The skin of the Eastern Spadefoot Toad is smoother and softer compared to other toads. This toad is also speckled with tiny warts. The color varies from tank to yellow to dark brown.
It has two vertical lines that run from the head (back of eyes) down the back forming an hourglass shape. These Ohio toads prefer dry habitats, but they can be found in most habitats. They like to spend their time buried underground and often comes to the surface after heavy rains.
True Toads - Toads in Ohio
The True Toads species (Family Bufonidae) are a family of toads that have warty skin, bigger bodies, short legs and glands on the sides of their heads. The parotid glands on the sides of their heads secrete a poison that helps protect them from predators. True Toads have no teeth and they do not have a breast bone. Most of the toads in his family are dull in color and widely range in size. True Toads can vary from 1 inch to 8 inches.
Fowler's Toads - Toads in Ohio
The Fowler's Toad had a very high pitched trill that can last up to 30 seconds in length. It is a very distinct call that is a low nasal sound that is only four seconds long. They do this over and over. The Fowler's Toad is 2 inches to 3 inches in length. It is found in both northern and southern Ohio.
The toads protect themselves from predators by burrowing to avoid predators, playing dead or inflating their bodies. The toads are brown, tan, gray or even light green.
Eastern American Toads - Toads in Ohio
Eastern American Toads can range from 5 cm to 9 cm in length. This toad's skin is very dry and full of warts. It likes to hang out in wooded areas, fields and even urban areas. The backs of these toads vary from a red color to a gray or tan color with some dark spots. The belly of the Eastern American Toads are a lighter cream color.
Frogs in Ohio - what have you spotted?
What frogs or toads have you seen in Ohio? We would love to hear from you! Drop us a comment below telling us what frogs in Ohio you have spotted!