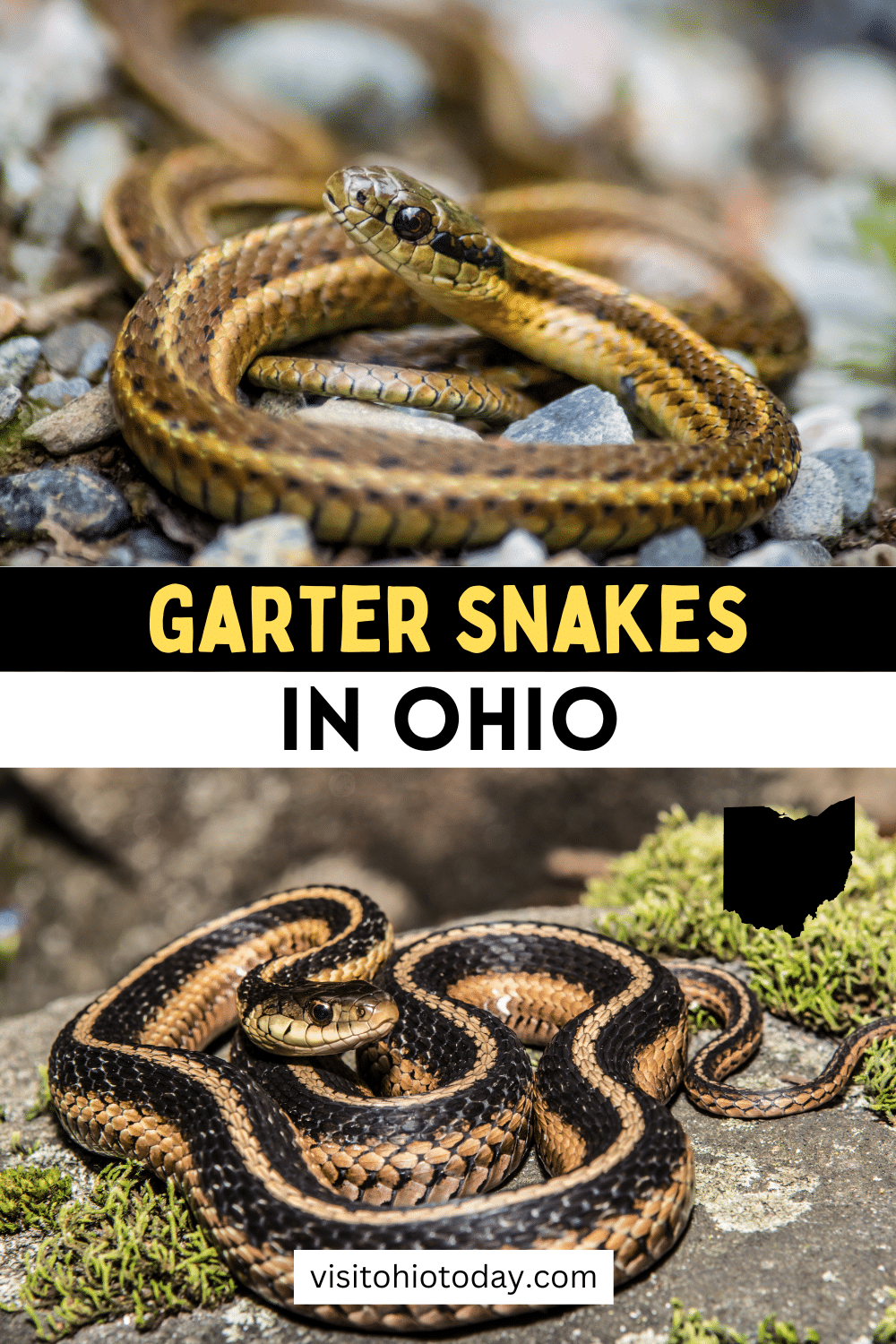 Ohio has some amazing wildlife, and this includes wildlife of the reptilian nature. Garter snakes have been at home in Ohio for centuries, and in this article, we feature 5 garter snakes that you may find when you´re out and about.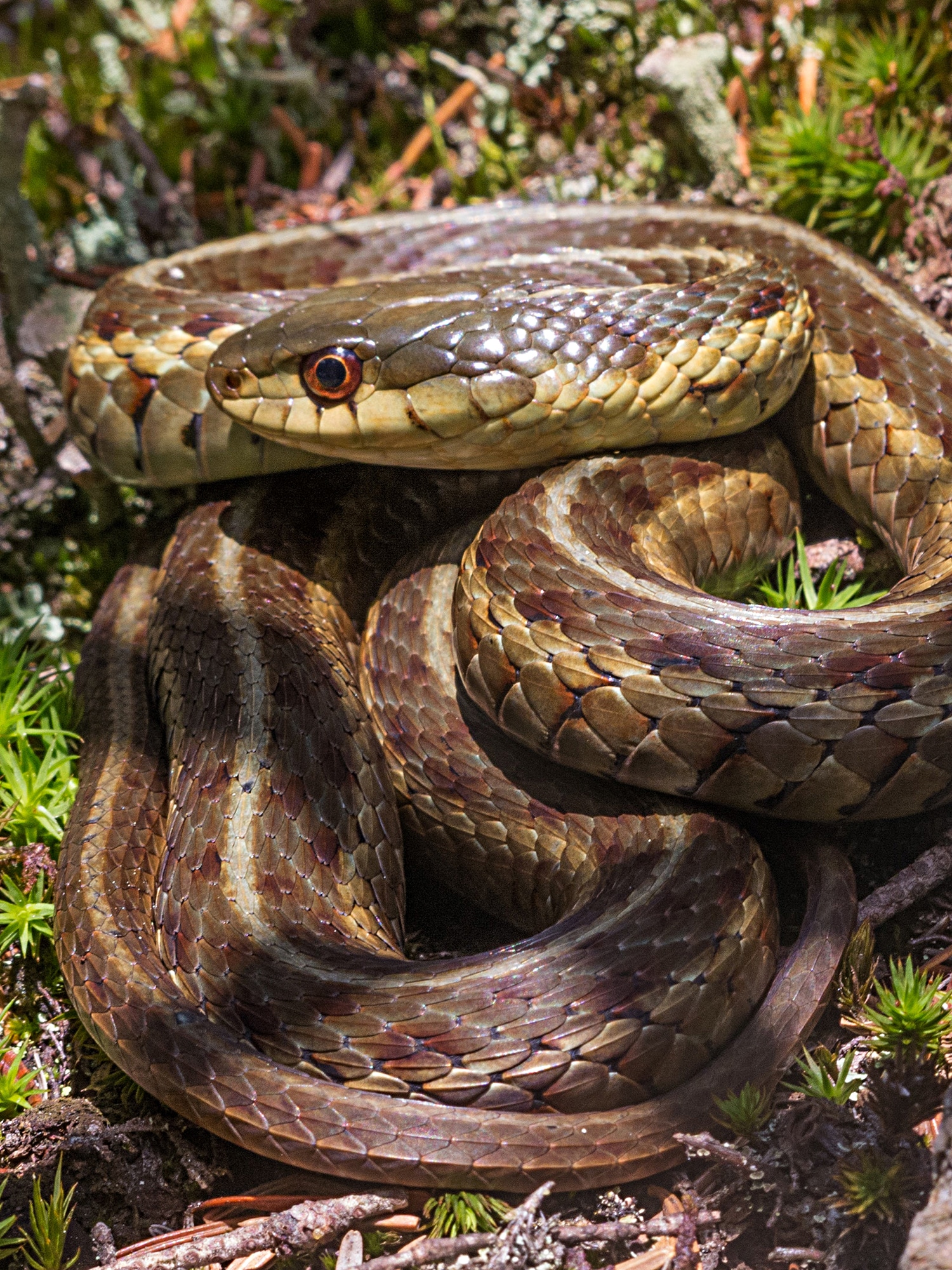 Image credit: Brandon Benedict on Pexels
Fun Facts About Garter Snakes
They are named for their stripes – thought to look like the garters men used to hold their socks up!
They are the most widespread snake in the US
They can have as many as 80 babies at a time!
They give birth to live babies
They are carnivores – although their diets can vary greatly
They can swim and climb… as well as slithering!
Butler's Garter Snake (Thamnophis butleri)
You have a good chance of seeing one of these garter snakes in Ohio gardens and countryside. These snakes are also at home in states such as Michigan and Indiana. You have a good chance of seeing one of these garter snakes in Ohio gardens and countryside. These snakes are also at home in states such as Michigan and Indiana.
These snakes can be shy, but if an individual lets you handle it, then they tend to be quite placid. The Butler´s Garter Snake tends to be found in places that are very quiet and have been abandoned by people and other species of animals. An example is fields that used to be worked and have since been left alone. The Butler´s Garter Snake enjoys feasting on leeches and earthworms.
Eastern Ribbon Garter Snake (Thamnophis sauritus sauritus)
The Eastern Ribbons Garter Snake can be found throughout the southeastern United States and they quite enjoy living in Ohio. The reason why Ohio is a great place for the Eastern Ribbon Snake to live is because this species of snake is semi-aquatic. These snakes do enjoy being in places that have humidity. Some examples of habitat are: damp wood, swamps, lakes, rivers, meadows, and wet prairies.
While they do enjoy a lot of time in damp environments, they do spend the majority of their time out of water. While most garter snakes consume land-dwelling animals, the Eastern Ribbon Snake stands as an exception to this rule, they prefer to eat tadpoles, toads, frogs, small fish, and salamanders.
This garter snake has a very slender tail, so it does stand out from other species of garter snakes.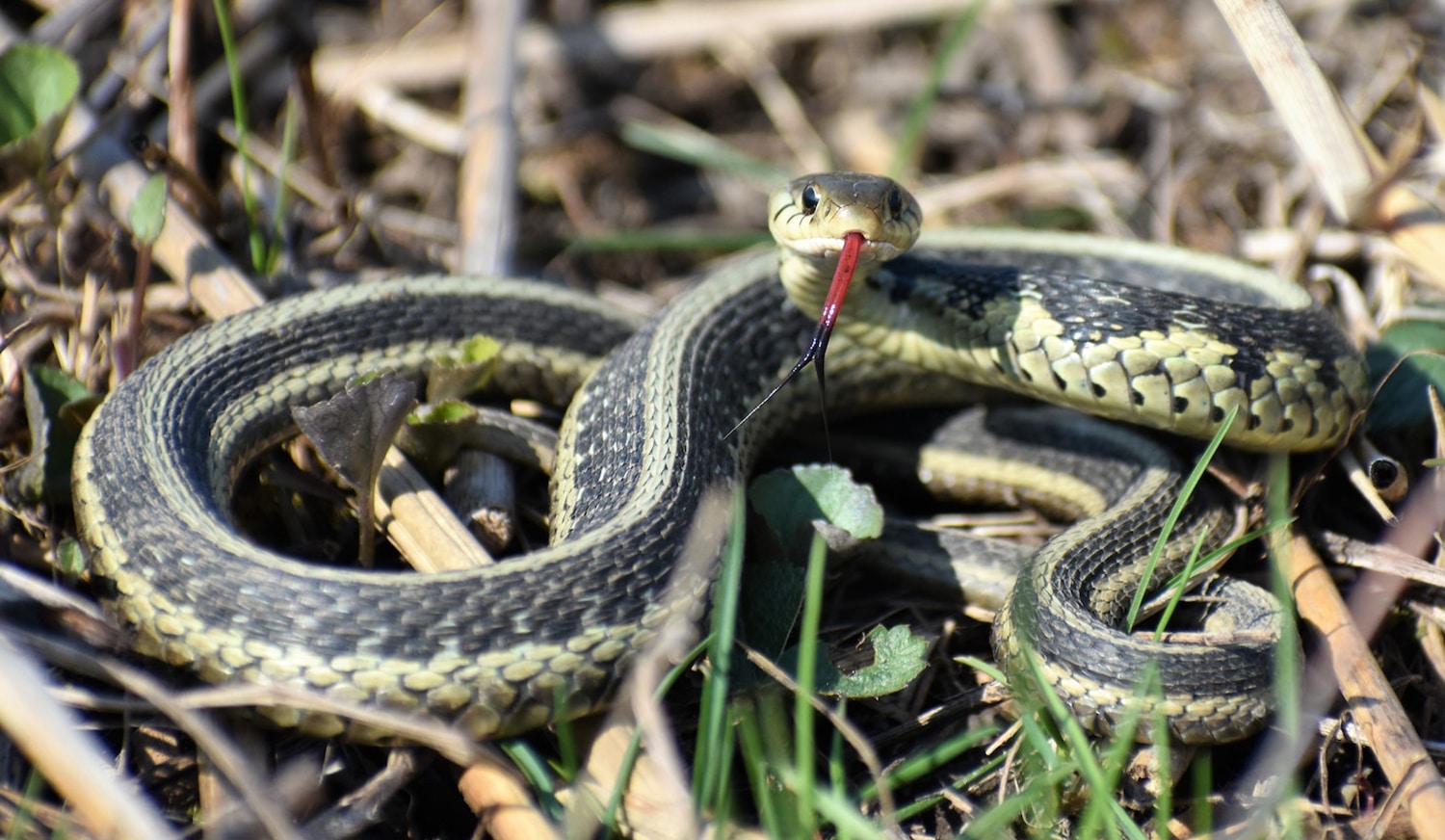 Image credit: Thomas Shockey on Pexels
Plains Garter Snake (Thamnophis radix)
The plains garter snake is a garter snake that can be found around the Wyandot County area of Ohio.
Their capacity to endure cold environments has earned these snakes renown, and this is one factor that keeps them visible even throughout the winter months. In the winter months, they tend to come out of their homes and sunbathe on rocks and slate. These snakes have got a lovely color to them and they stand out a lot more than their cousins.
Eastern Garter Snakes (Thamnophis sirtalis sirtalis)
The Eastern Garter Snake is the most common type of garter snake that can be found in Ohio. This is a subspecies of the common garter snake.
This species of snake is not only present in Ohio but also extends along the eastern region of the United States. The most common places to find this species of snake are in places like ponds, rivers, streams, prairies, and grassland.
This snake can have different colors on its side. Some individuals may be brown, green, or blue and some may be yellow. A lot of the common garter snakes found west of Lake Erie are black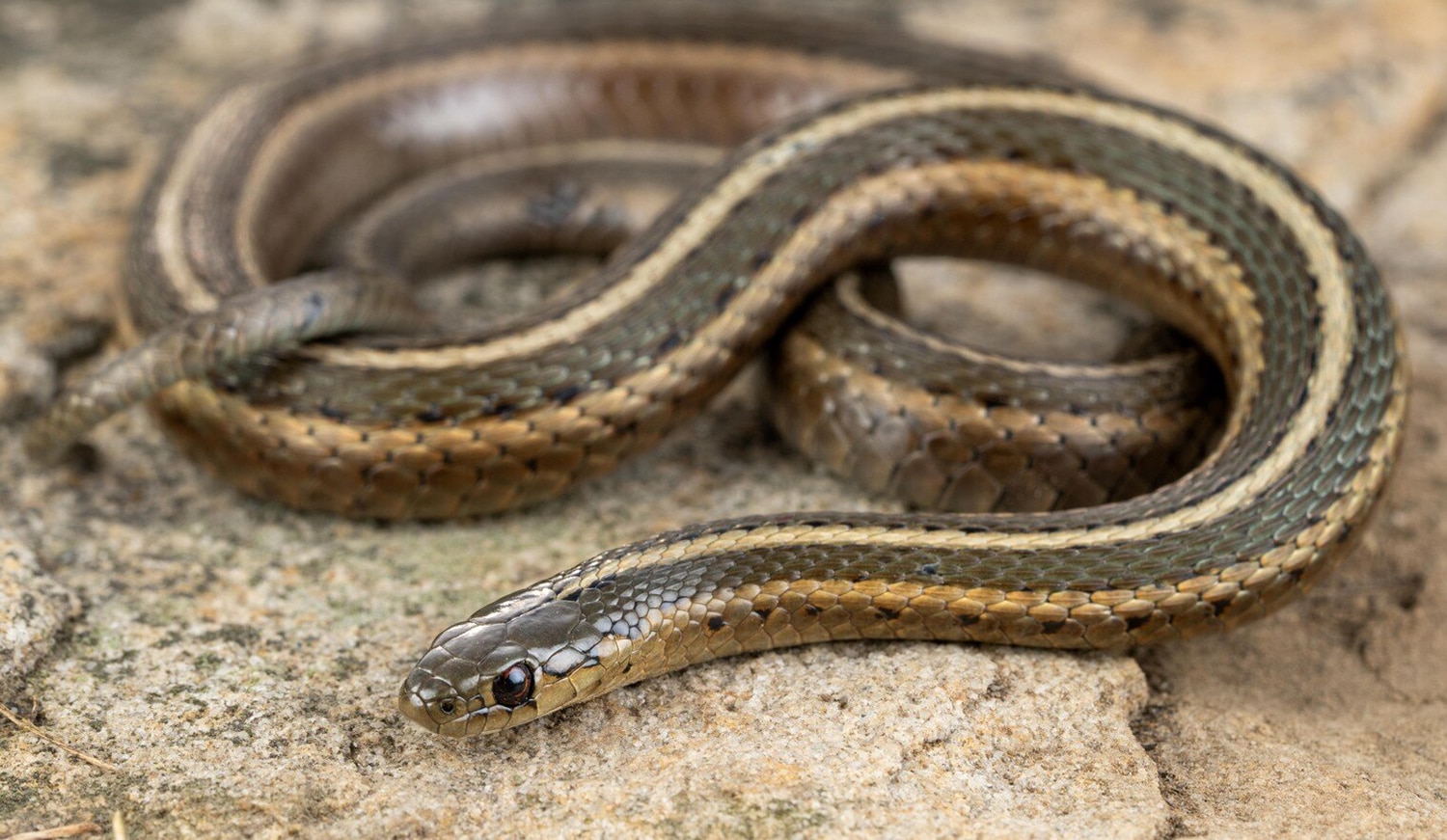 Image credit: evangrimes, CC BY 4.0, via Wikimedia Commons
Shorthead Garter Snakes (Thamnophis brachystoma)
The Shorthead garter snake exists in Ohio; however, it is much less common than the other featured garter snakes. Pockets of individuals have been found around the Youngstown area.
These snakes prefer quieter environments, places like abandoned buildings and fields.
They also prefer to stay in close proximity to water sources, which leads them to inhabit areas near lakes and rivers. The Shorthead garter snake is quite small, growing to a maximum length of 18 inches. Their heads are also very small and look quite compacted into the rest of the body.
Check out our article Snakes in Ohio!
Garter Snakes In Ohio!
Have you spotted any Garter Snakes in Ohio during your outdoor adventures? We'd love to know what species you have spotted! Were you able to take any photographs? Drop us a comment below and let us know!
If you enjoy looking out for wildlife in Ohio, you may like our articles about Caterpillars, Frogs & Turtles in Ohio.
Of course, some of the best places to see the wildlife and wildflowers in Ohio are Metro Parks, State Parks, and Nature Preserves. Here are some of our favorites: Clear Creek Metro Park, Forked Run State Park, and Glen Helen Nature Preserve.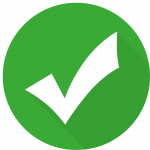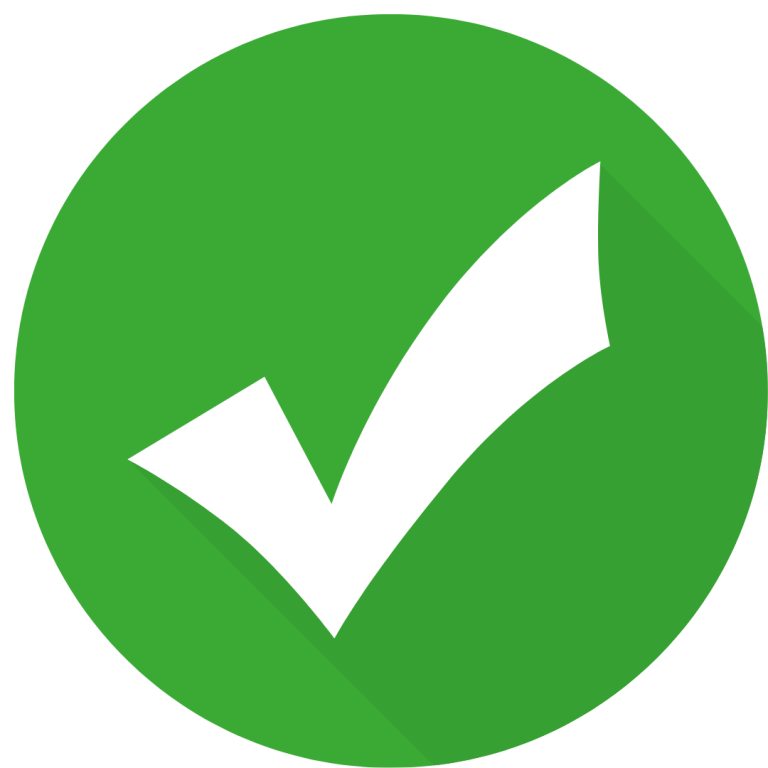 Hello! We have done our very best to ensure that the accuracy of events, hours, addresses, etc are up to date. Please know that information can change due to weather, updated health and safety challenges, etc. If you find incorrect information, please send us an email and we can get it updated.
To be updated and stay connected, subscribe to our newsletter.