Hocking Hills Horseback Riding
This post contains links to affiliate websites, such as Amazon, and we receive an affiliate commission for any purchases made by you using these links.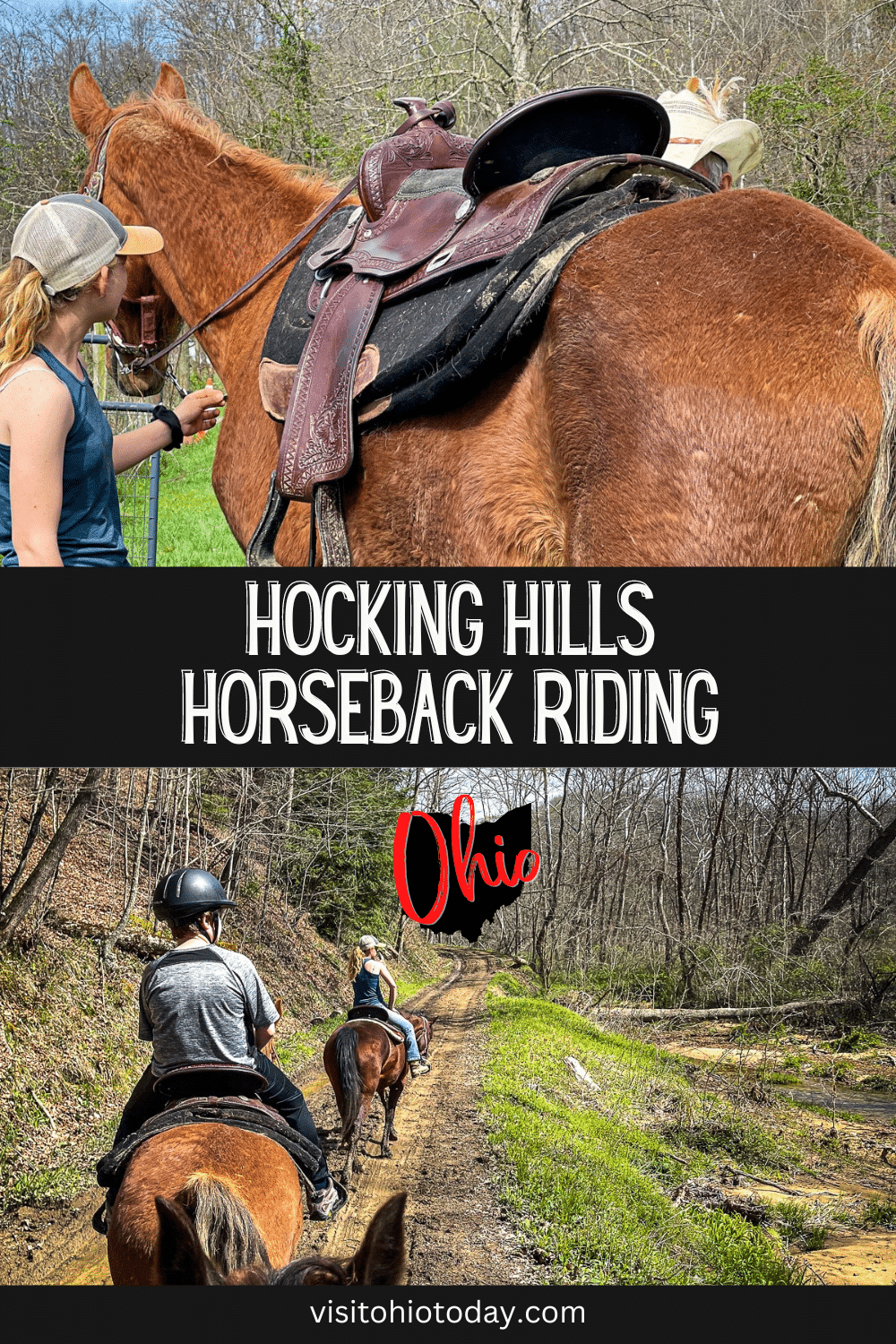 Hocking Hills has some of the best sights to view on horseback. Here's our round-up of some of the best places to go Hocking Hills Horseback Riding!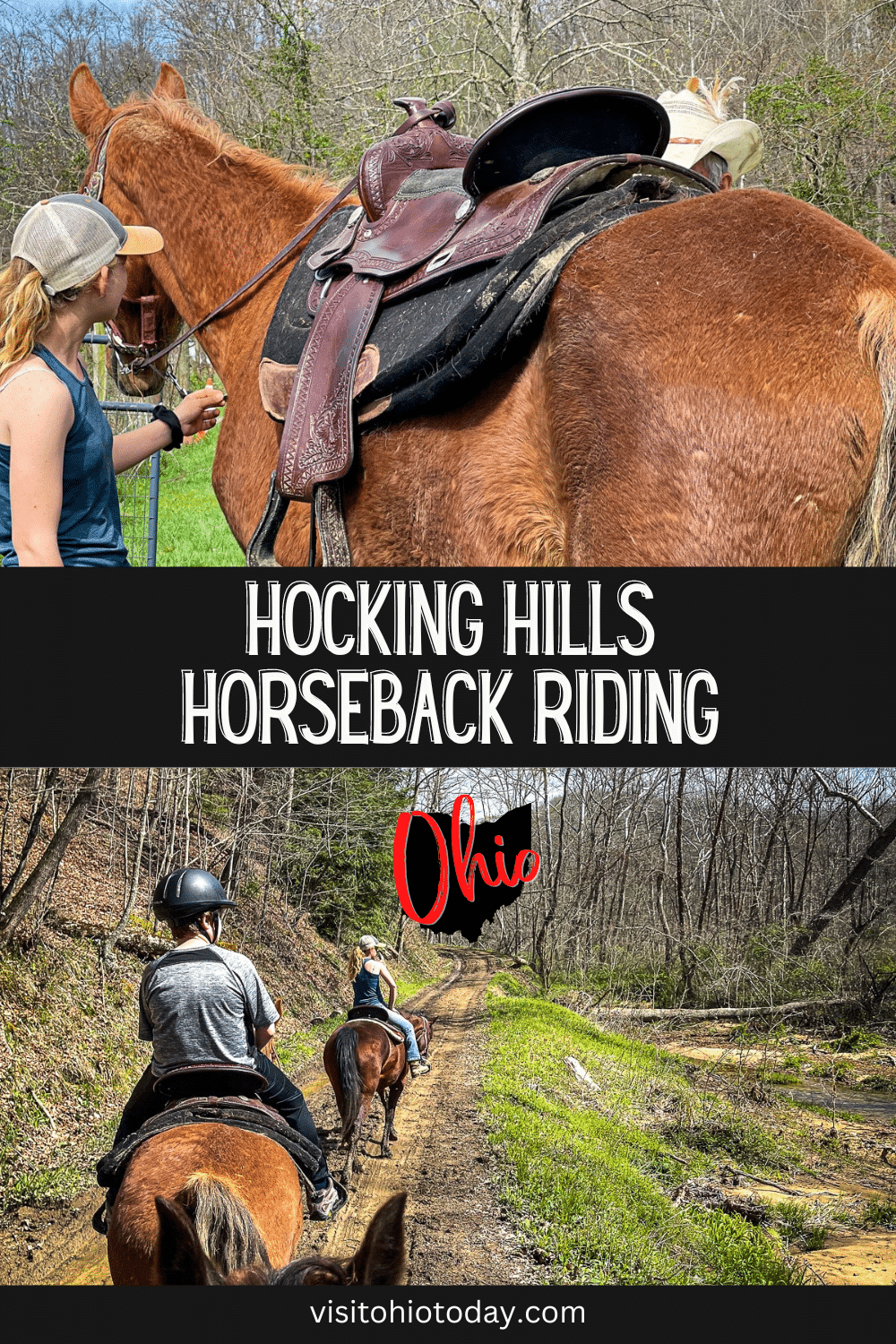 Experience Horseback Riding In Hocking Hills
Hocking Hills is a stunning place to visit, and the horseback riding that takes place here is some of the best that you can find in the entire state of Ohio. Below are six stables that offer horseback riding in this spectacular National Park.
Map of Hocking Hills Horseback Riding
Cindy, this is such a great list! We found new places we didn't know existed!

Lanette (blog reader)
Equestrian Ridge Farm
This farm is over 200 acres! It is in a spectacular location, only minutes away from Ash Cave. This isn't a normal horse ride, either. The rides here are tailored to each guest's needs and requirements.
The horses that work at this farm are known for their gentle nature. They are very well looked after, and guests will notice this as the horses are well-mannered and trained. If the weather is not conducive, then indoor riding is available. Reservations are preferred, so please go to the website or contact them directly via phone.
Blue Moon Acres – Riding Stable
This is a small, intimate stable. If you are looking for something that is personal and not too busy, then this is the place for you. The trails that are on offer with this stable are breathtaking. They go through the forest and can get quite rugged.
There are weight, experience, and height restrictions, so it is best to check this out before planning on booking a ride here. All rides must be set up by appointment, so please plan ahead to avoid disappointment. Rides will not be permitted without reservation.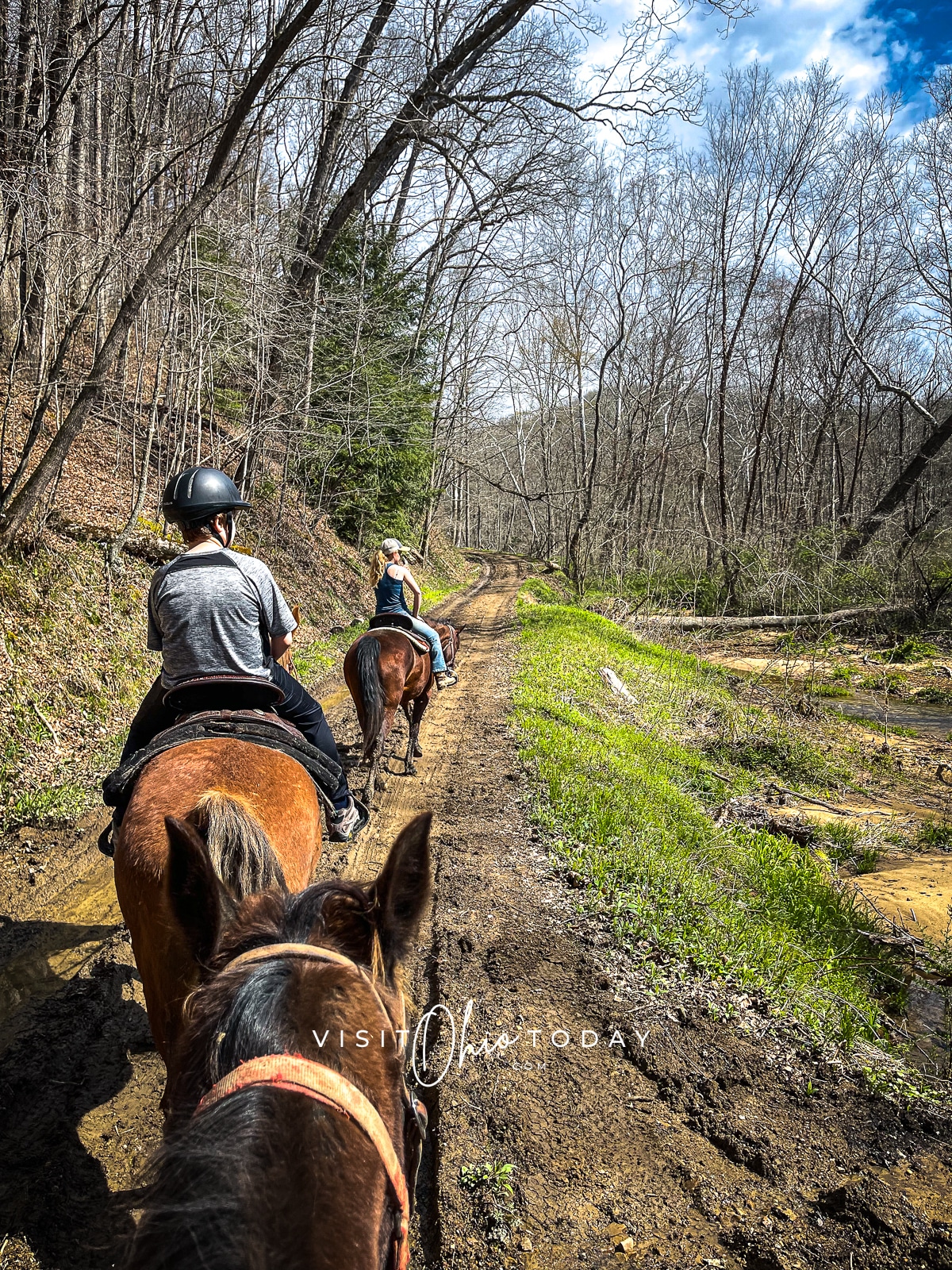 Ellinger's Farm
Ellinger's Farm boasts a wonderful indoor riding area. This is great for when the weather is unpredictable. There is also an outdoor area for when the weather is good. Ellinger's Farm is an ideal place to hold celebrations like birthday parties or Christening parties.
If you are interested in visiting this farm, then please contact them directly as it is by reservation only.
Hocking Hills Horse Rides
Hocking Hills Horse Rides is a small business that is family-run. Location-wise, this is as good as it gets, right in the middle of Hocking Hills. All horseback riding is guided, and the rides go along some of the most stunning areas of Hocking Hills.
Also, if you are thinking of getting married, horses and handlers are available if you wish to have horses at your wedding. Please call ahead and book your place.
Check out our article about Hocking Hills Horse Rides!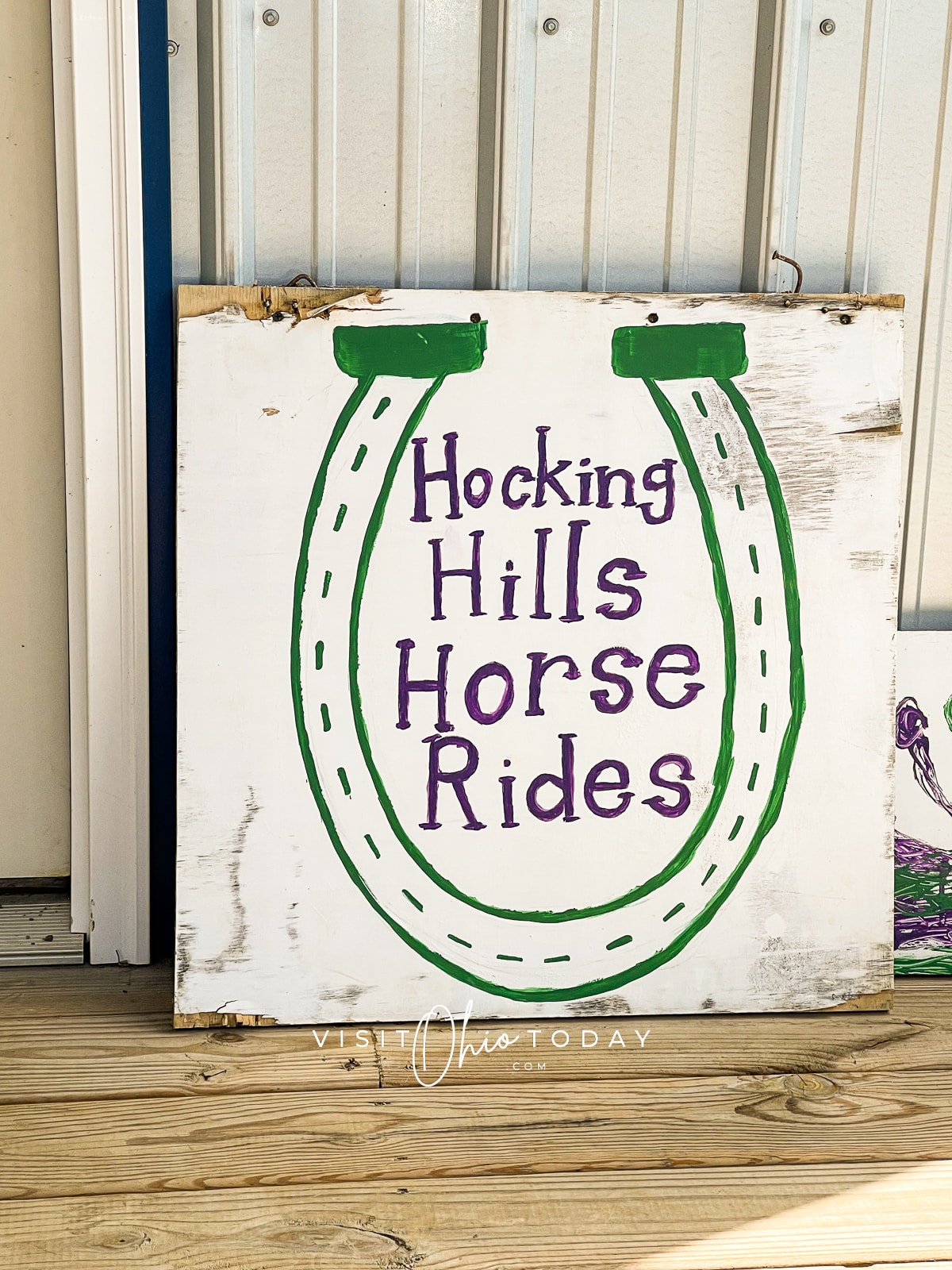 The Spotted Horse Ranch
The Spotted Horse Ranch is a massive place. It has over 35 miles of trails and over 500 acres of land. Guests of all abilities are welcome here! Single riders are welcome, as well as groups. Spotted Horse Ranch is the only place in Ohio that offers a Cowboy Cookout!!!!
There is also a hall available for guests who would like to host celebrations here like parties, cookouts, christenings, and even weddings. The campgrounds are really big as well, so there is ample room for tents, trailers, and campers.
Each area has water available for the horses and electric hookups as well, plus there are restrooms and a shower house. If you want to have a Cowboy Cookout, a week's notice is required, and reservations are also required if you want to visit.
Check out our article about Spotted Horse Ranch!
Uncle Buck's Riding Stable
Uncle Buck's is a scenic trail that is stunning. It is located close to the Zaleski State Forest and one of the rides goes through the forest. There are also three other trails of different lengths as well.
Uncle Buck's is also unique in that it has a Saloon that delivers delicious food and beverages. At various times, they also host a BBQ and entertainment. This is a great place to visit, and you can comfortably spend hours here.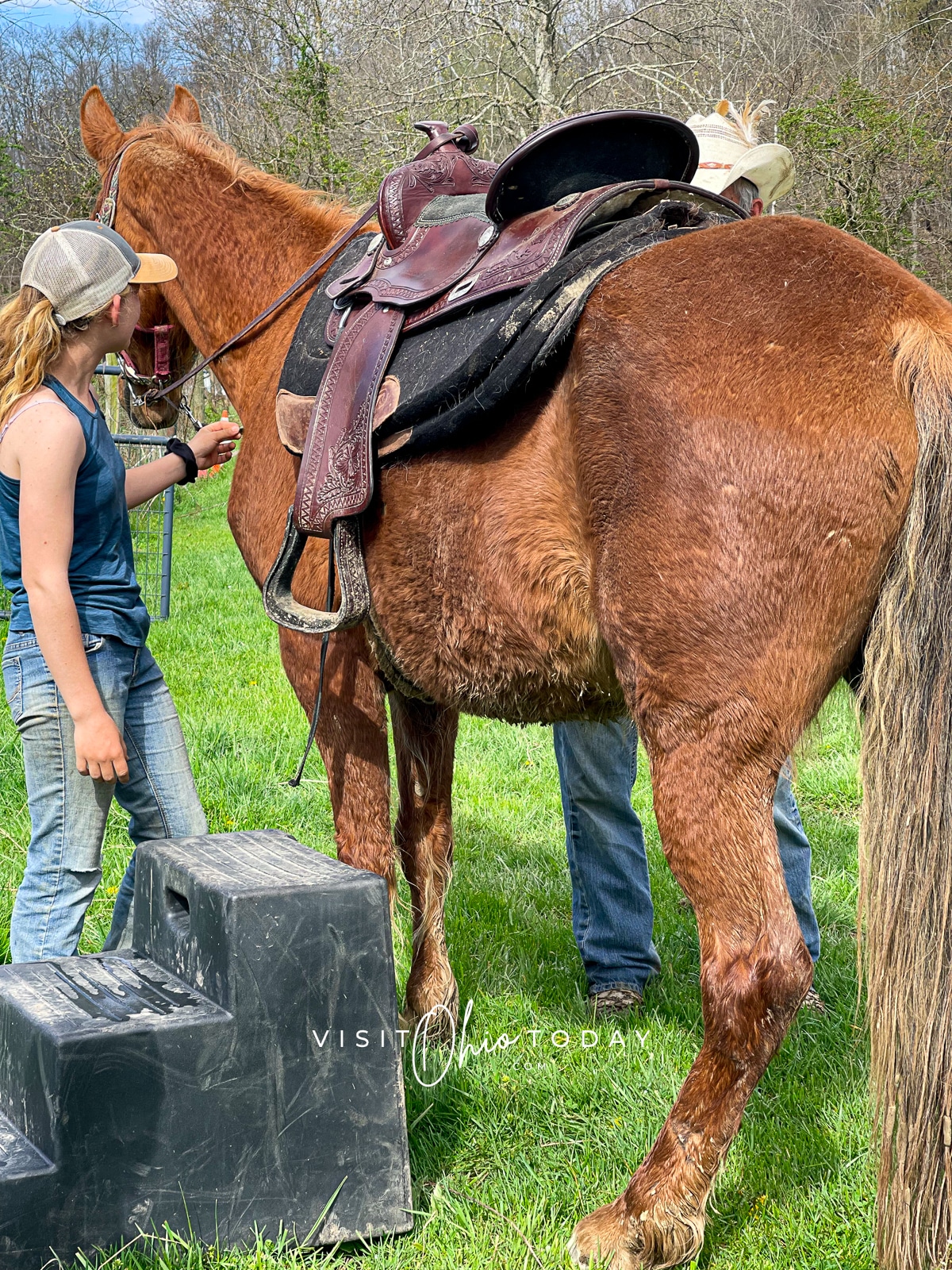 (Hocking Hills Horse Rides, Bloomingville) We had such an amazing time on our trail ride. The family owned business was very accommodating. They were able to schedule a ride that fit during our trip. We really enjoyed meeting the horses and getting to know their history prior to the ride. We loved the fact that these are rescue horses, and you can tell how much they are loved by the family who runs this business. Highly recommended. If we return to the area, we would totally book with them again.

Noelle L (TripAdvisor)
Cindy's Insider Ohio Tips!
My favorite place to ride is Hocking Hills Horse Back Rides- I guess taking a private ride! We loved every second!
Let's Go Hocking Hills Horseback Riding!
Have you been horseback riding in Hocking Hills? We have mentioned a few places here, but do you know of any more? We would love to hear about your experiences! Let us know in the comments below!
Horseback riding isn't exclusive to Hocking Hills, though, of course! There is lots of horseback riding in Ohio – check our article to see if there are any others you have visited!
If you are looking for more adventure, be sure to check out our article about Urban Air Dublin!
Hello! We have done our very best to ensure that the accuracy of events, hours, addresses, etc, are up to date. Please know that information can change due to weather, updated health and safety challenges, etc. If you find incorrect information, please send us an email at [email protected], and we can get it updated.

To be updated and stay connected, subscribe to our newsletter.