Urban Air Dublin
This post contains links to affiliate websites, such as Amazon, and we receive an affiliate commission for any purchases made by you using these links.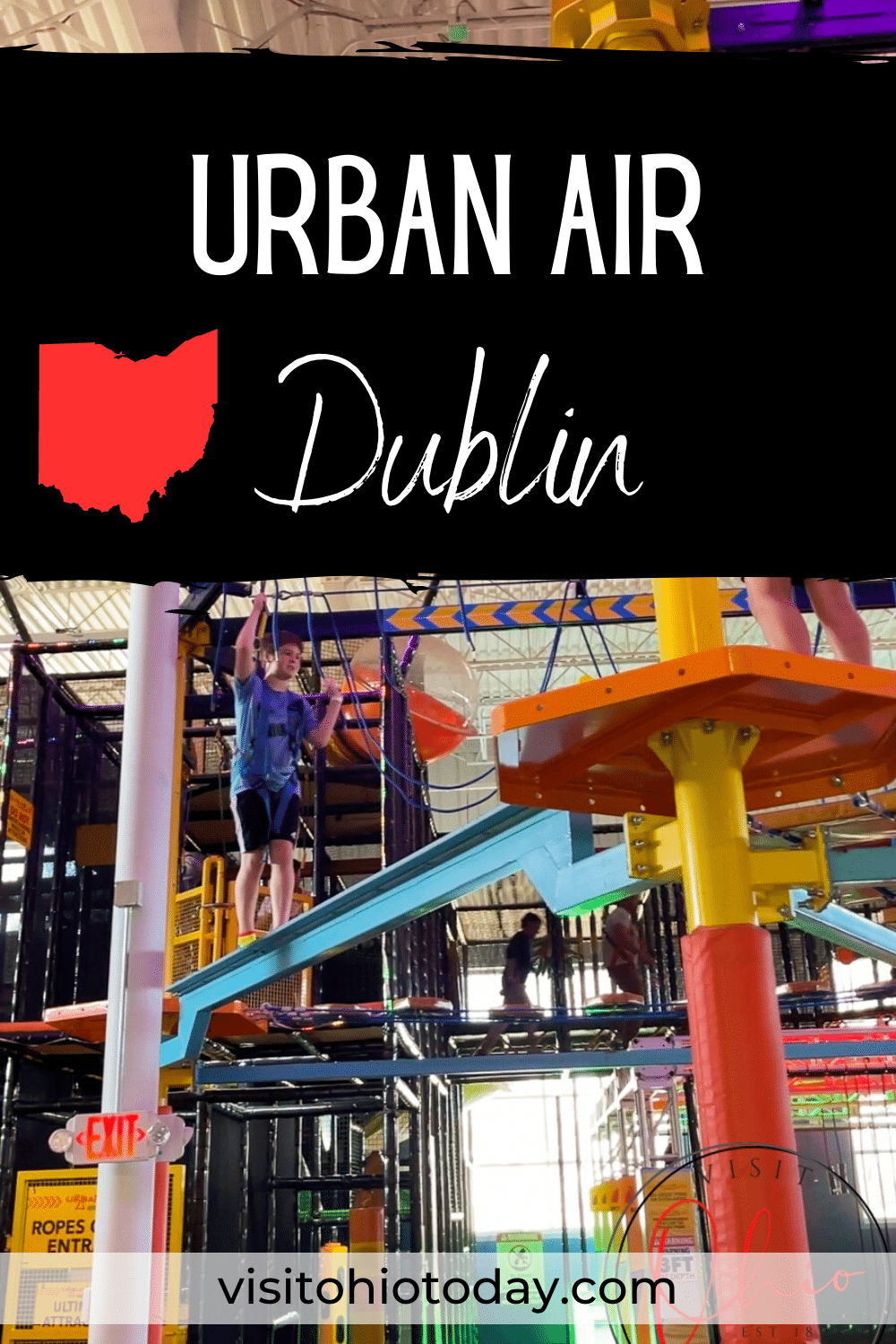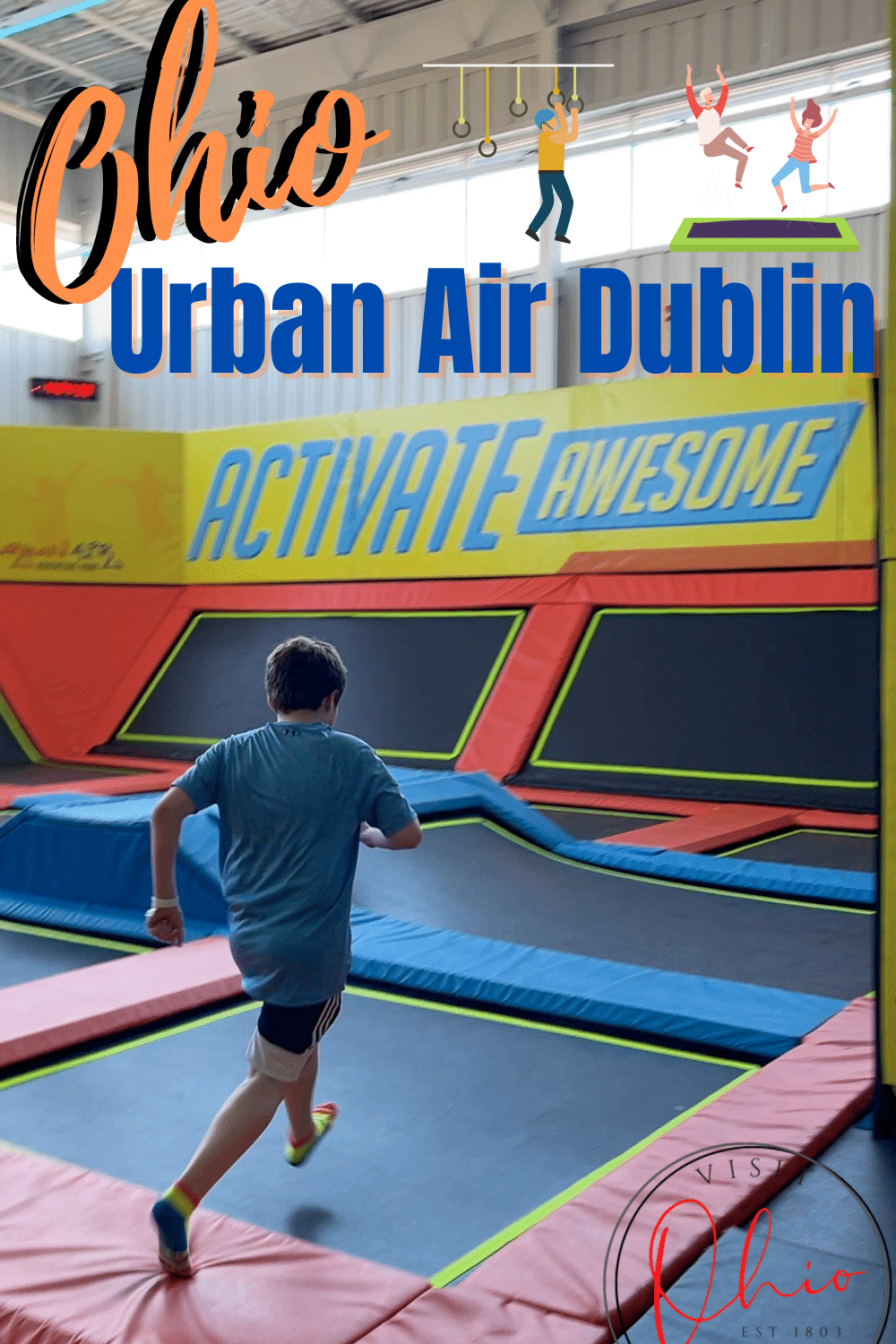 Urban Air Dublin is a full on adventure park and trampoline park located in Dublin, Ohio. This indoor fun park is perfect for children and adults!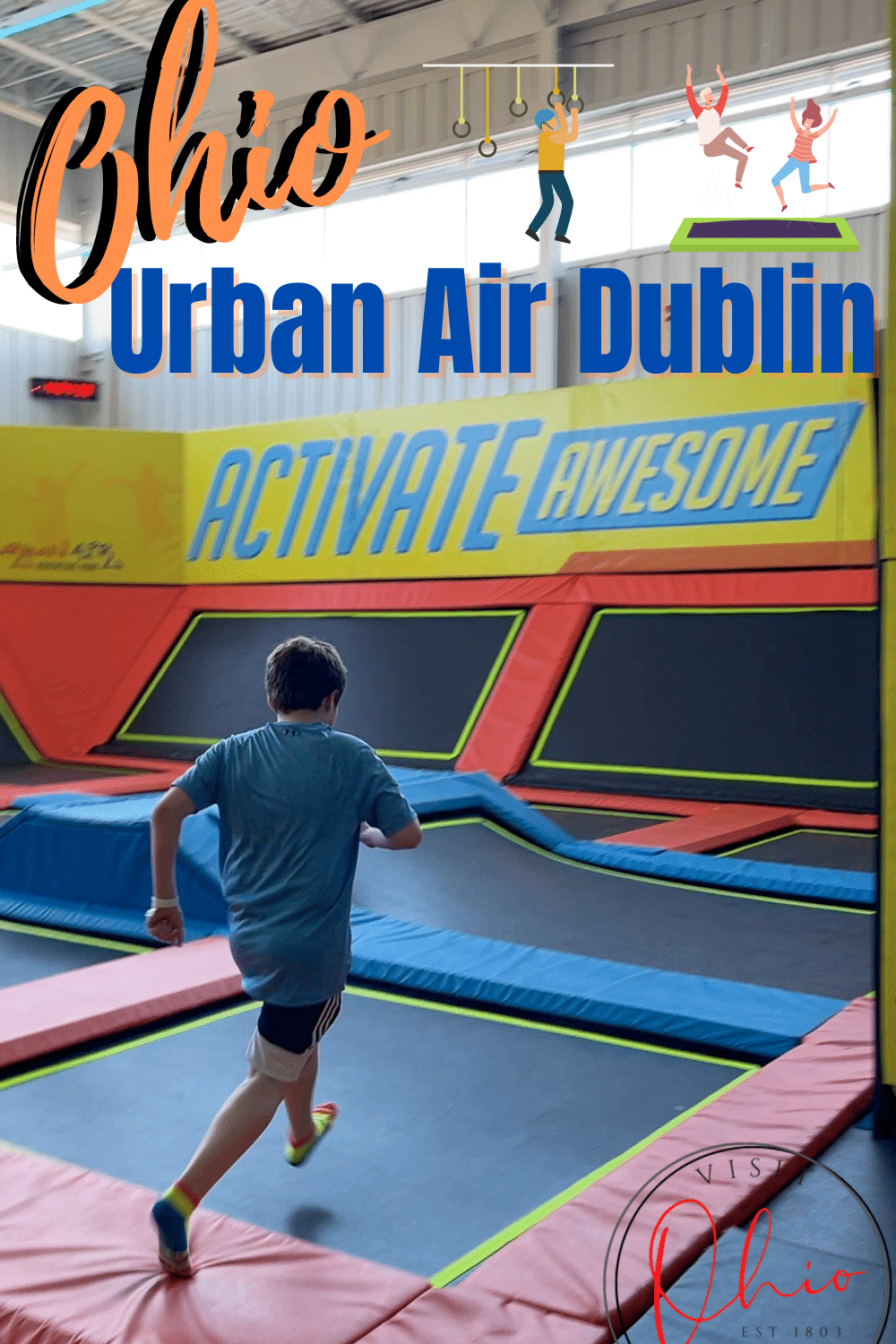 Visit Urban Air Dublin
We recently spent an afternoon at Urban Air Dublin. It was such a fun experience that I thought I should share it here, so others can check it out also!
A friend had asked us to meet their family there. I knew it was a trampoline park, but I did not do my homework ahead of time. It is SO much more than a trampoline park. It is an adventure park!
Keep in mind that Urban Air Dublin is not only for children but also adults. There were plenty of parents getting in on the fun at Urban Air Dublin the day we were there!
There are a couple different ticket options, which we discuss at the end of the post. The participants at Urban Air Dublin are required to purchase and wear Urban Air Socks. They are comfy (and stylish) socks with grips on the bottom. Urban Air Dublin does not allow personal socks.
TIP: If you have socks from another trampoline park, you can use those.
This place offers kids birthday parties, group events, field trips, and more!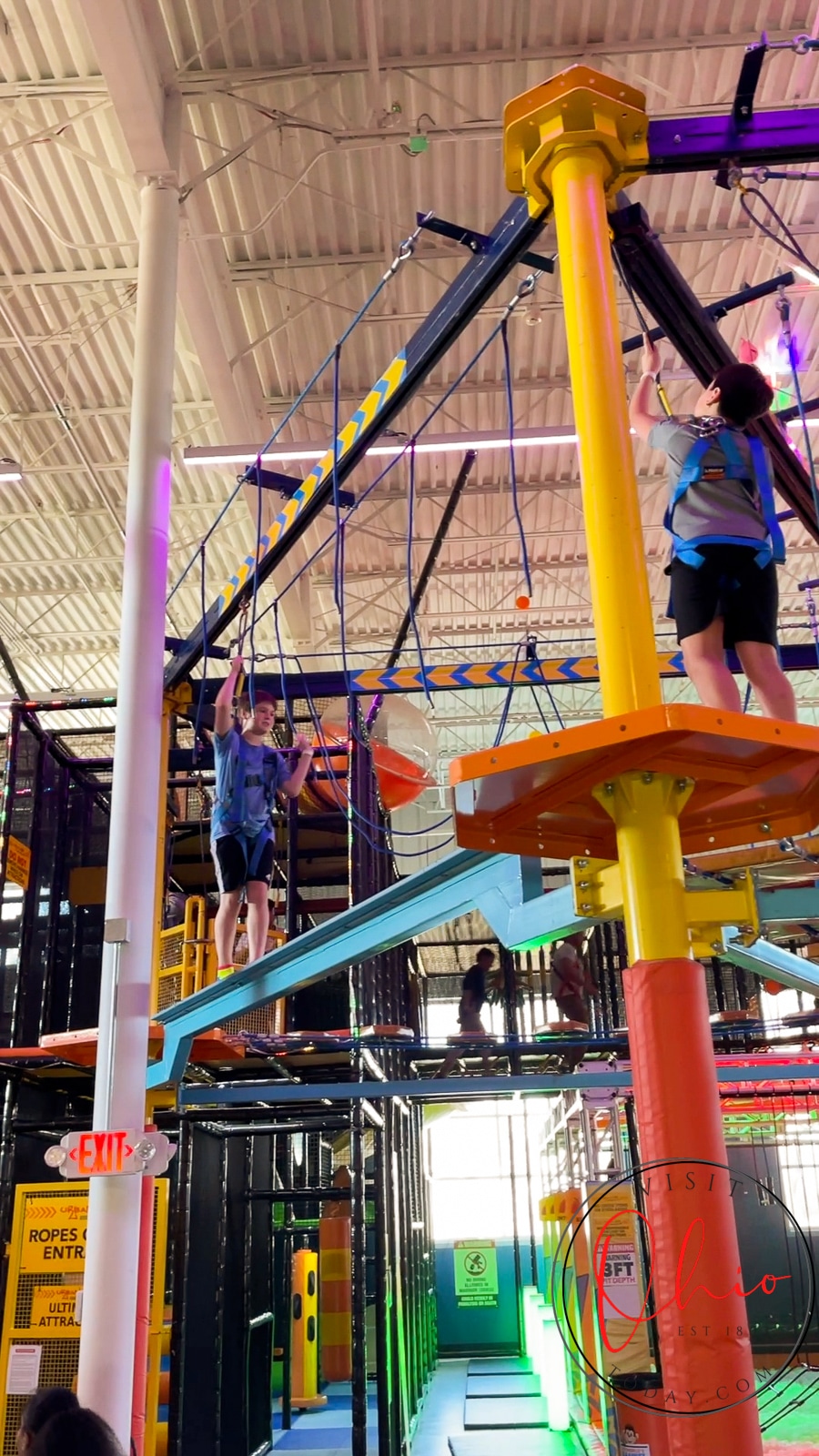 Urban Air Dublin Hours
Urban Air Dublin is open 7 days a week. Their hours are typically Monday-Friday 1:00 pm to 7:00 pm and Saturday and Sunday 11:00 am to 7:00 pm. They do have holiday hours and other special hours, so please consult the business website or the Urban Air Dublin social media to verify hours before you head out for your visit!
Attractions at Urban Air Dublin
Since Urban Air is a franchise, the attractions may vary slightly by location. Here are some of our favorites at the Urban Air Dublin location! Also depending on the day or time of day, some attractions may be closed as the staff switch between attractions. Do not worry, you will get to try them all. They just rotate them open and closed.
Adventure Hub – This was probably the area our kids spent the most time while at Urban Air Dublin. It is a unique combination of activities such as a Ropes Course, Tubes, Indoor Playground and the Sky Rider Coaster! This area has endless options when it comes to having fun! Some of the activities in the adventure hub may have height requirements.
Battle Beam – If you think you have good balance, this is the area to test your skills at Urban Air Dublin! This area combines all your balance skills, plus a little taste of friendly competition as you battle your opponent with a foam bar. If you happen to lose your balance, you will safely fall into the foam pit!
Climbing Hill – This was the first thing the kids did when we let them loose in Urban Air Dublin! This little mini mountain is right inside the play area when you enter. Kids (no adults on this one) can test their climbing skills using ropes or climbing holds. You can reward yourself with a fun slide back down to the bottom. There is no need for a harness for this activity, the padded mats are all around to provide protection.
Lots of fun to be had at Urban Air Dublin:
Climbing Walls – The climbing wall at Urban Air Dublin offers a great way to work on your strength, agility and more all from the comfort of a safety harness. The climbing wall varies from beginner to advanced, so you can pick the skill level you try.
Dodgeball – Who does not like a little friendly game of dodgeball? Especially when the balls are foam! Urban Air Dublin offers a special dodgeball court that is made of trampolines! They really take dodgeball to the next level.
DropZone – This area was 'closed' while we were there and we did not catch it when it cycled back open. But in this area, it said that you can practice all the crazy stunts you want, such as flips, spins, and more while landing on a giant inflatable air bag! By landing on the air bag, it helps to absorb the impact from your stunt.
ProZone Performance Trampolines – This area at Urban Air Dublin is created for all the stuntmen and women and daring acrobats! There is a space to drop down onto a trampoline from an elevated spot and there are also wall trampolines!
More Urban Air Attractions
Ropes Course – This was located directly above the indoor picnic tables (aka, where all the parents sit or where the kids come to have a snack). If you are afraid of heights, this might not be for you! Safety first, as you do have on a harness that attaches to the structure the entire time. You cannot fall. You can make your way through moving steps, climb spider webs and more!
Runaway, Tumble Track – This area at Urban Air Dublin has safety nets and a soft wall with a trampoline run. It is a great place to practice handsprings or simple tumbling. Whether you want to have some fun or work on nailing down something specific for your tumbling team.
Sky Rider – I did not know this was there until I saw a kid whizzing by overhead on the Sky Rider when at Urban Air Dublin! What a fun surprise, then I looked and our kids were already in line and getting the harness on! The Sky Rider gives a zip-line feeling, high above the parents watching below! Each flyer has a secure kid-friendly harness. They hold onto ropes as they take their ride! There is no skill required for this attraction at Urban Air Dublin!
Slam Dunk Zone – This is pretty self-explanatory except it comes with trampolines! Yes, that bounce on the trampoline will help you feel like your favorite all-star basketball player as you dunk the ball! You will be an Urban Air Dublin all-star!
Totally Fun Trampolines!
The APEX Trampolines – This is the place where you can bounce as much as you want. Bounce on the walls, even! Literally, your kids will be bouncing off the walls at Urban Air Dublin!
Tubes Playground – This area is for smaller friends. Kids need to be under 52 inches for this area. They can climb up platforms, crawl through tunnels and have fun on the slides! There is so much to enjoy in this area!
Warrior Course – If you love American Ninja Warrior, you are going to love the Warrior Course! This area is NEAT! Test your skills on this obstacle course! Do not worry about the fall, all obstacles are located above a ball pit. So falling is part of the fun!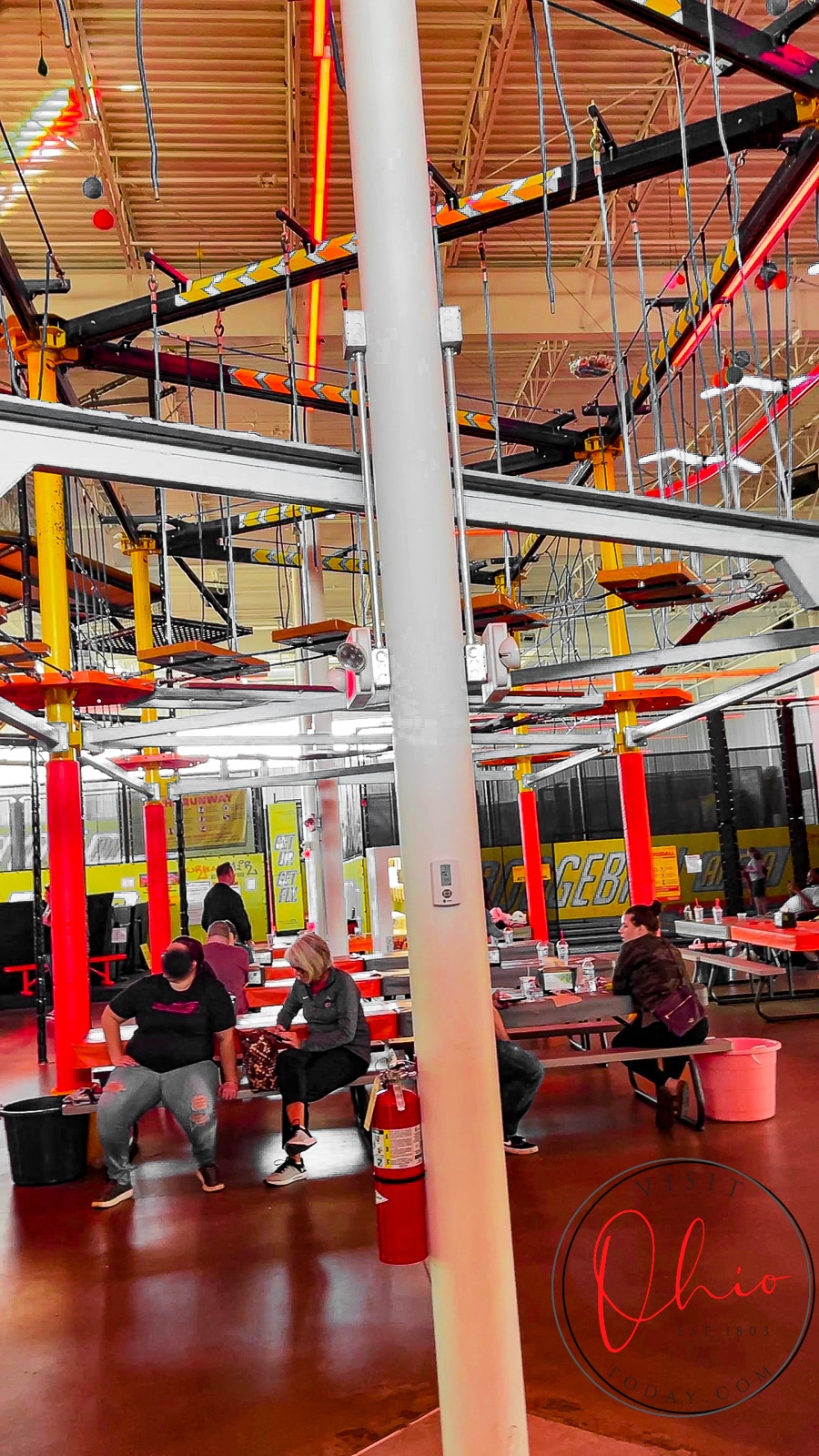 Food at Urban Air Dublin
There is no outside food or drinks allowed inside Urban Air Dublin, but they do sell some in their cafe area. You can expect to find mini melts ice cream, candy bars and other candy, pizza, soda, water, Gatorade, icees and more!
Tickets at Urban Air Dublin
There are a couple of ticket options available. While it might seem pricey, the Dublin Ultimate Ticket is what we recommend. It is actually for ALL day! You can participate in all the activities for that price and do it all day long!
If you have children under the age of 5, you can purchase the Dublin 5 and under ticket. That is $11.99. Your children (5 and under) can participate in the deluxe attractions.
Parents can get a parent ticket for 50% of the retail price of the attraction ticket you bought for your kid!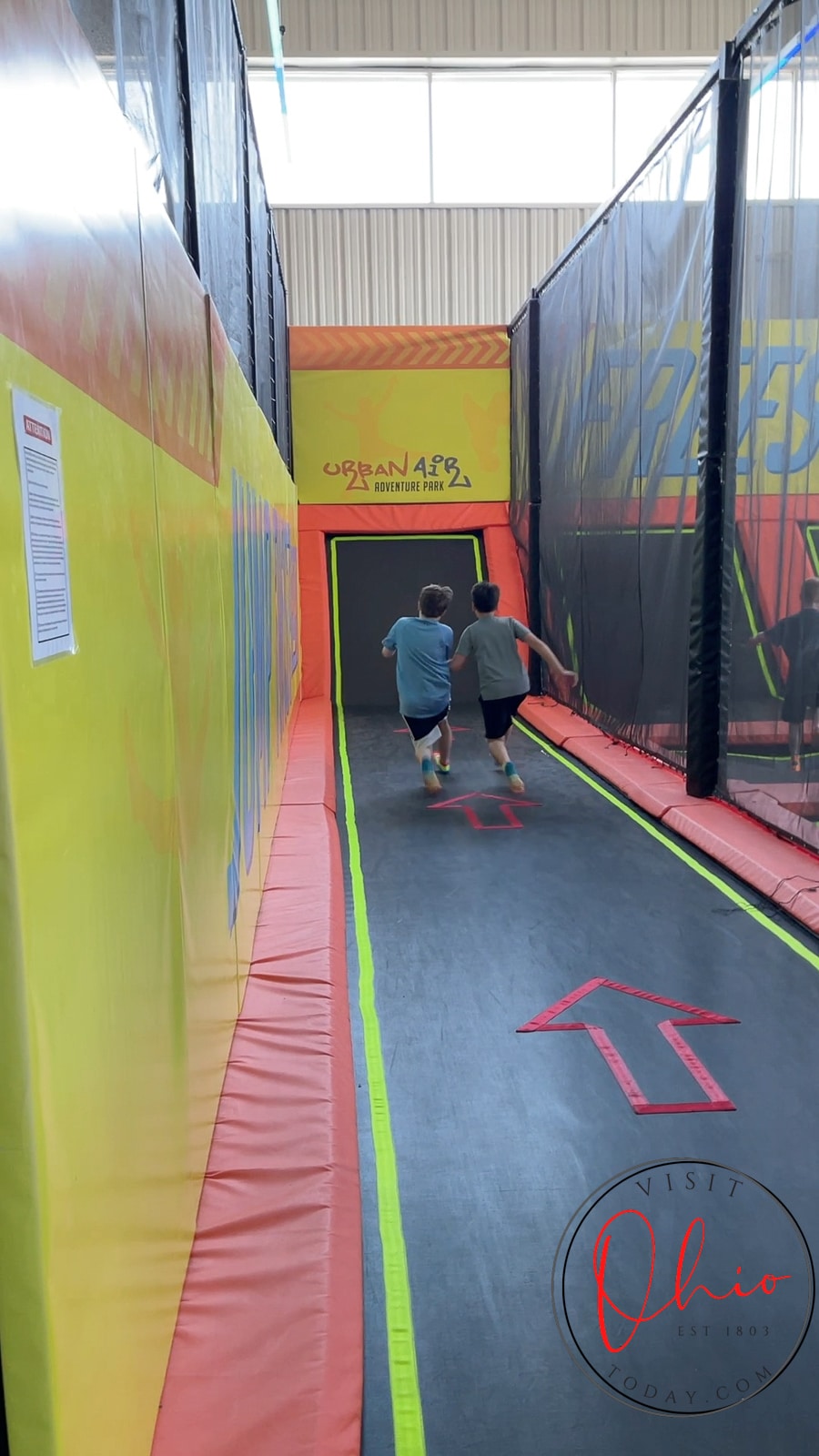 Came to visit my grandkids and couldn't have picked a better place to enjoy our day and have so many fun-making memories to last a lifetime. Thank you

Diana S. (Yelp)
Cindy's Insider Ohio Tips!
Urban Air in Dublin is an absolute blast for the kids! We've been there on days when the weather didn't permit us to be outdoors, and the indoor activities are just endless. My child particularly enjoyed the Sky Rider attraction! There's a comfortable spot for parents to sit and relax while the kids are having a great time. From this parent area, you can almost oversee all the different sections.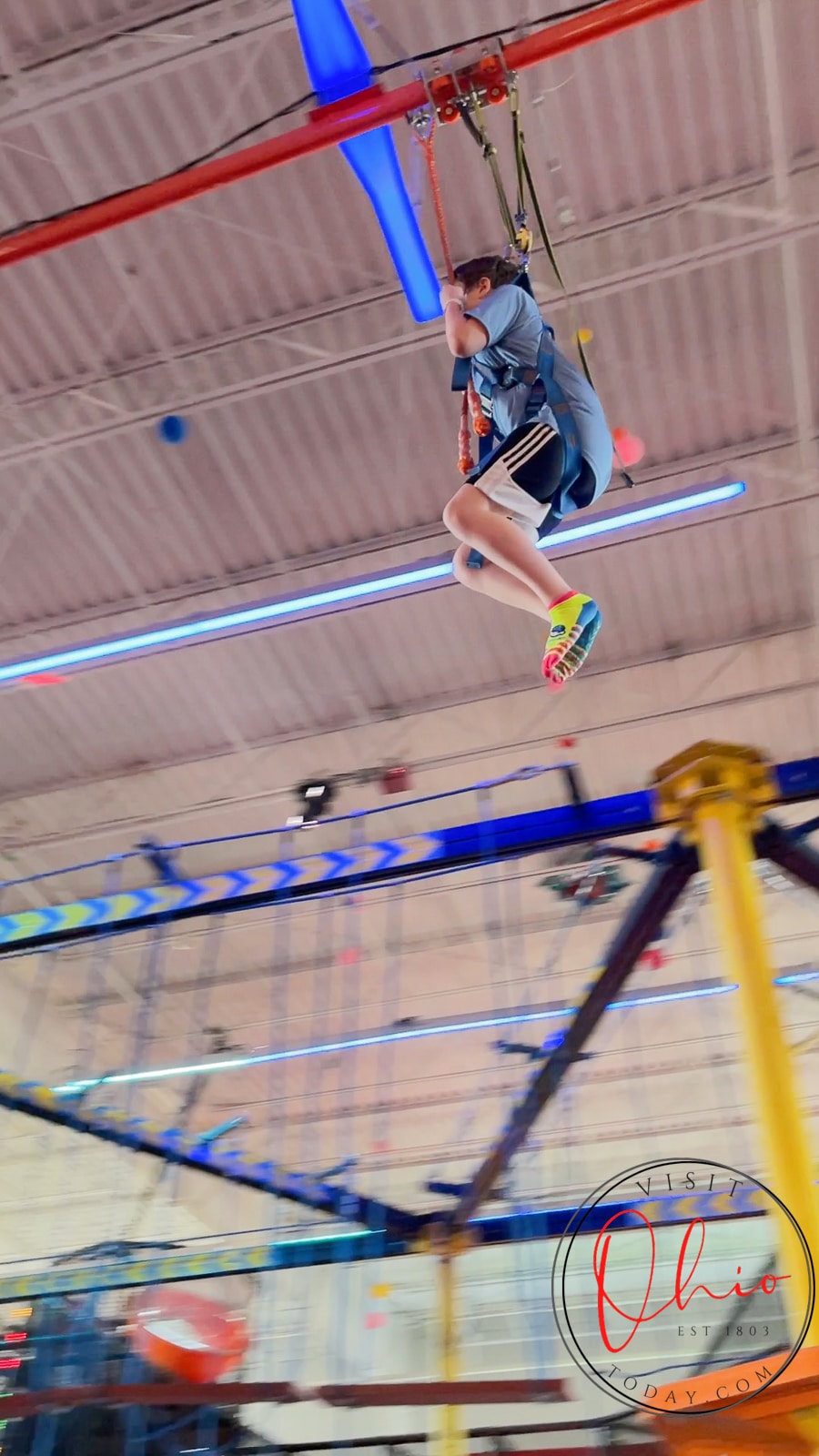 Where is Urban Air Dublin located?
Address: 7679 Plain City – Dublin Road, Dublin Ohio 43016
Phone: 380-204-6390 | Website | Facebook
This is located near the Dublin Green Plaza, that is the one with Costco in it. It's just a little further down the road.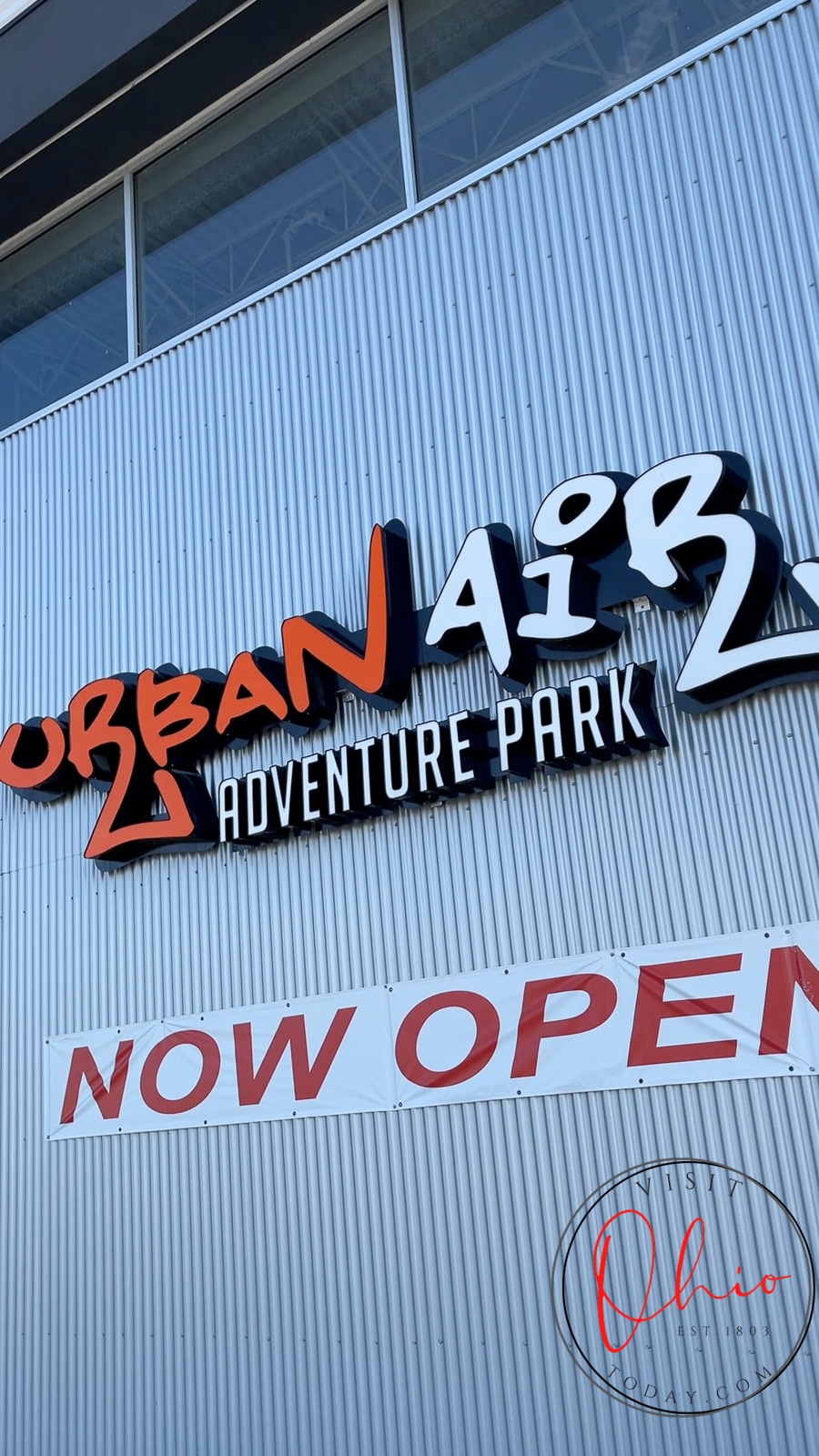 Let's Go to Urban Air Dublin
I was so glad that we went and visited Urban Air Dublin, we will certainly be back! Such a fun place for the kids (and adults)!
We have a post dedicated to Things To Do In Dublin Ohio, if you are wanting to explore this picturesque city, be sure to check it out!
Family fun and food & drink of course go hand in hand, and Dublin can cater to all tastes! Be sure to check out Pins Dublin and Cap City Dublin!
If you fancy tea or a coffee, pop into Sweetwaters Coffee And Tea and let the team look after you! You might even be tempted to have a pastry or two with your cuppa!
Have you been to Urban Air Dublin? We want to know what you enjoyed there! Drop us a comment below and tell us about your experience at Urban Air Dublin!
For more family-fun days, check out our article Indoor Water Parks in Ohio!
Hello! We have done our very best to ensure that the accuracy of events, hours, addresses, etc, are up to date. Please know that information can change due to weather, updated health and safety challenges, etc. If you find incorrect information, please send us an email at [email protected], and we can get it updated.

To be updated and stay connected, subscribe to our newsletter.