Drive Through Christmas Lights in Ohio
This post contains links to affiliate websites, such as Amazon, and we receive an affiliate commission for any purchases made by you using these links.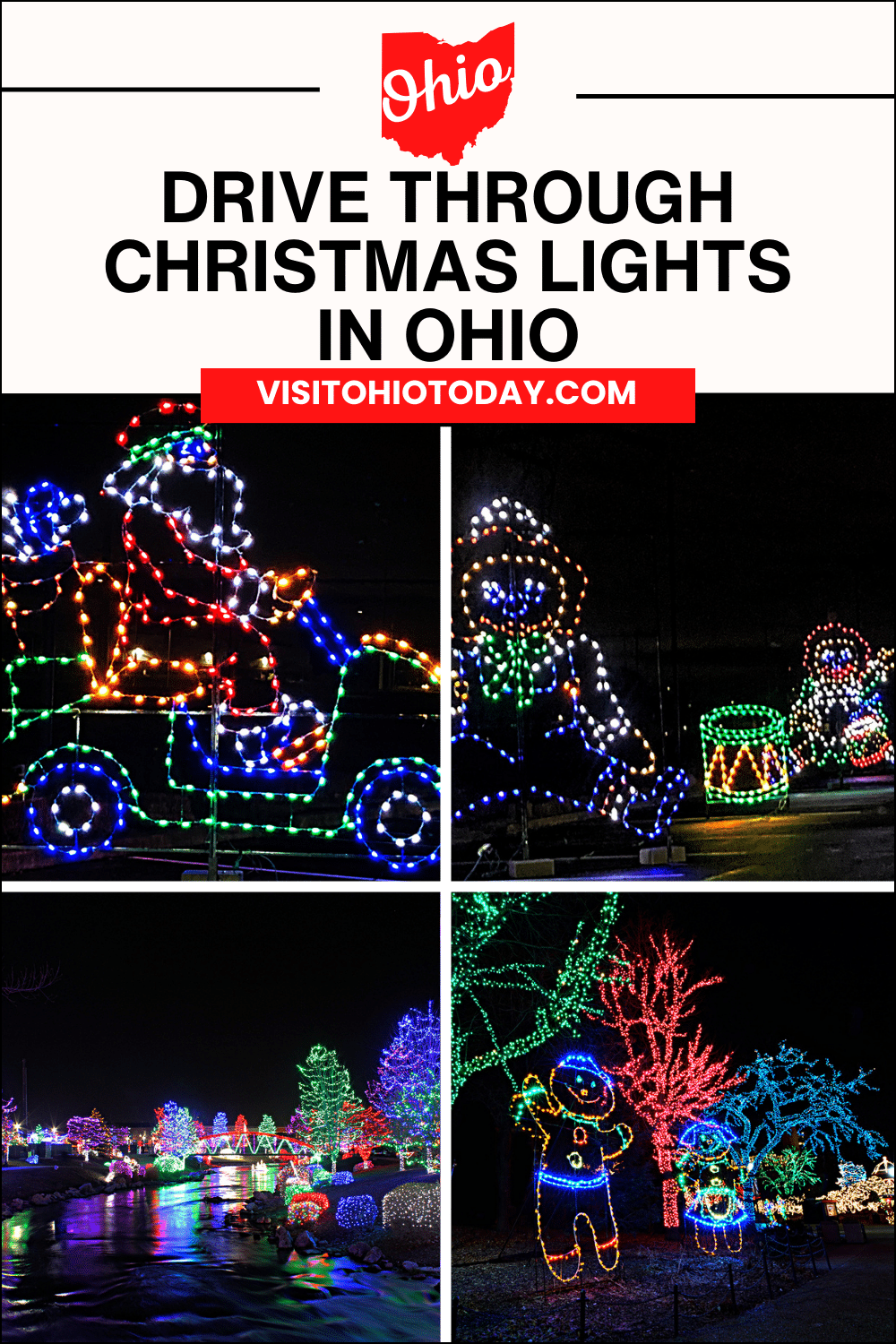 Christmas is the most magical time of the year. What better way is there to celebrate Christmas than driving through magical Christmas light displays?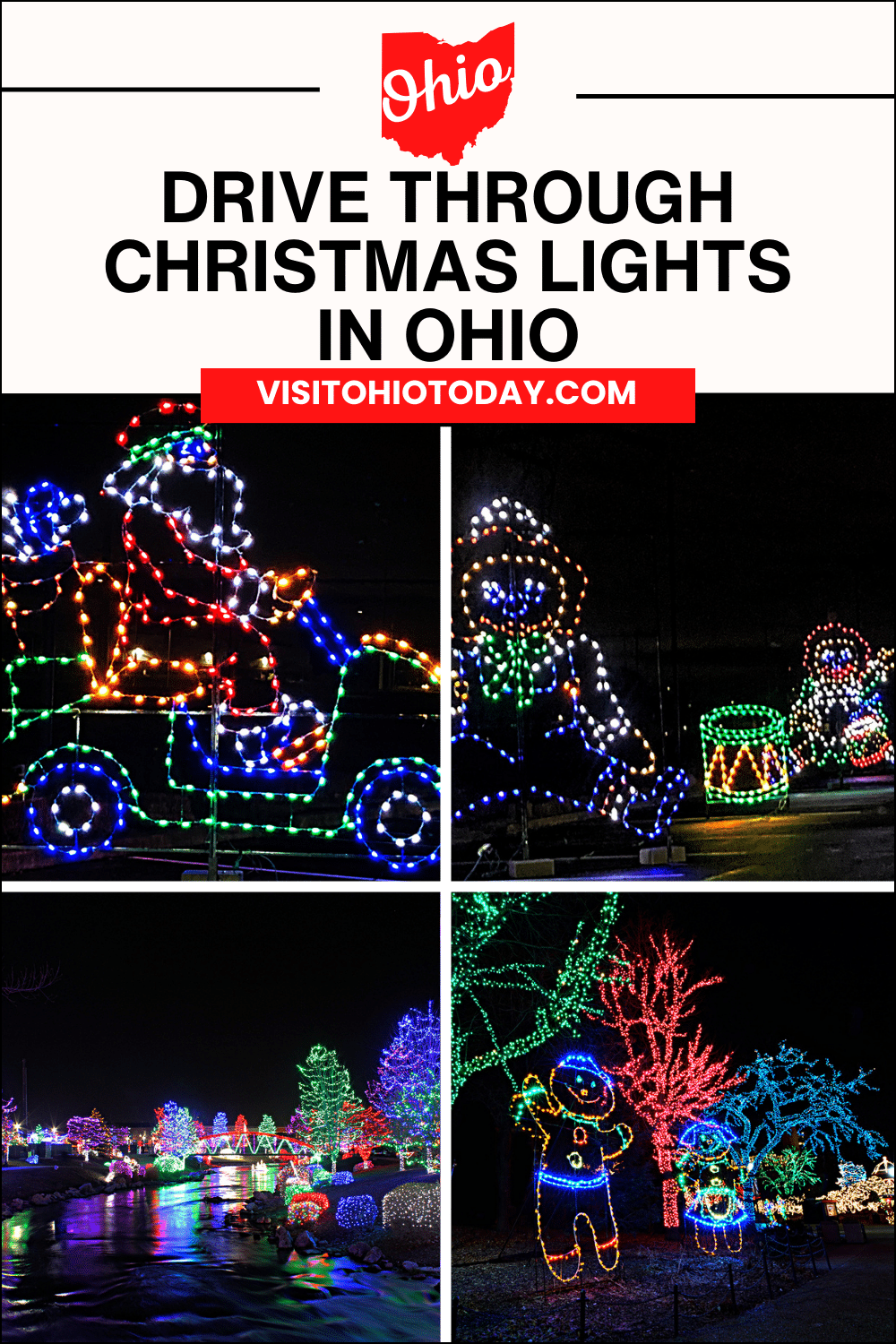 Map of Drive Through Christmas Lights in Ohio
About Drive Through Christmas Lights in Ohio
Driving through Christmas lights is one of the best ways to get into the spirit of the holiday season. The lights always look amazing and attract people of all ages. It is also a way of getting out with family and friends and making some amazing memories.
The lights are so spectacular that they are great photo and video opportunities. Drive-through Christmas lights typically start around Thanksgiving and run through December.
Central Ohio Drive Through Christmas Lights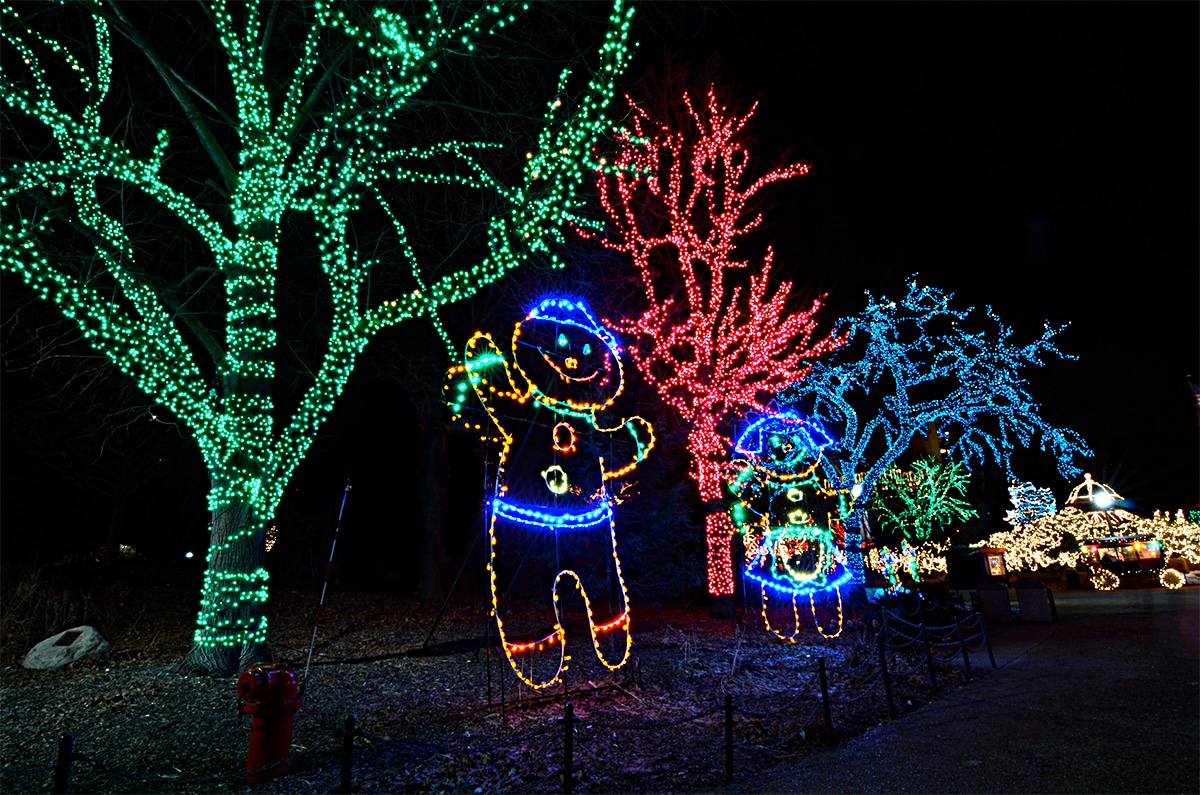 Light Up Camp At Flying Horse Farms
The Flying Horse Farms Christmas Lights is not only a great place to visit, but it is for a good cause as well. Flying Horse Farms is a non-profit medical specialty camp. It is for children who suffer from illnesses.
Guests can drive through the displays at weekends and if they choose to, they can make donations to the Enjoy Flying Horse Farms.
Magic of Lights at the Historic Crew Stadium
The Magic of Lights at the Historic Crew Stadium has a mile of spectacular light displays with scenes and characters, including a larger-than-life Holiday Barbie, the supersized Bigfoot Monster Truck, and life-sized dinosaurs.
This drive through Christmas lights event runs from late November to the end of December.
Note: The address shown below is not for the Crew Stadium but is the way into the light display.
Wonderlight's Christmas
Wonderlight´s Christmas is arguably the best drive-through display in the central Ohio area, and it is also the largest display. There are over 1 million lights and they are all synchronized to Christmas music which you can listen to via your car radio. This is a very popular display, and it can get quite lively as the season progresses.
Butch Bando's Fantasy of Lights
This is a truly magical display that is located at the Alum Creek State Park Campgrounds. This light display has been running for over 20 years and it is a local favorite. There are many LED displays and it is not just Christmas displays on show either, there are also displays on show from sporting events and displays that have an Ohio theme. This is very popular with both locals and people from out of state as well.
Northwest Ohio Drive Through Christmas Lights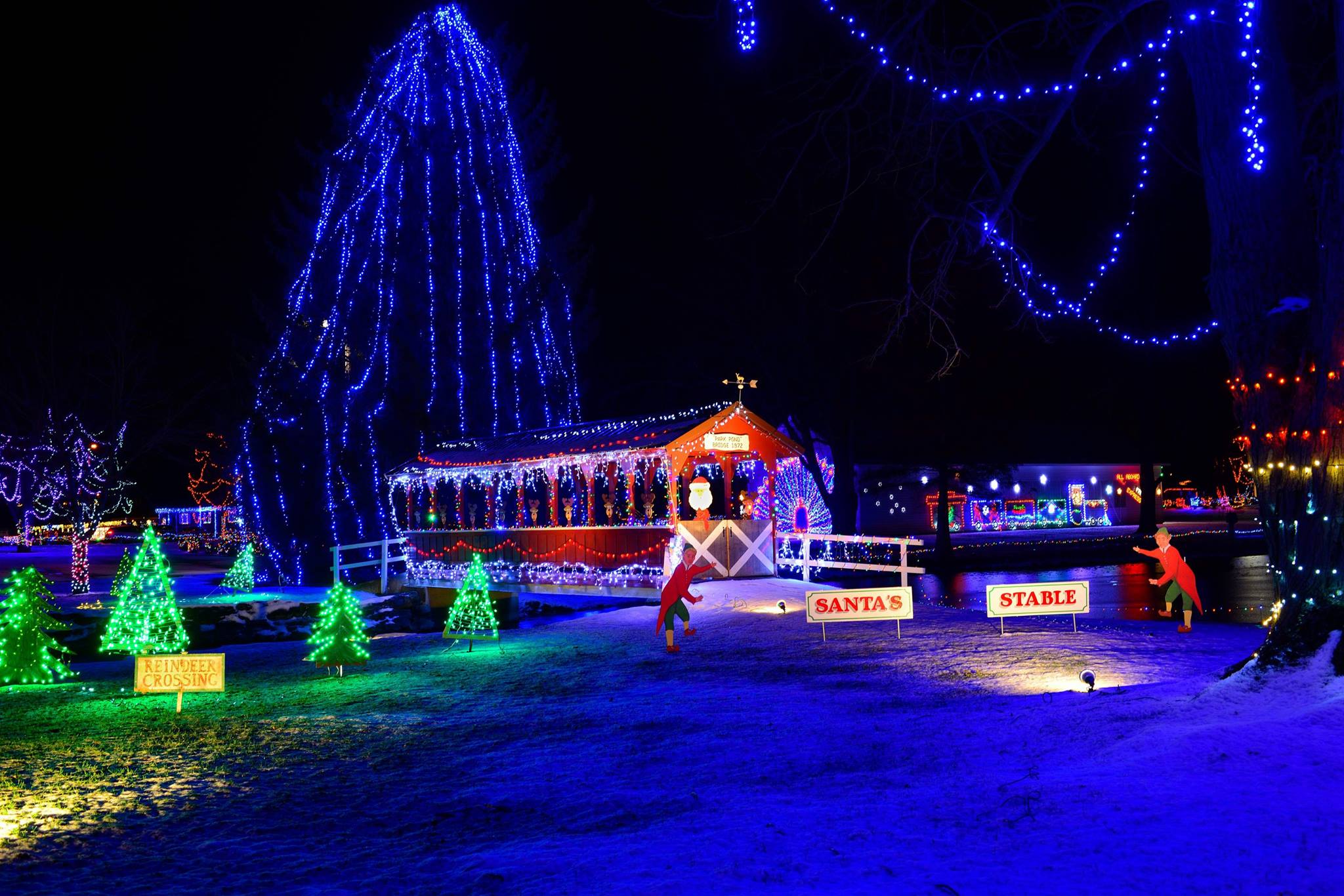 Upper's Winter Fantasy of Lights
Upper's Winter Fantasy of Lights at Harrison Smith Park in Upper Sandusky is a magical light display covering over 33 acres, including illuminated characters and scenes, as well as a festively lit tractor and wagon.
This event is open throughout December, every evening from 6pm. Before this drive-through is open to cars, you can walk through the lights, usually open two or three days in late November.
You can also take a horse-drawn carriage ride through the park. Tickets for this sell quickly, so be sure to make your reservation as soon as possible!
Winter Wonderland
Winter Wonderland is a display that is located at the Sandusky County Fairgrounds. This is a lovely display and is very popular locally. Many different displays are on show on the drive through and there are plenty of photo opportunities as well.
4-H Exchange Club Holiday Light Show at Van Wert County Fairgrounds
The Van Wert Fairgrounds Christmas Lights are a great way to support the local 4-H club. The Christmas lights display has over 100 different scenes, with Santa visits throughout the month.
Horse-drawn carriage rides are also available on selected dates, and these must be reserved in advance. There is more information available about this great light display on their Facebook page.
Address: 1055 S Washington St, Van Wert, Ohio 45891
Bright Nights
Bright Nights is a gift from Mercy Health to the community and what a gift it is! The Bright Nights display is in the Allen County Fairgrounds. There are over 80 LED light displays including lit-up buildings, a light tunnel, and illuminated trees. As you drive through the display, the Lima Symphony Orchestra performs music over the radio.
Christmas Cruise Thru
This Christmas drive-through experience is located at the Defiance County Fairgrounds. This drive through boasts over 3 million lights and the length of the drive is 2.5 miles.
On selected weekends there is also a mini village, reindeer, a visit from Santa, and other seasonal vendors.
Northeast Ohio Drive Through Christmas Lights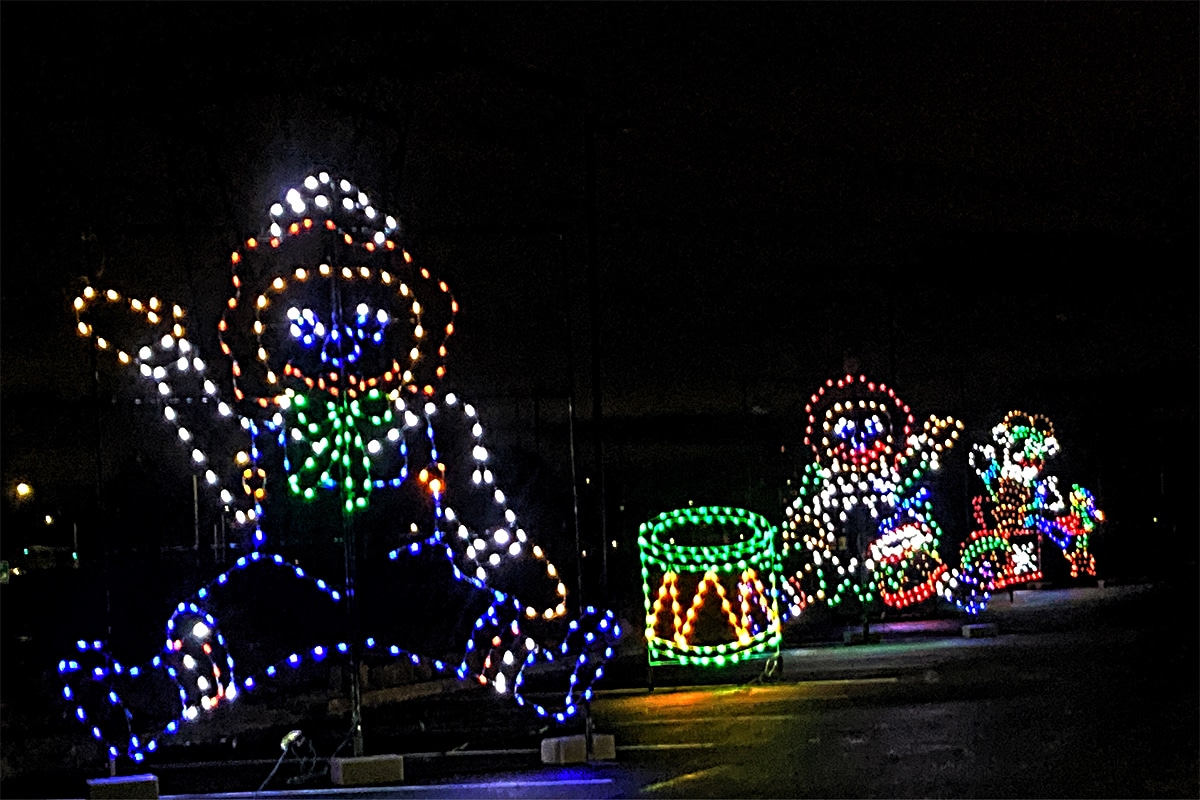 Lights on The Lake
A free lakefront drive-thru display in Lorain's Lakeview Park. The Lights on the Lake experience consists of thousands of lights with classic holiday scenes.
Visit with Santa on selected nights in the Sunset Terrace. Enjoy some hot chocolate, cookie decorating, and crafts.
The Lights on the Lake event runs from late November to the end of December, every evening from 5.30pm to 9pm.
Magic of Lights
Magic of Lights at the Cuyahoga County Fairgrounds is a drive-through experience with spectacular light displays including holiday scenes and characters. There is also a long light tunnel that is over 200 feet in length.
Magic of Lights runs from late November to the end of December, every evening from 5.30pm to 10pm.
Ashtabula County's Lights on the Lake
The Ashtabula County lights are located on the waterfront of Lake Erie. There are over 70 light displays on this drive and it covers over 50 acres of Lakeshore Park.
There is a section that moves to the music and a variety of effects that add to the display.
This event is open Friday, Saturday, and Sunday from late November to the end of December from 6pm to 9pm.
Bethlehem Hills Christmas Light Park
Bethlehem Lights is a drive of just 1.5 miles, with over 2 million lights and over 40 individual displays. Tune into the radio and watch the lights move to the music.
This light show is at the Great Geauga County Fairgrounds, and it opens the day after Thanksgiving to the beginning of January, Monday to Wednesday evenings from 5.30pm to 10pm, and Thursday to Sunday evenings from 5.30pm to 11pm.
Southwest Ohio Drive Through Christmas Lights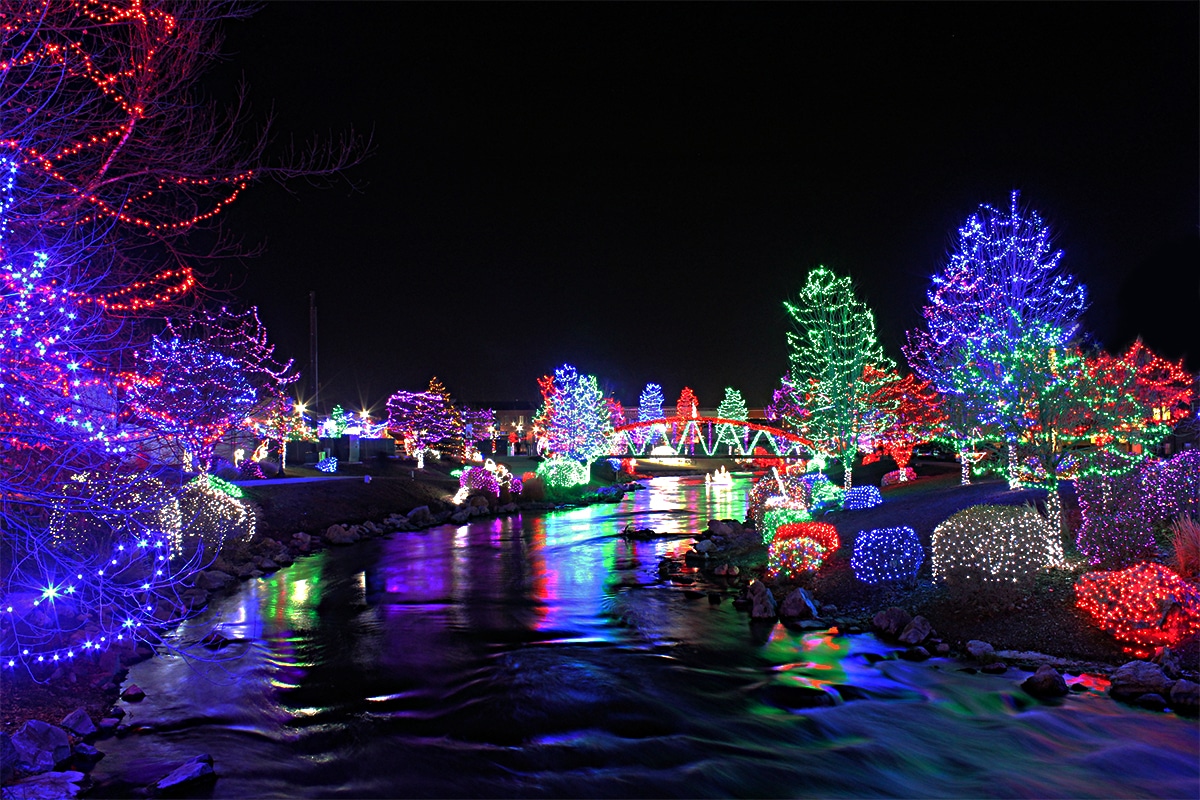 Christmas Nights of Lights at Coney Island
Christmas Nights of Lights at Coney Island is a display that is over 2.5 miles long. There are over 1 million lights on this drive and all the displays are synchronized to music that visitors can listen to via their car radio. This is a fabulous Christmas drive display, and it is great entertainment for all members of the family.
Journey Borealis at Pyramid Hill Sculpture Park
Journey Borealis (previously Holiday Lights on the Hill) is an impressive display of lights in a large park that is over 300 acres. The Christmas Lights drive is over 2 miles long, so this is a great drive that has lots of different displays on show.
Light up Middletown
This is a fabulous driving tour that will take guests through different types of lights and displays. There is also a festive tunnel of twinkling lights, and this is a favorite with younger children. This is a great display, and it does not get too busy, so it is an ideal place to visit.
Holiday in Lights at Armco Park
A drive through Armco Park in Warren County (previously at Sharon Woods Park) is a great way to see a spectacular display in the comfort of your car.
The drive is over a mile long and there are over 250 displays on this drive, so there is lots to see. You can also purchase specialist glasses at the gates that let visitors see the lights from a different perspective.
Christmas Glow at Land of Illusion
Christmas Glow is the largest Christmas lights drive-through event in Southwest Ohio. There are over 4 million lights, and the length of the drive is over 2 miles.
As well as the drive-through tour, there is also a petting zoo and guests can also visit Santa's workshop. There is an impressive more than 40-foot tall Christmas Tree, where guests can relax with a hot drink and keep warm at the gas fire pit.
Holiday Lights at Lost Creek Reserve
Lost Creek Reserve is a driving tour that is over a mile long. It has over 60 light displays that are very charming. Visitors will not only drive down a road, but they will also drive through the woods, and the historic Knoop Homestead is also adorned with festive lights.
Parklights at Caesar Ford Park
A drive through Caesar Ford Park's Winter Wonderland is a treat for all the family. The whole drive is full of lights and there is a chance to go through the North Pole and wave to Santa.
There is also a Winter Farm, Festive Festival, Winter Wonderland, and North Pole Car Show.
The Christmas Ranch
The Christmas Ranch is a great place to visit as the driving tour is amazing. This is a drive through over a mile of Christmas wonderland, with over 1 million twinkling lights that are synchronized to music.
There is also an opportunity to visit some Christmas shops, the bakery, and have a photograph taken with Santa. Train and wagon rides are also available.
Southeast Ohio Drive Through Christmas Lights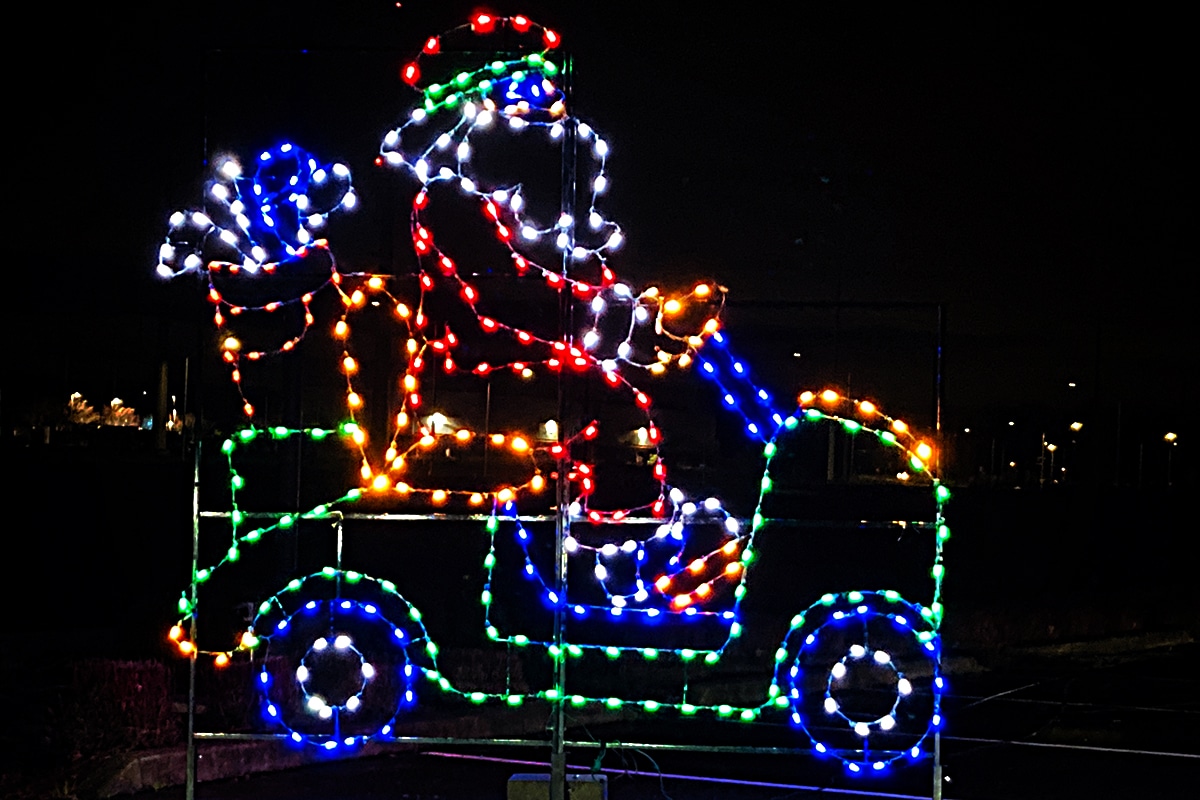 Guernsey County Courthouse
The Guernsey County Courthouse in the Dickens Victorian Village puts on a nice Christmas lights display. The lights also run with the various Christmas music that is played. There is a large Christmas tree in the middle of the display and there are also over 60 animated displays and over 55,000 lights. There is a free light show that goes on for 12 minutes and is great fun.
Gallipolis in Lights
The Gallipolis City Park becomes a magical Christmas land that has lots of decorated Christmas trees and lots of hanging lights and other various displays. There is an opportunity to walk around this display as well as drive through.
Cindy's Insider Ohio Tips
We are fortunate in Ohio to have so many drive through Christmas light shows! Such good fun for all the family, and even makes for a great date night with that special someone. Whether it's fun or romance you're looking for, make sure to take blankets to keep warm and cozy and have the windows open to soak in the full atmosphere!
(Upper's Winter Fantasy of Lights) Oh what fun it was to ride through the Fantasy of Lights. Thanks for a spectacular Christmas, family fun night. The lights were beautiful. Our favorites, Truck, Fire truck, bridge, oh so many. Flamingos celebration was great. The car in front paid our way in, Merry Christmas! So of course we paid it forward. Staff was full of Christmas Spirit, we pulled away still singing Jingle Bells.

Peni Fuji (Google)
Let's Visit Drive Through Christmas Lights in Ohio
Have you visited any Drive Through Christmas Lights in Ohio? We would love to know about your visit. Leave a comment below telling us about your experience!
For more Christmas experiences in Ohio, check out our article about Polar Express Train Ride Ohio, or to find the perfect fit for your home, Xmas Tree Farms In Ohio can help you out! Clifton Mill Christmas Lights is a beautiful place to visit during the festive season. Carriage Rides in Ohio are great at Christmas as well as other times of the year!
Winter sports are a great pastime in the colder weather. You may like to know about Ice Skating in Ohio, Ohio Sledding Hills, and Ski Resorts in Ohio.
Hello! We have done our very best to ensure that the accuracy of events, hours, addresses, etc, are up to date. Please know that information can change due to weather, updated health and safety challenges, etc. If you find incorrect information, please send us an email at [email protected], and we can get it updated.

To be updated and stay connected, subscribe to our newsletter.