Carriage Rides in Ohio
This post contains links to affiliate websites, such as Amazon, and we receive an affiliate commission for any purchases made by you using these links.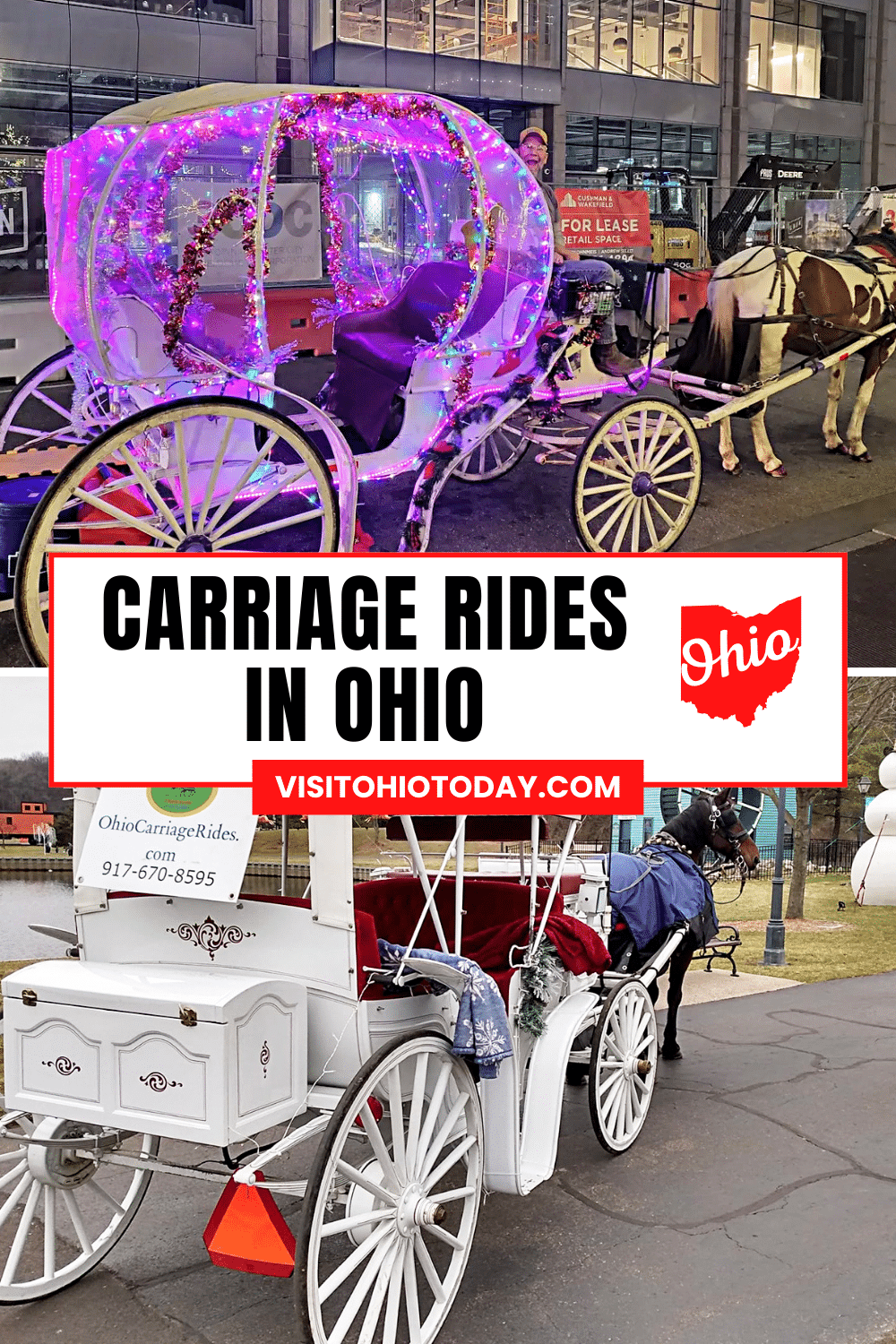 Carriage rides in Ohio, along with Sleigh rides are a memorable way of seeing the towns, cities, and countryside of Ohio. These types of rides always create lasting memories.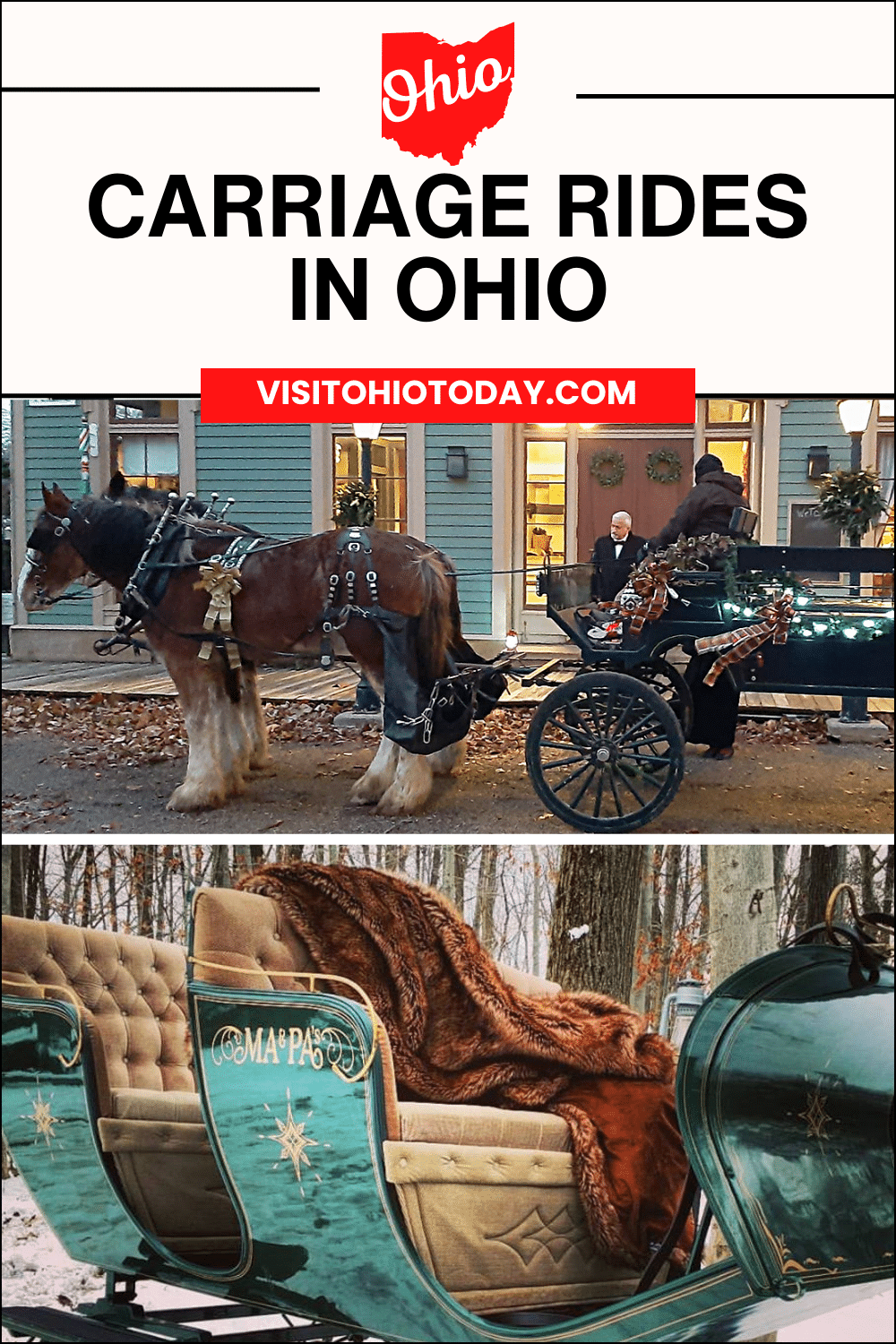 Map of Carriage Rides in Ohio
Enjoy Carriage Rides in Ohio
There is nothing that quite beats going on a carriage ride or a sleigh ride in the winter months. These rides are magical, and it is something that the whole family can enjoy.
You will travel through some of Ohio's prettiest towns and amazing countryside. Below, the article is split into two sections: Carriage Rides in Ohio and Sleigh Rides in Ohio.
Carriage Rides in Ohio
Here we feature some of the best carriage rides available in Ohio.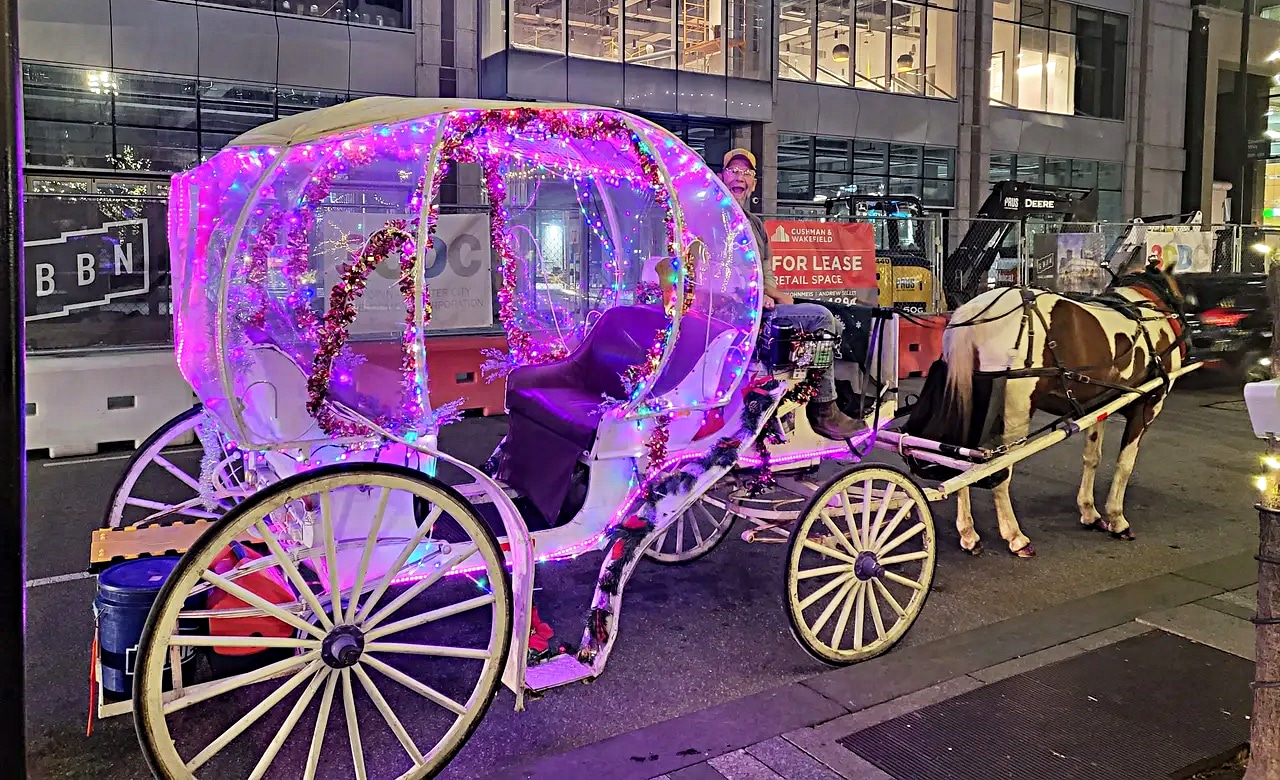 Hemingway's Cowboy Carriages
If you would like to see Cincinnati's downtown skyline and lights, then there is no better way than doing it from a horse-drawn carriage. Hemingway's Cowboy Carriages offer rides daily. These rides can last as long as an hour, or you could opt for a shorter ride that takes around 30 minutes.
The carriage ride will end in the center of Cincinnati, so once you have had your ride, you could go out and do some shopping, or have a bite to eat in a coffee shop or a bar. In the winter months, you could also tie in your carriage ride with some ice skating on the outdoor rink in Fountain Square.
Mel's Horse Buggy Rides
Mel's Horse Buggy Rides is a fantastic way of seeing some of Ohio's famous Amish country. The drivers of the Buggy Rides are very informative about the area and they are more than happy to answer any questions that you may have.
The horses are well looked after and enjoy pulling buggies. These buggy rides are very popular with children as they are unique and the pace is a lot slower as well. So if you would like to learn more about Amish history whilst admiring some of Ohio's prettiest countryside, then this activity is for you.
Address: 4839 E Miller Ave, Millersburg, Ohio 44654
Phone: 330-275-7896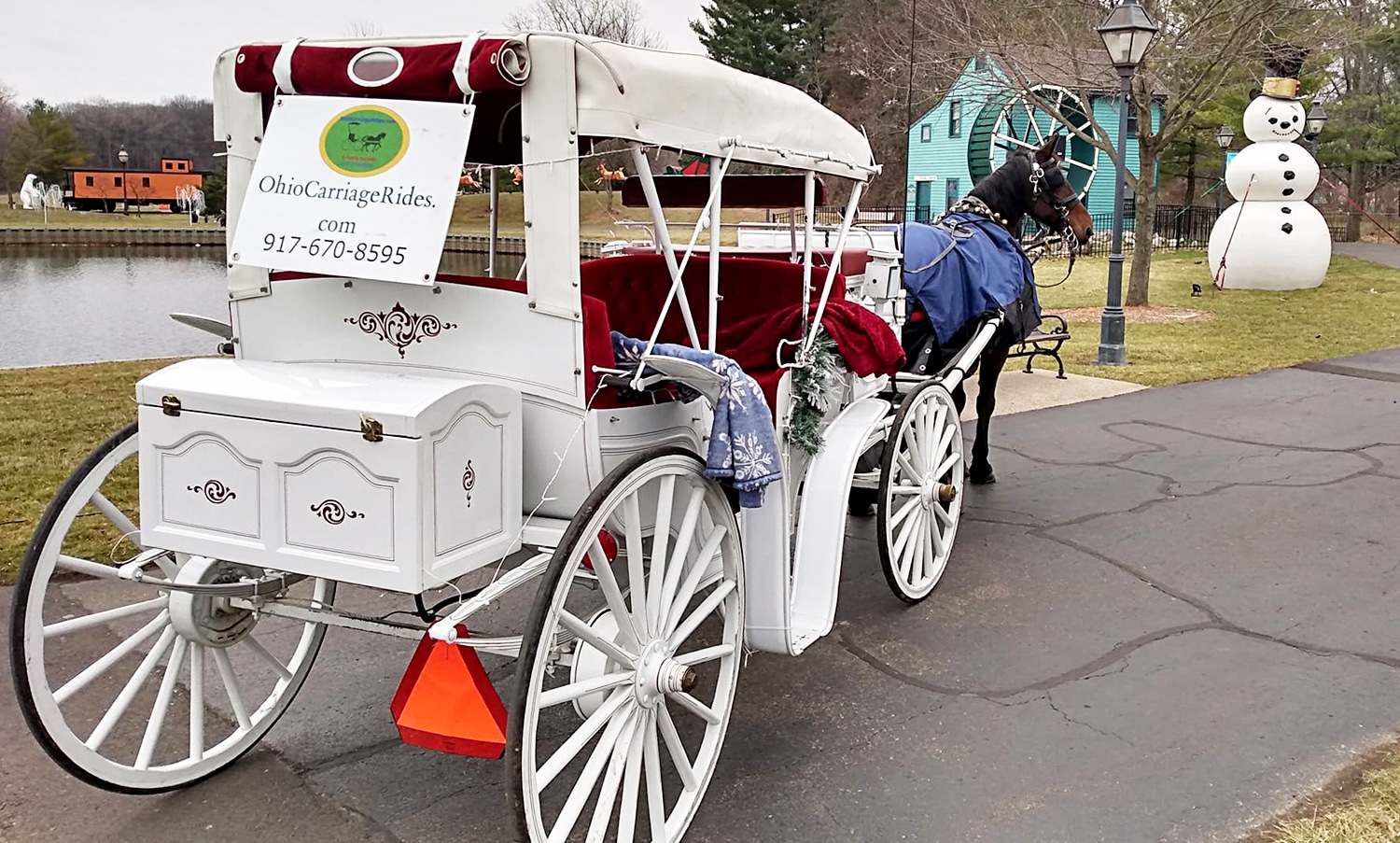 Ohio Carriage Rides
Ohio Carriage Rides is a family-owned company that has been in operation for over 30 years. The horses are well looked after and are kept in Bowling Green Ohio, but services are provided within a three-hour radius of Bowling Green, so rides are available in places such as Cleveland, Akron, and Dayton.
There is also a Christmas carriage at Toledo Zoo. Some of the special occasions that can be provided for include school proms, weddings, sweet 16s, and anniversaries.
Carriages Of Cleveland
Carriages of Cleveland is located in Berea, Ohio. This is the leading carriage company in this area of Ohio and they do rides in the historical areas of Berea.
Carriages of Cleveland were based in Cleveland Ohio for over 35 years, before they decided to move to a quieter area. Some of the carriage rides include anniversaries, school proms, date nights, and weddings.
All Occasions Carriage and Pony Rides
All Occasions Carriage and Pony Rides offer different types of rides for many occasions. Some of these occasions can be but are not limited to birthday parties, weddings, anniversaries, and school proms.
The carriages are well maintained and the breeds of horses that are used to pull the carriages include Percheron and Clydesdale horses.
Sleigh Rides in Ohio
Sleigh rides are such fun, and are available when there is enough snow cover.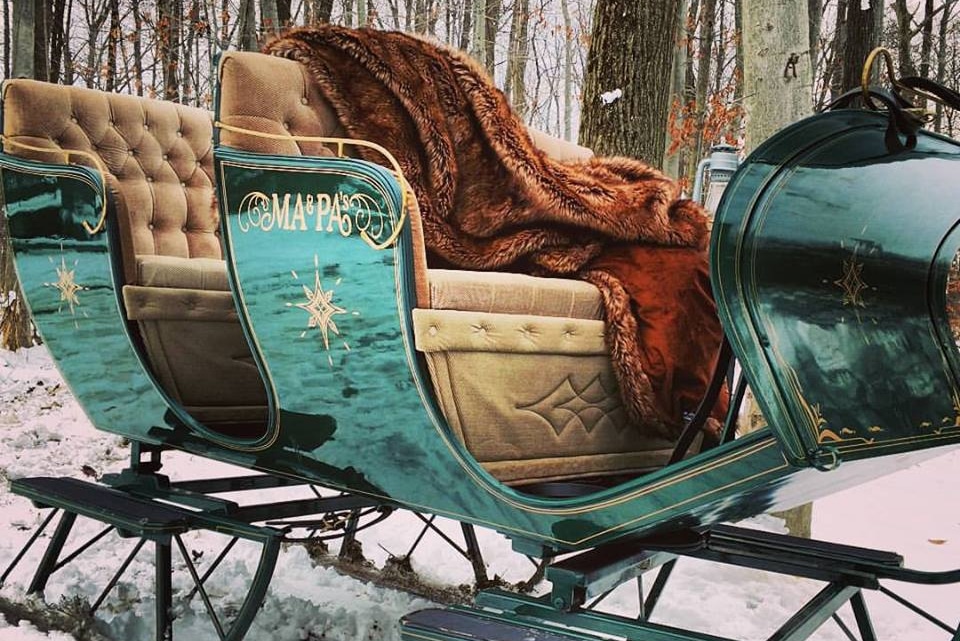 Ma & Pa's Gift Shack
A winter trip to Ma and Pa´s gift shack is a must. Ma and Pa´s is located in Burton, Geauga County. There is a huge meadow and a really cute path that has trees on either side. The sleigh ride will take you through the grounds and as the temperatures will be really cold you can have a hot drink before the ride begins and again on return to the log cabin that was originally built in the 1820s and relocated to this site.
Guests can also sample some onsite baked goods to have with their warm drink. There is an opportunity to do some shopping as well for items such as food, furniture, and drinks. Ma and Pa´s offer sleigh rides throughout the winter months, weather conditions permitting.
Rutherford B. Hayes Presidential Center
Spiegel Grove is the 25-acre estate that belonged to President Rutherford Hayes and First Lady Lucy Hayes. The couple were big fans of sleigh rides and this has been mentioned many times in his diary.
Horse-drawn trolley rides are available in the middle of February, providing that the weather conditions are right. These rides are on a first come, first served basis. This estate is really beautiful and a sleigh ride around the grounds is a day to remember!
(All Occasions Carriage and Pony Rides) I have only ridden in one of their carriages at the Velvet Ice Cream Old Mill. I talked to one of the owners and she told me they rent the carriages (driver with it) for all sorts of occaisions; Weddings, church fairs, street fairs, fund raisers, Hay Rides, birthdays etc., etc. The horses seemed healthy and happy and were well shod. The carriages I have seen seem to be in good condition and well maintained. If you are looking for something like this for an event this seems to be a good option.

Gail T (Yelp)
Cindy's Insider Ohio Tips
Carriage rides are seriously romantic – what a way to be proposed to! I do recommend that you take a carriage ride in any season except summer – some of these places don't offer carriage rides in summer as it is too difficult for the horses. My opinion is that winter is the best season to take a carriage ride – wrap up in a warm blanket and enjoy the scenery, day or night!
Let's Take a Carriage Ride in Ohio!
Have you taken any Carriage Rides in Ohio? We would love to know! Leave a comment below telling us about your experience!
Do you like the winter months? Polar Express Train Ride Ohio is a great experience. Ohio also offers some Cross-Country Skiing. There is also an article if you would like to visit Ski Resorts in Ohio.
If you are looking for some other fantastic places in Ohio, we suggest: Things to Do in Dublin, Things to Do in Sandusky, and Things to Do in Sugarcreek.
Hello! We have done our very best to ensure that the accuracy of events, hours, addresses, etc, are up to date. Please know that information can change due to weather, updated health and safety challenges, etc. If you find incorrect information, please send us an email at [email protected], and we can get it updated.

To be updated and stay connected, subscribe to our newsletter.