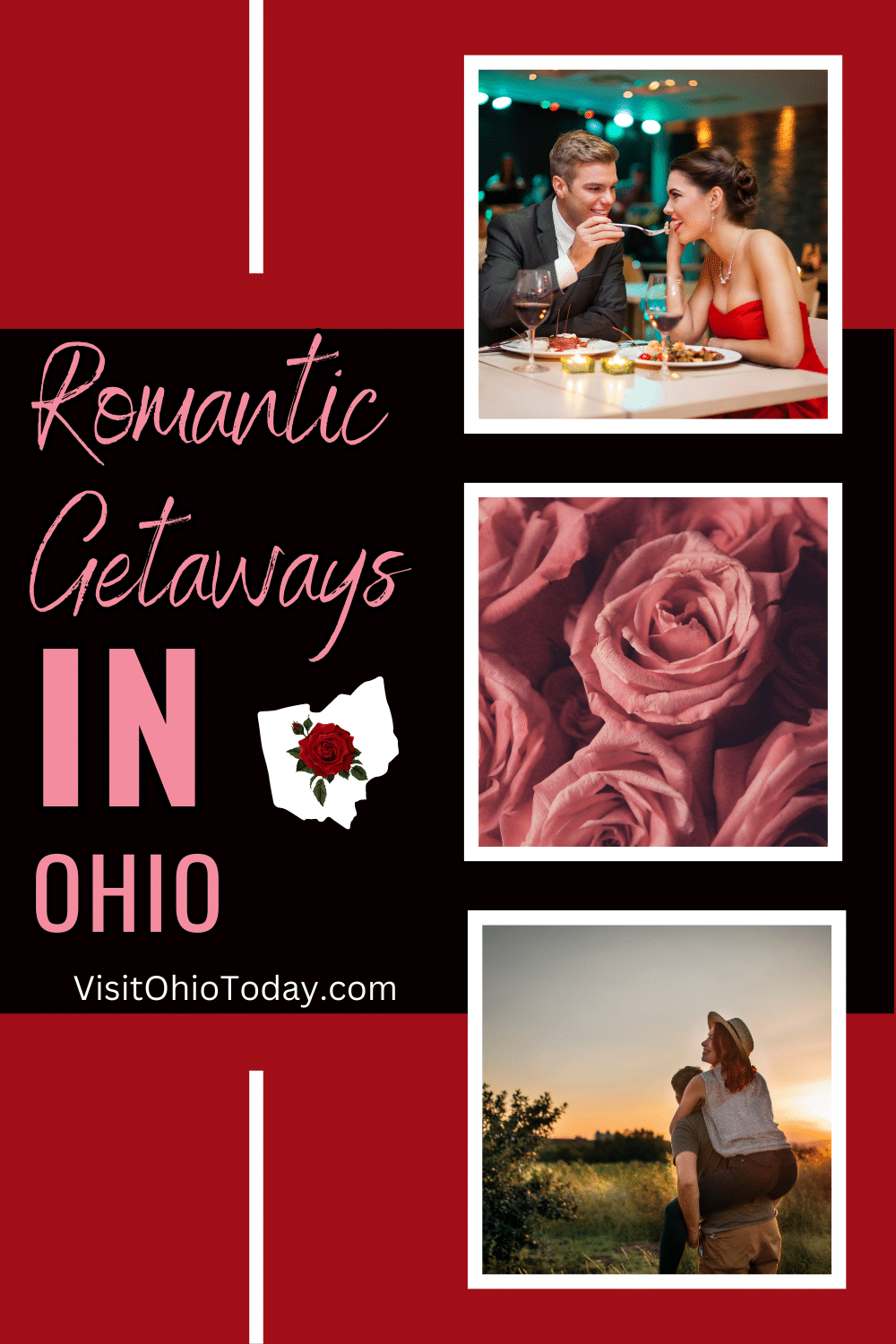 Last Updated on October 3, 2023 by Cindy
Your dream couple's getaway is really up to your imagination. As you consider your options for Romantic Getaways In Ohio, here are a few suggestions.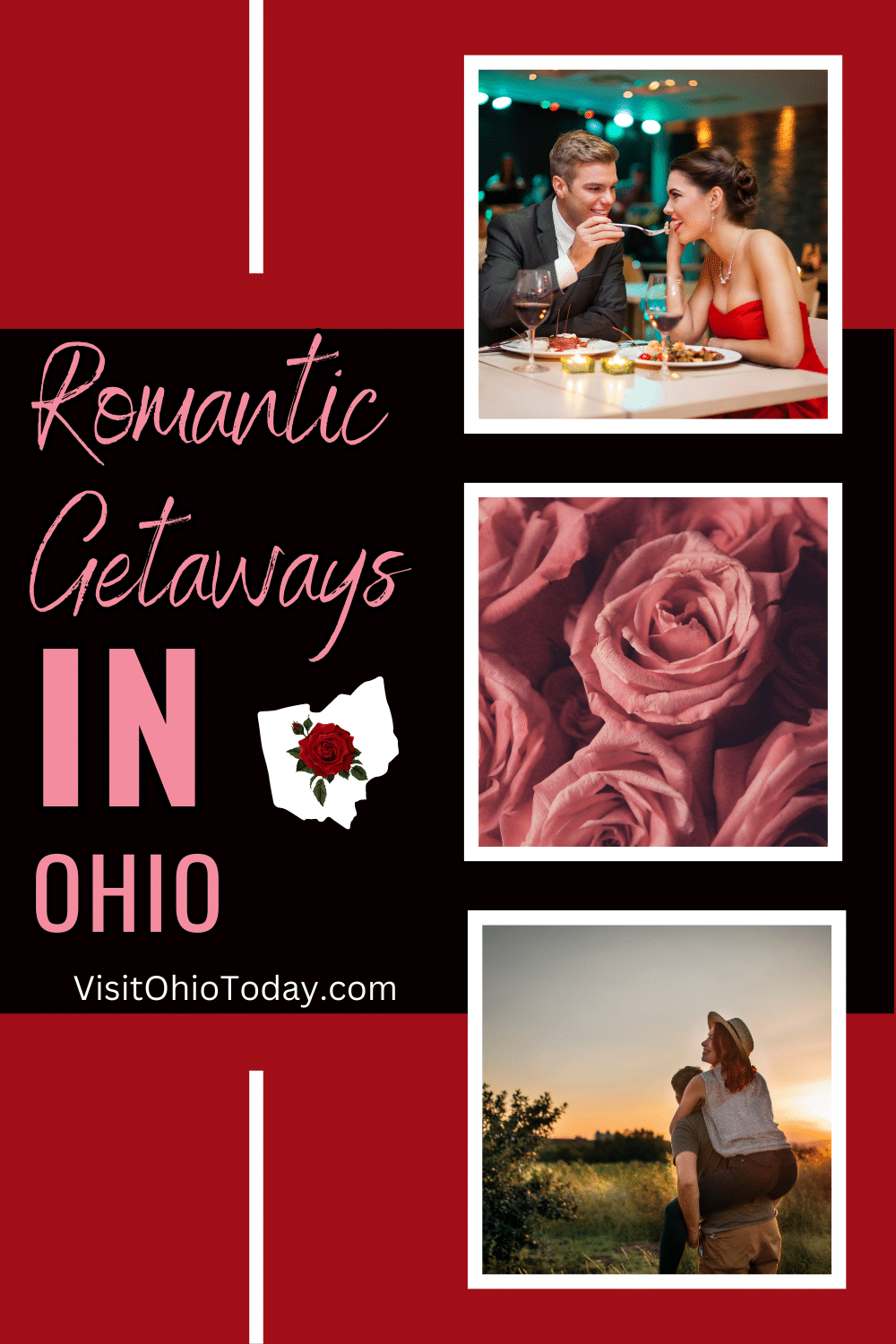 From a little rock and roll to flying the blue skies to playing in the trees, Ohio offers amazing locations to spend on a couple's getaway.
You can enjoy time in the big city or maybe take a drive in the rural area. Here are our top picks for romantic getaways in Ohio. Ohio is small enough to get from one end of the state to the other in a few hours, but if you are flying from out of state and want to include your pup in your weekend away, then check out these dog friendly airports.
NorthEast Ohio (Romantic Getaways In Ohio)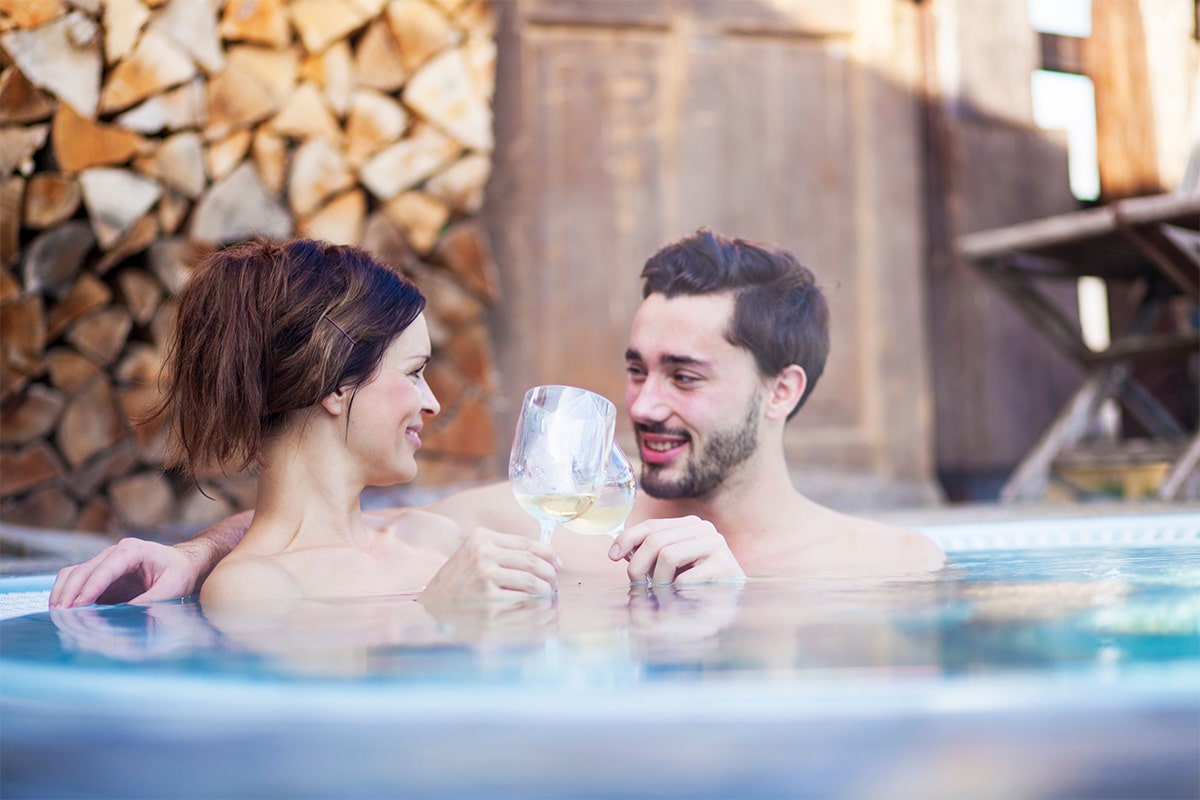 Image credit: ©tomazl via Canva
The Lodge at Geneva-on-the-Lake
Forget the city. Head out for quiet time together as you enjoy a couples getaway at The Lodge at Geneva-on-the-Lake, about an hour northeast of Cleveland.
The Lodge has almost everything you need to take it easy for a weekend or longer (your call) as you enjoy the accommodations at the resort nestled along the southern shoreline of Lake Erie.
Relax in your room or suite as the resort features more than 100 in the upscale main buildings. If you prefer, reserve one of the 25 lakeside cottages on the property.
Unwind by either the indoor or outdoor pool (open late spring thru early fall). Open swimming is allowed until 10 p.m. But from 10 p.m. – midnight, the pools switch to adults-only.
The outdoor pool area is home to a 10,000-square foot featuring an oversized pool, as well as a children's splash pad. The Lodge also offers a hot tub.
If adventure is what you seek on your couple's getaway, take a short trip to the resort's Lake Erie Canopy Tour, where you can ride along a zipline as part of a six-bridge treetop obstacle course. Located at Geneva State Park, the 2.5-hour canopy tour provides a fun and physically challenging adventure on your getaway.
The Lodge is located in Ohio wine country, so why not take a tour of the area's wineries and vineyards? More than 20 wineries and vineyards are located within a short drive of the Lodge at Geneva-on-the-Lake.
With covered bridges offering a trip back to yesteryear, a drive through the countryside adds to the wine trail experience. If you prefer, the resort offers shuttle service that takes guests to local wineries.
Be sure to check out our posts about Wineries In Geneva Ohio and Wineries In Madison Ohio!
Cleveland
Put a little rock-and-roll in your Ohio getaway with a visit to Cleveland. From the Rock & Roll Hall of Fame along the shoreline of Lake Erie to outstanding music venues like the House of Blues and Agora Theater and Ballroom, Cleveland does indeed rock.
Cleveland is a great spot for a couple's getaway with its bevy of museums, such as the Museum of Art with its collection of art from around the world that is centuries old, and the Museum of Natural History, which features dinosaur fossils as well as human remains dating back three million years.
Hold hands as you stroll through the city's Botanical Garden, featuring 20 gardens of flowers and plants from around the world. With about 100 vendors selling anything from flowers to meat and cheese, you can browse Public Market and pick out a special menu for a picnic in the park or to enjoy in your hotel with a bottle of wine or other spirits.
If you prefer to dine out, Cleveland is home to impressive restaurants and other eateries, such as Salt, featuring a James Beard Foundation-nominated chef. Salt offers a menu favoring small plates with separate sections for vegetables, meats and fish.
The Cleveland metro is home to excellent hotels and bed and breakfast inns. But, the real treat may be an overnight stay at the house featured in the movie "A Christmas Story." While it may be considered an expensive stay for some, others believe an opportunity to stay in the same house where Ralphie grew up and eventually nearly shot his eye out is worth any price.
The Bumpkus house next door is also available for overnight stays. Regardless, at least visit the house during its visiting hours. The tour is well worth it for any fan.
Canton
Home to the Pro Football Hall of Fame, Canton in Stark County is the place to be this year as the National Football League celebrates its 100th anniversary. The Hall of Fame is home to several special exhibits celebrating the league's history and players during 2019.
Your couple's getaway should also include the Classic Car Museum, home to autos from all decades, but it has an impressive collection of cars from the 1930s.
History aficionados are encouraged to tour of the President McKinley Presidential Library and Museum and First Ladies National Historic Site.
Enjoy a romantic dinner at the Bistro at Gervasi Vineyard. The vineyard is home to three restaurants, ranging from upscale to casual. The Gervasi resort is also home to a boutique hotel and Tuscan-style villas, offering a quaint and romantic stay during your couple's getaway. The resort provides a beautiful spot to spend your getaway.
Central Ohio (Romantic Getaways In Ohio)
Image credit: Bernyce Hollingworth on Pexels
With the beautiful nature views and spa treatments, you may not want to leave the resort during your couple's getaway. But, if you decide to explore the area, Columbus in Franklin County makes for the perfect day trip.
Columbus
Home to one of the nation's best zoos, a trip to the Columbus Zoo should top any couple's getaway to the city. The zoo dates back to 1927 when the Wolfe family donated animals to help create the zoo. The zoo took off when Colo the Gorilla arrived in 1956. People lined up for hours for a chance to see her.
Jack Hanna – a major television personality among wildlife enthusiasts, became the zoo director in 1978. Hanna's leadership in redesigning the gorilla habitat turned the zoo's fortunes around and it has continued to enjoy success since then.
With nearly 140 animals, many of them endangered, from around the world, the Columbus Zoo continues to rank as one of the best zoos not in the United States, but in the world.
Home to the state capitol, a visit to the statehouse is a true look into the history of Ohio. Located on Capitol Square in downtown Columbus, the statehouse was designed in Greek Revival style.
Public tours are offered daily and provide a look at the two legislative chambers, as well as the governor's office. A guided tour will provide information on the architecture, artwork, and other interesting tidbits about Ohio's capital.
With nearly 24 wineries and vineyards in the area, it's challenging not to find a wine you'll enjoy. Considered one of the best wineries in the area, Wyandotte Winery has been around since 1977. Built in 1976, Wyandotte's original winery was built to function as a house and winery, with a production area in the basement.
Today, houses surround it as the neighborhood grew over the past 40 years. Wanting to expand, the owners renovated a former German brewery into a restaurant and winery.
Considered one of Columbus' best craft breweries, Seventh Son Brewing has been serving its beer since 2013. Its beer is served in numerous bars, restaurants and stores in the area. Having brewed more than 200 beers since its inception, Seventh Son annually ranks high in public contests. You can find Seventh Son and other breweries as part of the Columbus Ale Trail.
Home to James Beard award winners, Columbus is home to a unique culinary scene. You'll find almost any type of eatery here, from upscale to quirky concepts. The Guild House uses locally-sourced items for its menu. The restaurant features repurposed wood and local art to create a warm and eclectic ambiance.
With a menu of outstanding and high-quality hotels in the city, Columbus is home to excellent accommodations. However, on your couple's getaway, you may want to consider staying at a bed and breakfast inn. With an intimate setting and delicious breakfast presented daily, you'll love the B&B options in Columbus.
SouthEast Ohio (Romantic Getaways In Ohio)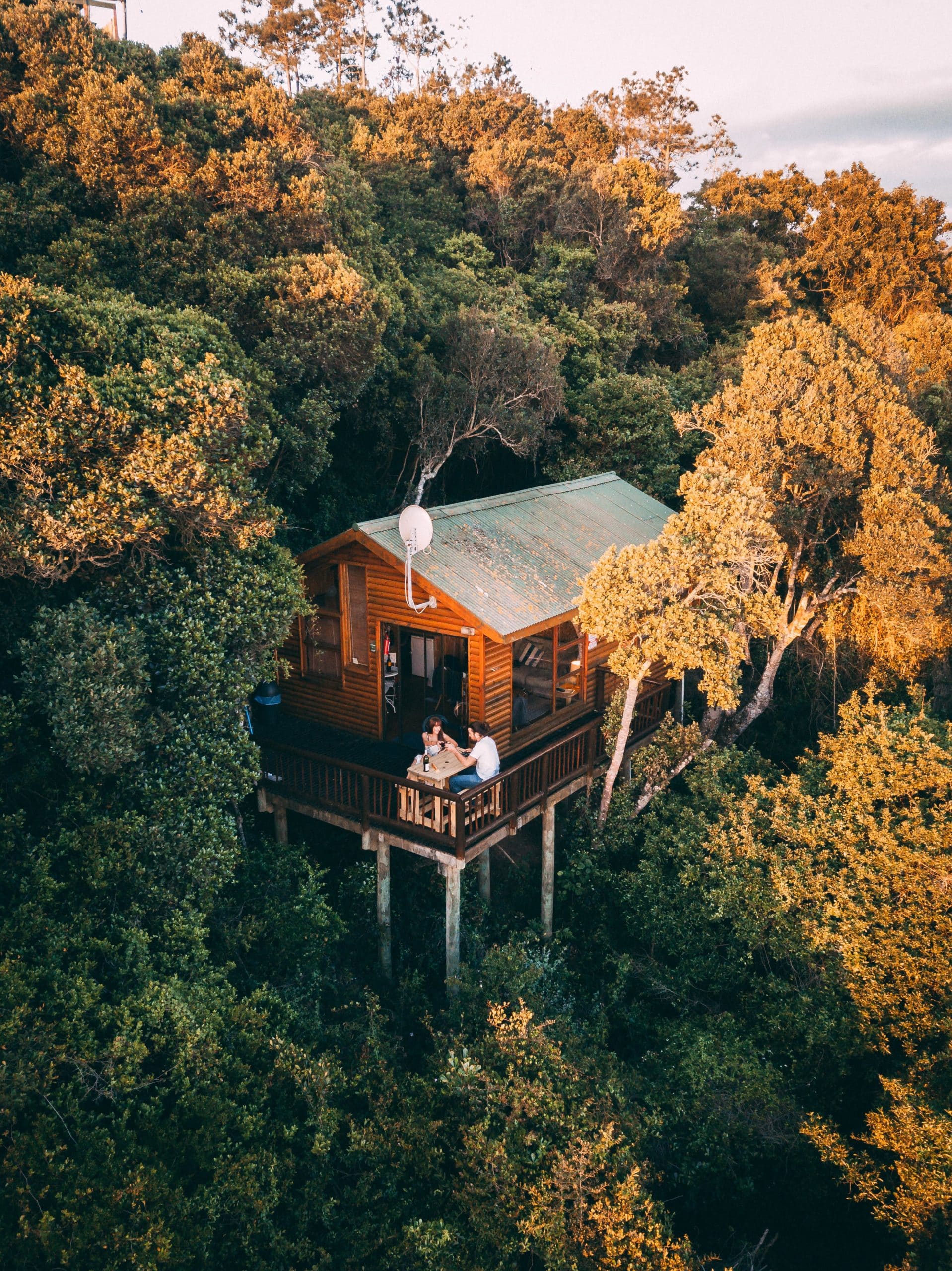 Image credit: Taryn Elliott on Pexels
Inn at Cedar Falls
Located about an hour southeast of Columbus, the Inn at Cedar Falls provides a respite for urban dwellers, according to its founder. Anne Castle gave up her career working in the corporate world in 1987 to create a wonderful resort for people looking to get away from city life for a while and enjoy the quiet and beauty of rural life.
Over the past three decades, the Inn at Cedar Falls located in Hocking County has grown into a perfect couple's getaway, offering a variety of lodging options including cottages, cabins and yurts, as well as standard guest rooms.
Guests can enjoy their visit to the resort with a relaxing experience at the local spa, located in a rustic 1800s-era cabin. The spa offers a variety of services, so there's something for everyone.
Start your day with a delicious homemade breakfast at the inn's original log cabin. With a menu offering omelets and other hot items, guests can also enjoy freshly made granola and fruit. If you feel like breakfast in bed, have the morning meal delivered to your room.
Lunch is served daily (with seasonal exceptions). "To-go" bags are available year-round. Reserve a table for dinner at Kindred Spirit. The upscale restaurant features a seasonal menu.
While you are in the area, make sure you check our top tips for things to do in Hocking Hills!
Glenmont
The perfect couple's getaway may involve playing in the trees. With six styles of treehouses available, Mohicans Cabins and Tree Houses offer accommodations from single-room lofts to suites. Your treehouse will have its own bridge or walkway. There are also ground-level cabins available.
Located in Amish Country Holmes County, there are attractions such as Yoder's Amish Home.
Grab a casual meal at Mrs. Yoder's Kitchen in Mount Hope, about 30 miles from the treehouse.
If treehouses aren't your idea of a couple's getaway, consider a stay at the Inn at Honey Run near Millersburg. The boutique hotel also offers fine dining with a seasonal menu.
SouthWest Ohio (Romantic Getaways In Ohio)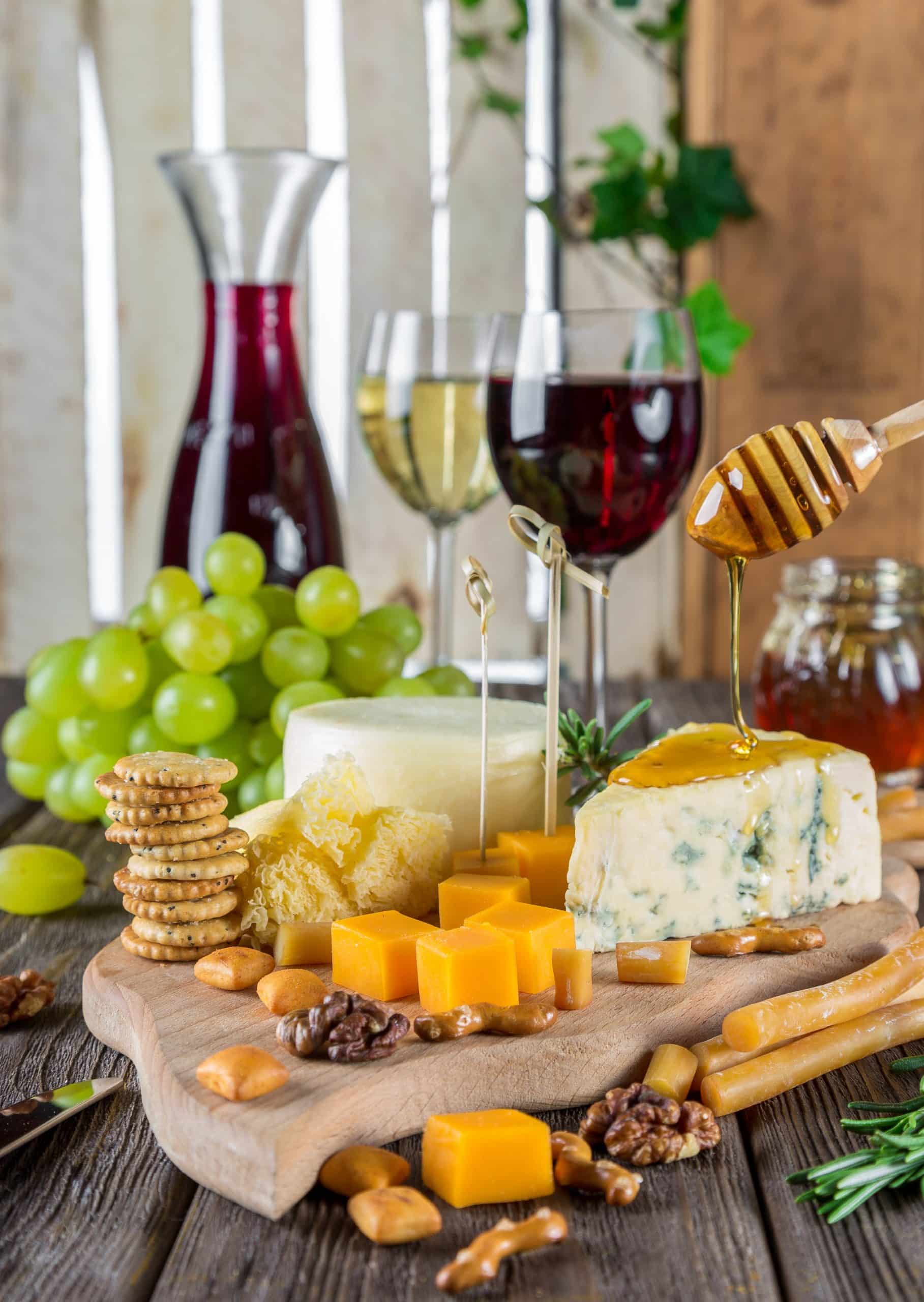 Image courtesy of Wooden Earth Wood Trays
Cincinnati
The Queen City is home to some amazing breweries and wineries. With dozens of local breweries and pubs in the Cincinnati area, it's nearly impossible not to find a beer you like. From local favorite Rhinegeist's Bohemian pilsner Okapi to Urban Artifact's Standard lager, the city's beer scene is a strong one.
If wine is your preference, the area is home to five solid wineries and vineyards. Harmony Hill Vineyards raises grapes for its wines on about 70 acres of prime farmland. Offering about a dozen varieties of wine, one of the fun things to see at Harmony Hill is the underground wine cave, which is one of only eight in the country.
Taking a romantic walk along the riverfront is one of the fun things to do on a Cincinnati couples getaway. The riverfront features museums, parks, and unique statues.
While near the Ohio River, enjoy a BB Riverboats cruise. Offering a variety of cruises, including lunch, dinner and sunset trips, BB Riverboats has been part of the Cincinnati river scene since 1979. The paddleboat launches from the Port of Cincinnati.
Cincinnati in Hamilton County is home to a vibrant dining scene. With a variety of upscale fine dining restaurants available, Carlo & Johnny features fine dining at its best. With a menu favoring steak among its options, the restaurant is located in a historic mansion that was once used as a stagecoach stop in the 1800s.
If you prefer casual dining, why not try Cincinnati's staple – Cincinnati Chili. Blue Ash is a great spot to enjoy the dish "3-way. 4-way. 5-way or 6-way." The restaurant offers a variety of dishes with the chili as a topping – for spaghetti or a hot dog. You can add several additional toppings such as onions, cheese and jalapenos. Yum! Blue Ash has been featured on several national food shows.
With several outstanding hotels in the area, 21c combines a boutique hotel experience with a museum. Each of the national chain's hotels is individually designed and its museum features unique art pieces. And you never know when a life-size plastic penguin may end up greeting you in your room or somewhere else in the hotel.
Dayton
Who doesn't love checking out old airplanes? Dayton is home to the National Museum of the US Air Force. With more than 350 aircraft and missiles on display – including former Air Force One planes and B-29 Superfortress from World War II – the museum at Wright Patterson Air Force Base is the oldest and largest air museum in the United States.
The museum pays tribute to the Wright Brothers, who are credited with inventing manned flights. The museum is a must for anyone interested in aircraft, history or the military.
Open since 1992, the American Packard Museum – The Citizens Motorcar Company – is located inside an original Packard auto dealership from 1917. The museum, created from the collection of a local attorney, features about 50 vehicles.
Located in a former downtown foundry, Warped Wing Brewery has been a Dayton staple since early 2014. With about 20 flavors on tap, the craft brewery has made its mark on the Cincinnati beer scene in a short time. With more than a dozen craft breweries available in the area, Warped Wing has continued to improve its standing with quality beer that customers enjoy and savor.
Among the top wineries in the Dayton area, Old Mason Winery and Vineyard has been in business for six years. The young winery quickly caught on with customers, being named as one of the top wineries in the region. With more than a dozen varieties of wines available, customers can sample five types in a flight.
With a mix of restaurant styles available, Dayton has an interesting culinary scene. From fine dining establishments such as Salar Restaurant and Lounge to casual dining like Old Scratch Pizzeria, there's something for everyone in Dayton, Montgomery County!
You can be rest assured that you will have an enjoyable hotel stay as the area is home to several national brands, such as Marriott, Hyatt and Radisson properties.
Let's Plan Some Romantic Getaways In Ohio!
Planning a couple's getaway is as easy as figuring out which Ohio city you'd like to visit. You don't need to travel to an exotic location to have great romantic getaways in Ohio.
You can visit the Rock & Roll Museum, Columbus Zoo or even stroll Cincinnati's riverfront. Nothing really matters more than spending time with the person you love. The rest is gravy. Enjoy your couple's getaway.
Do you love the thought of reliving your childhood and living in a treehouse? Well, you can now rent one for a night, a weekend or however long you need by checking out our post about Hocking Hills Treehouse Cabins!
How about Hot Air Balloon Rides? View your favorite area of Ohio from the air! Even a beautiful sunny day on one of the Beaches in Ohio!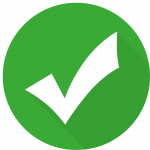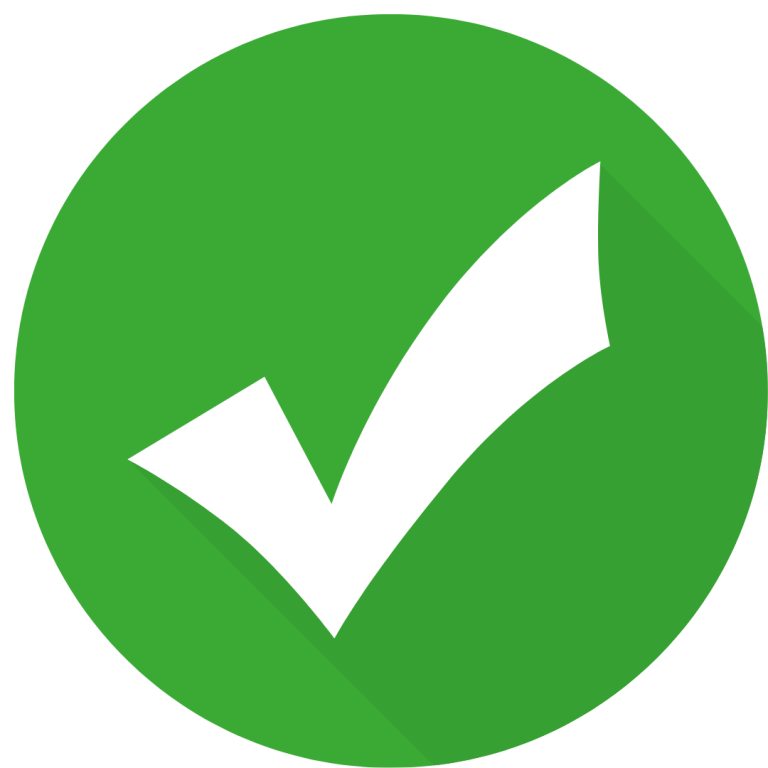 Hello! We have done our very best to ensure that the accuracy of events, hours, addresses, etc are up to date. Please know that information can change due to weather, updated health and safety challenges, etc. If you find incorrect information, please send us an email and we can get it updated.
To be updated and stay connected, subscribe to our newsletter.