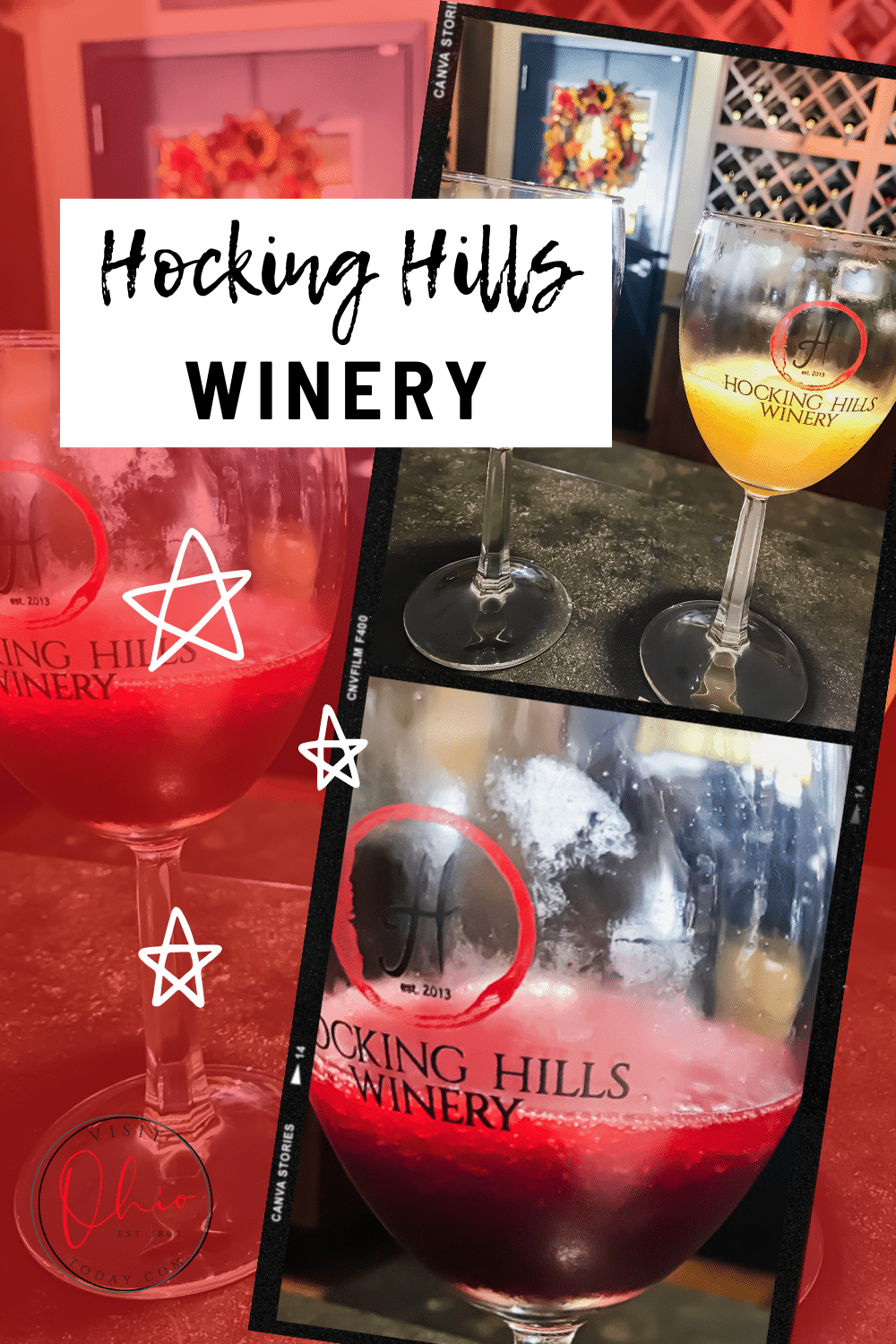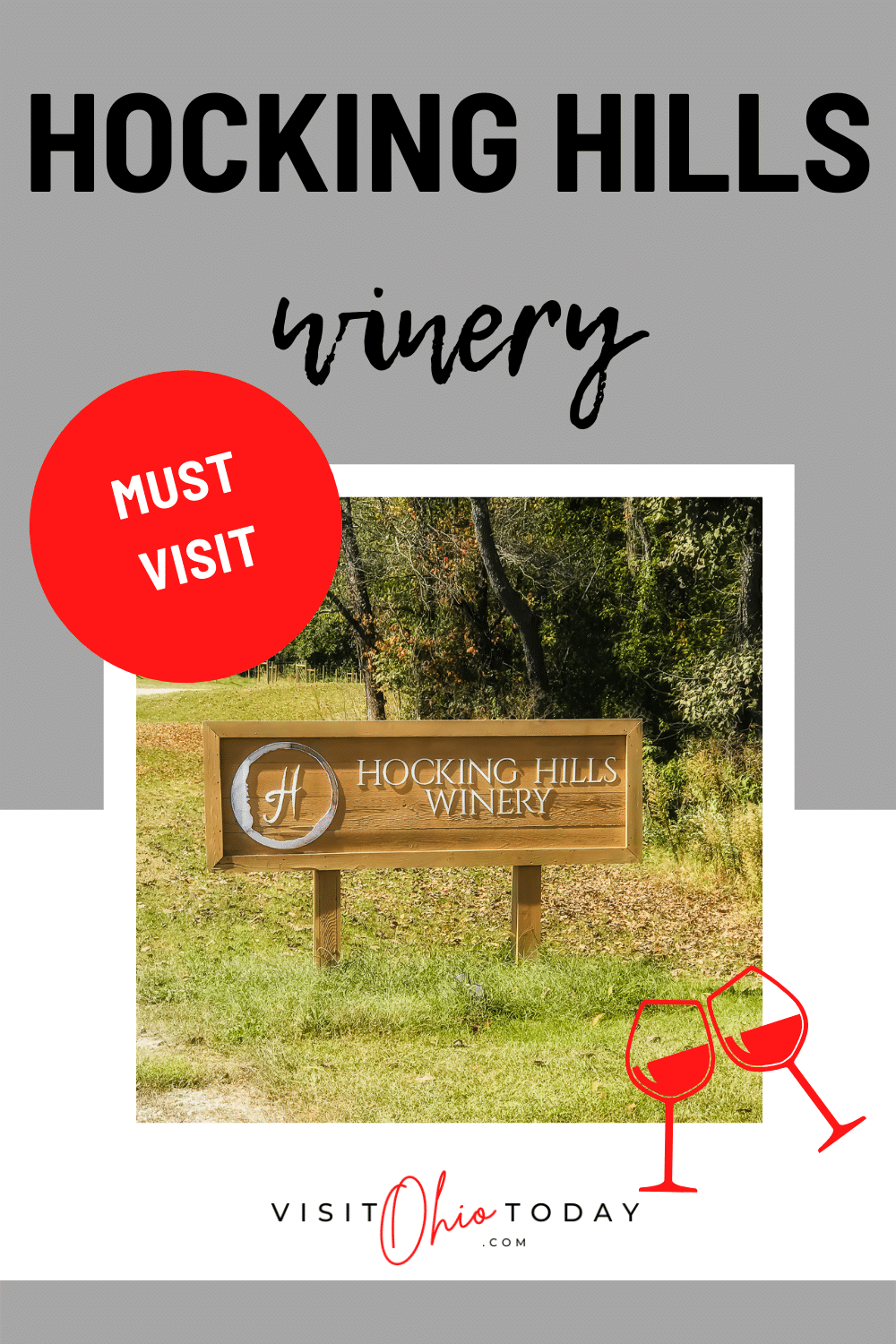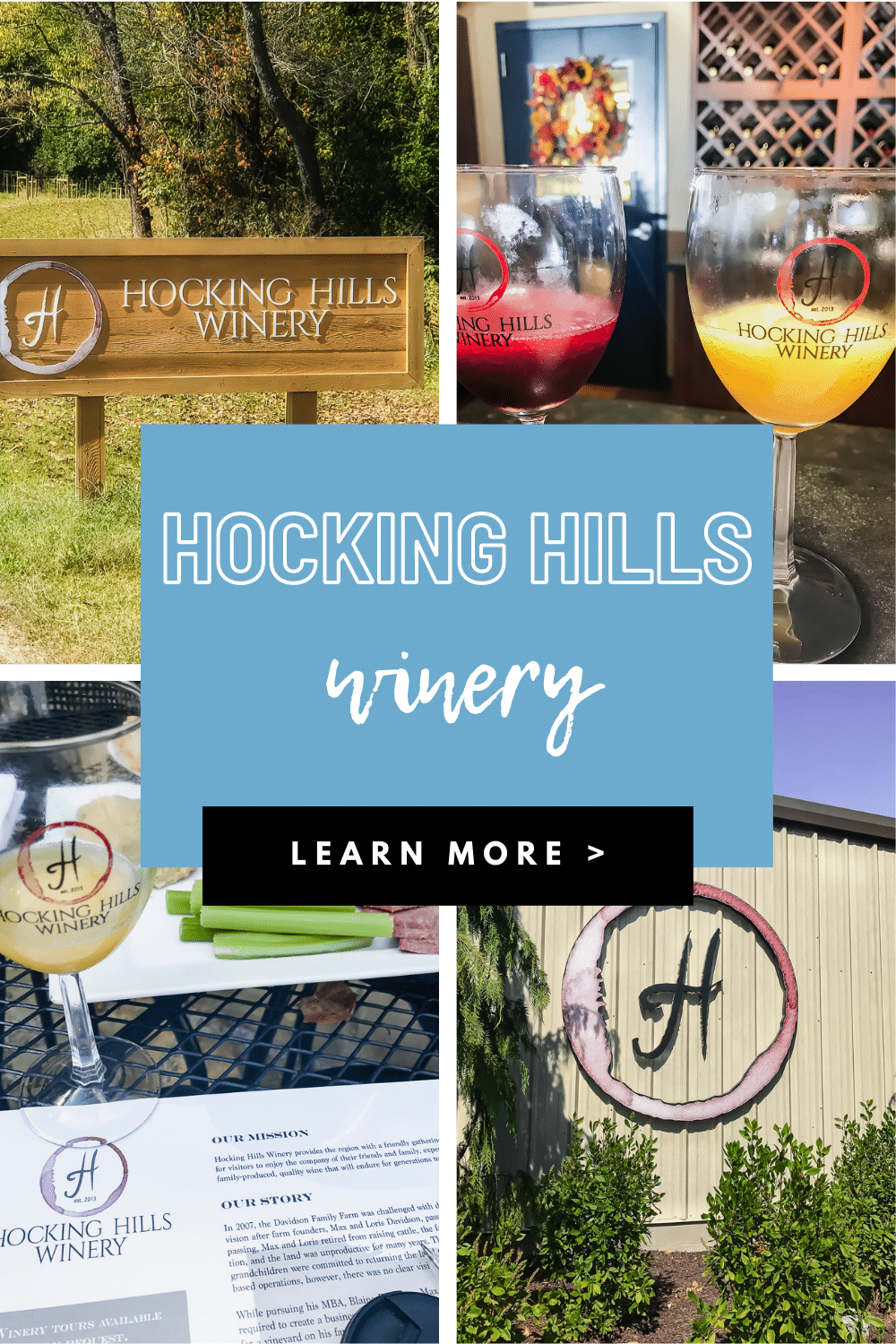 Hocking Hills Winery is a must visit destination when in the Hocking Hills, Ohio area. This family owned and run winery, offers up red and white wine, wine slushies and more!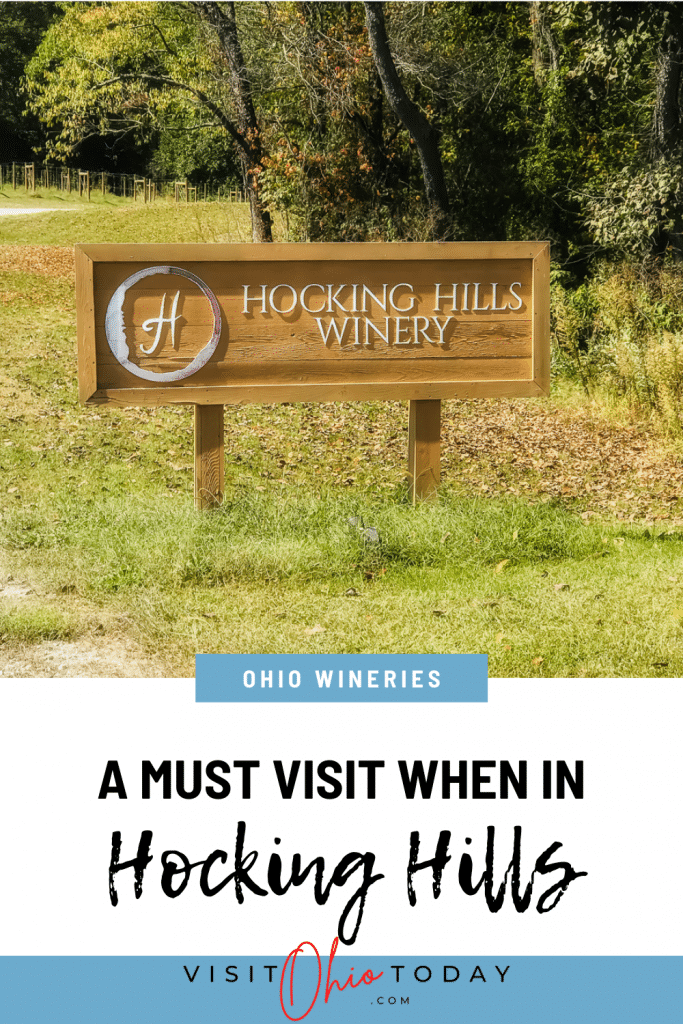 Visit Hocking Hills Winery
Hocking Hills Winery is located in the heart of Hocking Hills, in Logan Ohio. This family owned and operated business is a well sought out place to visit when in Hocking Hills. This winery provides a gathering space for vacationers and locals alike to enjoy some award winning wines.
The Hocking Hills Winery produces both white and red wines. All the white wines are vegan. The red wines use egg whites to soften the tannins. Hocking Hills Winery is proud to have several award winning wines in their line up. Most notably a 2020 Malbec that was awarded a silver medal at the the Finger Lakes International Wine Competition.
Hocking Hills Winery Wines
Hocking Hills Winery has a large variety of wines available! If you run out of your favorite Hocking Hills Winery wine, you can order from their online shop!
When visiting the winery in person you may find:
Pinto Grigio
Vidal Blanc
Dry Riesling
Chardonnay
Riesling
Sweet Chardonnay
Honeysuckle
Moscato
Whispering Falls Rose
Rose Lake Blush
Pinot Noir
Malbec
Petite Sirah
Hocking River Red
Marquette
Rockhouse Rouge
Balanced Rock Port
Zinfully Sweet
Raspberry Slushy
Peach Slushy
Sangria Slushy
Pink Lemonade Slushy
and many more
How to taste wine
There are so many ways to taste wine, today we are sharing our simple beginner tips for how to taste wine. First, look at the wine. Note how the light may filter through the wine. Second, smell the wine. Are there any aromas you can pinpoint? Third, swirl the glass, then sniff again. Did any new aromas appear? Fourth, take a sip of the wine. Note how the wine feels in your mouth and how it tastes. Does the wine dry a certain part of your mouth, does it have an initial taste? Fifth and our final step is to swallow the wine and note if there is an after taste. Those are the basic beginner steps to taste wine.
Hocking Hills Winery Menu
The Hocking Hills Winery offers a bountiful selection of wine flights, wine by the glass or bottle, wine slushies, beer, soft drinks and weekly specials!
Hocking Hills Winery does serve some food. They offer up a nice range of charcuterie boards. They've got you covered with meat boards and even a vegetarian charcuterie option! Meats, cheeses, fresh vegetables, dips, crackers and more are available. Then even have a gluten-free cracker option.
If charcuterie boards are not your thing, the winery allows you to bring in your own food or order from one of the local restaurants.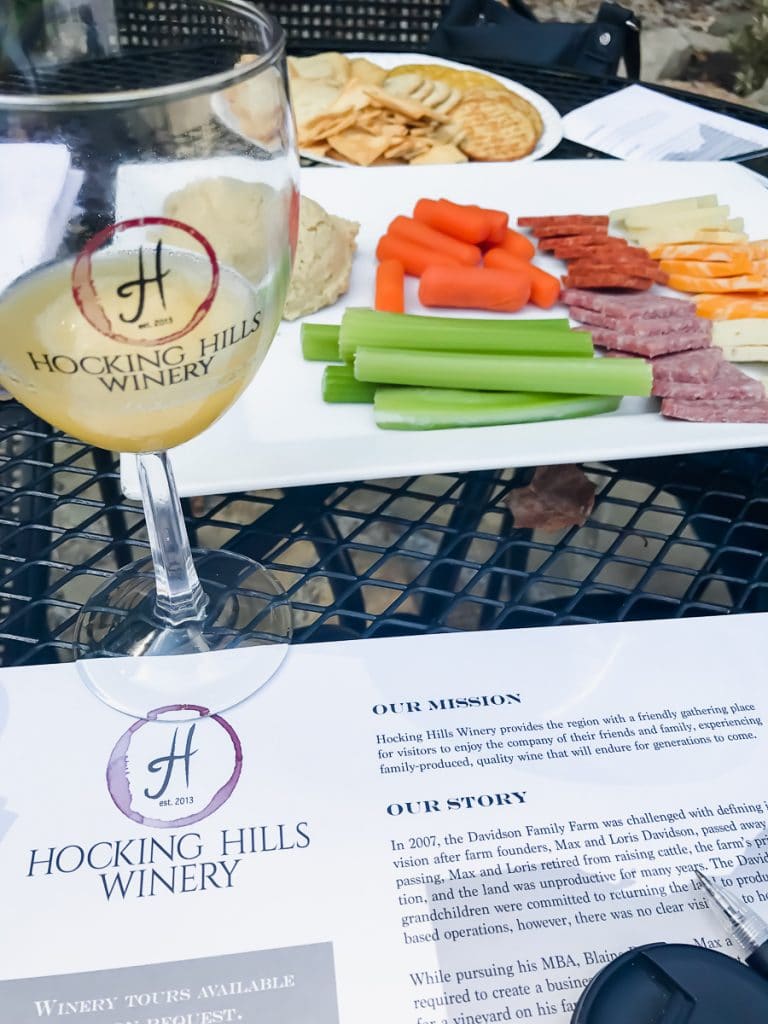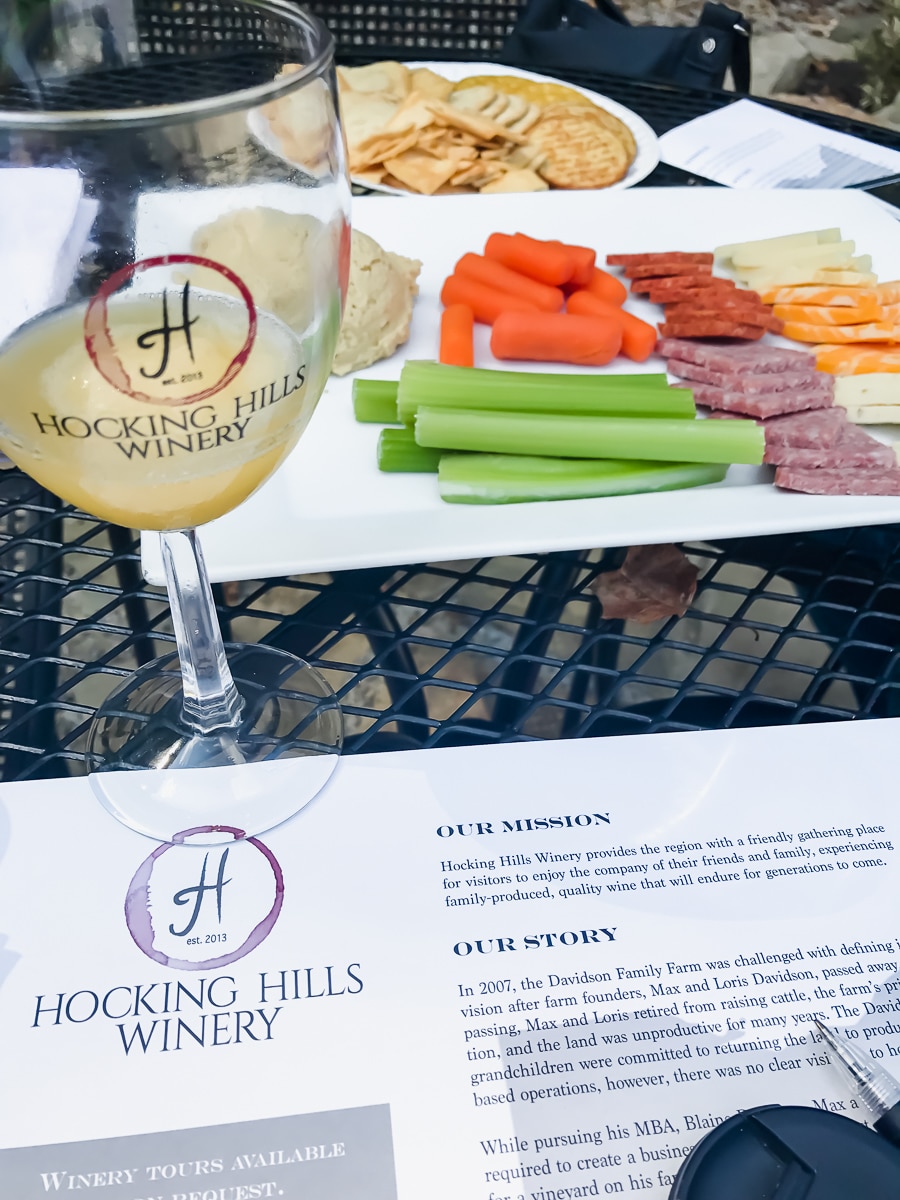 Relax at Hocking Hills Winery
The winery offers up spacious seating areas inside and out on their patio. On the weekends, there is often musical entertainment on the patio as well.
Love what you drink? The Winery also offers a wine club for their patrons! For the wine club, you have options of 3,6 or 12 bottles each quarter as well as exclusive benefits! And be sure to take a bottle or two home with you!
What people are saying about Hocking Hills Winery
We like to check review resources such as Yelp, Dyrt and Trip Advisor when we visit these local gems in Ohio. The reviews often hold some great tips that you can apply to your upcoming trip to Hocking Hills Winery.
"Sat outdoors on a warm October afternoon. Great ambiance. Pretty outdoor area with party lights and red umbrellas. Nice wine selection. Friendly staff." S (Ohio) We'd say that is a pretty descriptive review!
"We were pleasantly surprised by the wine as complex as any winery in the tri-state area." MG (Ohio)
"Cute little Winery! Lovely outside with live music" B (Ohio)
"Atmosphere was fantastic, the wine was wonderful, and we just really enjoyed our day! I wish we lived closer so we could frequent it more often!" KP (Ohio)
"Nice wines, beautiful gardens, with a simple menu of cheese and nuts. Relaxing pace to slow down and enjoy the reds and whites" MD (Michigan)
Where is Hocking Hills Winery
Hocking Hills Winery is located at 30402 Freeman Rd, Logan, OH 43138 - (740) 385-7117 - website
Important Hocking Hills Winery Info
Indoor and Patio Seating
Dog Friendly Patio (for well behaved, leashed pups!)
Serves: Wine, Beer, Soft Drinks, Charcuterie Boards
Can bring in outside food
Kid Friendly
No wine tours available
No reservations
Closed Tuesdays
Important Winery Links
Wineries in Ohio
If you are looking for more wineries in Ohio, we have got you covered. Below is our comprehensive map of wineries in Ohio! If you do not see your favorite on the list, send us an email at team (at) visitohiotoday (dot) com If you want to level up your wine tasting knowledge, we recommend you read this book.
Let's go to Hocking Hills Winery

If you have been to Hocking Hills Winery, we want to know what you thought! Which wine was your favorite! You do not have to pick just one! If you are interested in learning more about Wineries in Ohio you can visit our Ohio Wineries category page to plan your next wine tasting trip!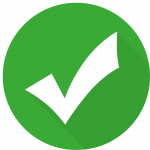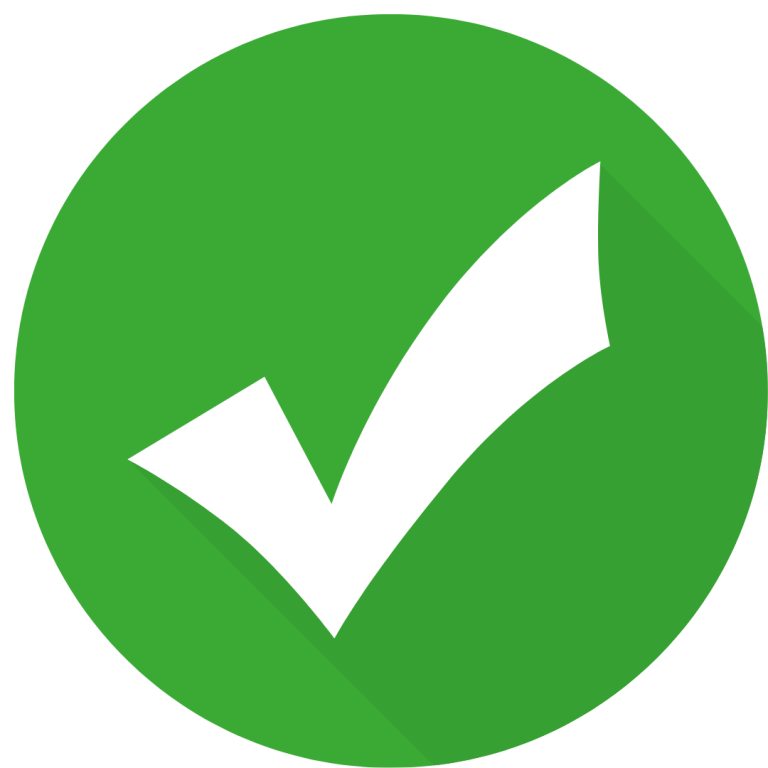 Hello! We have done our very best to ensure that the accuracy of events, hours, addresses, etc are up to date. Please know that information can change due to weather, updated health and safety challenges, etc. If you find incorrect information, please send us an email and we can get it updated.
To be updated and stay connected, subscribe to our newsletter.