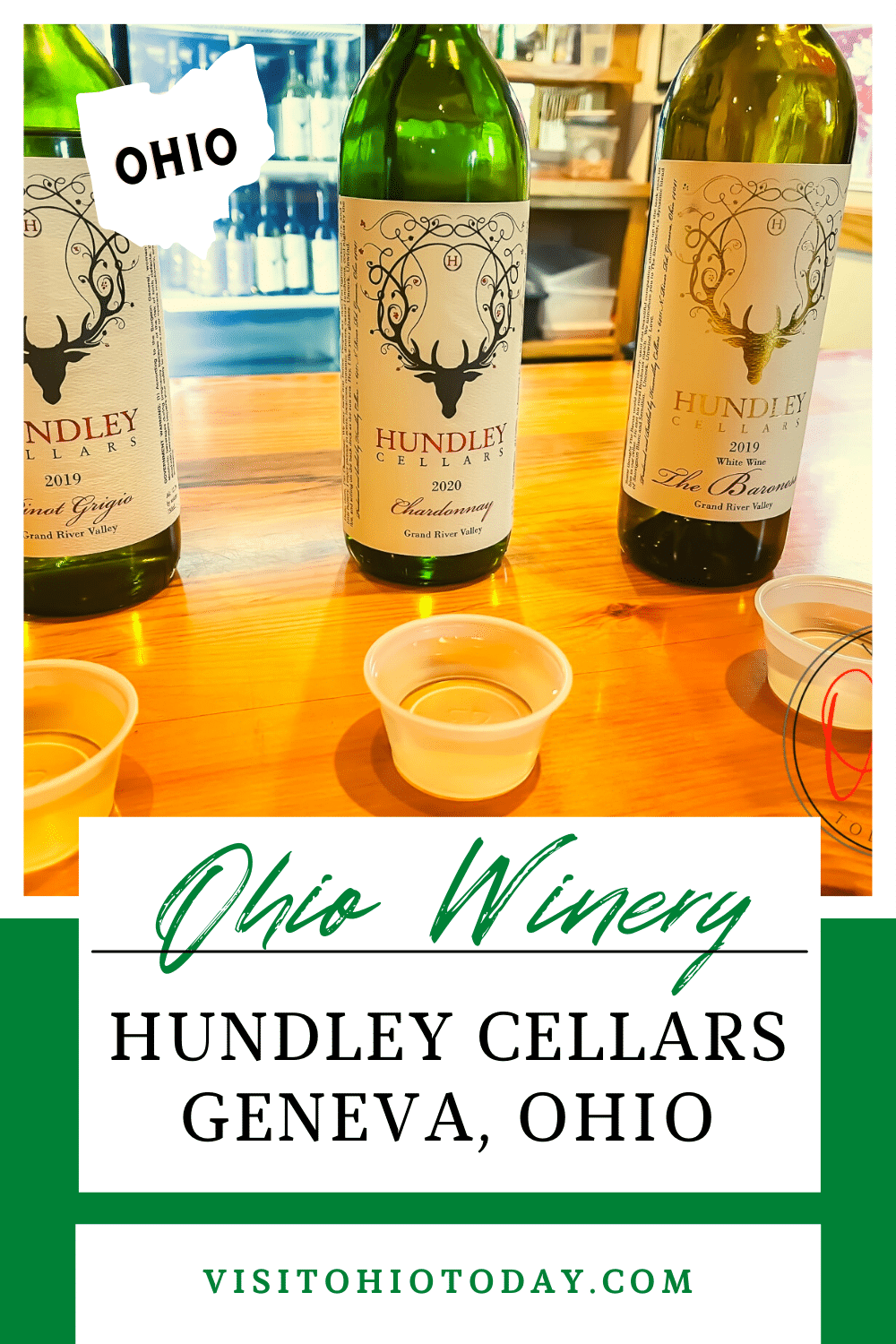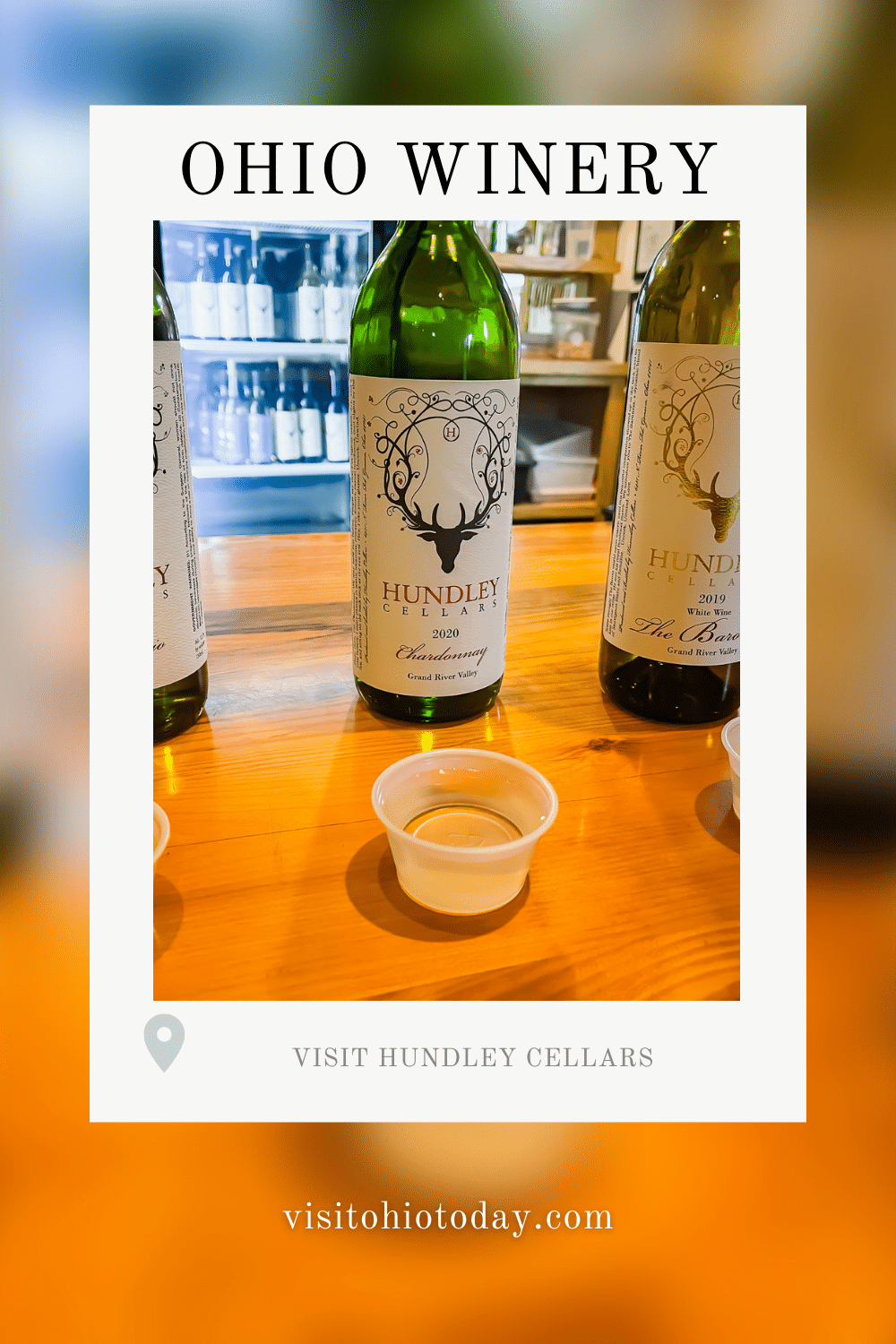 Hundley Cellars is a cozy and welcoming Ohio winery, located in Geneva, Ohio. Hundley Cellars offers food, wine and a place to uncork and unwind.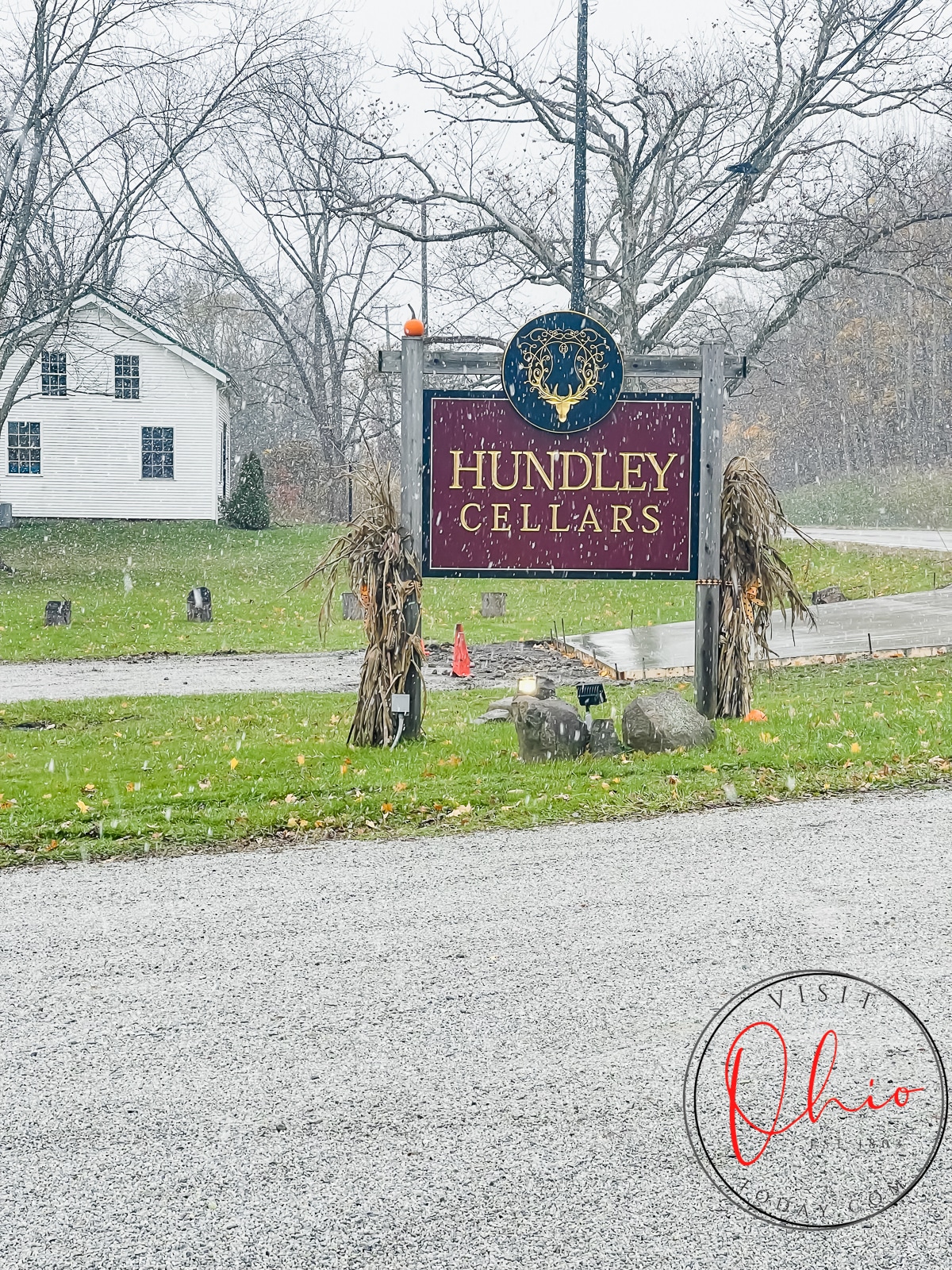 Visit Hundley Cellars
We visited Hundley Cellars during the late fall. It had just started snowing when we arrived at Hundley Cellars and it was beautiful. As soon as you walked in Hundley Cellars you felt welcomed! We were immediately greeted and overtaken by the delicious smell coming from the kitchen. The chef at Hundley Cellars was busy making soup for this cold snowy day!
Hundley Cellars prides themselves on providing old-fashioned hospitality and I would agree. We felt totally welcomed here and immediately felt like we created new friends! On the Hundley Cellars, it says that they truly hope that you enter the door as a guest BUT leave as a friend. This is very true! Hundley Cellars has done a GREAT job at creating a friendly and welcoming atmosphere.
The inside of Hundley Cellars is cozy and filled with warm welcoming wood tones. It has ample, spaced (socially distanced) seating. We peaked through the door on the back of Hundley Cellars to see the vast outside seating area. They offer a desk with tables and chairs. As well as picnic tables and more chairs on the lawn next to their pond. We got the feeling this would be a great place to come and relax during warmer weather!
We did not know the story behind Hundley Cellars until we read about it on their website. It was clear to us while there, this business was a family affair and one that everybody enjoyed being part of. We love a good story and on their website, it shares that this close family, who was separated by many miles and lots of life events, knew they needed to move closer together and bring the family together again.
The family found the 35 acres, which had previously been an orchard and decided this was the place to create Hundley Cellars. The winery is a remodel of an old abandoned ranch house. Hundley Cellars opened their doors in 2014.
Hundley Cellars Video
Hundley Cellars Wines
Hundley Cellars offers a variety of wine and red wines to enjoy onsite or to take home to enjoy later. While Hundley Cellars wines carry names that you would typically expect at a winery they also offer wine names that reflect memories or values of their family.
For example, the Blue Bucket got its name from Greg and Tracy, who worked long days spraying the vineyard with a 5 gallon backpack every week. They would leave a blue bucket at the end of the row where they left off, so the other one would know where to start the next day!
Pink Camo is another fun name. This wine shows that the Hundley family is all about the outdoors. They love to hike, fish, hunt, boat and more! Also a percentage of this wine profit goes to help victims of domestic violence get to safety!
Sauvignon Blanc (white)
Chardonnay (white)
Dry Niagara (white)
Pinot Grigio (white)
Estate Traminette (white)
Riesling (white)
Niagara (white)
Blonde Ambition (white)
Endless Summer (white)
Pink Camo
Blue Bucket
The Baron (red)
Merlot (red)
Harvest Red (red)
Cabernet Franc (red)
Cabernet Sauvignon (red)
Ice Wine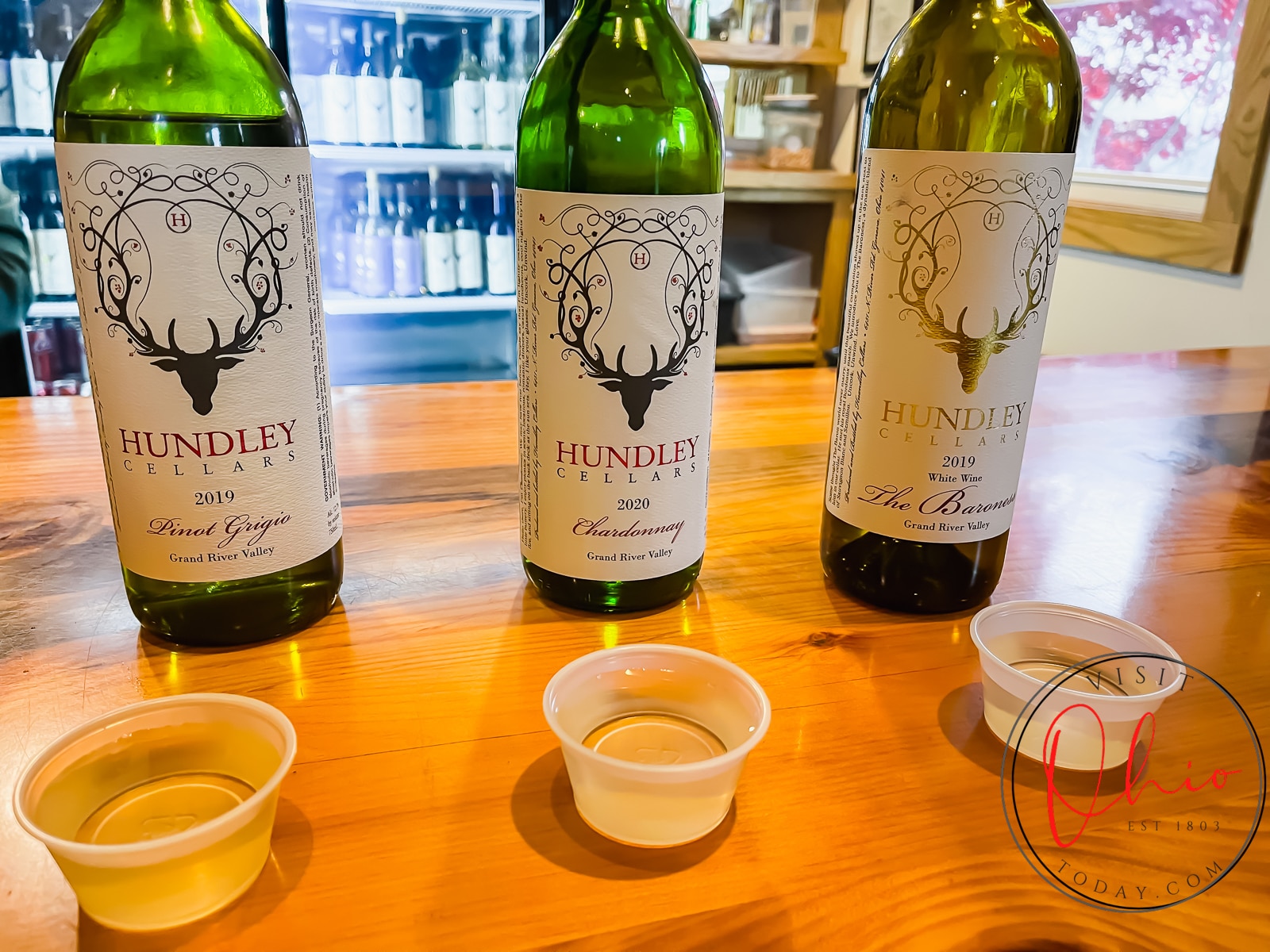 How to taste wine
There are so many ways to taste wine, today we are sharing our simple beginner tips for how to taste wine. First, look at the wine. Note how the light may filter through the wine. Second, smell the wine. Are there any aromas you can pinpoint? Third, swirl the glass, then sniff again. Did any new aromas appear? Fourth, take a sip of the wine. Note how the wine feels in your mouth and how it tastes. Does the wine dry a certain part of your mouth, does it have an initial taste? Fifth and our final step is to swallow the wine and note if there is an aftertaste. Those are the basic beginner steps to taste wine.
What does red wine taste like
If you are wondering what red wine taste like, we are here to help you and hopefully not make you more confused! Generally, beginning wine drinkers start with a sweeter blush or white wine and gradually move onto dry red wines. Many people describe the taste of red wine as a dark, earthy flavor that is also often described as heavy. You can often expect aromas such as berries, licorice and cocoa.
What does white wine taste like
Wondering what does white wine taste like? White wine is made with the pulp of the grapes and not their skins. Mostly white wines are fruity and have a lighter taste, than red wines. Not all white wines are sweet, however, some are a little more bitter or dry.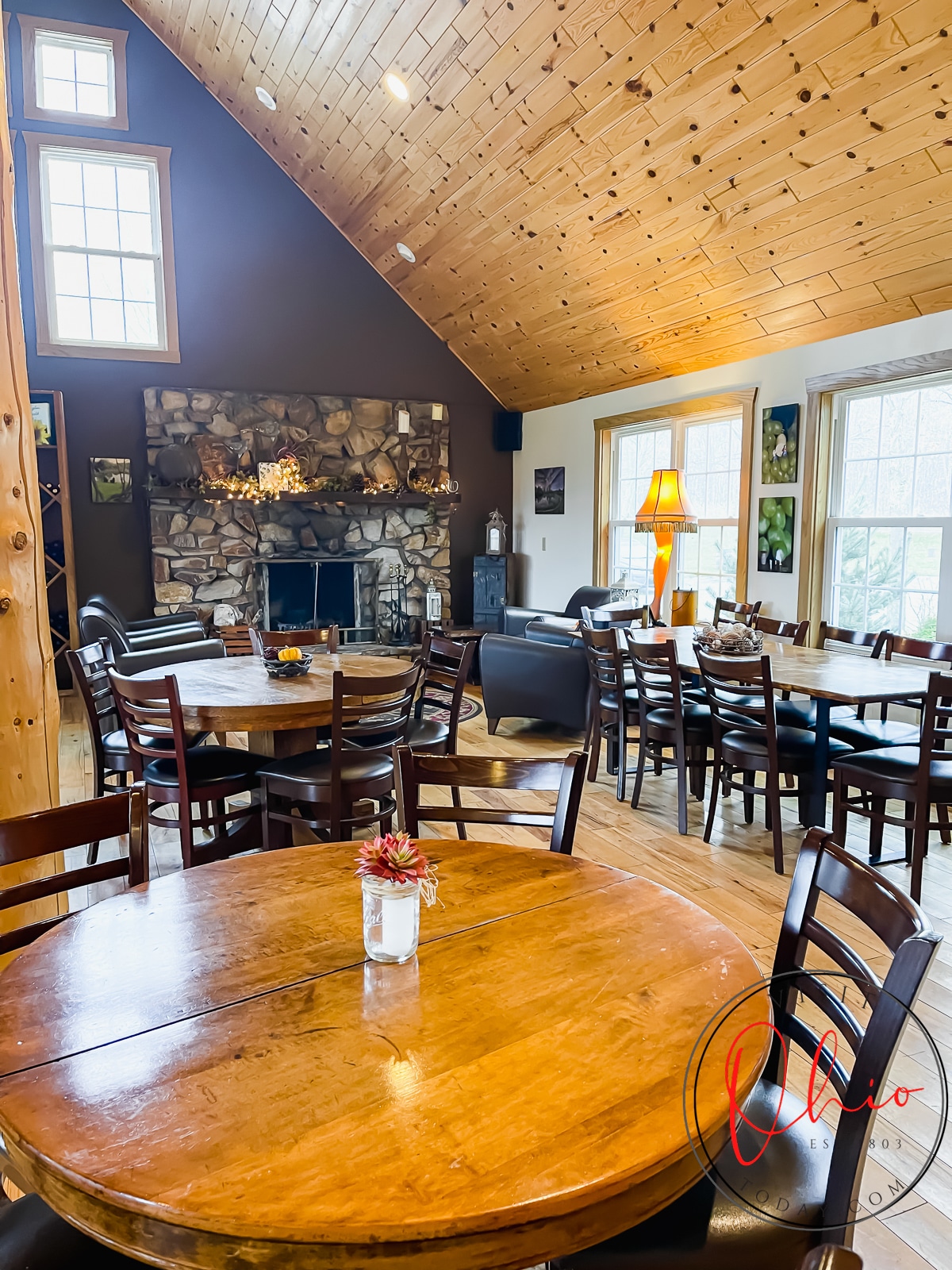 Hundley Cellars Food Menu
The menu at Hundley Cellars changes often. The menu can depend on what local ingredients are available or whatever the chef decides for the day. This was true the day we visited. It was cold and snowy so they added a warming soup to their menu!
Typically, you can find a meat and cheese board, salt and vinegar almonds, hot pretzels, potstickers, pizza and more at Hundley Cellars. Snacks are prepared fresh in their small kitchen. The kitchen at Hundley Cellars stops taking orders a half hour before closing time.
Where is Hundley Cellars?
Hundley Cellars is located at 6451 State Route 307, Geneva, Ohio 440401 - 440-361-3088 - Website
Grand River Valley
The Grand River Valley located in northeastern Ohio, previously covered by glaciers, now grows over 50% of Ohio's grapes and is the home of over 30 wineries. The micro-climate of the area is prime for grape growing due to the extended growing season. Many of the wineries offer events 12-months a year including tasting trails, live music, or pairing classes.
Wineries in Ohio
If you are looking for more wineries in Ohio, we have got you covered. Below is our comprehensive map of wineries in Ohio! If you do not see your favorite on the list, send us an email at team (at) visitohiotoday (dot) com If you want to level up your wine tasting knowledge, we recommend you read this book.
Let's go to Hundley Cellars
If you have been to Hundley Cellars we want to know what you thought! Which wine was your favorite! You do not have to pick just one! If you are interested in learning more about Wineries in Ohio you can visit our Ohio Wineries category page to plan your next wine tasting trip!