Harpersfield Winery
This post contains links to affiliate websites, such as Amazon, and we receive an affiliate commission for any purchases made by you using these links.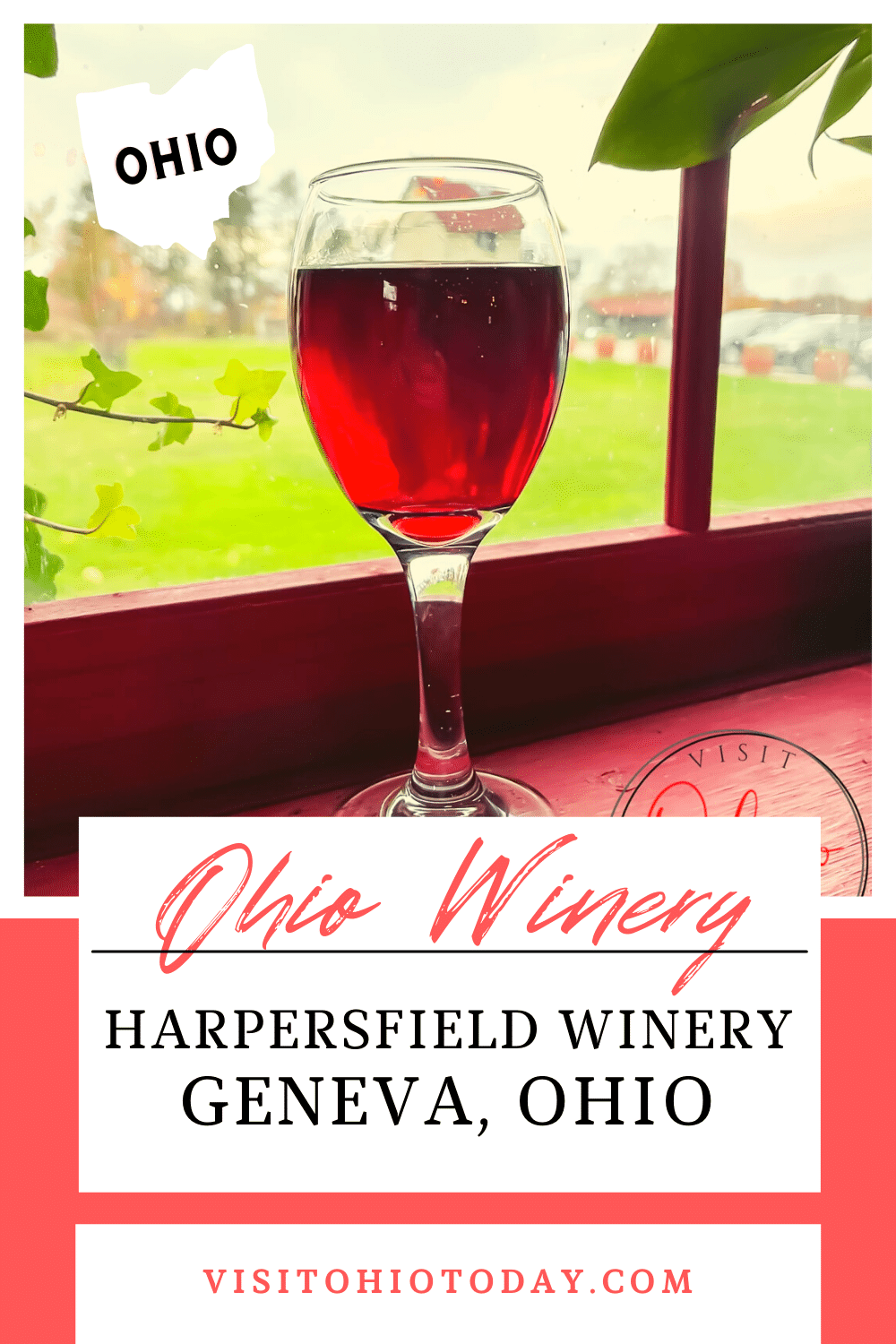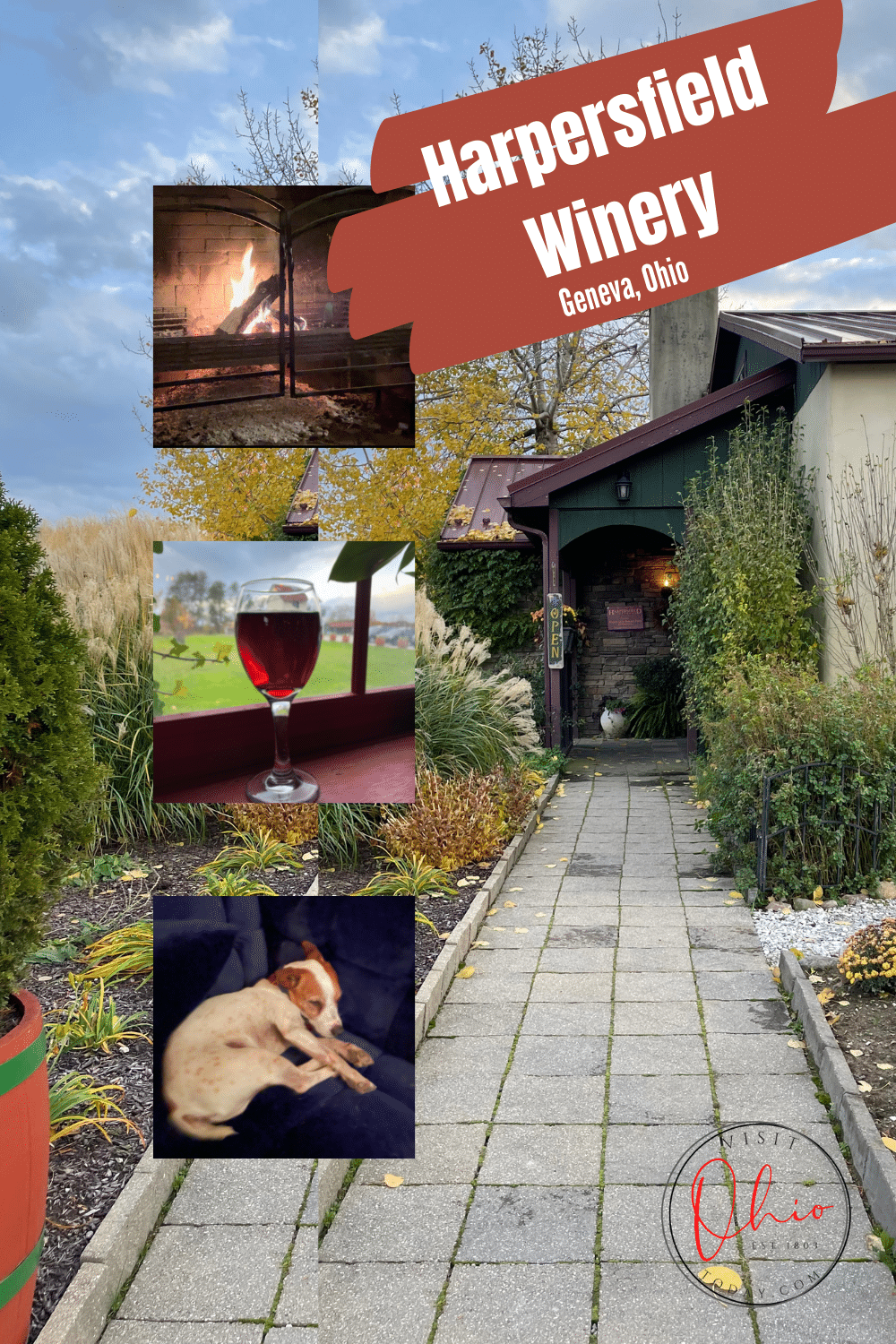 Harpersfield Winery is a quaint and cozy Ohio Winery located in Geneva, Ohio. Harpersfield Winery offers estate wines year-round.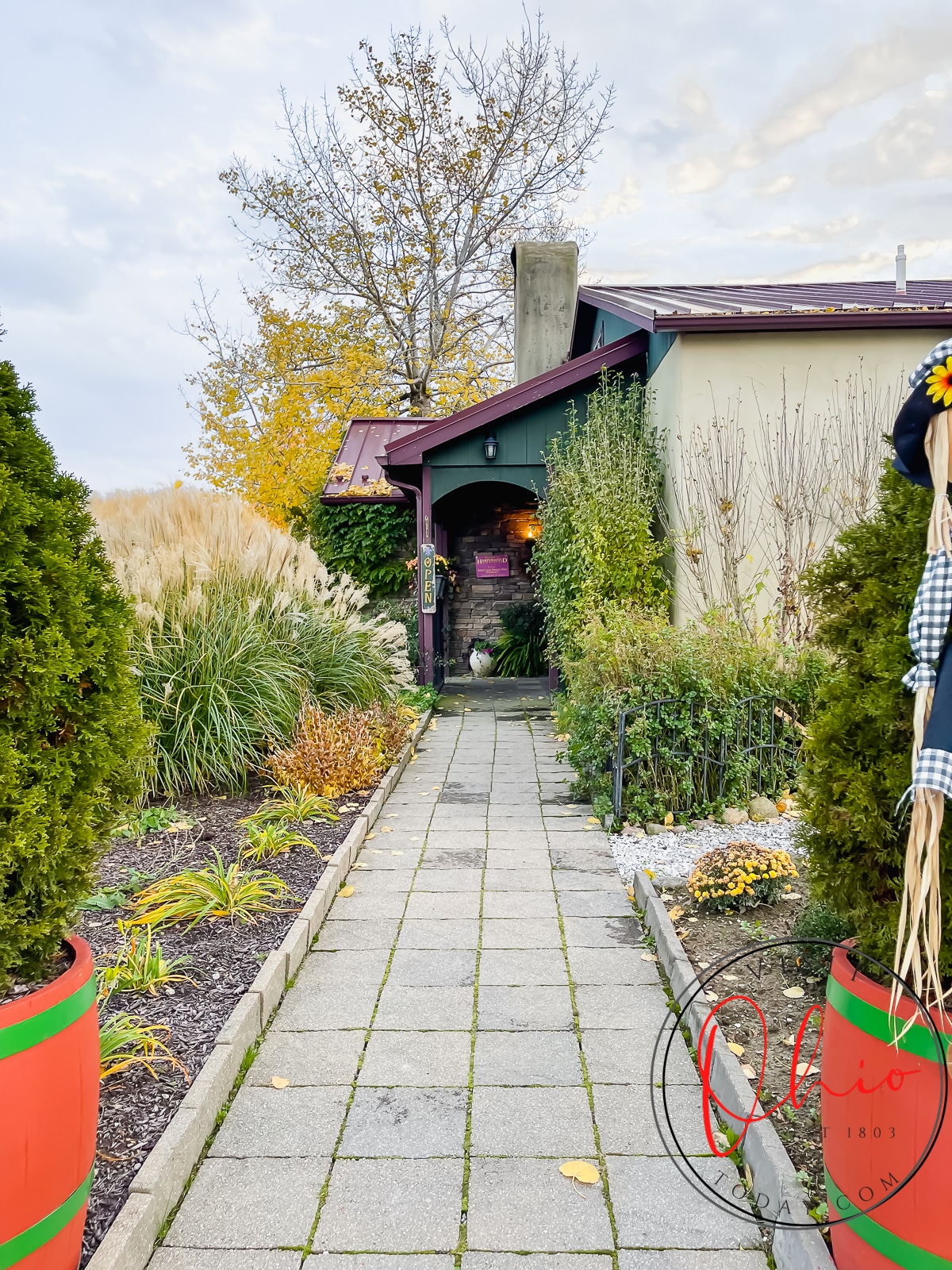 Visit Harpersfield Winery
Harpersfield Winery is a cozy and relaxing Ohio winery located in Geneva, Ohio. Harpersfield Winery is a vibe in itself or as the winery itself calls it a "destination of its own.". We have to admit that we have been to Harpersfield Winery many times and it never disappoints. The atmosphere here is fantastic. Whether the weather is nice and you relax outside, or if the weather turns you can cozy up to the giant wood-burning fireplace inside. Harpersfield Winery has it all.
When you turn off the main road to get to Harpersfield Winery you will drive through the vineyard and will eventually arrive at the beautiful and inviting stone winery. The landscape is beautifully laid out and the inside of Harpersfield Winery is the same. The inside is warm, cozy, and inviting. You feel like you could cuddle up to the fire with a blanket, a glass of wine, and a nice book!
If the weather is nice you will find ample seating outdoors. They have plenty of space to spread out and relax. You will find lots of picnic tables and trees to find shade! Of course, you can always bring your own folding chair as well when you visit Harpersfield Winery.
Harpersfield Winery offers wine tasting, typically from noon to 5pm. They are open past 5pm but only offer wine by the glass or bottle during these busy evening hours.
One thing to note (and probably one of my favorite things about Harpersfield Winery) is the vineyard dogs. You will often find SUPER-friendly dogs roaming about Harpersfield Winery. Be sure to give the dogs a friendly belly and back rub, but please do NOT feed the dogs. They are well-fed and well-taken care of.
Harpersfield Winery Video
Harpersfield Winery Wines
Harpersfield Winery has high standards when it comes to crafting its wine. They only use the most perfect, hand-picked fruit to create their wines. It is common for Harpersfield Winery Wines to sell out in the same year as they first become available.
If you have visited Harpersfield Winery and already drank all of the wine you bought during your visit, you can purchase more online at Wines From Italy.
Here is a list of the wines at Harpersfield Winery:
Chardonnay, Estate Wine (white)
Pinot Gris, Estate Wine (white)
Le Jacques Terrier, Estate Wine (white blend)
Gewurztraminer, Estate Wine (white)
Pinot Noir, Estate Wine (red)
Cabernet Franc 2013, Estate Wine (red)
Musette Red, Estate Wine (red)
Rose, Estate Wine (rose)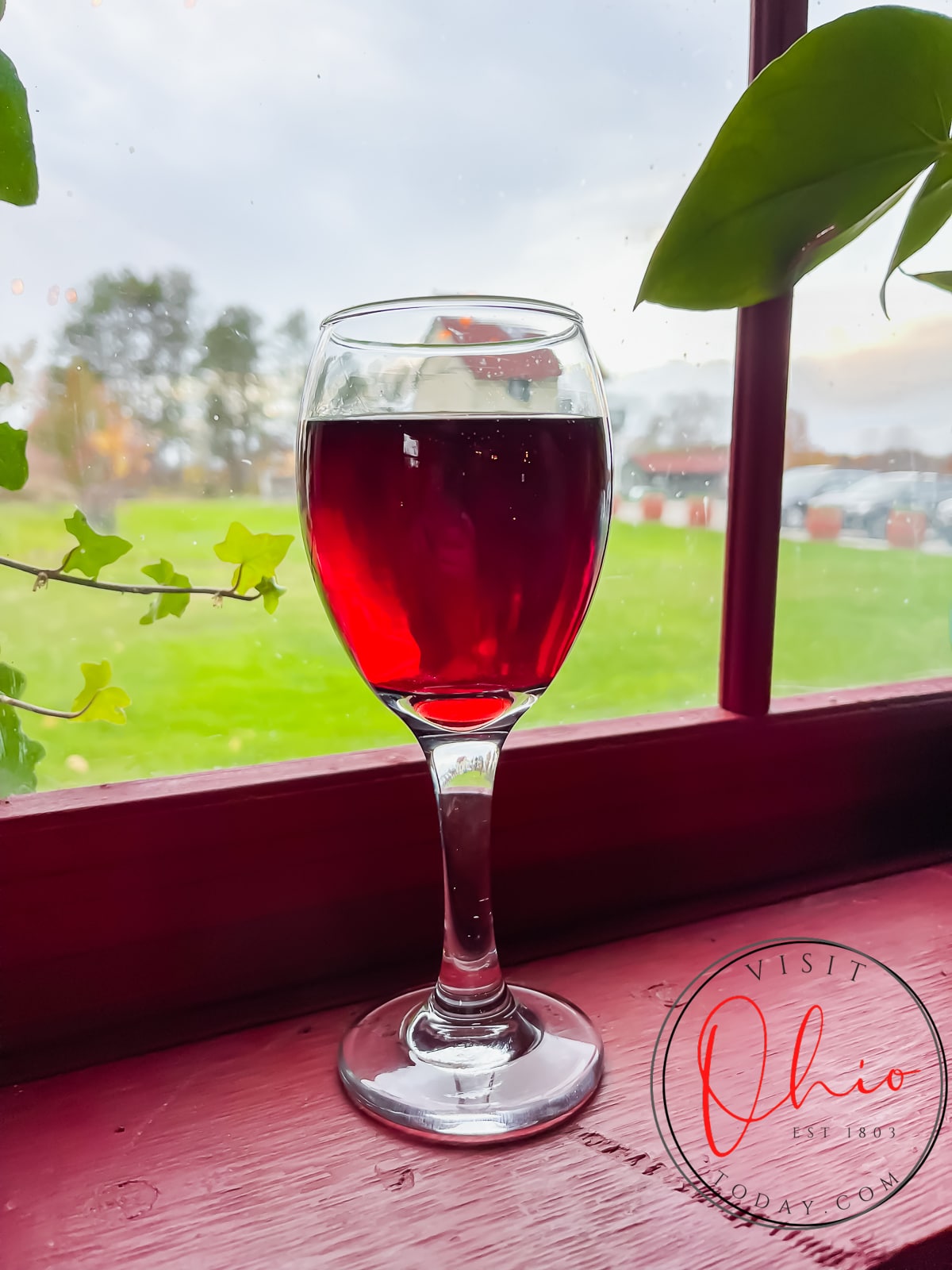 Harpersfield Winery Food
Harpersfield Winery has food options available! Food options range from delicious flatbread pizza to vineyard nibbles such as a cheese tray and more. Harpersfield Winery offers a rotating selection of flatbread pizzas. Harpersfield Winery does NOT allow outside food or alcohol to be brought onto their property.
Harpersfield Winery has vegetarian options as well as gluten-free options. Please note that Harpersfield Wineries kitchen does close one hour before the winery close time. Nothing at Harpersfield Winery is frozen or pre-made, keep that in mind when you order food during a busy time at Harpersfield Winery. It may take a little bit of time.
Harpersfield Winery events
There are plenty of events at Harpersfield Winery. This winery frequently hosts local musical talent. Events range based on season.
Another great visit to our favorite winery! We have told our daughter & son-in-law how much we enjoy this winery so they finally joined us. Of course, it did not disappoint. Great wine, cheese plate and flatbread~ all served by a lovely lady and of course, the two sweet dogs that work there too. Fun afternoon with family, in the sun and great wine.

92teresitah (TripAdvisor)
Cindy's Insider Ohio Tips!
Winter is my preferred time to visit Harpersfield. What I adore most is the enormous stone fireplace that beautifully warms the cozy interior of this winery. Their wine is delicious, and they offer a small but tasty selection of food options, alongside musical guests performing on the weekends. In the summer, the experience shifts mostly to their expansive outdoor area. The warmer months attract a large crowd, making it a vibrant and lively atmosphere.
Where is Harpersfield Winery?
Harpersfield Winery is 6387 State Route 307 West Geneva, Ohio 44041 – +1(440)-466-4739 – Website
If you are looking for more wineries in Ohio, we have got you covered. Below is our comprehensive map of wineries in Ohio! If you do not see your favorite on the list, send us an email at team (at) visitohiotoday (dot) com If you want to level up your wine-tasting knowledge, we recommend you read this book.
Let's go to Harpersfield Winery
If you have been to Harpersfield Winery we want to know what you thought! Which wine was your favorite? You do not have to pick just one! If you are interested in learning more about Wineries in Ohio you can visit our Ohio Wineries category page to plan your next wine tasting trip! Want to hear what others have said about Harpersfield Winery?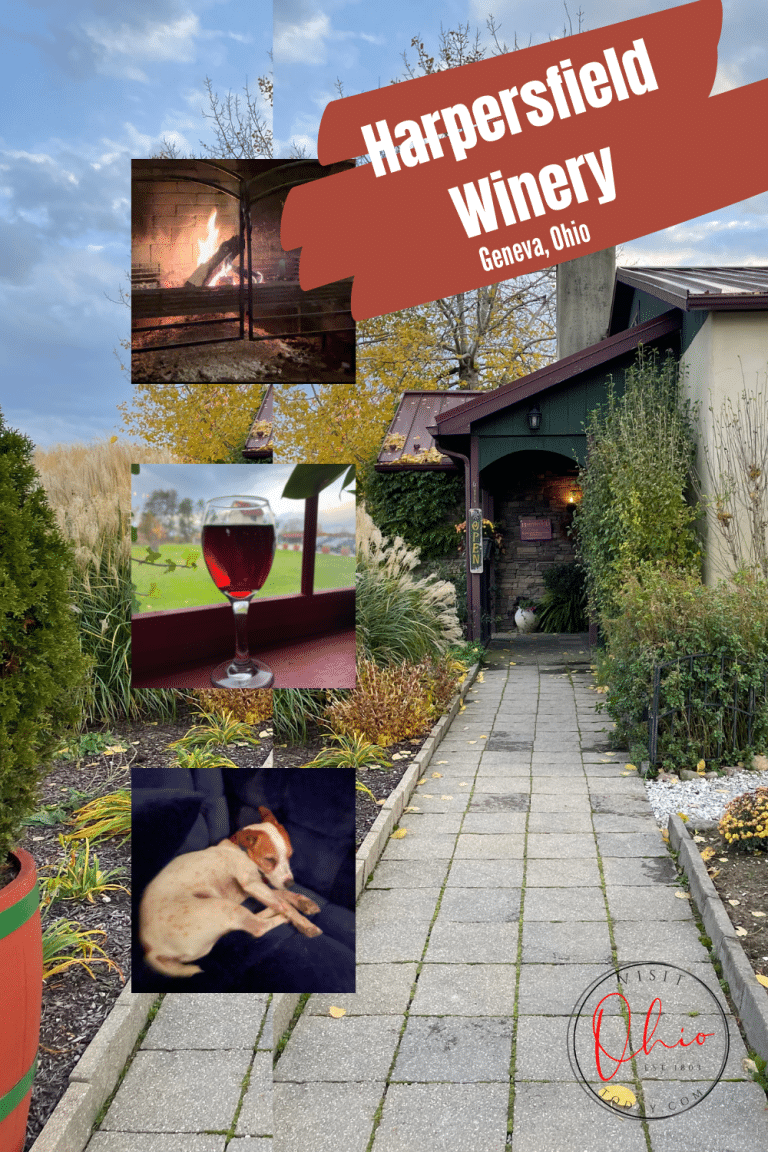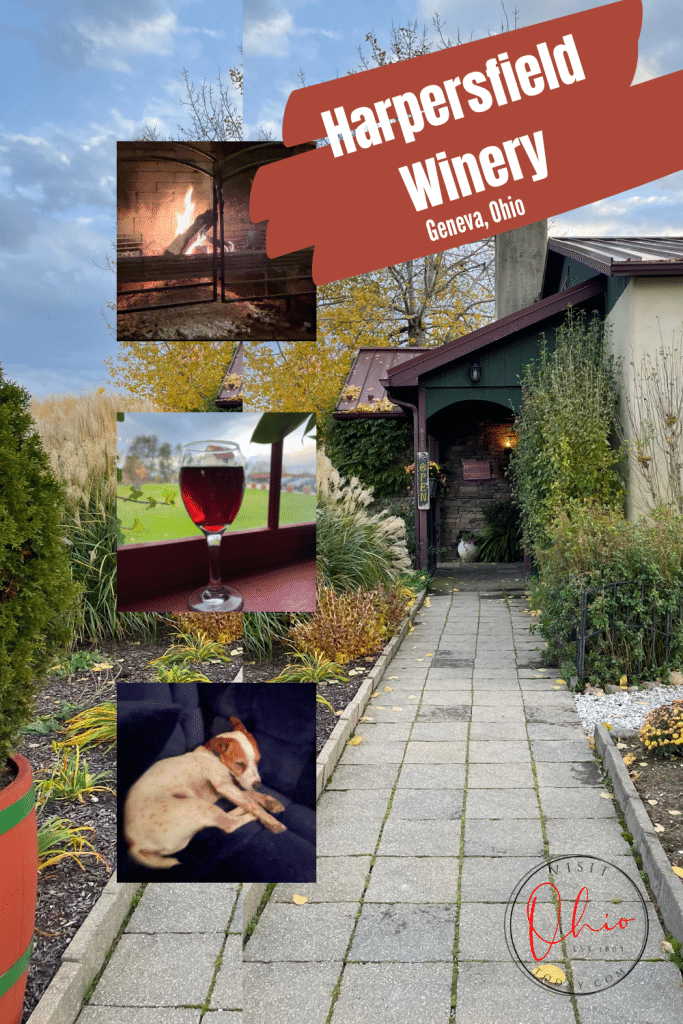 What to wear wine tasting
When it comes to what to wear wine tasting it really depends on where you are going to taste wine. If you are visiting a vineyard where it is warm, we suggest a hat, sunglasses, and of course sunscreen. The temperatures often can fluctuate in wine country so dress in layers, think a scarf, jacket, or light sweater. Think comfort paired with style and a whole lot of sensibility. Leave the high heels at home, they are a tripping hazard when it comes to walking around many vineyards. When in doubt go with a simple outfit that is comfortable when you stand and when you sit. Typically, wine country "casual" is a little fancier than normal casual. However, it all depends on where you are visiting, the region, the state, etc. When in Ohio wine country, we have noticed that anything goes. You will see a mixture of casual clothing (think leggings and sweatshirt) to cute, but comfy sun dresses in the warmer months.