Last Updated on September 4, 2023 by Cindy
Idyll Reserve is an eco friendly, luxury getaway location located in the Hocking Hills area in Ohio. The North at Idyll Reserve provides the perfect location to relax and recharge in nature!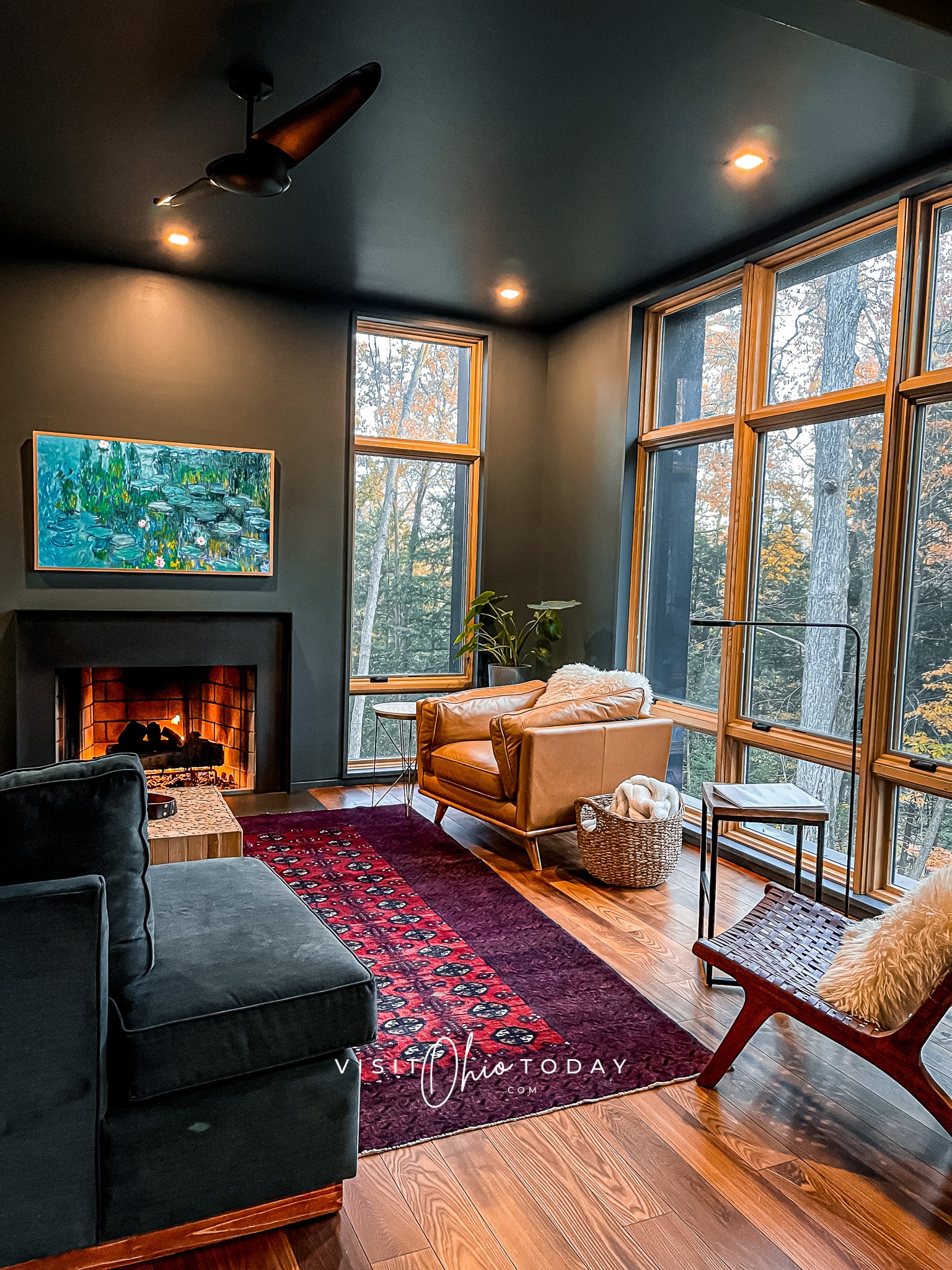 Visit The North - Idyll Reserve
I was drawn to Idyll Reserve after seeing a Facebook post in a local "moms in the know" group. It caught my attention and I clicked through to read more. Everything about Idyll Reserve sounded like it was a place that I would like to visit.
You might remember, I visited The Hillside with my husband in March. You can read about our time at The Hillside. My entire family has also stayed at The Main Cabin in July, but I haven't written about that yet. It is coming, I promise! Spoiler, its amazing too!
If you follow along with Idyll Reserve on Instagram, you'll see that so many couples honyemoon at this location! I can truly understand why, this property is perfect for a romantic honeymoon destination!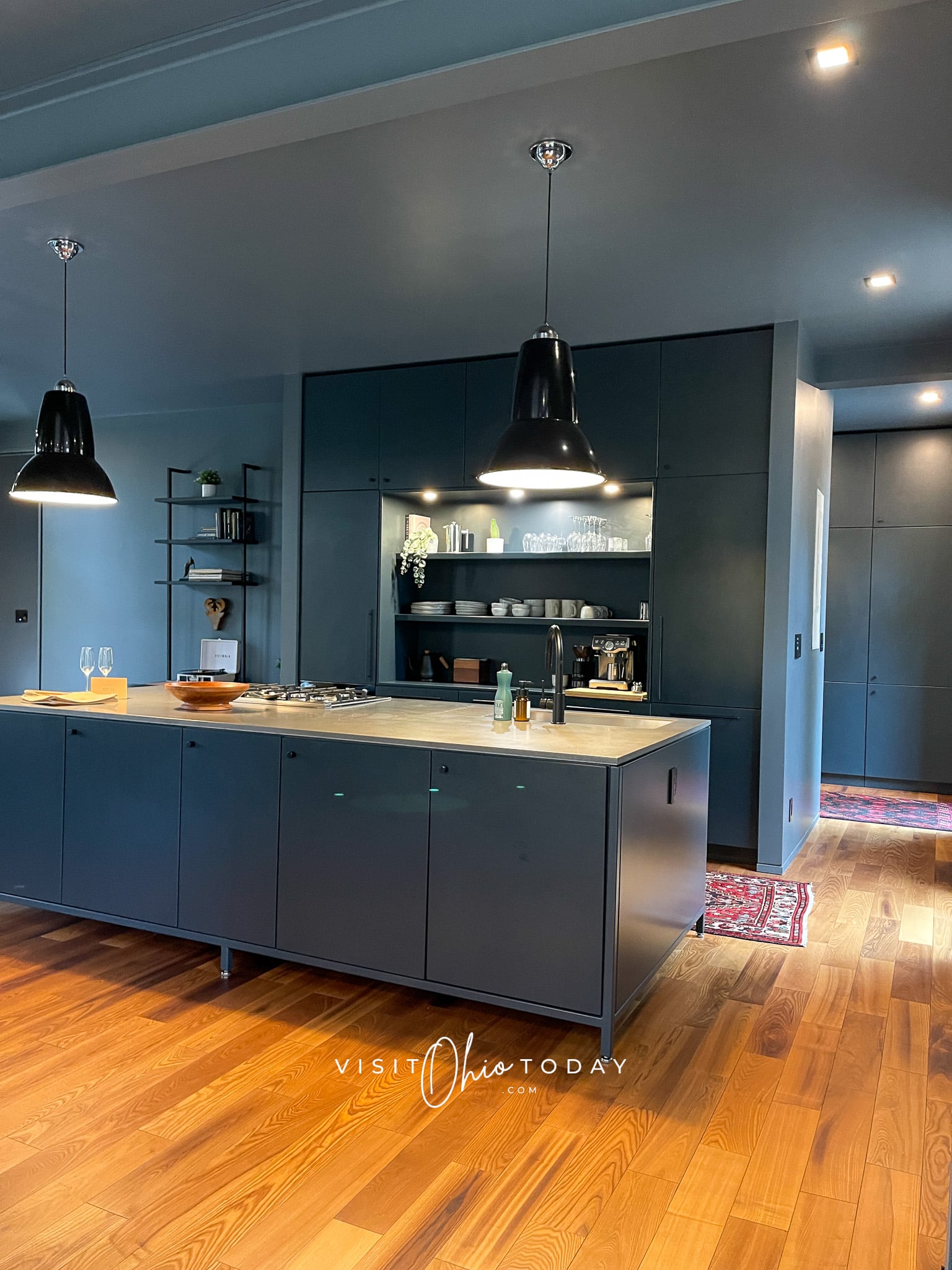 Sustainability at Idyll Reserve - The Hillside
Throughout the entire property, you will see plenty of signs that sustainability is important. For example, there are two electric car charging stations on the property. The houses use Birch mattresses, which are made from natural non toxic materials. The bedding used at Idyll Reserve is organic. The combination of the non toxic mattress and organic bedding is a combination that almost guarantees a peaceful night's sleep!
The furniture inside of Idyll Reserve cabins are FSC certified furniture from places like West Elm. You will see upcycled or vintage pieces throughout the property. There are organic or local sourced products at Idyll Reserve such as coffee, tea and other items.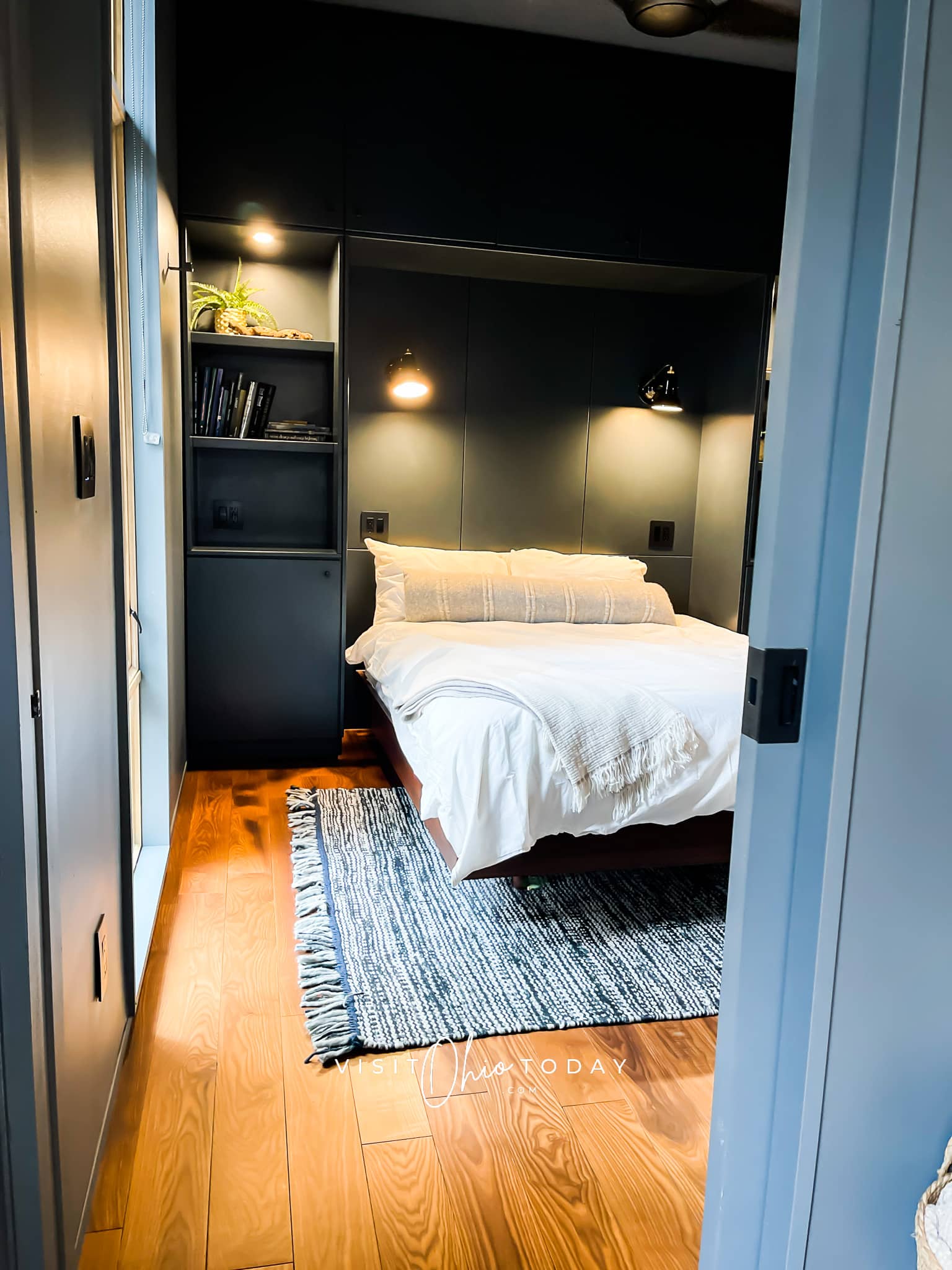 You will notice that the trash bags are biodegradable and that there is a space for you to recycle your items on site. There are also 100% recycled paper products in the cabins such as toilet paper from Who Gives a Crap!
Idyll Reserve partners with a local cleaning company called Broom and Bloom. This company hand makes all the non toxic cleaning products, hand soaps, shampoos, etc that are found in the cabins at Idyll Reserve.
There is so much more happening at Idyll Reserve that supports sustainability. Whether you are interested in sustainability or not, Idyll Reserve shows you how to easily incorporate it into your life. The way sustainability is intertwined with the entire property is amazing. They make sustainability sexy and luxurious!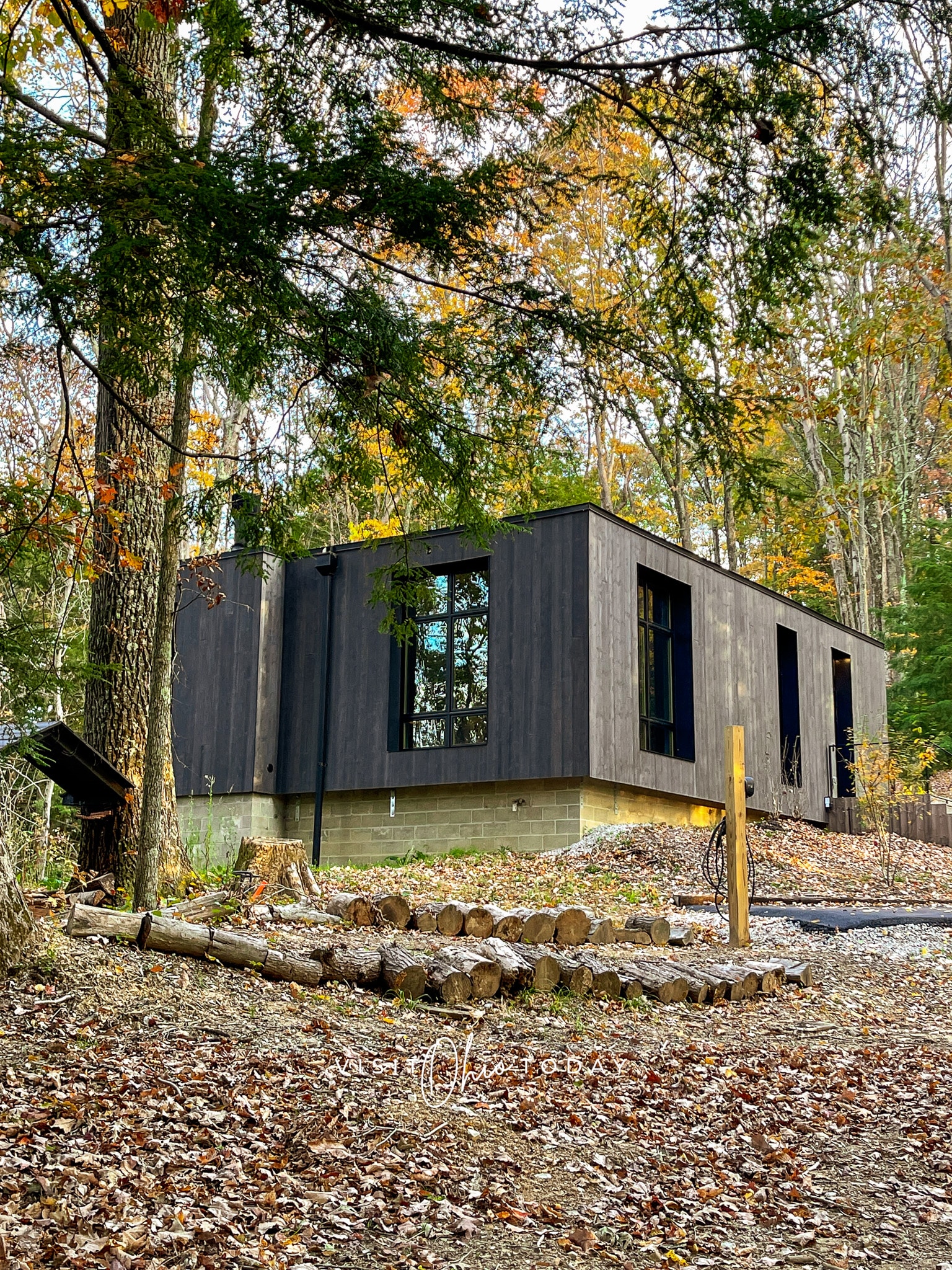 What is Included With The Cabins at Idyll Reserve?
We stayed at Cabin 5, The North, but all the cabins have the same things. You can expect organic bedding, natural linen towels (they are so cozy!) a fully stocked kitchen: we are talking about every single item you need…utensils, dishes, wine glasses, champagne flutes, coffee mugs, coffee maker (2 kinds) an espresso machine, pots, pans, stove top, microwave, fridge, freezer, dishwasher and more!
Also in the kitchen is a basic pantry. You can find local coffees and teas, our cabin had a TON of spices, oils and also some hot chocolate. The kitchen also had some food storage containers which would be very helpful if you were staying for a long weekend and did some cooking!
Each cabin at Idyll Reserve has an outdoor area that has a fireplace, a firepit or a fire table. I enjoyed the indoor fireplace and bonfire area at The North! They provide the firewood and fire starters!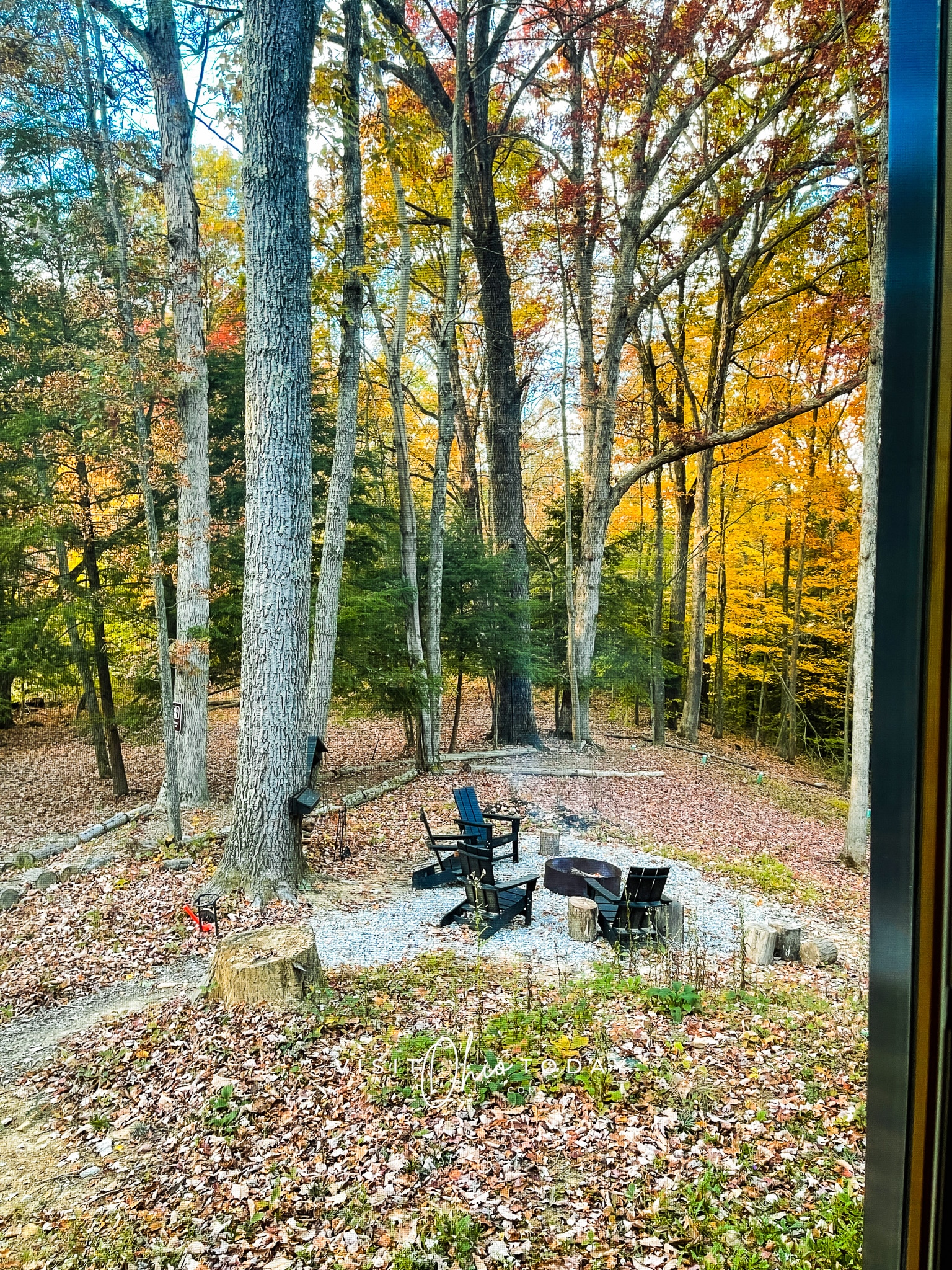 There is also a hot tub at each location that is eco friendly. I spent time in this every single day!
If you have young children you will be happy to hear that there is a high chair and pack n play with bedding in each cabin.
The wifi was great and we still did have phone service (with AT&T). There was a Samsung Frame TV, whoa that was so cool! It had Netflix, HBO Max and Disney Plus! It had a great sound system that was connected to Spotify.
If your clothes needed to be tidied up, there was also a washer and dryer on site!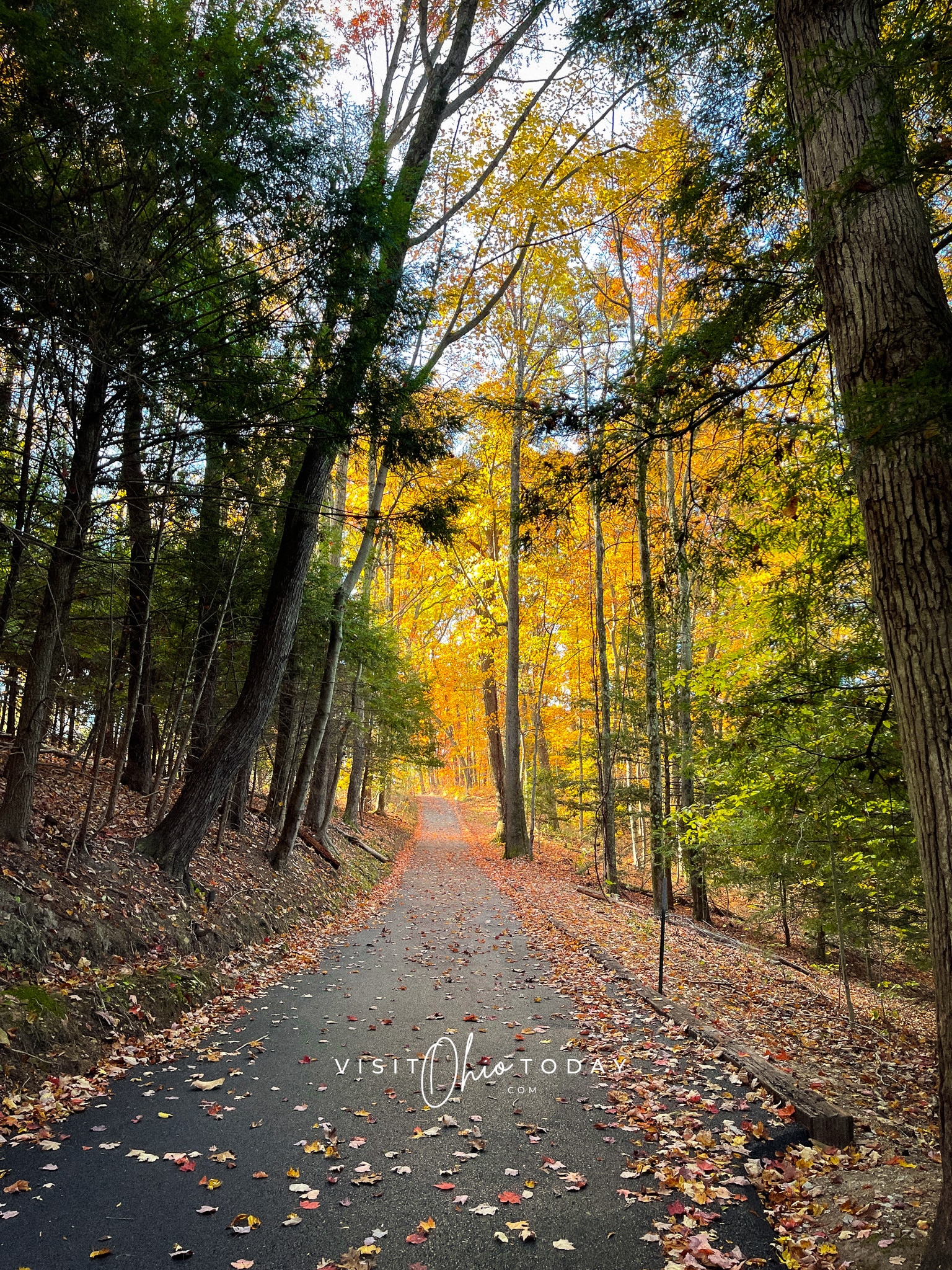 What To Do When Staying at Idyll Reserve
Honestly, the options are endless, just like many Hocking Hills cabins. Unique to this property, Idyll Reserve is 19 acres and has a couple of onsite hiking trails and a cave! It is also located close to many popular Hocking Hills area parks, the closest is Conkles Hollow.
Just down the road from Idyll Reserve is the Big Brothers and Big Sisters camp. From there you can access the Old Growth Trail. We did not do this, this time around. We plan to do it during our summer visit. We did however visit the onsite cave! Very cool! TIP: Bring your flashlight.
Besides hiking, I encourage you to unplug. Enjoy the cabin, enjoy the fire, enjoy the deck, the outside and more! There are games located in each cabin as well!
If you want to venture outside your cabin but not on the trail, you could visit the Hocking Hills Winery or check out the Best Things to do in Hocking Hills.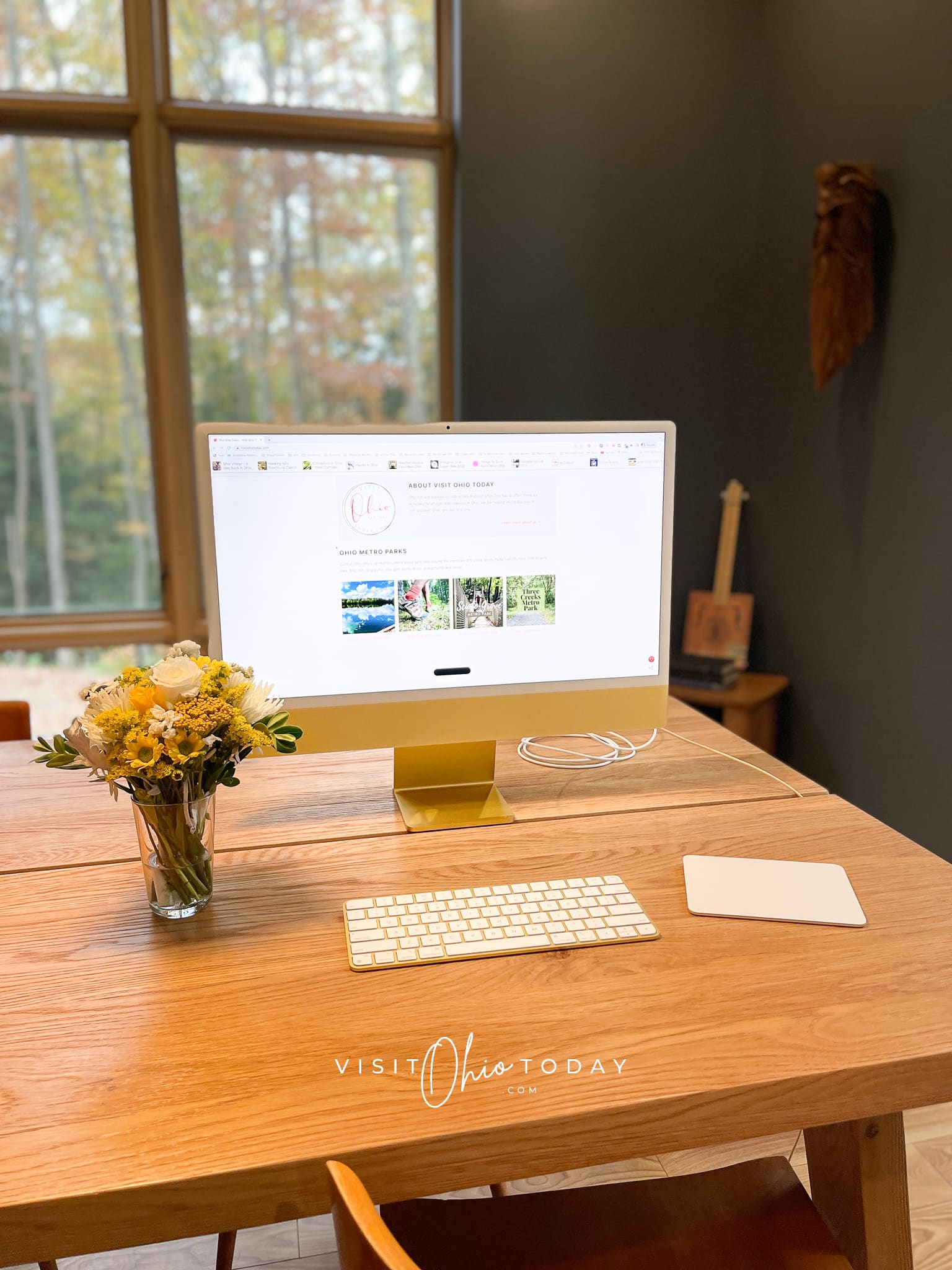 The North Cabin 5 at Idyll Reserve - My Thoughts
I booked this October trip on a whim in January. Originally, booked it because the kids had a long weekend and I knew that the fall colors on the trees would be a sight to see! Well life happened, kid schedules changes and I ended up here on my own.
Hey, at least I got to take the trip! It turned into my first solo trip and it was amazing. More of a self care and work retreat! I have gotten so much done and enjoyed so much down time! I spent five nights here. And that wasn't too long!
Out of the smaller cabins, THIS is my favorite. The dark blue colors are super moody and calming, I love it! I have yet to stay at The South, but I plan too. For me, I loved the vibe of The North, more than the Hillside.
I like that this cabin is the furthest on the property. They just paved the road getting to it! That is HUGE! It makes is so much easier to get to the cabin!
It is far enough away from the larger cabins that you really don't hear anybody. I took a walk to find there were lots of kids playing on the zipline area and I could not hear them from my cabin. It felt secluded and private.
It is located next to The Hillside. While the parking is right by each other, cabin 4 (The Hillside) sits very high up from the parking area, so its feel very private.
There is a trail that is literally right next to the bonfire area. Of the 5 nights here, I saw people on it four times. Two of the times I was inside. It can be a little awkward when you are relaxing and people are walking 4 feet away from you. One person in particular, I didn't hear coming from behind me and it did frighten me for a second.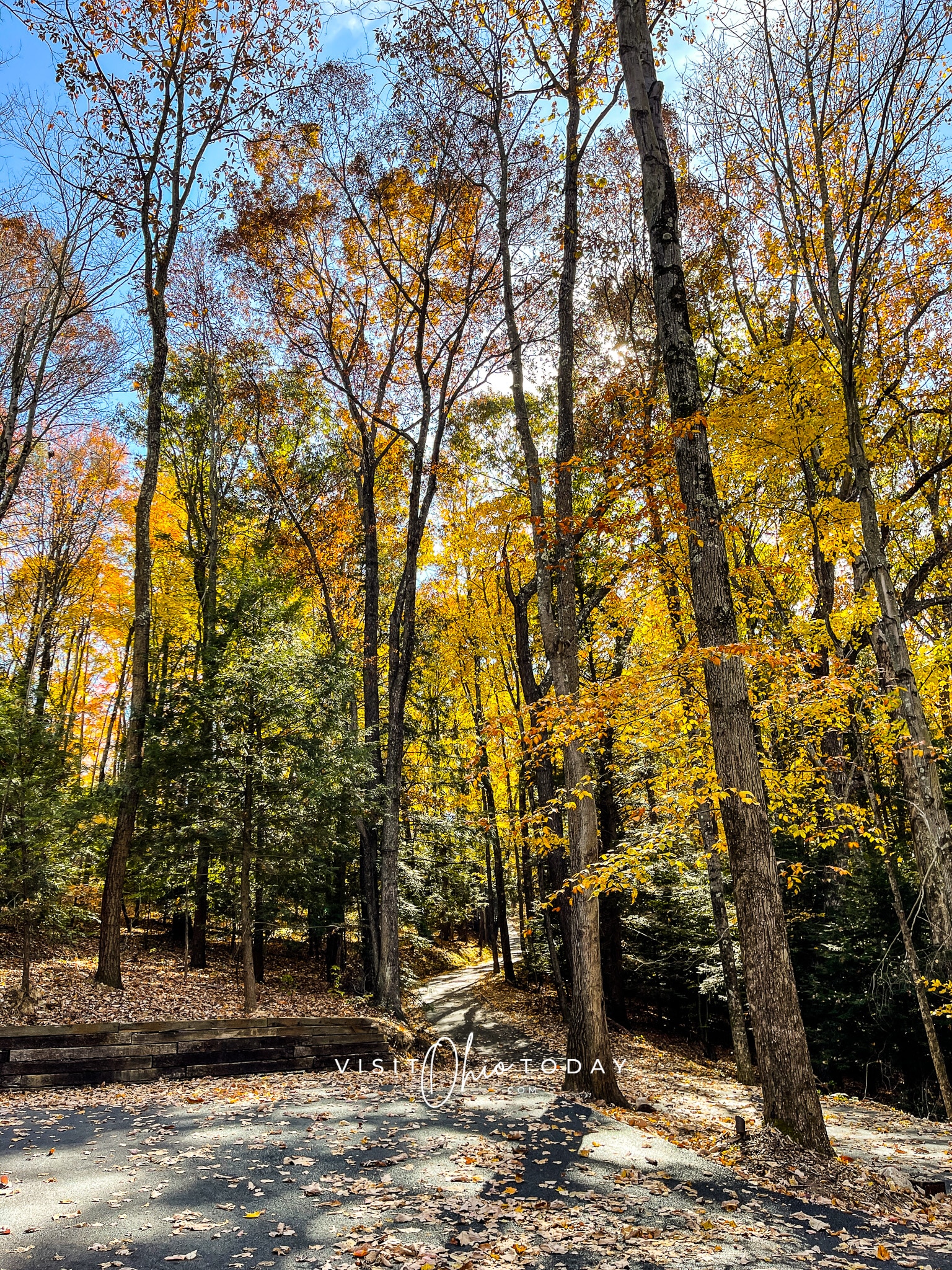 Let's Go To Idyll Reserve - The North - Cabin 5
Overall, I 100% enjoyed my visit and I would 100000% do it again. The rentals do carry a little higher price tag, than other local rentals. The rental price is Hocking Hills truly does range, but with Idyll Reserve you get what you are paying for. You get luxury, sustainability and more!
Book your stay at Idyll Reserve
Have you visited Idyll Reserve? We would love to hear which cabin you stayed in or what cabin catches your eye for a future stay! Drop us a comment below!
Within walking distance of Idyll Reserve is Split Rocks Trail Hocking Hills, a genuine hidden gem!
Looking for other places to stay in Hocking Hills? Check out Luna Cottage, Hocking Hills TreeHouse Cabins, Cherry Ridge Retreat and Cedar Grove Lodging.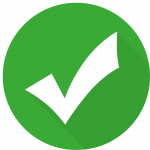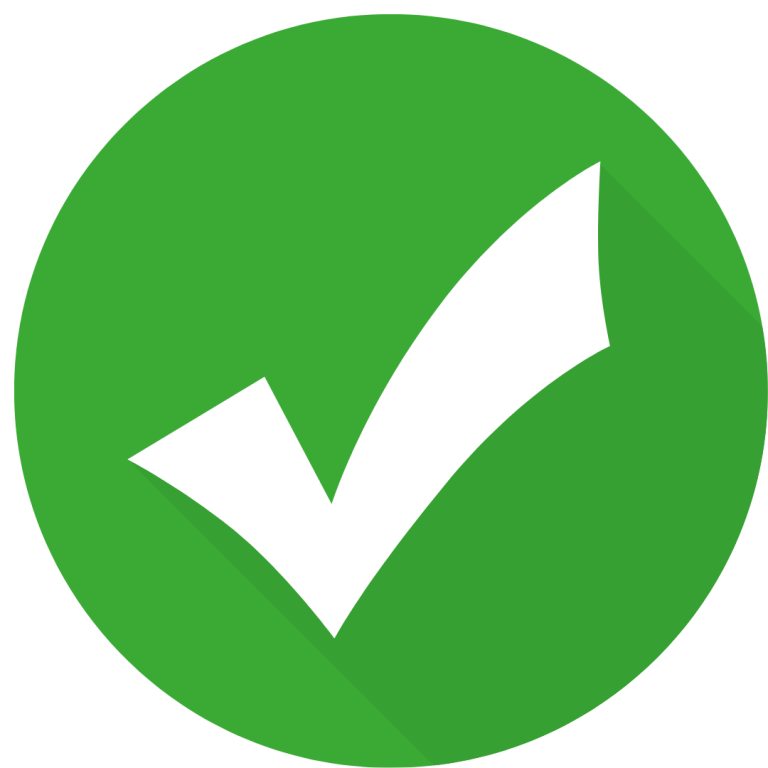 Hello! We have done our very best to ensure that the accuracy of events, hours, addresses, etc are up to date. Please know that information can change due to weather, updated health and safety challenges, etc. If you find incorrect information, please send us an email and we can get it updated.
To be updated and stay connected, subscribe to our newsletter.