Hocking Hills Treehouse Cabins
This post contains links to affiliate websites, such as Amazon, and we receive an affiliate commission for any purchases made by you using these links.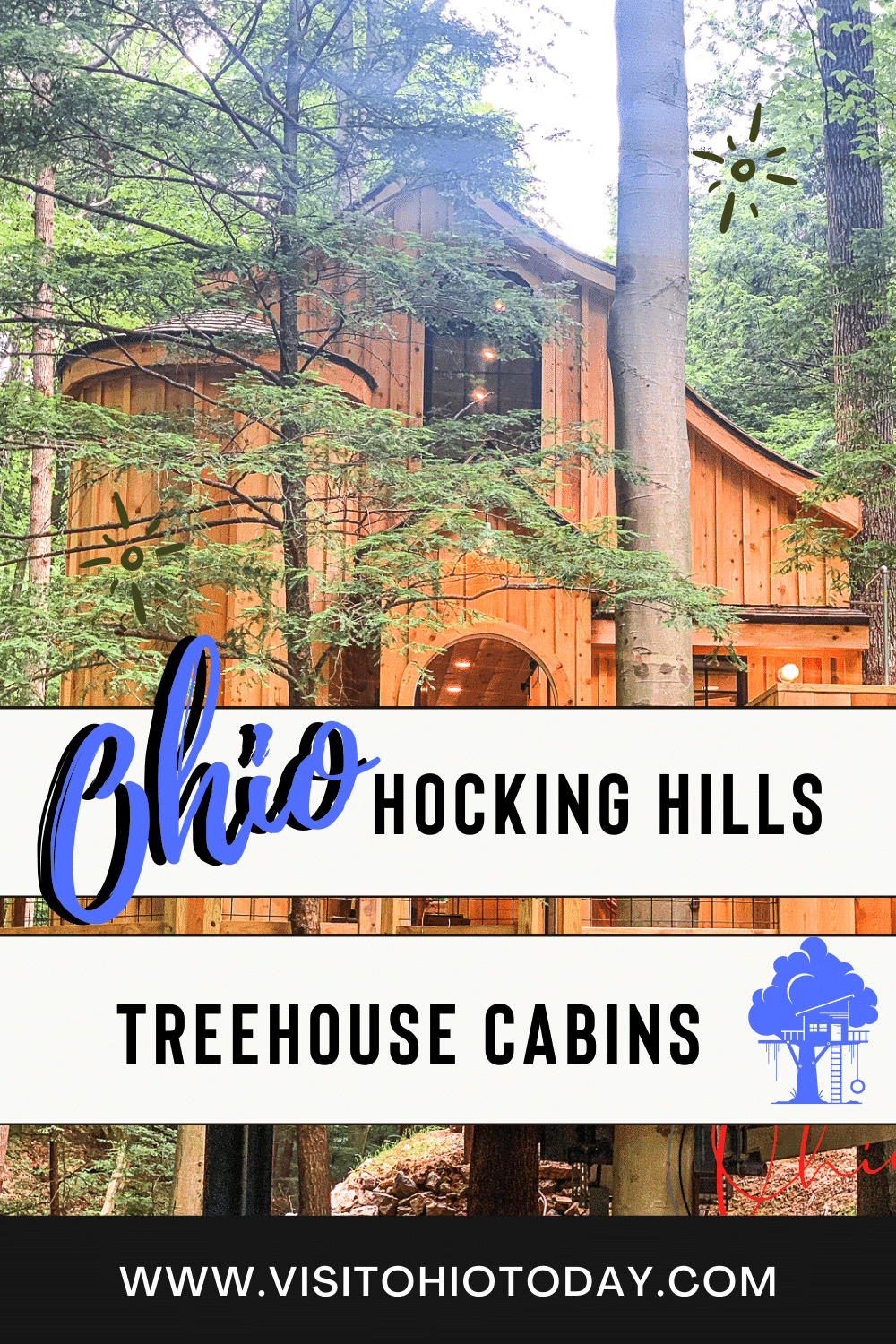 Hocking Hills Treehouse Cabins are a luxurious escape into nature with all the comforts of home. The Hocking Hills Treehouse Cabins are well-built and have all the amenities you need for a relaxing, elevated getaway.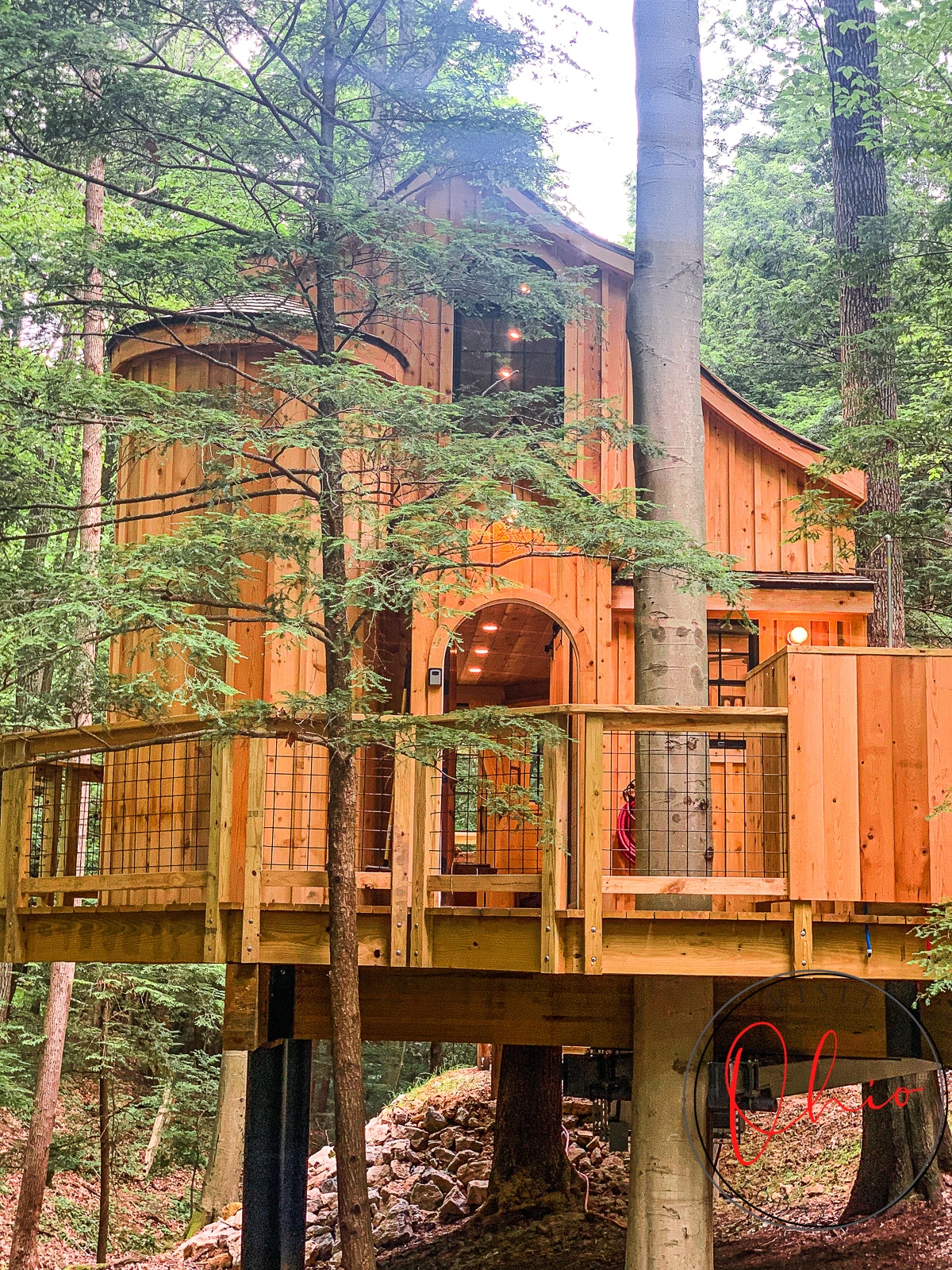 Visit Hocking Hills Treehouse Cabins
The Hocking Hills area of Ohio is known for amazing hiking, gorgeous views, and some of the best cabins around. Many Ohioans frequent the Hocking Hills area and are constantly searching for fun and unique places to stay! And that is why we are talking about Hocking Hills Treehouse Cabins today!
Let's take your next Hocking Hills getaway to new heights! Ha! See what we did there! Treehouse + Height! Truly, we want to make sure everybody knows about this amazing place to stay in Hocking Hills!
Treehouses have gained in travel popularity over the last several years. The Hocking Hills Treehouse Cabins are the perfect addition to Hocking Hills. Hocking Hills Treehouse Cabins is set on 15 beautiful acres with a ravine, brook and more. The treehouses are perfectly tucked into the landscape to create a seemingly perfect look!
As you can imagine the treehouses at Hocking Hills Treehouse Cabins book 6-9 months or more in advance. They are very popular and book quickly once future calendar dates are released. The online calendar is usually open 15 months into the future. You cannot book this Hocking Hills accommodation on Airbnb or VRBO, you must book directly from their website. Check-in is around 4 pm and check-out is around 10:30 am.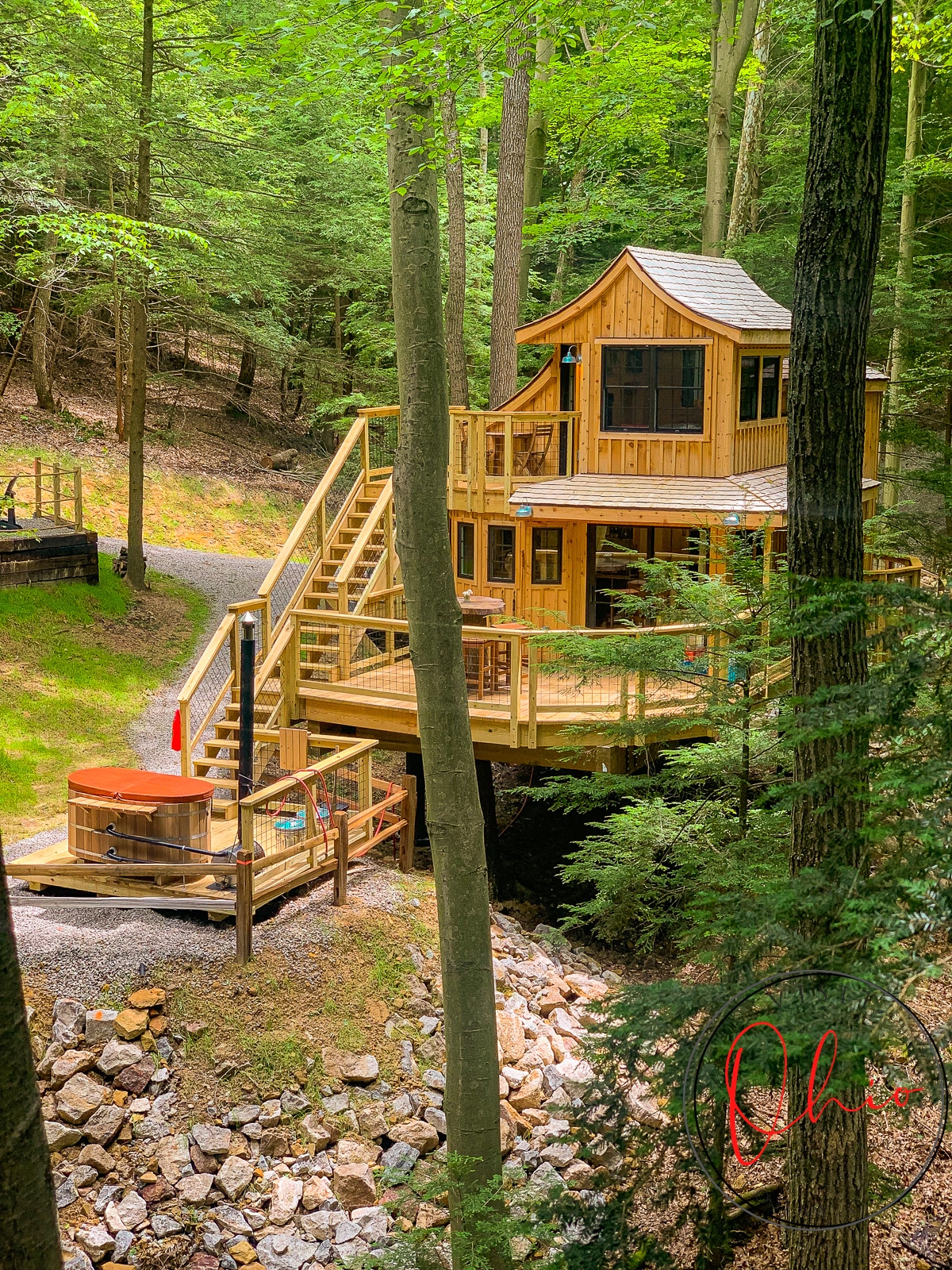 The Beech at Hocking Hills Treehouse Cabins
It has been a hot minute, but we were lucky enough to have stayed in the Beech Treehouse from Hocking Hills Treehouse Cabins. It was back in 2019 when The Beech was brand new. My travel buddy and I headed out and spent two nights in The Beech at Hocking Hills Treehouse Cabins.
This was not a sponsored trip. We had been eyeing up the Hocking Hills Treehouse Cabins for quite some time and jumped on the opportunity to stay in The Beech just after it opened! Each treehouse cabin has similarities and differences, but one thing is for sure, they are all luxurious!
We will share about all the Hocking Hills Treehouse Cabins below, but let's talk about The Beech since that is where we have stayed!
The Beech has 2 options for sleeping arrangements. There is an upstairs bedroom, which literally feels like you are sleeping among the treetops! There is also a pull-out couch on the main floor. This is a smaller treehouse so it's best for 1-2 people or a family with younger children since you have to utilize the sleeping sofa.
The Beech has a compact and very organized kitchenette, that has everything you need. The kitchen was stocked with dishes, cookware, and small appliances including a Keurig, Crockpot, and a toaster oven. An electric cooktop and a kettle for tea were there as well.
The outdoor areas at the Beech Treehouse are spectacular. From the wraparound deck to the stocked fire pit, outdoor shower, and finally the wood fire heated hot tub – every inch of this property was created to make the guest feel welcome and taken care of.
Hocking Hills Treehouse Cabins Video (The Beech)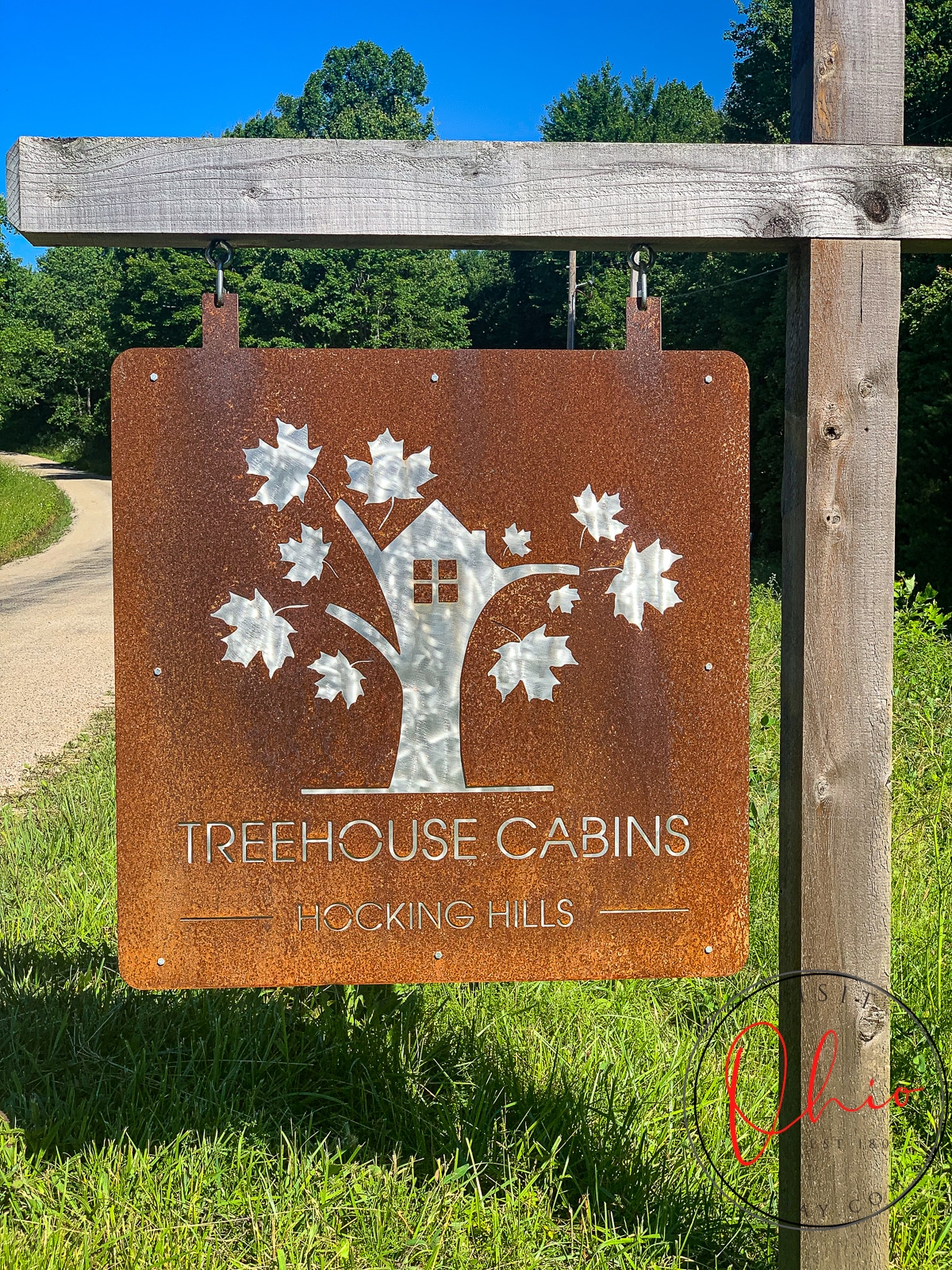 Other Cabins at Hocking Hills Treehouse Cabins
White Oak Treehouse Cabin
White Oak Treehouse Cabin was actually the first treehouse at Hocking Hills Treehouse Cabins! This treehouse sleeps 4-6 people in two bedrooms and has one bathroom. It is the first treehouse you see when you enter the property. It even has its own access bridge. The treehouse has beautiful wrap-around decks, a private balcony, and yes, a wood-fired hot tub. In this treehouse there is a hidden door that leads to a bedroom with bunk beds, talk about a fun time for the kids!
Maple Treehouse Cabin
Maple Treehouse Cabin is tucked down a bit into the gorge and has wonderful views. There was not anybody staying at this treehouse when we were there, so the owners allowed us to walk over and peek into the windows. Even though you can slightly see all the other treehouses from the deck, you still feel the nature hug. Literally, nature is all around you and the views are amazing. At this treehouse, you can see the gentle sounds of the creek. This treehouse sleeps 4-6 in two bedrooms and has one bathroom.
Hemlock Treehouse Cabin
Hemlock Treehouse Cabin was not there when we stayed, however, the owners told us about the plans for it and where it would be located. While all the Hocking Hills Treehouse Cabins are romantic, I think the Hemlock takes the prize. It is a dedicated couples treehouse. It has full wrap-around decks with different levels. There is also a magical spiral staircase that leads to the master bedroom. It sleeps 2 with 1 bedroom and 1 bathroom.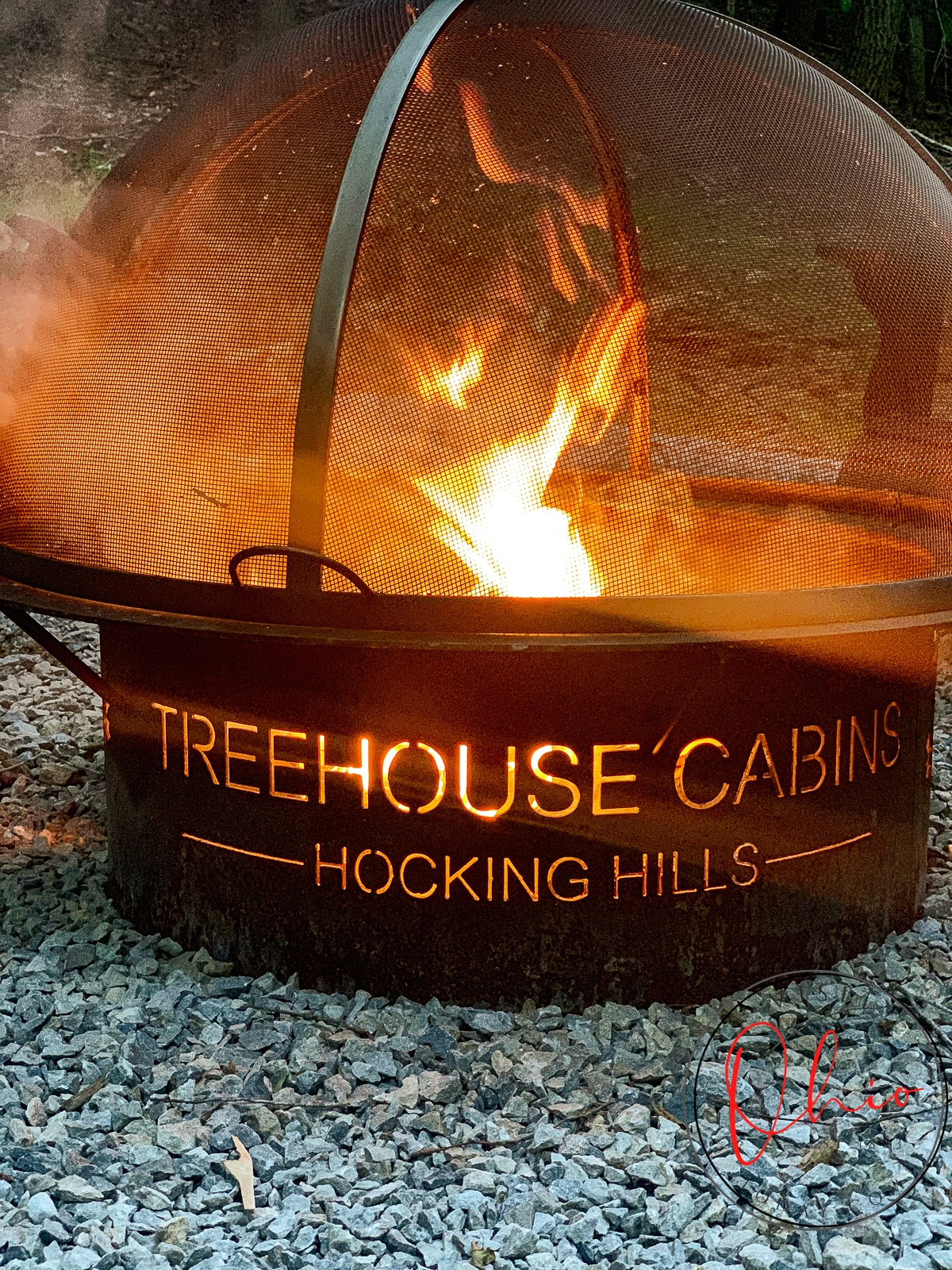 Each Hocking Hills Treehouse Cabin has the same comfortable amenities. You can expect:
Beautiful views
Relaxing wood-fired hot tub
Seasonal outdoor shower
Grill + Grill Tools
Fire Pit + seating
Kitchenette (cooktop, mini fridge, microwave, toaster, coffee maker, etc)
Full bathroom with toiletries
Wifi – through wifi can be spotty at times
TV (for your favorite streaming)
DVD player
Pet stuff: pet bowl, pet bed, pet towel, waste bags
Games, books, and more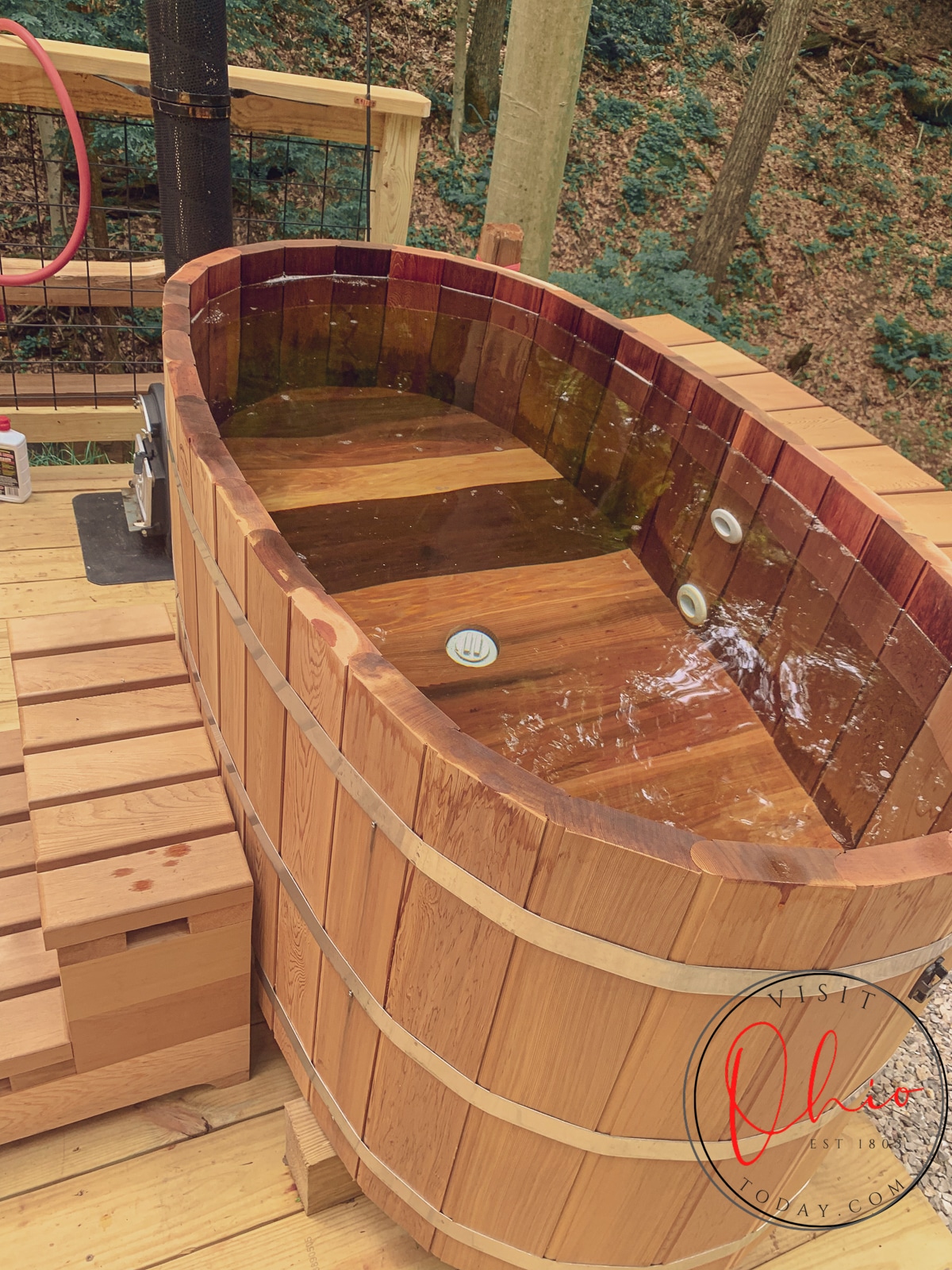 Wood Fired Hot Tubs Hocking Hills Treehouse Cabins
We were pretty excited to stay in a treehouse but equally as excited to try the Wood-Fired Hot Tub! Each of the Hocking Hills Treehouse Cabins has a cedar-lined tub that is heated by fire.
The experience of hearing the fire crackling, the smell of the cedar wood burning, and the warmth of the tub is out of this world! It honestly creates the most relaxing, peaceful experience.
The wood-fired tubs are a cross between a modern hot tub and a Japanese-style soaking tub. The tubs are drained, cleaned, and sterilized to high standards in between guests.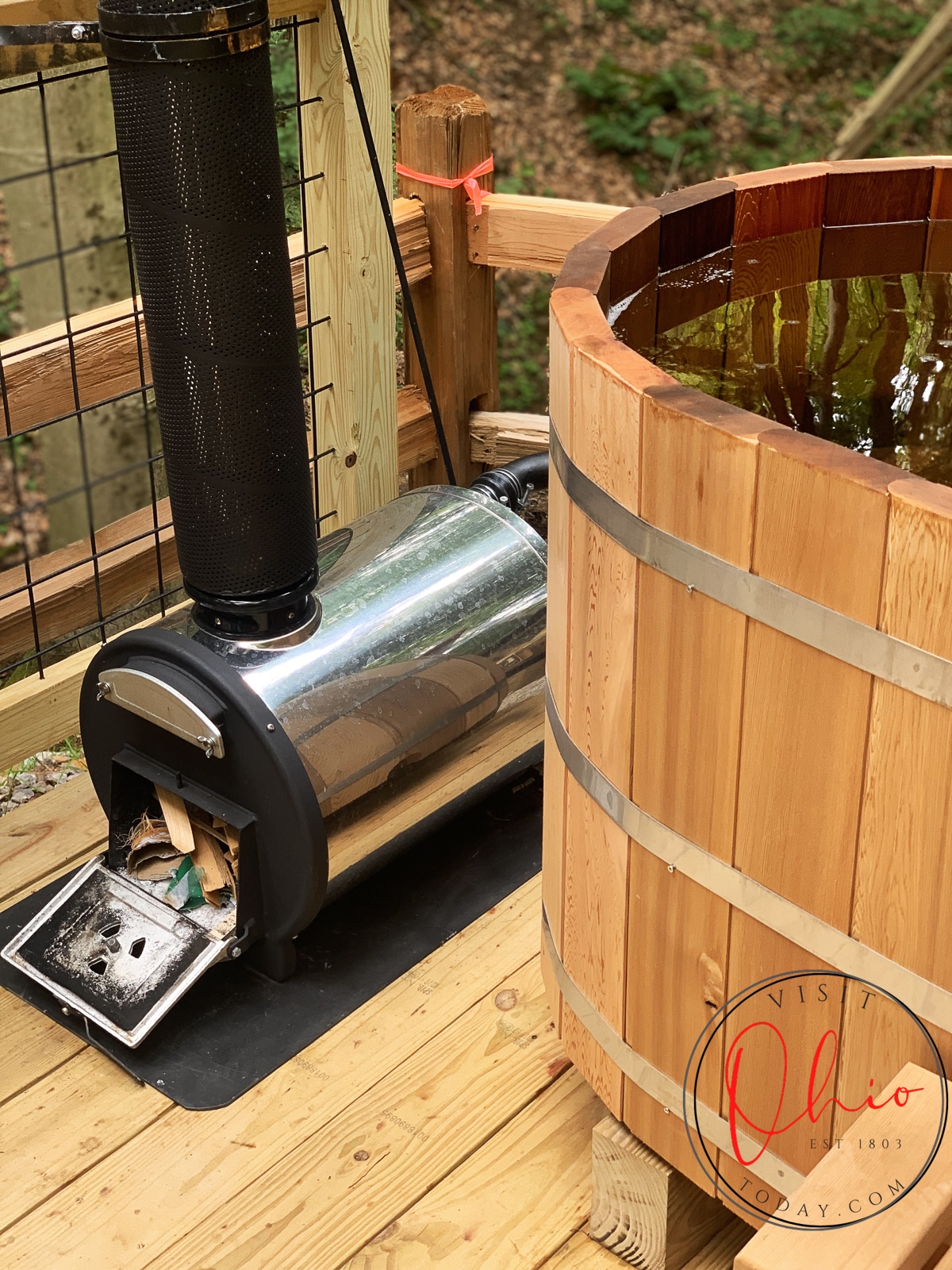 Hocking Hills Treehouse Cabins is Pet Friendly
While we did not bring any of our pets, we loved the idea that they were welcome. We plan to bring our pup back on a future visit. All of the treehouses are pet-friendly. There is a $75 flat fee added to your reservation if you bring your pet.
You are limited to two pets, dogs and cats only. Pets must be leashed and up to date on vaccinations. Be sure to treat your pet with flea and tick repellent before arriving. This is key when staying deep in the woods.
Be sure to clean up after your pet while on the property. Make sure to keep your pet happy, any pet that is noisy to the point of disturbing other guests may be asked to leave.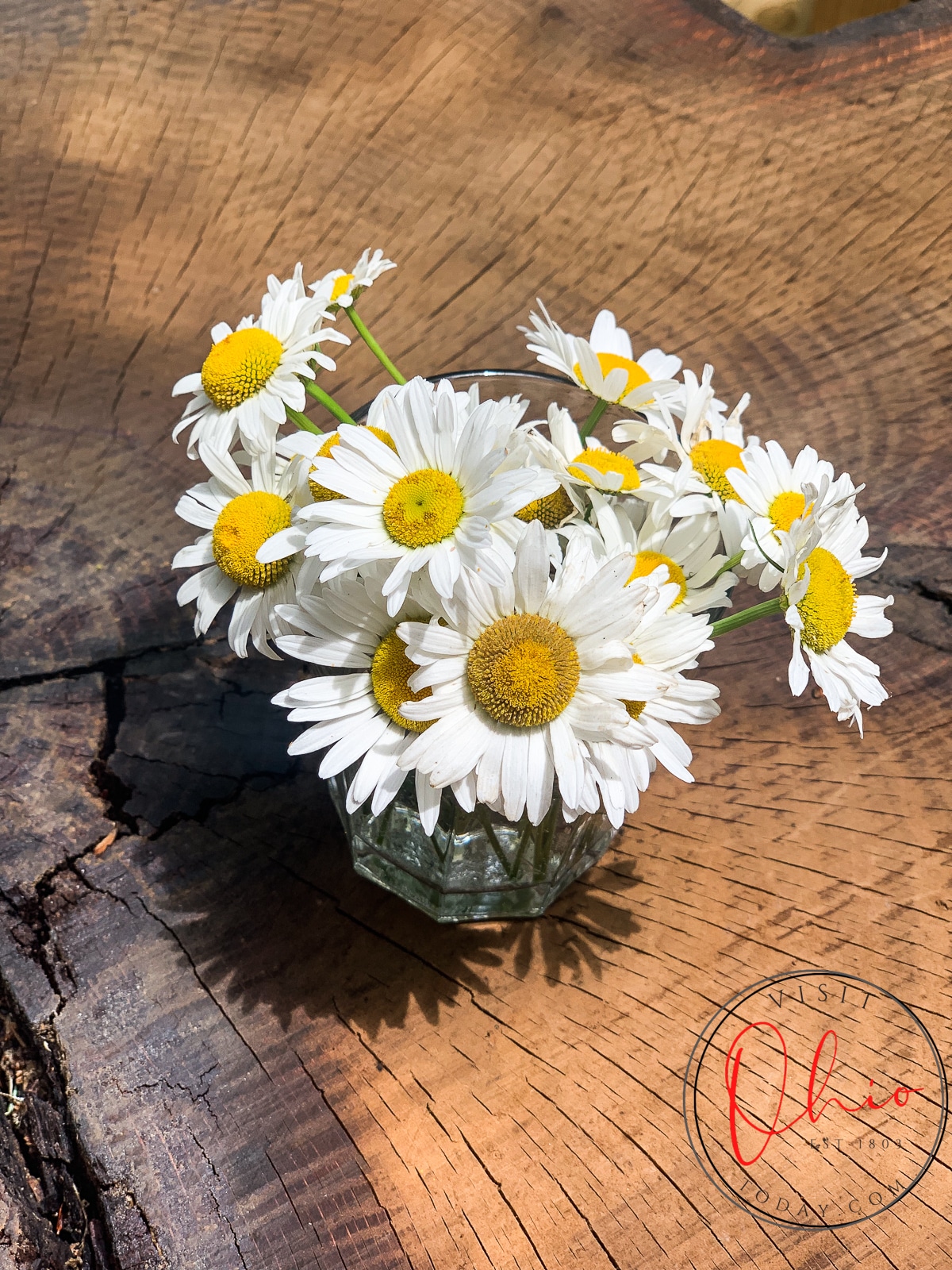 Weddings at Hocking Hills Treehouse Cabins
Hocking Hills Treehouse Cabins offers a wedding service, which sounds absolutely perfect. You can reserve the entire 15 acres for your special day. In fact, the entire property is yours for the wedding weekend.
Just think, having all your close family and friends together to celebrate you on your special day in such a special place. The wedding package includes overnight accommodations in the treehouses for up to 18 guests.
Everything is done onsite: accommodations, rehearsal dinner, ceremony, reception. The setting could not be more perfect and you have the entire place to yourself! Generally, weekends from April through October are reserved for weddings. Be sure to check with the property to see if your desired date is available.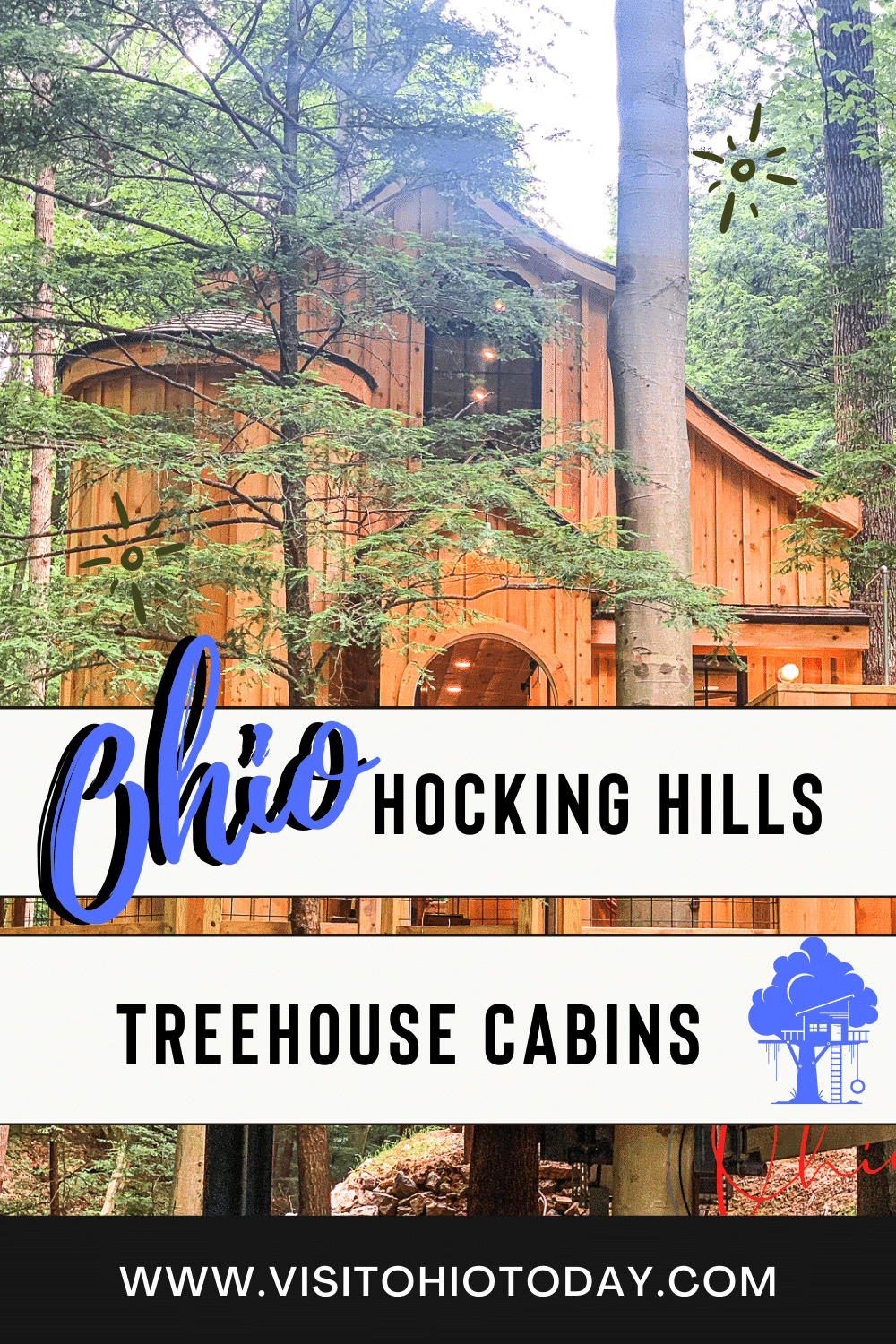 Lovely setting – soft sounds of rustling leaves, sweet bird calls, and gently running stream; cozy and comfortable treehouse (Beech) with so many extra touches to make it even more enjoyable; terrific staff and hospitable owners; truly worth it!

Major S (TripAdvisor)
Cindy's Insider Ohio Tips!
Staying in a treehouse has been a dream of mine for ages, and I finally ticked it off my bucket list with this incredible experience! The treehouse was absolutely amazing. Meeting the owners and hearing their story added an extra special touch to the stay. I particularly loved the wood fire hot tub—definitely a must-try if you're staying here!
Where is Hocking Hills Treehouse Cabins located?
Let's Go to Hocking Hills Treehouse Cabins
The owners, Julian and Bridget Allen maintain four professionally designed and built treehouse getaways on a 15-acre plot in Hocking Hills. It's really beautiful how the treehouses fit into the woods so seamlessly. They are amazing hosts and were a joy to speak with at the time we stayed there. We cannot wait to go back again and try a different treehouse.
Have you been to Hocking Hills Treehouse Cabins? We want to know about your visit! Which treehouse did you stay in? Any insider tips you would like to share about your visit? Drop us a comment below!
Hello! We have done our very best to ensure that the accuracy of events, hours, addresses, etc, are up to date. Please know that information can change due to weather, updated health and safety challenges, etc. If you find incorrect information, please send us an email at [email protected], and we can get it updated.

To be updated and stay connected, subscribe to our newsletter.