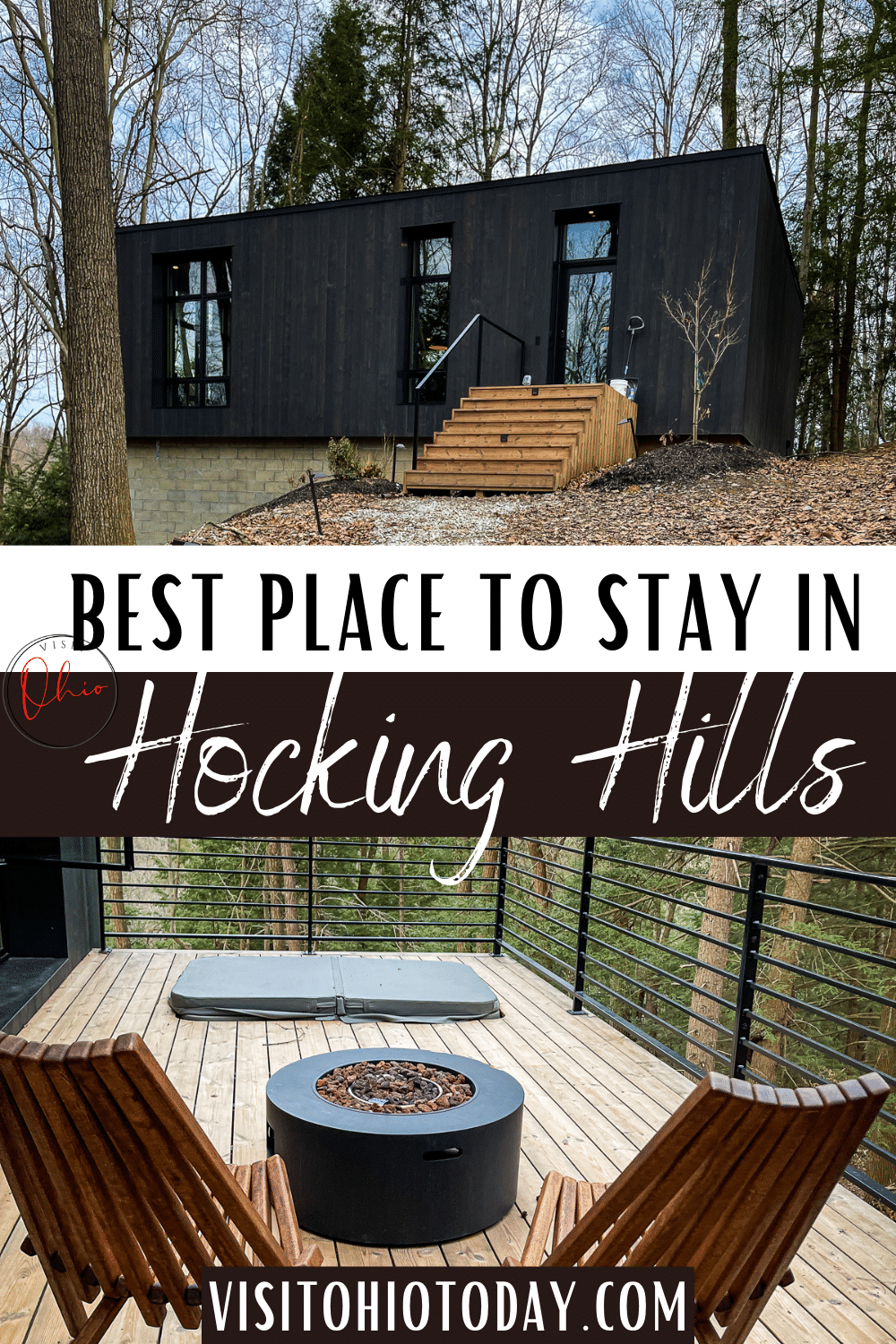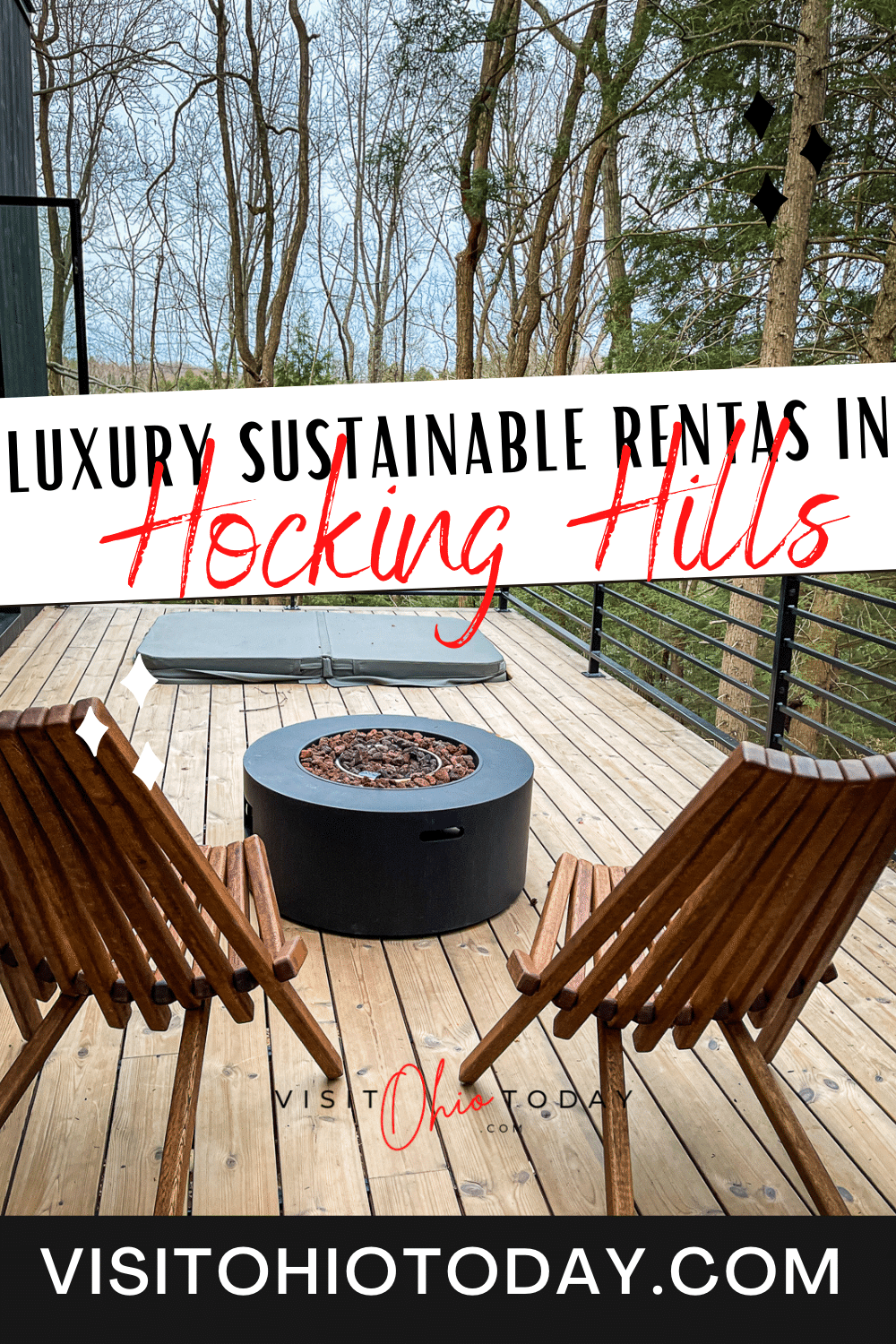 Last Updated on August 23, 2023 by Cindy
Idyll Reserve is a new sustainable luxury getaway location located in the Hocking Hills area in Ohio. This eco-conscious site provides the perfect backdrop for relaxation.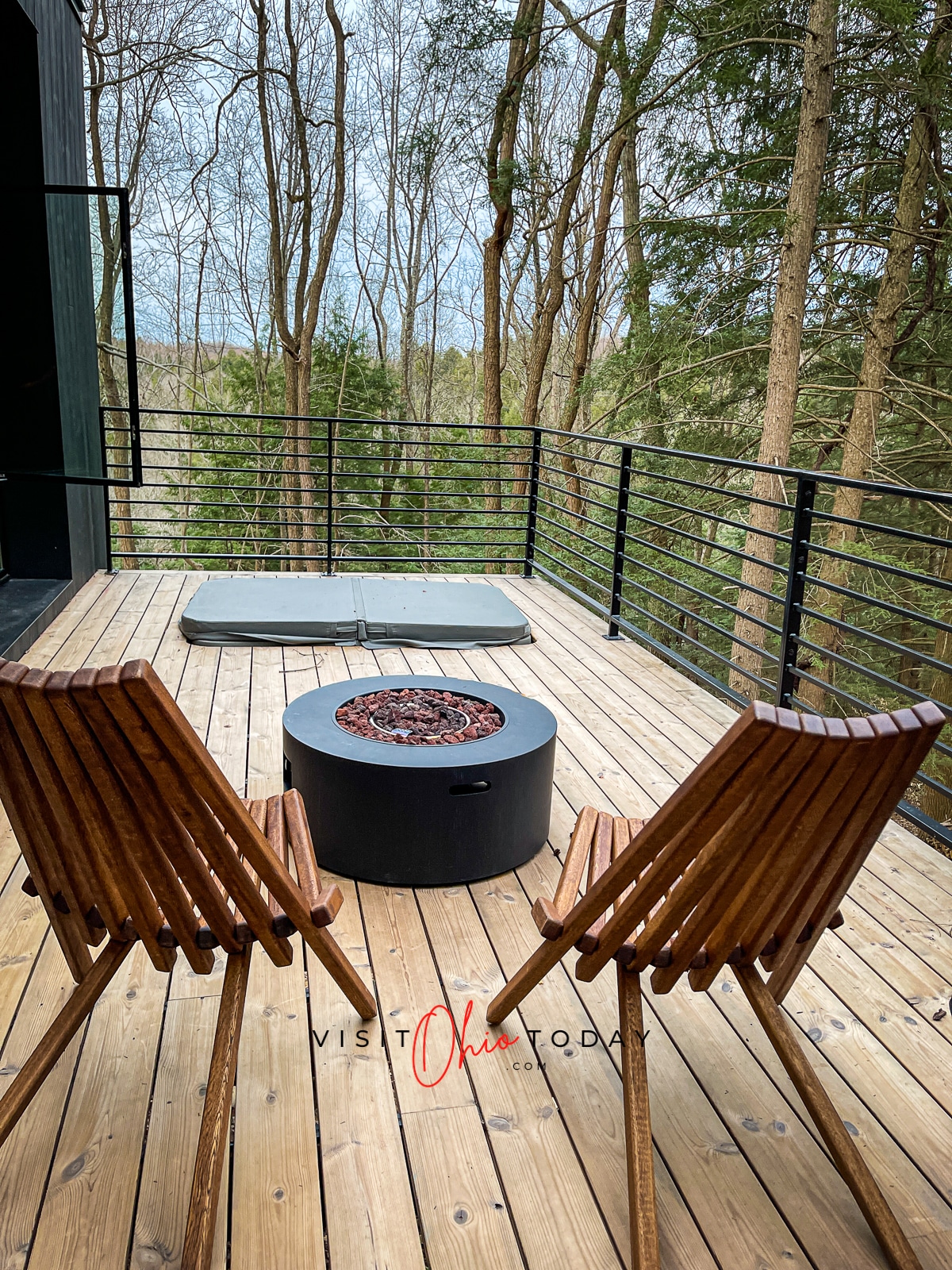 Visit Idyll Reserve - The Hillside
I was drawn to Idyll Reserve after seeing a facebook post in a local "moms in the know" group. It caught my attention and I clicked through to read more. Everything about Idyll Reserve sounded like it was a place that I would like to visit.
I quickly went down a rabbit hole of research with the designer of the cabins, Hygge Supply. I was immediately drawn and impressed by the sustainability of the houses, the non toxic paint and finishes and the simplicity of the cozy cabins. In addition to a great place to visit in Ohio, we are seriously considering building with Hygge Supply in the future! I digress, but I just get so excited talking about it.
So with all that being said, we plan to stay at all the Idyll Reserve cabins to experience all the different finishes and designs. Each cabin has its own complete vibe! There are 5 cabins total, 4 are completely designed by Hygge Supply and the fifth one was an existing cabin onsite that was remodeled to use the same interiors.
Be on the lookout for a review of The Main House later on in the year, that trip is already booked!
Check out our review of Cabin 5 The North!
Our stay this time around was a quick one at Idyll Reserve, The Hillside. Typically, there is a minimum night requirement for stays, but they will share on their social media when those single-visit nights open up. There was one open during our spring break, so I decided to snag it! I am glad I did, it was quite the experience.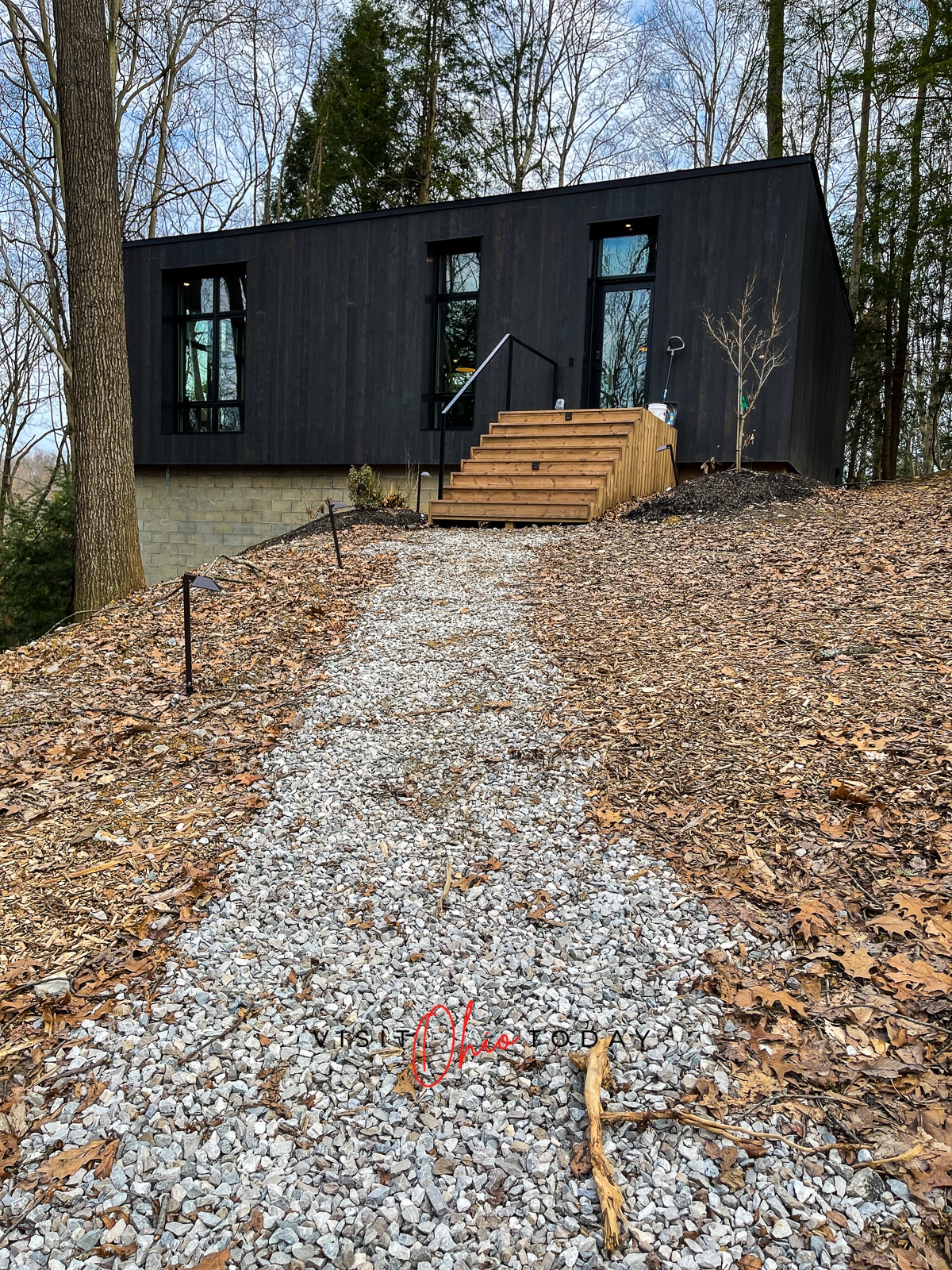 Sustainability at Idyll Reserve - The Hillside
Throughout the entire property, you will see plenty of signs that sustainability is important. For example, there are two electric car charging stations on the property. The houses use Birch mattresses, which are made from natural non toxic materials. The bedding used at Idyll Reserve is organic. The combination of the non toxic mattress and organic bedding is a combination that almost guarantees a peaceful night's sleep!
The furniture inside of Idyll Reserve cabins are FSC certified furniture from places like West Elm. You will see upcycled or vintage pieces throughout the property. There are organic or local sourced products at Idyll Reserve such as coffee, tea and other items.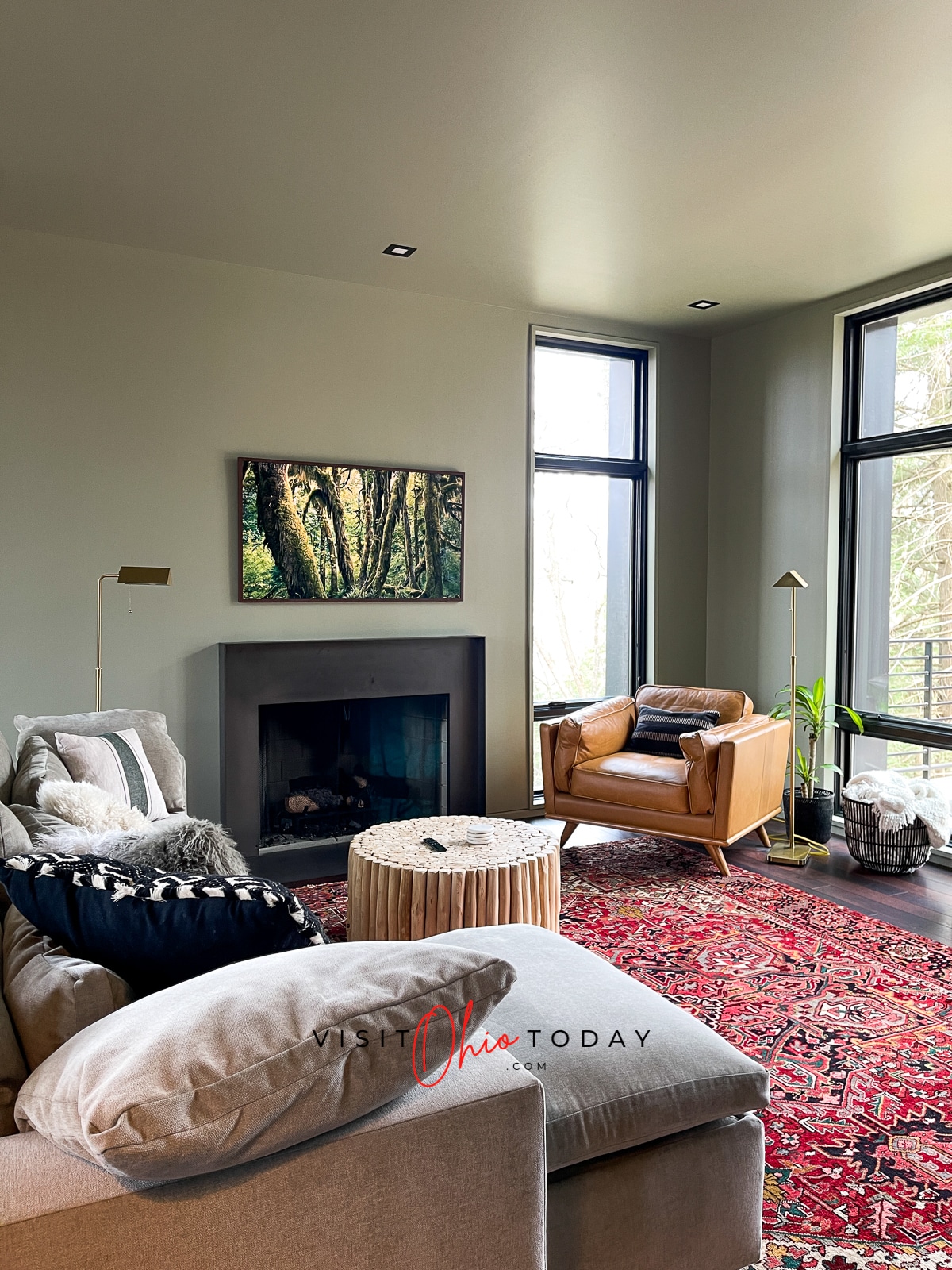 You will notice that the trash bags are biodegradable and that there is a space for you to recycle your items on site. There are also 100% recycled paper products in the cabins such as toilet paper from Who Gives a Crap!
Idyll Reserve partners with a local cleaning company called Broom and Bloom. This company hand makes all the non toxic cleaning products, hand soaps, shampoos, etc that are found in the cabins at Idyll Reserve.
There is so much more happening at Idyll Reserve that supports sustainability. Whether you are interested in sustainability or not, Idyll Reserve shows you how to easily incorporate it into your life. The way sustainability is intertwined with the entire property is amazing. They make sustainability sexy and luxurious!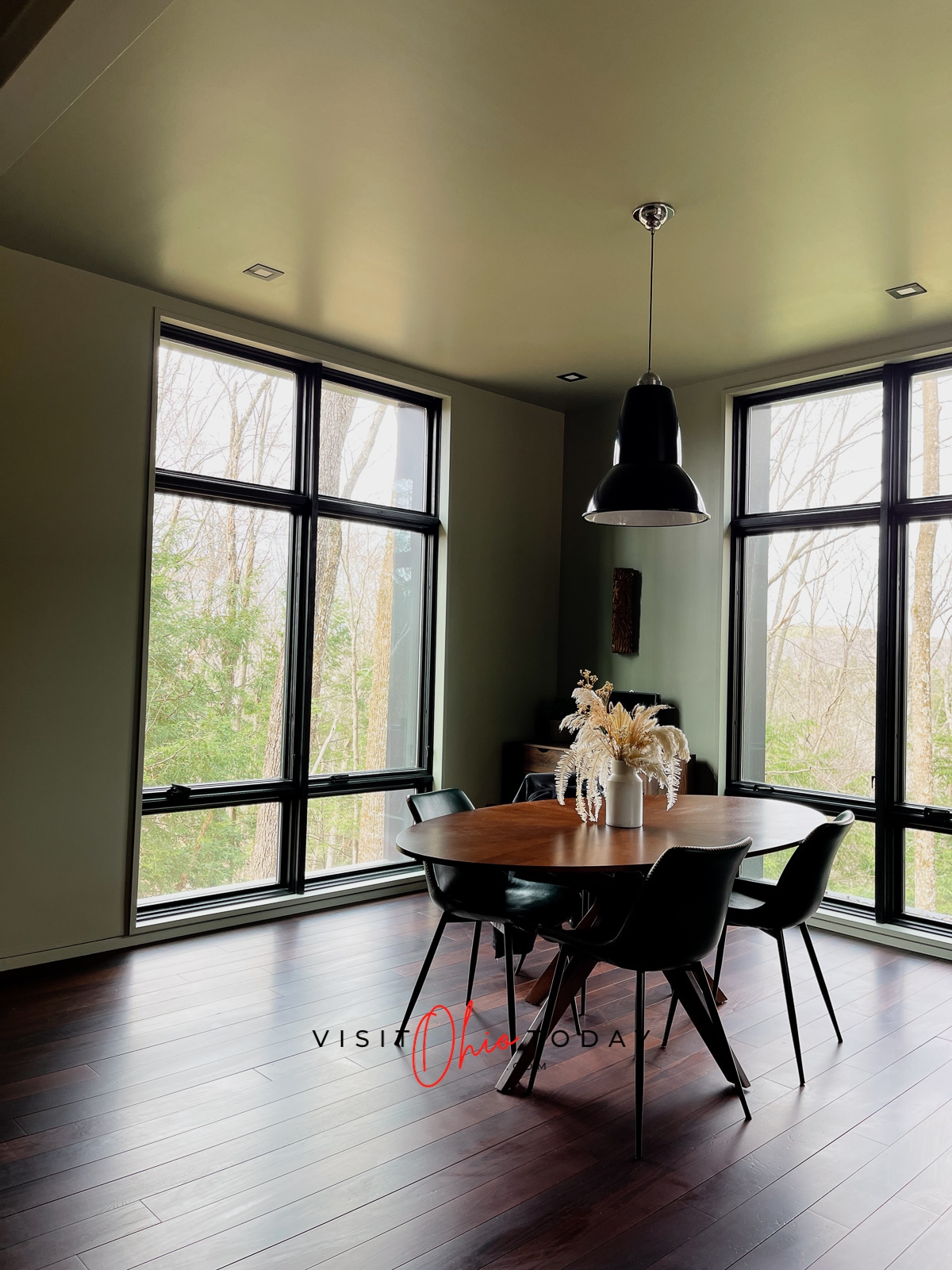 What is included with the cabins at Idyll Reserve?
We stayed at Cabin 4, The Hillside, but all the cabins have the same things. You can expected organic begging, natural linen towels (they are so cozy!) a fully stocked kitchen: we are talking about every single item you need…utensils, dishes, wine glasses, champagne flutes, coffee mugs, coffee maker (2 kids) an espresso machine, pots, pans, stove top, microwave, fridge, freezer, dishwasher and more!
Also in the kitchen is a basic pantry. You can find local coffees and teas, our cabin had a TON of spices, oils and also some hot chocolate. The kitchen also had some food storage containers which would be very helpful if you were staying for a long weekend and did some cooking!
Each cabin at Idyll Reserve has an outdoor area that has a fireplace, a firepit or a fire table. Our cabin had a gas fire table. If your cabin has a fire pit or fireplace, they provide the firewood.
There is also a hot tub at each location that is eco friendly. Our hot tub was sunken into our deck, so it did not obstruct the beautiful views!
If you have young children you will be happy to hear that there is a high chair and pack n play with bedding in each cabin.
The wifi was great and we still did have phone service (with AT&T). There was a Samsung Frame TV, whoa that was so cool! It had netflix, HBO Max and Disney Plus! It had a great sound system that was connected to Spotify.
If your clothes needed to be tidied up, there was also a washer and dryer on site!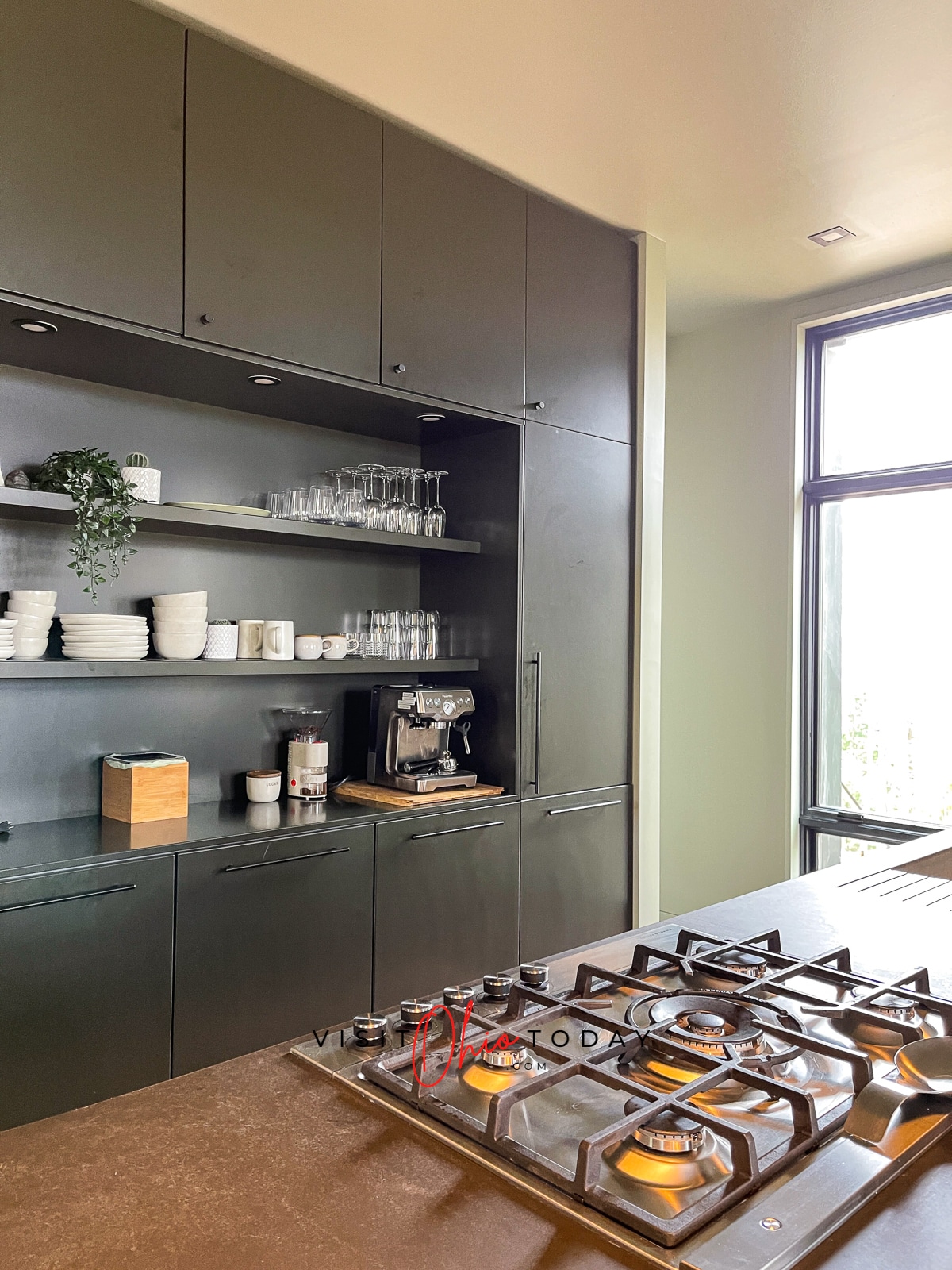 What to do when staying at Idyll Reserve
Honestly, the options are endless, just like many Hocking Hills cabins. Unique to this property, Idyll Reserve is 19 acres and has a couple of onsite hiking trails and a cave! It is also located close to many popular Hocking Hills area parks, the closest is Conkles Hollow.
Just down the road from Idyll Reserve is the Big Brothers and Big Sisters camp. From there you can access the Old Growth Trail. We did not do this, this time around. We plan to do it during our summer visit. We did however visit the onsite cave! Very cool! TIP: Bring your flashlight.
Besides hiking, I encourage you to unplug. Enjoy the cabin, enjoy the fire, enjoy the deck, the outside, and more! There are games located in each cabin as well!
If you want to venture outside your cabin but not on the trail, you could visit the Hocking Hills Winery, have fun at Adventure Golf at Rempels Grove, or check out the Best Things to do in Hocking Hills.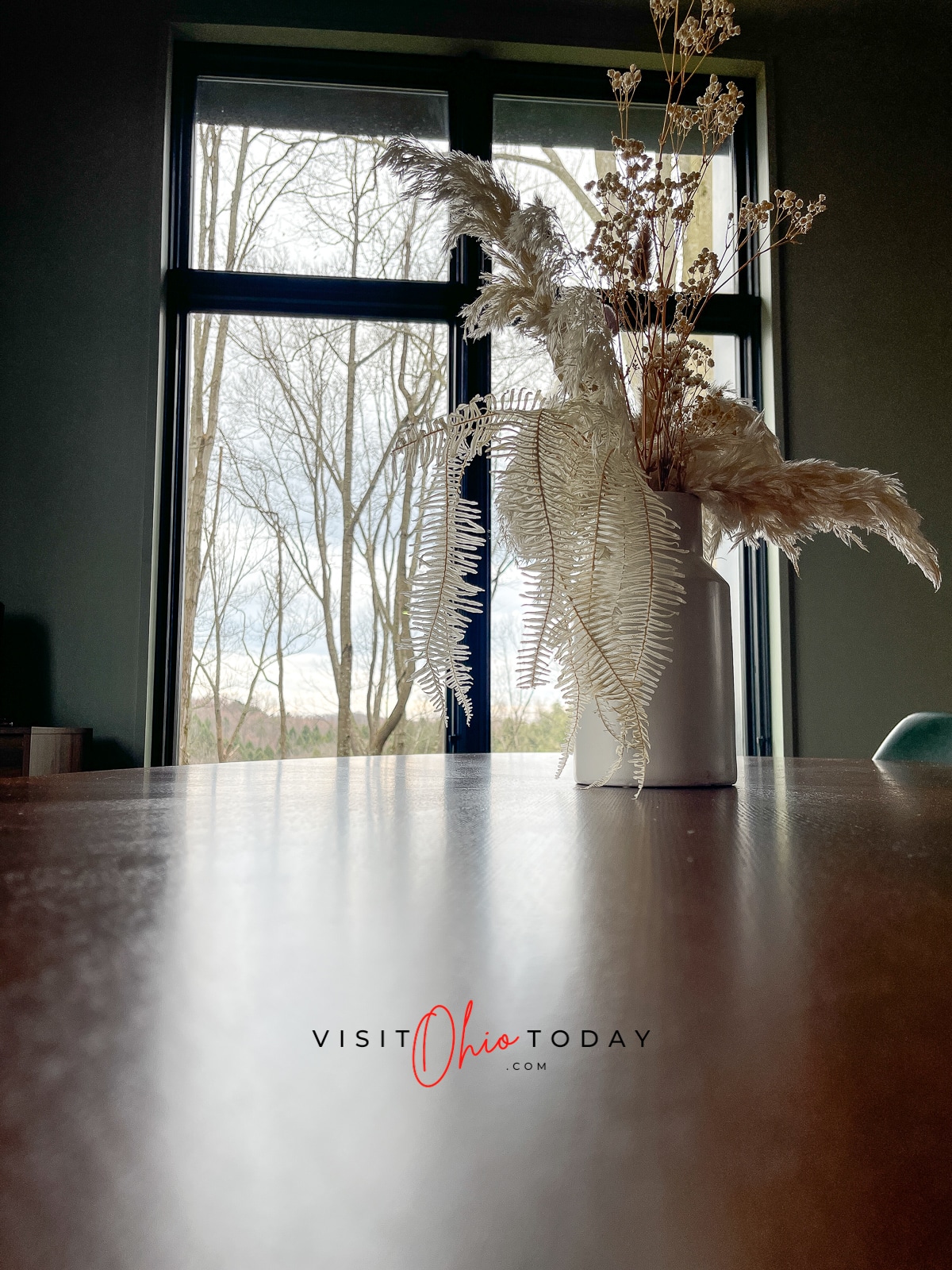 The Hillside Cabin 4 at Idyll Reserve
The price for this cabin starts at $279 and varies throughout the year and depending on the day of the week and the season. It is located far into the Idyll Reserve property, just before cabin 5.
It can sleep 2 adults comfortably. You could use the pull-out couch for another adult or two children. The furnishings in this cabin are light and airy. The vibe is very relaxing, yet creative. A little old-world flavor sprinkled in there as well.
The kitchen was fully stocked with the items we listed above and even more. The cabin truly had everything we needed to be fully content, relaxed, and cozy.
The Hillside Cabin 4 at Idyll Reserve has the most steps. It is located UP from the parking spot. It would not be accessible for anyone in a wheelchair, who couldn't do a lot of steps or a steep incline. Check out The South and The Main Cabin if you have limited mobility
But with that incline comes great beauty. The cabin is nestled in the treetops. It is literally like you are sleeping in the trees!
I would recommend a 4-wheel drive during the winter months, the road leading back to cabins 4 and 5 is a single lane and is a steep decline (and a little bumpy).
The Hillside is one of two cabins that are dog friendly. They welcome well-behaved dogs above the age of 8 months. You will need to clean up after your pet as well as wipe their paws upon entering the cabin.
Check-in starts at 3:00 pm and check-out is 11:00 am. Which is pretty typical.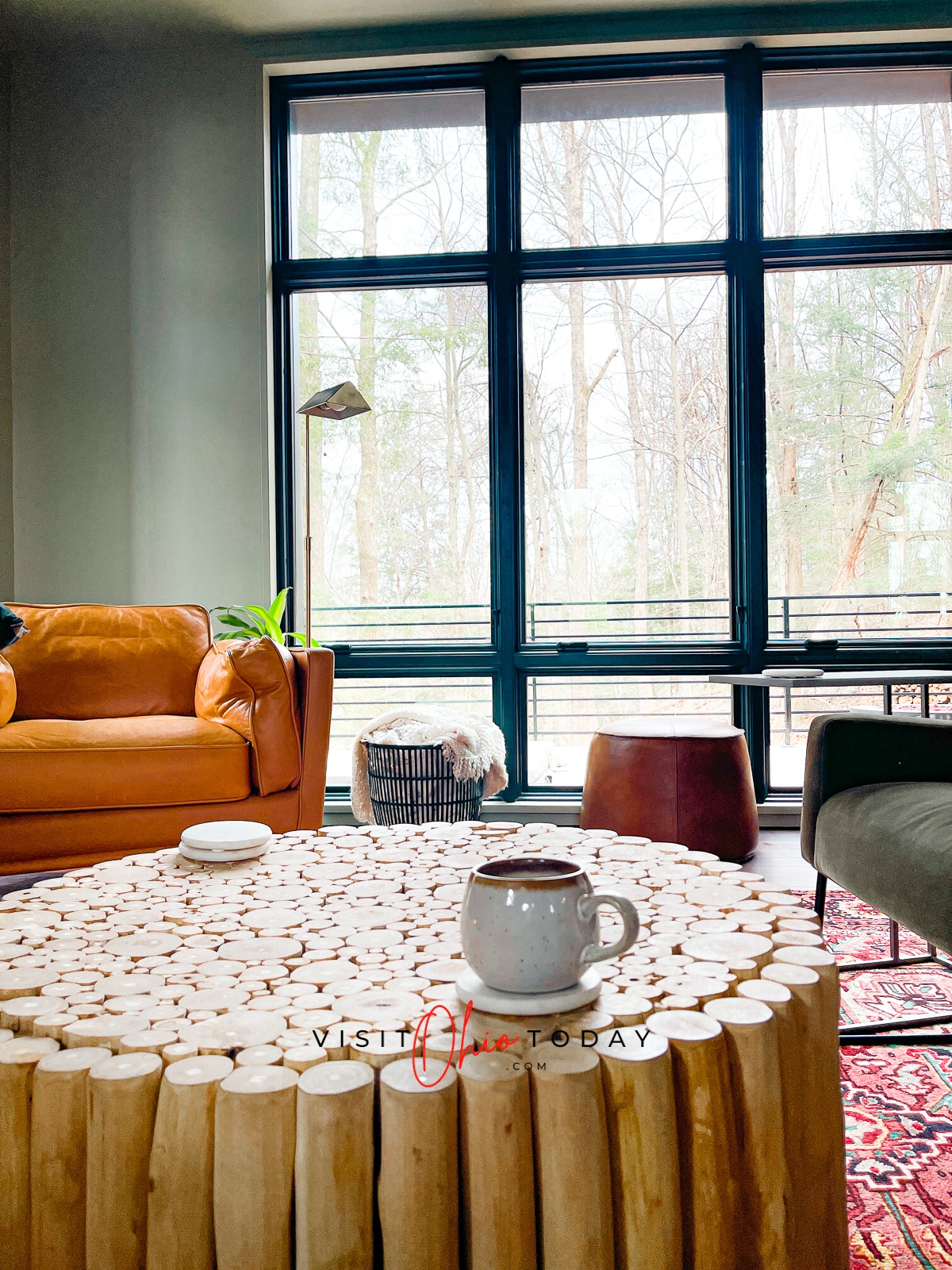 Let's to go Idyll Reserve - The Hillside Cabin 4
Overall, I 100% enjoyed my visit and I am counting the days until I can go back and try the Main House. That will be this summer. The rentals do carry a little higher price tag, than other local rentals. The rental price in Hocking Hills truly does range, but with Idyll Reserve you get what you are paying for. You get luxury, sustainability, and more!
Book your stay at Idyll Reserve
Have you visited Idyll Reserve? We would love to hear which cabin you stayed in or what cabin catches your eye for a future stay! Drop us a comment below!
Looking for other places to stay in Hocking Hills? Check out Hocking Hills TreeHouse Cabins, Cherry Ridge Retreat, and Cedar Grove Lodging.
If you are looking for something more intimate, check out our article Romantic Getaways in Ohio!