Conkles Hollow
This post contains links to affiliate websites, such as Amazon, and we receive an affiliate commission for any purchases made by you using these links.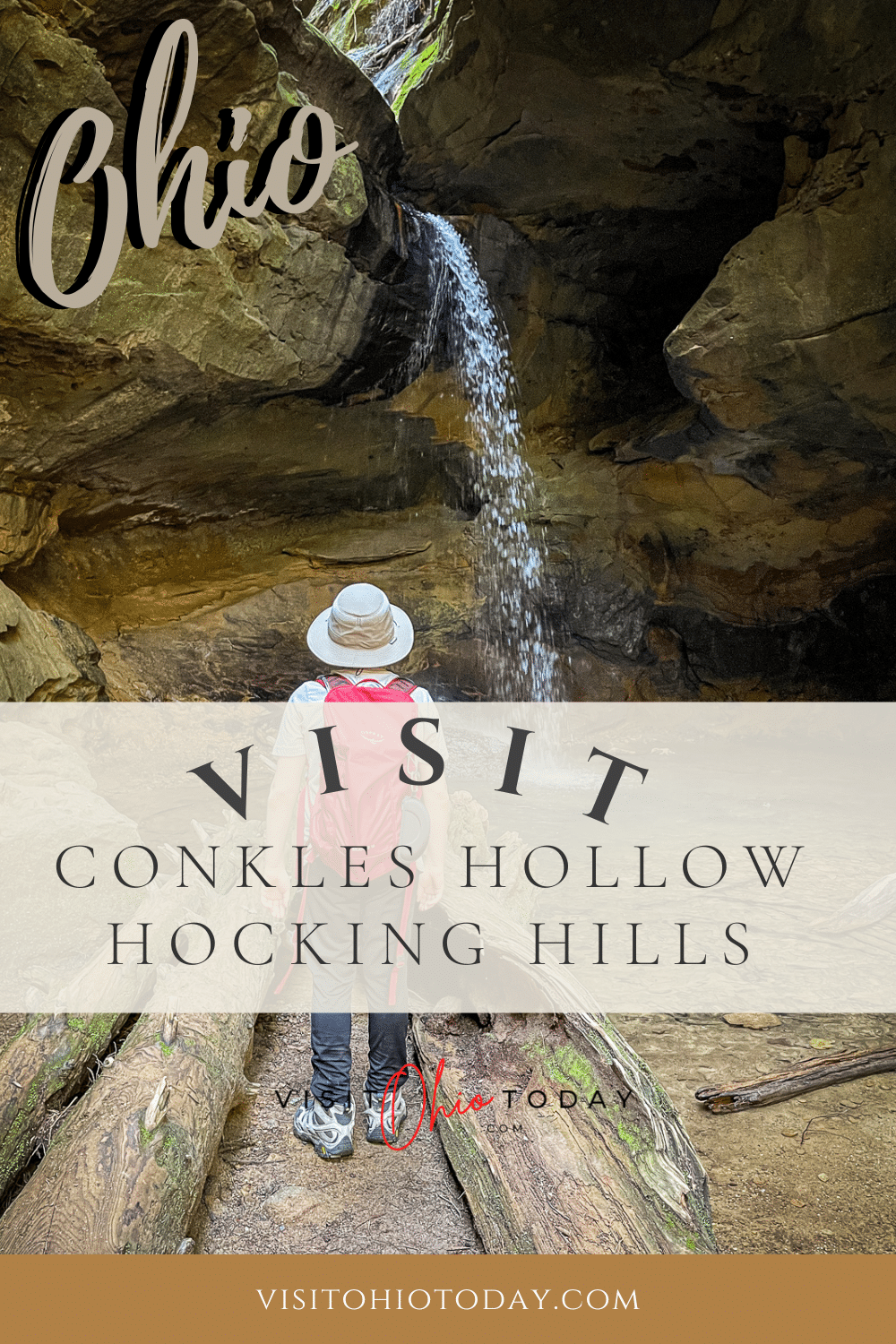 Conkles Hollow is a State Nature Preserve located in Hocking Hills. Conkles Hollow features a rocky gorge with a beautiful valley floor.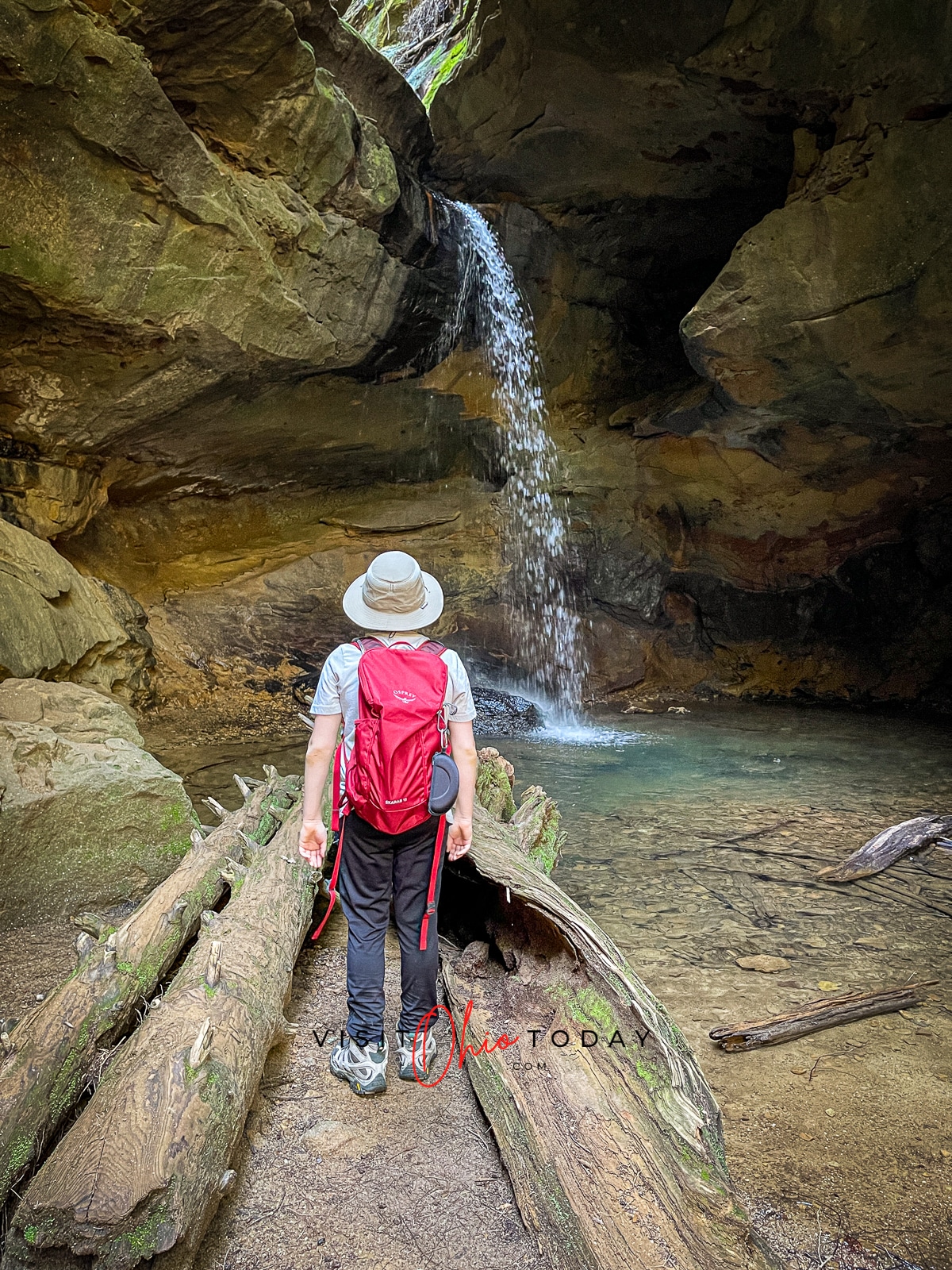 Visit Conkles Hollow
Conkles Hollow is a MUST visit when you are in the Hocking Hills area. Honestly, this is one of our favorite places in that area. There are two trails at Conkles Hollow. There is the rim trail and the lower trail.
It is said that Conkles Hollow is one of the deepest gorges in Ohio! Conkles Hollow was purchased by the state of Ohio back in 1925 so that the beauty could be preserved. It wasn't until 1977 that Conkles Hollow was dedicated as a state nature preserve.
Conkles Hollow was named after W. J. Conkle who left his name and the date of 1979 carved into the wall of the gorge.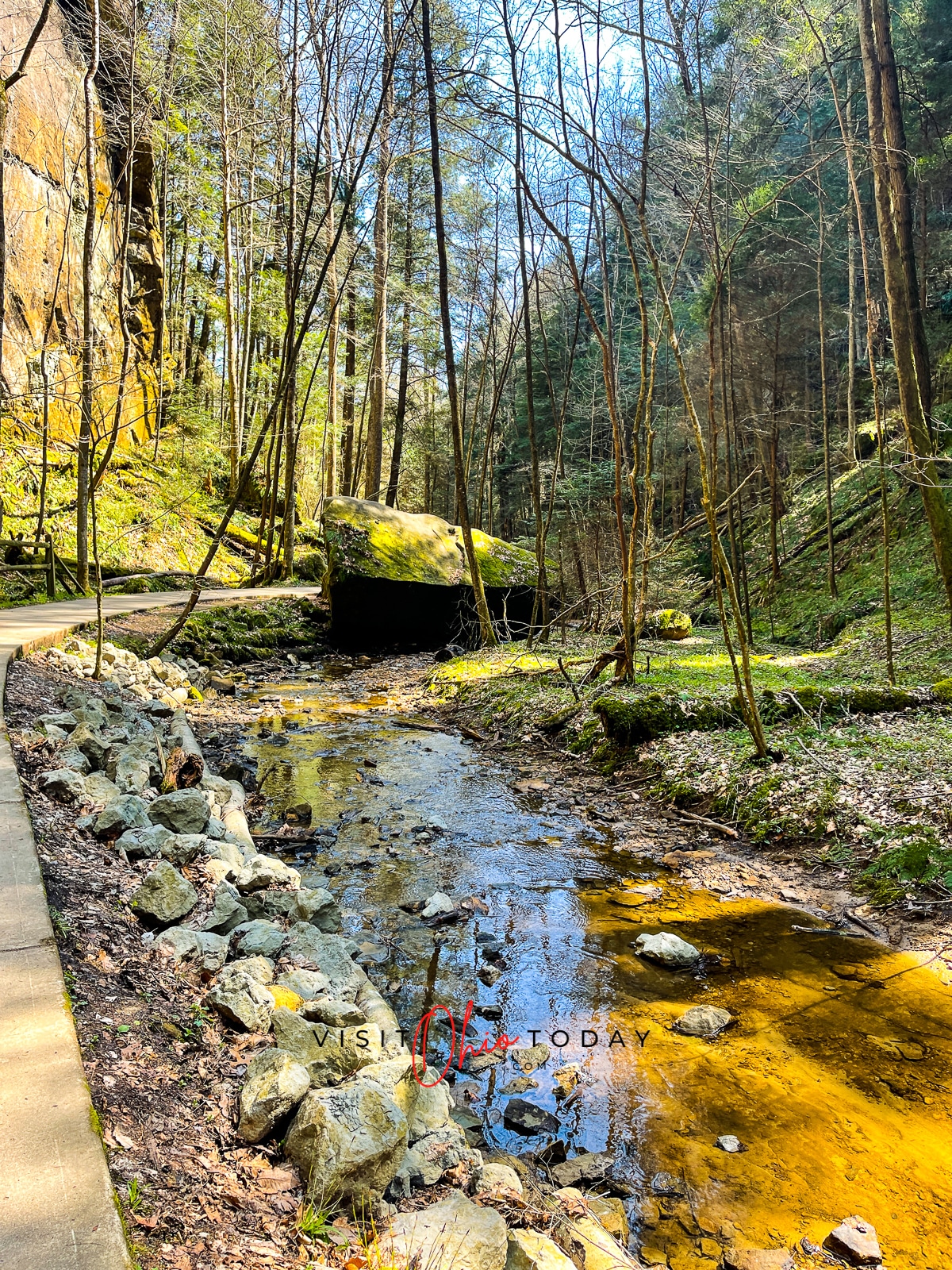 Conkles Hollow – Lower Trail Video
Conkles Hollow – Lower Trail
The Lower Trail at Conkles Hollow is an approximately one-mile out-and-back trail. The trail is considered easy and takes about a half hour to complete. The beginning of the trail is wheelchair and stroller-friendly, but at one point, the level ground ends and you do have to climb through some rocky areas.
We like Conkles Hollow because it has so much to offer in that short distance. You cover over a bridge, walk alongside a little stream, walk on a paved path, boardwalk and so much more. The further you walk into the gorge the narrower it gets.
Be on the lookout for a small recessed cave on your lower trail hike. As you walk on the Conkles Hollow lower trail notice how the vegetation growth changes. You will see that in some places the growth is so thick that sunlight does not reach the floor of the gorge.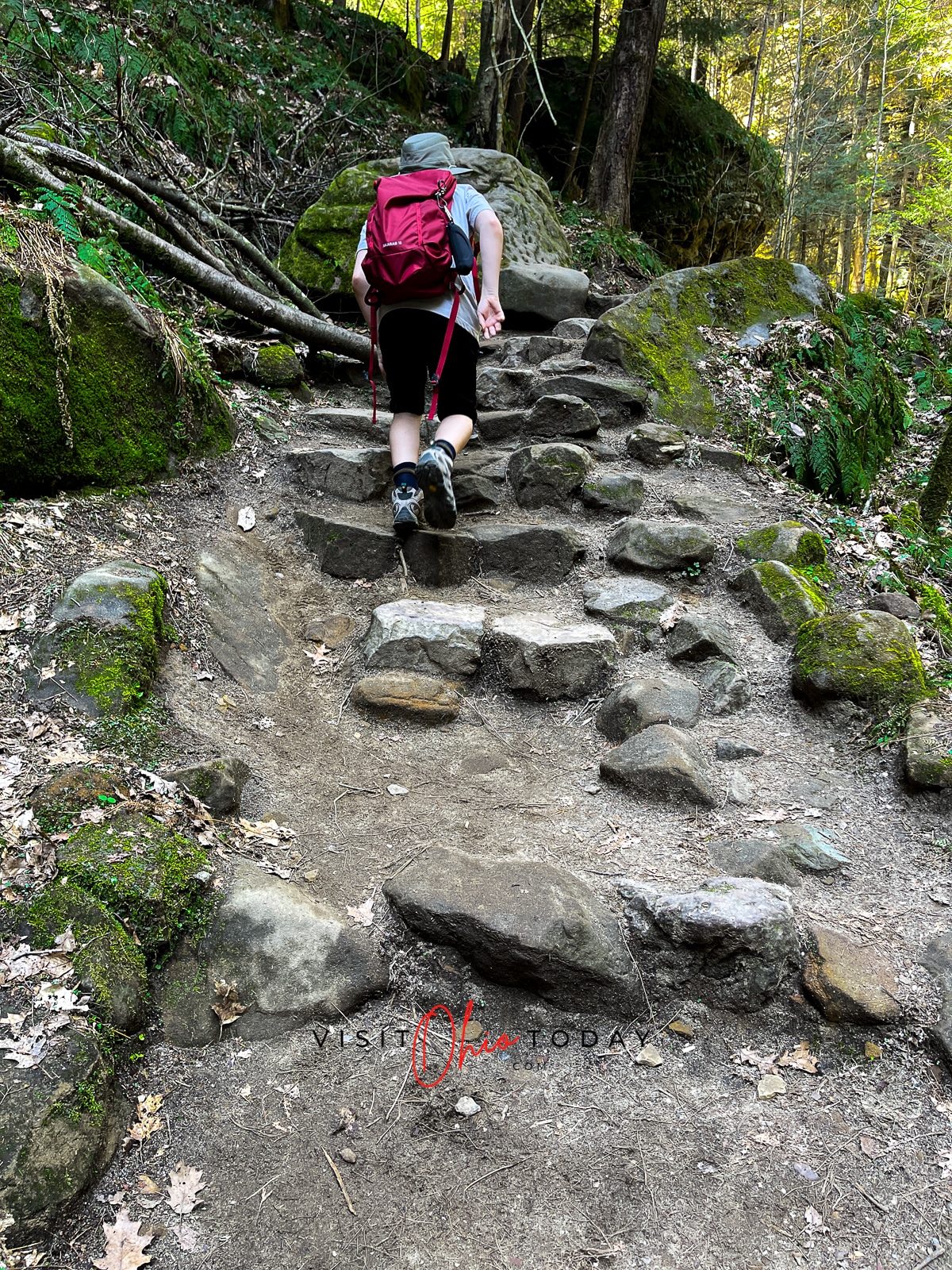 Conkles Hollow – Rim Trail or Upper Trail
The Rim Trail at Conkles Hollow is about 2 miles in length. The rim trail circles the gorge. The cliffs are some of the highest in the area. The trail has uneven steps, large drop-offs, drastic incline and decline as well as steep terrain.
Conkles Hollow Upper Trail offers extensive cliff views, but with that comes lots of steps! We will be hiking this one next time around and will report back and update the post with tips!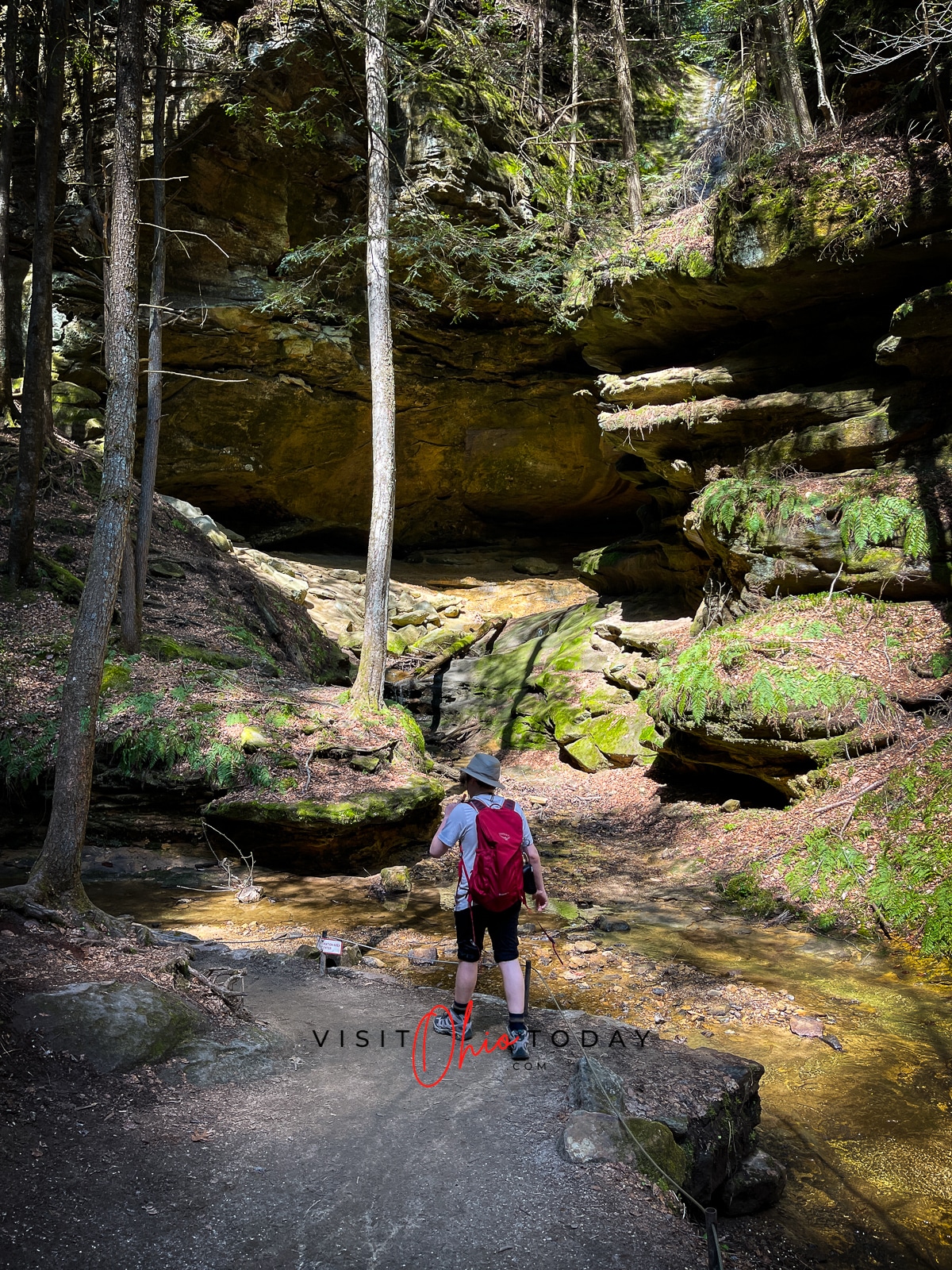 The Conkles Hollow Legend
Legend has it that a petroglyph was found on the gorge wall by early settlers. The picture showed an arrow pointing to the opposite side of the gorge. Legend says that Indians robbed settlers and hid the loot deep inside the gorge.
But don't start digging at Conkles Hollow because that is illegal. It is said that the treasures were hidden in a small recess that could only be reached by climbing a tree (also don't climb the trees!) Many local friends of Conkles Hollow claim to have seen the wall carving, but time has since washed it away.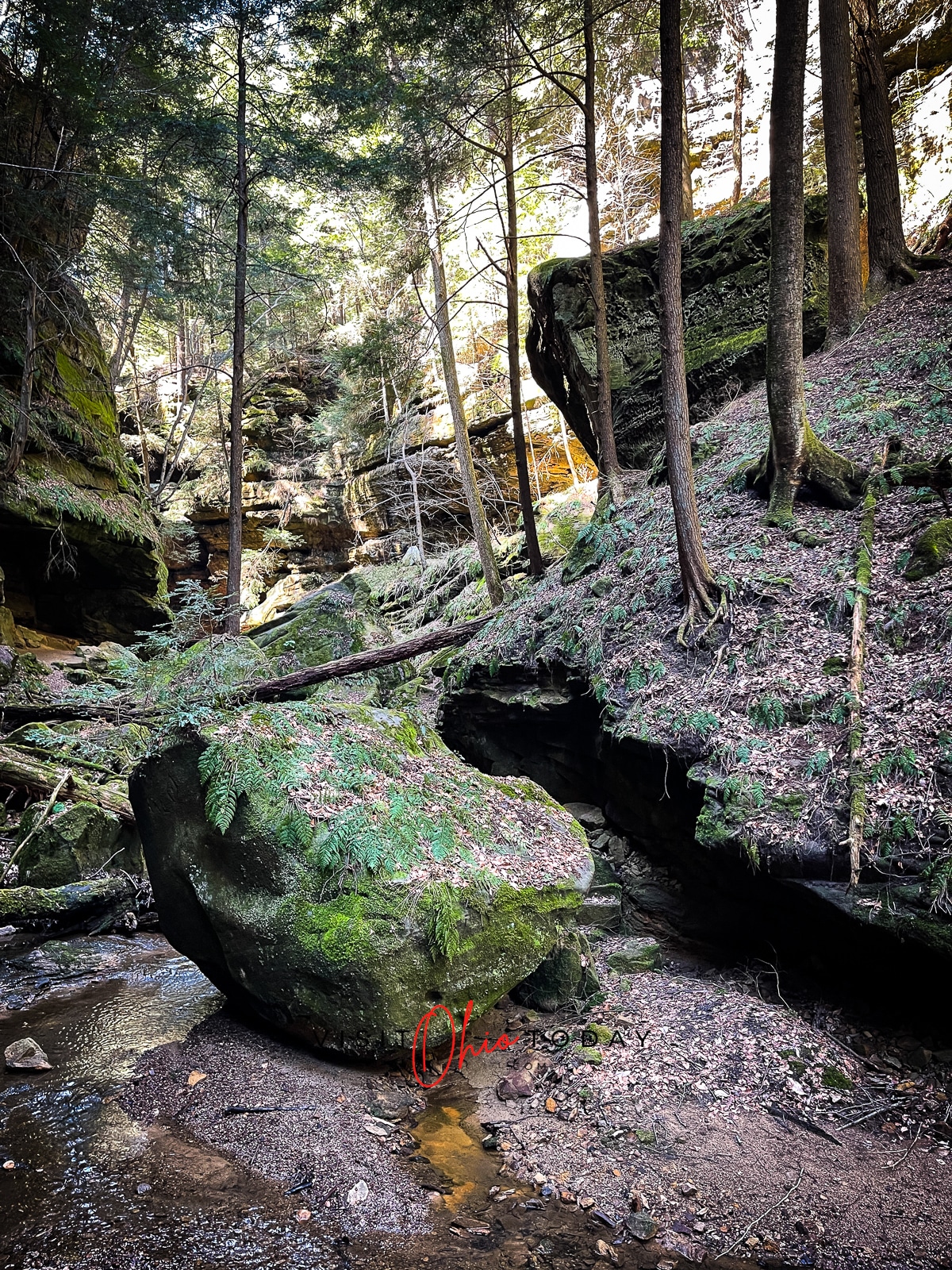 Conkles Hollow Quick Facts
2 Trails (1 short, 1 long)
NO pets allowed
Waterfall onsite
Open Dawn until Dusk
Portapotties available
Lower Trail is paved, boardwalk, ADA approved about 3/4 of the way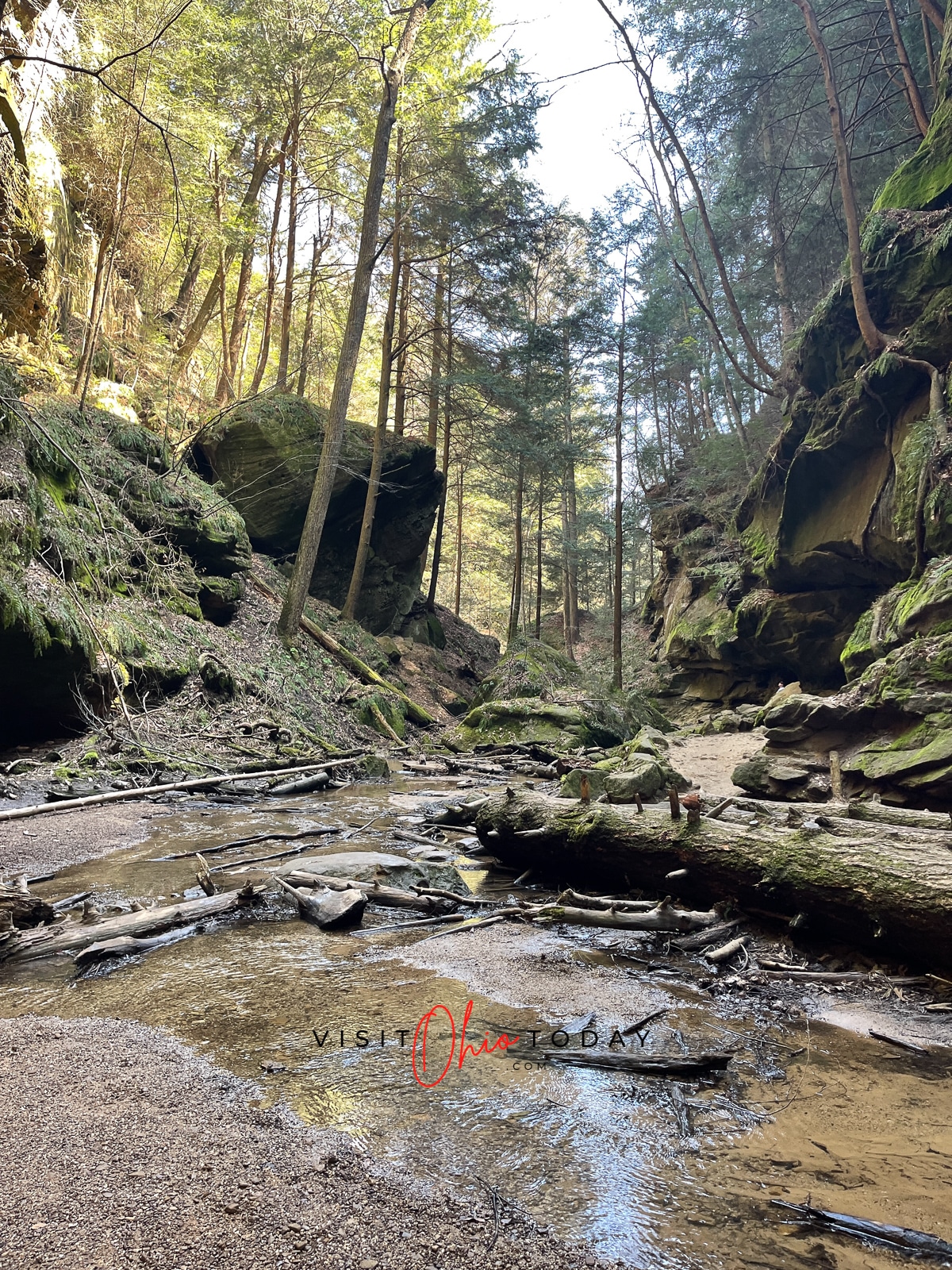 Hands down our favorite hike in Hocking Hills! Do the upper rim 1st. But be prepared for a ton of stairs and roots! Amazing views await! Then, do the lower trail and prepared to be transported into another world! You really have no idea what is below the trees while hiking above. It's almost magical. If you are able, doing the upper rim 1st is a must! However, the upper rim is not pet friendly and I would use extreme caution with children. The drop offs are dramatic!

MSue (TripAdvisor)
Cindy's Insider Ohio Tips!
Among all the Hocking Hills parks, I personally believe this one stands out as the best. You might have seen me mention this on social media before. I find this particular hike incredibly peaceful. What I love about it is how it begins with an accessible path and then transitions into an off-road hiking experience that eventually leads to a beautiful waterfall.
More Tips From Cindy
If you arrive early in the morning, enter the area quietly and you might find a deer drinking from the stream.
As you walk back through the gorge, notice the massive height of the cliffs, which are about 200 feet above the valley floor. At some points, the gorge narrows to about 100 feet across.
As you make your way to the end of the lower trail, you will find a 20-foot waterfall. The size of this waterfall will vary depending on recent rainfall. There is NO swimming or wading allowed near the waterfall. If it has rained recently, you should notice many waterfalls cascading down over the sandstone cliffs.
Watch up in the trees as you hike the lower trail. We saw some bats flying around one afternoon we were there!
The parking lot can easily look FULL, but do not let that deter you! The park is long and has plenty of room for everybody, even socially distanced if need be! So pull in, and head to the back where the turnaround is, there are usually spaces up front. Nobody seems to pull back all the way!

Where is Conkles Hollow located?
Address: 24858 Big Pine Road, Rockbridge, Ohio 43149
If you are looking for lodging, Idyll Reserve is close by.
Let's Visit Conkles Hollow!
Have you ever been to Conkle's Hollow in the Hocking Hills area? We want to know, did you hike the lower or upper trail? Any tips to share? Drop us a comment below!
Love Hocking Hills? Be sure to check out our Hocking Hills Category page that lists ALL our posts about Hocking Hills. Be sure to follow us on Instagram to keep up with all our Hocking Hills Adventures and more!
Hello! We have done our very best to ensure that the accuracy of events, hours, addresses, etc, are up to date. Please know that information can change due to weather, updated health and safety challenges, etc. If you find incorrect information, please send us an email at [email protected], and we can get it updated.

To be updated and stay connected, subscribe to our newsletter.