Horseback Riding In Ohio
This post contains links to affiliate websites, such as Amazon, and we receive an affiliate commission for any purchases made by you using these links.
Horseback riding in Ohio is one of the best ways to see the stunning scenery and breathtaking sights of Ohio. Below are the top 5 places where you can do some Horseback riding.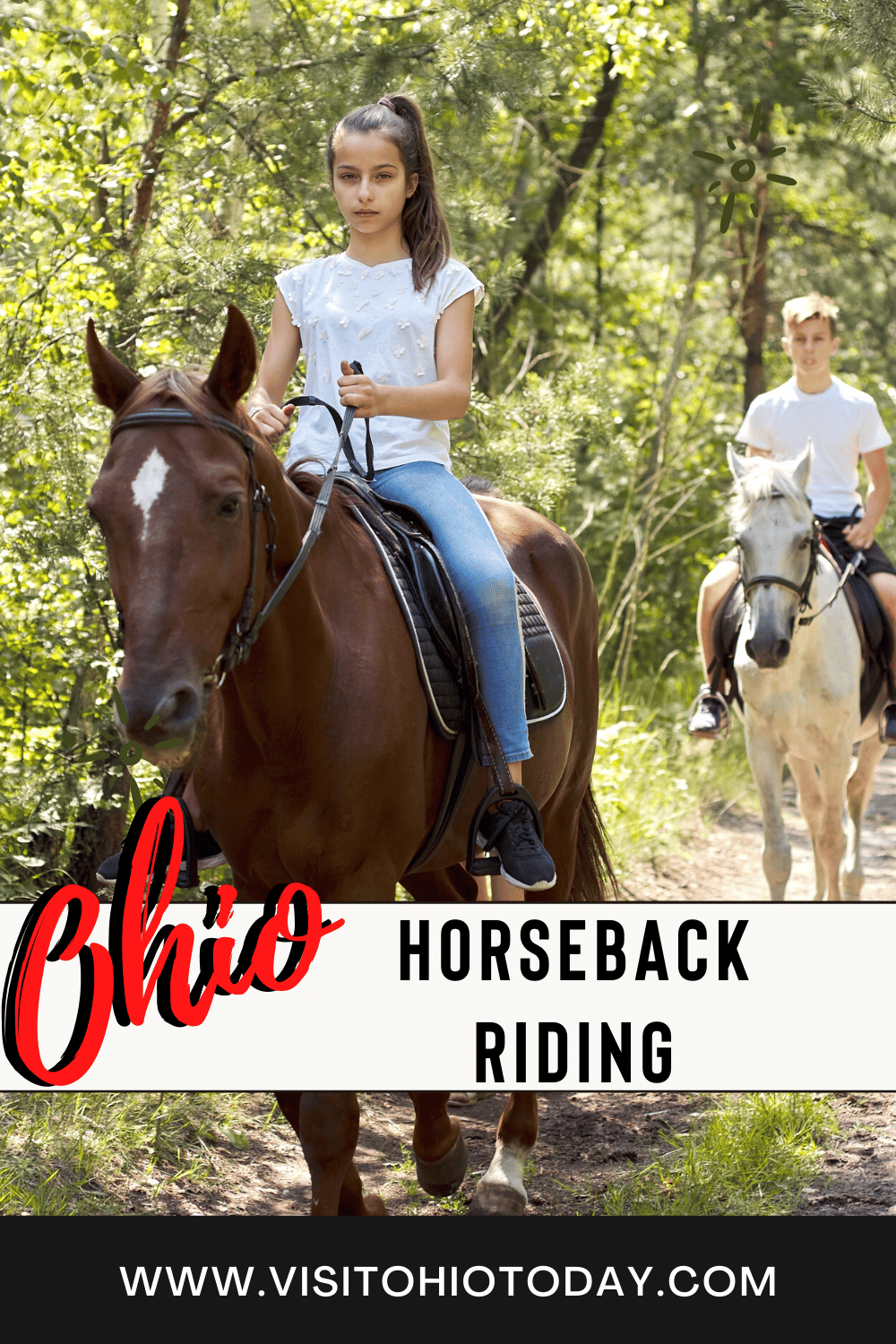 Map of Horseback Riding in Ohio:
Equestrian Ridge Farm
Equestrian Ridge Farm is a 200-acre horse farm located in scenic Vinton County in rural southeast Ohio. This beautiful establishment has been around since 2000. Some of the facilities that are on offer include:
12-stall horse barn
2 outdoor arenas
Indoor arena
Paddocks and pastures
Wooded trails
Lessons are offered to visitors and these lessons can be tailored for beginners and for people who also have a bit more experience. The instructors also consider which horse is suitable for the scenario. An example of this is someone who has never ridden a horse before, so the instructors will choose a more relaxed horse. There are usually between 15-25 horses available at any one time. Custom-made rides are available for visitors and this can be for couples, families, and solo rides. All of the trail horses are from backgrounds of abuse and neglect. They have been carefully rehabilitated with love and support.
Camping retreats are also available at Equestrian Ridge Farm and these are available all year round. It is recommended that you contact them directly. The website recommends that texting is the faster way to connect with them.
Address: 26711 Pumpkin Ridge Rd, New Plymouth, OH 45654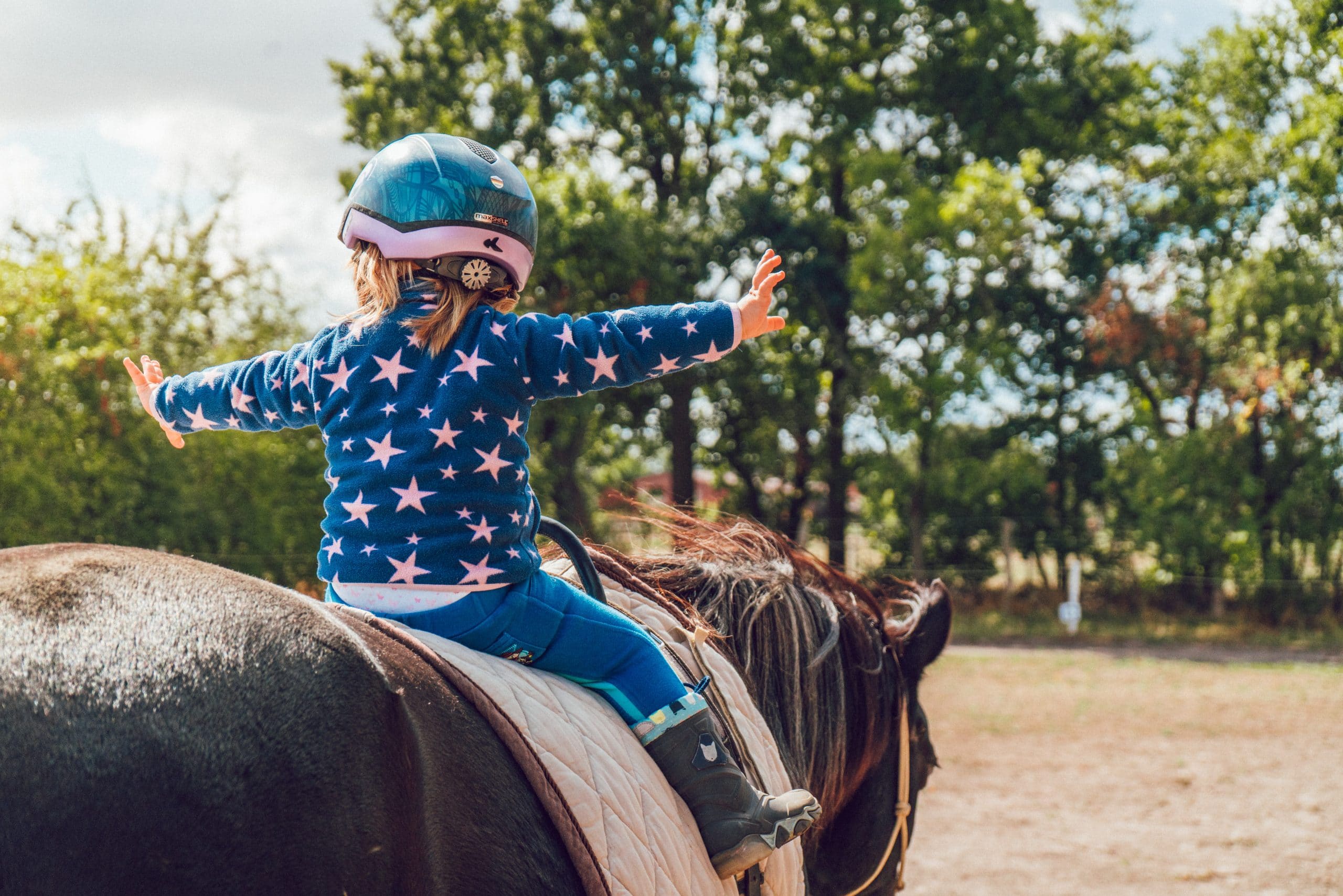 Marmon Valley Farm
The name Marmon Valley Farm was adopted by the Wiley's in recognition of the first homesteaders and this can be traced back to 1805. Two of the properties from these times can still be seen today. Today's camp is spread over three former farms and these farms were acquired over time. Bill Wiley's dream back in 1964 was to open up a farm that could be available for children. He thought it was important for youngsters to see how a real farm works. In the early days, there was an emphasis on looking after small animals and gardening.
Bill started opening up more areas of the farm to visitors and in turn, he decided to hire 4 members of staff. It was at this point that he decided to build stables. In 1970, the camp decided to acquire another farm and it was at this point that horseback riding was introduced. They also built sleeping quarters and a hay storage area.
In the early nineties, a historic log cabin was hauled to the camp and reconstructed, to be used as guest lodging, and a giant size covered wagon was constructed as well. In 2001 a 250' x 150' indoor arena was constructed allowing for year-round riding lessons, rainy-day alternatives, and horse show events.
Some of the activities that take place at Marmon Farm include:
Trail rides
Pony rides
Riding lesson
There is also a unique opportunity to adopt-a-horse. It is recommended that you call ahead if you would like to visit this lovely farm.
Address: 7754 State Route 292 S, Zanesfield OH, 43360
See our article about Marmon Valley Farm!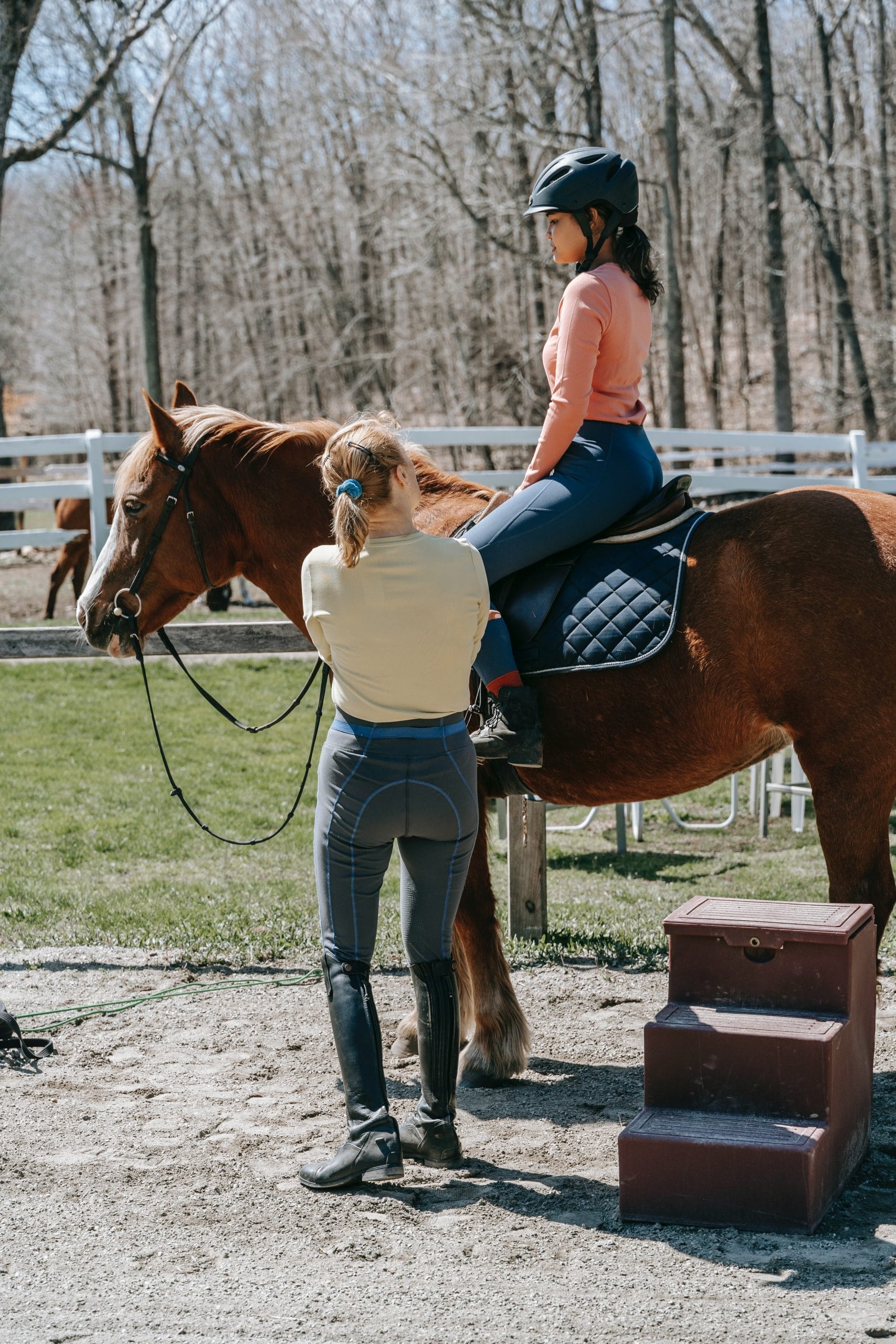 Uncle Buck's Riding Stable
Uncle Buck's Riding Stable and Dance Barn is a family operation. This business has been around since back in 1998. Uncle Buck's Riding Stable takes much care of their horses and the staff are very knowledgeable about each horse. There are three trails rides that are available:
The King Hollow Trail Ride
The Coal Bucket Trail ride
The Moonville Trail ride
Uncle Buck's provides some of the most beautiful and gentle horses in the business. Several of the horses have been rescued directly by Uncle Buck's or in partnership with The Last Chance Corral.
Uncle Buck's also has an open-air venue where people can come along and enjoy a concert. Cold drinks are available to purchase and there is also a large BBQ. The Moonville cabin is also a lovely place to stay for horse lovers. Visitors are also encouraged to bring their own horses so they can take them on the trail. If you would like to know more information, you can either call them directly or browse their website.
Address: 73930 Buck Lane, New Marshfield, OH, 45766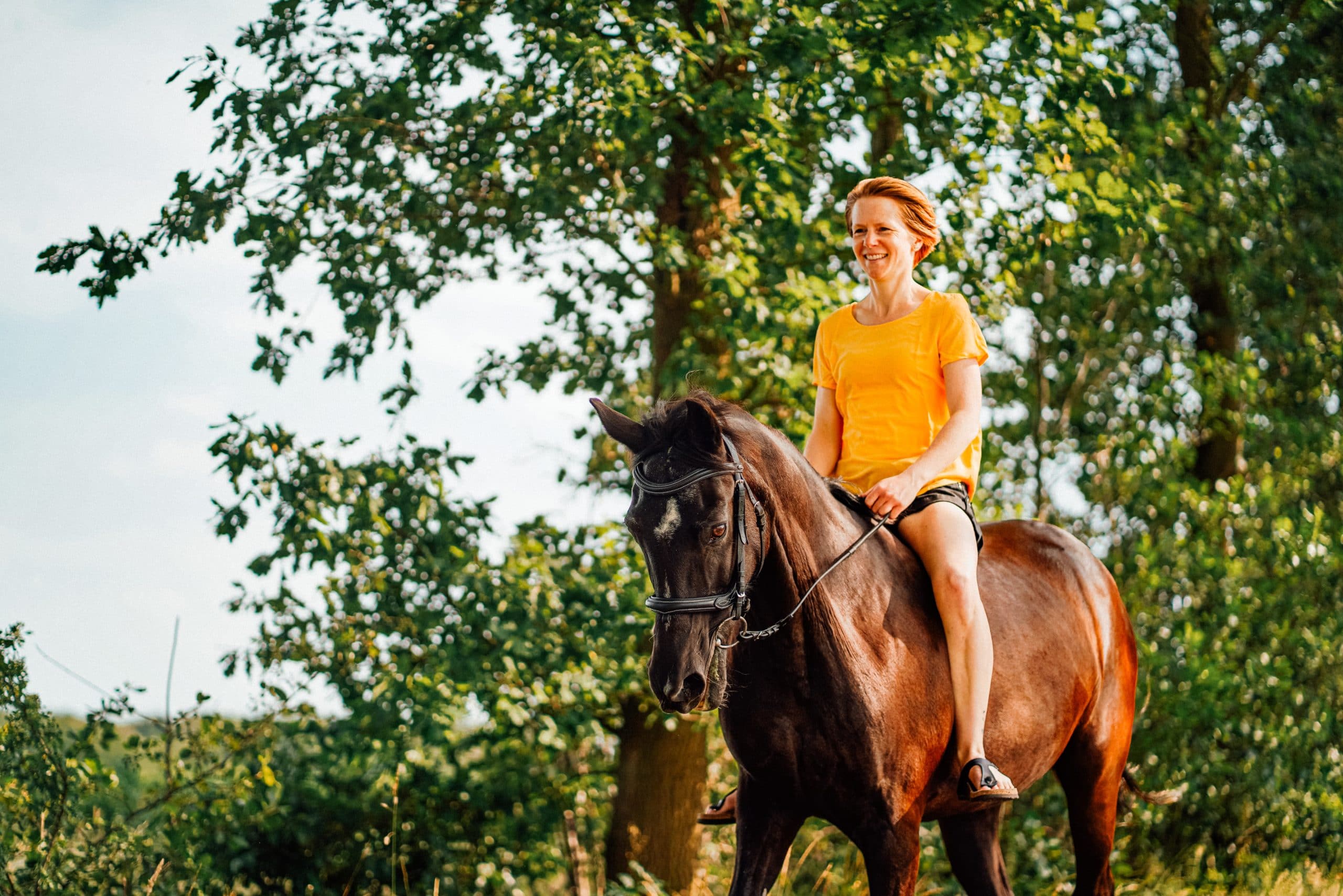 Blue Moon Acres
Blue Moon Acres is based in Laurelville, OH. This stable takes exceptional care of its horses. This small, beautiful place is based in the stunning Hocking Hills area. The owners and staff believe that every ride should be unique. Most of the horses have been in the stables for a few years and unless there is an appointment, the horses are not saddled up. The horses like to spend a lot of their time outside in the pastures and under the trees when there is some rain in the air.
Blue Moon Acres also makes a point of not accepting any visitors or riders without an appointment, so drive-ins are not accepted. Blue Moon Acres also will not accept bookings if the weather is adverse for the horses. This could be that it is too hot, or it is raining, snowing, or windy.
All horses at this establishment live here and are not traded off in the winter. If you would like to visit this charming establishment, bookings must strictly be made in advance, so please book ahead to avoid disappointment! We advise you to contact them by phone or through their charming website.
Hocking Hills Horse Rides
The wonderful Hocking Hills Horse Rides is located in a stunning location. Hocking Hills Horse Rides offer guided horseback rides and they pride themselves on being a small family business as well as being a farm.
The stables are open on Monday, Thursday, Friday, Saturday and Sunday. They do two rides a day and these times are 11:30 am and 1:30 pm.
Hocking Hills Horse Rides also offers a few special extras that a lot of places do not do. An example of this is the 'Western experience'. FOR NO EXTRA FEE – visitors have the opportunity to groom, tack, and feed the horse that they will be riding. All they ask is that you come an hour and a half early if you have the morning ride. If you have the afternoon ride plan on staying about an hour and a half later.
Lessons are also available with Olivia. Olivia is an exceptionally well-trained and experienced teacher who can offer lessons for visitors of all ages and of all abilities.
It is recommended that you phone ahead to book your lessons and horseback riding experience. They also have a lovely website.
More Horseback Riding In Ohio
There certainly are other places that are available for Horseback riding in our stunning state!
Amish Country Riding Stables
Faith Ranch
Ashley Moores Stables
Guggisberg Swiss Inn Winery and Riding Stables
Smoke Rise Ranch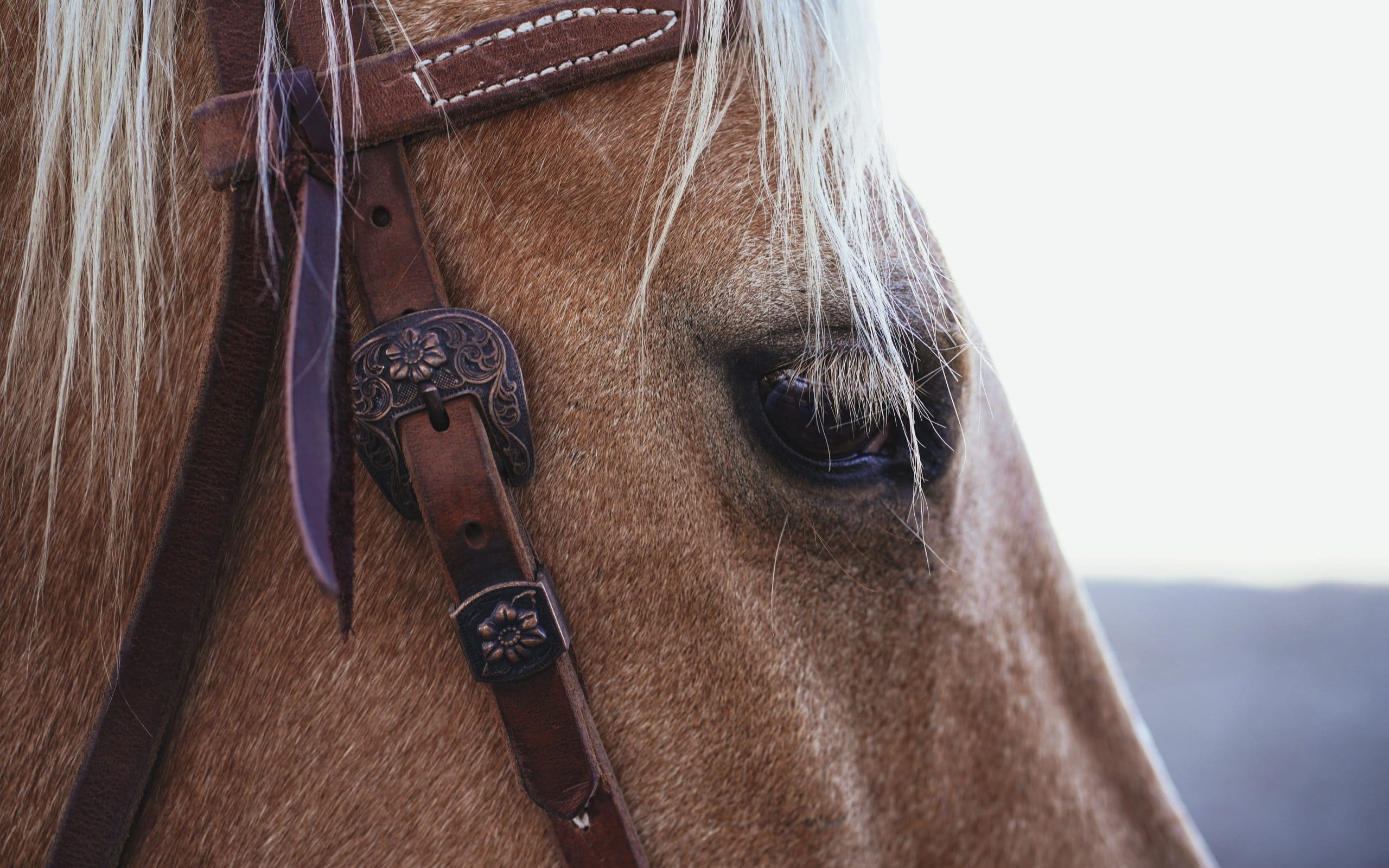 (Uncle Buck's Riding Stable) Husband and I were visiting and we decided to go horseback riding. We are both beginners and we had an awesome experience. We took the hour long ride and it was so much fun! Olivia was our guide and she was very helpful, patient, and friendly. Would definitely recommend stopping here if you're in town!

Sarah P. (Yelp)
Cindy's Insider Ohio Tips!
I've been lucky to visit several stables in Ohio. My biggest tip is to make sure you savor the beautiful surroundings as you ride and try to connect with the horse.
Have You Been Horseback Riding In Ohio?
Where did you go? Are you experienced in horseriding, or just dipping your toe at the moment? We'd love to hear from you and about the experiences you've had!
If you love the great outdoors as much as we do, have a look at our Ohio camping suggestions! Maybe you like camping with a touch of glamour? If so, Columbia Woodlands may be more to your liking! Or take to the skies with Hot Air Balloon Rides Ohio.
Whatever it is you are looking for, we have Ohio covered!
Hello! We have done our very best to ensure that the accuracy of events, hours, addresses, etc, are up to date. Please know that information can change due to weather, updated health and safety challenges, etc. If you find incorrect information, please send us an email at [email protected], and we can get it updated.

To be updated and stay connected, subscribe to our newsletter.