Columbia Woodlands – Dreamcatcher Cabin
This post contains links to affiliate websites, such as Amazon, and we receive an affiliate commission for any purchases made by you using these links.
Columbia Woodlands is home to the upscale Dreamcatcher Cabin. 400 acres of beautiful scenery, luxury accommodations, and activities make for a memorable Ohio vacation!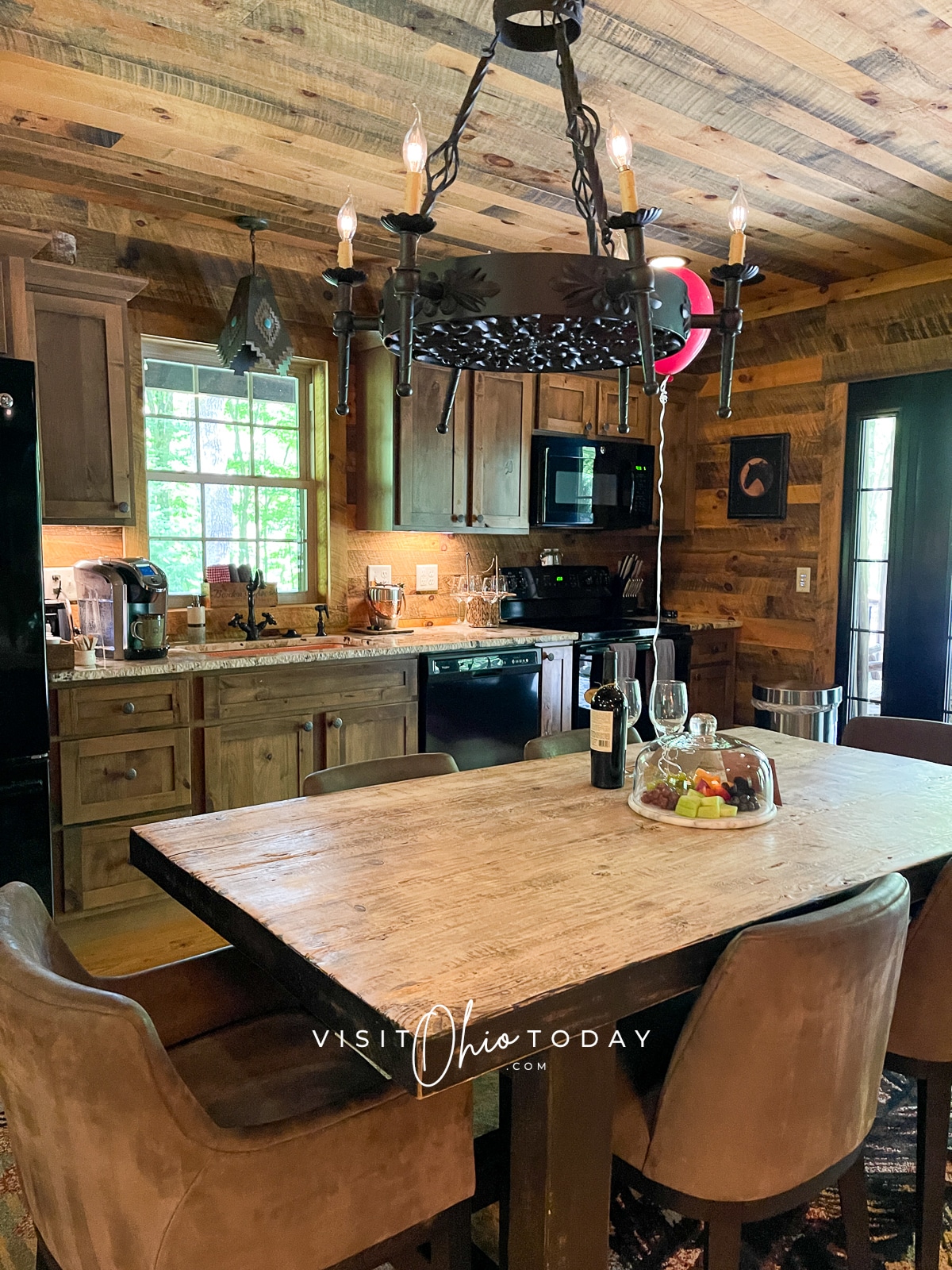 Columbia Woodlands is a 400-acre luxury property located in Dover Ohio. Columbia Woodlands offers Luxury Tent Camping, aka Glamping as well as upscale cabin rentals. The property is located down a private drive behind a gate. Today, we are going to specifically be sharing about the Dreamcatcher Cabin at Columbia Woodlands!
The Dreamcatcher Cabin at Columbia Woodlands
As you enter the beautifully inviting paved driveway to get to the Dreamcatcher Cabin you will be instantly drawn to this stunning cabin. It is truly a statement piece!
You will be welcomed by the amazing 10-foot wide wrap-around porch that has ample seating on each side! The porch and steps are decorated with lanterns and battery-operated candles, flowers, and plants. There are two high-top tables, each with 4 chairs that make it easy to enjoy your meals outdoors!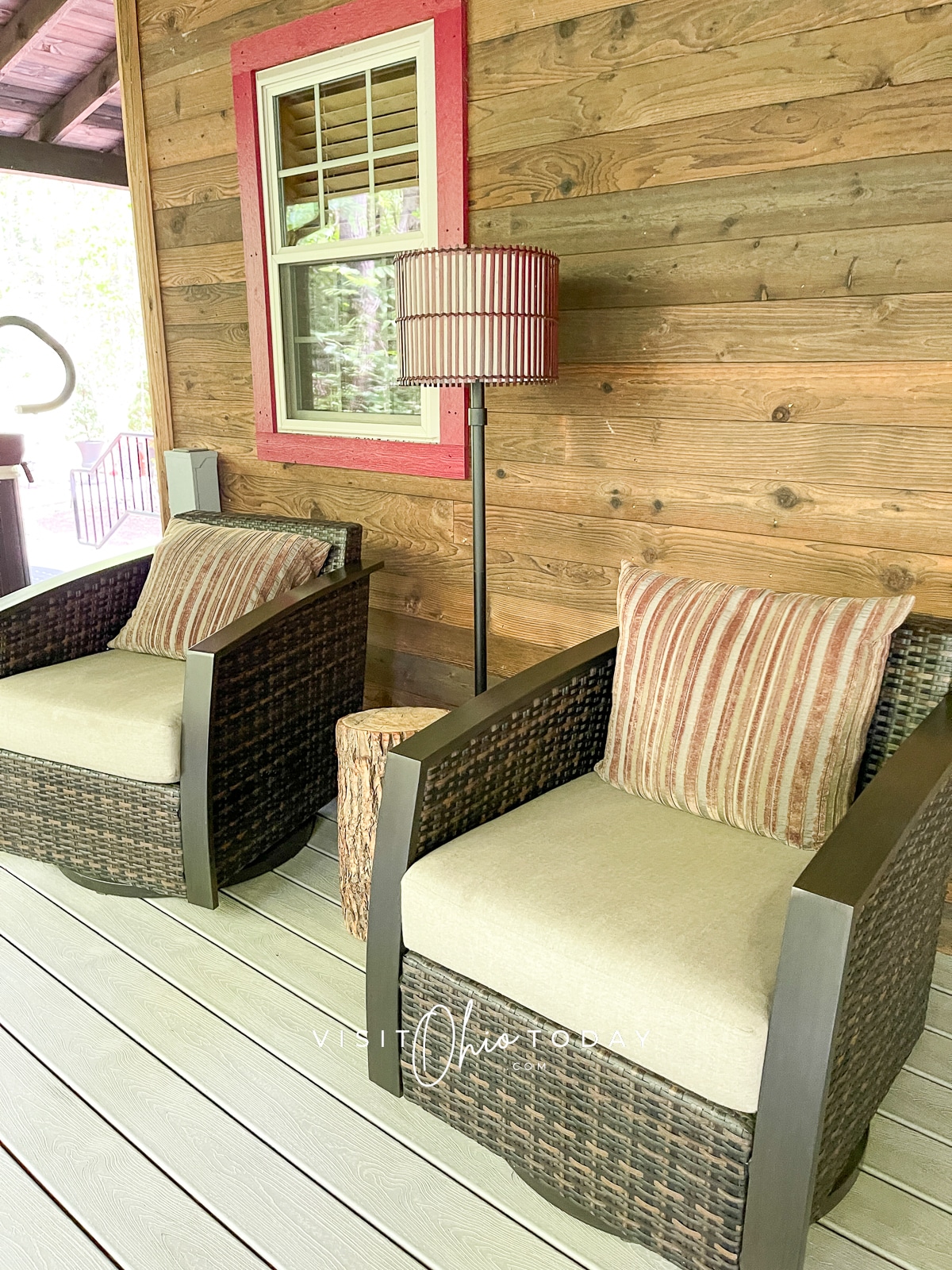 There is a corn hole, a grill, a hot tub, and three separate seating areas on this covered porch, in addition to the tables. The porch can be used in all types of weather! We were thankful to have it on a rainy day!
You'll spot some tree lights on each side of the cabin that add just the perfect amount of relaxation to the atmosphere. When we say that this cabin is inviting, we mean it!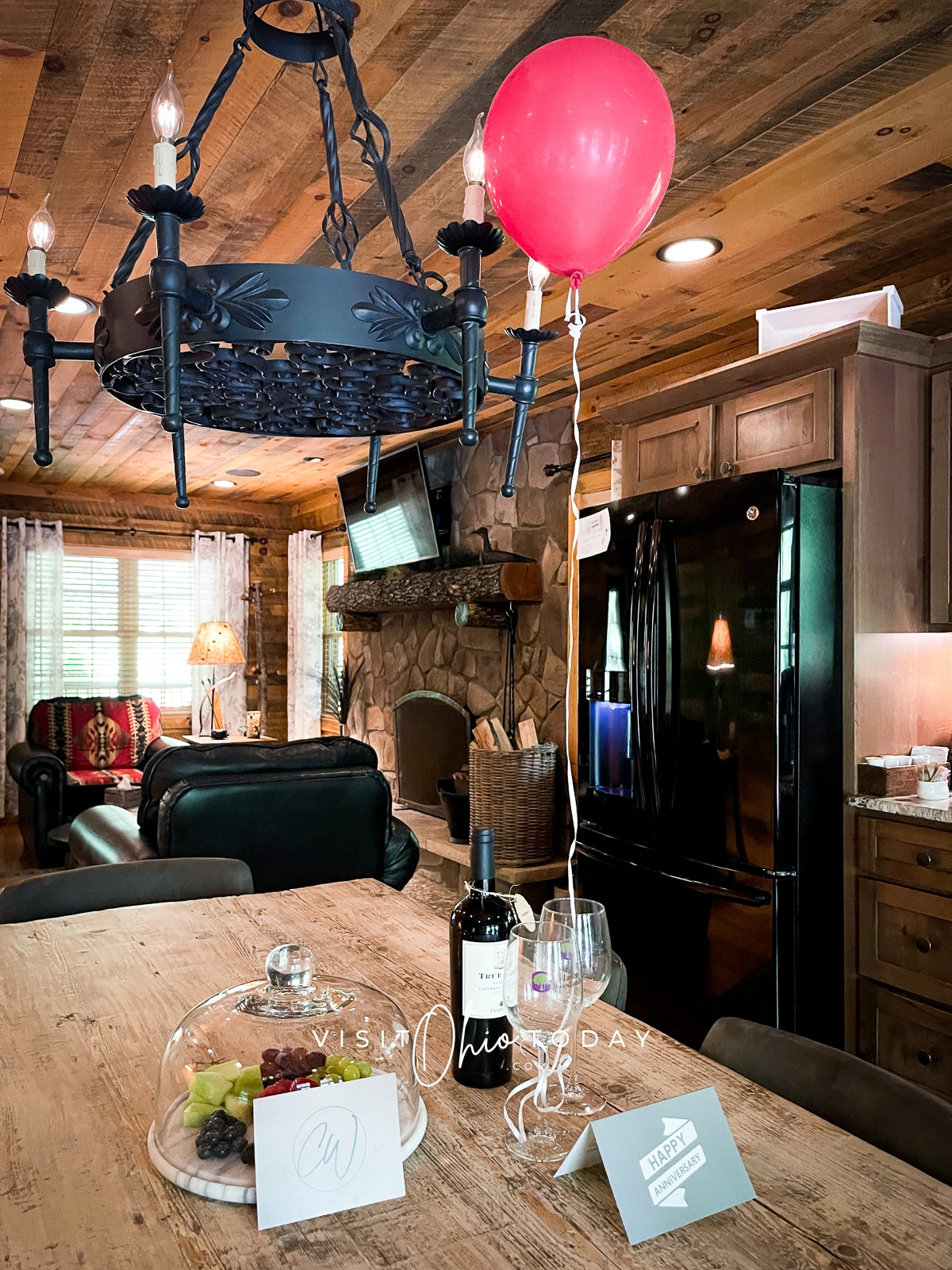 Once inside, you enter into the open kitchen and living room floor plan. The full kitchen is equipped with all the appliances and kitchen tools that you need. There is a large rectangular table that seats 6 people. There is a Keurig coffee machine and they provide the pods. Run out? Just text the concierge for more!
The living room has two comfortable chairs and a couch that are positioned in front of the wood-burning fireplace. Also located on the first floor is a laundry closet complete with a stacked washer and dryer as well as a half bath.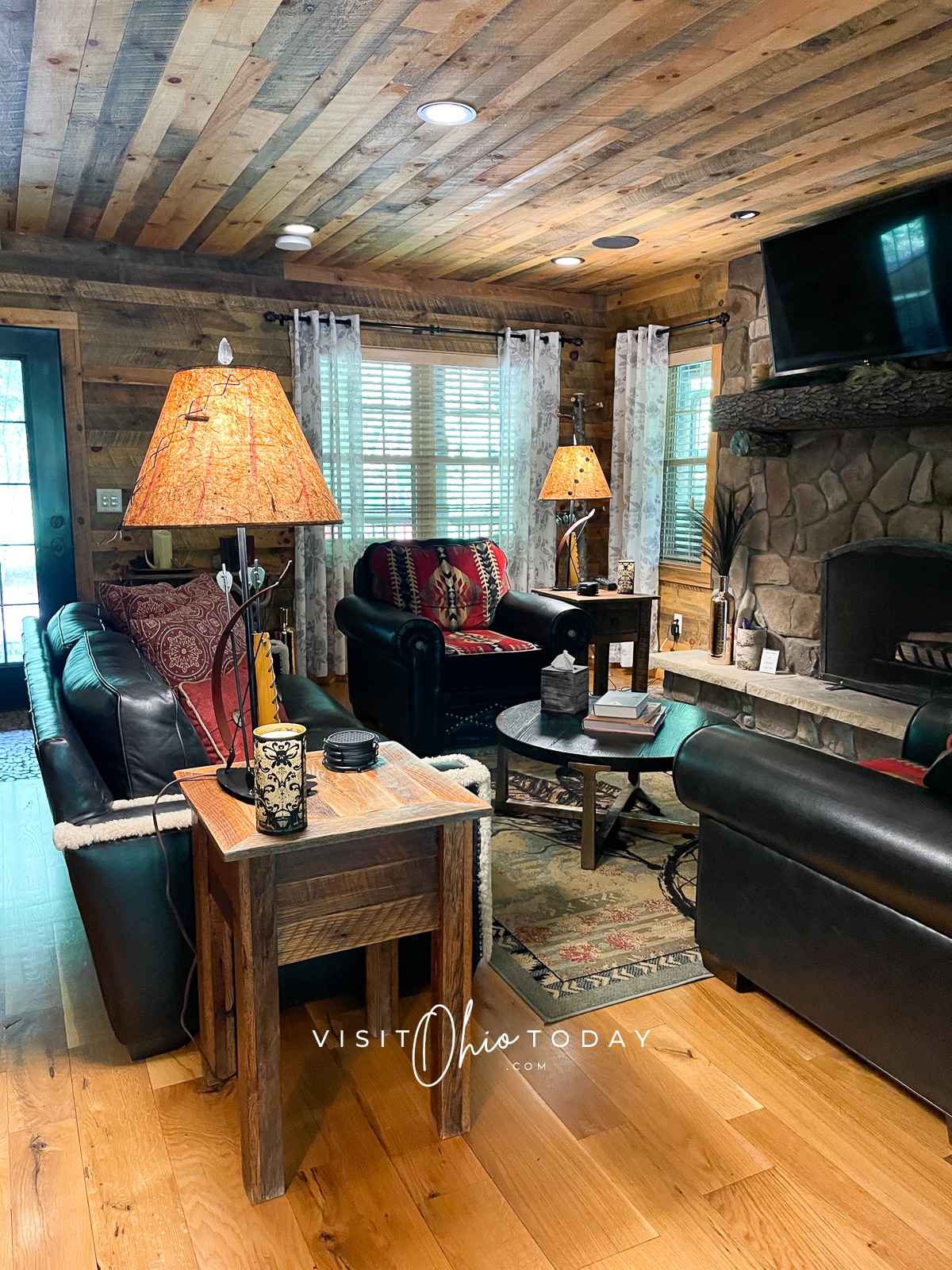 You can walk straight through the first floor to the back porch. Out that door of Columbia Woodland's Dreamcatcher, you will find the hot tub and the firepit area. The hot tub can seat 7 and each seat has different jets. We had fun finding our favorite seat for the best jet position. We also liked that the hot tub offered 3 seats that were a touch higher and 4 deeper seats. This was especially great for the shorter folks in our party!
Head up the wide gentle staircase to find the master bedroom complete with two closets and a balcony that faces the front of the cabin. This is perfect for animal watching and coffee drinking in the morning. There is a second bedroom upstairs. Both bedrooms have king-sized beds with the most comfortable bedding! There is a full luxury marble bathroom.
Video Tour of the Dreamcatcher Cabin at Columbia Woodlands
Technology at Dreamcatcher Cabin – Columbia Woodlands
All of the cabins use a form of smart technology, which we love! You can control the lights, temperature, music etc from a touchscreen. One of our favorite things was the music, you could control where it was being played: fire pit area, hot tub area, porch, inside, etc. It had ample music genre selections available!
Of course, there is wifi, in case you need to connect to check on work or simply upload some pictures of your fabulous stay to social media! There is a 40-inch flat TV that boosts lots of channels from Dish TV, but to be truthful, we were so busy we never turned it on! There is also a TV in each bedroom, upstairs!
Dreamcatcher Fire Pit Area – Columbia Woodlands
You can access the firepit area from a paved walking path that is neatly landscaped on each side. The walking path curves out into the fire pit area where you can find a paved seating area with 6 comfortable seats waiting for you.
Don't know how to start a fire? That's okay! Each and every firepit is already set up for you. Complete with wood, fire starter sticks, and paper! There is a HUGE supply of firewood ready to go for you. It is in a 3 sided shelter to help keep it dry. You will not have the problem of running out of firewood, guaranteed. But if you do, (you guessed it) just text the concierge!
We spent a lot of time around the fire during our stay here. When on vacation, we love to plan our next vacation! It is just something fun we do as a family, so we always have the next vacation to look forward to! One of my kids really wanted to go to Atlantis! While searching, I found this article about how to go to Atlantis for free! It provided some great tips and tricks! We are strongly considering Atlantis for our next out-of-state vacation!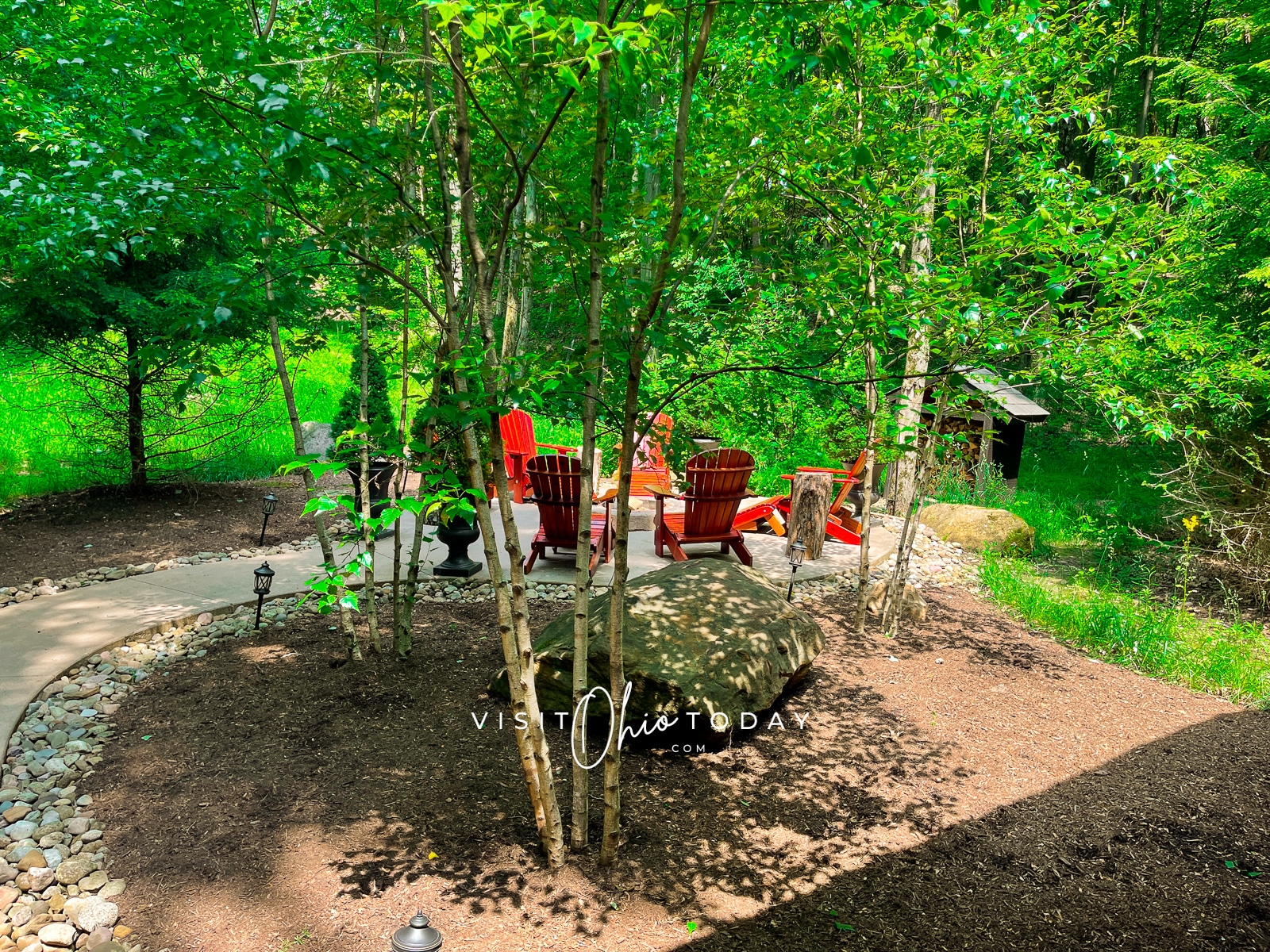 ALL of the firepit areas whether at cabins or chalets are set up for you, along with an ample supply of paper, fire sticks, firewood, and firestarter. If you need sticks to roast your marshmallows or hotdogs, just let the concierge know! They can help you!
Behind the firepit area, at Dreamcatcher, is a grassy meadow that provides the most beautiful scenery while you are enjoying the fire. While we didn't see any deer in this specific area, we did see some on both sides of the house. The deer liked to wander past the house in the early morning (6-8 am) and in the evening around (5-7 pm). One morning, there was a beautiful fawn about 5 feet from the porch. I enjoyed his company while I sipped my morning coffee!
Special Touches at Columbia Woodlands
One thing I have noticed is that Columbia Woodlands offers so much more than you can find on its website or social media. This place is a hidden gem, so if you think you'd like it based on their website, you will absolutely love it because there is so much more! I've found that in many of my favorite places that I stay, this is the case.
So let me share some of the little things that are special touches at Columbia Woodlands. Prior to your arrival, you fill out a preference sheet. You are asked what size robe you would like, what temperature you would like your cabin/tent, what type of music you'd like playing, and if you'd like white wine, red wine, or a non-alcoholic option.
Columbia Woodlands has started to provide breakfast and lunch with each cabin and tent rental. It is included in the nightly rental. You do not get to choose what you get and the menu rotates seasonally. We had two cabins rented during this visit and we got the same food each day during our 3 night stay. You can learn more about that below in the food section.
Upon arrival, you'll find your complimentary wine and charcuterie board. On previous occasions, we've had a vegetarian gluten-free board to fit our needs, this time around it was all fresh fruit and was SO delicious! If you are celebrating a birthday, anniversary or other special occasion let them know! They'll help you celebrate with something special!
Bedside, you'll find a bottle of Fiji water and a chocolate. We love the little touches that make this palace even more special! In the bathroom, you will find extras of the toiletries you may have forgotten at home!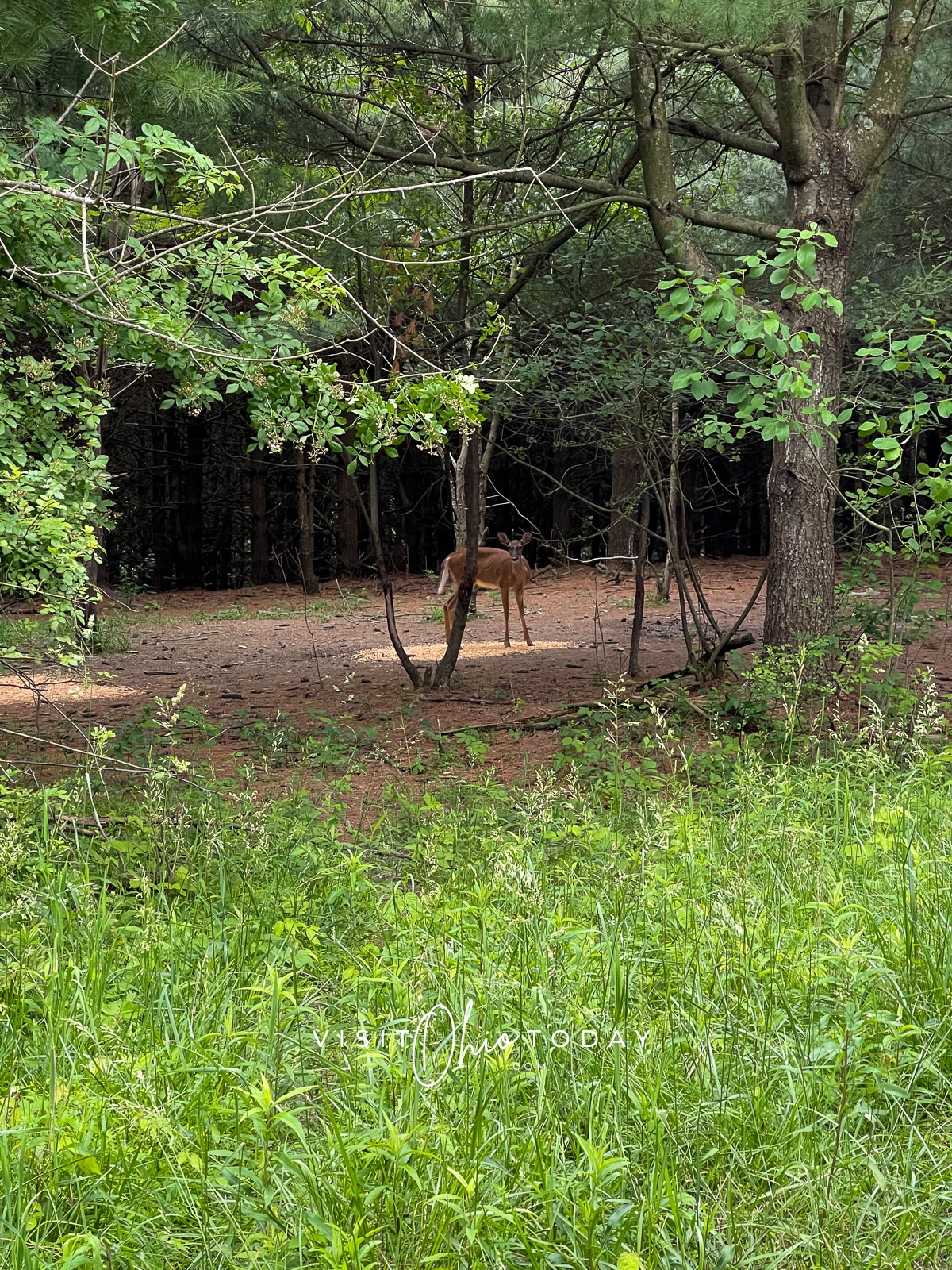 Animals at Columbia Woodlands
One of my favorite things (okay I have a lot with this place) is the wildlife! There are so many deer on site! It is common to see deer most times of the day when you ride the golf cart trails. Towards the back of the property, the staff feed the deer which makes for easy viewing.
There are some wild turkeys onsite as well. If you are lucky enough to be there at the right time of the year, you may spot some baby turkeys! There was a set of 6 baby turkeys that we kept seeing around the property during our June visit.
Turtles! You can see at least two kinds of Ohio turtles at Columbia Woodlands. We spotted some Eastern Box Turtles on the golf cart path up to Ceremony Hill and also the grassy area below Ceremony Hill. We also spotted some turtles sunning themselves on a log at Bullfrog Pond but they moved so quickly that we couldn't get close enough to identify them!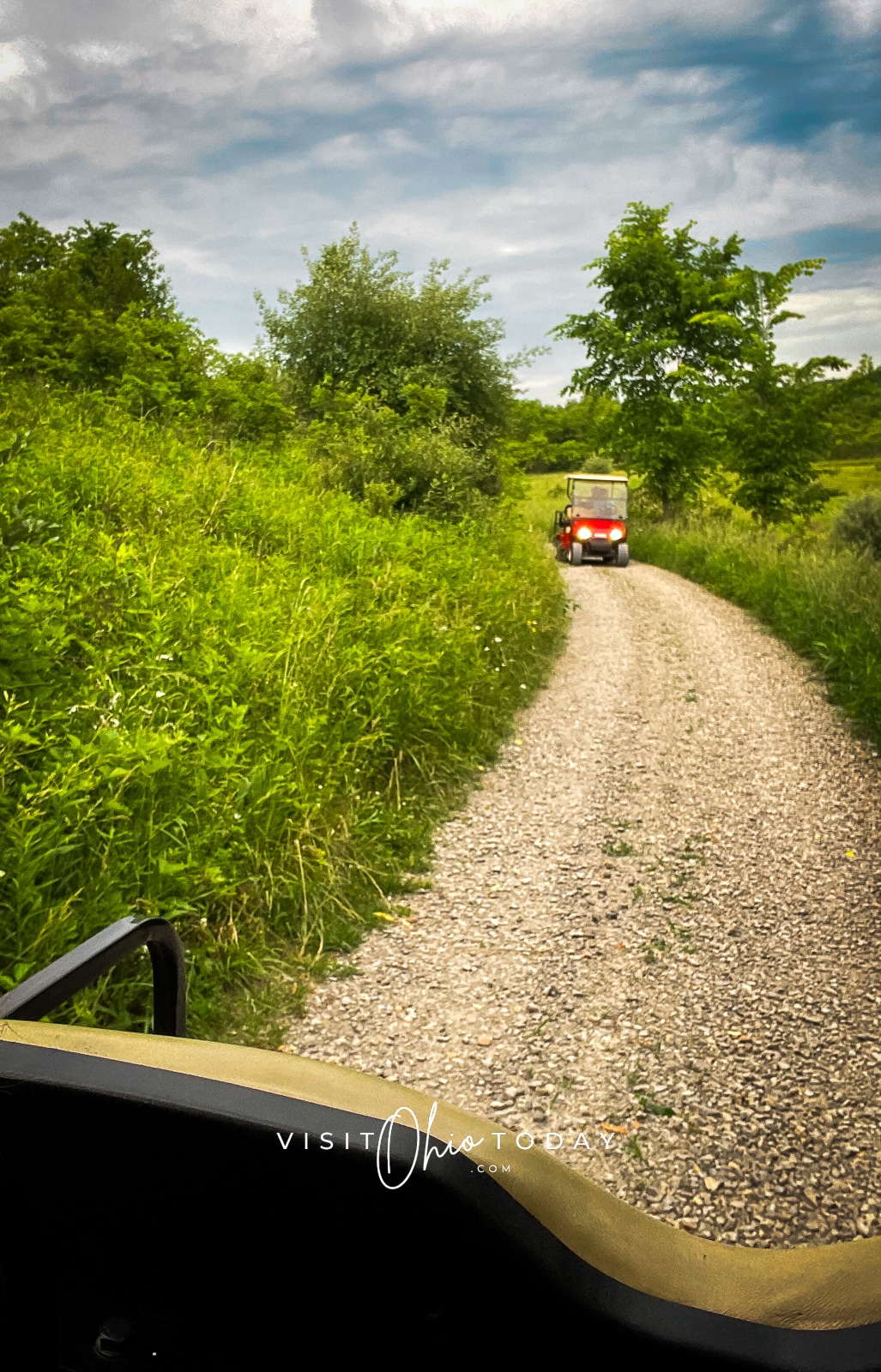 Golf Carts at Columbia Woodlands
The golf carts at Columbia Woodlands are one of the unique offerings that add to the fun of this property! Each cabin and tent gets an electric golf cart! The cart has the name of your cabin/tent so you can easily tell them apart. Use the carts to move around the property to different areas such as Bluegill Pond, Bullfrog Pond, Ceremony Hill, and more. We love to take the carts out to see the wildlife!
The carts have basic rules: no off-roading, drive on gravel or paved paths, turn off when not in use (helps the battery life), charge overnight, etc The golf carts get a lot of use, so if you feel that yours is not quite driving correctly, let the concierge know. We had one that was very squeaky and was scaring the deer when we drove it, but they quickly gave us a replacement.
Concierge at Columbia Woodlands
The Concierge at Columbia Woodlands goes above and beyond. The Concierge is available via text or call from 7 AM to 10 PM. Of course, if there is an emergency, you can reach out, outside of those hours.
The Concierge is there to help you with anything you need. Drink order, food order, problems, suggestions, information, you name it, they can help! Want to change your food delivery from your cabin to Ceremony Hill? Just send them a text!
The level of hospitality is over the top in a good way at Columbia Woodlands! Trust me, you are going to love this and you deserve it, we all do when on vacation!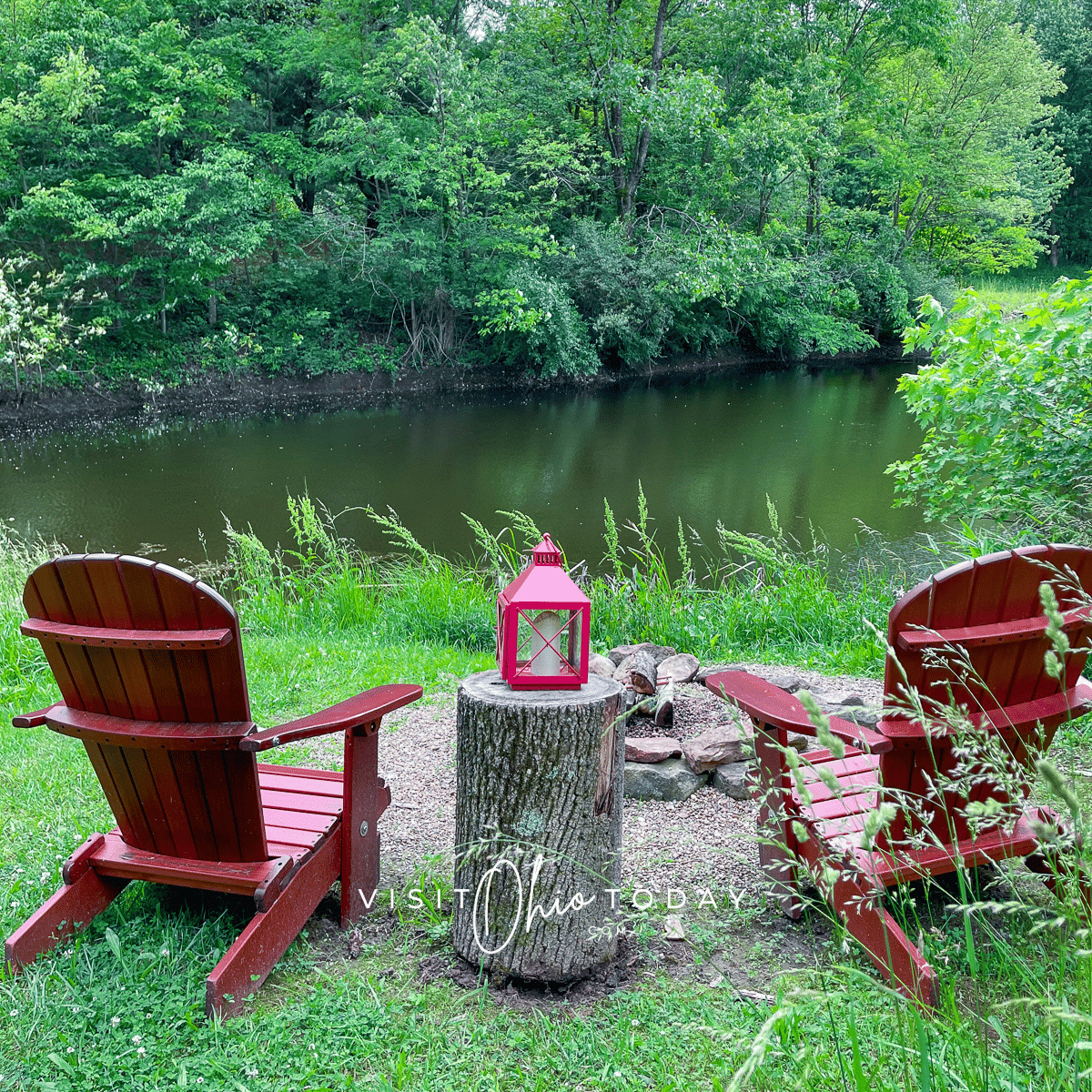 Food at Columbia Woodlands
Columbus Woodlands has started to provide breakfast and lunch with each cabin and tent rental. It is included in the nightly rental. You do not get to choose what you get and the menu rotates seasonally. We had two cabins rented during this visit and we got the same food each day during our 3 night stay.
Breakfast at Non Food Allergy Cabin: muffins yogurt, granola, mixed fruit bowl (seemed to have been possibly thawed fruit)
Breakfast at Food Allergy Cabin: This cabin was vegetarian, dairy-free, gluten-free, and almond-free – dairy-free yogurt, granola, and a bowl of fruit. We did get some fried tofu the first day only.
Lunch at Non-Food Allergy Cabin: Wraps, Pasta Salad, Chips, and Cookies
Lunch at Food Allergy Cabin: This cabin was vegetarian, dairy-free, gluten-free, and almond-free – this cabin got only salads each day.
The non-food allergy cabin got way more food, though it was mostly the same thing each day, so if you want variety just be sure to pack some extra munchies!
The chef did come in on his day off to meet us after we checked in, which was a nice touch. He said he wanted to speak with us directly to make sure he understood our needs. He asked us what we wanted to eat, he asked us ideas of what to feed us, etc. I had previously filled out paperwork and confirmed by email and phone about our needs, so this was nice to see he was checking again and taking it seriously. He had some great ideas for breakfast including breakfast burritos and doing some veggie wraps for lunch, but we did not see any of that. But that's okay, we brought a lot of food because I didn't know what to expect.
One day our lunch order was shorted by half. We got two salads instead of four salads. I say this not to complain, (actually the opposite) I am sharing because that evening the concierge showed up with some "gluten-free, dairy-free, almond-free" peach cobbler for the four of us! I hadn't said a word about the situation, but they realized the error and made us a sweet treat. My point is that they go above and beyond to exceed your expectations.
We had the most amazing stay at Columbia Woodlands! We highly recommend it. It is a beautiful property with luxury cabins and glamping tents. They have amazing concierge services and you can have meals anywhere on the property. We stayed 3 nights and never left the property. We explored the property on the included golf cart, hiked, canoed on the Lake, relaxed in the hot tub and did an extra wine tasting. This is a hidden gem!

Caseya1979 (TripAdvisor)
Cindy's Insider Ohio Tips!
Each time I visit Columbia Woodlands, my love for it grows stronger. It feels like a woodland resort where there's no need to venture elsewhere. I absolutely enjoy cruising around the trails in the golf cart, observing the deer peacefully grazing! The Dreamcatcher cabin was ideal for either a family of four or two couples. There's plenty of space to relax both inside and out, although there's only one full bathroom in this cabin, which may be tricky for 2 couples.
Where is Columbia Woodlands located?
Address: 6593 McKracken Dr. NW, Dover, Ohio 44622
Phone: 844-681-7500 | Website to book
Let's go to the Dreamcatcher at Columbia Woodlands
Have you been to any of the cabins or tents at Columbia Woodlands? We would love to know! When we shared on social media we were there, so many of you shared you had been too! Tell us where you stayed! Drop us a comment below!