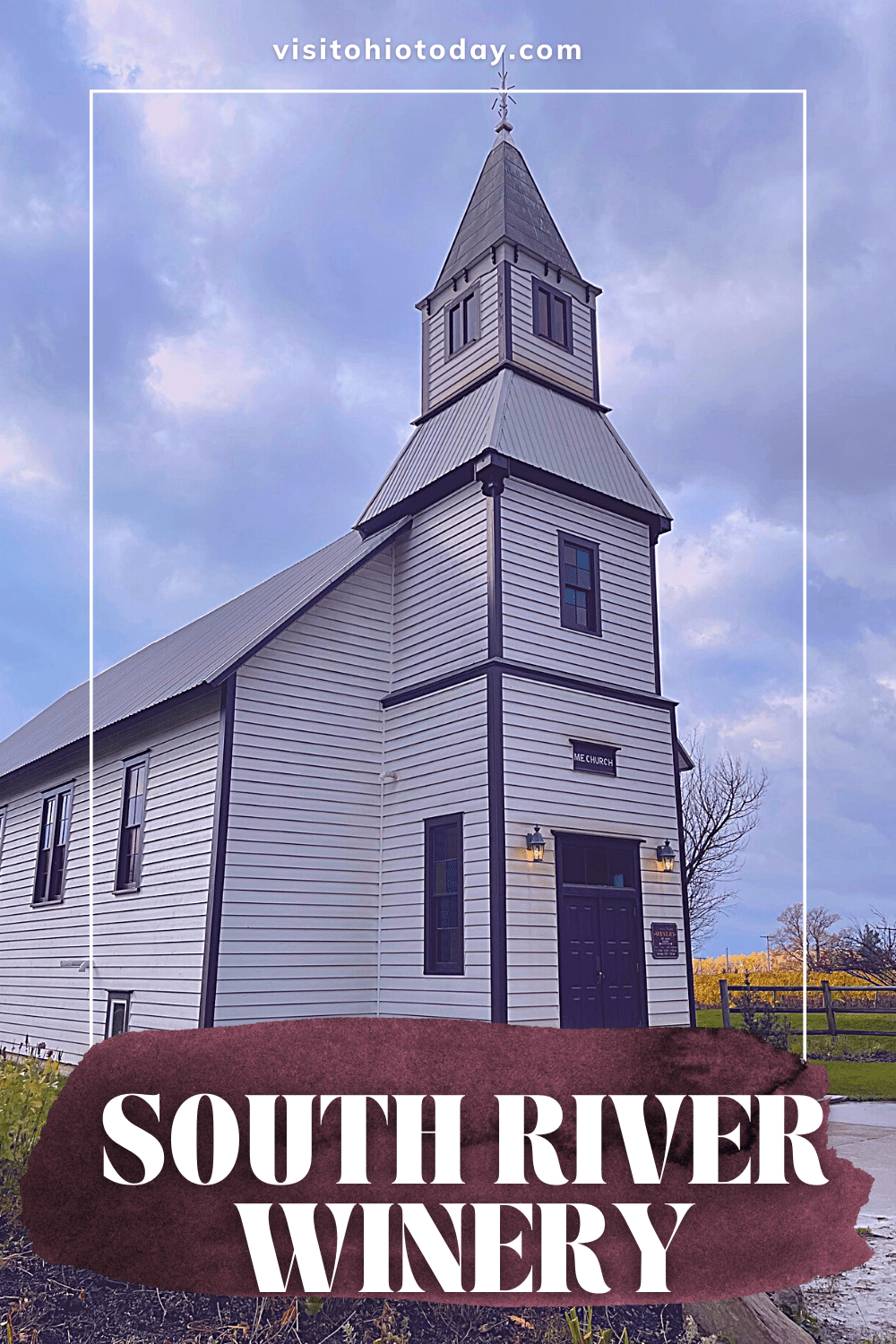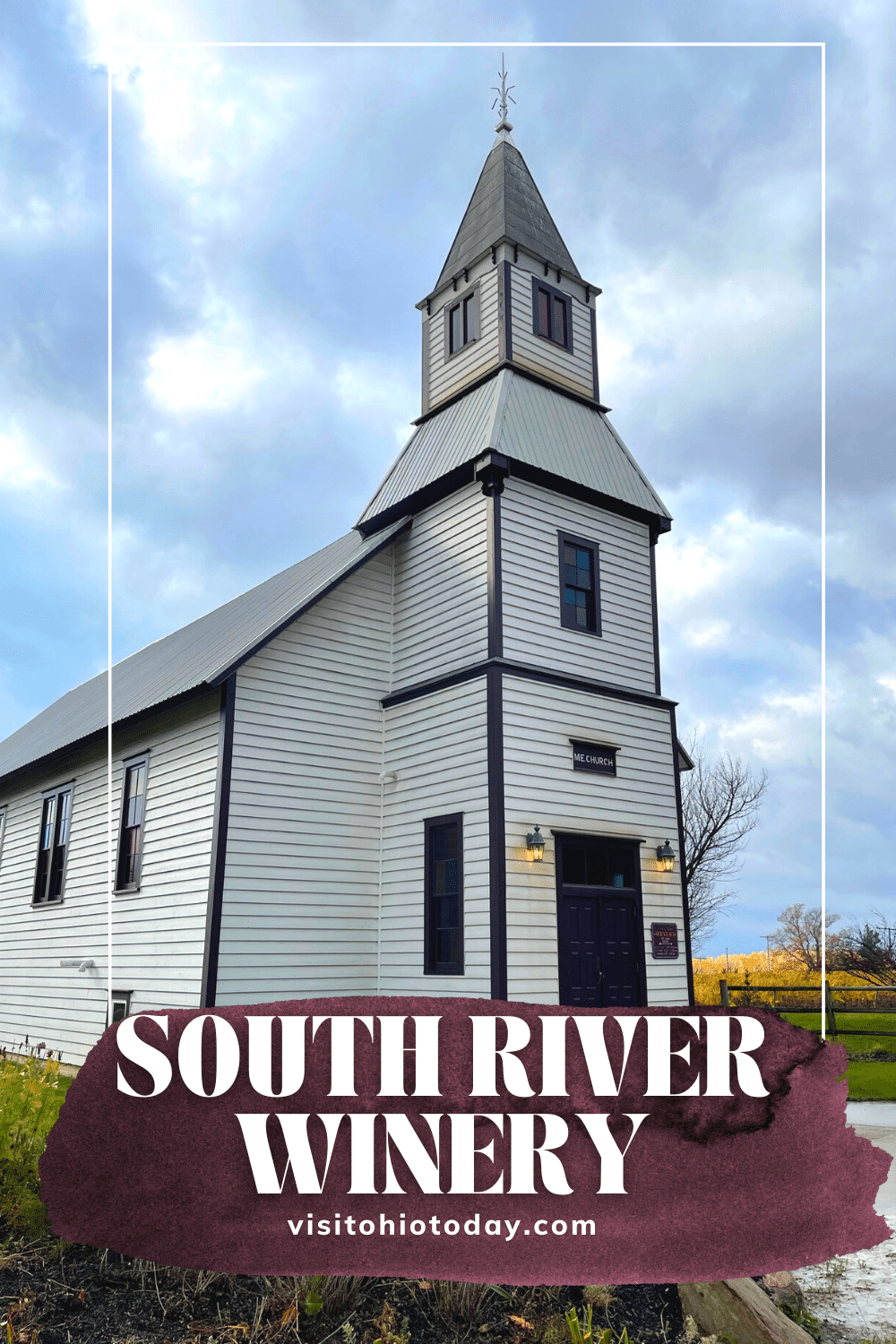 The tasting room of South River Winery is a beautiful century old church that was moved from Shalersville, Ohio to its current location in the Grand River Valley.
South River Winery has a variety of wines from sweet to dry that can be enjoyed either inside the unique South River Winery tasting room while sitting in a church pew or on the grounds under the pavilion or while roaming through the South River Winery itself.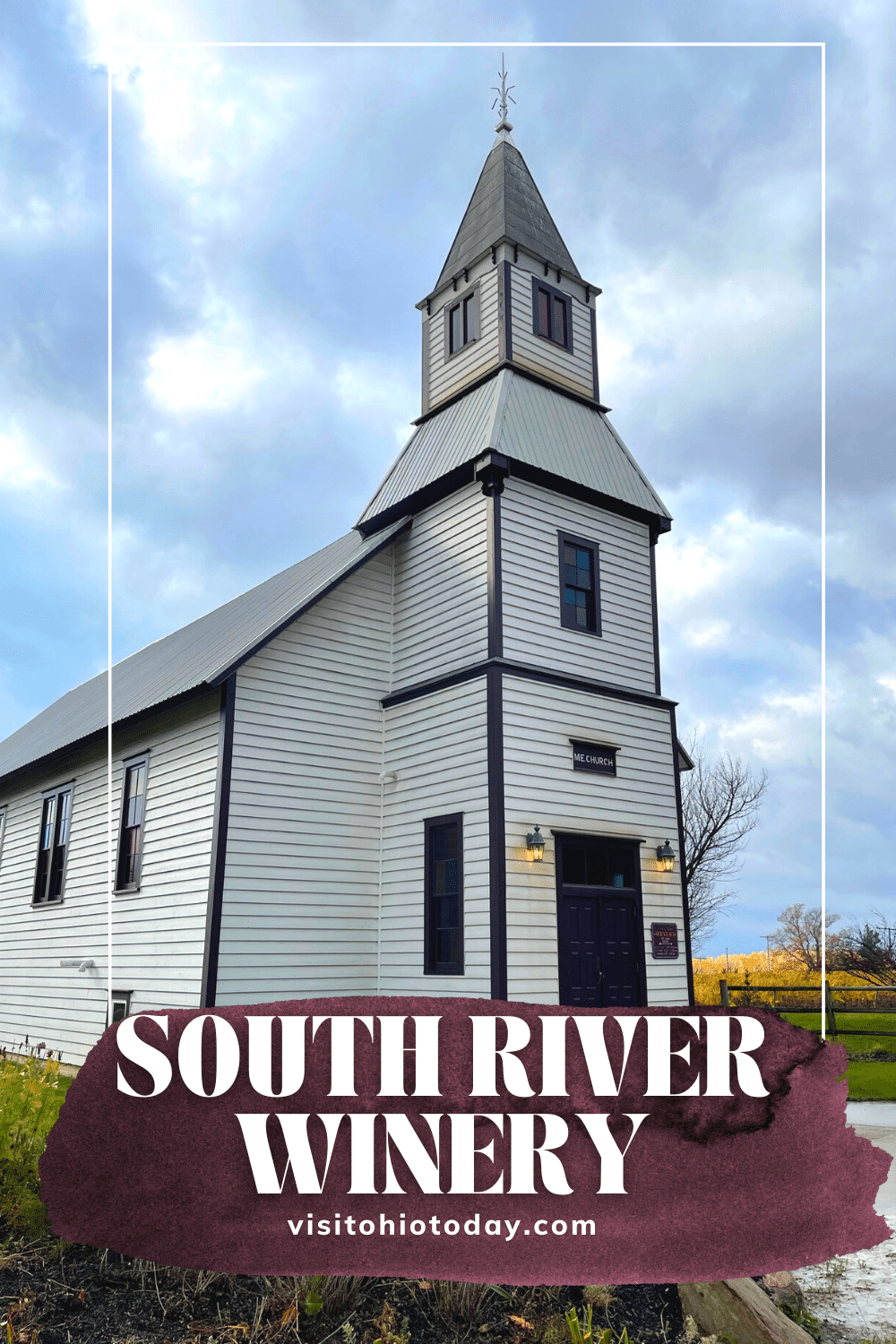 Visit South River Winery
South River Winery welcomes wine lovers seven days a week to their beautiful 140 acre property located in the Grand River Valley. Although South River Winery does not have a kitchen, guests are welcome to bring their own food and enjoy a picnic while enjoying a range of delicious wines.
Guests can decompress on the veranda, near the outdoor fireplace, on one of two pavilions, or at one of the pews in the tasting room. South River Winery provides a serene space to enjoy your wine tasting and only occasionally invites musicians in for live music.
South River Winery's unique tasting room is a century old Methodist Episcopal Church that was originally located in Shalersville, Ohio. Owner of South River Winery, Gene Sigel, was fascinated by an abandoned church while on his way to Kent, Ohio. He stopped to ask permission to photograph the building and ended up being offered the structure if he moved it himself.
Sigel took the time to dismantle the building and move it to its current location where it now sits as the focal point of South River Winery. If you visit the tasting room at South River Winery, you can still see the interior door, gorgeous hardwood floors, some of the stained glass windows, and sit in the original pews. The "church winery" theme continues with their creative wine names including Karma, Trinity, Creation, and Temptation.
Stop by the original interior door for a photo op with the nun… but do not steal the glasses! You are invited and welcome to take your wine with you as you follow the path to visit the Red Eagle Distillery, located just west of the South River Winery, which is also owned by the same family. M Cellars is also within walking distance from South River Winery, right across the street from Red Eagle Distillery.
The bar staff at South River Winery are very conscientious of their guests and all wore masks out of concern for Covid-19. Guests are asked to wear a mask when not seated to eat or drink. Busses, shuttles, and limos are welcome at South River Winery, but they do request that you call ahead to let them know how many people will be arriving and the time of arrival.
South River Winery Video
South River Winery Wines
2017 Sémillon (dry white)
2020 Pinot Grigio (dry white)
2019 Chardonnay (dry white)
2019 Dry Riesling (dry white)
2018 Pinot Noir (dry red)
2018 Malbec (dry red)
2018 Karma (dry red)
2018 Cabernet Franc (red)
2018 Trinity (dry red)
2018 Creation (sweet white)
2019 Temptation (sweet blush)
2019 Riesling Winery Reserve (sweet white)
2019 Blush Ice Wine (sweet blush)
2017 Concord Ice Wine (sweet red)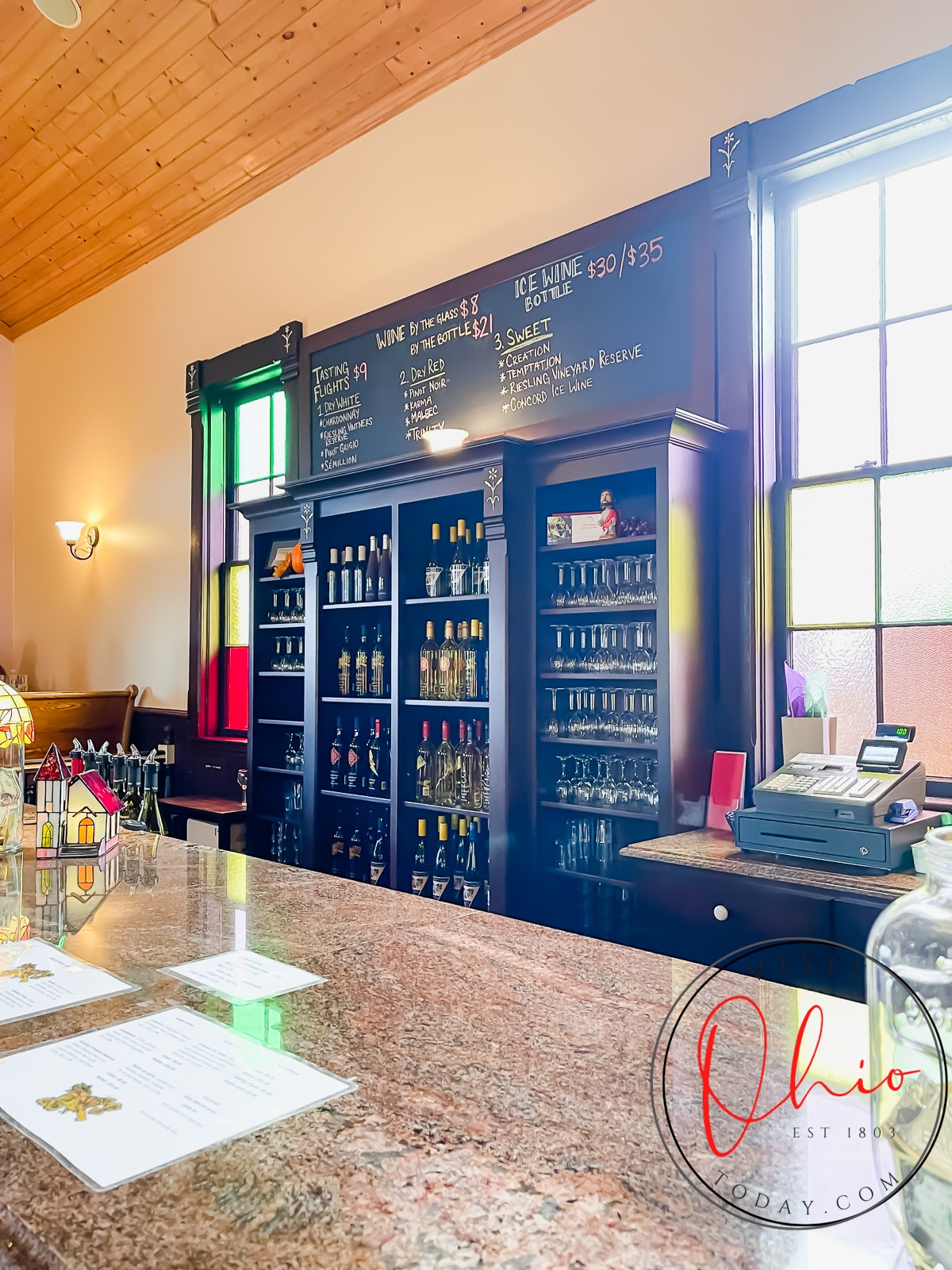 South River Winery Food Menu
South River Winery does have a bread and cheese plate to offer to their guests, but they do not have an onsite kitchen. Guests are welcome to bring outside food while enjoying South River Winery wines. Just pack your picnic basket - maybe some fried chicken and potato salad (try this favorite recipe) - and find a comfy place to relax and unwind!
Where is South River Winery?
South River Winery is located in the Grand River Valley at 6062 South River Road, Geneva, OH 44041 - 440-466-6676 - website.
South River Winery is located in the Grand River Valley, which is a mere 20 minutes from Geneva-on-the-Lake. South River Winery is also close enough for a quick weekend getaway from Cleveland or Columbus, Ohio, or northeastern Pennsylvania. If you are looking for a place to stay nearby, the bed and breakfast Polly Harper Inn is within walking distance of South River Winery, Red Eagle Distillery, and M Cellars.
Wineries in Ohio
If you are looking for more wineries in Ohio, we have got you covered. Below is our comprehensive map of wineries in Ohio! If you do not see your favorite on the list, send us an email at team (at) visitohiotoday (dot) com If you want to level up your wine tasting knowledge, we recommend you read this book.
Let's go to South River Winery
Have you been to South River Winery? We want to know what you thought! Which wine was your favorite! You do not have to pick just one, we left with more than one bottle of wine to enjoy at home latert! If you are interested in learning more about Wineries in Ohio you can visit our Ohio Wineries category page to plan your next wine tasting trip!
Grand River Valley
The Grand River Valley located in northeastern Ohio, previously covered by glaciers, now grows over 50% of Ohio's grapes and is the home of over 30 wineries. The micro-climate of the area is prime for grape growing due to the extended growing season. Many of the wineries offer events 12-months a year including tasting trails, live music, or pairing classes.
The Valley Wine Group

Debonne Winerys, Grand River Cellars, Cask 307, South River Winerys, Blue Dog, and Double Wing Brewing Company are all part of the Valley Wine Group. Wine, beer, and gourmet treats from the Grand River Valley area are available for order at one website to Lake, Geauga, Ashtabula, Cuyahoga, Medina, and Summit Counties. A $50 minimum order is required and is delivered for a $5 delivery fee (or free if you order over $150 in beer, wine, and treats).