Debonne Winery
This post contains links to affiliate websites, such as Amazon, and we receive an affiliate commission for any purchases made by you using these links.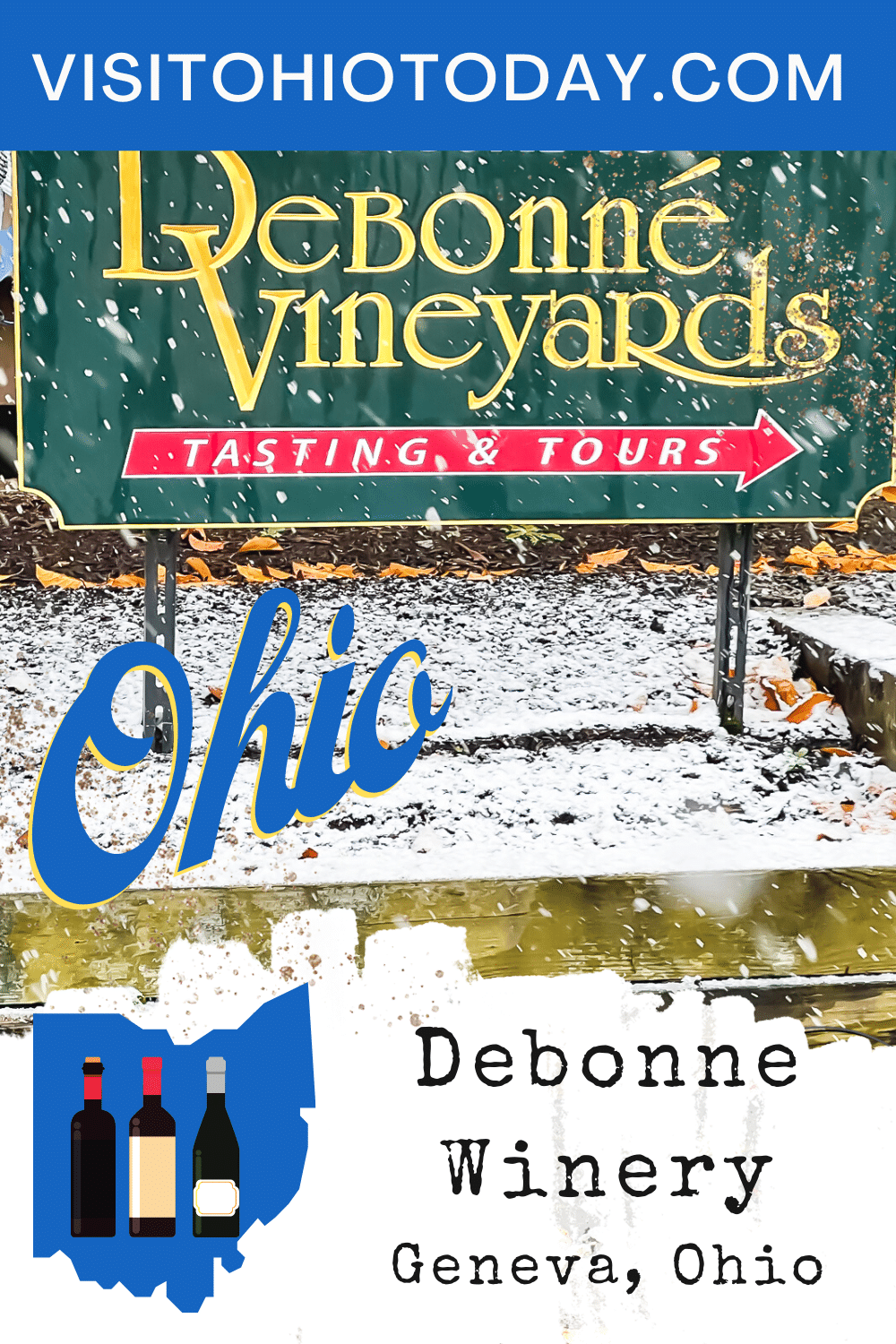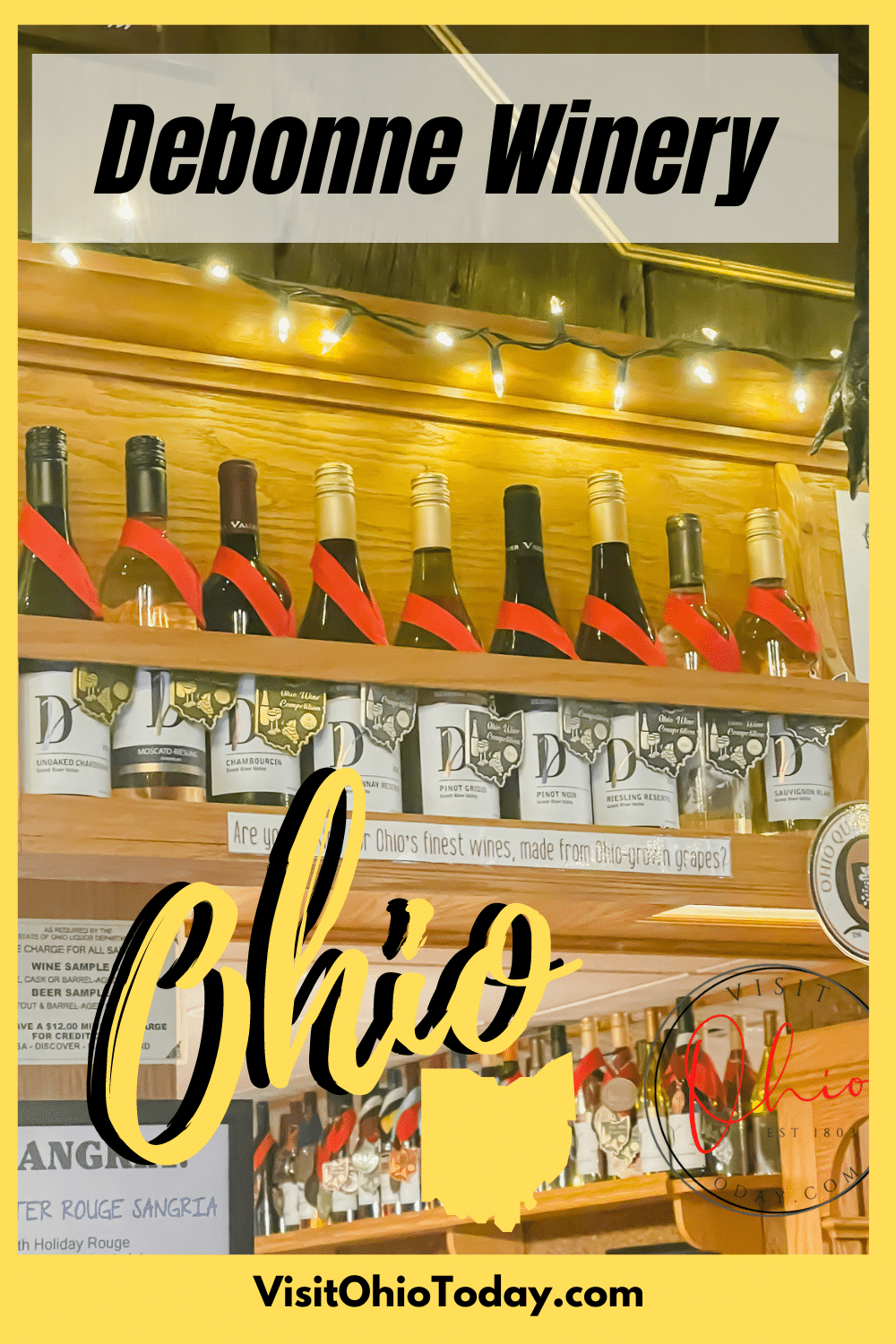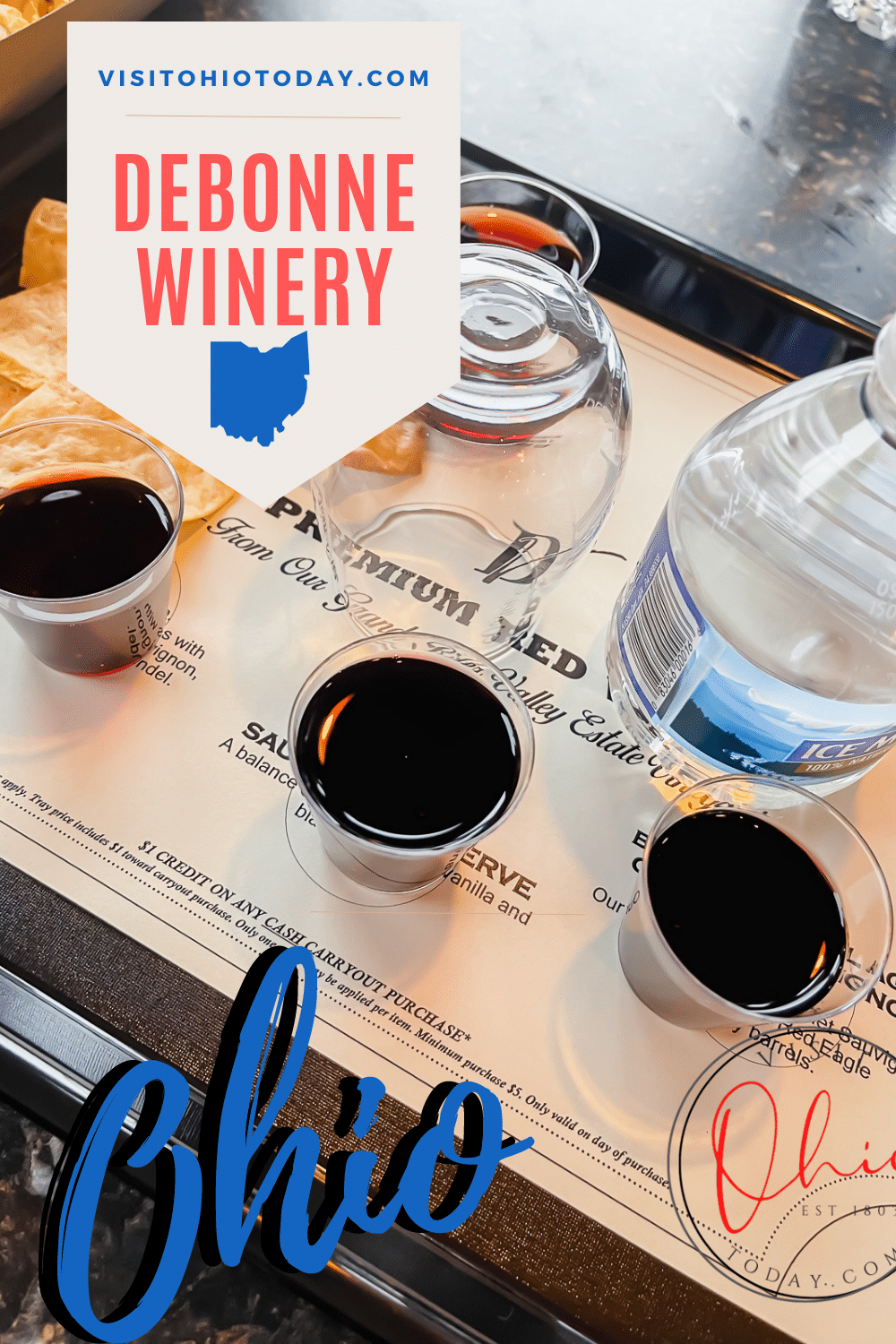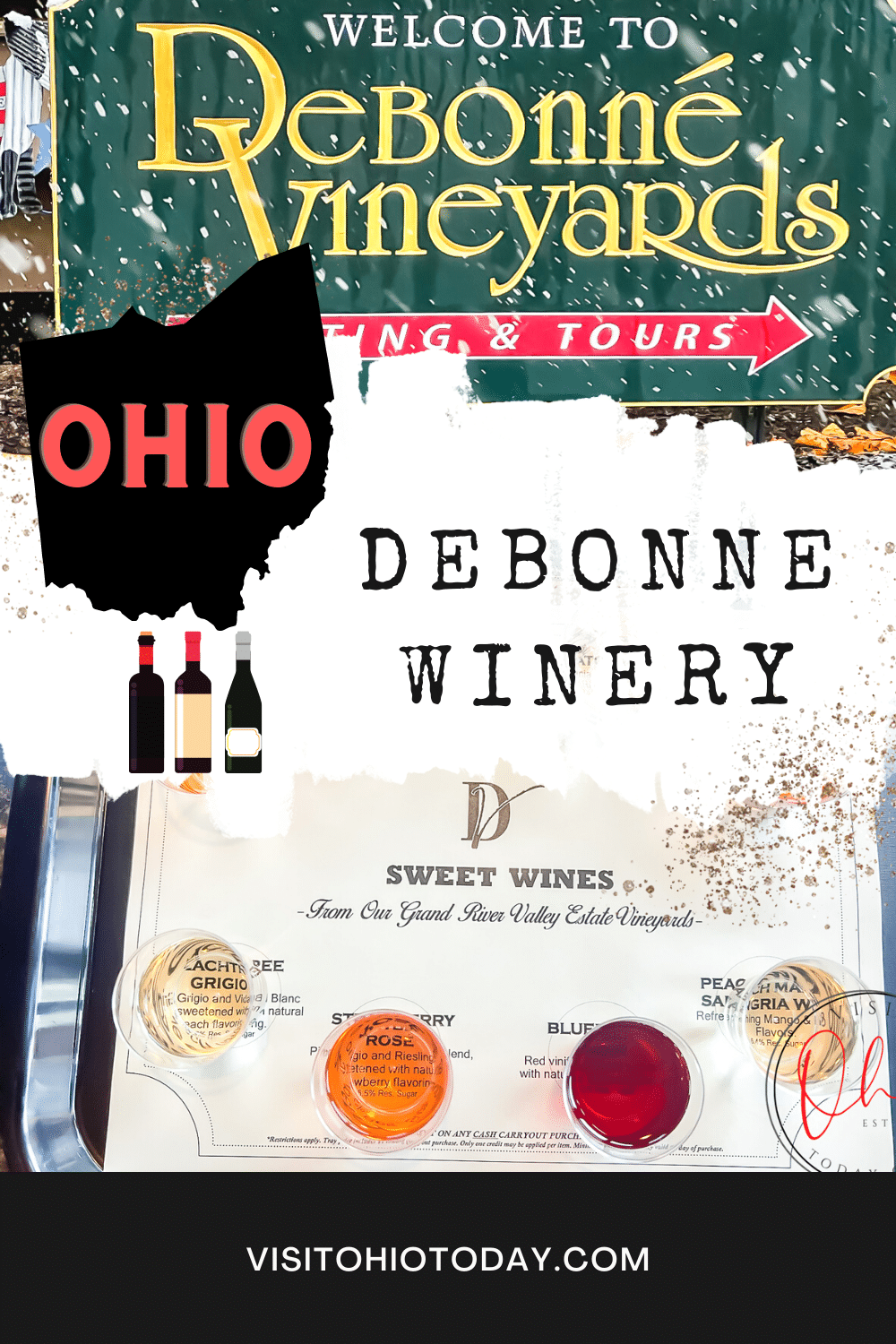 Debonne Winery is an Ohio Winery with a long history of wine-making. Debonne Winery offers its award-winning ice wines, Riesling, and more, year-round.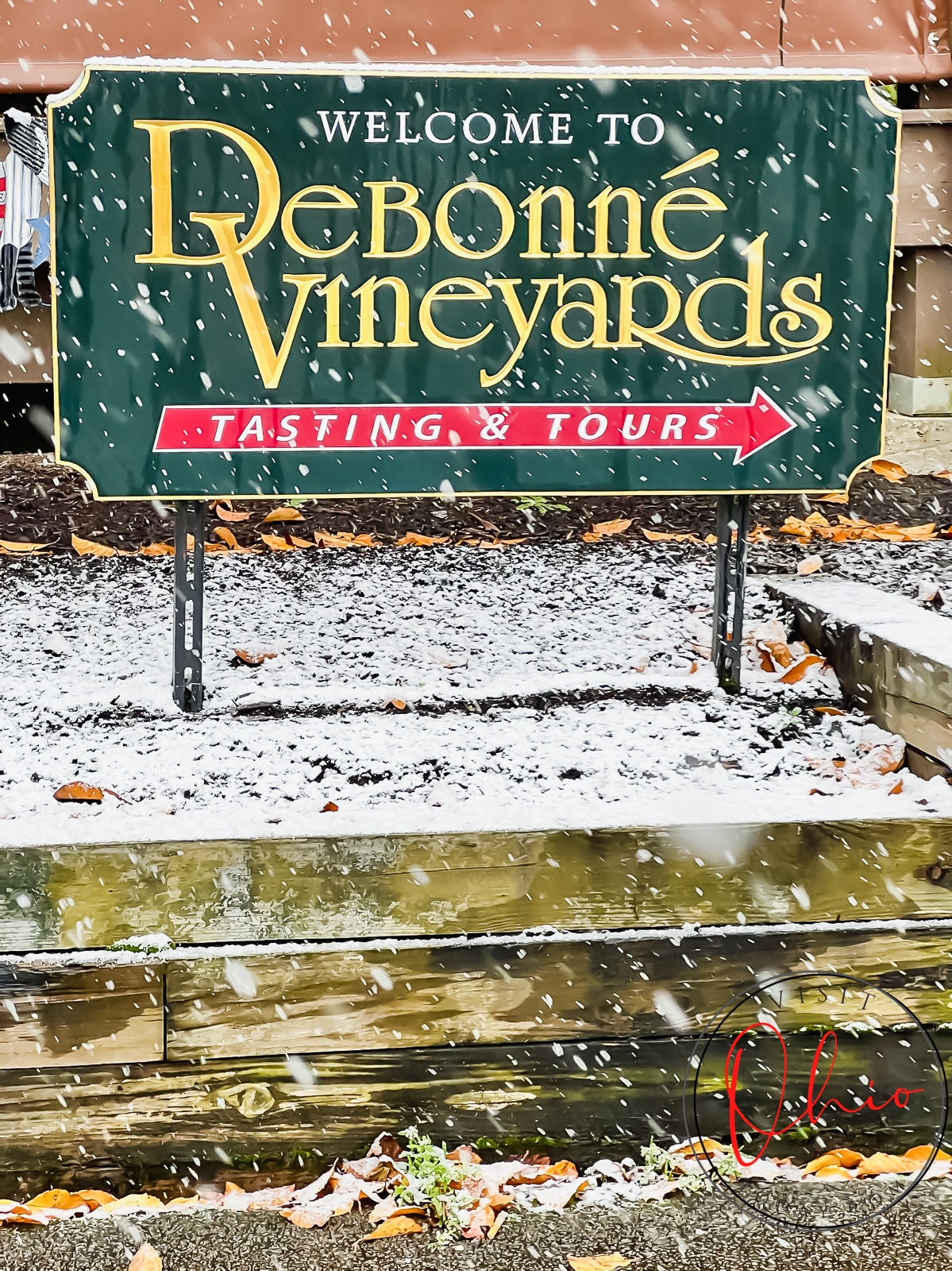 Visit Debonne Winery
Debonne Winery has a long history in Ohio. The land was originally a fruit farm purchased back in 1916 and was expanded to a vineyard in the late 1960s. In 1971, the family started their journey as winemakers. They quickly established world-class wine standards in the Lake Erie and Grand River Valley regions. In 1972, Debonne Vineyards was officially founded when the wine-making facility and chalet were constructed.
There are over 175 acres of vines and Debonne Winery produces over 85,000 gallons of wine each year. Debonne Winery is BEST known for its Ice Wine and Riesling.
Debonne Winery is open year-round. If you visit in the summertime or during warmer months, you will find lots of seating in their expanded outdoor area. They usually have live entertainment outside and have an outdoor food service option. You can relax in a chair, at a picnic table, or on the grass of the nearby hill, all while enjoying some good wine, good food, and fun entertainment.
If you visit Debonne Winery during the colder months, you will find ample seating areas indoors. They also have entertainment indoors as well during the winter months. The chalet is full of windows, so if you are lucky enough to visit Debonne Winery on a snowy day like we did, you can relax and enjoy the views!
Debonne Winery is open each day of the week with varying hours. Please check their website for opening hours.
There are options to tour Debonne Winery. If you have a group of 25 or more, you can schedule a Debonne Winery tour in advance. There are two winery tour packages to choose from, which include the tour, samples of wine, cheese, crackers, etc. If you have non-wine drinkers, grape juice is available to you. Debonne Winery also provides juice or soda to the bus drivers. Please note that if the tour group seems already intoxicated, Debonne Winery has the right to deny the group entry to the winery. Please be responsible.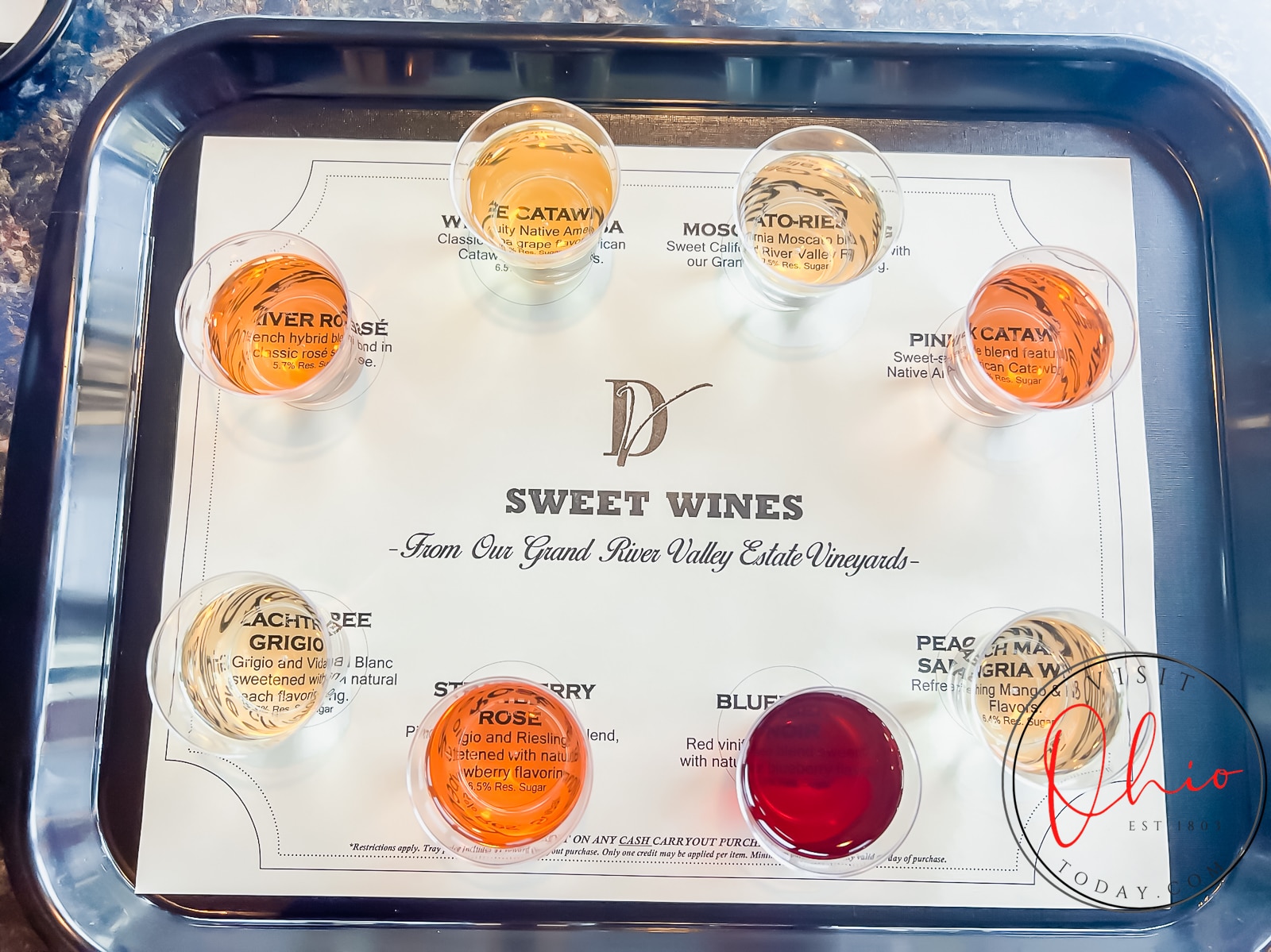 Debonne Winery Video
Debonne Winery Wines
When visiting Debonne Winery be sure to take home a bottle of your favorite wine. If you decide later that you would like some, you can order Debonne wine online, here. Here is a listing of some of the Debonne Winery Wines. Please note you may find a larger variety available when you visit the winery in person. You can also get personalized labels for the wine bottles as well.
Unoaked Chardonnay
Pinot Grigio
Chardonnay Reserve
Semillon Reserve
Sauvignon Blanc
Chairman's White
Riesling
Riesling Reserve
Riesling Reserve Lot 907
Moscato-Riesling
River Blanc
Peach Tree Grigio
White Catawba
Vidal Blanc
Vidal Blanc Ice Wine
Riesling Ice Wine
Riesling Ice Wine
Rose of Pinot Noir
River Rose
River Blush
Strawberry Rose
Pink Catawba
Mango Peach Sangria
Razzberry Riesling
Cask 1021
Bourbon Barrel Cabernet
Cabernet Sauvignon Reserve
Cab/Cab
Chambourcin
Merlot
Cabernet Franc
Pinot Noir
Classic Red
Red Blend
River Rouge
Blueberry Noir
River Spice
Holiday Rouge
Sparkling Rouge Red Wine
Sparkling Riesling Wine
Concord Grape Juice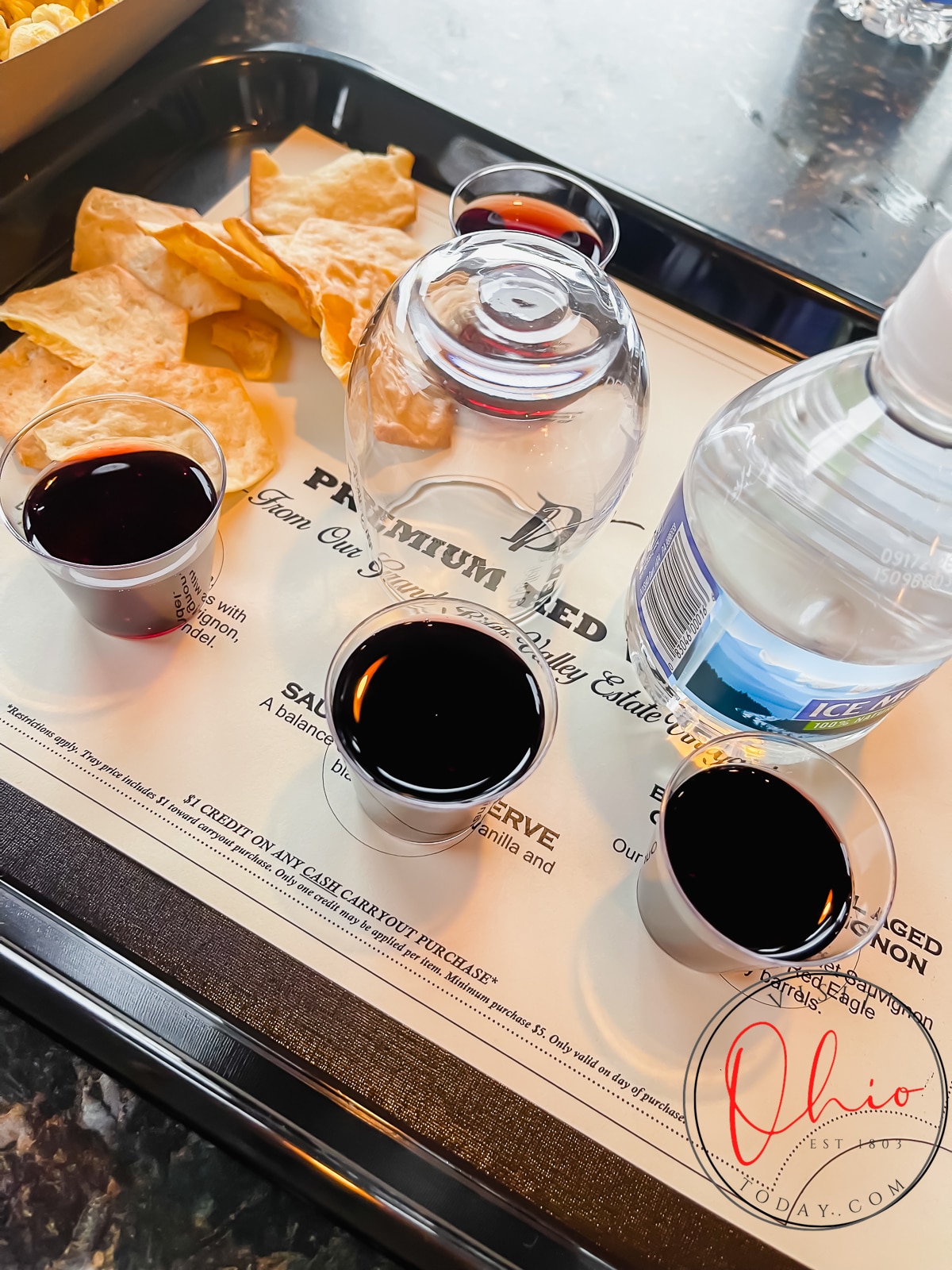 Debonne Winery Wine Tasting Options
Debonne Winery offers wine tasting during their regular business hours for a small fee as required by Ohio state law. The tasting trays include a souvenir glass, bottled water, crackers, and chocolate, along with the wine!
Dry Red Wines
Premium Red Wines
Dry Wine Varieties
Dry White Wines
Riesling Wines
Dry to Sweet Wines
Sweet Wines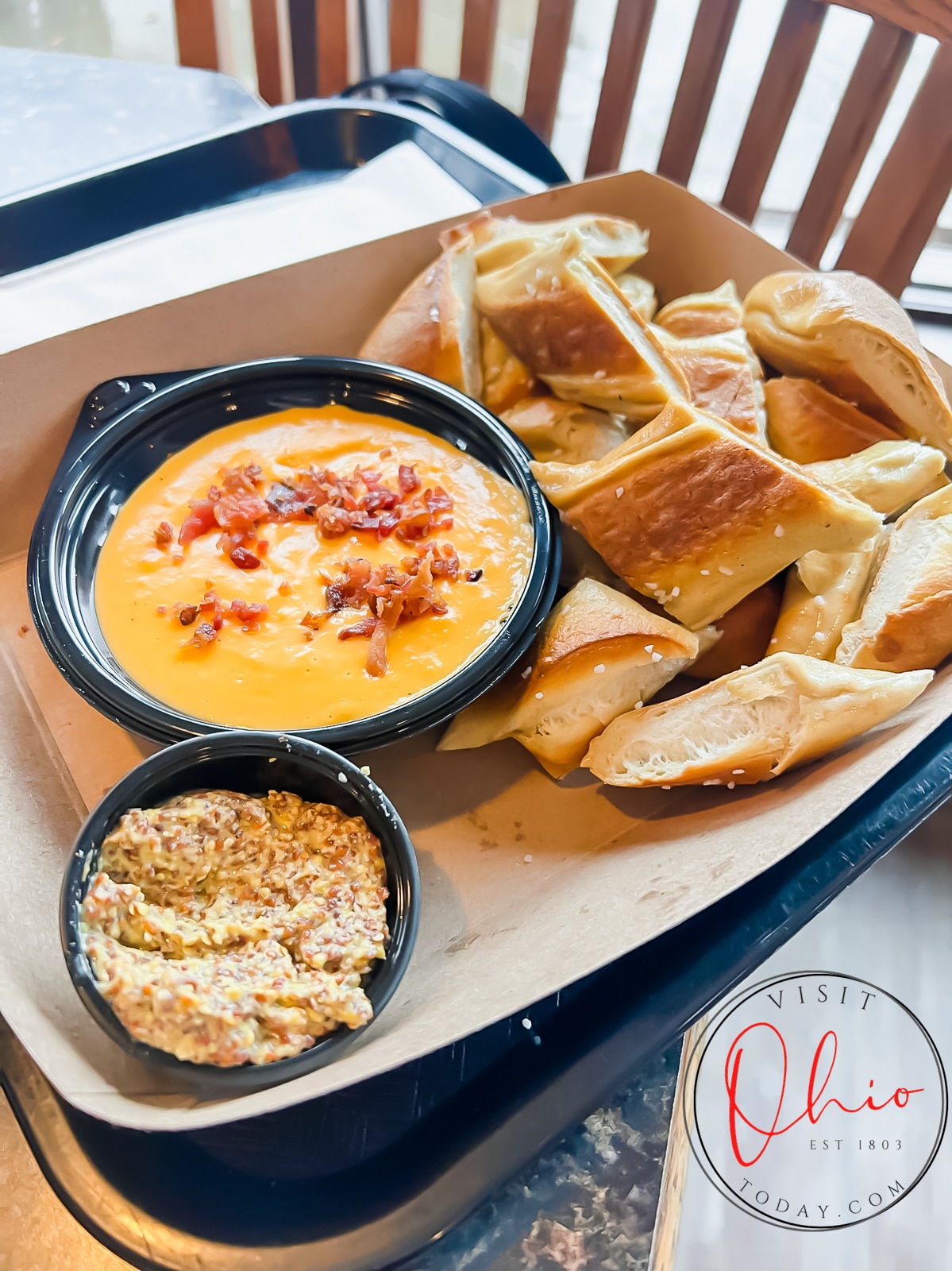 Debonne Winery Food Menu
Debonne Winery has a wide selection of food! They have multiple small plates available like a cheese plate, soprano plate, fig & walnut brie, blackberry & almond brie, and a hummus plate.
When it comes to appetizers you can enjoy spicy meatballs, beer pretzels, buffalo chicken dip, spinach and artichoke dip as well as pepperoni rolls.
They have a large number of sandwiches that are served with chips and pickles. Debonne Winery offers grilled chicken sandwiches, black bean burgers, beef burgers, pulled pork sandwiches, soup, and hot dogs.
There is a limited appetizer menu on Sundays, December through February. The outside grill is open during warmer months featuring similar menu options.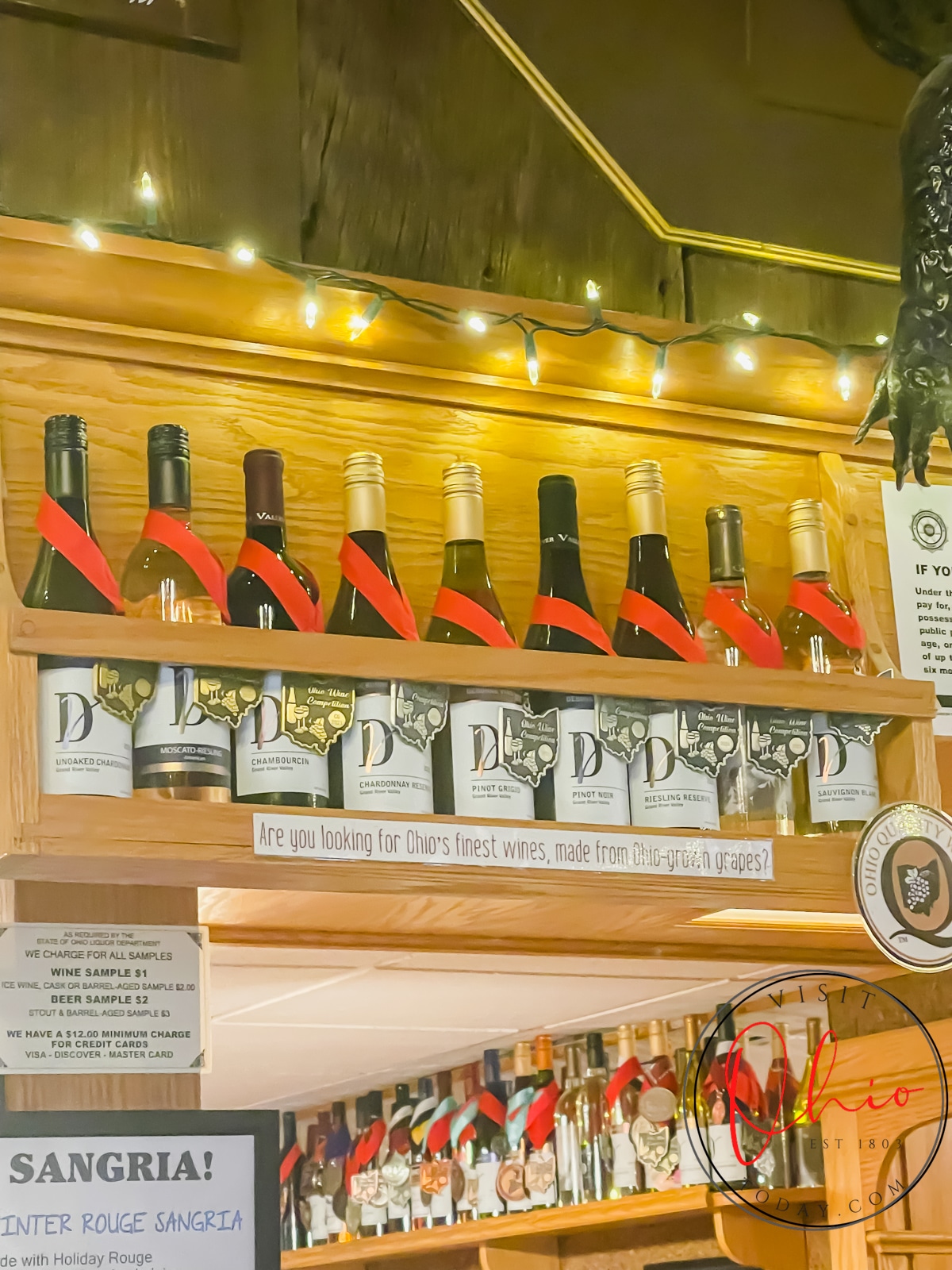 The staff was friendly and the atmosphere was cozy. Popcorn was amazing and the fruit wine flight was delightful! We bought 6 bottles, which you get a 10% discount! We would love to come back in the warmer months to enjoy the beautiful outdoor decks.

craz4horses88 (TripAdvisor)
Cindy's Insider Ohio Tips!
Debonne is what I'd call a lively winery. During the summer months, the outdoor area is vibrant with bands, delicious food, and, of course, wine. The place is massive and offers something for everyone! What's great is that they even serve beers, adding to the variety of options available.
Where is Debonne Winery?
Address: 7840 Doty Road, Madison, Ohio 44057
Phone: 440-466-3485 | website
Wineries in Ohio
If you are looking for more wineries in Ohio, we have got you covered. Below is our comprehensive map of wineries in Ohio! If you do not see your favorite on the list, send us an email at team (at) visitohiotoday (dot) com. If you want to level up your wine-tasting knowledge, we recommend you read this book.
Grand River Valley
The Grand River Valley located in northeastern Ohio, previously covered by glaciers, now grows over 50% of Ohio's grapes and is the home of over 30 wineries. The micro-climate of the area is prime for grape growing due to the extended growing season. Many of the wineries offer events 12 months a year including tasting trails, live music, or pairing classes.
Winegrowers of the Grand River Valley
The Winegrowers of the Grand River Valley are a collaboration of Ferrante Winery and Ristorante, Debonne Vineyards, Grand River Cellars Vineyard and Restaurant, Laurello Vineyards, and Cask 307 whose mission is to educate the local wine consumer on wines from the Grand River Valley. This group of wineries frequently put wine trails together where wine lovers visit each of the six wineries and they receive a wine tasting that is perfectly paired with some sort of food. Go to the Wine Growers of the Grand River Valley website for the current calendar of events.
The Valley Wine Group
Debonne Vineyards, Grand River Cellars, Cask 307, South River Vineyards, Blue Dog, and Double Wing Brewing Company are all part of the Valley Wine Group. Wine, beer, and gourmet treats from the Grand River Valley area are available for order at one website to Lake, Geauga, Ashtabula, Cuyahoga, Medina, and Summit Counties. A $50 minimum order is required and is delivered for $5 (or free if you order over $150 in beer, wine, and treats).
Let's go to Debonne Winery
If you have been to Debonne Winery we want to know what you thought! Which wine was your favorite? You do not have to pick just one! If you are interested in learning more about Wineries in Ohio you can visit our Ohio Wineries category page to plan your next wine tasting trip!
Hello! We have done our very best to ensure that the accuracy of events, hours, addresses, etc, are up to date. Please know that information can change due to weather, updated health and safety challenges, etc. If you find incorrect information, please send us an email at [email protected], and we can get it updated.

To be updated and stay connected, subscribe to our newsletter.