Luxury Covered Wagon Glamping
This post contains links to affiliate websites, such as Amazon, and we receive an affiliate commission for any purchases made by you using these links.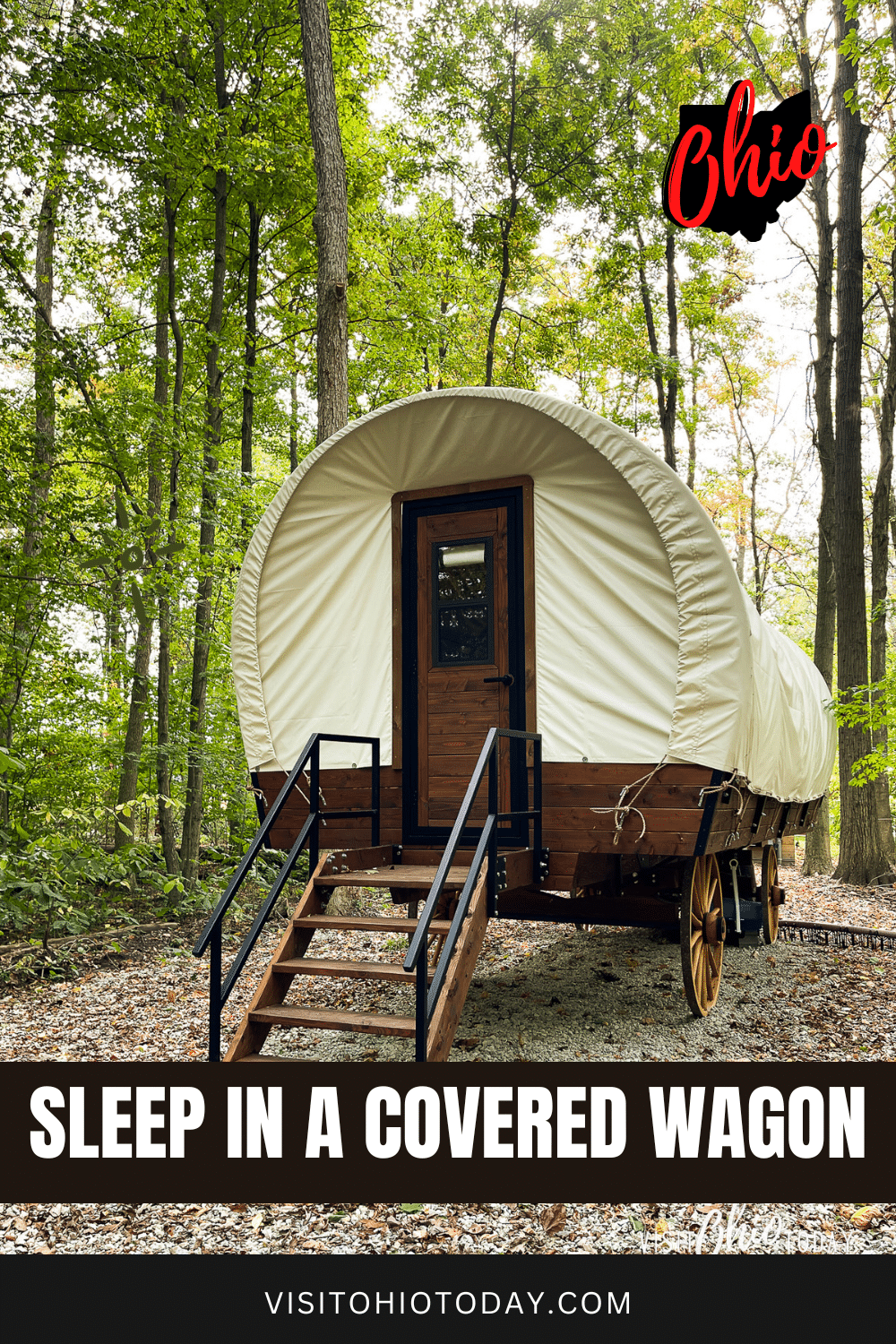 Experience luxury-covered wagon glamping in Ohio at Graystone Ranch. You will love this unforgettable Rustic Retreat!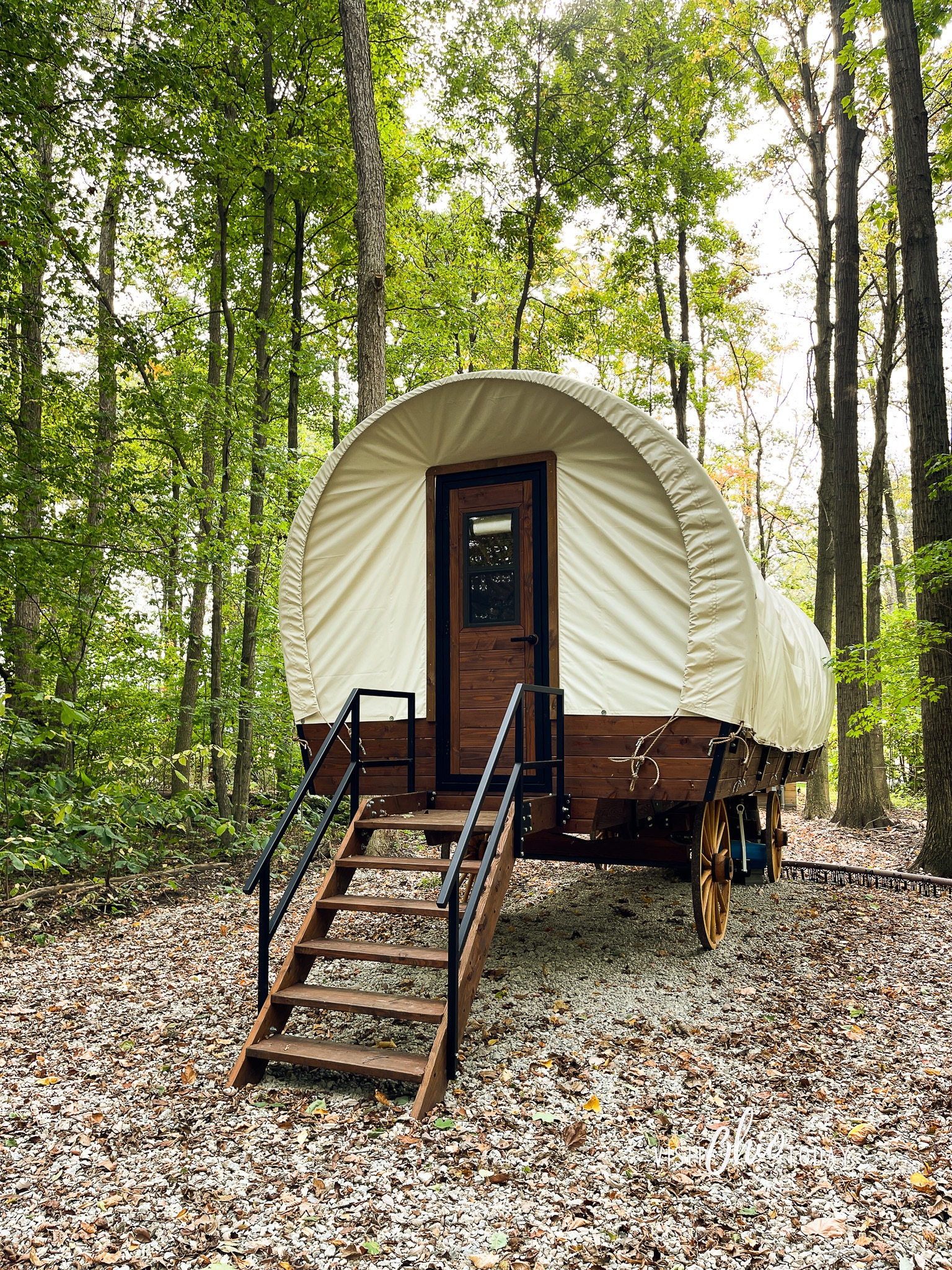 My Stay at Graystone Ranch
Thank you to Graystone Ranch for hosting me!
trusted source
This article was written by me, Cindy Gordon, an Ohio travel expert. Why should you take my Ohio advice? Ohio is where I call home, where I am raising my family. I have extensive firsthand knowledge of Ohio's diverse attractions, and I am a trusted source for travelers seeking hidden gems and unique adventures in Ohio.
If you're on the lookout for a one-of-a-kind getaway in Ohio, look no further. I recently had the privilege of staying in a Luxury Covered Wagon at Graystone Ranch, and it was an experience I won't soon forget. This remarkable glamping destination offers a tranquil and rustic escape with all the comforts of home.
The Essentials:
As soon as I arrived at Graystone Ranch, I was greeted by the charm of the wooden acres and a slice of history from the days of westward expansion. Right away, I couldn't help but notice the enchanting string lights adorning the trees, crafting a warm and inviting ambiance.
These Luxury Conestoga Wagons are a marvel, providing an Ohio glamping experience like no other. What impressed me most was the attention to detail and the modern amenities packed into this unique accommodation.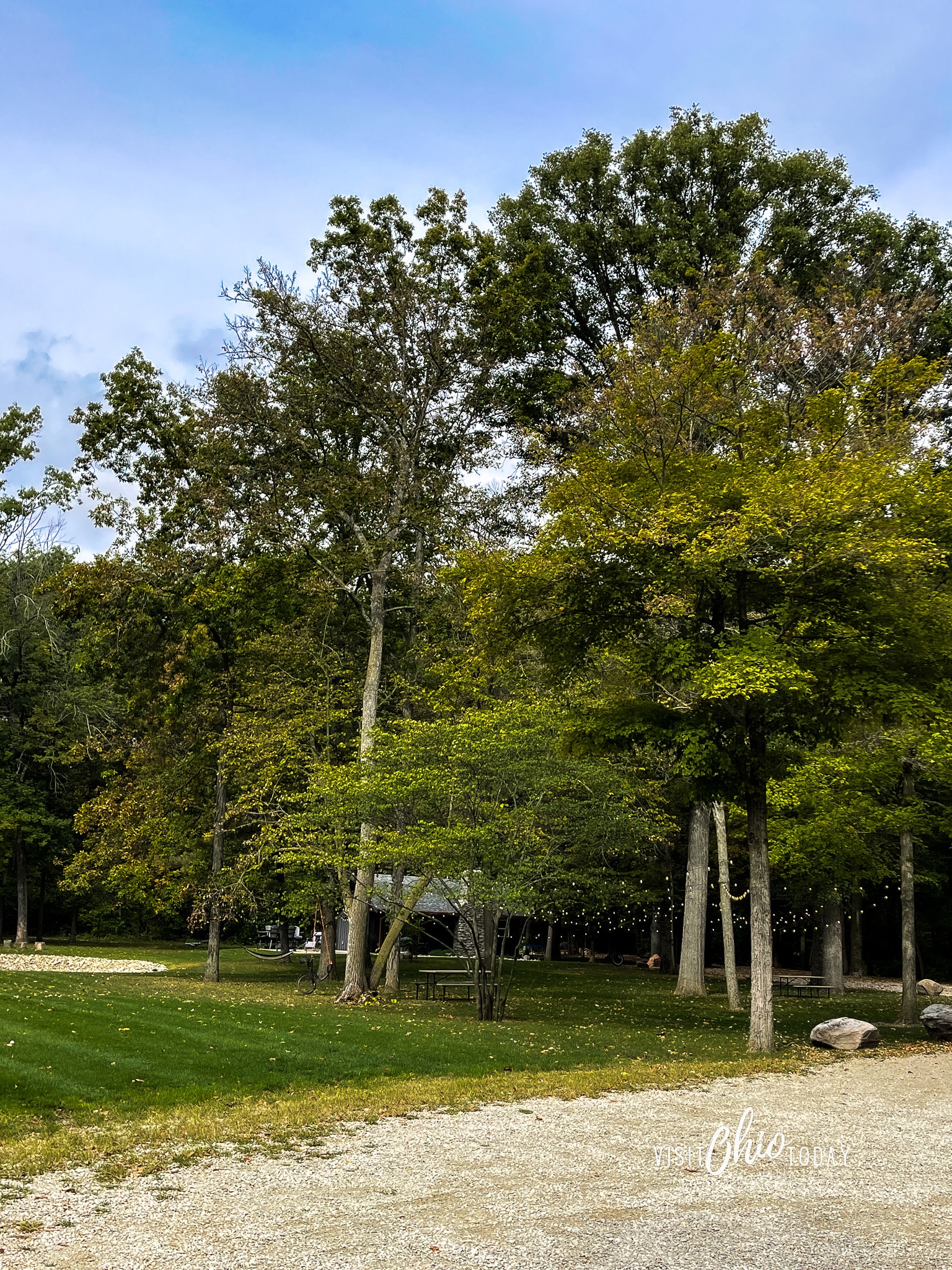 Comfort & Convenience:
The first thing that struck me was the wagon's full bathroom. In my experience, having such a well-appointed bathroom truly adds to the luxury of the stay. Furthermore, with a heater on hand, I was kept warm and cozy, even as the Ohio evenings cooled down.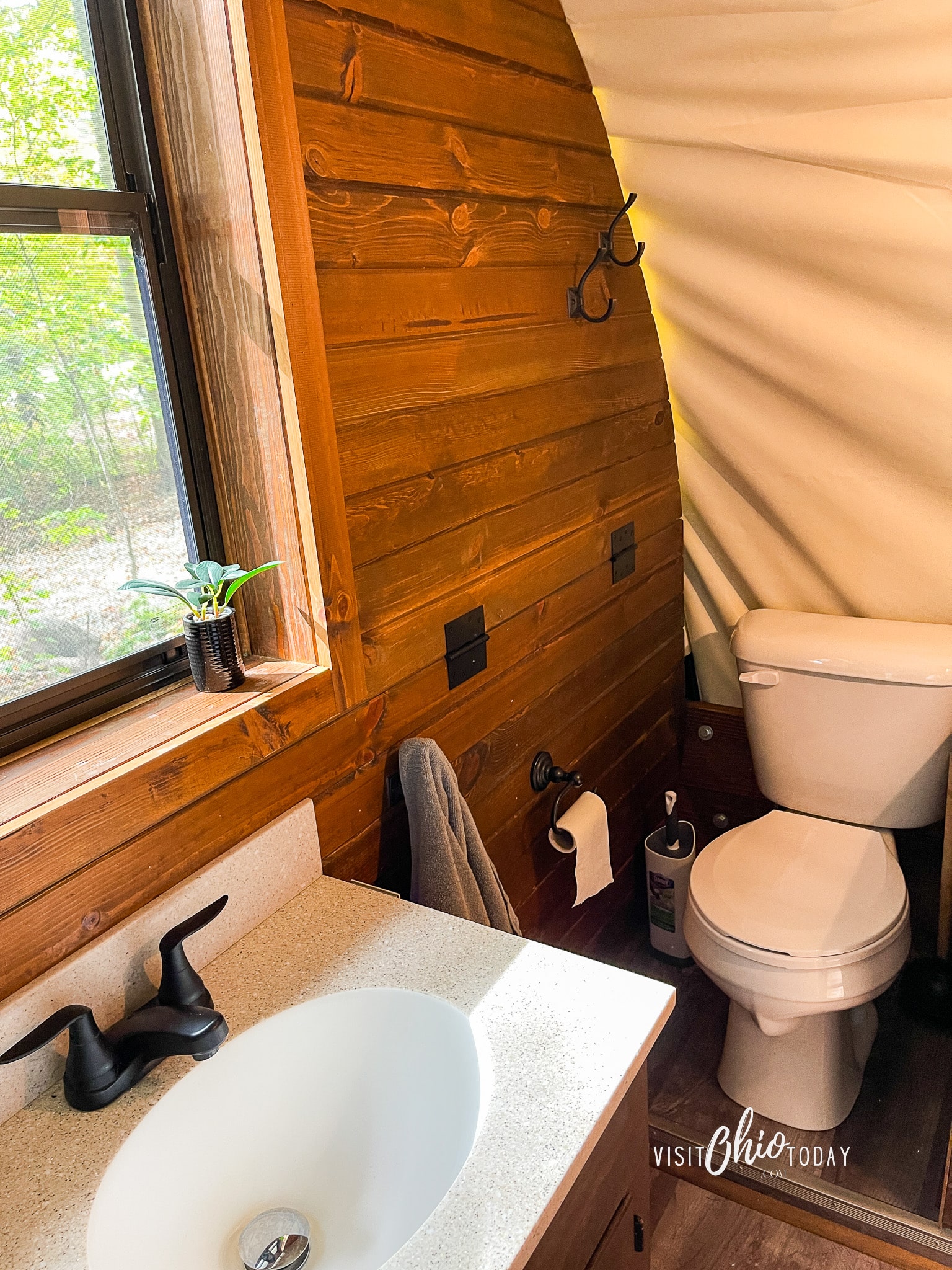 Spacious and Well-Equipped:
The wagon's interior was surprisingly spacious, providing ample room to move around comfortably. With a queen bed and a twin bunk bed, there was plenty of space for a small family or a couple of friends. The wagon was also equipped with AC, heat, water, and even WiFi, ensuring a seamless blend of the rustic and the modern.
Photo credits: Cindy Gordon of VisitOhioToday.com
The Scenic Setting:
The Graystone Ranch property is set on 26 wooded acres, making it the ideal retreat for nature lovers. The serene and tranquil atmosphere created a perfect backdrop for relaxation. I spent my time wandering through wooded trails, picnicking on the grassy lawn, and even considered trying my hand at fishing in the swimmable stocked pond. The availability of a pedal boat and John boat added an extra layer of fun to the experience.
The two covered wagons are just the beginning; the property also features a cabin overlooking the pond, secluded wooded campsites, and the Saloon, which is the equivalent of the ultimate man cave.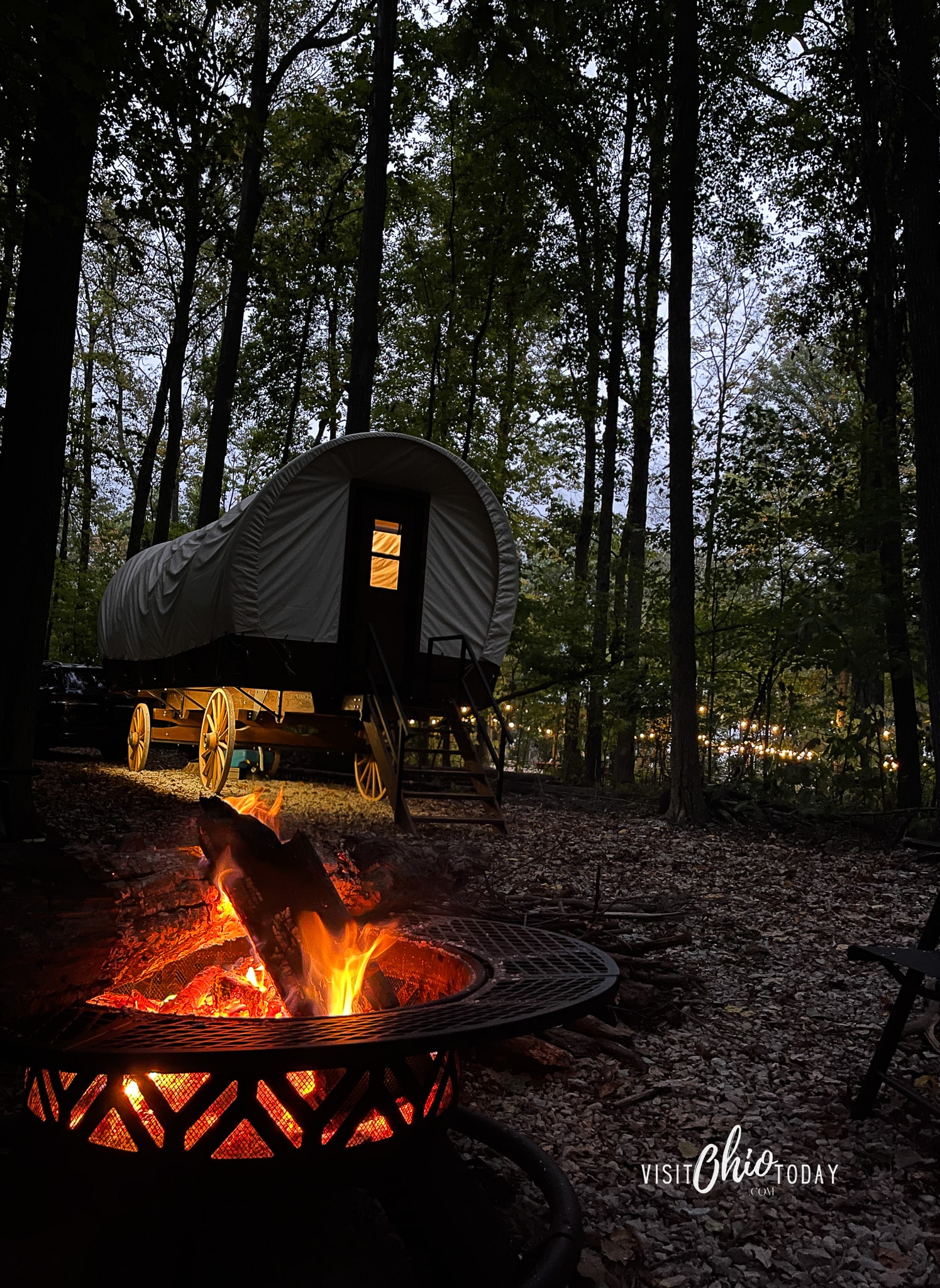 I can't believe how at home we felt staying in a wagon. It was cozy, clean, and a surprising amount of amenities for being in a wagon in the woods of Ohio. I thought I'd be roughing it but everything was clean, accessible, and just so incredibly peaceful. Usually traveling with kids makes me feel unprepared but Brittany was super accommodating and we had everything we needed and more. I'm already planning another trip when the weather changes to bring the rest of the family!!!

Christen (Airbnb)
Cindy's Insider Ohio Tips!
When looking for a place to rent for a getaway in Ohio, be sure to read reviews. That is the first thing that I do. Read reviews on blogs (like mine) and read the reviews on platforms like Airbnb. The wagons had glowing reviews online!
Photo credits: Cindy Gordon of VisitOhioToday.com
Let's visit Graystone Ranch
Staying in a Luxury Covered Wagon at Graystone Ranch in Arcanum, Ohio, was an incredible adventure. This glamping experience blends the rustic Old West with the comforts of home in a way that's truly special.
If you're looking for a unique escape in Ohio, add Graystone Ranch to your list. You are going to love Covered Wagon Glamping, and you won't be disappointed. I'm already planning my next trip to experience the beauty of Ohio in a whole new way.
To learn more about Graystone Ranch and all they have to offer, be sure to check out their website. Ready for some glamping? You can book this wagon here or click the image below.
Looking for other unique stays in Ohio? Be sure to check out my posts on Columbia Woodlands, The Silo Cottage, and the Mid-Century Modern Rental.
Let's Connect: What do you think about Covered Wagon Glamping? Would you stay in a Covered Wagon? Let me know in the comments below!