Spotted Horse Ranch – 2023 Horseback Riding in Hocking Hills
This post contains links to affiliate websites, such as Amazon, and we receive an affiliate commission for any purchases made by you using these links.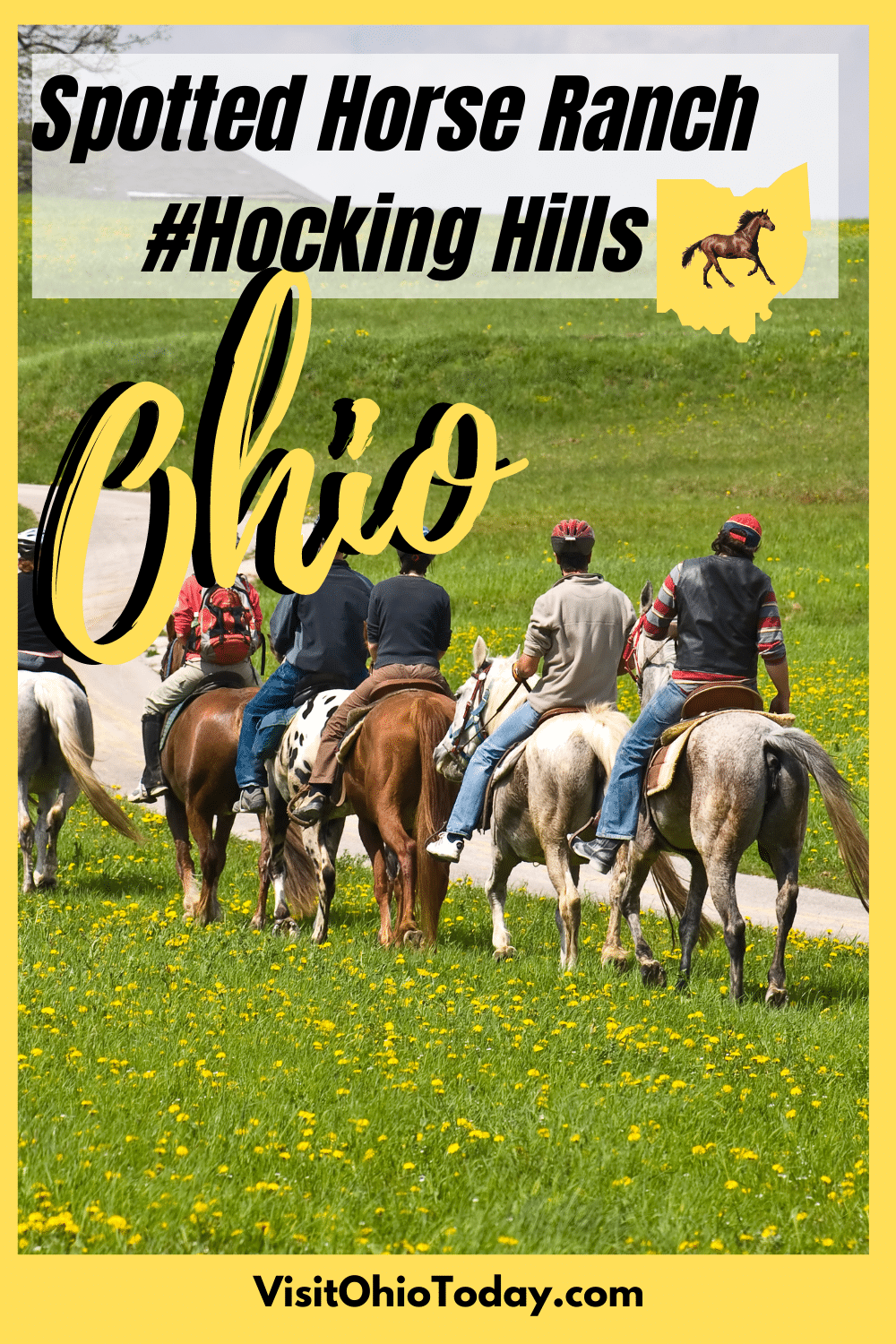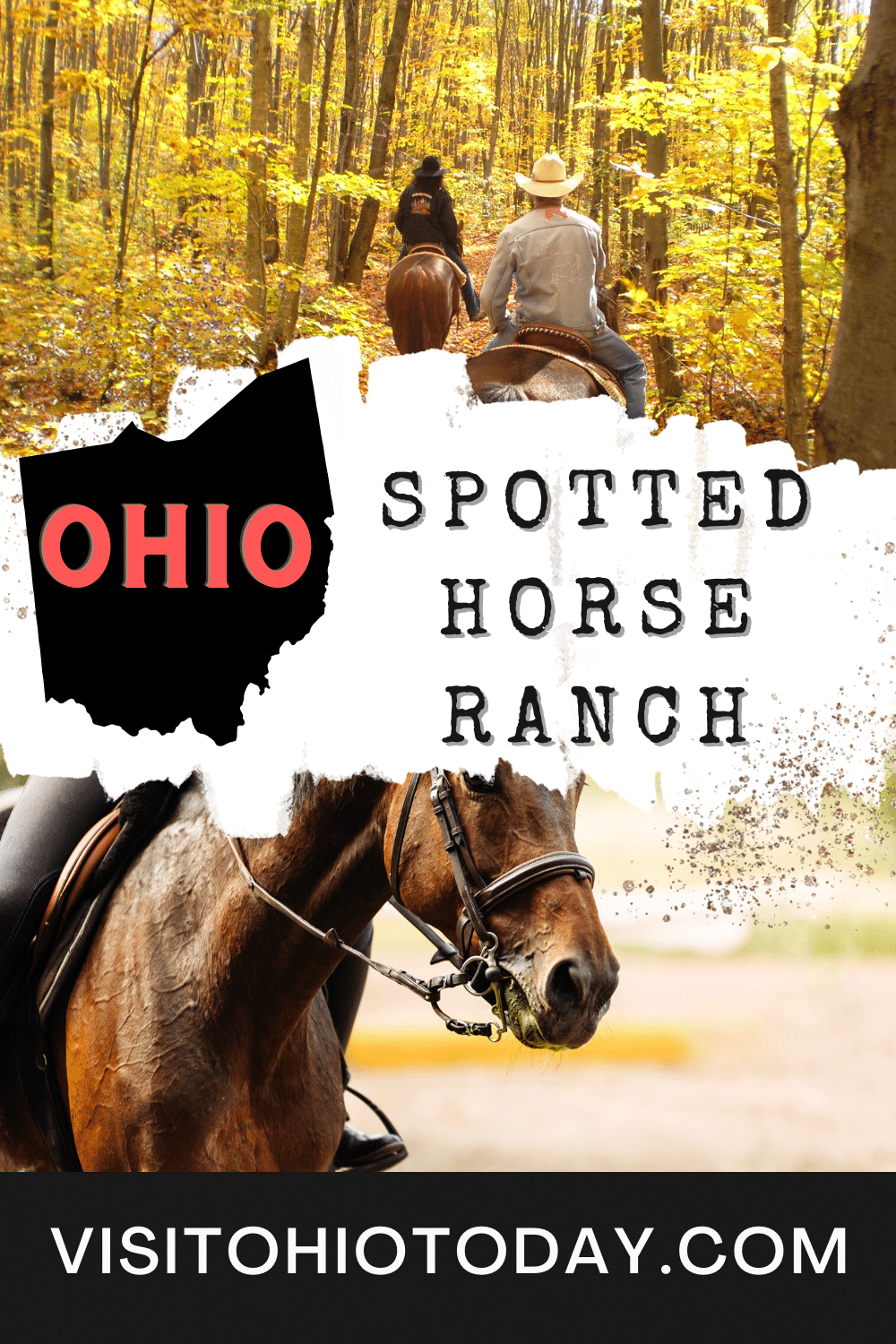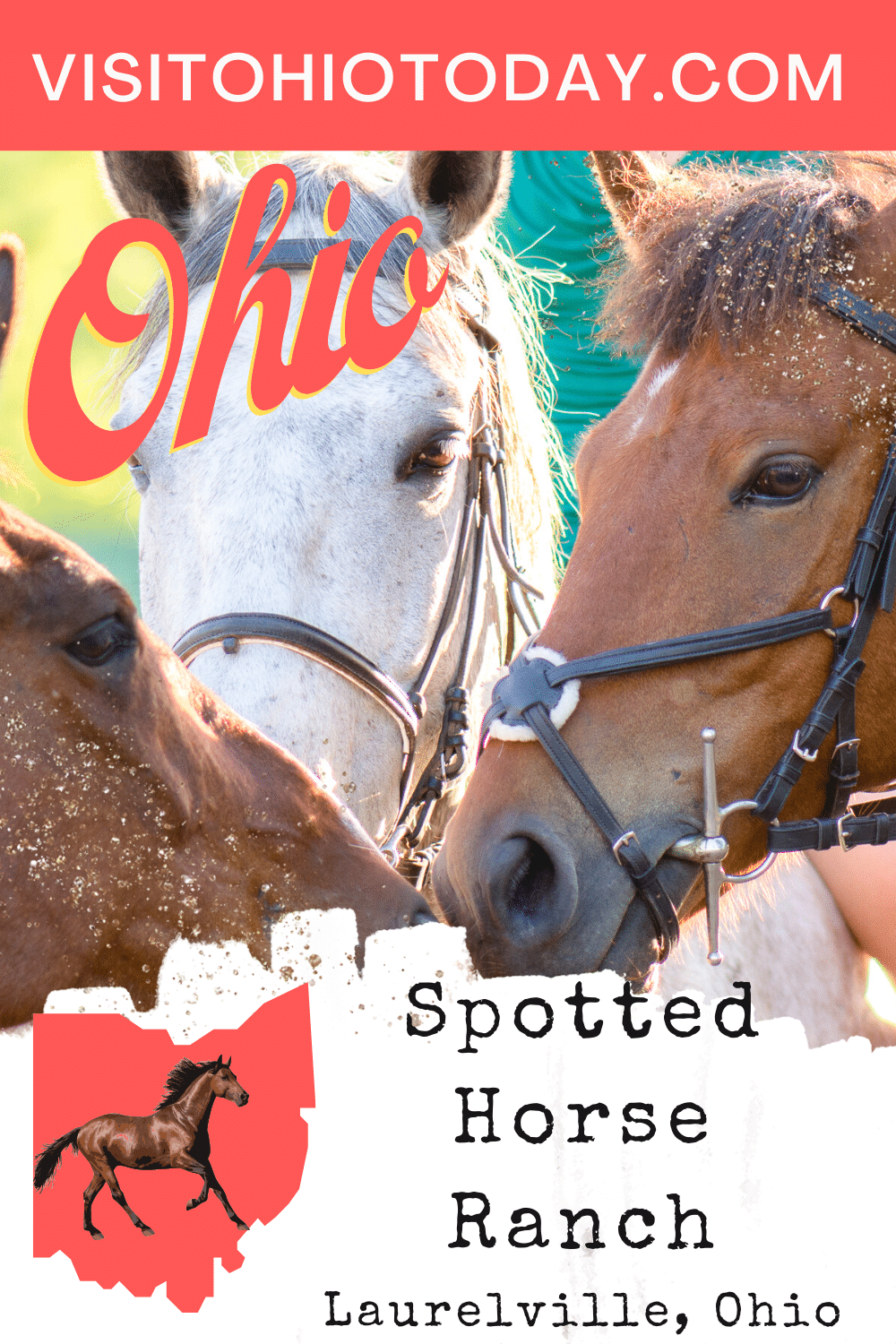 The Spotted Horse Ranch is located in the Hocking Hills region of Ohio. It offers guided horseback riding on over 30 miles of trails as well as camping with or without your own horses.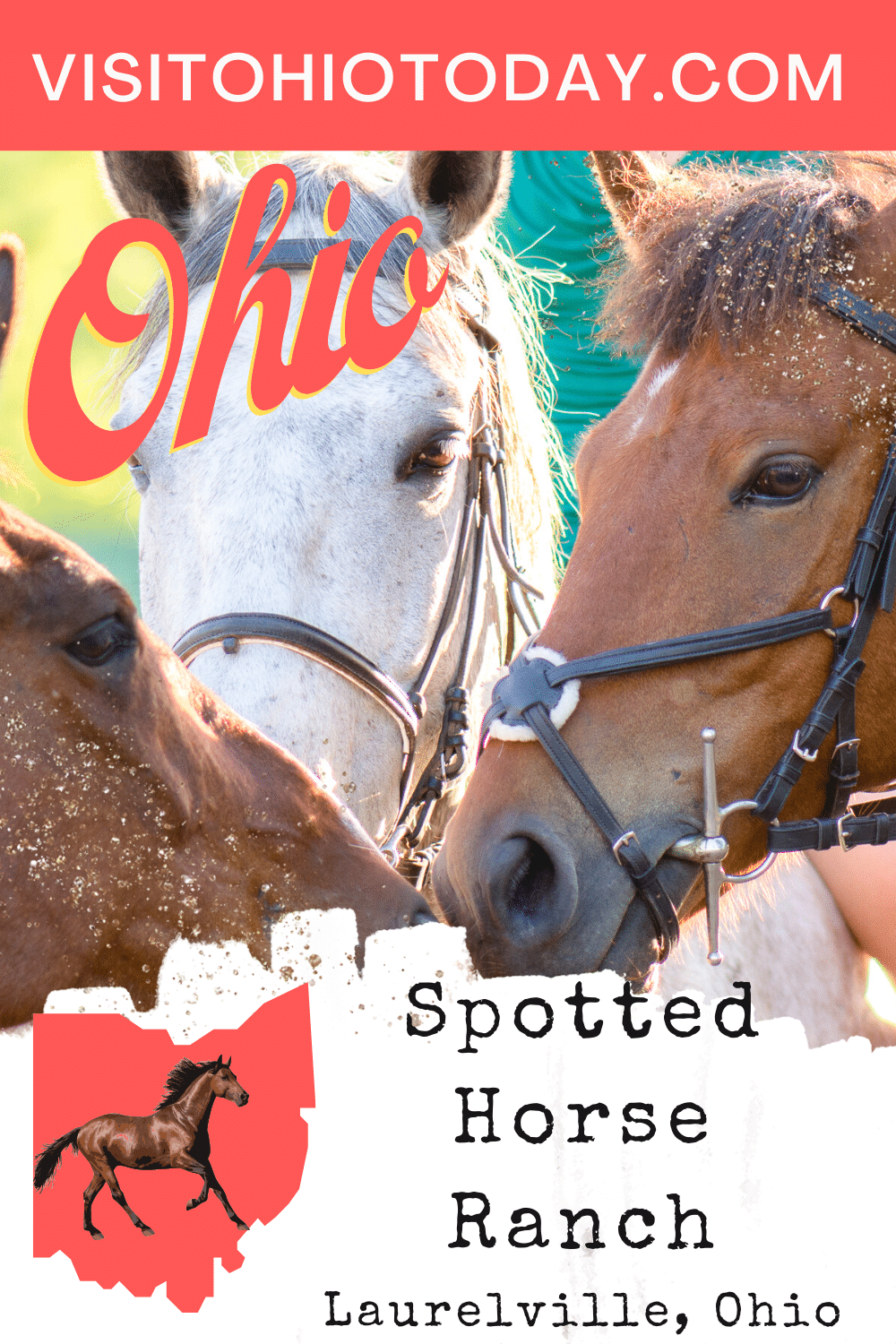 Visit Spotted Horse Ranch
Spotted Horse Ranch is located in Laurelville, Ohio, which is in Hocking County. If you are looking for horseback riding in Hocking Hills, this is an option for you! It is a 500-acre ranch that has miles of trails. It also boasts breathtaking views of the Hocking Hills landscape!
The owner talks about giving people a "Western" experience, here in Ohio. The trails are authentic and not what you'd find in a metro park. It offers personalized 1 and 2-hour horseback riding events as well as their family Cowboy Cookout Ride (see the details below).
You can also camp in a tent, trailer, or camper with or without your own horses, Spotted Horse Ranch really caters to the horse lover!
Spotted Horse Ranch is also a working ranch. There are about 450+ animals onsite. They have a wide variety of livestock available for sale. They currently raise Tamworth Pigs, Hereford Cows, Horned Hair Sheep, Lambs, Ewes, Guinea Fowl, Turkeys, Water Buffalo, Fallow Deer, and Aoudad Sheep.
Horseback Riding at Spotted Horse Ranch
There are several options when it comes to horseback riding at Spotted Horse Ranch in Ohio! One of the most popular horseback riding options is the Cowboy Cookout Ride! This is a unique experience when it comes to horseback riding in Hocking Hills!
You will saddle up and ride with the group for about two hours and then it is time to eat! This ride includes a feast of authentic cowboy food! Everything is cooked over an open fire, just like how the cowboys used to do it (and still do today!). Participants will enjoy food, good company, and plenty of conversation, stories, and jokes while dining. After the food is all gone the riders will head back to the ranch on the horses. There is a very high demand for this ride and tickets must be booked well in advance.
Spotted Horse Ranch also offers 1 and 2-hour guided rides. Generally, the 1 hour guided horseback ride is for new riders or ones who might be a little nervous. Before any rides begin they will do a brief riding demonstration and a quick lesson.
The 2 hour guided ride is perfect for those riders who have ridden before and are looking for a little adventure when it comes to horseback riding in Hocking Hills! What is special about Spotted Horse Ranch, is that each ride is different. The Wranglers plan the ride based on the comfort level, skill level, and age of the riders.
Camping at Spotted Horse Ranch
Spotted Horse Ranch has options for camping! You are welcome to camp in a tent, trailer, camper, etc. You can bring your horses and camp with them! All sites have electricity and of course water for the horses! There is also a shower/bath house available as well.
There is a very primitive cabin and bunk room for sleeping. In the primitive cabin you can find a wood-burning stove, mini fridge, microwave, and space for all your gear! The bunk room can sleep up to 10 people.
Cindy's Insider Ohio Tips
I truly love spending time at Hocking Hills, whether I am hiking, relaxing, or on horseback! Horseback riding gives you a new perspective on the beauty of the region. There are mixed reviews for The Spotted Horse Ranch, but in my experience, they care for their horses well and the staff are friendly and helpful.
The one hour trail ride was worth every penny! We had a wonderful experience at this beautiful ranch! We can't wait to go back on our next visit to Hocking Hills. Thanks for memories that will last a lifetime

JNMILLE (Trip Advisor)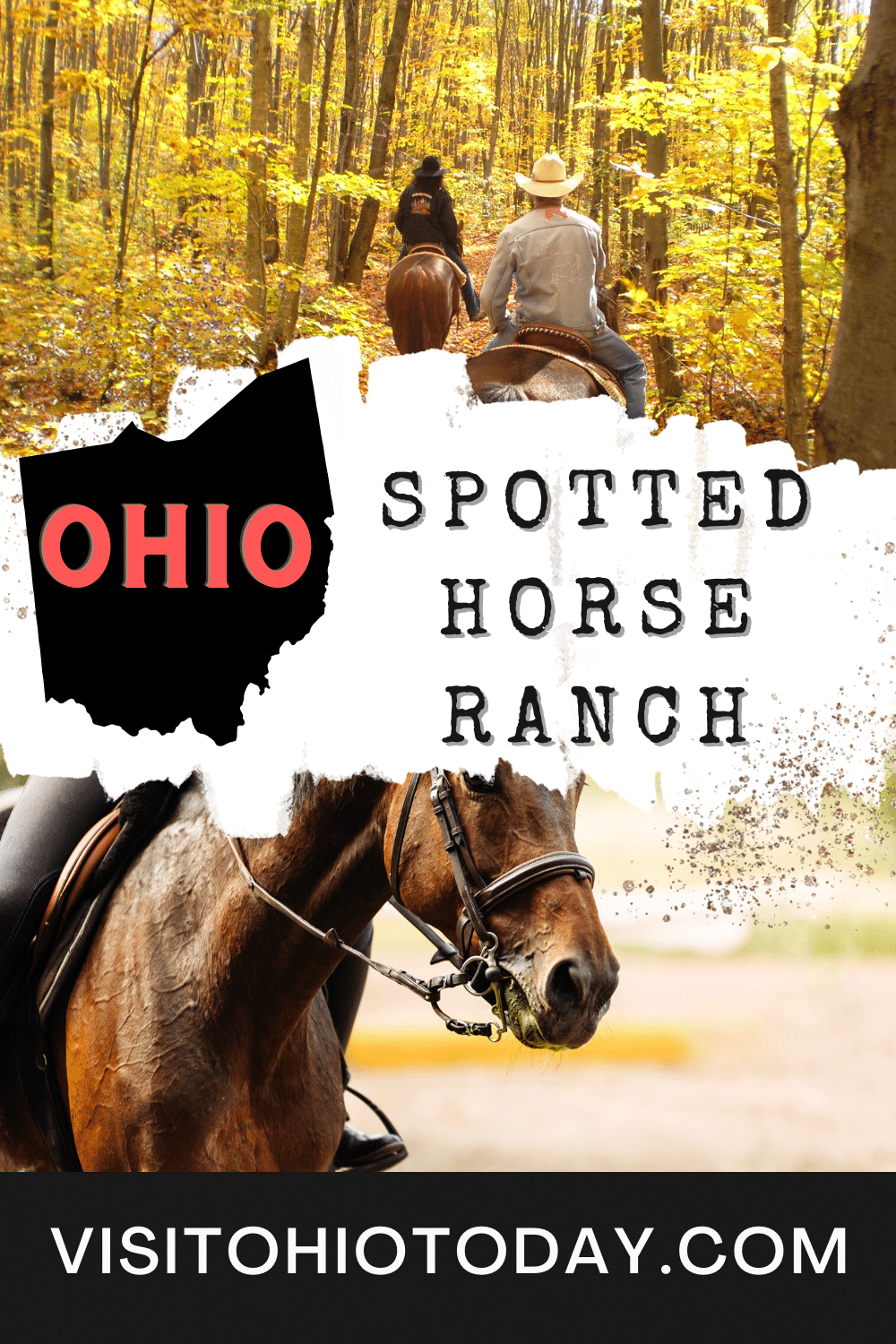 Where is Spotted Horse Ranch located?
Important Spotted Horse Ranch Info
Guided horseback riding hocking hills
Camping onsite with/without horses
Riders must be at least 8 years of age.
Riders must be no more than 240 pounds.
Buy tickets in advance.
May be able to accommodate dietary restrictions at cowboy cookout.
CLOSED on Mondays
Spotted Horse Ranch Short Video
Let's go to Spotted Horse Ranch
Have you been to Spotted Horse Ranch? We would love to hear about your experience! Did you take the 1-hour, 2-hour, or Cowboy Cookout Ride? Did you camp?
Hello! We have done our very best to ensure that the accuracy of events, hours, addresses, etc, are up to date. Please know that information can change due to weather, updated health and safety challenges, etc. If you find incorrect information, please send us an email at [email protected], and we can get it updated.

To be updated and stay connected, subscribe to our newsletter.