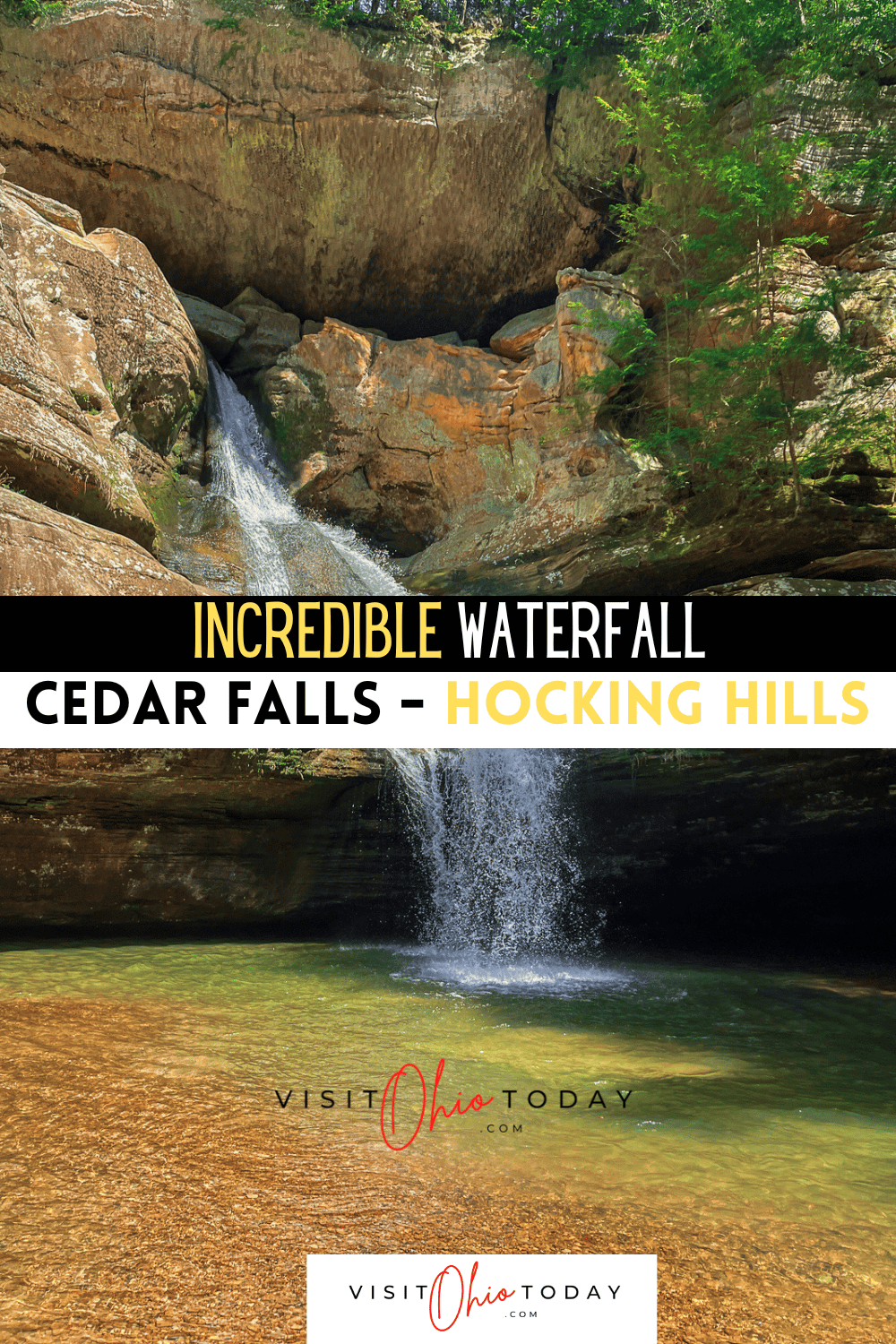 Last Updated on October 1, 2023 by Cindy
Cedar Falls Hocking Hills is situated in the stunning Hocking County, Ohio. It is one of 7 major hiking trails in Hocking Hills State Park.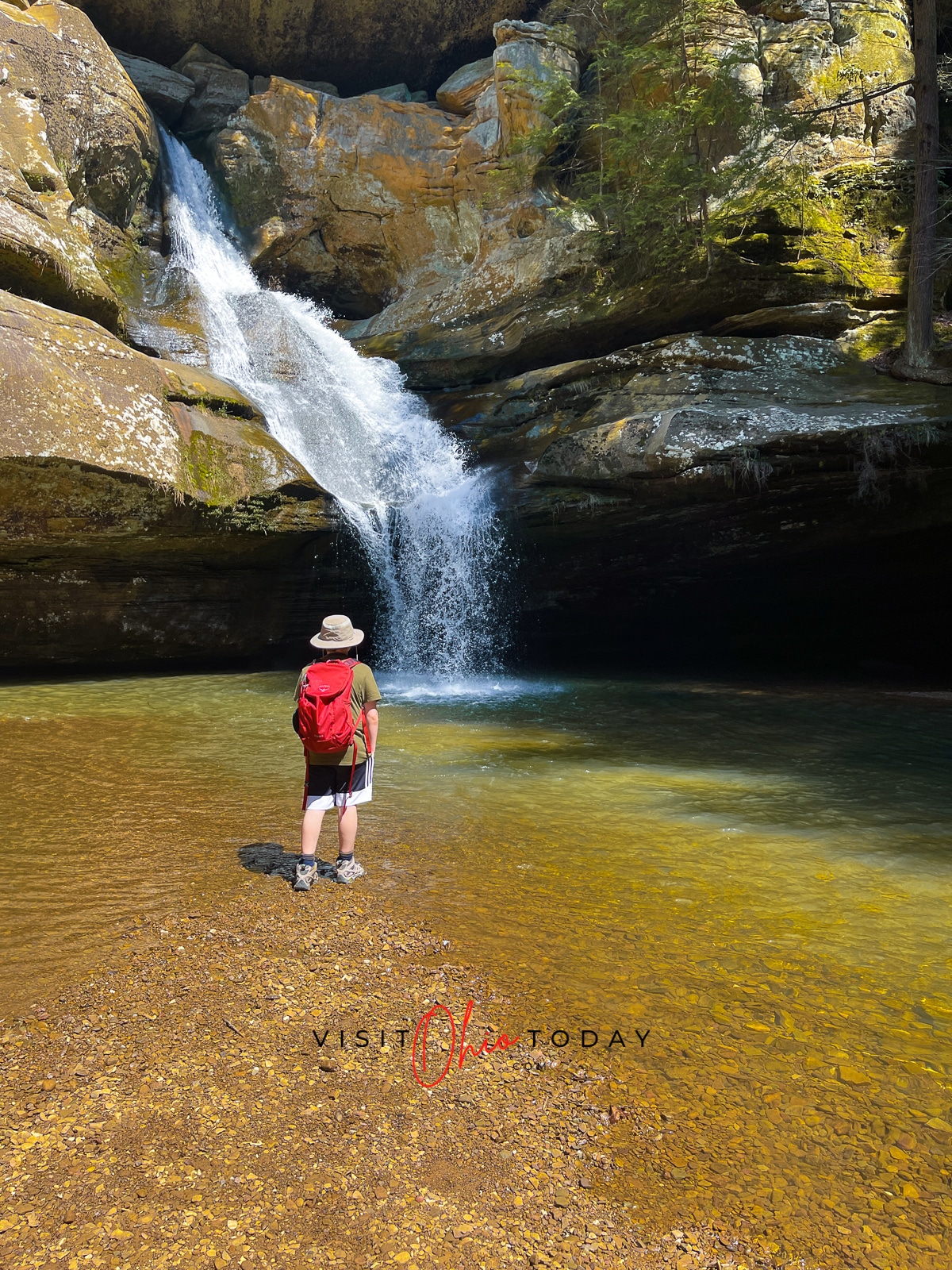 History of Cedar Falls Hocking Hills
Cedar Falls is the grandest waterfall in terms of volume in the Hocking Hills area! Queer Creek tumbles over the Blackhand sandstone displaying the awesome force that is water power.
A grist mill was built in the mid-1800's and is situated above the falls. It utilized the water power for gringing grain.
Cedar Falls was wrongly named by early white settlers who mistook the stately hemlocks for Cedars! A well maintained picnic area and restrooms are located in the parking area above the falls.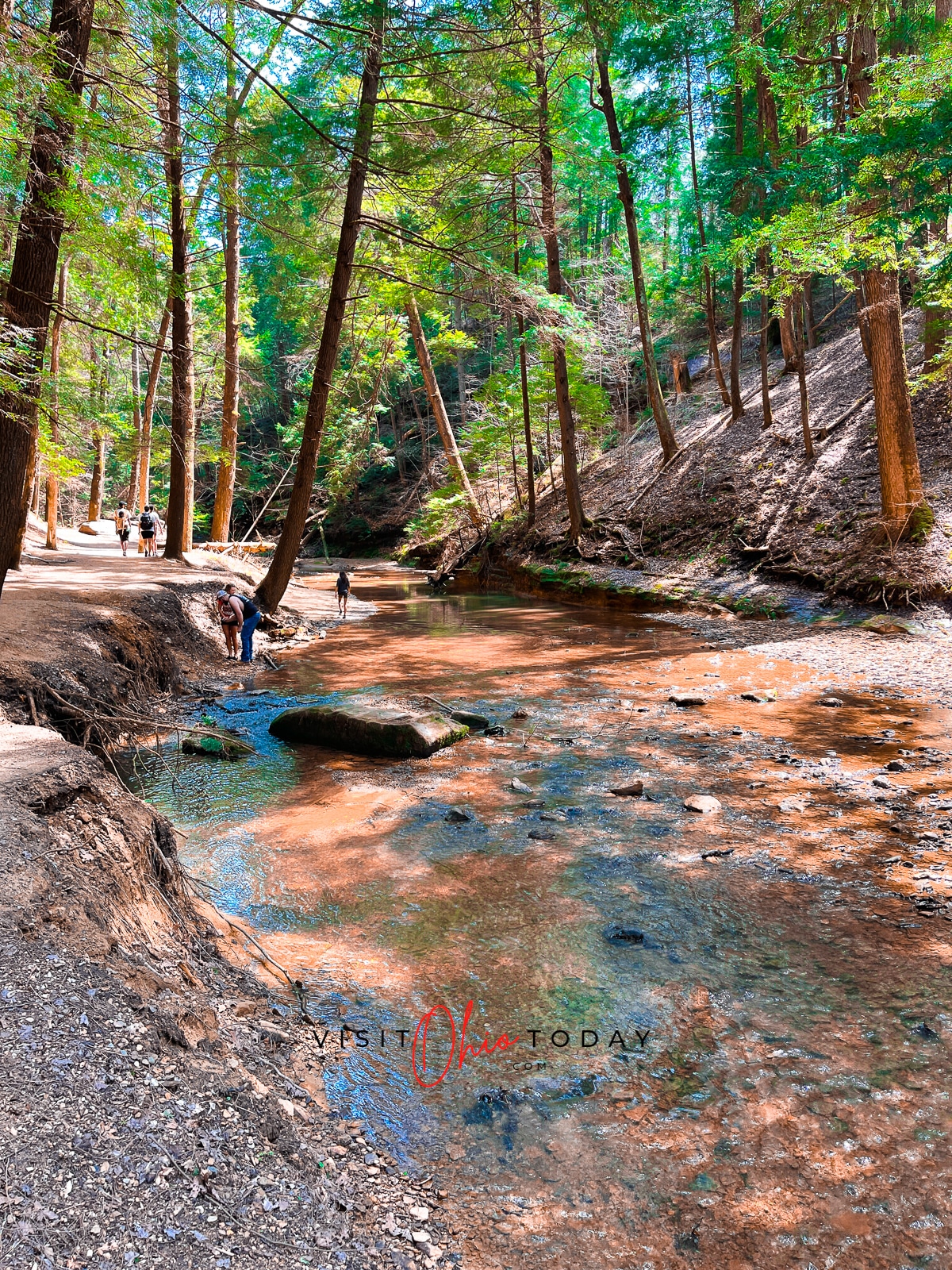 Hiking Around Cedar Falls Hocking Hills
Cedar Falls is one of the major hiking trails of the Hocking Hills State Park that is based in Southern Ohio. This path is around ½ miles long. This is a strenuous walk and it has plenty of steps. It is for this reason that it is recommended that you are physically fit to partake on this walk.
It is a one-way trail system (this was put into force with Covid restrictions) and it has a waterfall, bridges and an interesting rock system. Halfway along the trail, there is a seasonal waterfall. This can be reached by going down some steps and going along a dirt track. When hikers get to this area, you can continue along the one-way system through the rock formations and up a series of stairs. This hike has a moderate incline, steps and steeper terrain.
PRO TIP: Many people like to take a snack or a picnic and enjoy it in front of the falls. It is quite shaded and a cool place to relax on a hot summer day!
It is imperative that hikers stay on the marked trail. Well behaved pets are permitted on this trail, providing that they stay on their leashes. No wading or swimming is allowed in the waterfall. Source (although many people disregard this rule) If you choose to disregard the rule but very very careful as you wade through the low water over the rocks as the rocks are extremely slippery!
PRO TIP: Parking can be difficult. If you love to hike, you can park at Ash Cave and hike 2 miles (one way) to Cedar Falls. We did this on our last visit and loved it. It was well worth the hike! The trail is mostly dirt and rock and has lots of ups and downs, but is heavily populated.
Cedar Falls Video 2022
Democracy Steps - Cedar Falls Hocking Hills
The designer of the Democracy Steps Akio Hizume, wanted the 100 steps not to be a challenging task or chore, but simply to be pleasant and relaxing. Generations of visitors can become one with the natural rhythm of the architecture and precise disciplines of mathematics.
The Fibonacci sequence and the one-dimensional Penrose lattice heavily influenced the designer with regards to the flow and creativity of the Democracy Steps. Read here for more information.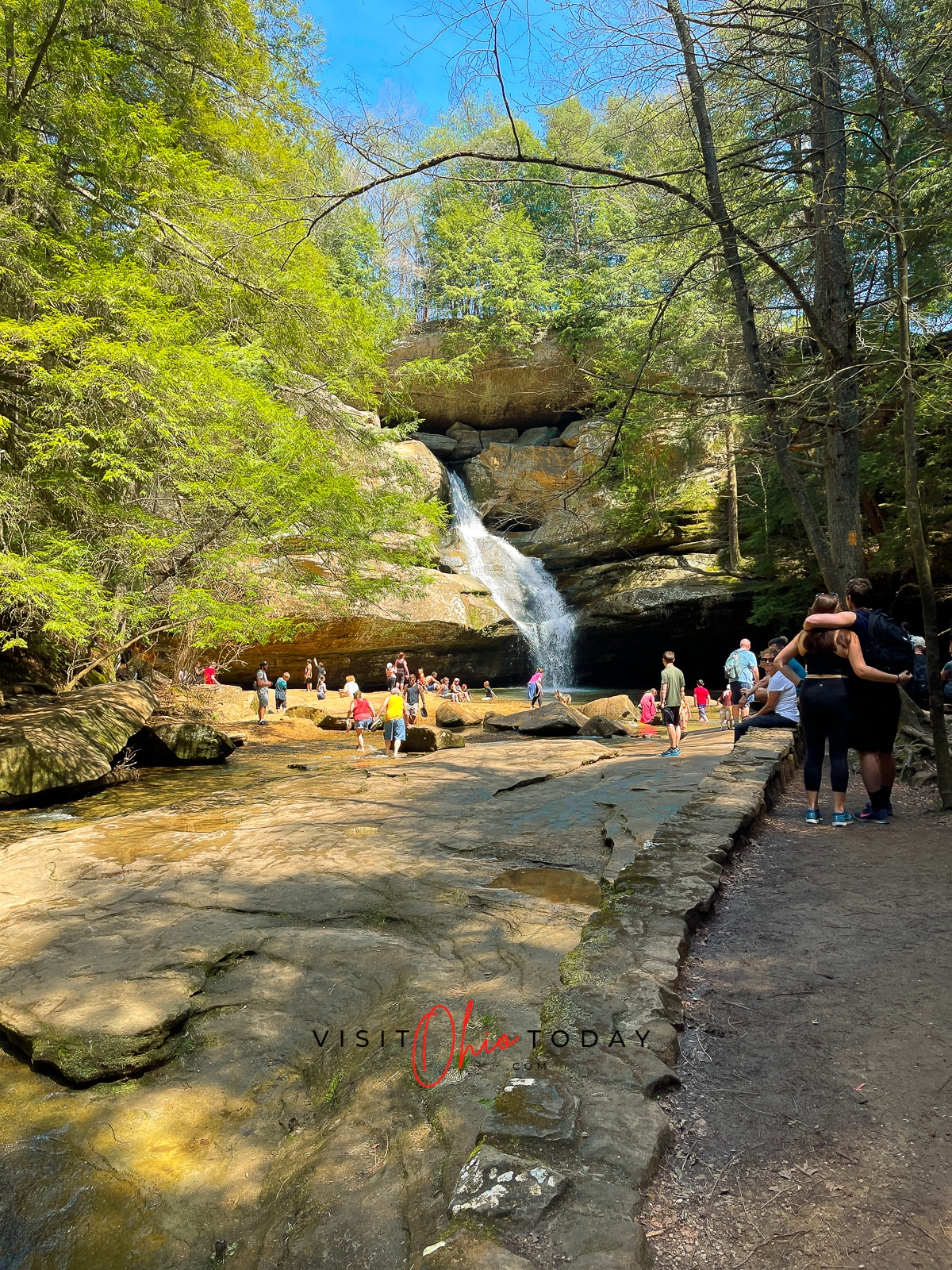 Places To Stary Around Cedar Hills
There are so many places to stay in the Hocking Hills area! Here are some of our favorites: Idyll Reserve | Hocking Hills Treehouse Cabins | Cherry Ridge Retreat | Cedar Grove Lodging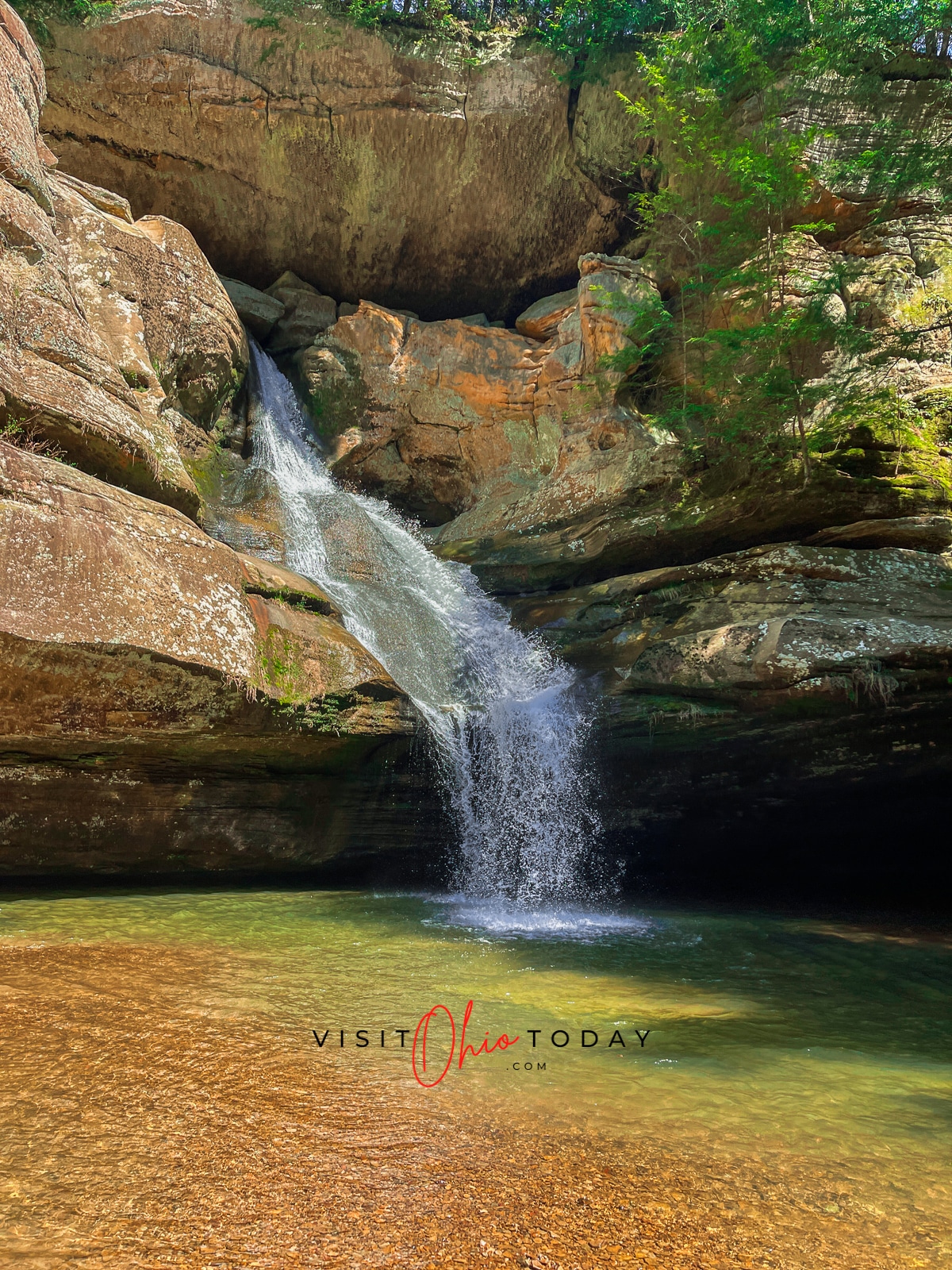 What Are Others Saying About Cedar Falls Hocking Hills?
"We chose to drive to the parking lot instead of navigating the trails as you can do from Old Mans Cave and Whispering Cave. Very pretty trail, however a little surprised at all of the people not following the rules here… Smoking and wading in the waters as it clearly states not to disturb…One person had the guts to tell some people their wrongdoing. Okay, enough said but please respect the trails and property when you visit. Enjoy what this trail has to offer and hopefully Mr. Turtle will greet you too." - JT (Granger, Indiana)
"We started at Old Man's Cave on the rim trail, which is above the gorge and a fairly easy hike to start. It takes you to the dam and lake at the end. The trail turns and you end up at a secure suspension bridge. Once you cross the bridge you turn right and arrive at a lot of steps heading down into the gorge. Starts at Cedar Falls. The trail through the gorge is challenging. You have to walk across a lot of precarious rocks. This way of doing the trails is about 7.5 miles- but, well worth it!" - ST (Westminster, Maryland)
"Trail to the waterfall was easy. Tried to take the trail around first but was a little confusing( and treacherous, but it was only our second hike of day one so still getting the wobble out of our knees) and turned around too early. Very pretty! Good warm up to some tougher hikes!" - CC (USA)
"Best waterfall in Hocking Hills! This is a great trail. We loved it! It has the best waterfall that you must see! We will definitely be back someday!!" - K513 (Erie, Pennsylvania)
"Amazing gorges, cliffs, waterfalls and caves....words and photos do not do the justice. The experience is once in a lifetime." - SS (USA)
"Fairly easy loop trail that is a little less than a mile in length. Very scenic falls to be viewed, nice restrooms at the parking area, and a fee free park. There are quite a few steps but they are in good condition." - TOJB (New Florence, Pennsylvania)
Where is Cedar Falls Hocking Hills Located?
Cedar Falls is located at: Hocking Hills State Park 21724 Ohio 374 Scenic, Logan, OH 43138 | GPS Tracking: (39.418265, -82.526295)
Let's Go To Cedar Falls Hocking Hills!
Cedar Falls is situated in the stunning Hocking Hills State Park, Hocking County, Ohio. It is one of the 7 major hiking trails in Hocking Hills.
Have you visited Cedar Falls? We would LOVE to hear from you!
If you are looking for more Things To Do In Ohio, then we recommend you check out these suggestions! Also in the area you can visit: Rock Bridge Nature Preserve | Conkles Hollow | Rock House | Ash Cave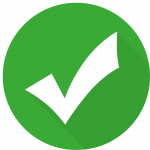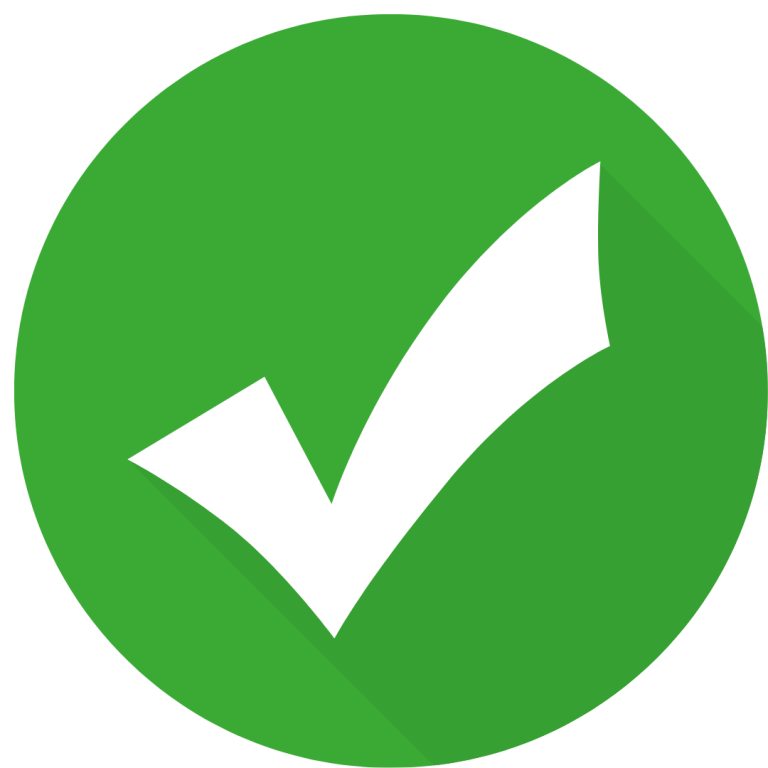 Hello! We have done our very best to ensure that the accuracy of events, hours, addresses, etc are up to date. Please know that information can change due to weather, updated health and safety challenges, etc. If you find incorrect information, please send us an email and we can get it updated.
To be updated and stay connected, subscribe to our newsletter.