Waterfalls In Ohio
This post contains links to affiliate websites, such as Amazon, and we receive an affiliate commission for any purchases made by you using these links.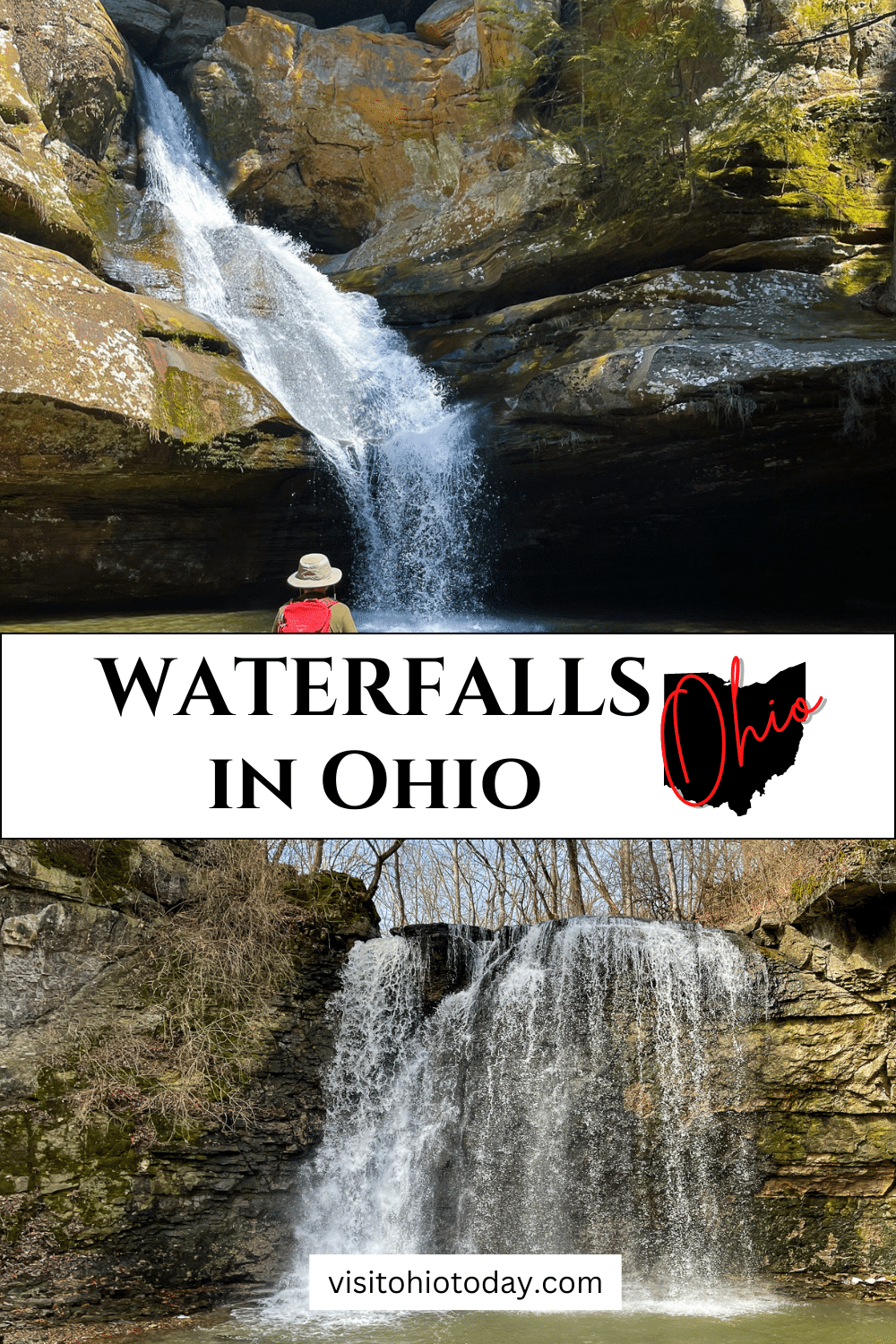 Ohio is known for its wonderful natural beauty and one thing that Ohio has a lot of, is waterfalls. Here are some of my favorite waterfalls in Ohio that I think you will enjoy. Some of the waterfalls are gentle and some are a bit more lively. Hiking and picnicking can also be done at some of these waterfalls.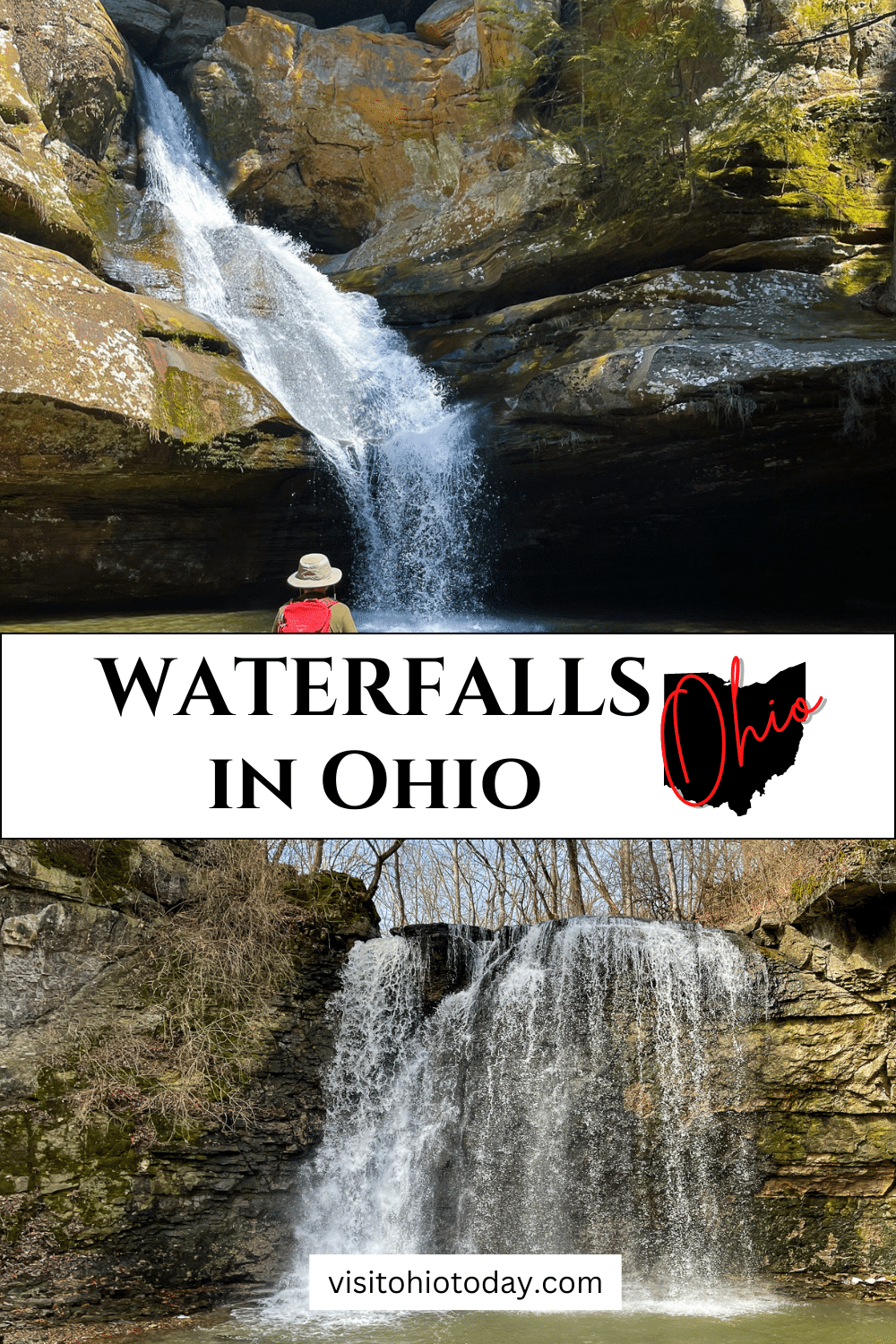 Map of Waterfalls in Ohio
Waterfalls In Northeast Ohio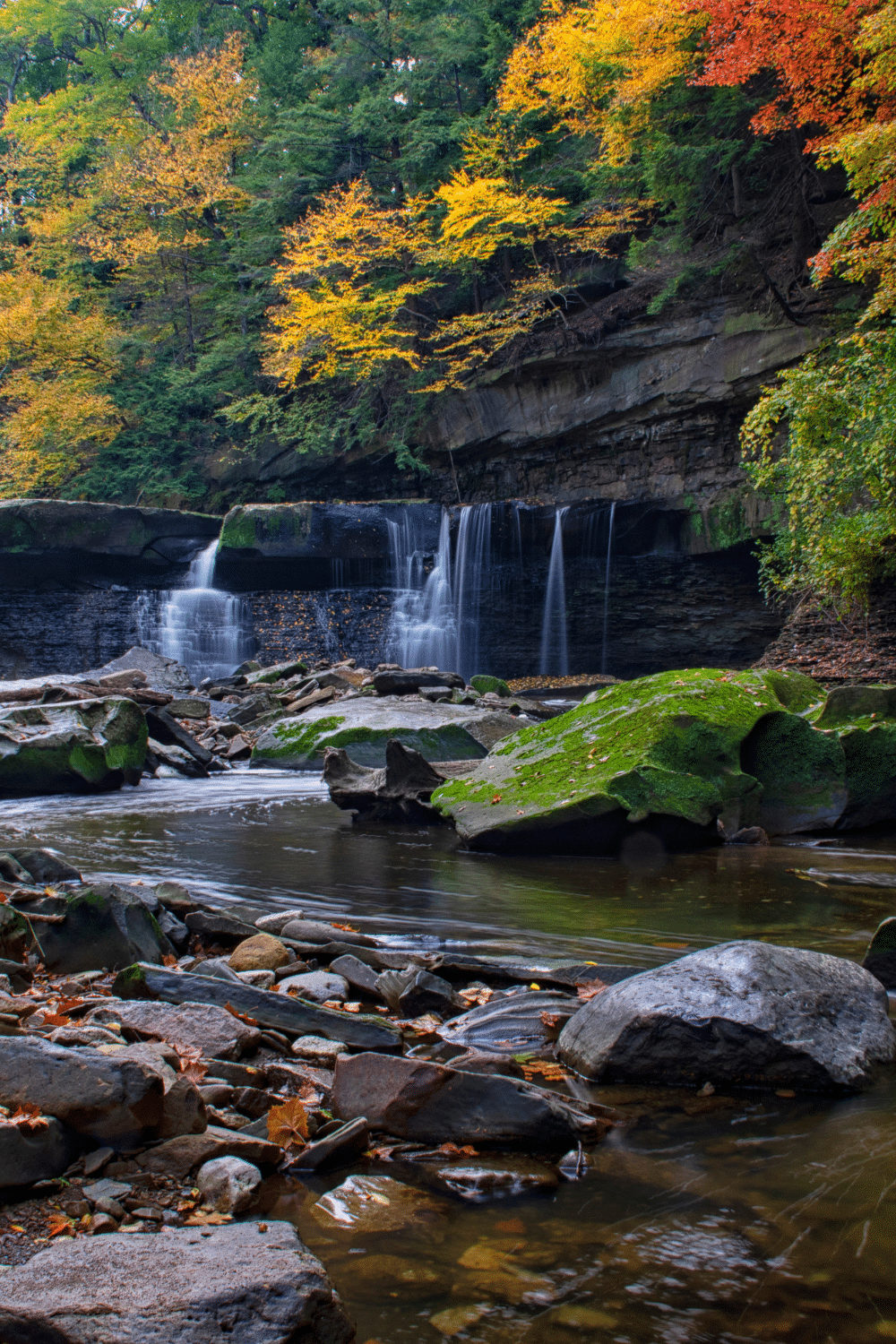 Great Falls of Tinker's Creek in Viaduct Park
This is a truly wonderful waterfall that is an absolute peach. It is one of the widest waterfalls in the state of Ohio and it measures just over 80 feet in width. This waterfall is located in Viaduct Park and when you are in the park, the trail is paved and it is also suitable for people with walking aids and strollers.
The waterfall is great all year round, but a top tip for you is to visit in the winter when Ohio freezes. This waterfall freezes over when it is cold and looks spectacular. This is a favorite place for people who wish to do some photography.
Berea Falls in Rocky River Reservation
This waterfall is a collection of smaller waterfalls instead of just one large one. Berea park is quite easy to access and it is located along the Rocky River. The stone bridges that are in the park are quite visually stunning and thanks to this, they have attracted both photographers and artists.
Parking is quite easy here and when one parks up, then it is simply a task of following the boardwalk. This waterfall can be enjoyed from a distance, or if visitors prefer, they can follow the short trail down to the waterfall for a closer look.
Chagrin Falls in Downtown Chagrin Falls
As the heading suggests, this waterfall is based in downtown Chagrin Falls, so no hiking is required! It really is as easy as it gets, all you have to do is find a place to park and then take a short walk to this fantastic waterfall. It isn't just the waterfall that is charming, Chagrin Falls itself is a really nice town that has plenty of amenities for people who are visiting.
Paine Falls in Paine Falls Park
Paine Falls is part of the Lake Metroparks and it is stunning. It is stunning because of the way that it has two tiers and a lovely 30-foot drop. There is a short trail to get to the waterfall and this is easy to find as it starts by the parking lot.
There is also a lovely bridge here and it is a place that has attracted artists over the years. Arguably the best time of the year to visit is in the fall, it is amazing.
You can download the trail map here, or access the interactive trail map here.
East Falls in Cascade Park
East Falls is very easy to access and is friendly for people who use strollers and wheelchairs. This is a unique waterfall as the water begins on the Black River and slips its way down a manmade spillway. The water then travels further down to a second drop.
There are actually two waterfalls in this park, West Falls is the other waterfall and they are both worth a visit. To get to West Falls, you need to take a small drive along the road, but it is worth it.
Day's Dam Waterfall in Black River Reservation
This is a stunning waterfall that is around 10 feet wide and over 40 feet tall. Back in the day, this was a hidden spot that was enjoyed by the locals and it is located on the Black River. Visitors are advised to park at the Day's Dam trailhead as there is a parking lot there. It is at this point that you will be able to find the Bridgeway trail.
Visitors need to turn right (head south) to get onto the trail and it is a short 15-minute walk before you get to the waterfall. A top tip is to visit in the winter after some heavy snow, as the extra water turns this waterfall into an even more amazing spectacle!
Brandywine Falls in Cuyahoga Valley National Park
This is the most popular waterfall in the Cuyahoga Valley National Park. In fact, it can be argued that it is one of the most popular waterfalls in the entire state of Ohio. This waterfall is very easy to access and it has a very impressive 60 feet drop. A tip is to visit this waterfall straight after a period of heavy rain. The reason for this is that not only is it visually spectacular, but you can also actually hear the crashing of the water before you see it – great for anticipation!
This waterfall has two observation decks for people to take photographs or simply marvel at Mother Nature. The top deck gives a birdseye view of the waterfall and it is wheelchair friendly. The lower observation deck does have some steps to take before you reach it.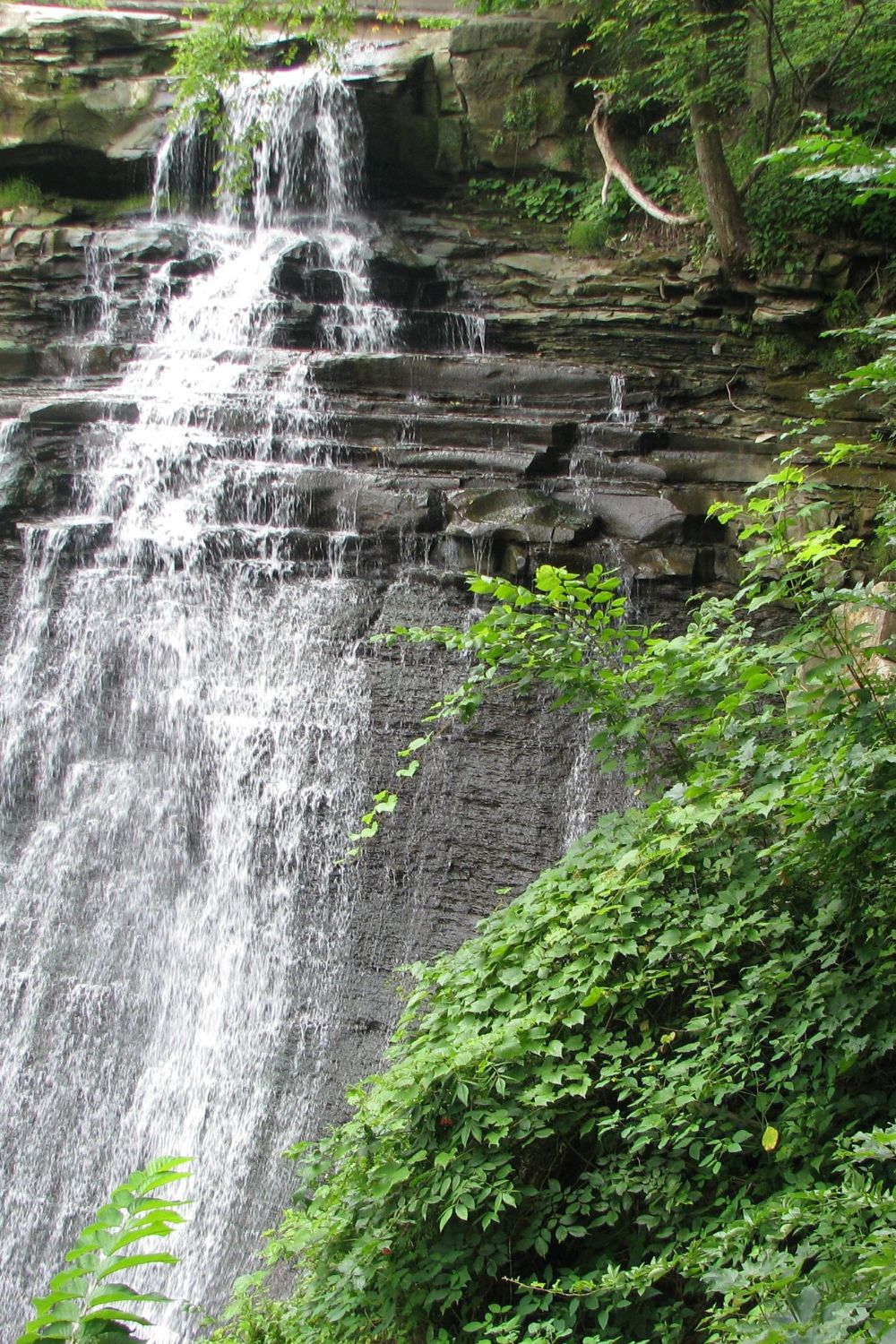 Buttermilk Falls in Cuyahoga Valley National Parks
This is not a designated trail and it is not maintained by the national park, however, it is hidden away and is definitely worth a visit. It is an easy path to get to the waterfall and the walk is around 5 miles in length. The key is hiking to Blue Hen Falls and there will be a signpost that says that the trail is finished. Carry on past the signpost and follow the path along the river.
You will have to cross the river a couple of times, but there are plenty of rocks to skip across the river and the water is quite shallow as well. Once you cross the river a couple of times and go further down the path, you will find the canyon and this gorgeous waterfall.
Waterfall at The Gorge Metro Park
This is a manmade waterfall, in fact, it is actually a dam. However, it is a really nice waterfall that is quite steep and the water flows through here at a rapid speed. It is very easy to get to as it is a quick hike from the parking lot. The view you get from the waterfall is really nice and longer trails are available in this area as well.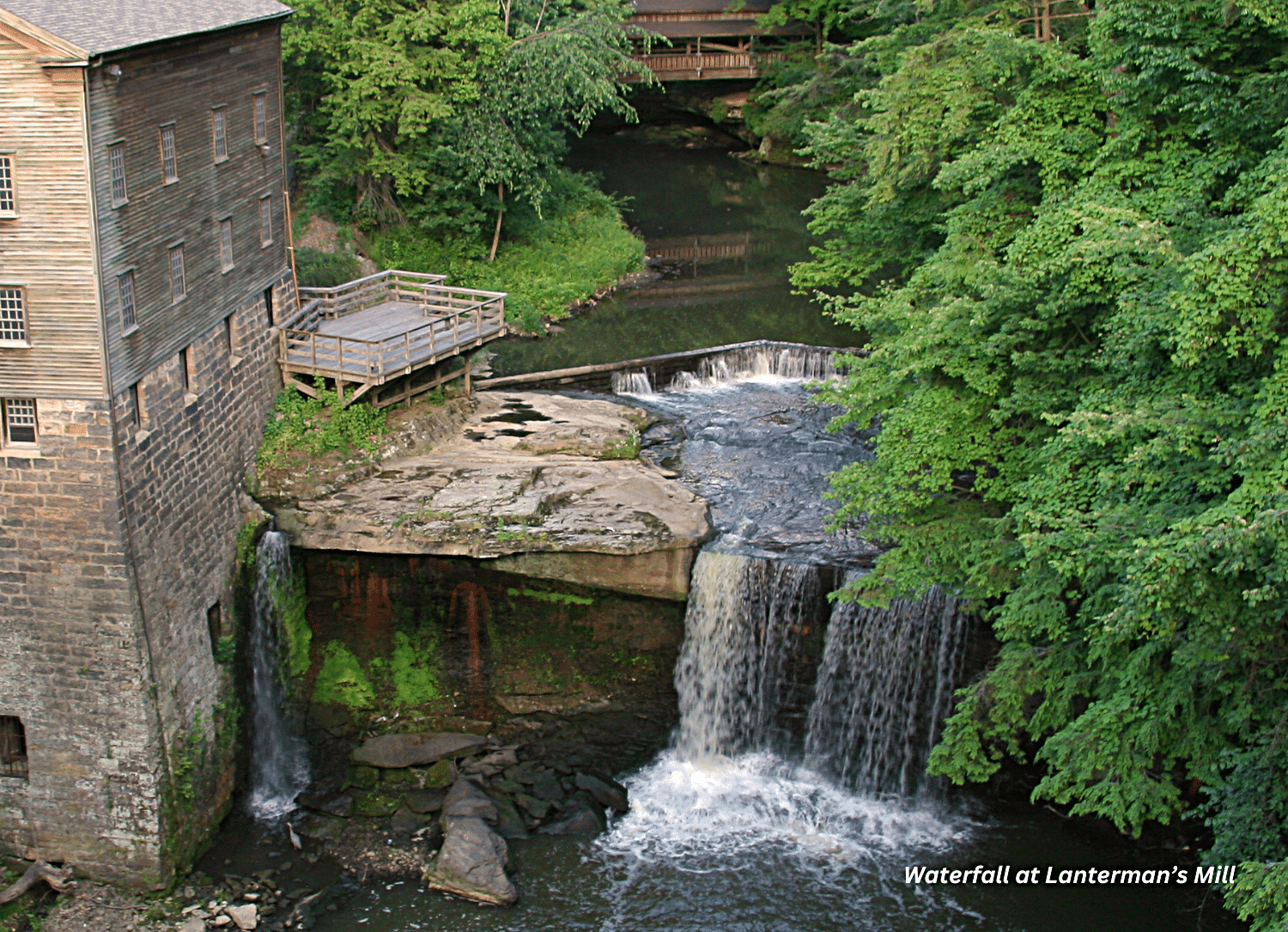 Lanterman's Falls by Lanterman's Mill in Mill Creek MetroParks
This is a great waterfall to visit as you can also combine a visit to the waterfall with a visit to the mill as well. The mill is open on a seasonal basis from May through to October and it is advised to phone ahead to check the times that the mill is open. The waterfall is located right next to the mill and is arguably one of the best waterfalls to photograph and paint in the area.
There is also a cute covered bridge nearby and if one feels up to it, you can also hike into other parts of Mill Creek Metroparks as well. The Gorge loop is a nice walk around this area and it begins at the waterfall. Signposts are situated along this trail.
Waterfalls In Northwest Ohio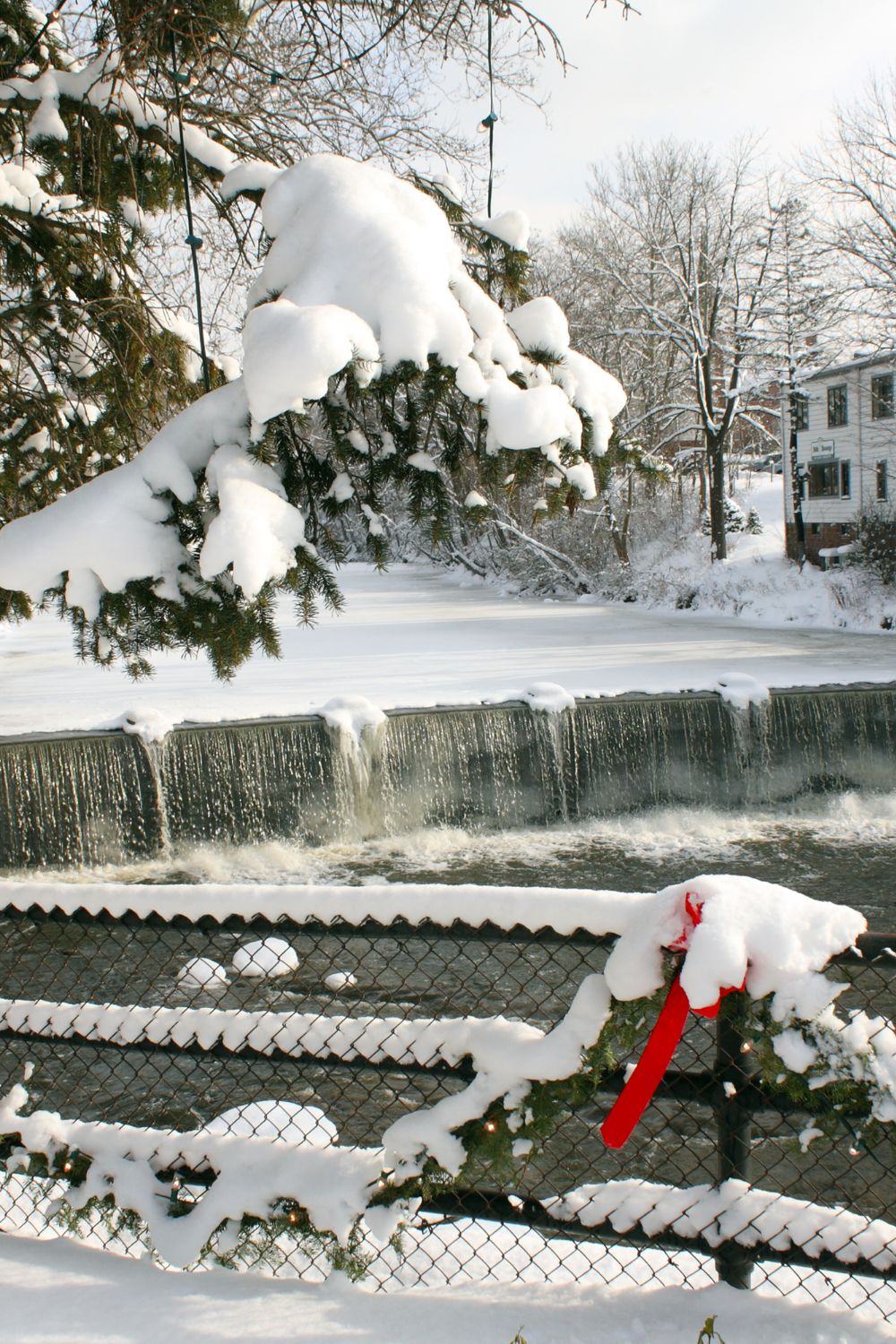 Day Light Falls
Day Light Falls is a small waterfall located in Napoleon. The area does not feature any picnic tables or bathroom facilities but it is a lovely area to take photographs and simply relax in nature's surroundings! It is a fantastic hike along the Maumee River.
Waterfalls In Central Ohio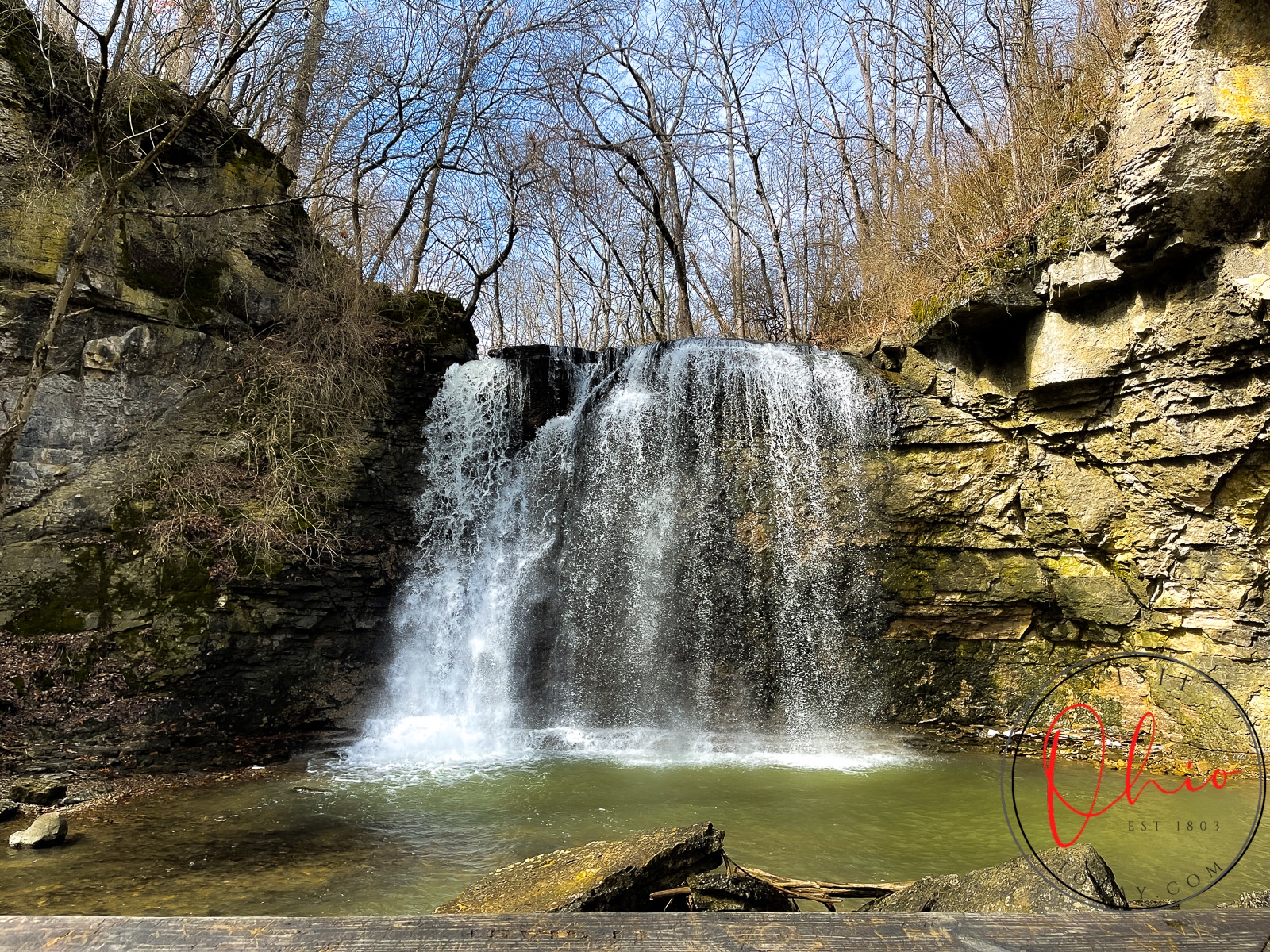 Hayden Run Falls in Dublin
This waterfall is located in the Griggs Nature Reserve in Dublin. Dublin is quite close to Columbus, so this is quite an easy place to visit in the car. This waterfall can be accessed by people of all skill and mobility levels, as it is just a short walk away from the car park.
The observation platform is an easy walk, however, anyone with limited mobility may find it difficult to get to the waterfall itself because there are steps. This is a lovely waterfall and is well worth a visit if you're in the area.
Rock Mill Waterfall
Rock Mill Falls is really easy to access. The waterfall flows through a gorge in Rock Hill Park. This is truly a stunning site that will live long in memory. There is a really cute rock mill based here and it was built back in 1799. It is located right behind the waterfall and it is very popular with photographers and artists. The best time of the year to see this waterfall is in the fall and winter.
The Rock Mill is open to the general public, so that is an added bonus of visiting here. The mill was restored 20 years ago and it is now fully functioning. Some parts of the original mill that was built in 1799 can still be seen. The waterfall is also a very easy walk to get to as well. It is the perfect place to bring a picnic and enjoy the noise of the waterfall.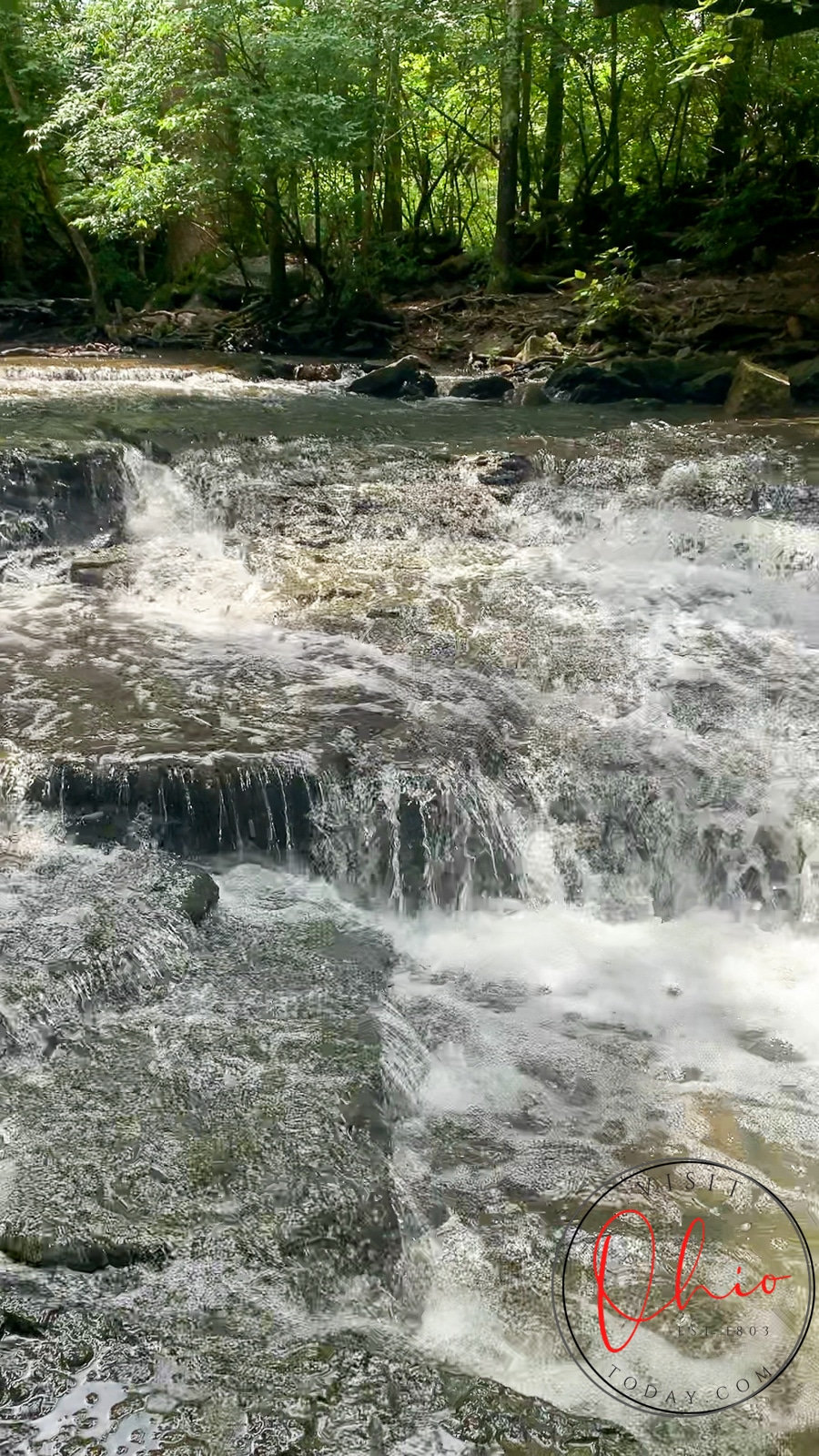 Indian Run Falls
This is a beautiful hidden gem squirreled away in Dublin. The site features a gorgeous stream, cascades, and a waterfall.
What makes Indian Run Falls so special is the pristine waterfalls and streams. The area used to be home to the Wyandot Tribe. The city of Dublin provided access to the area by adding trails, observation decks, a shelter house, and a walking bridge.
Waterfalls In Southeast Ohio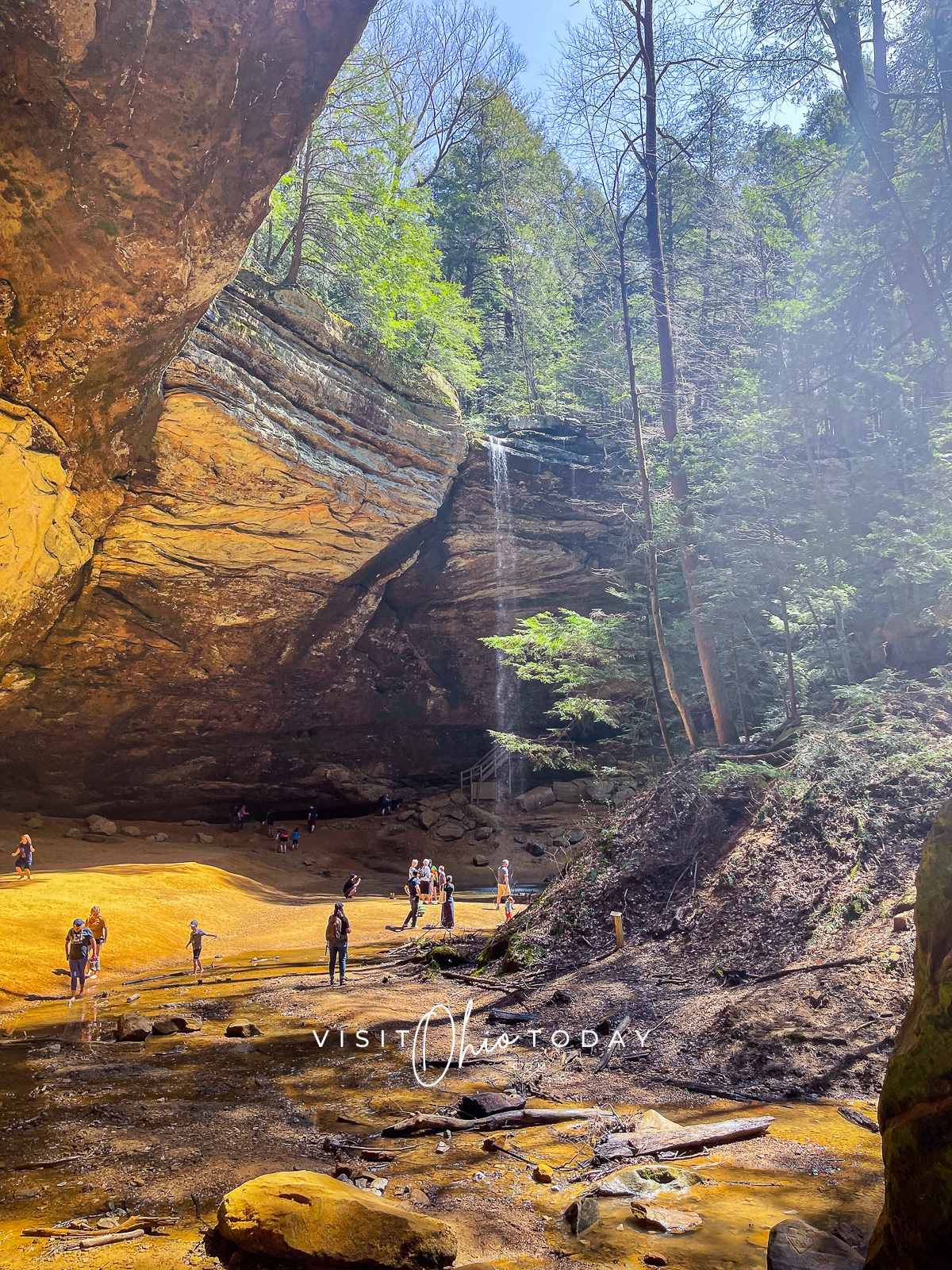 Ash Cave
The waterfall at Ash Cave is best seen in the spring after the snow of winter has melted away. In fact, the best time to visit is around March and April as this is when the waterfall is at its best. in the wintertime, when the temperatures are sub-zero, the waterfall will freeze over and turn into a large chunk of ice. This waterfall is one of the nicest in Hocking Hills and it falls at a height of around 90 feet. The cave itself is stunning and the waterfall really does complement it really well.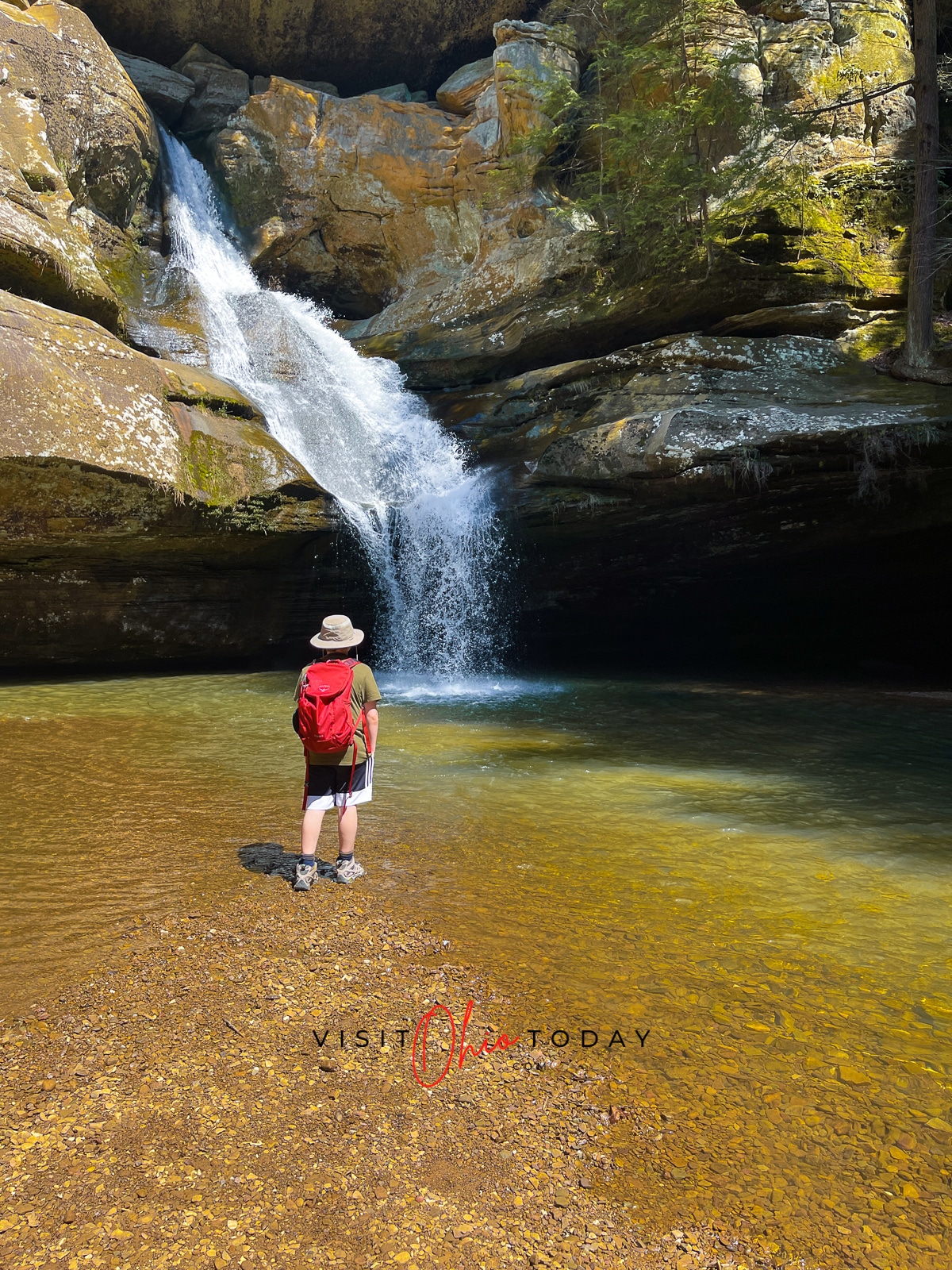 Cedar Falls at Hocking Hills
This waterfall is set in the stunning Hocking Hills State Park. This is the top waterfall in the park and it is the most photographed waterfall in Ohio. It is over 50 feet tall and it is the largest waterfall in all of Hocking Hills. The hike to the waterfall is breathtaking.
Hikers walk through a stunning forest that has an array of flowers and animals that call it home. There are also the remains of an old mill that stood above the falls back in the 1830s. This waterfall is one of the best ones you can find.
Conkles Hollow Waterfall
Conkles Hollow is a must-visit when you are in the Hocking Hills area. Honestly, this is one of our favorite places in that area. There are two trails at Conkles Hollow. There is the rim trail and the lower trail.
As you make your way to the end of the lower trail, you will find a 20-foot waterfall. The size of this waterfall will vary depending on recent rainfall. There is NO swimming or wading allowed near the waterfall. If it has rained recently, you should notice many waterfalls cascading down over the sandstone cliffs.
Waterfalls in Southwest Ohio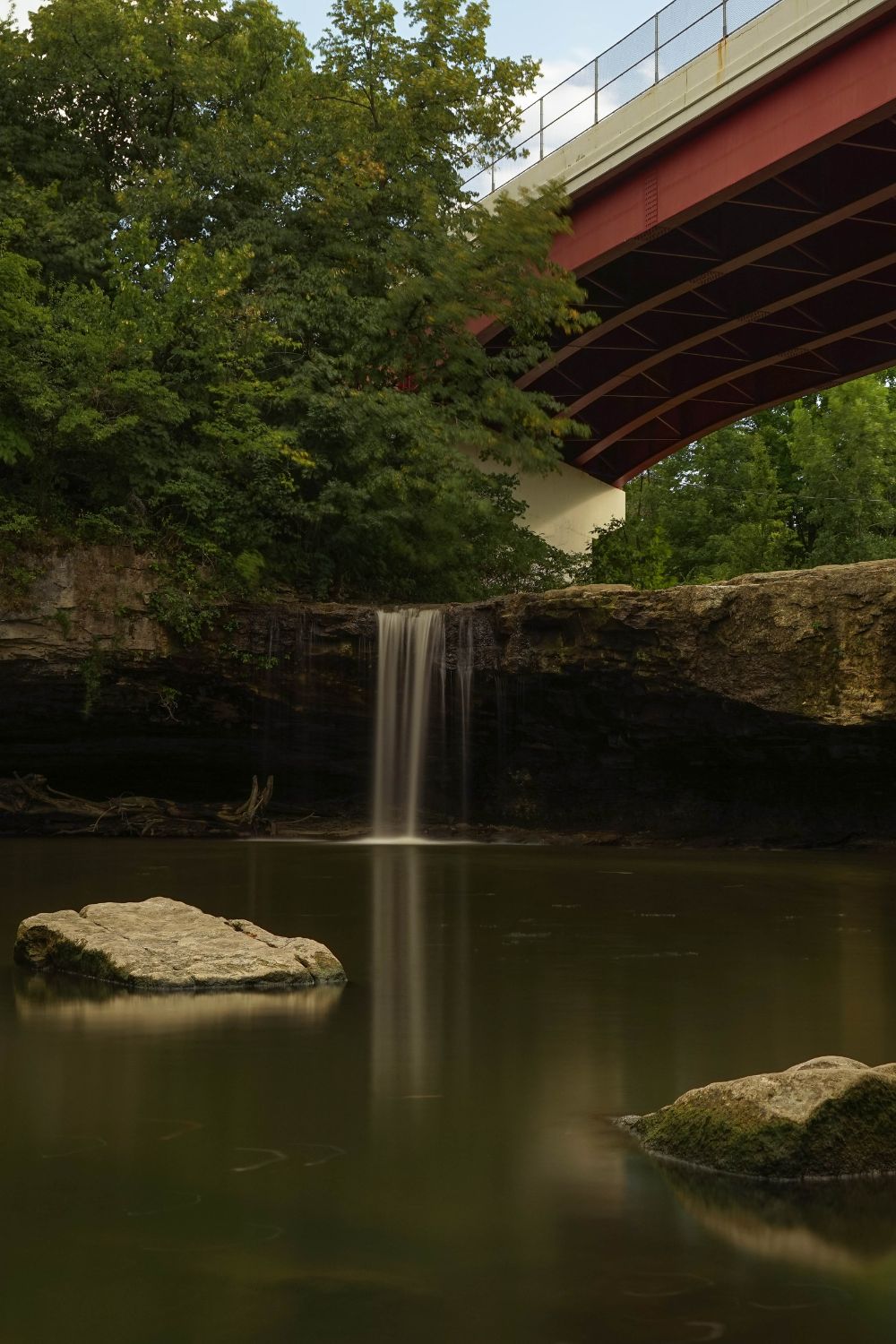 Ludlow Falls
This waterfall is one of the easiest waterfalls that you can find as it is located by the side of the road. However, please do not let it put you off that it is by the side of the road as this is arguably one of the best waterfalls in the entire area. The falls are located under a highway bridge and it is nearly 60 feet wide. You can also get into the creek if you go down some stairs.
Fallsville Falls
Fallsville Falls is located in a town that was actually abandoned back in the day! There is not much of the old town left as it has simply fallen into disrepair. However, whilst the locals decided to abandon the area, the waterfall that is here is stunning.
The trail to get to the waterfall is very easy and it is only a 10-15 minute walk. It isn't the highest of waterfalls, but it is beautiful and well worth a visit if you're in the area.
(Buttermilk Falls) We hiked up from the base on the gorge side and it's a lot of steps but there are flat areas to rest or stop and take photos of all the falls. This is an amazing hike, waterfalls everywhere! The water was rushing too so it was pretty. At the top we returned via the rim trail which doesn't have many steps and isn't treacherous at all, but you do need to watch for tree roots and rocks. You hear the falls but don't really have any good looks at the water like you do from the gorge side. The hike took us 1.5 hours.

Lisa S. (Trip Advisor)
Cindy's Insider Ohio Tips!
When visiting a waterfall in Ohio, I always wear sturdy hiking shoes with good traction, as the paths can be uneven. Also, consider going during the early morning or late afternoon for softer lighting and fewer crowds.
Let's Visit Waterfalls in Ohio
Have we captured all the wonderful waterfalls in Ohio? If we have not, please let us know your favorites in the comments!
If you enjoy exploring our amazing state and are the adventurous type, check out our article Horseback Riding In Ohio, or be amazed by the awe-inspiring Ohio Caverns!
Hello! We have done our very best to ensure that the accuracy of events, hours, addresses, etc, are up to date. Please know that information can change due to weather, updated health and safety challenges, etc. If you find incorrect information, please send us an email at [email protected], and we can get it updated.

To be updated and stay connected, subscribe to our newsletter.