If you're looking for a unique and awe-inspiring experience, Ohio Caverns is a must-visit destination. Located in West Liberty, Ohio, these caverns are known for their stunning crystal formations, underground rivers, and unique geological features.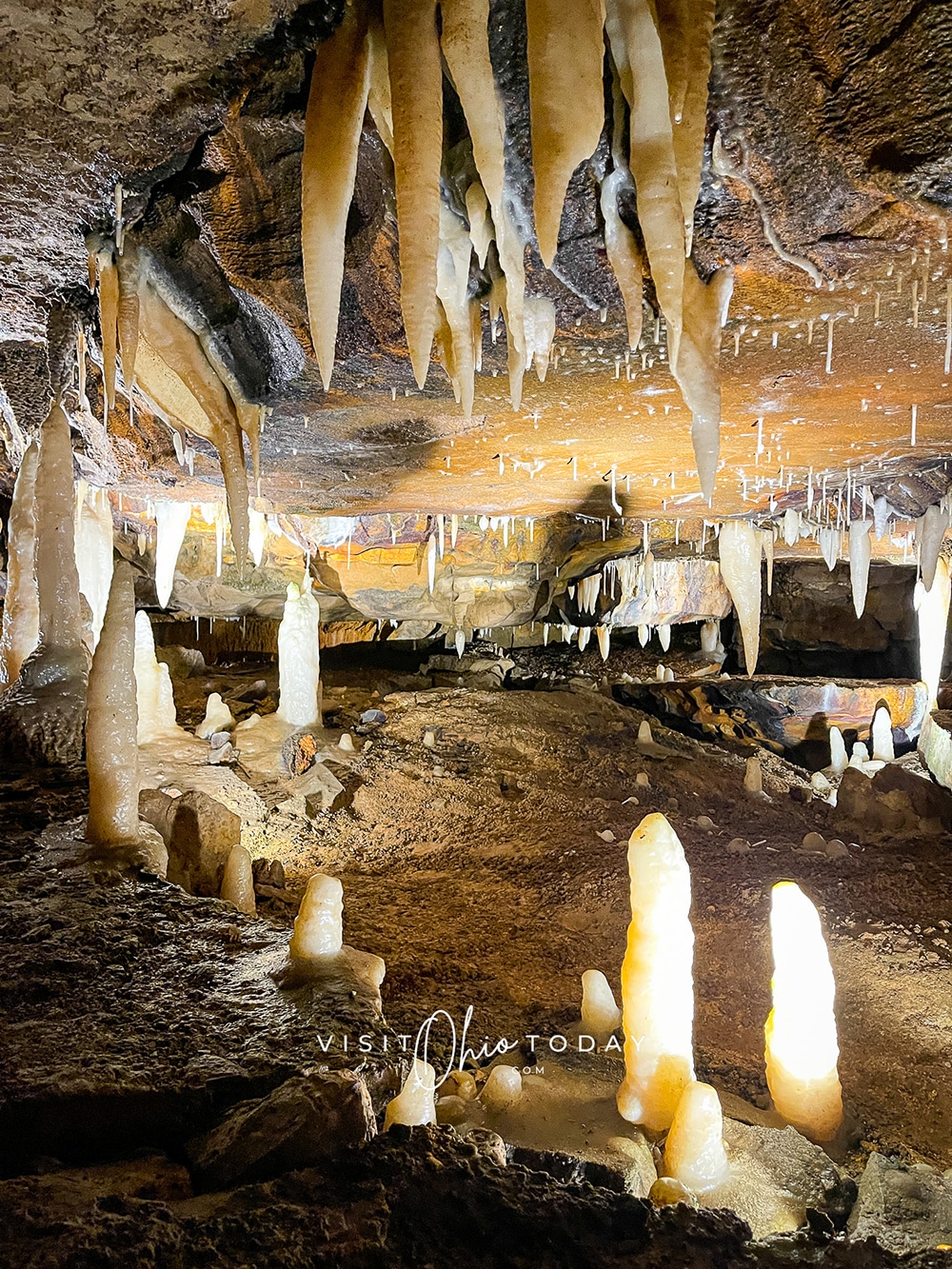 Visit Ohio Caverns
The Ohio Caverns were discovered in 1897 by a farmhand who was plowing a field. Since then, they have become a popular attraction for tourists and locals alike.
There are over two miles of passageways that range in depth from 30 feet to 103 feet.
The caverns are open year-round, seven days a week, 9am to 5pm. Visitors can take guided tours to explore the incredible natural wonders hidden beneath the Earth's surface.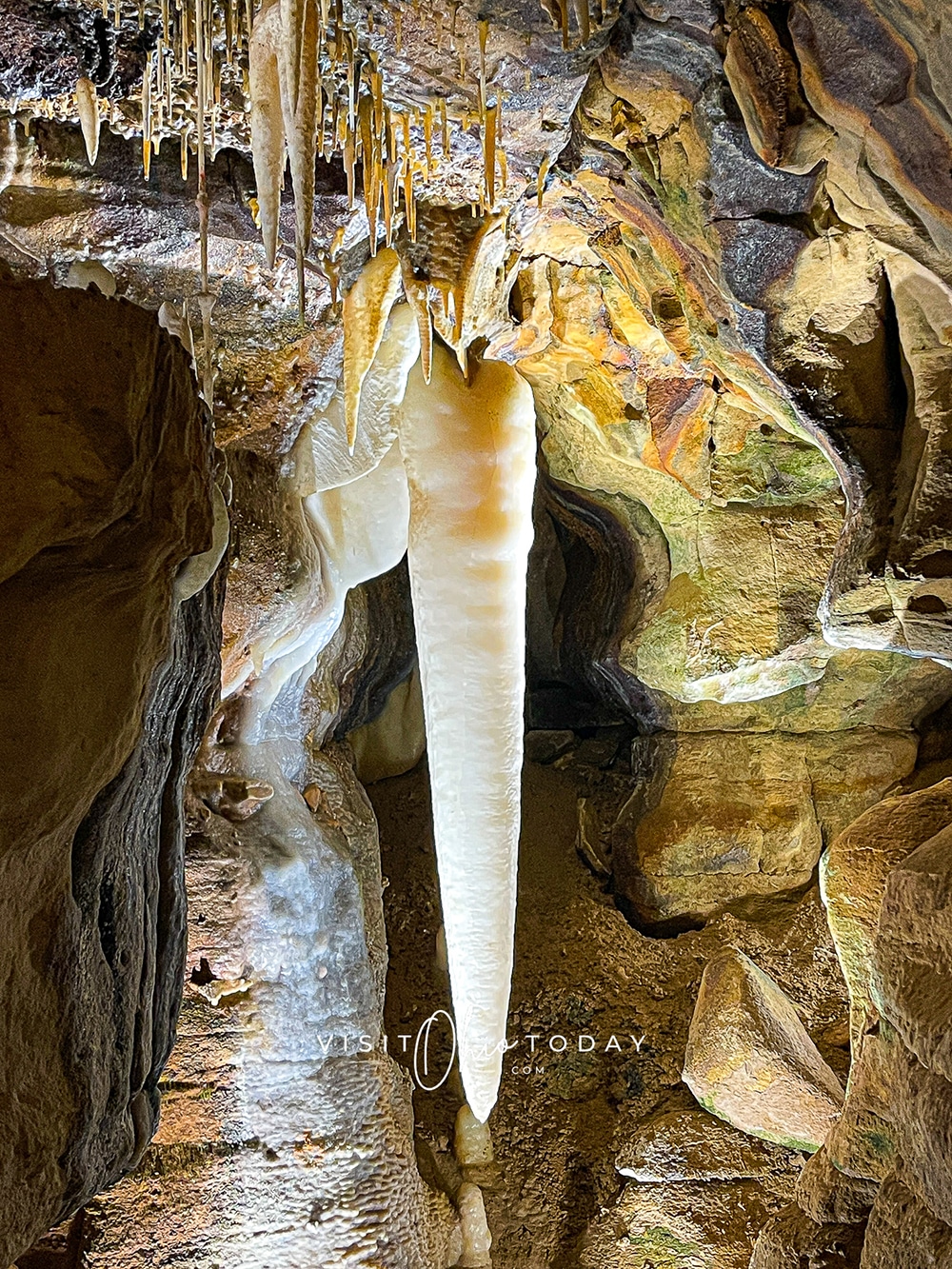 Tours at Ohio Caverns
The guided tours at Ohio Caverns are the best way to explore the stunning underground world of the caverns. There are five tours available. All except one of the tours are led by knowledgeable and experienced guides who provide insights into the geological formations, history, and significance of the caverns.
The tours are designed to be family-friendly and accessible to visitors of all ages and abilities. However, it's important to note that the tours do involve walking on uneven terrain and stairs, so comfortable shoes are a must.
NOTES: Guided tours can start as frequently as every 10 to 15 minutes at busy times, and there is a limit of 20 people. A discounted combo ticket for both the Natural Wonder Tour and the Historic Tour is available.
Natural Wonder Tour
Summer Tour | May 1 to Sept 30
This tour follows a winding path and enters the cavern through a sinkhole entrance. The area this tour covers was discovered in the 1920s. This tour takes approximately 50 minutes.
Historic Tour
Summer Tour | May 1 to Sept 30
The Historic Tour begins on a shuttle bus to the original entrance of the caverns, and then this tour takes in parts of the caverns that were opened between 1897 and 1925. This tour takes approximately 50 minutes.
Limestone Tour
Summer Tour | May 1 to Sept 30 | Wheelchair and Stroller Friendly
This tour caters for visitors with limited mobility. It follows a winding path to the top of the sinkhole entrance and then takes a short loop inside the cavern. This tour takes 25 minutes.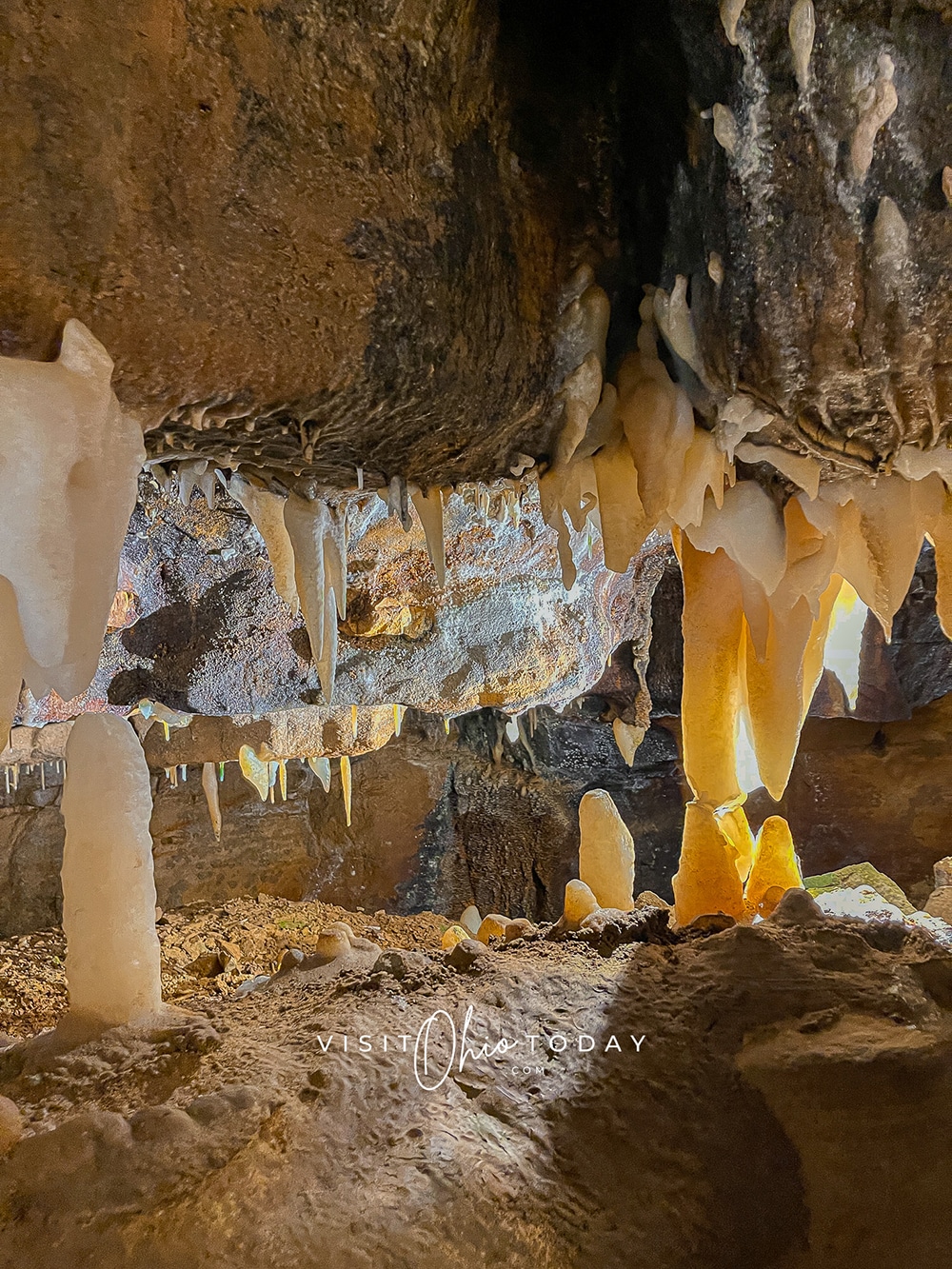 Winter Tour
Winter Tour | Oct 1 to Apr 30
This tour includes highlights of the Natural Wonder and Historic Tours, as well as an extra section that does not feature in any summer tours. This tour takes approximately 50 minutes.
Tree Tour
Year-Round Tour | Self-Guided
This is a self-guided tour of the grounds around the Ohio Caverns. Tree tour maps are available at the ticket counter. Each tree in the park has a sign with a fact about that tree. Some of the trees you will see in the park are Eastern Red Cedar, Sassafras, Pawpaw, Norway Spruce, Ohio Buckeye, and London Planetree.
Crystal King at Ohio Caverns
One of the most impressive features of the Ohio Caverns is the Crystal King. A massive column of sparkling crystals that stands over 5 feet tall. Other notable formations include stalactites, stalagmites, and flowstones, which form over millions of years as water seeps through the limestone rock and leaves behind mineral deposits.
Activities and Facilities at Ohio Caverns
In addition to the guided tours of the caverns, there are several other activities that visitors can enjoy at Ohio Caverns. Here are some of the most popular ones:
Gem Mining
At the sluice, visitors can purchase bags of dirt containing rough gemstones and fossils, which they can sift through to find treasures to take home.
Gift Shop
The Caverns' gift shop offers a wide variety of unique souvenirs. Including jewelry made from gemstones found in the caverns, books about Ohio's geology, and other memorabilia.
Picnic Area
There is a designated picnic area where visitors can enjoy a meal or snack before or after their tour. The area has picnic tables, grills, as well as a playground for children.
Educational Programs
Ohio Caverns also offers educational programs for school groups, scouts, and other organizations. These programs teach visitors about geology, conservation, and environmental science in a fun and engaging way.
Ohio Cave Trail
You can pick up a 'passport' at any of the four caves involved, which will be stamped at each cave you visit. If you visit them all you will receive an 'Ohio Cave Trail' T-Shirt. The four caves are:
Crystal Cave
Ohio Caverns
Perry's Cave
Seneca Caverns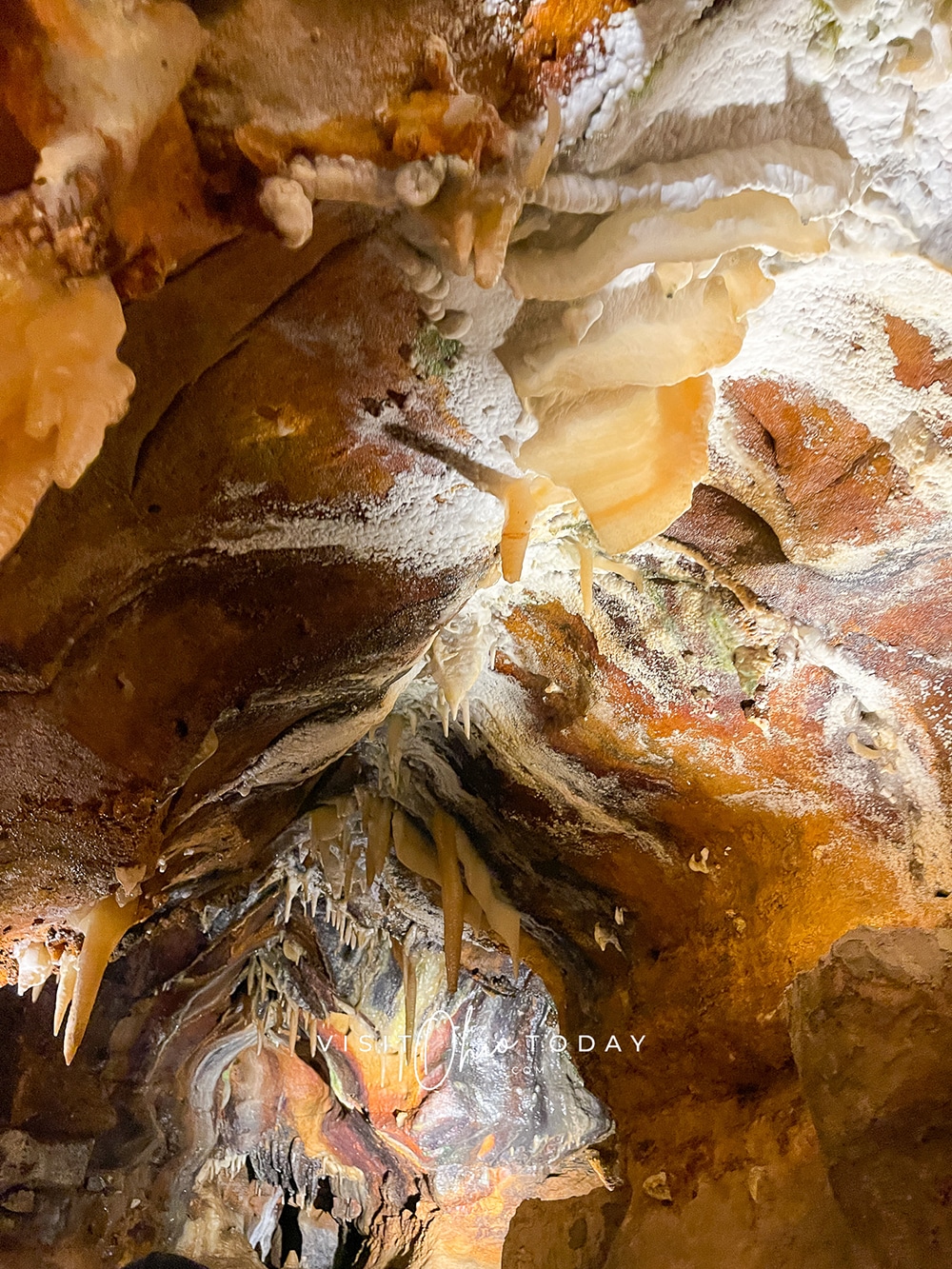 Tips for Planning Your Trip to Ohio Caverns
If you're planning a trip to Ohio Caverns, here are some tips to help you make the most of your visit:
Book your tickets in advance: To ensure that you get the tour time and date that you prefer, it's a good idea to book your tickets in advance, especially during peak season.
Wear comfortable shoes: The tours of the caverns involve walking on uneven terrain and stairs, so be sure to wear comfortable and sturdy shoes.
Dress appropriately: The temperature in the caverns is a constant 54 degrees Fahrenheit, so it's a good idea to bring a light jacket or sweater.
Arrive early: To avoid crowds and ensure that you have enough time to enjoy all the activities at Ohio Caverns, arrive early in the day.
Bring a camera: The underground world of Ohio Caverns is filled with stunning natural beauty, so be sure to bring a camera to capture all the amazing sights.
Pack a picnic: Ohio Caverns has a designated picnic area, so consider packing a picnic lunch to enjoy before or after your tour.
Where are Ohio Caverns Located?
Let's Go to Ohio Caverns
Have you visited the Ohio Caverns? Did you take one of the guided tours? We'd love to know! Leave a comment below and share your experience.
Check out our round-up of Caves in Ohio. For more adventures in Ohio, some of our favorites are Prairie Oaks Metro Park, Lanterman's Mill, and Great Seal State Park. Or see our full list of Adventures in Ohio!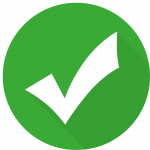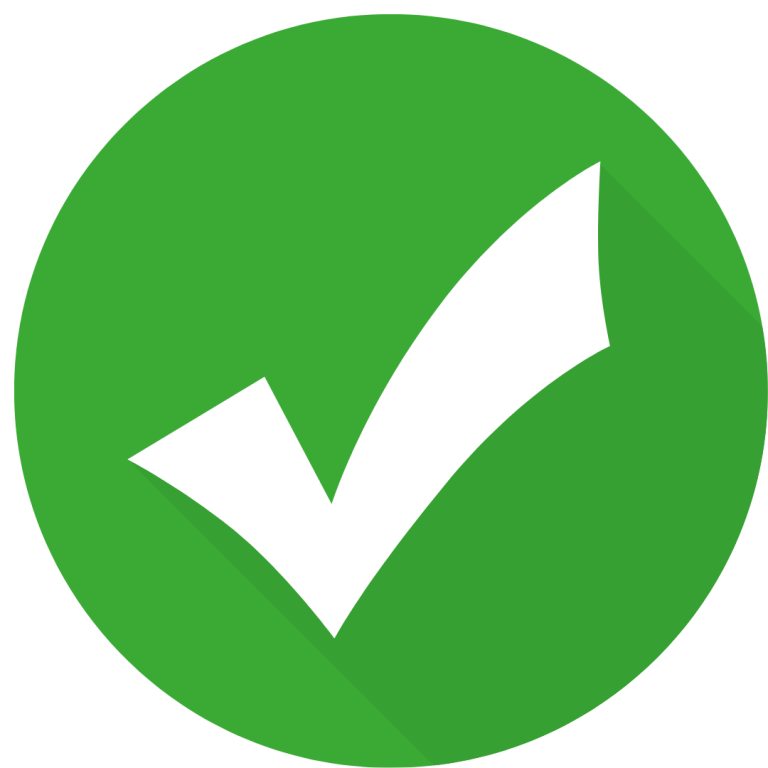 Hello! We have done our very best to ensure that the accuracy of events, hours, addresses, etc are up to date. Please know that information can change due to weather, updated health and safety challenges, etc. If you find incorrect information, please send us an email and we can get it updated.
To be updated and stay connected, subscribe to our newsletter.