Hayden Falls – Hidden Dublin Waterfall
This post contains links to affiliate websites, such as Amazon, and we receive an affiliate commission for any purchases made by you using these links.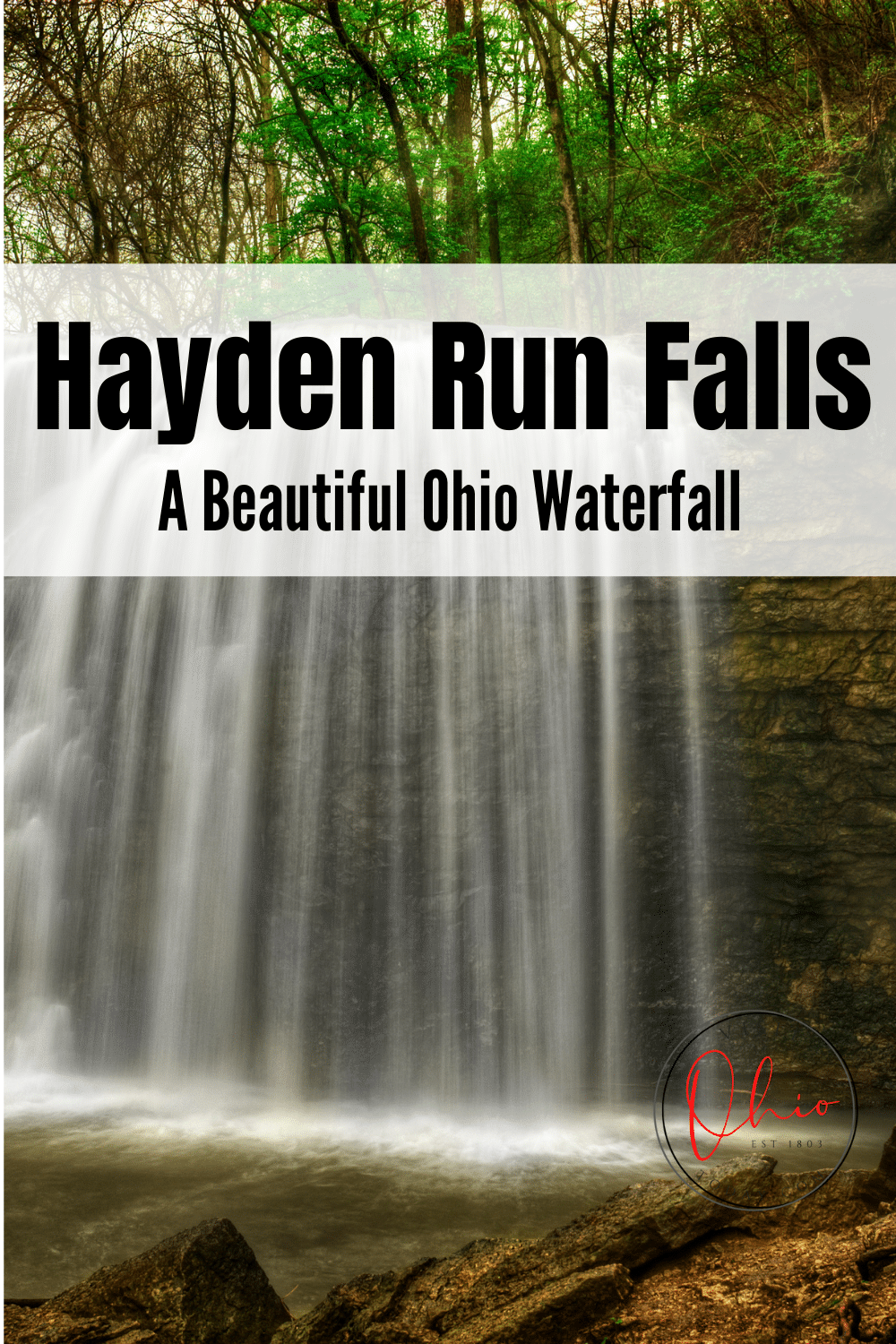 Hayden Falls is a beautiful hidden gem of a Waterfall tucked into the bustling suburb of Dublin, Ohio. Take the afternoon to check out this Ohio Waterfall called Hayden Run Falls.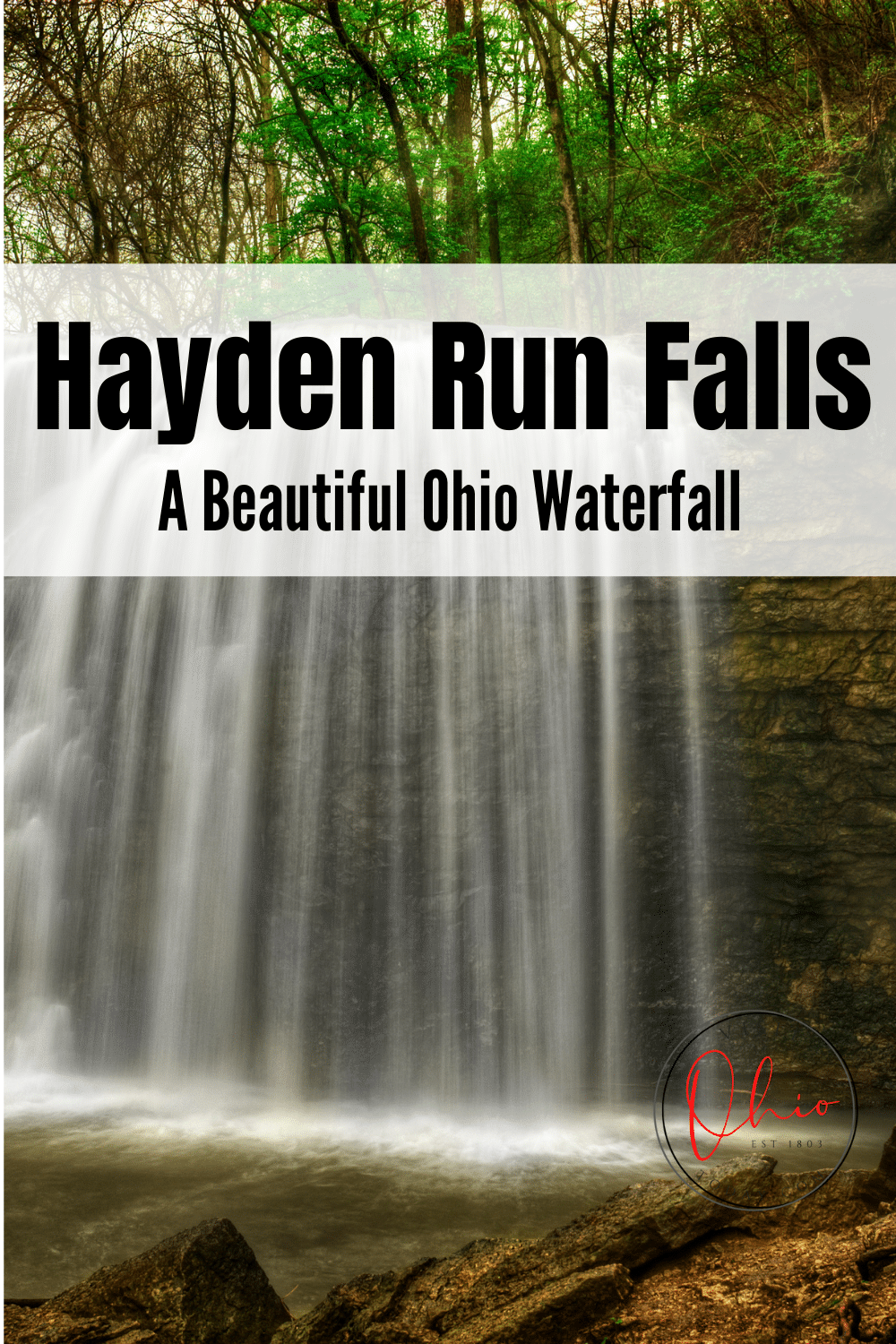 Visit Hayden Falls
Hayden Falls is located at 4326 Hayden Run Road, Dublin, OH 43017. Hayden Falls is located within Griggs Nature Preserve. It is located near the Scioto River, alongside Hayden Run Road. When you arrive, you will see a sign that says Griggs Nature Preserve. If you see this sign, you are in the right place! This is where Hayden Falls is located!
There is a very small parking lot located along Hayden Run Road, between Dublin Road and Riverside Drive. You might miss it when you first drive by. It looks more like a pull-off on the side of the road, than a parking lot. If you are coming from Riverside Drive, then over the bridge, the parking lot will be on the left side of the street. From the parking lot, you will find a set of stairs that leads down to Hayden Falls.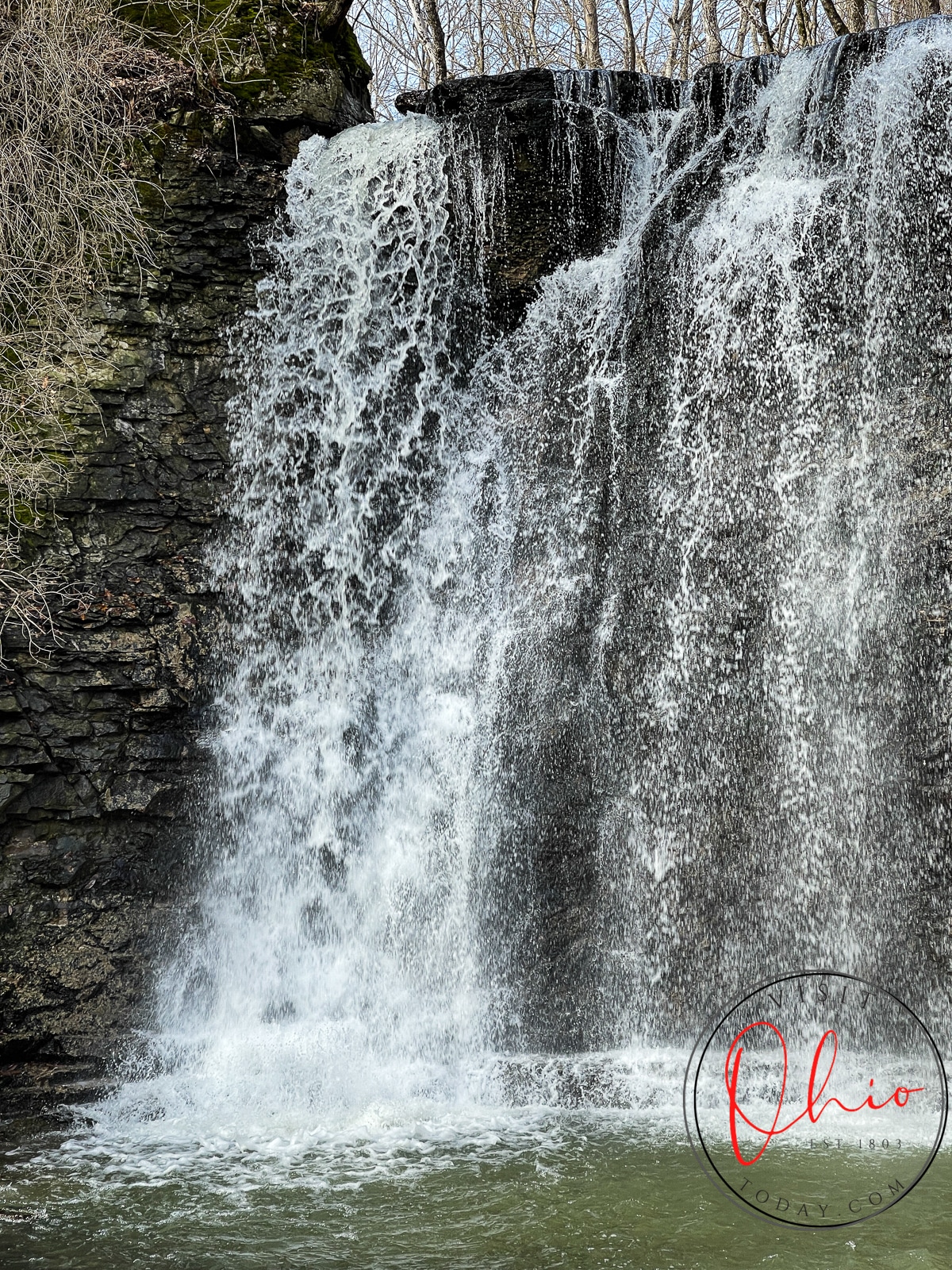 Hayden Run Falls
Hayden Falls is a 35-foot waterfall tucked away in Dublin. It is easy to drive past Hayden Run Falls and not even know it is there. You can view Hayden Falls from the upper observation deck if you want an eagle's eye view or simply want to avoid the stairs.
Once you take the stairs down to the boardwalk, you are instantly and figuratively transported to a nature wonderland. The "hike" is about a 0.3-mile trip. It is a short one but is moderately trafficked, so you will see other people. However, you will not be able to tell that this Ohio Waterfall is tucked between a busy road and a suburb! The well-constructed boardwalk makes this a family-friendly walk, however, you do have to take stairs to reach the boardwalk. It is possible to carry a stroller up and down the stairs, so your child can use the stroller on the boardwalk, but it can be tough.
You can visit Hayden Run Falls any time of the year, but visiting after a rainfall will give you the best viewing experience. After a decent rain, Hayden Run Falls crest is about 30 feet. Visitors often describe Hayden Run as a surprisingly wild waterfall.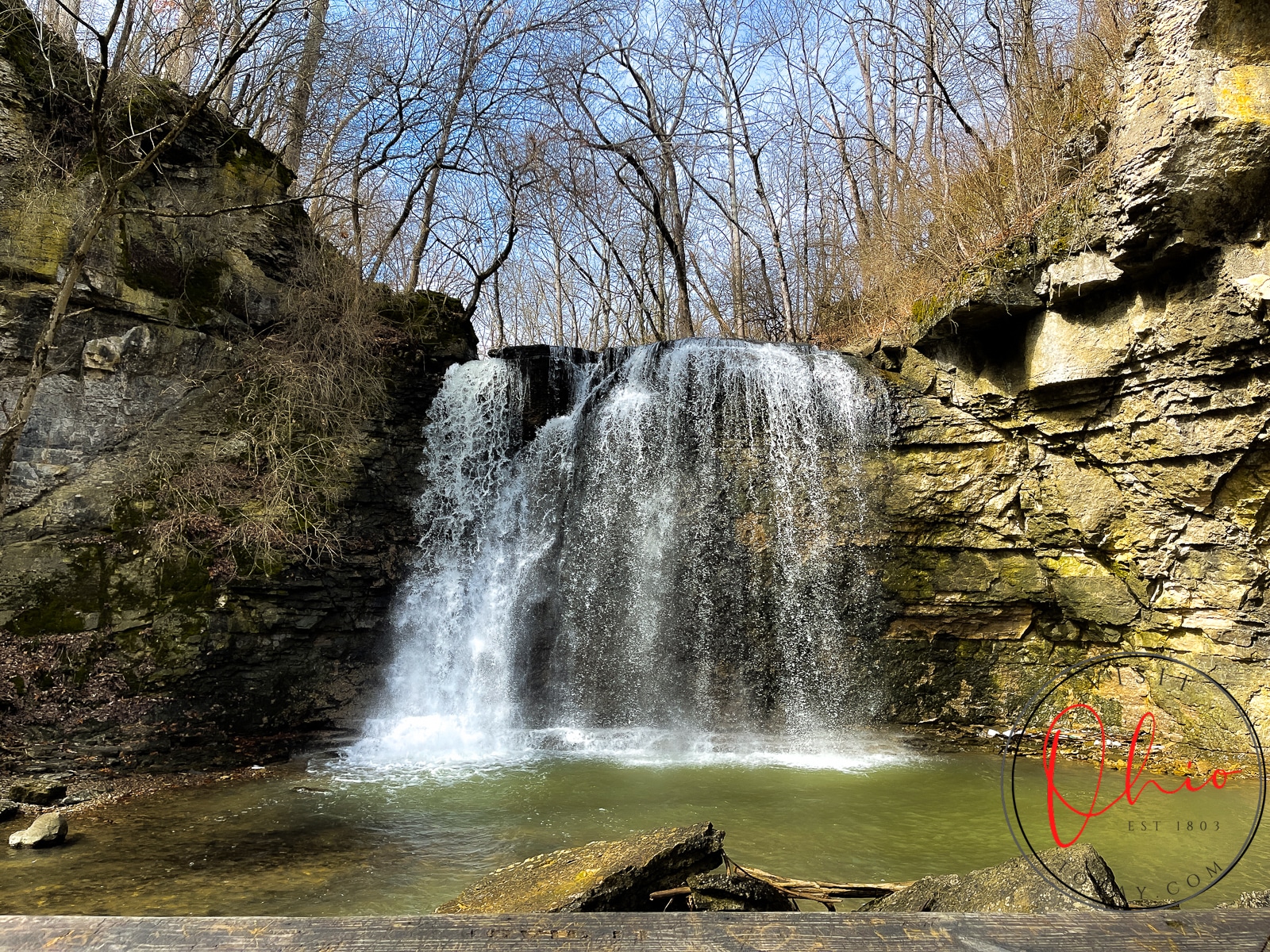 Hayden Falls Video
Hayden Run Park Tips
Please use caution on the steps and the boardwalk if wet. If there has been a recent large rainfall or is currently raining be sure to be mindful of your surroundings as water can rise quickly.
Be careful when leaving the small parking lot, it can be hard to pull out or back out onto the busy Hayden Run Road.
Come back and visit the Hayden Run Waterfall in each season and after a large rain to see how it changes.
The "hike" down the steps and the boardwalk to the falls, is relatively easy and short. It would make a great outing for a family if you are limited on time.
If there has been no rain, the waterfall does often dry up and you might not see a flow over the rocks.
We have seen leashed dogs at Hayden Falls, so we assume it is dog-friendly. We could not find anything that told us otherwise.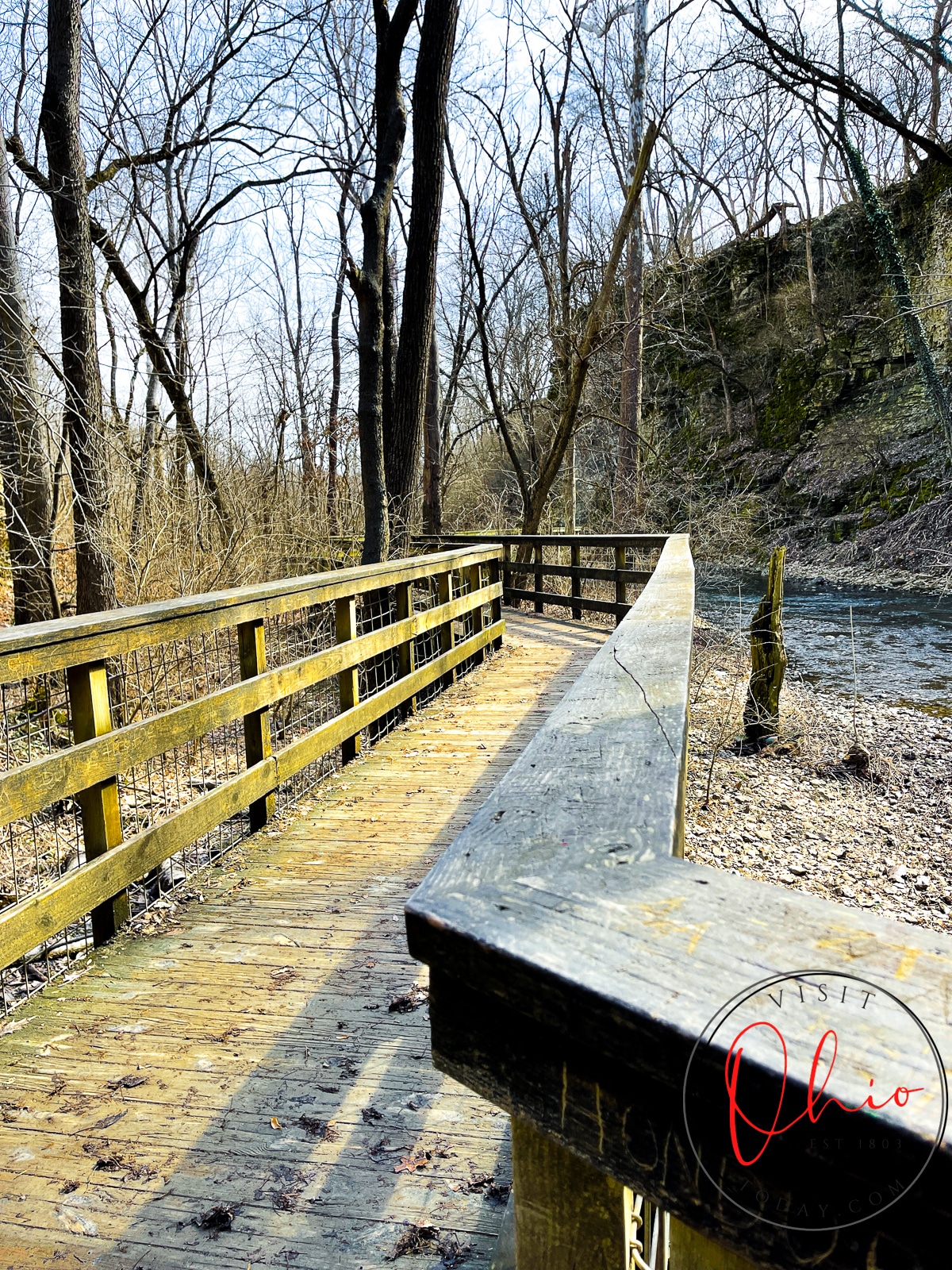 Hayden Falls Location
Cindy's Insider Ohio Tips
Hayden Run Falls is a beautiful area. The walk is not a long one, and there are many steps. I love to visit in spring when there is plenty of water and the falls are amazing. But it's hard to choose my absolute favorite season because the fall colors are beautiful too!
I have been to Hayden Falls in all 4 seasons. A nice cool natural pool to wade in during summer and beautiful ice falls in the winter. Needless to say, spring wild flowers & fall colors are beautiful.

Lucky (Trip Advisor)
Let's go to Hayden Falls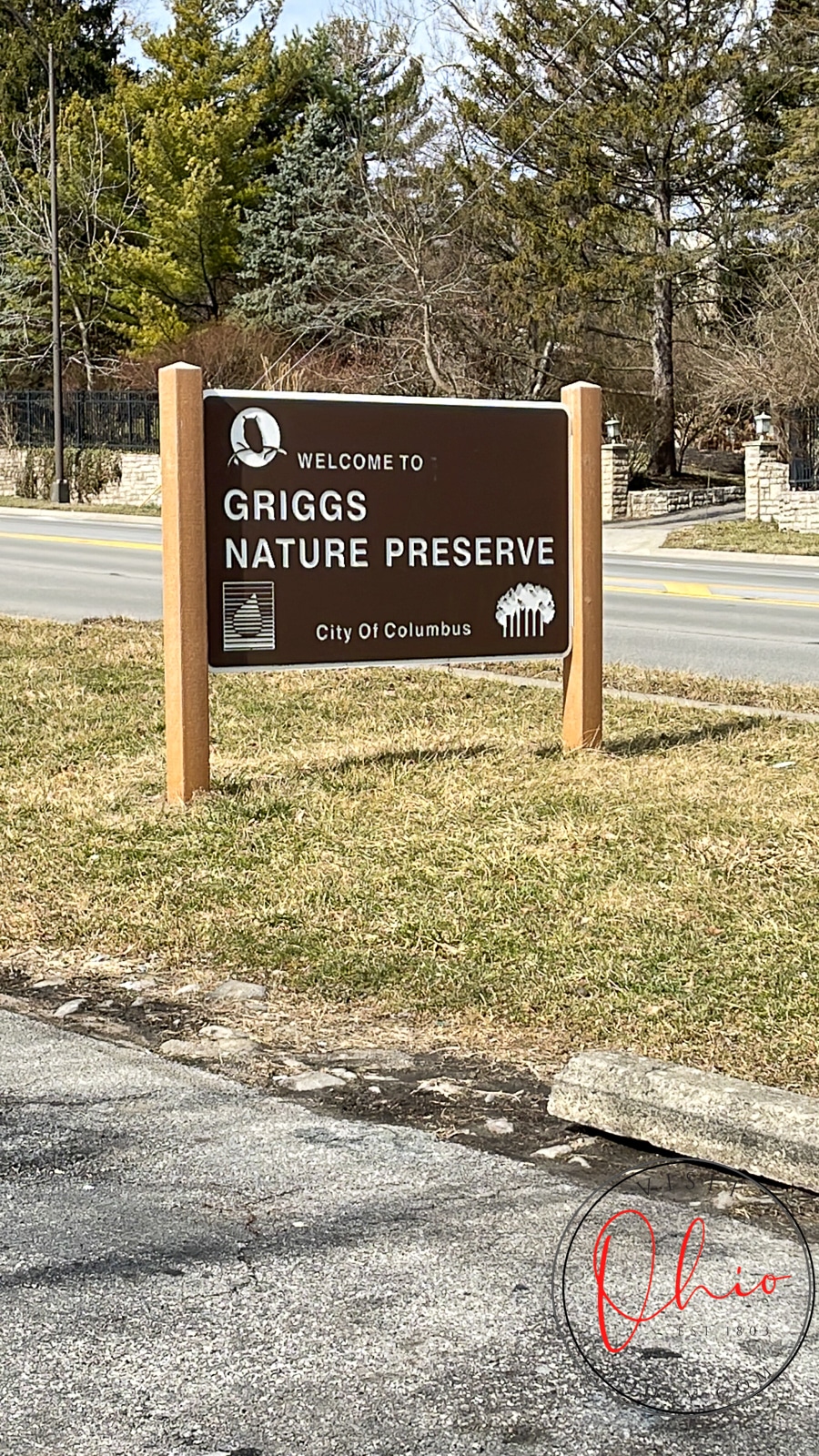 Have you visited Hayden Falls in Dublin Ohio? We want to know. We have been there several times in all different weather and it's beautiful each time. Be sure to look for the Griggs Nature Preserve sign (pictured above) and you will know you are in the right spot! Drop us a comment below if you have been to the falls!
If you are looking for more places to hike while in the Columbus Ohio area, check out the Metro Parks. Be sure to check the weather before you head out.
Hello! We have done our very best to ensure that the accuracy of events, hours, addresses, etc, are up to date. Please know that information can change due to weather, updated health and safety challenges, etc. If you find incorrect information, please send us an email at [email protected], and we can get it updated.

To be updated and stay connected, subscribe to our newsletter.