Cask 307
This post contains links to affiliate websites, such as Amazon, and we receive an affiliate commission for any purchases made by you using these links.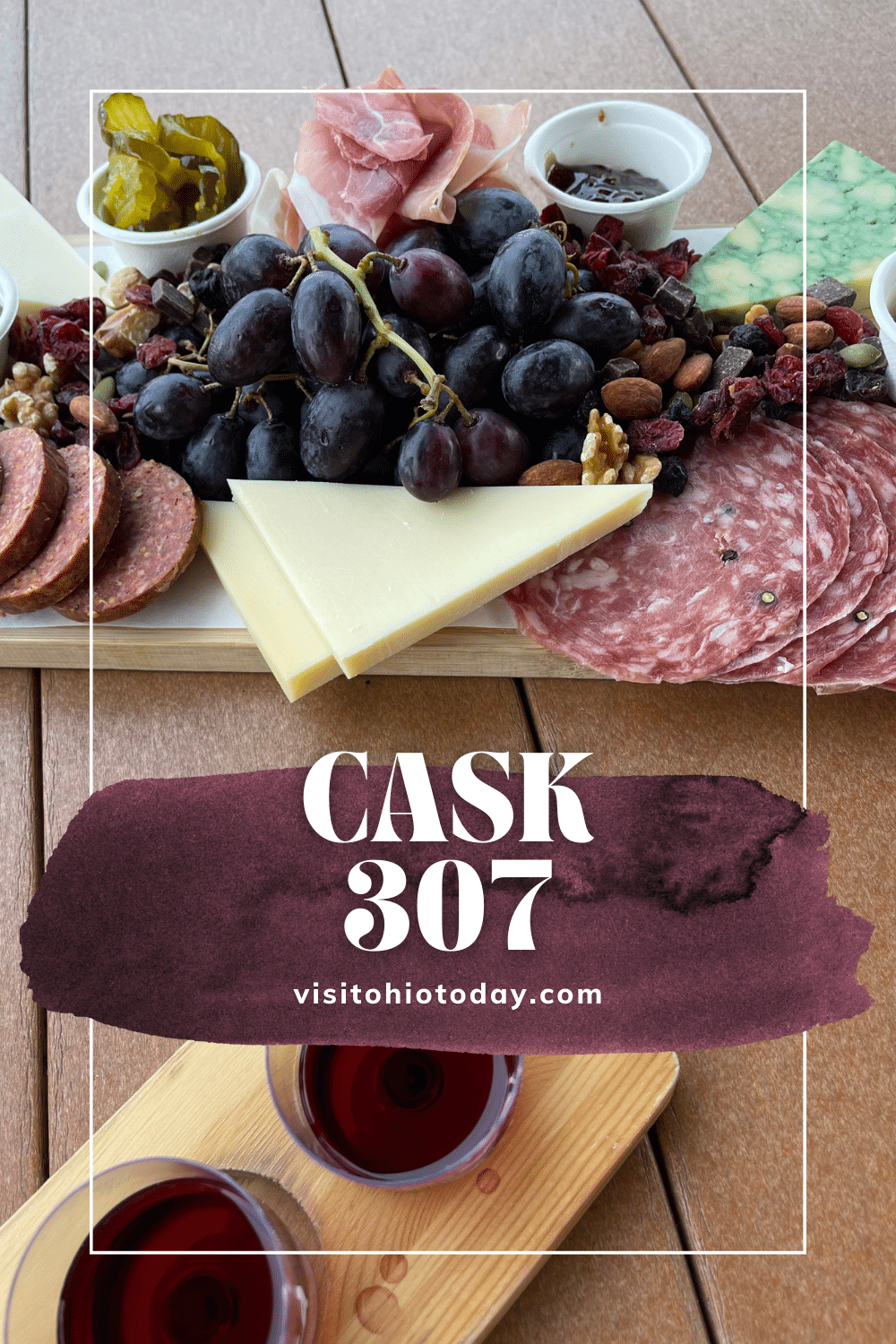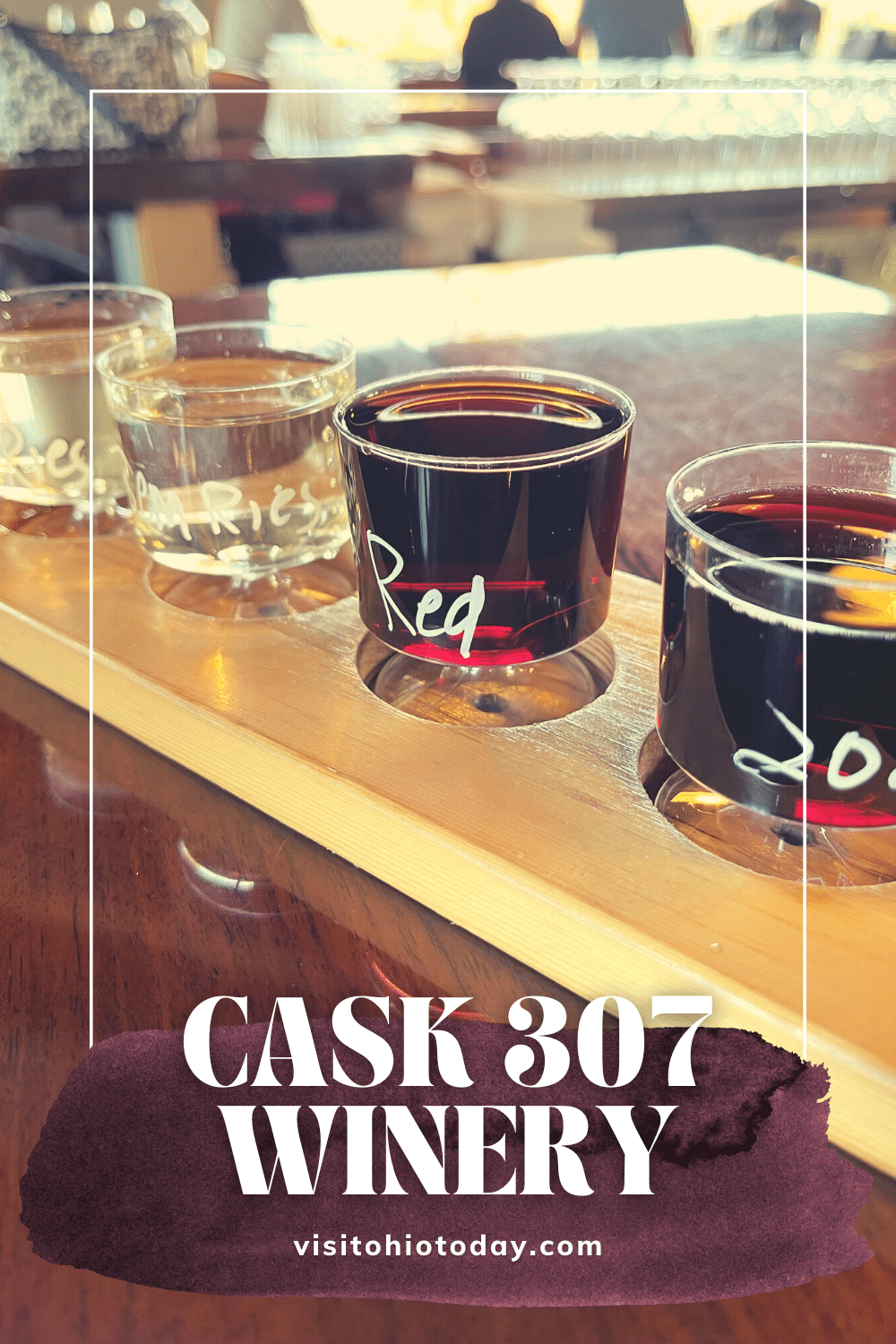 Cask 307 is a modern Ohio winery found right in the heart of the Grand River Valley. Cask 307 is a newer Ohio winery that opened in June 2019.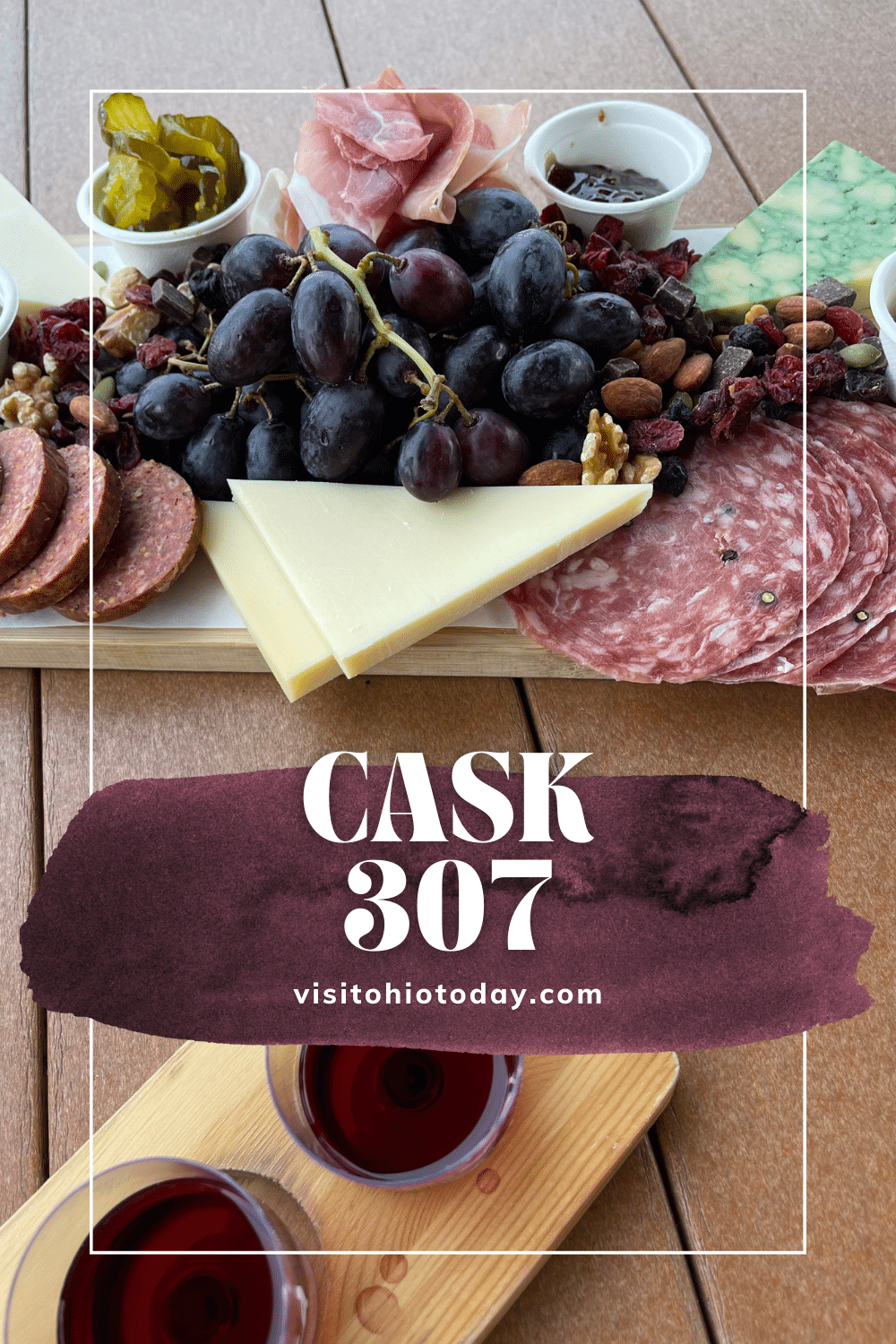 Visit Cask 307
While Cask 307 is one of the newer wineries located in the Grand River Valley, do not count it out. This modern winery will make you fall in love with the Grand River Valley wine region all over again! At Cask 307, you will be educated on how the grapes are grown in the region, and you can discuss all your wine questions with onsite experts!
You can visit Cask 307 year-round! This Ohio Winery offers ample inside and outside seating. When it comes to outside seating, Cask 307 has a large covered deck with heaters as well as a very large paver patio with different seating options.
The outside of Cask 307 is modern, clean, and sleek. The inside of Cask 307 is modern yet cozy and inviting, with a slight industrial feeling. This winery is extremely clean; during slower months, you can easily distance yourself from other patrons. The atmosphere is very inviting. There are huge windows in the winery, which invite the outside inn. You can easily enjoy the beautiful landscape surrounding the winery.
Note that if you have a group or a shuttle of 10 or more people, it can be scheduled by calling the winery ahead of time. Also, note that Cask 307 cannot accept or accommodate large groups after 1 p.m. on Saturdays or Sundays. This is due to capacity limitations. It is worth noting that most of the wineries in this area need appointments for large groups or shuttles.
Love to hit the wineries with your pup? Cask 307 is dog-friendly. Bring your well-behaved dog to the outside patio at Cask 307. Be sure that your dog is super well-behaved and on a leash.
Cask 307 Wines
Not all the wineries in this part of Ohio offer wine flights, but Cask 307 offers wine-tasting flights. You can choose four wines for your flight. The pours are typically 2 oz pours. You take the wine-tasting flights to your table to sample. If the winery gets extremely busy, the selling of wine flights may be suspended during the busiest times to help expedite service.
When it comes to sweet wines, Cask 307 has some options! They have a Chardonnay Ice Wine and some semi-sweet options as well.
Here is a list of the wines at Cask 307:
Riesling 1.0% RS (white)
Chardonnay 0.0% RS (white)
Bourbon Chardonnay 0.0% RS (white)
Fume Blanc 0.0 % RS (white)
Rose of Pinot Grigio 0.1% RS (rose)
Pinot Noir 0.2% RS (red)
Cabernet Sauvignon 0.4% RS (red)
Red Blend 0.2% RS (red)
Chardonnay Ice Wine 16.0% RS (white)
Essenza 0.4% RS (red)
Marigold 0.6% RS (orange)
Cask Chardonnay 1.0% RS (wine on tap)
Cask Semillon-Riesling 2.2% RS (wine on tap)
Cask Blush 3.0% RS (wine on tap)
Cask Grand River Red 1.8% RS (wine on tap)
Cask 307 also has beer flights available. Typically, the beer on tap includes:
Pride of Cleveland Pilsenser 4.5% ABV
India Pale Ale 5.5% ABV
Butter Pecan Porter 5% ABV
Peachy Keen 4.8% ABV
Holiday Ale 8% ABV
Imperial Stout 9.2%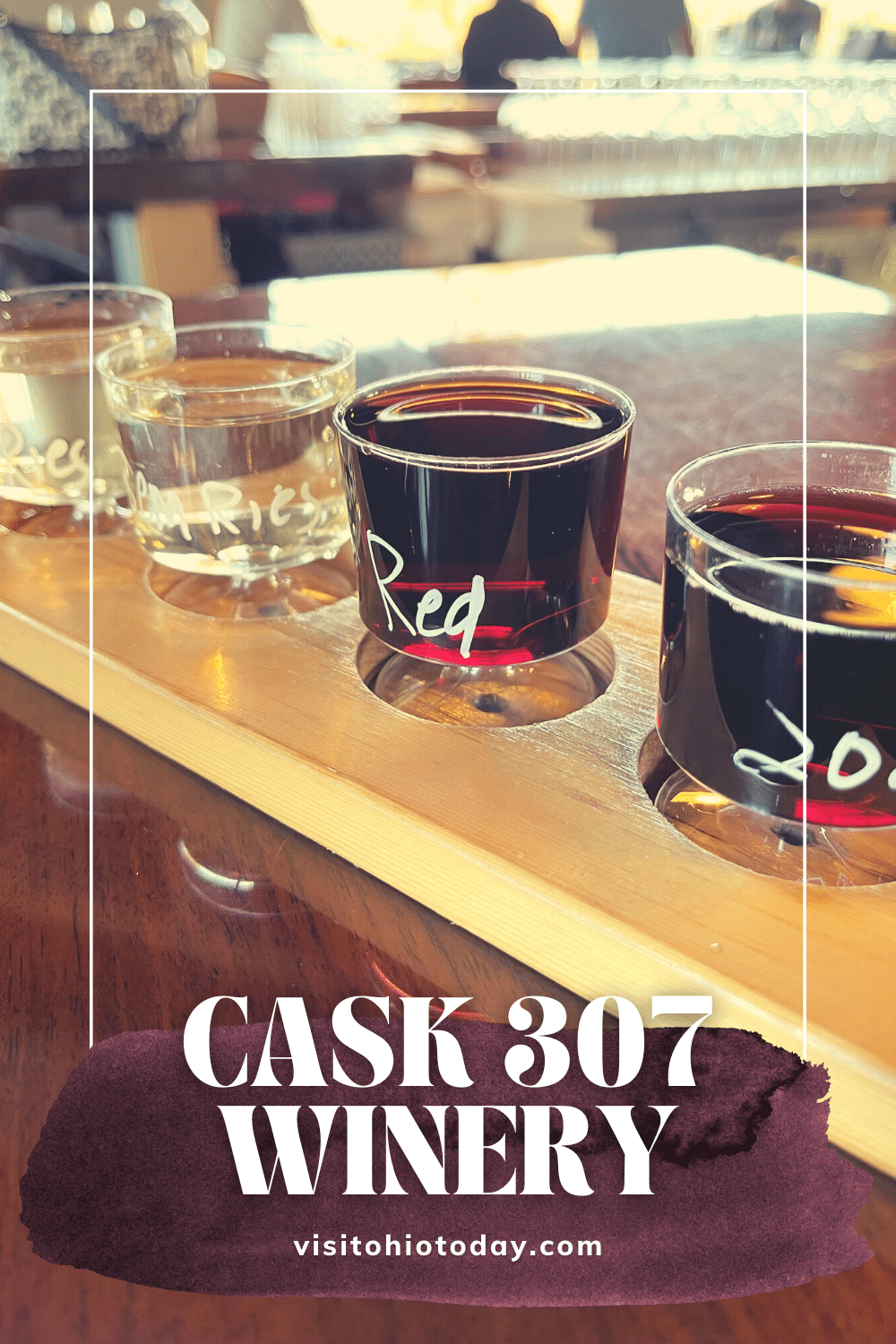 Cask 307 Food
Cask 307 does have food options! The menu at Cask 307 changes with the seasons, but they typically have a pretty large selection of meat and cheese boards, flatbreads, and sandwiches, along with appetizers and desserts. When I visited, we had the most delicious charcuterie board. It was very large! Great for sharing with a group of 2-4 people.
Sandwiches are served with kettle chips. Sandwich options are chicken salad, Italian, Ham & Brie, as well as Roast Beef. They also have assorted cheesecake options available.
Cask 307 has plenty of vegetarian options as well as gluten-free options.
Cask 307 Video
Cask 307 events
There are plenty of events at Cask 307. They host events that range from a Winemaker's Dinner, which is an evening of food, wine, and beautiful music, to a Holiday Opera Night. Events range based on season.
This place had three great qualities: 1) tasty wine, 2) nice seating, and 3) awesome staff! We got there close to closing on a Sunday and they were accommodating, even changing a keg to fill up our wine we bought from the taps. The Blush is delicious and this place is a recommended stop.

metalheavylady (TripAdvisor)
Cindy's Insider Ohio Tips!
I love Cask 307. It is a great place to stop and have some food in between touring other wineries in the area. I suggest trying the flatbread! It is delicious, and they have gluten-free food options here too!
Where is Cask 307?
Cask 307 is located at 7259 Warner Rd, Madison, OH 44057 – (440) 307-9586 – Website
If you are looking for more wineries in Ohio, we have got you covered. Below is our comprehensive map of wineries in Ohio! If you do not see your favorite on the list, send us an email at team (at) visitohiotoday (dot) com. If you want to level up your wine-tasting knowledge, we recommend you read this book.
What to wear wine tasting
When it comes to what to wear wine tasting, it really depends on where you are going to taste wine. If you are visiting a vineyard where it is warm, we suggest a hat, sunglasses, and of course, sunscreen. The temperatures often can fluctuate in wine country, so dress in layers, think a scarf, jacket, or light sweater. Think comfort paired with style and a whole lot of sensibility. Leave the high heels at home; they are a tripping hazard when it comes to walking around many vineyards.
When in doubt, go with a simple outfit that is comfortable when you stand and when you sit. Typically, wine country "casual" is a little fancier than normal casual. However, it all depends on where you are visiting, the region, the state, etc. When in Ohio wine country, we have noticed that anything goes. You will see a mixture of casual clothing (think leggings and sweatshirt) to cute but comfy sun dresses in the warmer months.
Winegrowers of the Grand River Valley
The Winegrowers of the Grand River Valley are a collaboration of Ferrante Winery and Ristorante, Debonne Vineyards, Grand River Cellars Vineyard and Restaurant, Laurello Vineyards, and Cask 307, whose mission is to educate the local wine consumer on wines from the Grand River Valley. This group of wineries frequently put wine trails together where wine lovers visit each of the six wineries, and they receive a wine tasting that is perfectly paired with some sort of food. Go to the Wine Growers of the Grand River Valley website for the current calendar of events.
Grand River Valley
The Grand River Valley, located in northeastern Ohio, previously covered by glaciers, now grows over 50% of Ohio's grapes and is the home of over 30 wineries. The micro-climate of the area is prime for grape growing due to the extended growing season. Many of the wineries offer events 12 months a year, including tasting trails, live music, or pairing classes.
The Valley Wine Group

Debonne Vineyards, Grand River Cellars, Cask 307, South River Vineyards, Blue Dog, and Double Wing Brewing Company are all part of the Valley Wine Group. Wine, beer, and gourmet treats from the Grand River Valley area are available for order at one website to Lake, Geauga, Ashtabula, Cuyahoga, Medina, and Summit Counties. A $50 minimum order is required and is delivered for a $5 delivery fee (or free if you order over $150 in beer, wine, and treats).
Let's go to Cask 307
If you have been to Cask 307, we want to know what you thought! Which wine was your favorite? You do not have to pick just one! If you are interested in learning more about Wineries in Ohio, you can visit our Ohio Wineries category page to plan your next wine-tasting trip!
Hello! We have done our very best to ensure that the accuracy of events, hours, addresses, etc, are up to date. Please know that information can change due to weather, updated health and safety challenges, etc. If you find incorrect information, please send us an email at [email protected], and we can get it updated.

To be updated and stay connected, subscribe to our newsletter.