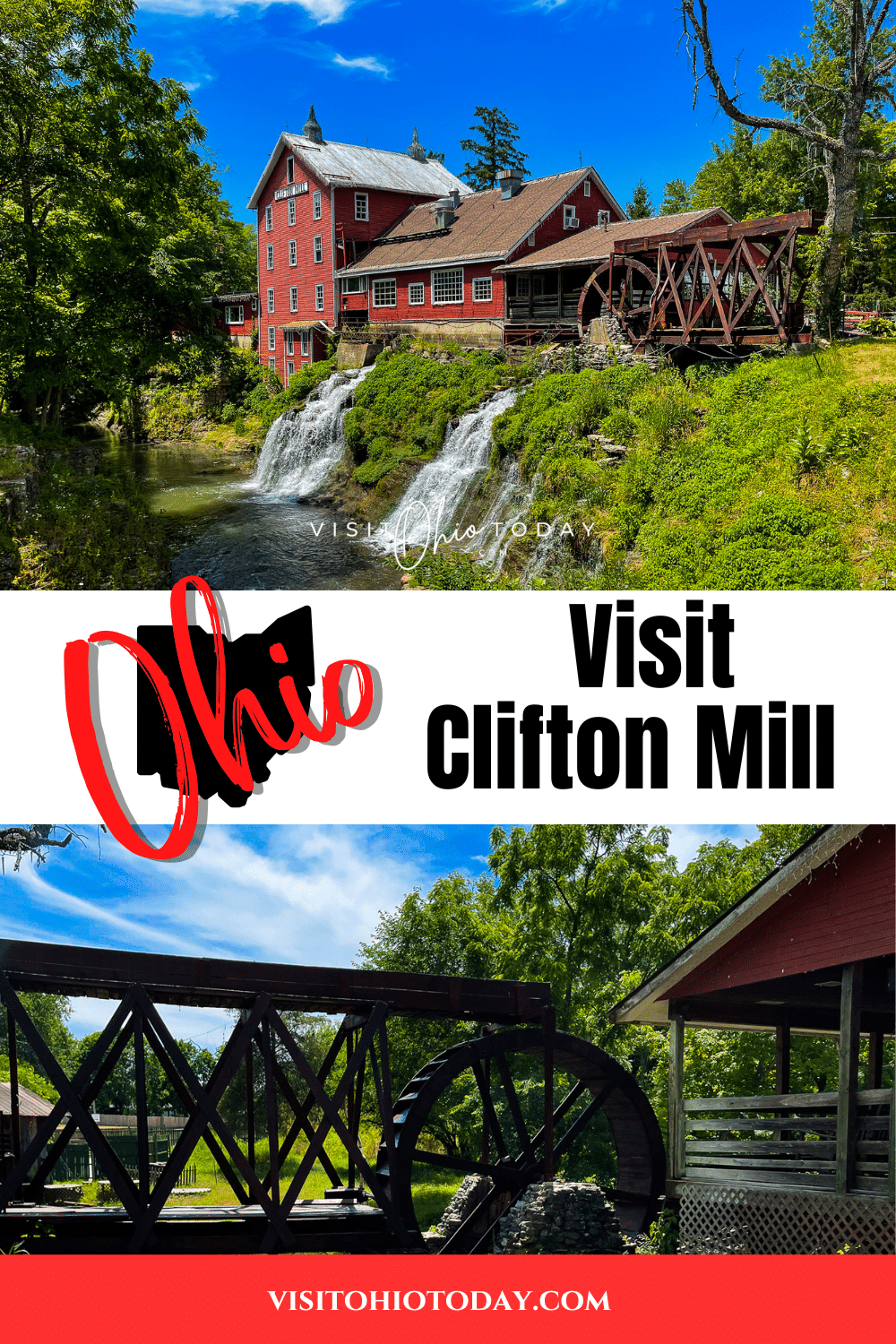 Clifton Mill is one of the largest water-powered grist mills still in existence. You can see the mill working, taking water from the Little Miami River and converting it to power to activate the stones to grind grain into flour. The town of Clifton is 3.5 miles east of Yellow Springs.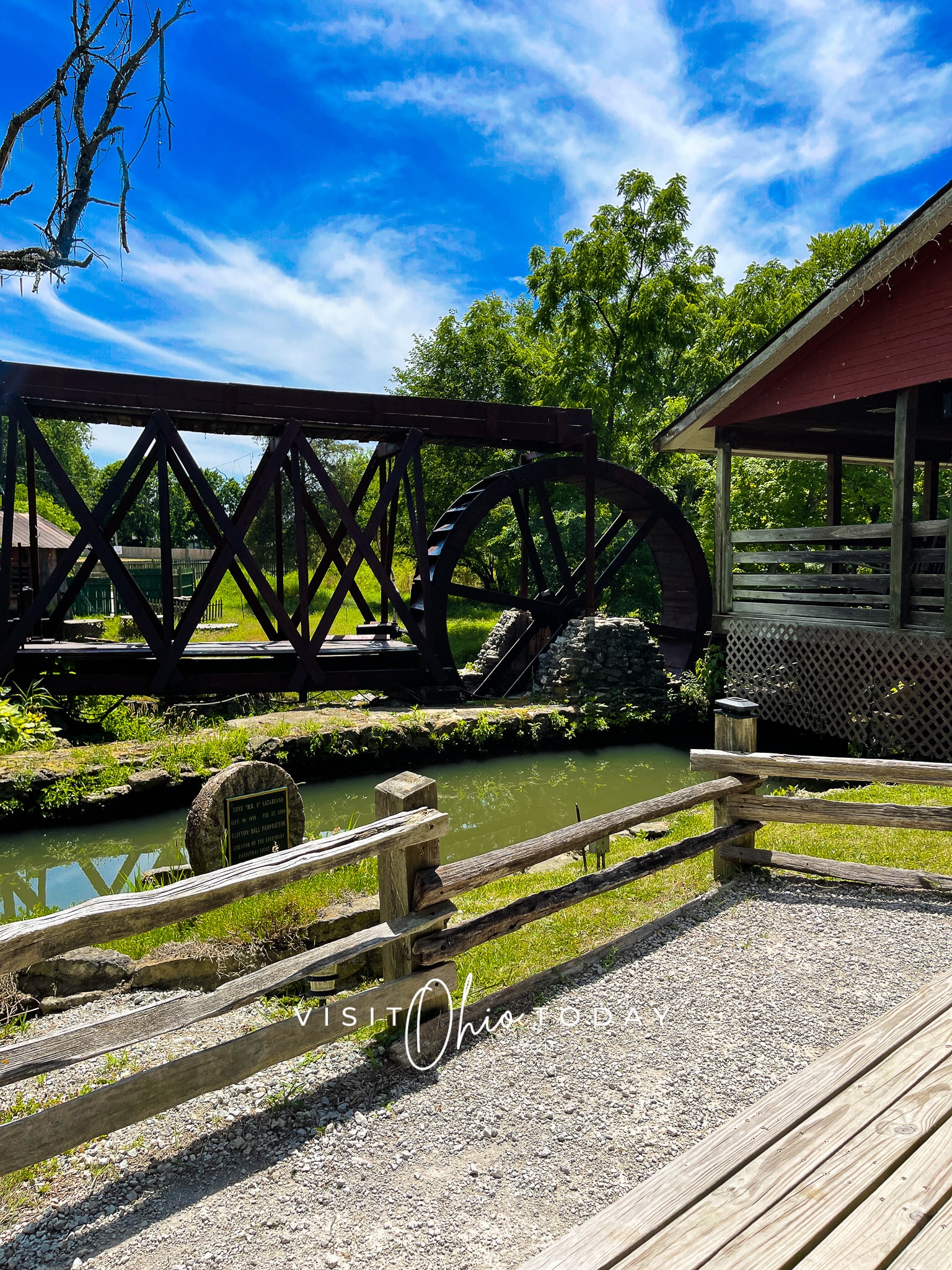 Visit Historic Clifton Mill
Clifton Mill was originally one of six mills in Clifton, the original mill was built in 1802 by Owen Davis and his son-in-law General Benjamin Whiteman.
There were two grist mills, a woolen mill, a sawmill, a paper mill and a barrel mill. They also built a distillery and the village became known as Davis Mills.
All six mills were powered by the Little Miami River, and Clifton Mill is the only one still standing - and working.
The present building was built in 1869. In 1948 it was abandoned.
Robert Heller, on a hike in 1962 discovered the old mill and set about placing it on the path to restoration.
In 1987 the Satariano family purchased the mill, and own and manage it to this day.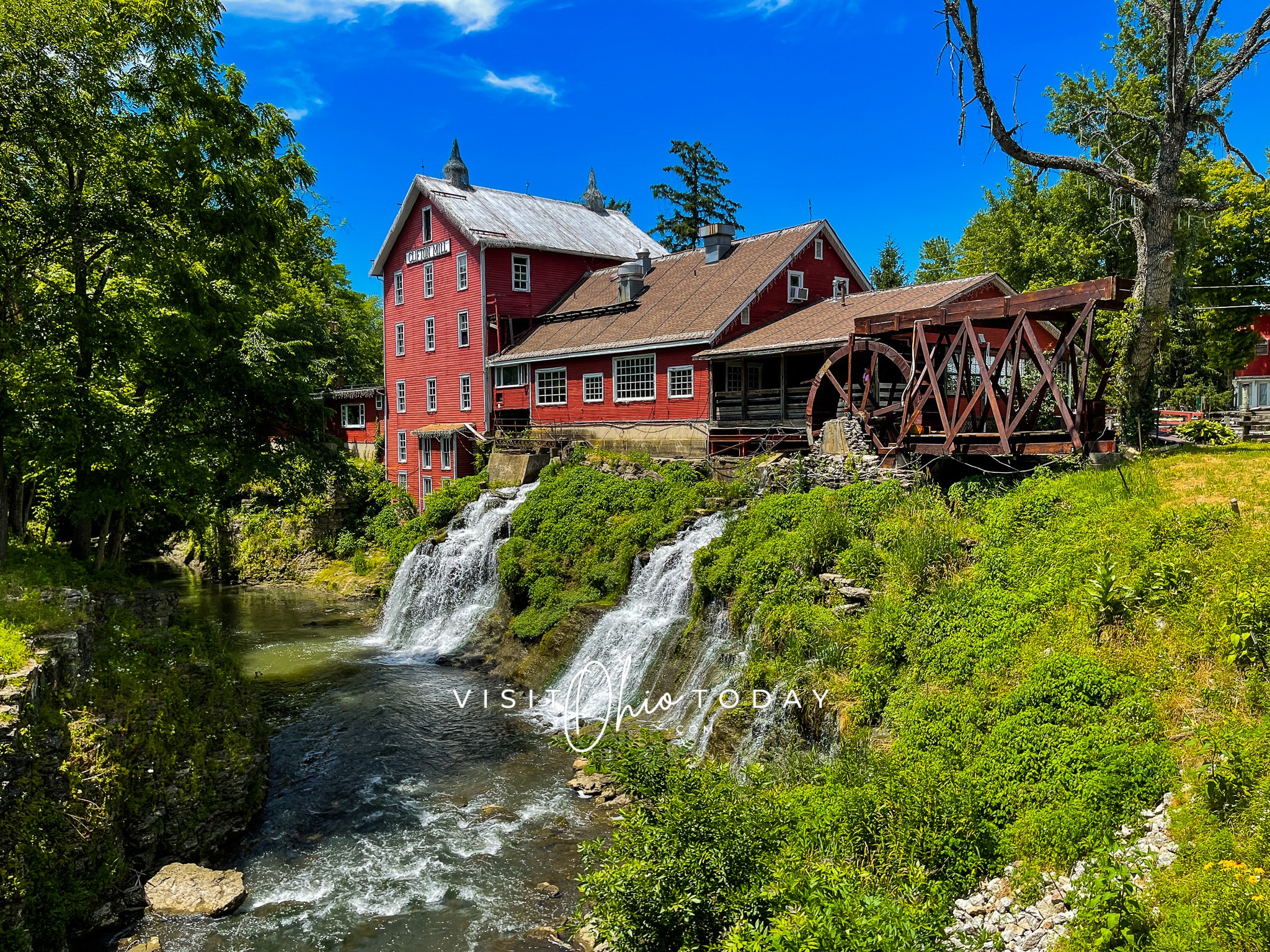 Clifton Mills Falls
Clifton Mill Falls is a double waterfall that flows out of Clifton Mill into the Little Miami River.
The height of the falls is 20 feet with a moderate to high water flow level.
What To Do At Clifton Mill
On a visit, you can see the mill operate, converting water into energy to power the grinding stones.
The Clifton Mill Restaurant serves home-style cooking, including their signature Clifton Mill Pancake Mixes. The menu is seasonal, and they bake their homemade pies and cookies daily.
The atmosphere of the Clifton Mill Restaurant will transport you back in time, while you sit, listening to the mill wheel turning and hearing the water cascading over the falls - while you look out over the Little Miami River's beautiful natural views.
Be warned, however... at busy times there can be a long wait for a table!
The gift shop is also worth checking out, you can enjoy the feel of an old-fashioned general store.
Their own Pancake Mixes are available for purchase, in varieties such as Apple Cinnamon, Blueberry, Buttermilk and even a Gluten-Free Buttermilk variety.
You will also find jams, jellies, candles, cards, candy and unique gift ideas, among other things.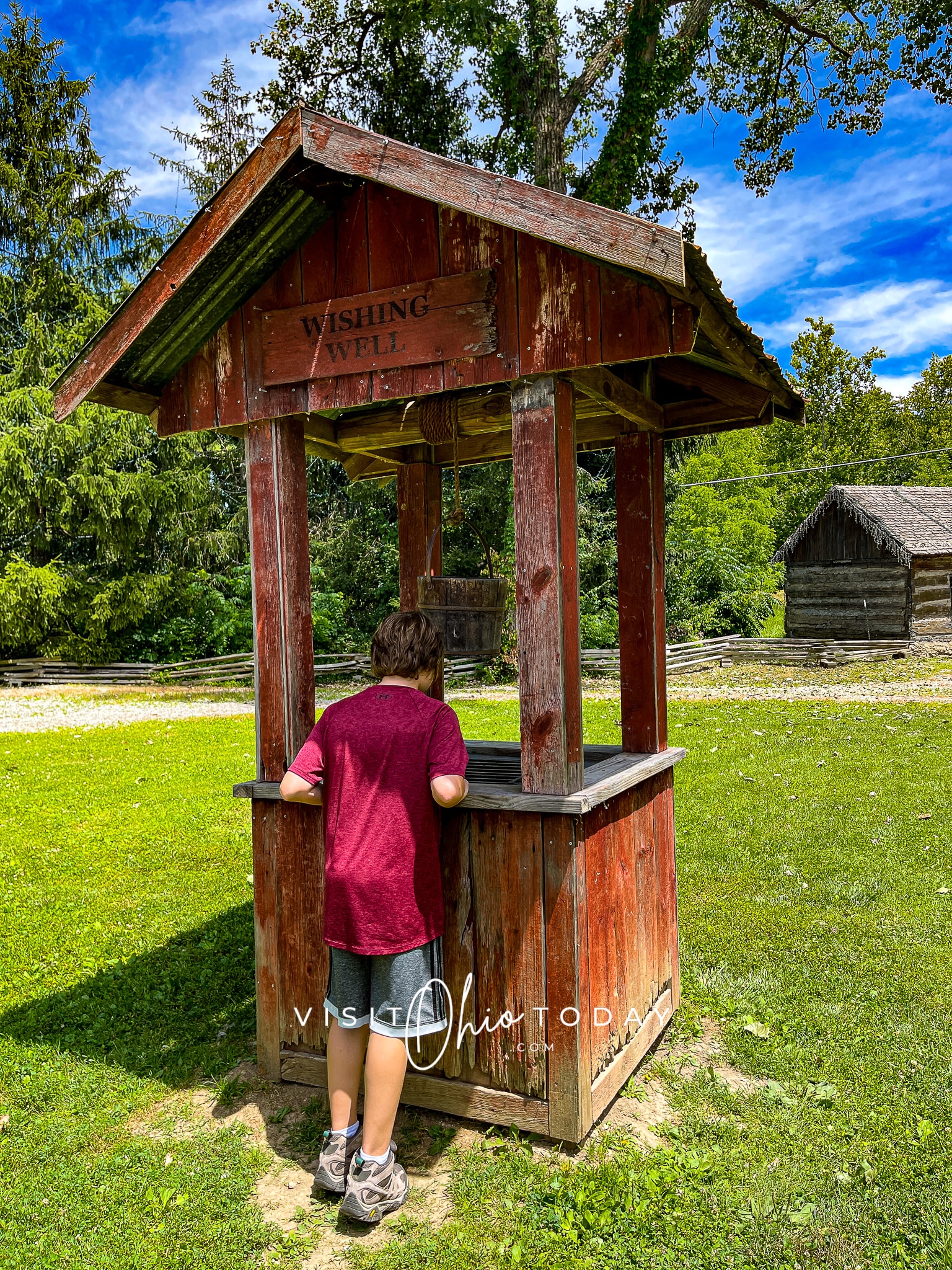 Events at Clifton Mill
Throughout the year, there are various events, such as Carriage Rides, an annual Car Show, Bourbon Tasting, Vintage Motorcycle Show and more.
For information on any events taking place when you plan to visit, check out the Clifton Mill Facebook Page, or the Clifton Mill Website.
Christmas is quite something else here, 4 million lights adorn the Mill and the waterfall. For more information, our Clifton Mill Christmas Lights article has all you need to know!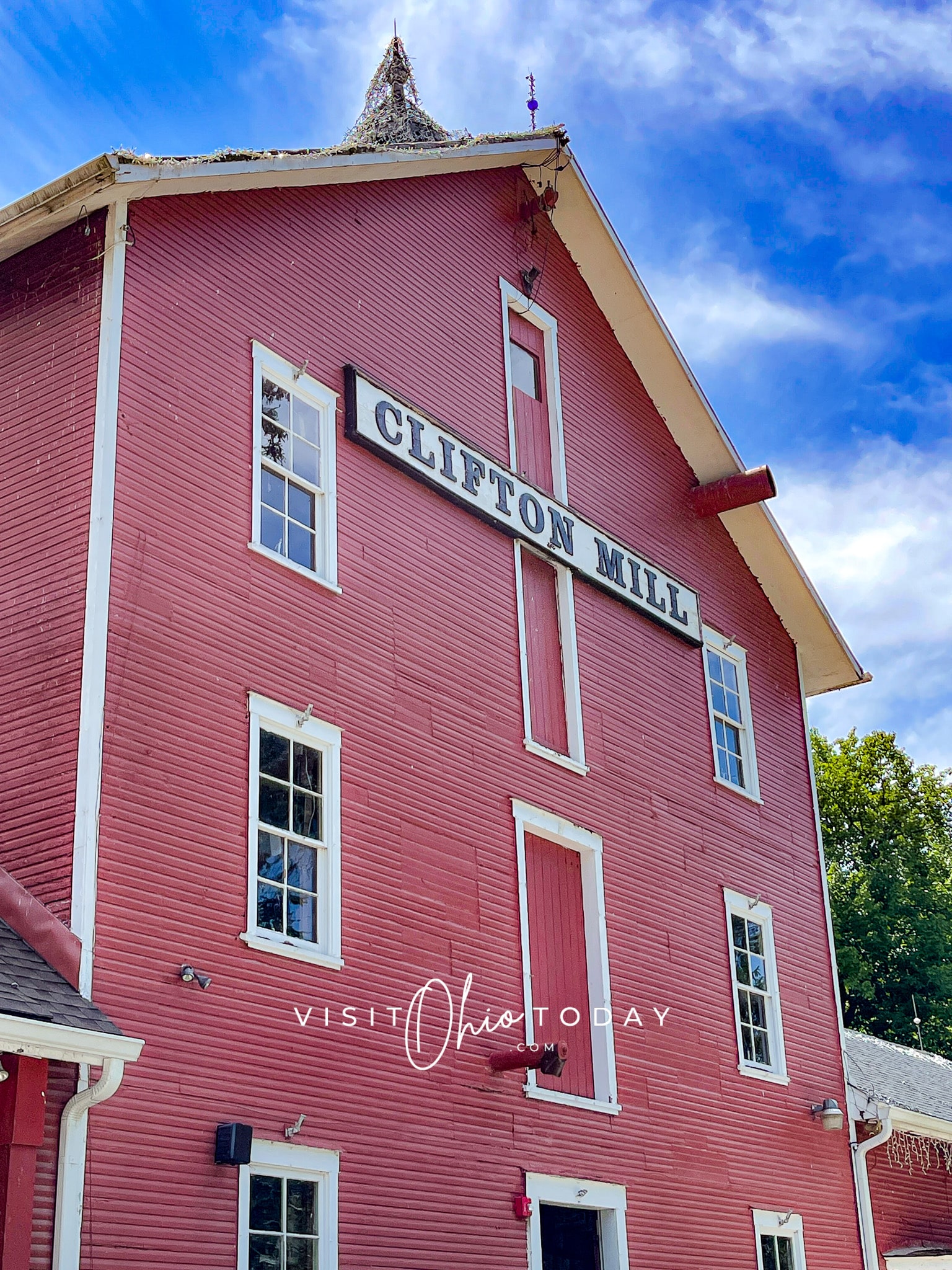 Clifton Mill Quick Facts
Opening times: Monday-Friday 9am to 3pm, Weekends - 8am to 4pm
Parking is free
Entry to the Mill is $3 per person
Delightful restaurant serving homemade food
Gift Shop
Events throughout the year
Kid-friendly
Where is Clifton Mill
Clifton Mill is located at:
7 Water Street, Clifton, Ohio 45316
Phone: 937 767 550 | Website
What People Are Saying About Clifton Mill
"We ate at the restaurant. The food was really good and decent priced. Nice gift shop in the front. Beautiful view of the water and covered bridge." - DS, (Columbus, OH) September 2022
"Clifton Mill is a perfect example of what this country needs more of, stunning vintage Americana sites renovated for a destination to visit. Fantastic views, incredibly photogenic and historic." - MI, (New York City, NY) December 2021
Let's Go To Clifton Mill
Have you visited Clifton Mill, either at Christmas or any other time of year? Did you eat in the restaurant and visit the gift shop? We want to know. Drop us a comment below telling us about your visit!
If you are in the area for a few days, you may like to visit Clifton Gorge, Glen Helen Nature Preserve and see our round up of Things To Do In Yellow Springs Ohio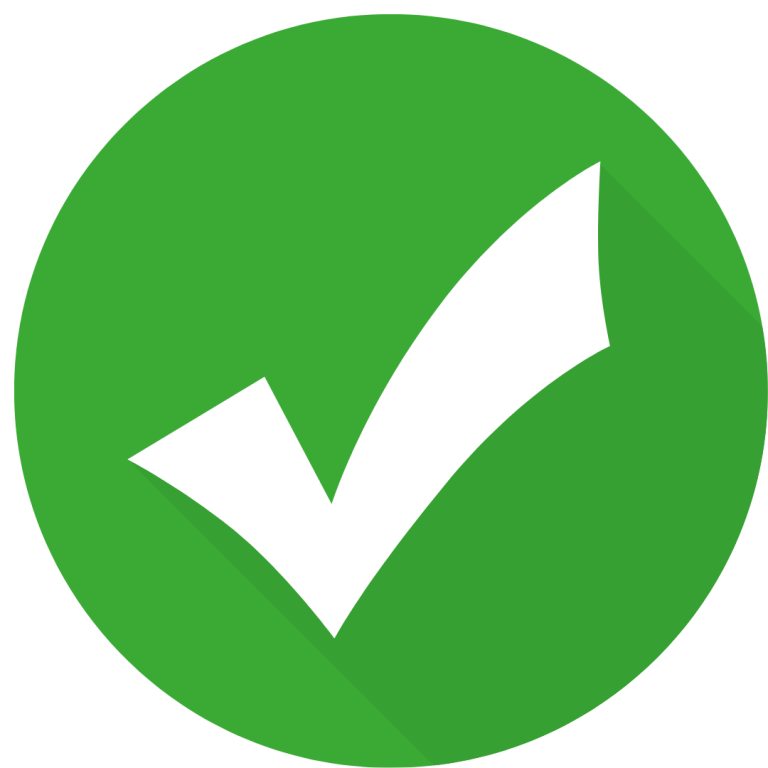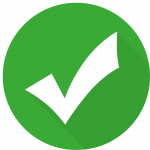 Hello! We have done our very best to ensure that the accuracy of events, hours, addresses, etc are up to date. Please know that information can change due to weather, updated health and safety challenges, etc. If you find incorrect information, please send us an email and we can get it updated.
To be updated and stay connected, subscribe to our newsletter.