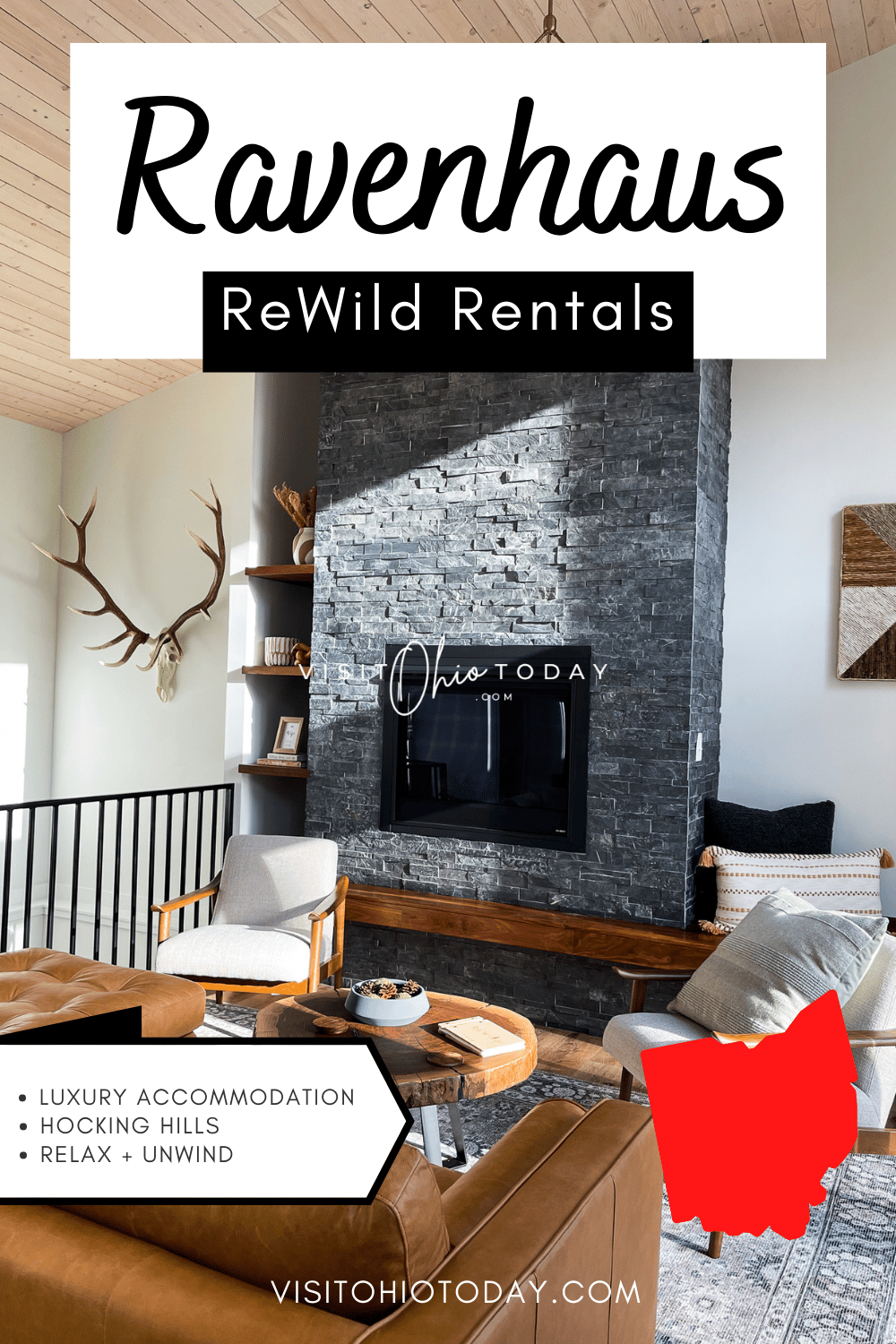 Last Updated on August 14, 2023 by Cindy
Ravenhaus by ReWild Rentals is a modern retreat located in the heart of Hocking Hills Ohio. This extremely well-appointed cabin sleeps 8 with three bedrooms and three bathrooms.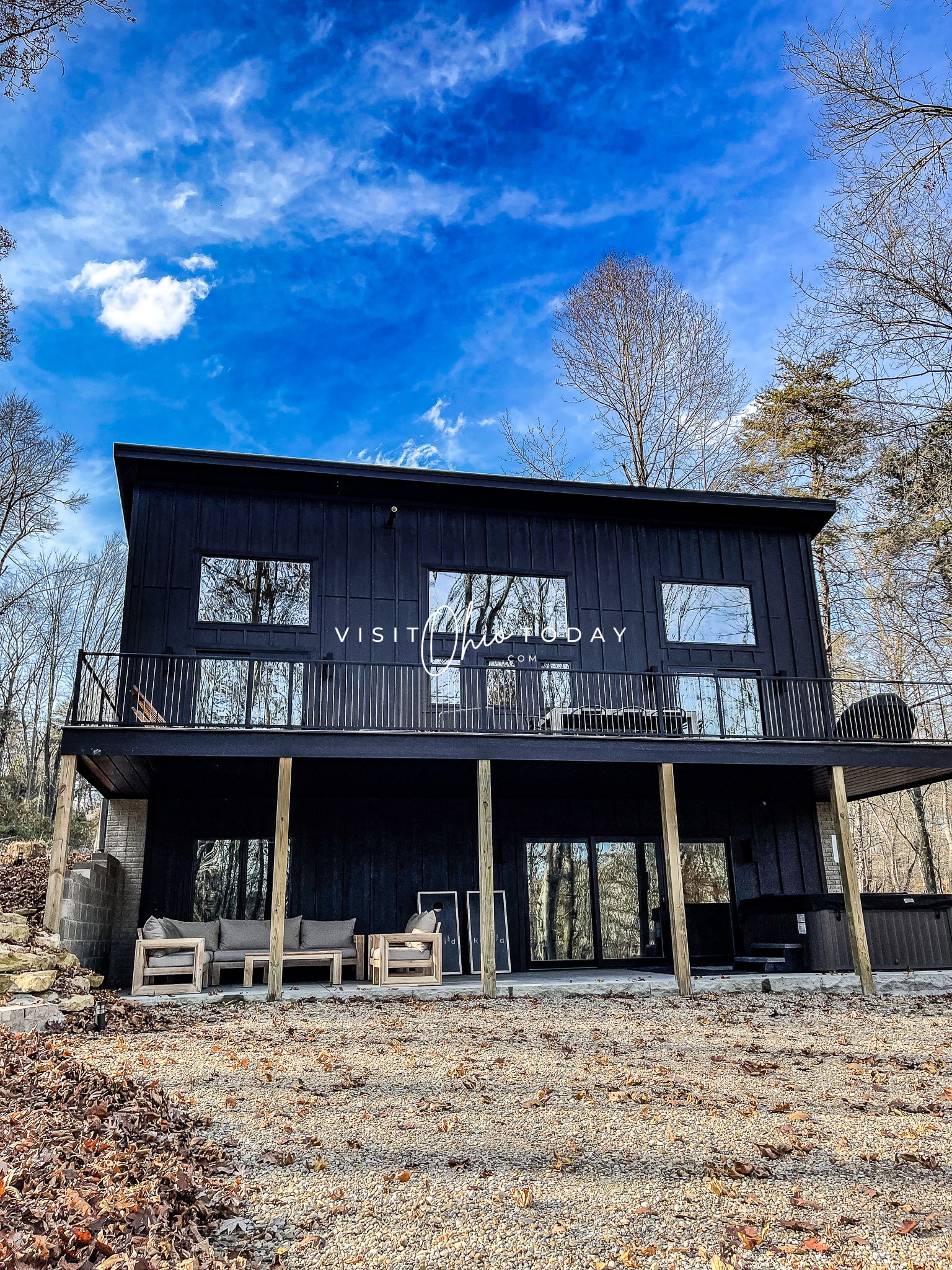 Let's visit Ravenhaus by ReWild Rentals
Ravenhaus is located in the heart of Hocking Hills and just minutes from the area's top hiking locations and attractions. As Hocking Hills continues to grow, it can be hard to find new, modern, extremely clean, comfortable rentals that are in the heart of it all. Ravenhaus checks all those boxes, PLUS MORE!
You can tell that the owners, Aimee and Andrew have poured so much love and thought into this retreat! There are so many well-thought-out touches throughout the home. It is probably one of the most thoughtful and well-appointed rentals I have ever stayed in.
There is literally everything you need and so much more that it makes it easy to unplug from the everyday grind and sit back and plug into nature! They make that easy!
A special thank you to Aimee and Andrew for gifting me a partial stay so that I could see just what Ravenhaus is all about! Spoiler alert: it did NOT disappoint! So join me as I tour through the home with some pictures and what I saw in each area.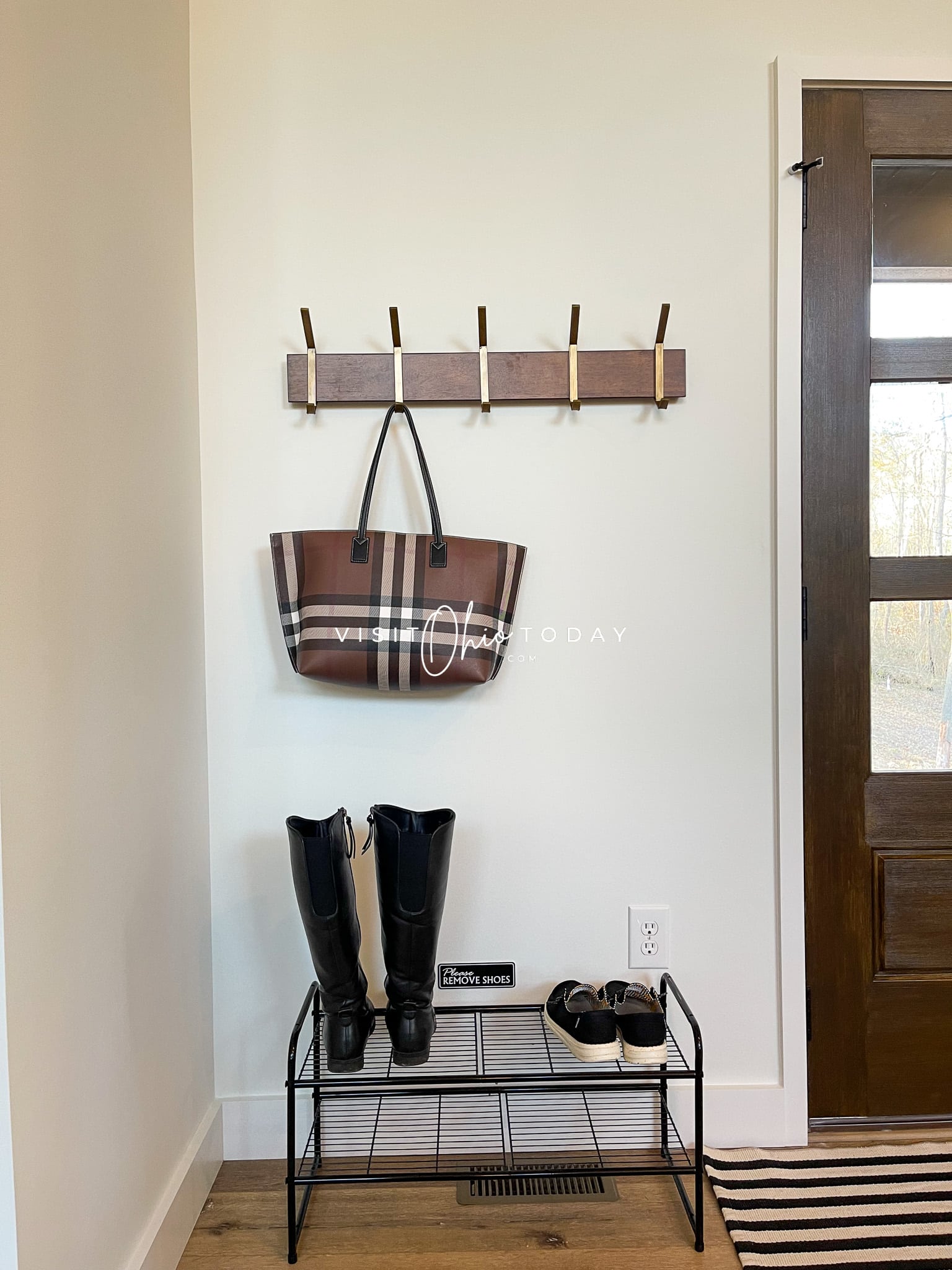 Entryway - Ravenhaus by ReWild Rentals
Upon arriving you are greeted by a covered porch with composite decking and a modern wooden door with glass panels. Once inside, there is a shoe rack to place your shoes as well as a large coat rack.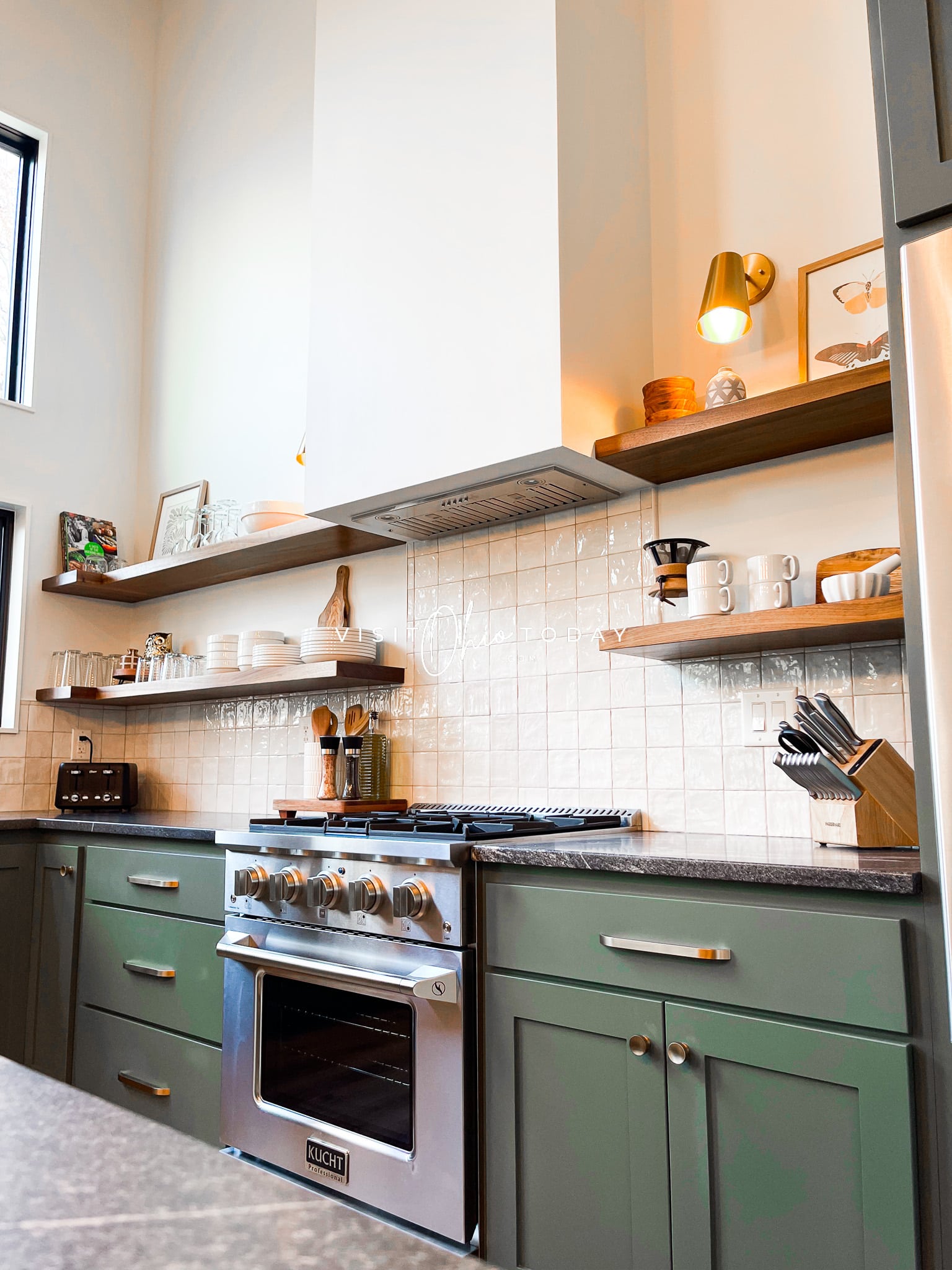 Kitchen - Ravenhaus by ReWild Rentals
The kitchen at Ravenhaus of ReWild Rentals is what dreams are made of! This well-appointed kitchen features a professional Kucht gas range and oven. The kitchen also has a French door refrigerator and freezer, microwave, and dishwasher.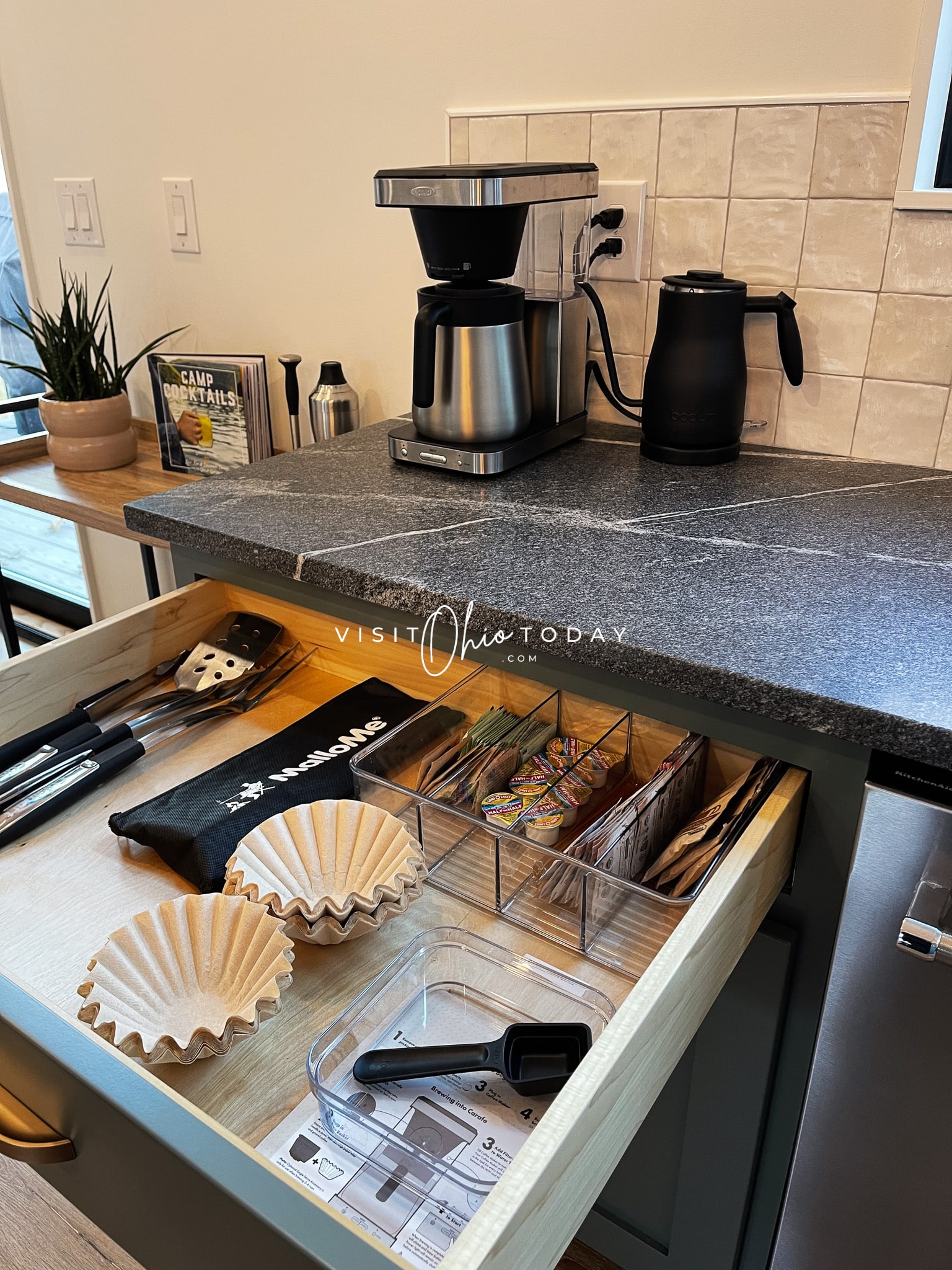 If you love coffee, you are in for a treat with several options. There is an electric kettle, an OXO 8-cup coffee maker, and a large Bodum pour-over coffee option. They also had some complimentary Kampfire Coffee waiting for us!
The kitchen boasts all the supplies you'll need such as plates, bowls, measuring spoons, cups, utensils, a blender and so much more. Have little kiddos? There is a set of kid-friendly plastic plates, plastic bowls, and kid-sized silverware.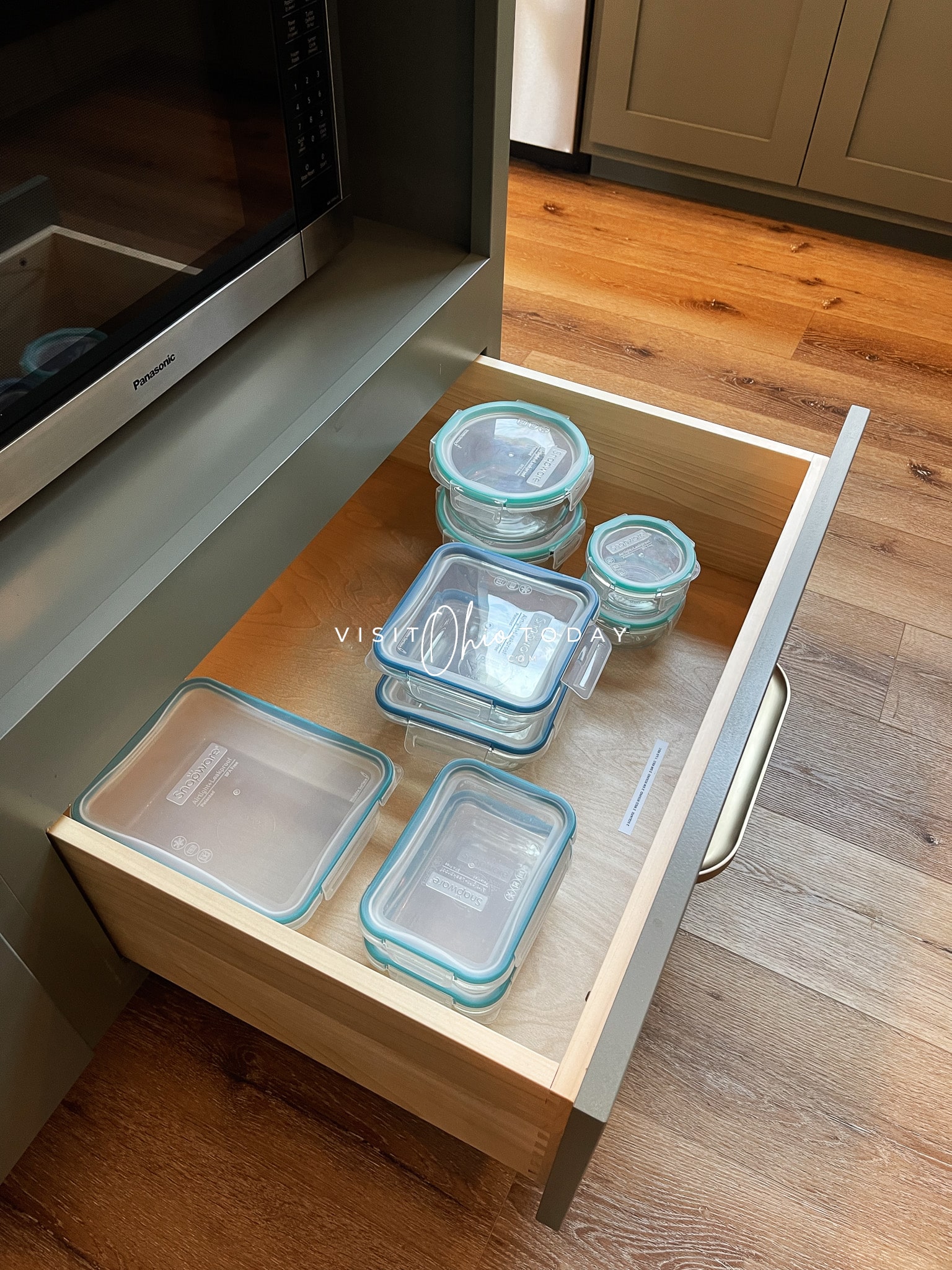 The kitchen design is open with open shelving and lots of natural light. The kitchen has the most beautiful American Soapstone countertops with sage green cabinets with modern brushed gold pulls. The kitchen has a combination of recessed lighting and pendant lighting.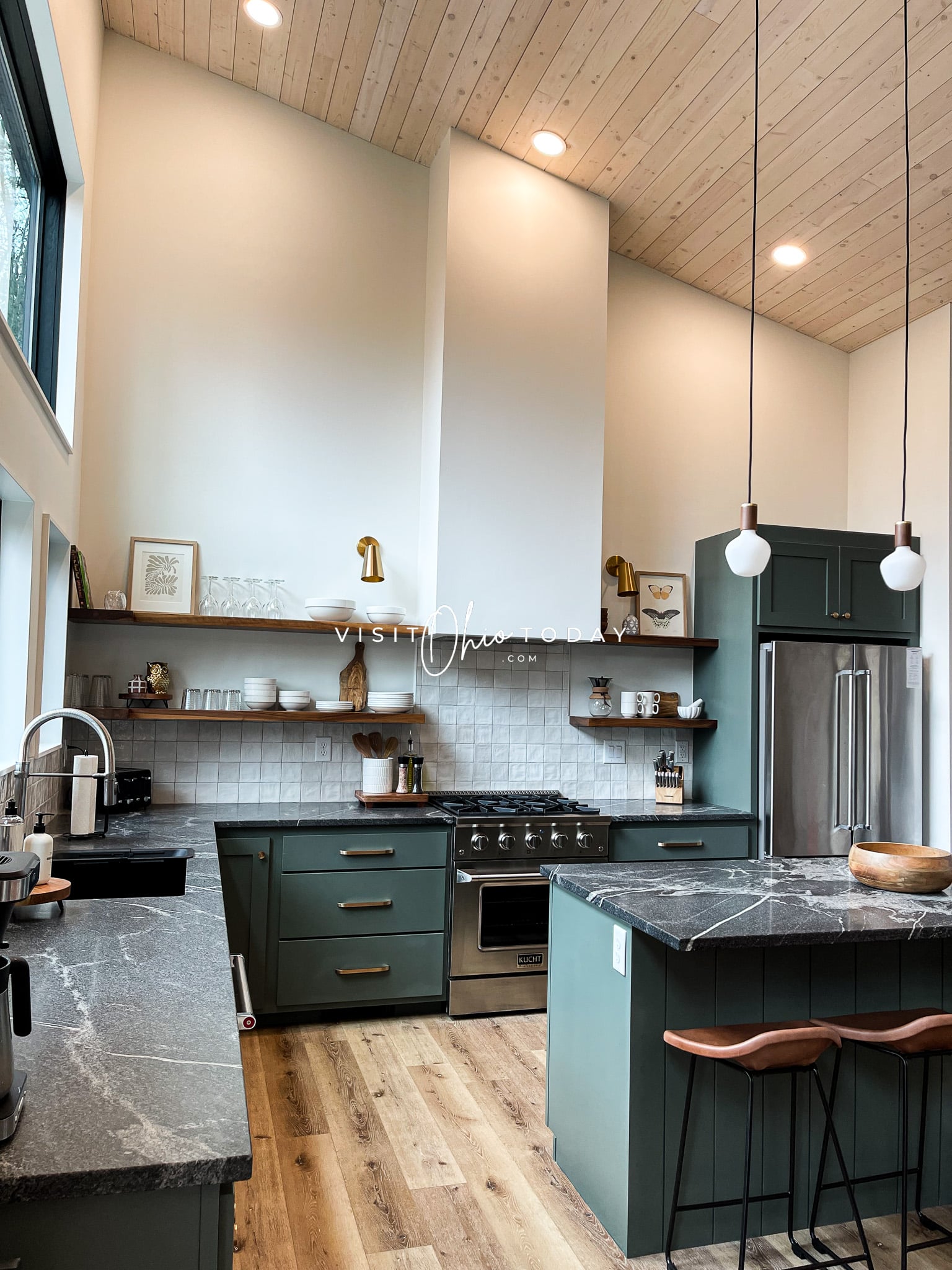 In the kitchen, you can enjoy your meals while sitting on the stools at the island. There are LOTS windows that help to bring the outside in, while you are preparing your meals. When you look around the kitchen you'll ask yourself, what does it NOT have? It has literally everything you need for a quiet, easy weekend away.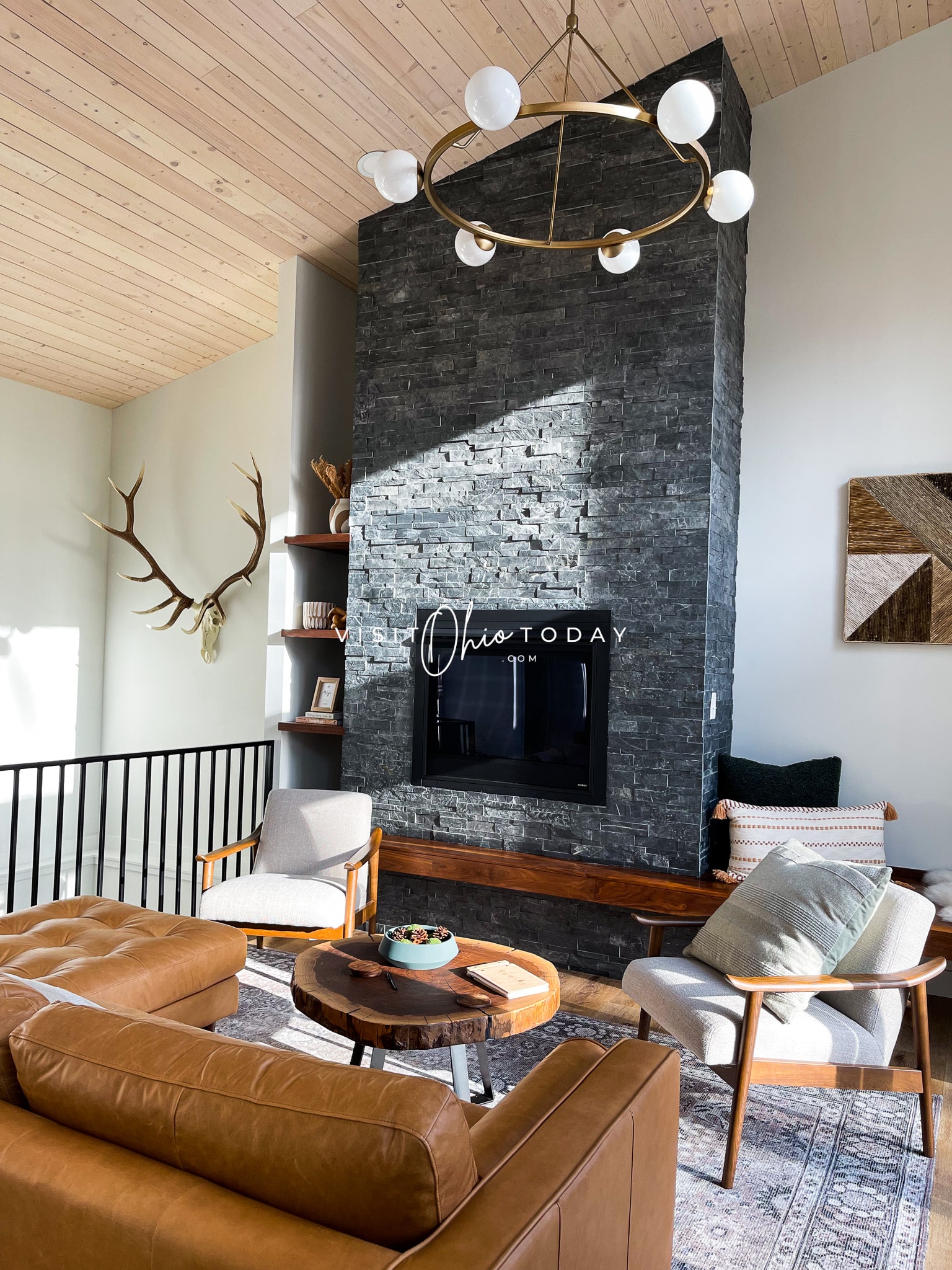 Living Room - Ravenhaus by ReWild Rentals
The living room at Ravenhaus of ReWild Rentals is the perfect place to put your feet up to relax. It has a gorgeous leather couch with a chaise and two armed sitting chairs. The couch is extremely soft and welcoming! There is a gas fireplace nestled in a stone surround. The fireplace is situated approximately three feet off the ground which makes it about eye level when sitting on the couch.
There is also a wooden bench reading nook to the right of the fireplace. It is complete with comfy and snuggly pillows and a blanket. Pro Tip: Sit in the reading nook with your back against the fireplace for a great view and perhaps even catch an afternoon nap here! There are no privacy shades on the windows in the area.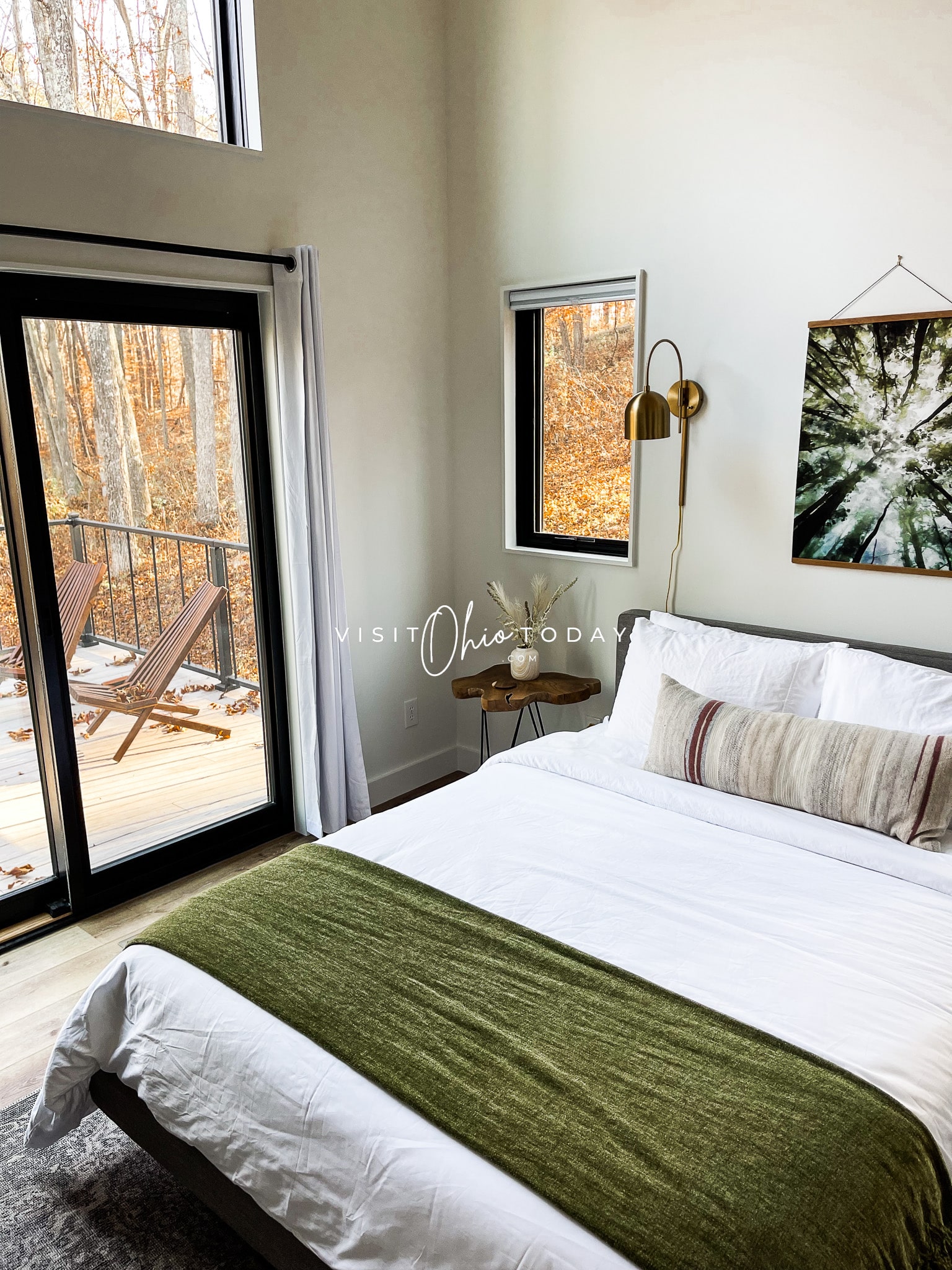 Owners Suite - Ravenhaus by ReWild Rentals
The owner's suite at Ravenhaus of ReWild Rentals is located on the main floor and features a large sliding glass door that exits onto the back deck. The sliding door provides two locks for extra security. Above the slider there is a giant rectangle picture window that makes watching clouds from your bed super easy! This room has a fully lighted closet with ample space to hang clothes and store your luggage.
The brushed gold features are carried throughout the home and seen in the owner's suite with bedside reading lamps. Just like the main living room the ceiling of the owner's suite features a stylish tongue and groove wood ceiling.
This room features two windows and a slider that all have blackout shades for when you need to rest! However, the large rectangle window above the slider does not have a shade, I did not have a problem with this. The lower shades darkened the room enough for peaceful sleeping.
The bedding and pillows are soft and luxurious. I would venture to bet that you will have one of the best night's sleep here! The Allswell Lux Hybrid Mattress and pillows have extra protectors on them. There are bedside tables on each side of the bed, complete with a noise machine and jewelry dish.
You can enter the owner's room en suite via a modernized glass barn-style door. The bathroom carries the same black and white accents with a brushed gold color scheme as many parts of the house. The tiled walk-in shower features dual shower heads (with a wand) and also a transom that lets in natural light. The bathroom features shampoo, conditioner, and body wash. There are plenty of towel hooks in this area. The bathrooms upstairs feature the 1,2 flush system. Every detail is well thought out, down to the thoughtful way they fold the bath towels and hand towels.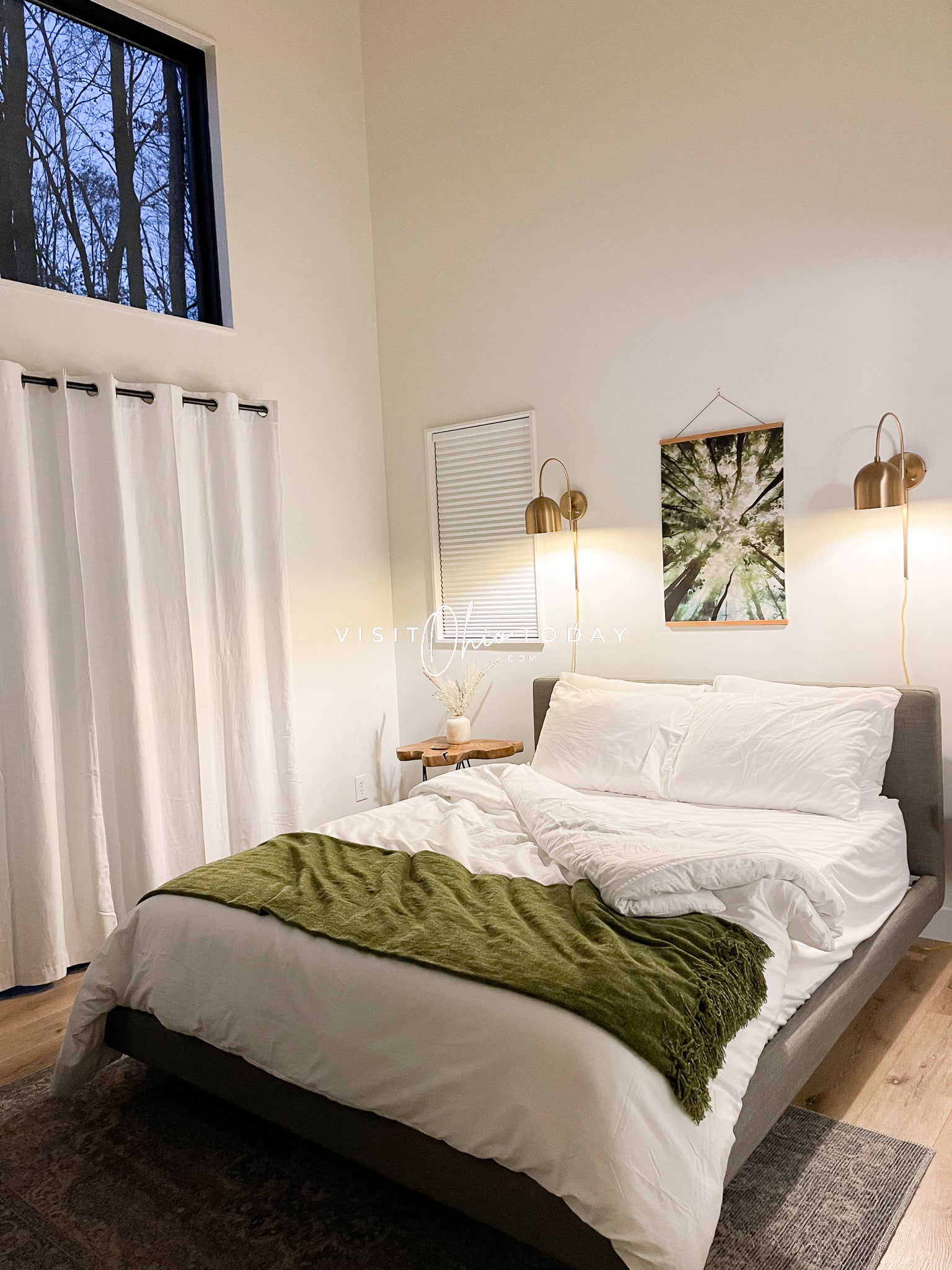 Second Bedroom - Ravenhaus by ReWild Rentals
The second bedroom on the main floor features the perfect place to relax after a day of hiking. The bed faces a giant picture window almost as big as the wall itself. The window is perfect for nature gazing. Ready to sleep? Pull down the black-out shades and catch some zzz's.
Worth noting in both bedrooms that the outlets were extremely well thought out and placed within the room. It made charging your devices easy while you slept. This bedroom also features a full closet with a luggage rack and also bedside and overhead lighting.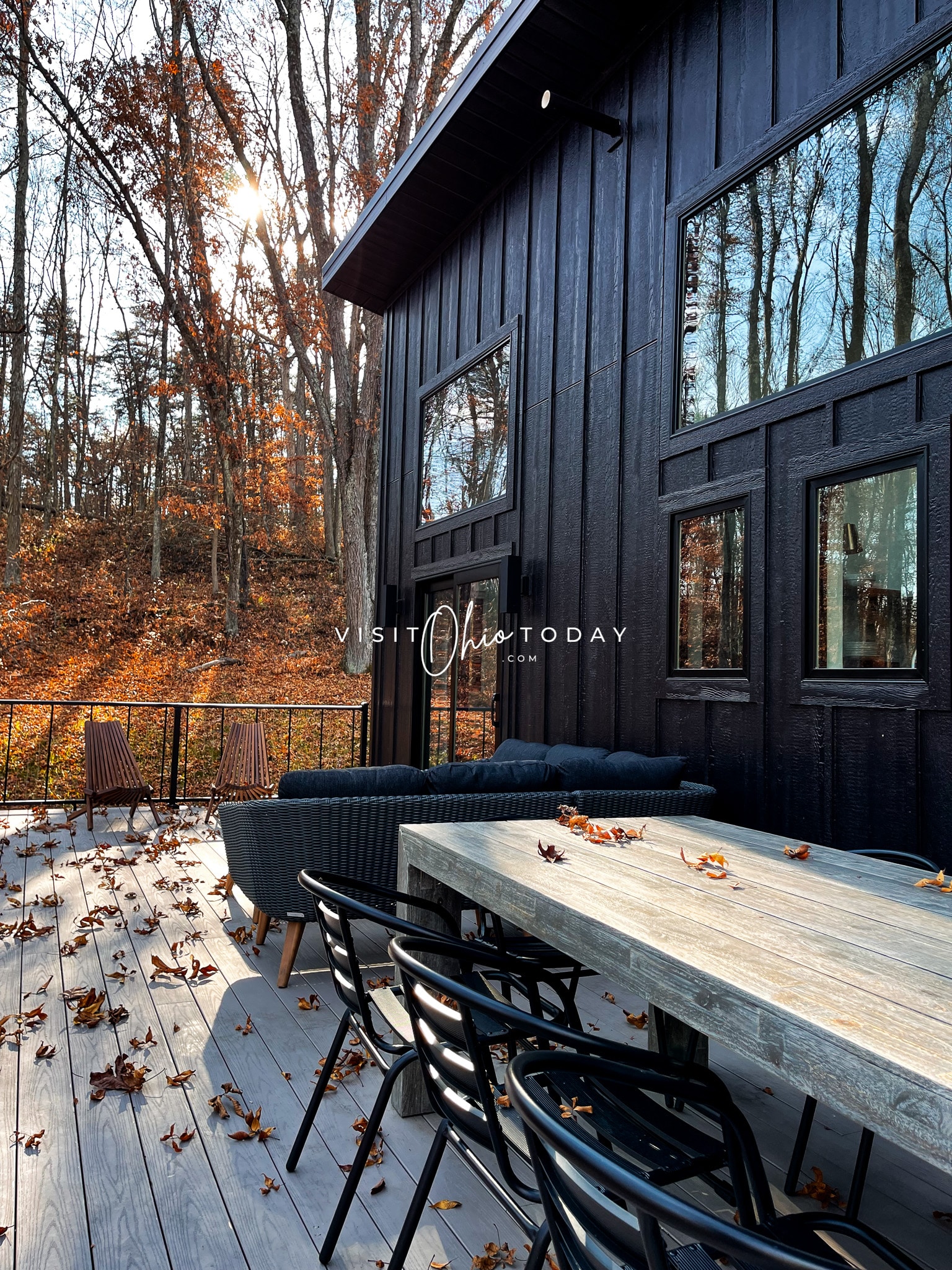 Outside Upper Deck -Ravenhaus by ReWild Rentals
The upper deck has a Weber Gas Grill that has a direct connection to propane. The upper deck carries the same rod iron-themed railing as inside the house. The railing is constructed in such a way that it does not obstruct your views of the nature surroundings. Use the large table for 8 to gather your family for dinner or a card game. This area also has an L- shaped couch and two chairs. I spent a lot of time relaxing in this area! It has wonderful views all day long! Pro Tip: watch the sunrise from this deck!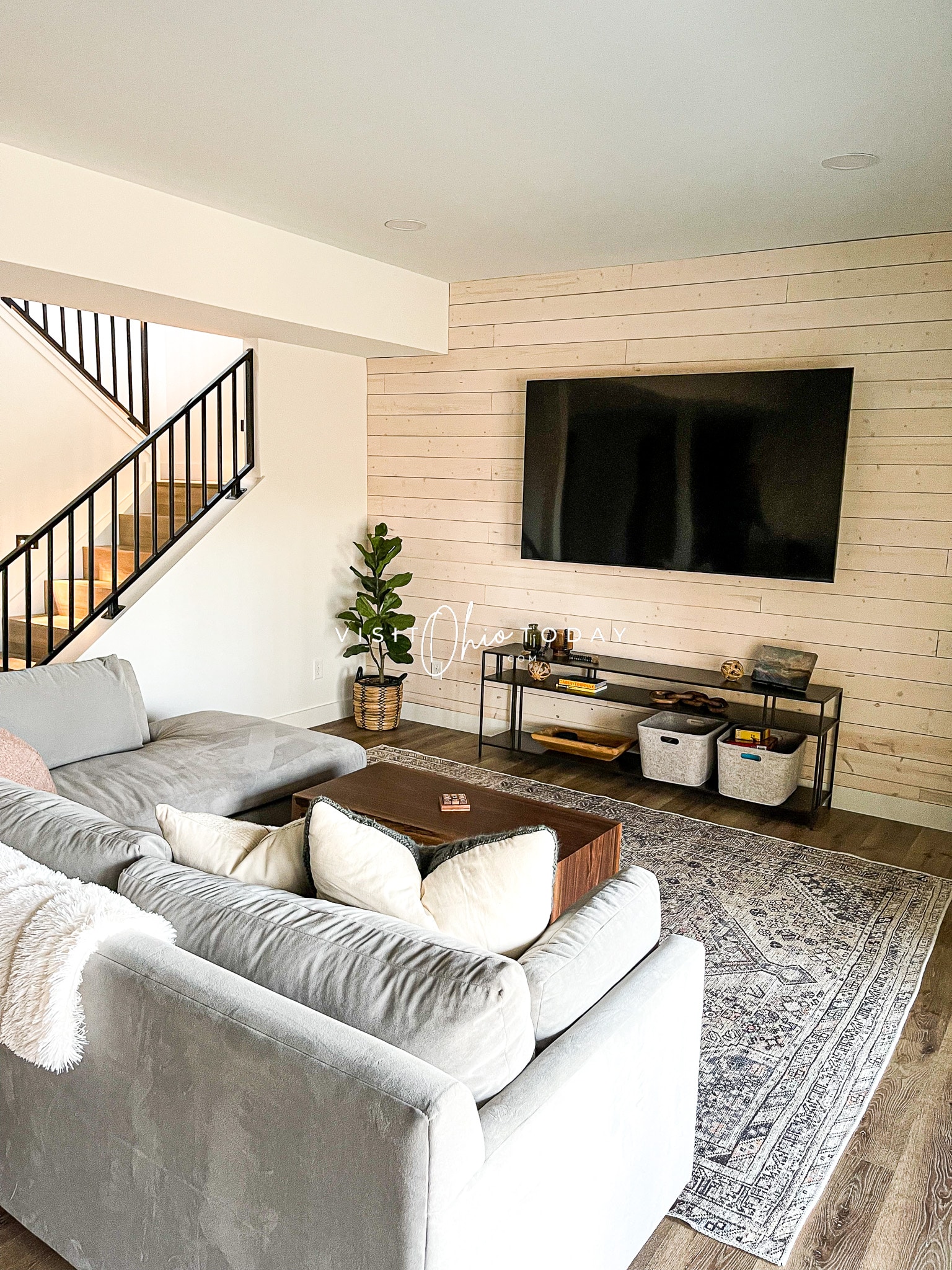 Lower-level Living Area - Ravenhaus by ReWild Rentals
The Lower-level Living Area has a dual-purpose ping pong and dining table with seating for 8 people. This area is the perfect place for the family to gather. It has a super comfy sectional positioned to enjoy a very large mounted smart tv. You are welcome to log into your favorite streaming services. This area also has board games available. The area opens up to the outside lower patio via very large windows and a sliding glass door. There are no privacy shades on the windows in the area.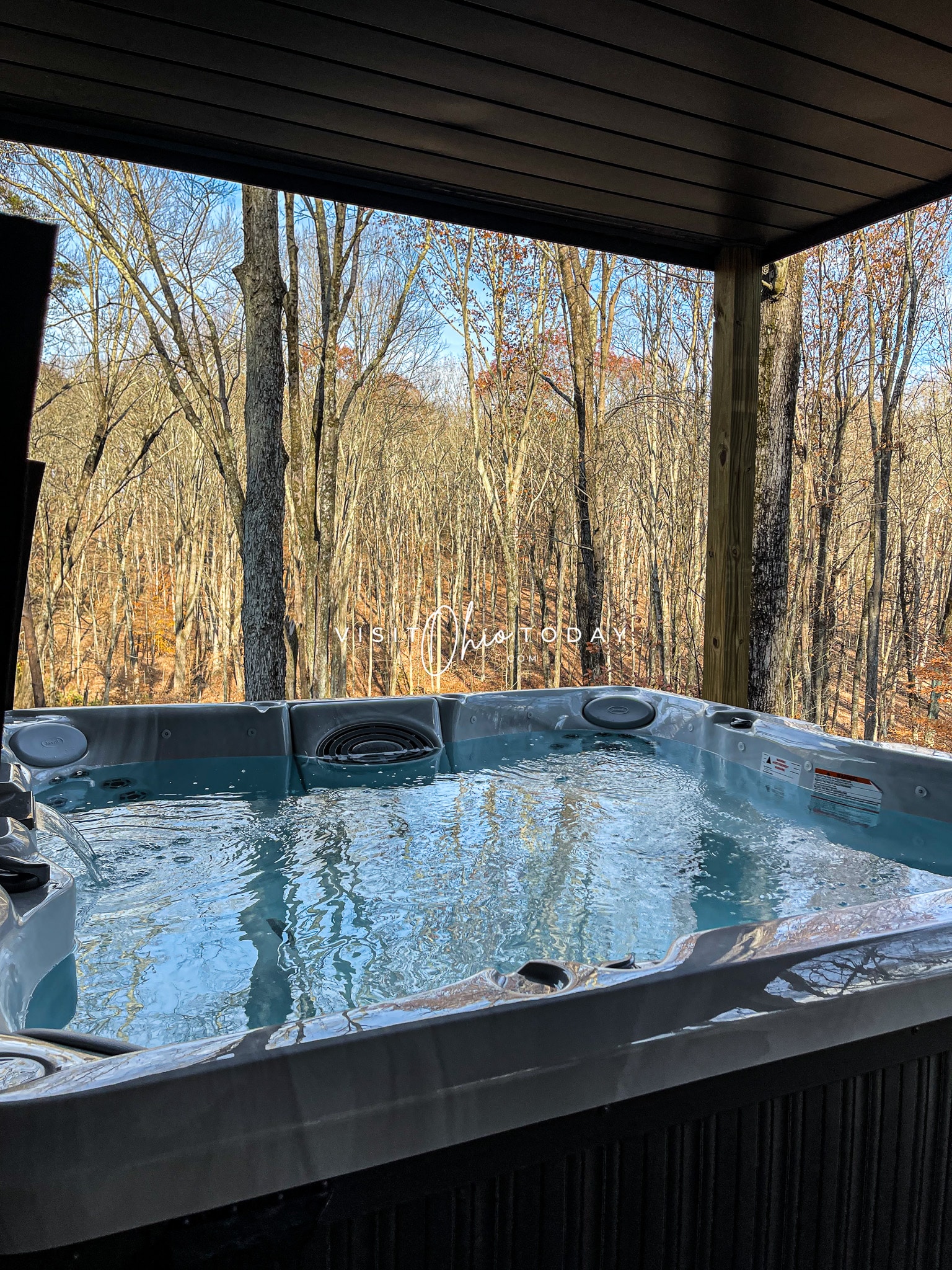 Outside Lower Patio - Ravenhaus by ReWild Rentals
The lower patio can be accessed from the lower living area. This patio is covered by the deck above. It is not your typical deck as rain, snow, and debris will not fall through the cracks. The ceiling on this decking roof is solid.
This area features a HUGE and very clean hot tub. The hot tub has plenty of jets and lights to keep you relaxed but entertained. This area also features a wooden framed L-shaped sectional with two oversized chairs. There is plenty of space to set up your beverages and snacks while relaxing on the couch.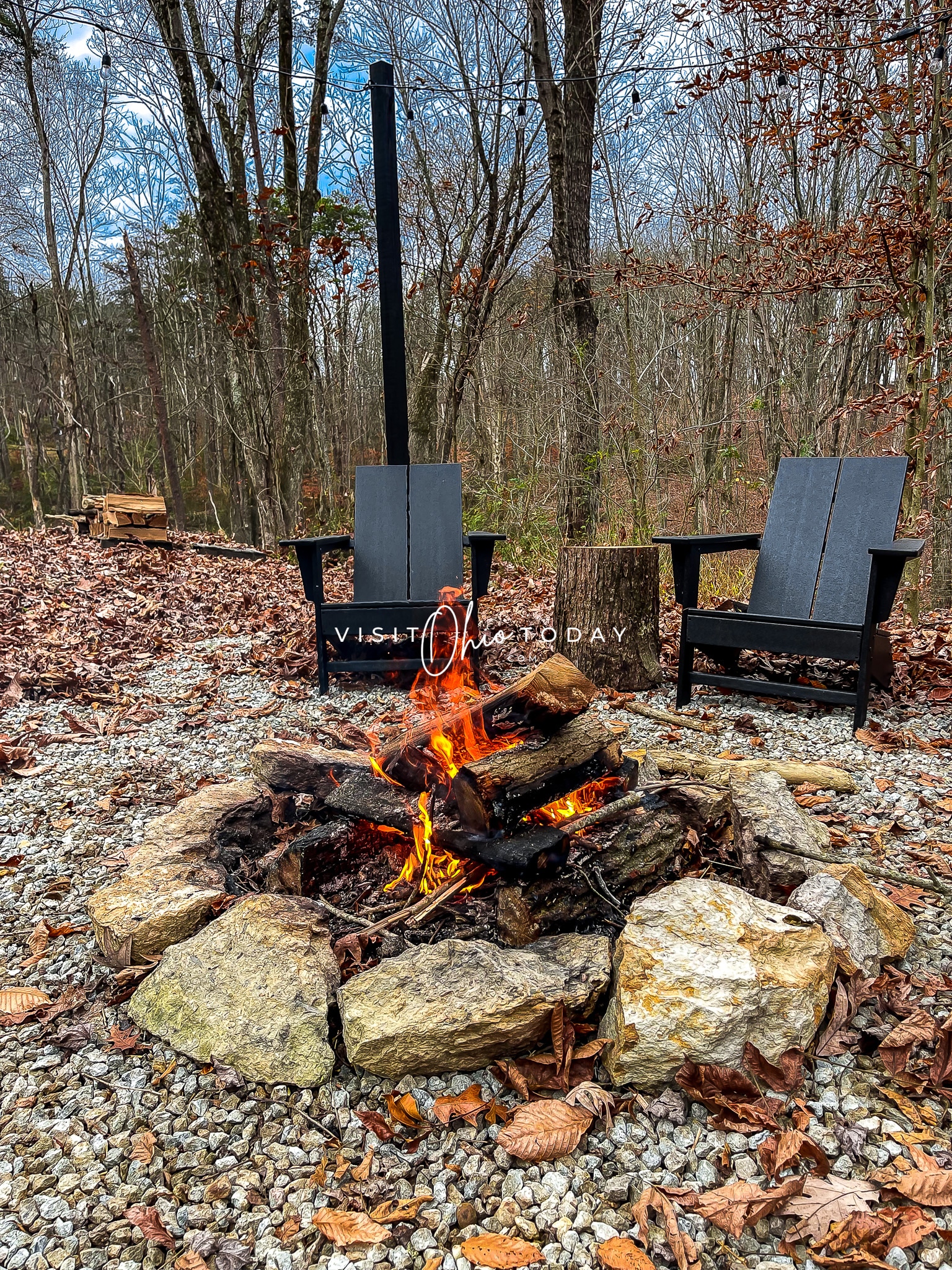 Don't forget to play a round of cornhole while outside! There is plenty of room for your family to spread out in this area!
While you are outside you can also relax in the lighted firepit area! The lights come on automatically in the evening. The owners provide the firewood! We were able to gather up some sticks for kindling and had a great fire!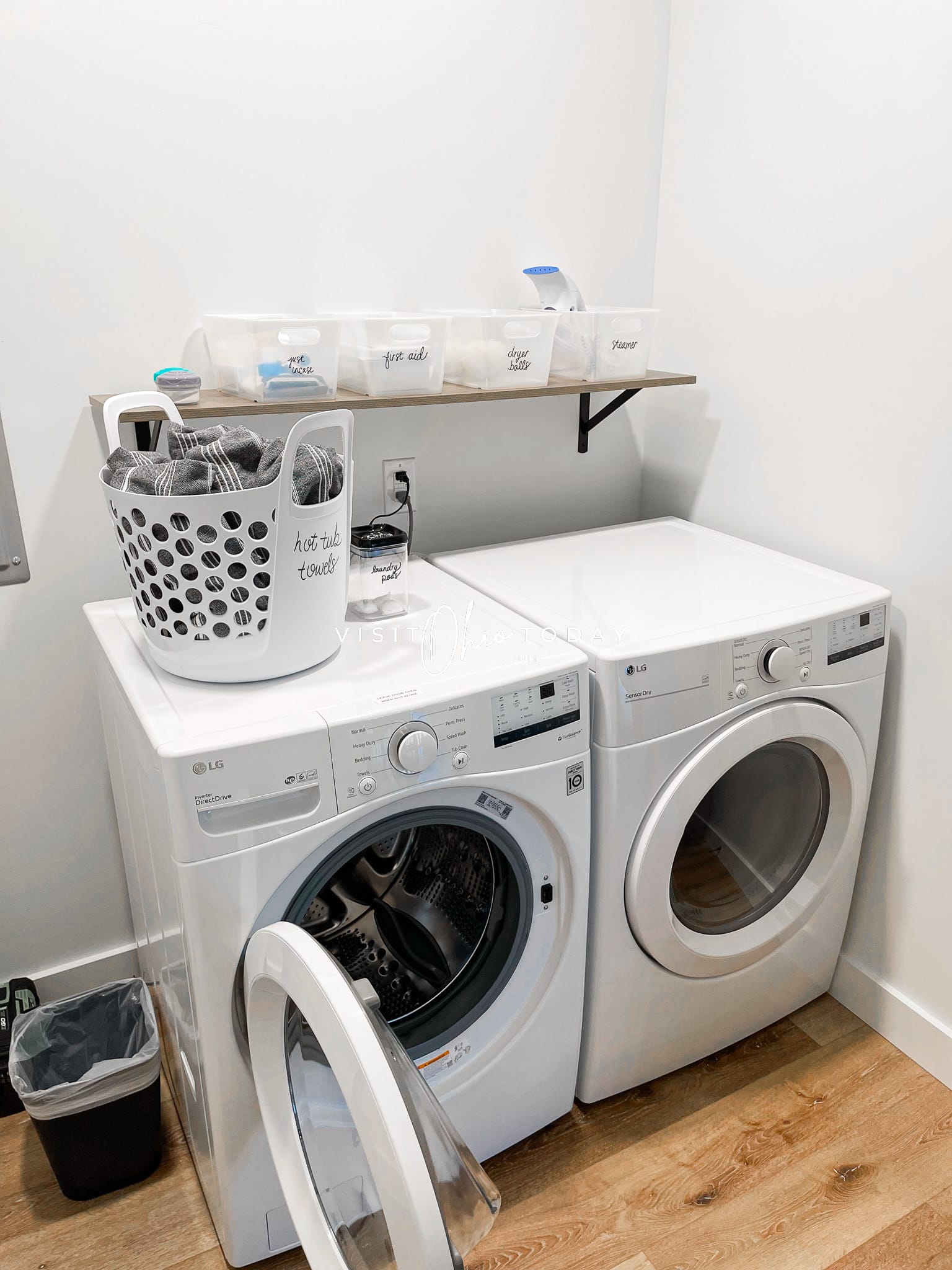 Laundry Room - Ravenhaus by ReWild Rentals
The laundry room has a full-sized front-load washer and dryer combo. You can also find the hot tub towels here as well as a vacuum, broom, and dustpan. You can also find the first aid kit, the steamer, and some extra "just in case" items you may have forgotten!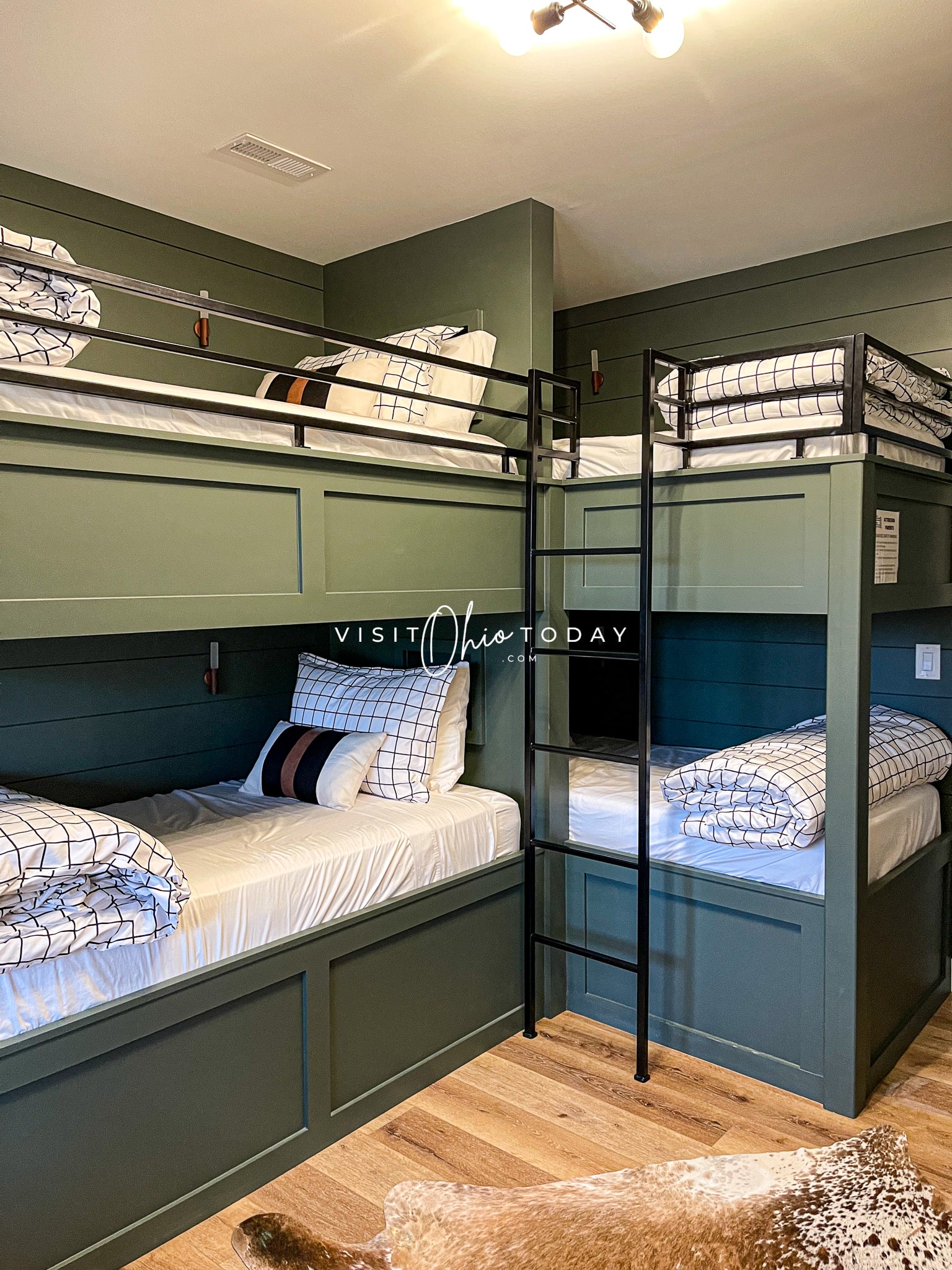 Bunk Room and Bathroom- Ravenhaus by ReWild Rentals
The bunk room at Ravenhaus of ReWild Rentals sleeps four people. Each bunk has a light and USB outlets. Just like the rest of the bedrooms, the beds feature luxury pillows, linens, and sheets. Each bed in the bunk room features a small nook to place your glasses, phone, etc.
The bunks feature sturdy rod iron ladders to reach the top bunks. The rod iron matches the staircase rails. This bedroom is on ground level and looks out to the covered patio. It features a blackout shade, dresser, and luggage rack.
This bathroom features the same type of open walk-in shower, however, the shower is extra large. It does have a dual bowl sink and vanity as well as ample room within the bathroom.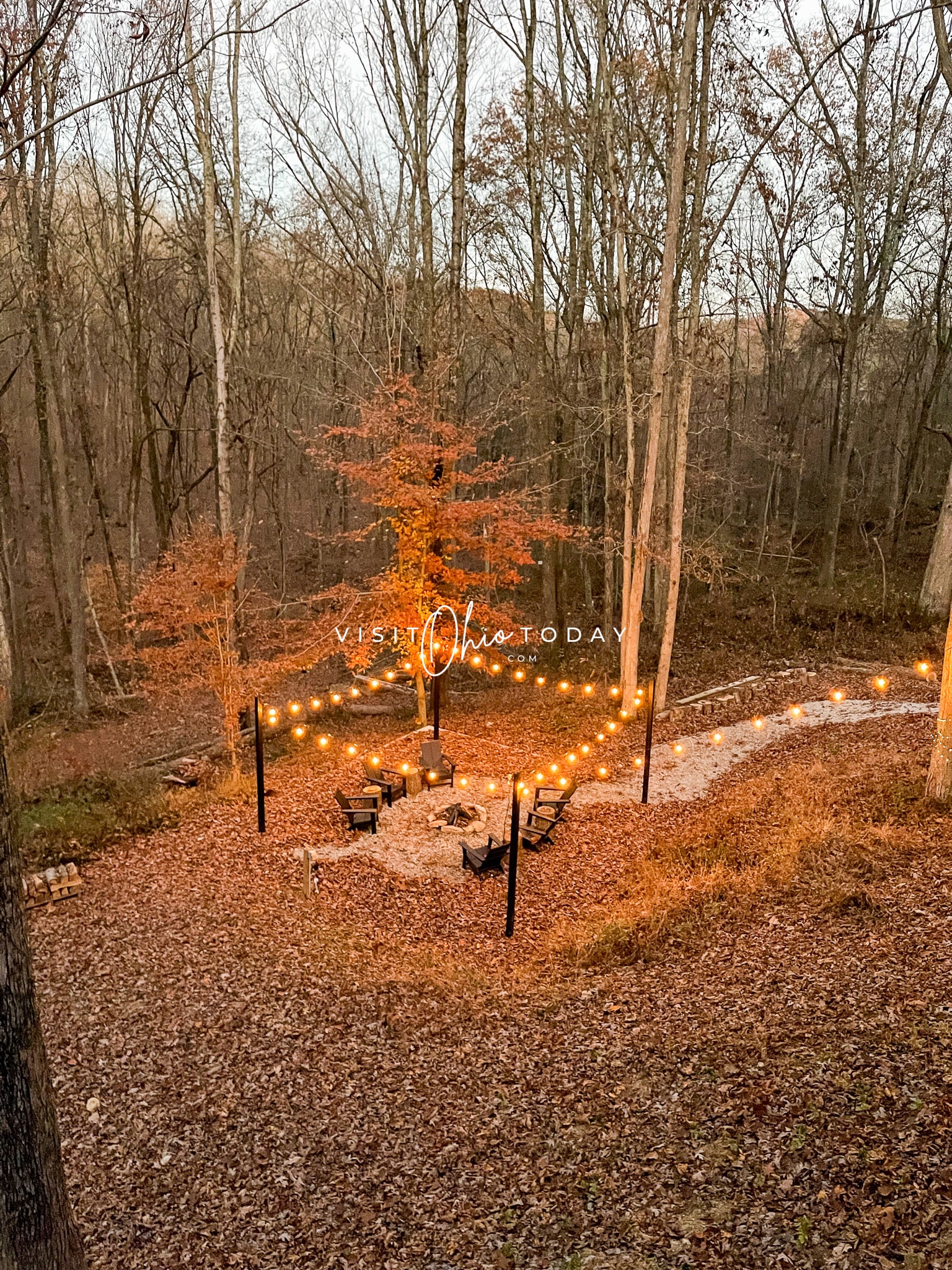 Other Notable Items for Ravenhaus
Driveway - The driveway would require a 4-wheel drive vehicle in adverse weather. The driveway starts at the top of the hill and ends at the bottom with the cabin. You can see the newer cabin "The Nest" from the front porch and front windows of Ravenhaus.
Wifi - Ravenhaus does have wifi to use to check email and do a little surfing on the web. Just like many places in Hocking Hills, the internet can be unpredictable. So take this chance to unplug and unwind. On the first day, I was able to upload content to social media, but on the last day that was not the case. So plan on truly relaxing and unplugging! That is what vacations are for, right?
Diffuser with oil - This was such a fun touch to the home. There was a diffuser located in the kitchen and it had a bottle of "balance" oil to diffuse! Loved this!
Cocktail cart - This was a fun addition to the kitchen! The cart has a campfire cocktail recipe book, shaker, muddler, wine opener, and shot glasses! You just need to bring the ingredients!
The Style - The home was beautifully styled throughout with modern, yet minimal decorations, accent pillows, and cozy throw blankets.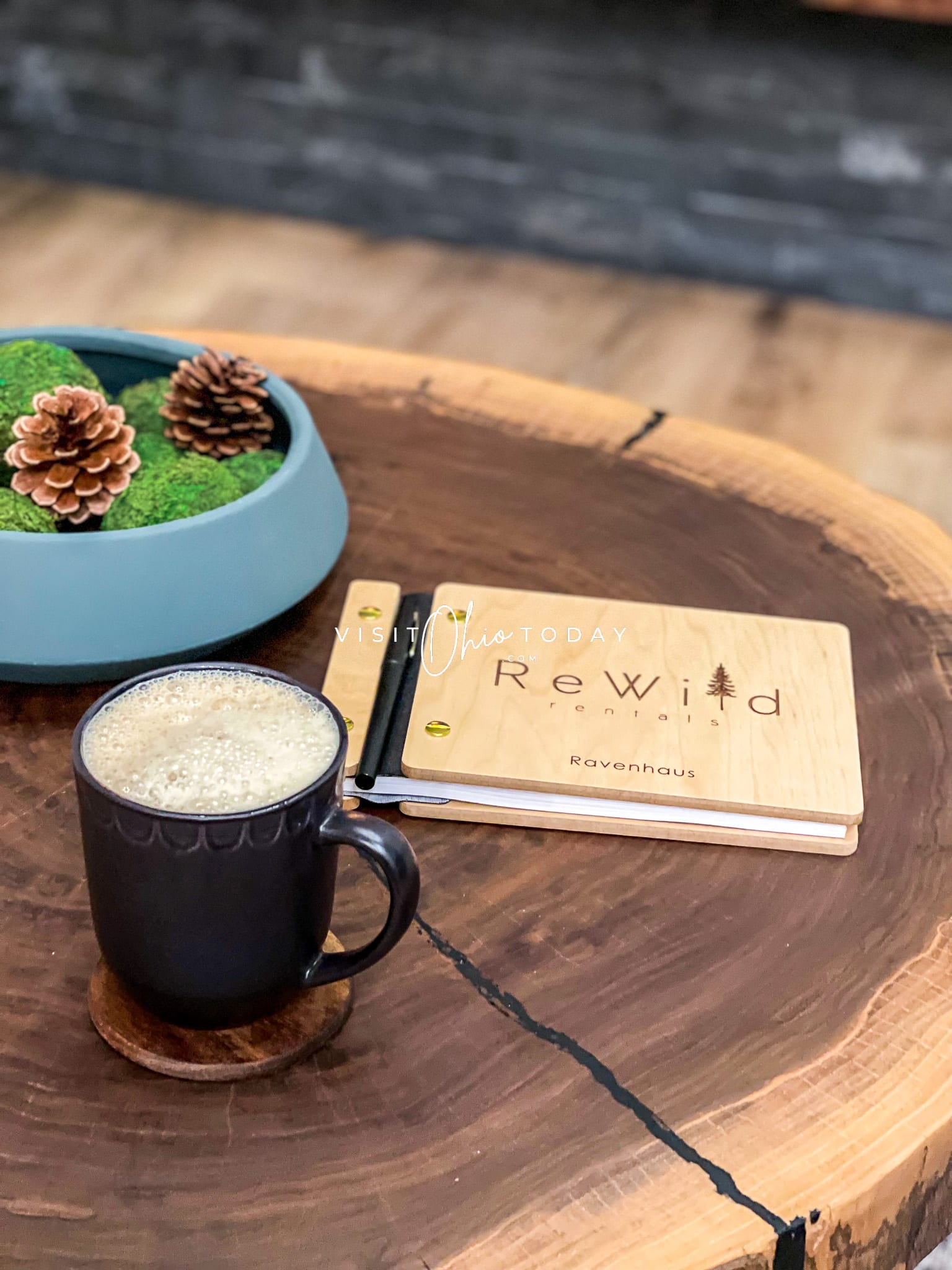 Let's Go to Ravenhaus by ReWild Rentals
My stay here was perfect, it honestly was about as perfect as it gets! If you are looking for a conveniently located, well-appointed luxury rental in Hocking Hills, this is the place for you! I am very excited to watch the progress on their next build, which is a small 4-person cabin on the same property. Thank you Aimee and Andrew for creating this space!
If you are interested in staying at one of the rentals that ReWild offers, you can connect with them here.
Check out our Ohio Ice Cream Shops article, where we feature the favorite shop of Aimee and Andrew at ReWild Rentals!