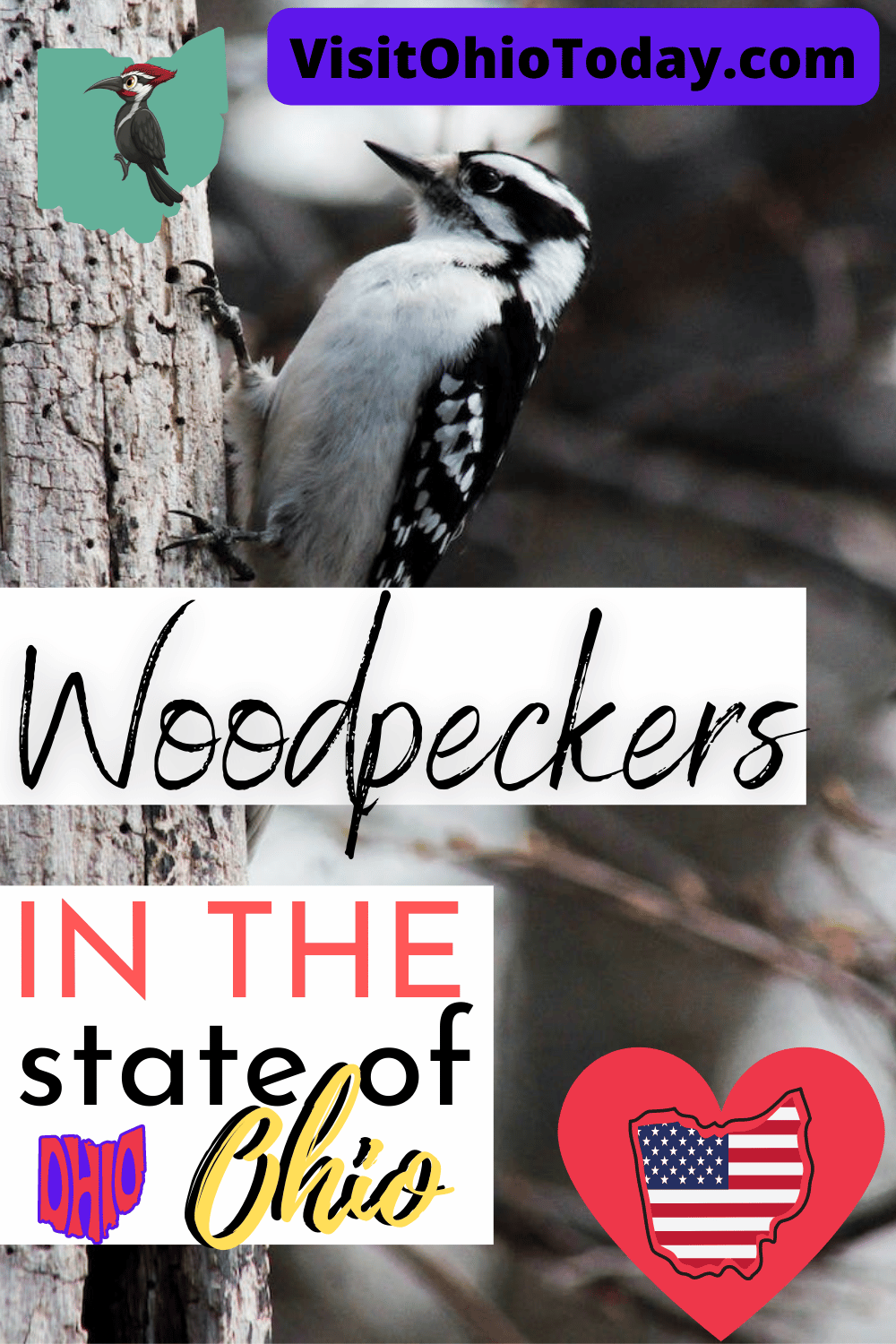 Last Updated on July 6, 2023 by Cindy
In Ohio, we are blessed to have fantastic cities and amazing countryside. In the countryside we have many animals, plants and trees. Today, we are going to talk about Woodpeckers in Ohio. If you would like to know more, read on…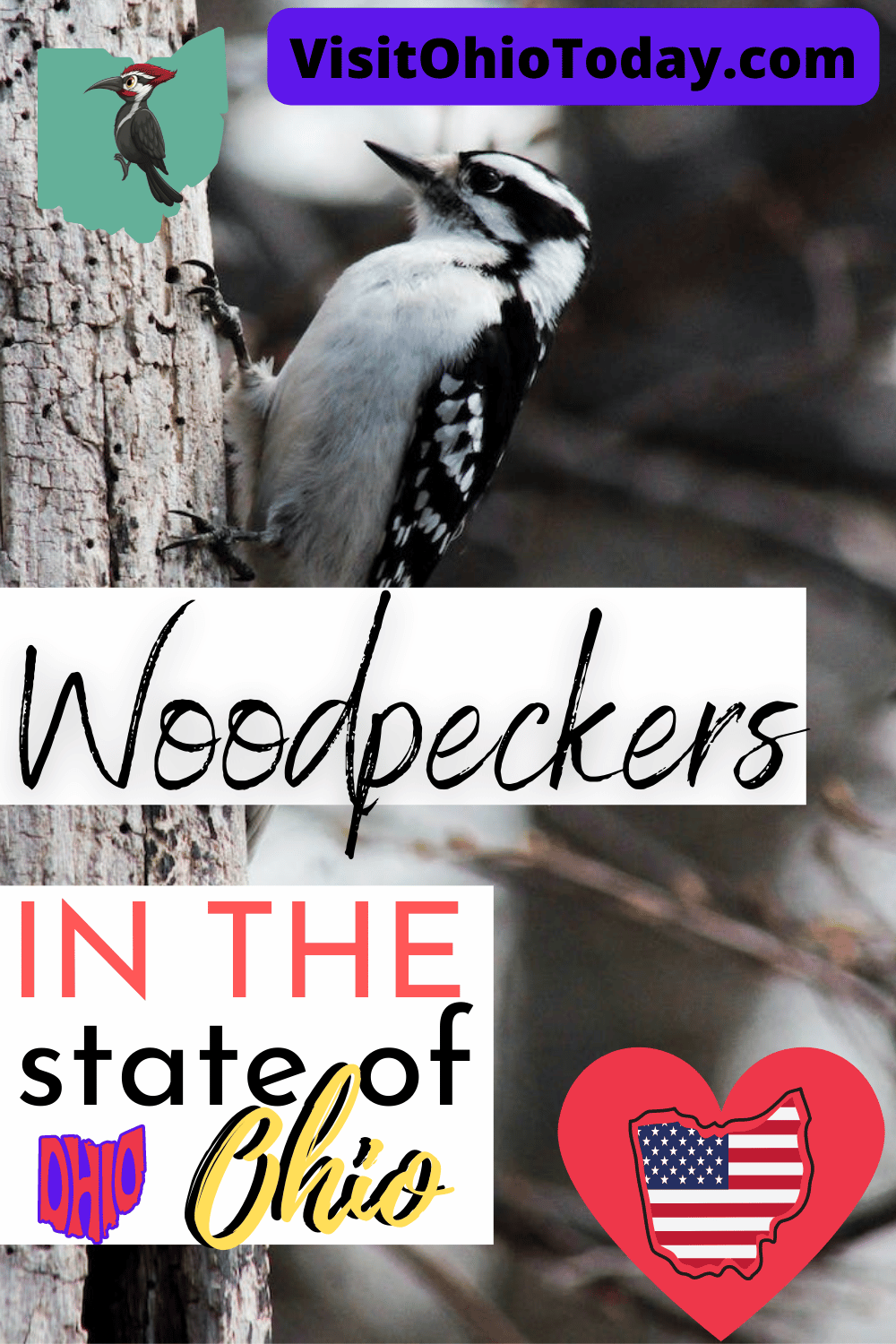 Are There Many Woodpeckers In Ohio?
Woodpeckers are extremely cute. In Ohio, we are lucky to have 7 species of Woodpecker. We will be looking at each species of Woodpecker to see the similarities between each species and the differences as well! In Ohio, they are here in their thousands so there is a really good chance that you will be able to see not just one species of woodpecker, but a few species of them.
The 7 woodpeckers that we are going to look at are based in Ohio and call Ohio their home. Of course, now and again there will also be a few other species of woodpecker that may fly through the state. This could be to migrate elsewhere, or they may just want a change of scene! It is worth pointing out that it will be quite rare to see different species in Ohio.
Downy Woodpeckers
The Downy woodpecker is incredibly tiny; these cuties are quite common across the northern and central states. Another interesting fact with regards to this species is that they are the tiniest woodpecker species in the entire US. The Downy Woodpecker does tend to prefer warmer climates, however they are known to fly to different areas if they wish to have a change of scenery. They have a very piercing call and you can see these guys feeding on bird feeders. This species of woodpecker is also quite common throughout the state of Ohio, so the chances of seeing them are quite high.
The Downy woodpecker is quite small and is pretty noisy as well. They are black with small white spots all across the body. If a male is knocking around, the males have red crowns and different size spots on their wings and feathers. The spots on the males are unique to each individual.
The Downy woodpecker can be seen in most parts of the US. They can be seen as far north as Alaska and as far south as Florida. The Downy woodpeckers do tend to stay out of the sun. The best chance to see them is on a mild day with a lot of cloud cover. The Downy woodpecker does call Ohio its home, so they will be around quite a bit.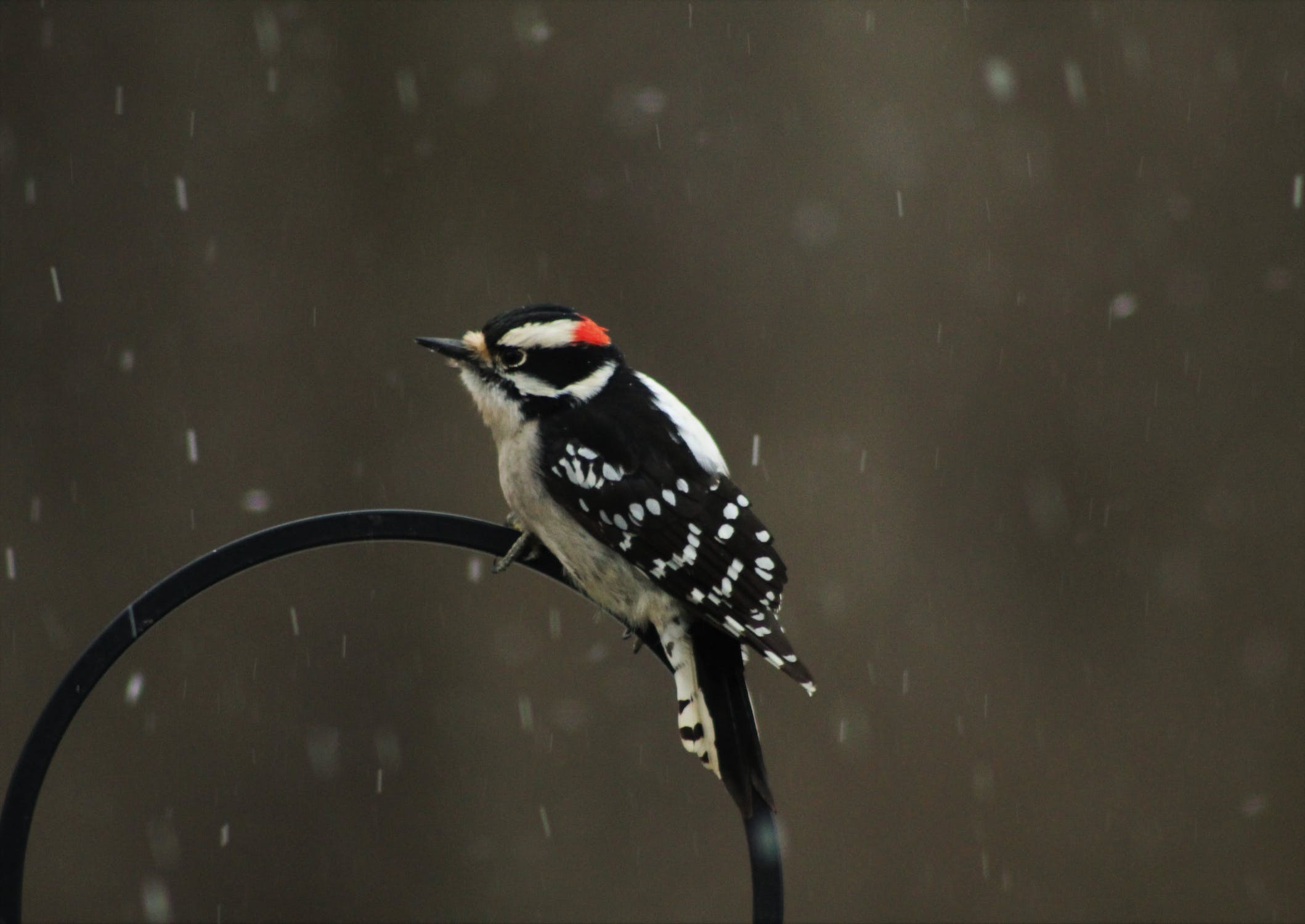 Hairy Woodpeckers
There is always a chance of seeing a woodpecker in the backyard of an Ohio home. The chances are that it will be one of the hairy species. The Hairy woodpecker is a very common species in Ohio and they can be seen on a regular basis. Having said that, they are quite shy and tend to retreat if people get too close to them. These woodpeckers make quite a soft call to their friends and family. They also like drumming their beaks into logs and trees, in fact they love to do this. They are cheeky souls though and opportunists. The hairy woodpecker loves to steal sap from holes that have been drilled by other birds. Even though this woodpecker is really small, it does make a racket when it is drilling into a tree or logs.
The name suggests what it looks like, the hairy woodpecker is incredibly hairy. It also has a very long bill and it has gorgeous white and black colorings. Some of these chaps can also have a light brown tint on their chest.
The hairy woodpecker does not care for climate, so they can be found anywhere. The one thing that they do like about Ohio is the amazing climate and the vast forests and prairies, the perfect place to live and relax.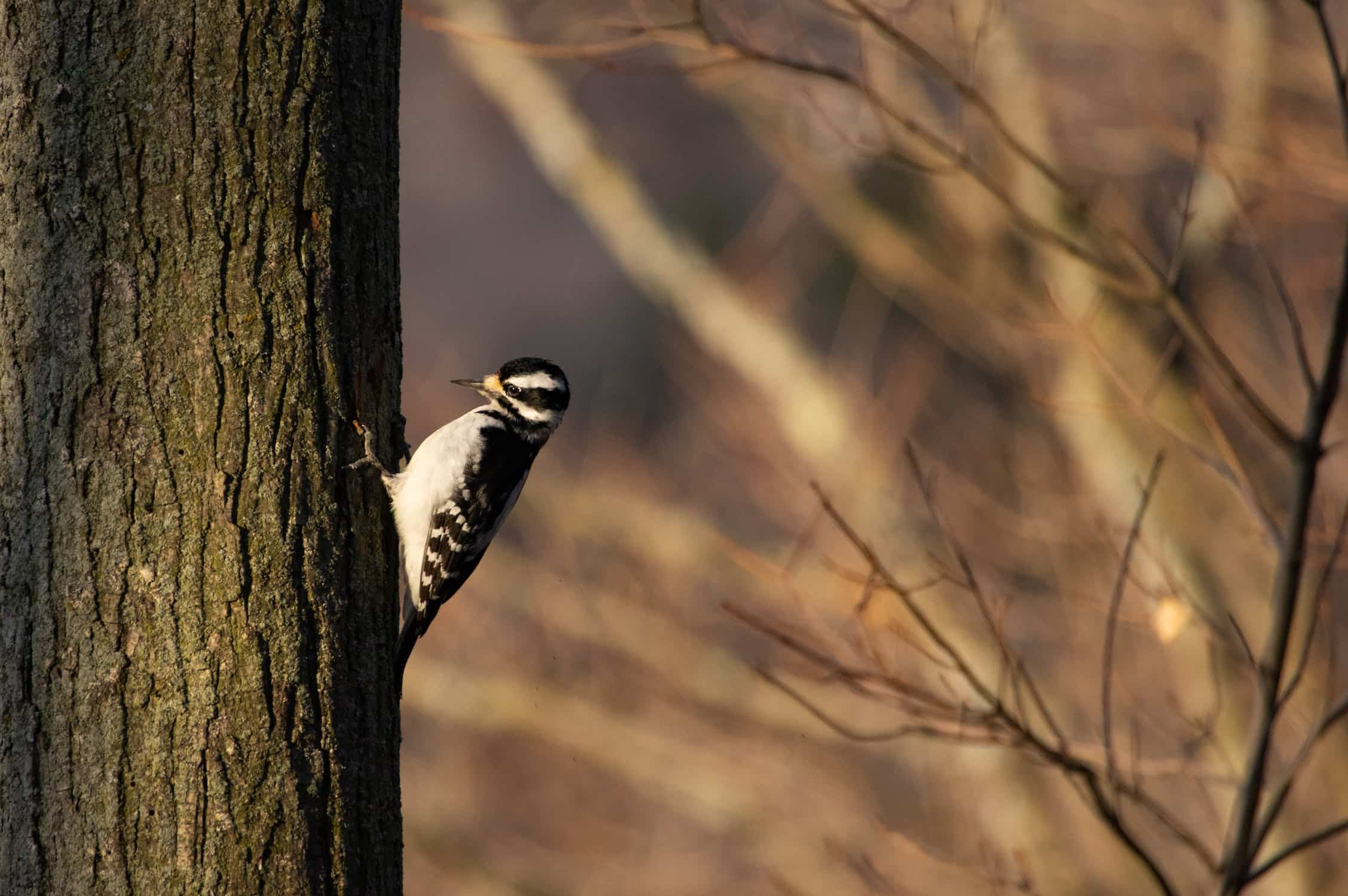 Northern Flicker Woodpeckers
The Northern Flicker woodpecker can also be referred to as a yellow or red-shafted flicker. It is a pretty common bird in Ohio and it is also one of the largest woodpeckers that can be found within the state. The one difference with this species of woodpecker is that it actually likes to eat from the ground and not in the trees! The flicker also likes to hop around on the forest floor. Now and again if it has had enough of eating ants and bugs, they will also hop into a tree and eat fruit like apples or pears.
The Northern Flicker woodpecker can have an array of colors. One thing that these woodpeckers do have in common is that they have flecked tails and wings. They also tend to have black markings across the face and on their crests as well. As said above, another way of pointing out this species is the fact they are a lot bigger than other woodpecker species.
The Northern Flicker woodpeckers tend to live in the eastern states of the US, so Ohio is right at the heart of it. The reason for this is that they like the change of temperatures that Ohio can offer.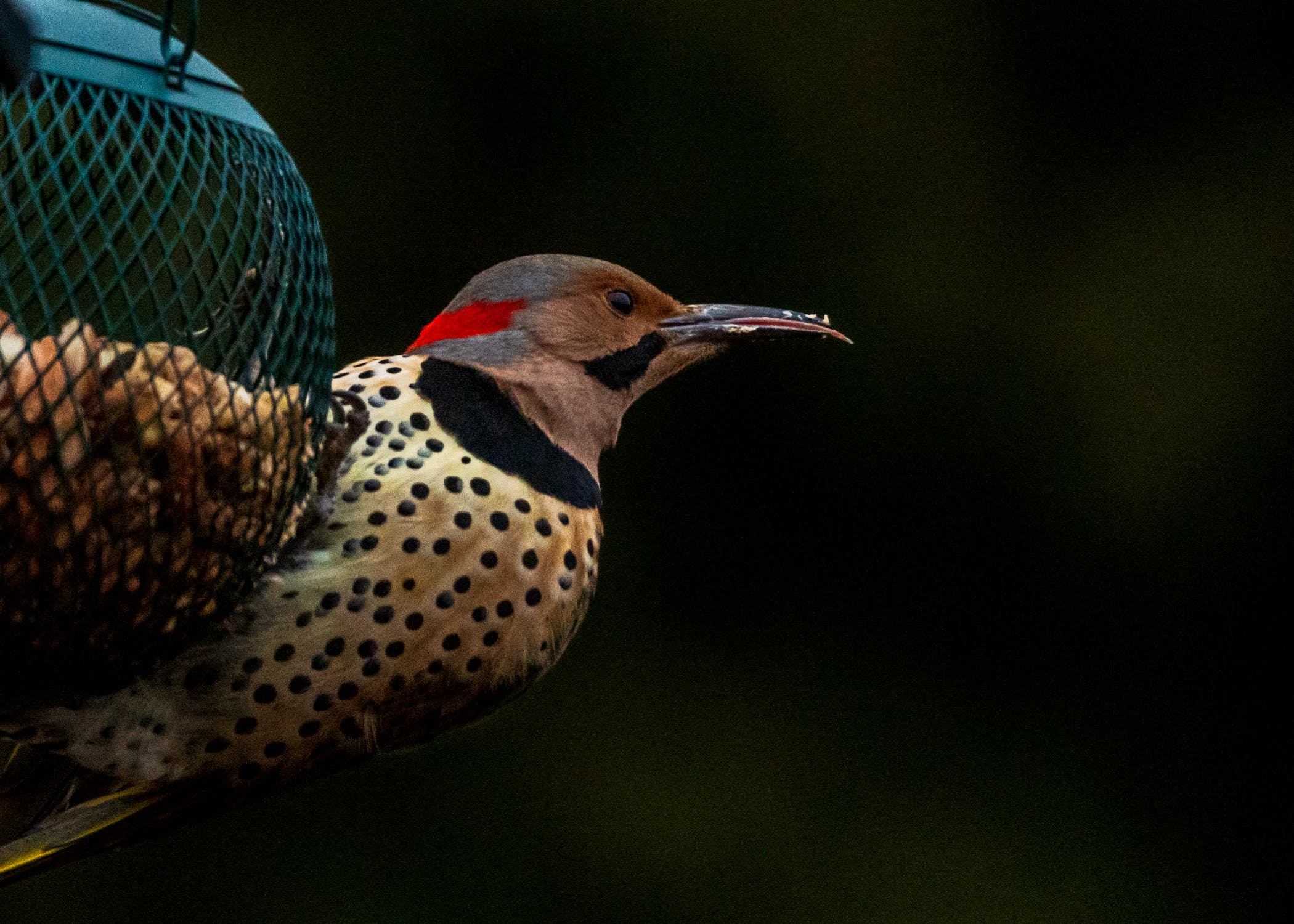 Pileated Woodpeckers
The Pileated woodpecker is large and incredibly loud! Due to its shrieks and cries, it is very easy to point out, even by novices. The mating cries of this species are very loud and distinctive. The pileated woodpecker looks like a crow in stature and they love to feast on bugs like ants, moths and the like that enjoy living in trees. This species of woodpecker really enjoys making holes and as a result, they can even drill holes large enough in trees so that they can make it their home.
The pileated woodpecker has a lovely bright red crown and a very long beak. The male of the species also has a distinctive mark on his face that looks like a mustache.
This species of woodpecker is another species that is not overly fussed about where to live. They are more common in the eastern states of the US and have been known to fly up to Newfoundland. As Ohio has gorgeous summers and icy winters, Ohio is the ideal place for this species of woodpecker to live.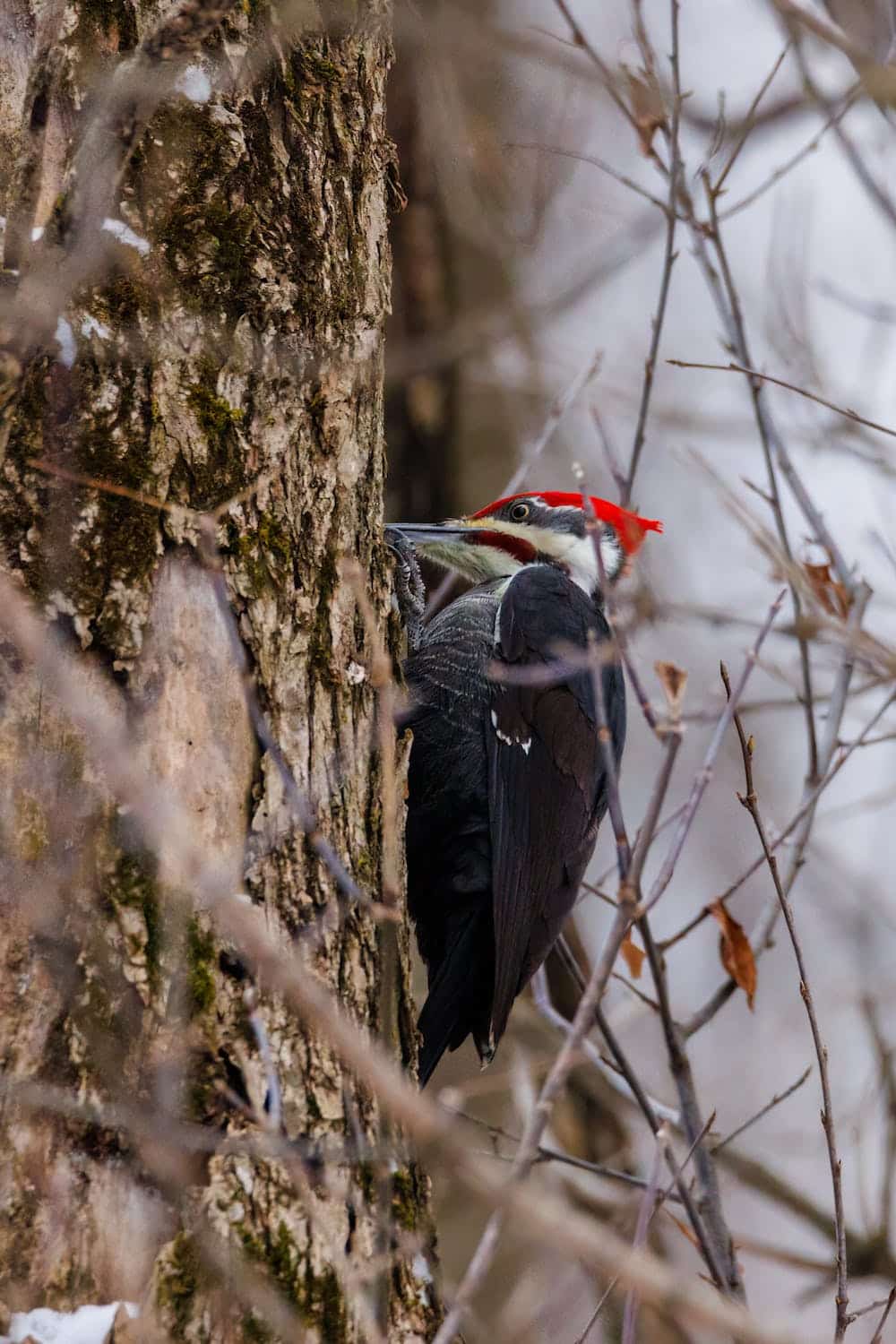 Red-Bellied Woodpeckers
The Red-Bellied woodpecker used to be quite uncommon to see in Ohio. Thankfully though as the years have gone on, their numbers have risen to very healthy numbers. The red-bellied woodpecker likes to use bird feeders in gardens and parks. They also like to call out to their friends when they are eating. The only time that they drum on trees is when they are calling out for a mate. Both genders of this species of woodpecker look incredibly similar and it is almost impossible to tell on first look. In the woodpecker range of sizes, it is in the middle of the road and they do not tend to damage trees. These woodpeckers tend to rather just eat!
This species of woodpecker has a lovely bright red belly and they also have a red crown and a brown face. The males and females are almost identical. They can be seen throughout all areas of Ohio.
They can also be seen in different eastern US states as well from New York down to Florida. It is also common to see this species of woodpecker in states like Arkansas and Texas.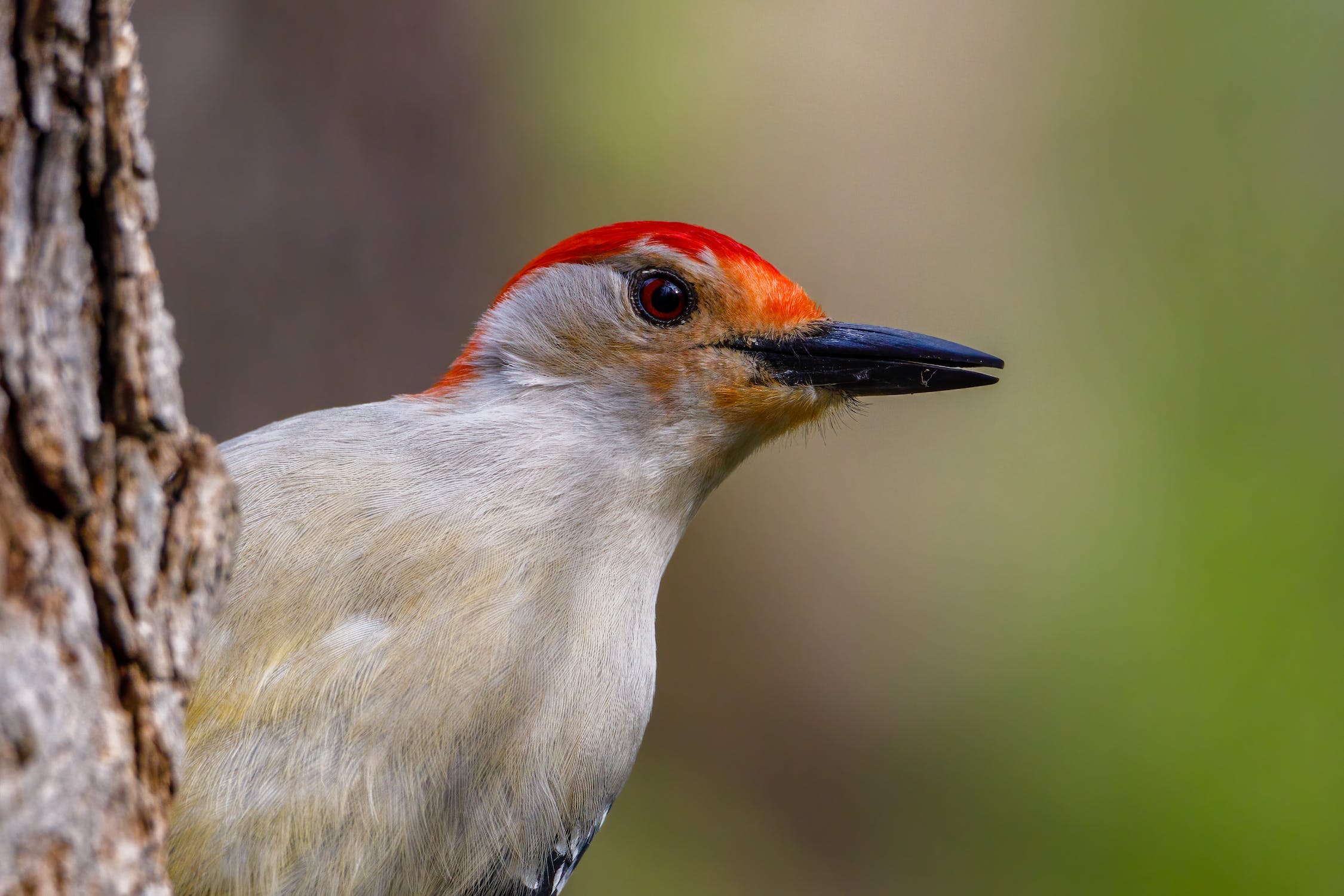 Red-Headed Woodpeckers
The Red-headed woodpecker is large when it comes to the woodpecker family. It is also a stunning bird that has amazing bright colors. This species does not tend to call out a lot, but it makes up for that by drilling, drumming, and rattling trees and it is very loud. Even though this species of woodpecker loves to drill trees, it does not drill trees for food. This woodpecker likes to snatch its food whilst it flies past, like flies, moths, and flying ants. As well as flying bugs, it also likes to indulge in fruit, nuts, and acorns as well.
Their name is exactly what it is. They have a fantastically bright red crown and heads, and lovely snow-like white feathers on their wings and tails. Their cries are very quiet so it is unlikely that people are able to hear them.
These fruit-loving birds are found in Ohio and the central states of the US. They do prefer warmer climates so tend to stay south of Canada. They will also stay within Ohio in the winter months generally, but some individuals may head south for the winter.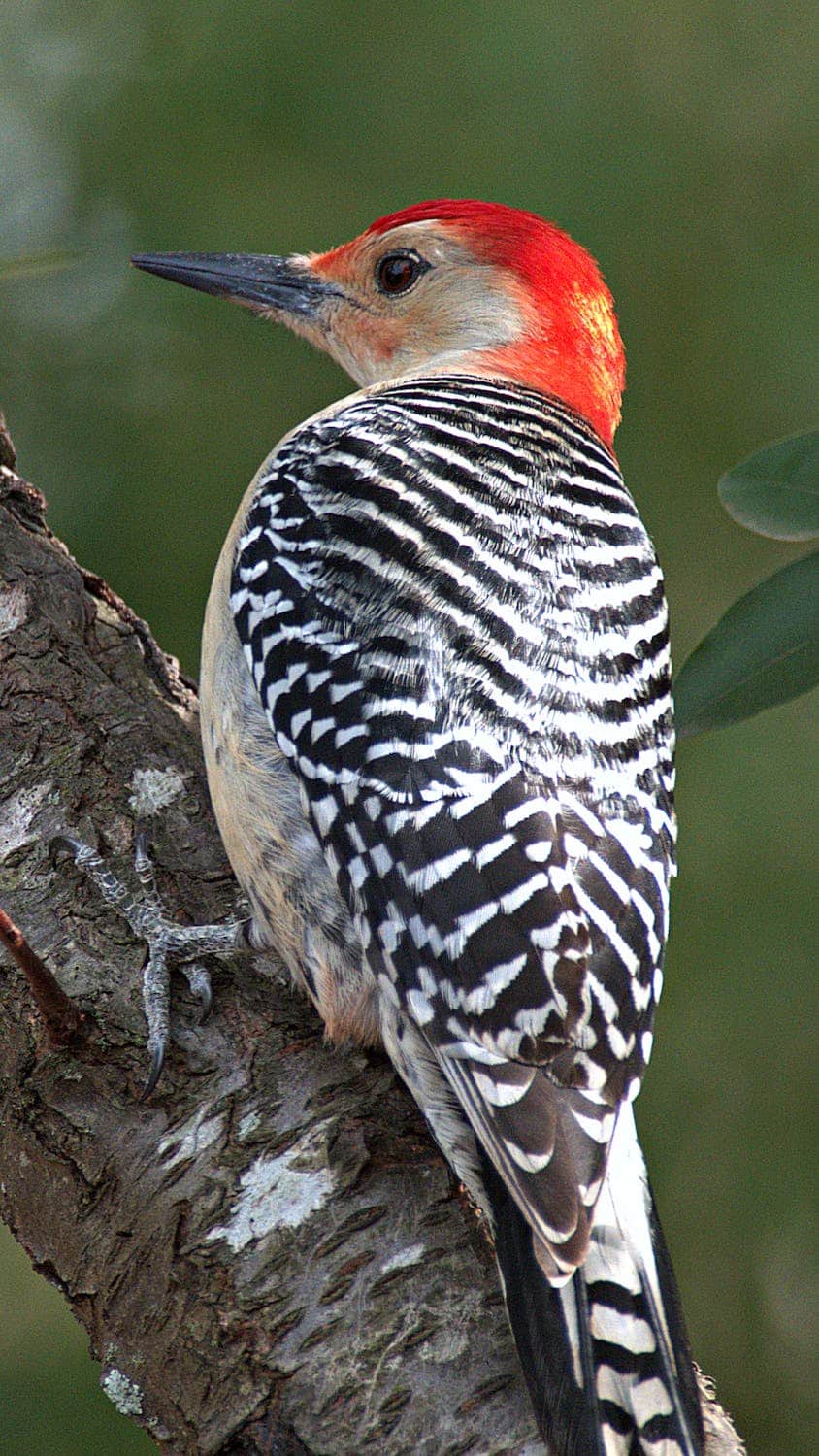 Yellow-Bellied Sapsucker Woodpeckers
The Yellow-bellied woodpecker just loves to drill various trees and drink all that lovely sap. Other species also like when the Yellow-bellied woodpecker does this as they can also steal the sap without doing any of the hard work (Yes. We're looking at you, Hairy Woodpecker!). These species of birds are quite similar to other sapsuckers. The reason they are similar is due to not just their size, but their behavior as well. This species of woodpecker has quite a unique drilling technique as well. They drill very fast and they can tend to be found in places like woodyards. This species is also unique in that they tend to nest at high levels of altitude as well (over 6,000ft).
This species has a bright yellow belly with a red crown and nape. It also has stunning black and white bars on its wings (like an Eurasian Hoopoe). To finish it off, it has black and white flecks on its body and tail as well.
The Yellow-bellied Sapsucker is the most migratory woodpecker in the world and it can migrate to places like Panama and the Caribbean. However, this species does call Ohio its home and they tend to stay all year around.
Short Video Highlighting The Woodpeckers In Ohio:
How Do You Attract Woodpeckers in Ohio To The Yard?
The above 7 wonderful woodpeckers call Ohio home. Ohio is lucky and truly blessed to host these lovely birds. Some of the species will not flock to the garden and prefer other habitats. Having said that though, it is not to say that will not want a change of scenery from time to time
The best way to attract these cuties is to have a good woodpecker bird feeder and copious amounts of water available. At certain times of the year, water can be sparse so woodpeckers will go out of there to look for water. Another useful tip is to have a bird bath and plant a couple of native Ohio trees (if possible). Woodpeckers love a good bird bath and trees, so if they see these things in your garden (plus the food and drink on offer), you have a high chance of attracting them to your garden.
For more tips and hints on Woodpeckers In Ohio, be sure to check out this website for more information!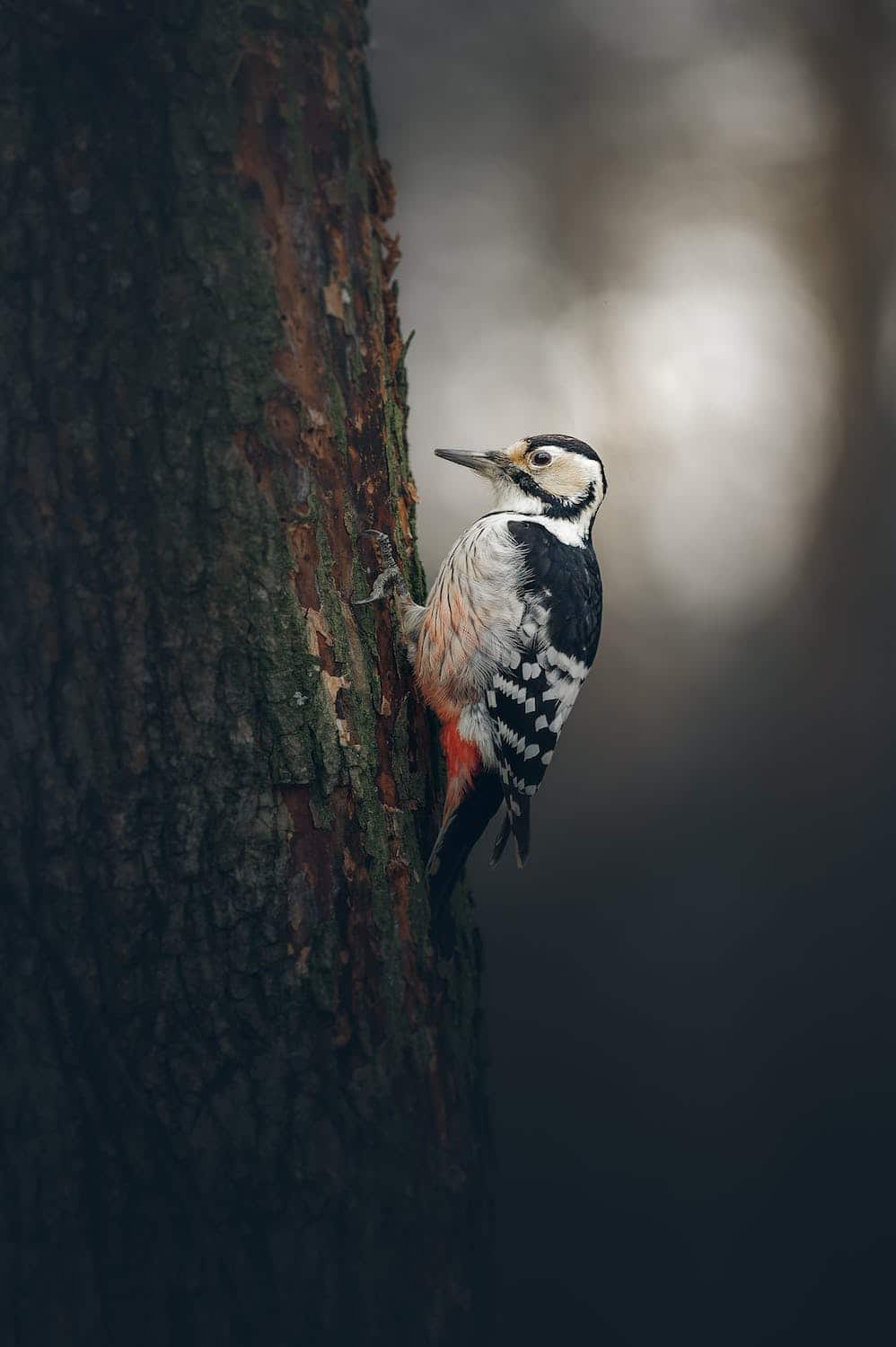 If you love animals, then you should check out our articles on Animals In Ohio!
Ohio Turtles are fascinating creatures, and you can read all about them in our dedicated article! If you love birds, check out our Hummingbirds in Ohio article.
If you have favorite Animals In Ohio that we have not mentioned, let us know about them in the comments. Who knows - we may feature them sometime!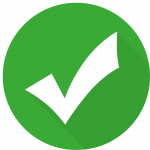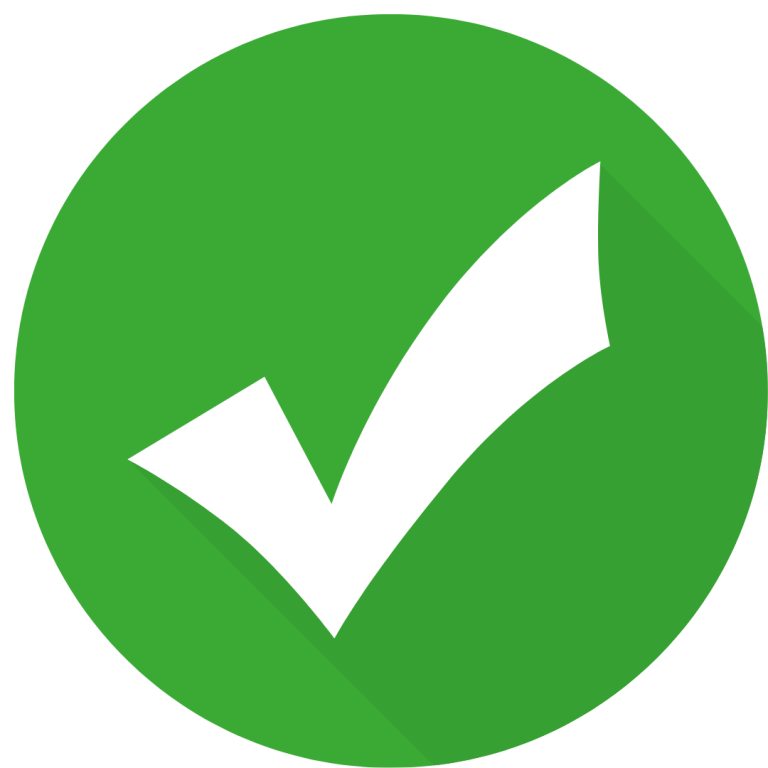 Hello! We have done our very best to ensure that the accuracy of events, hours, addresses, etc are up to date. Please know that information can change due to weather, updated health and safety challenges, etc. If you find incorrect information, please send us an email and we can get it updated.
To be updated and stay connected, subscribe to our newsletter.