Laurentia Winery
This post contains links to affiliate websites, such as Amazon, and we receive an affiliate commission for any purchases made by you using these links.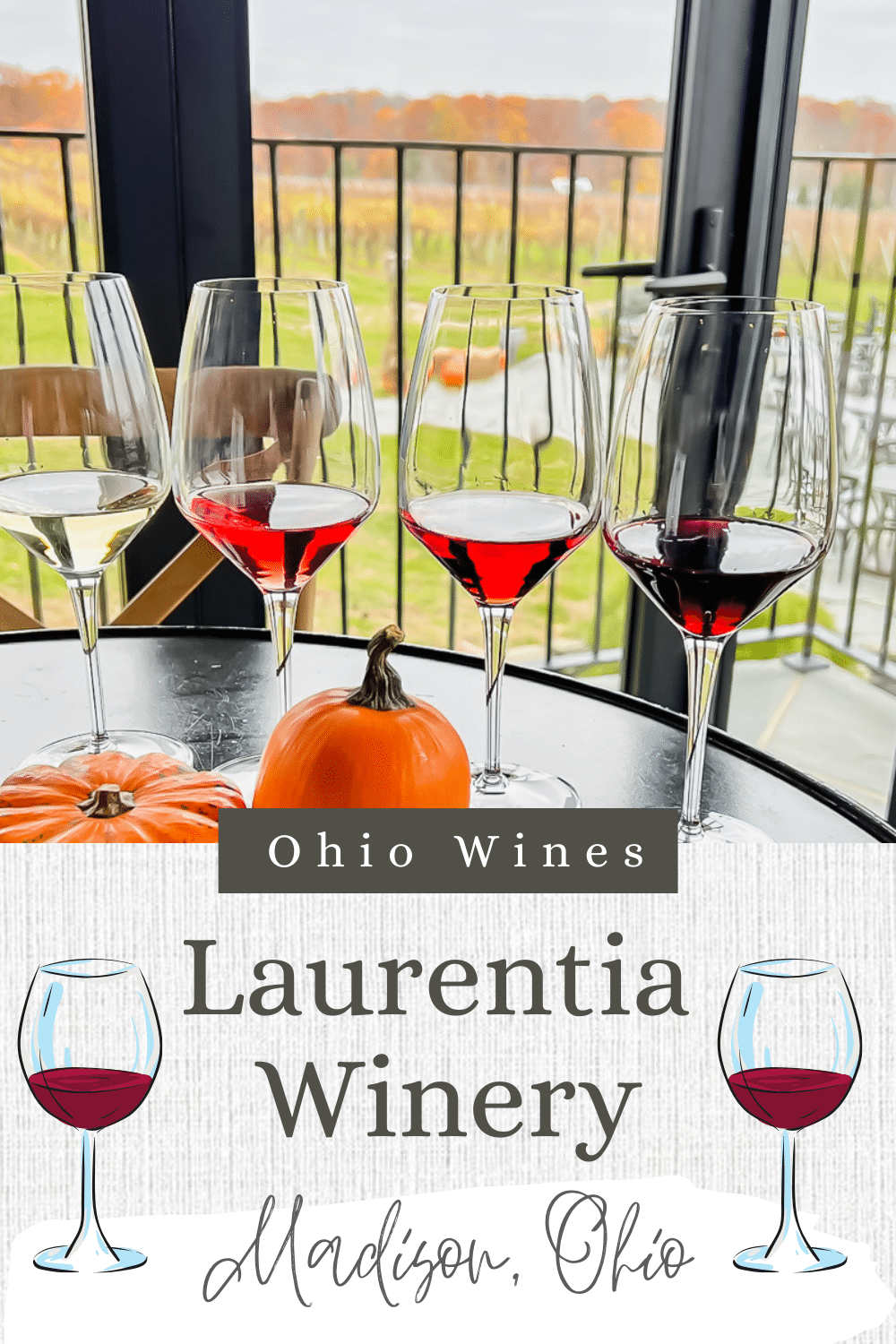 Laurentia Winery offers some of the best wines in Ohio as well as delicious food and a beautiful setting.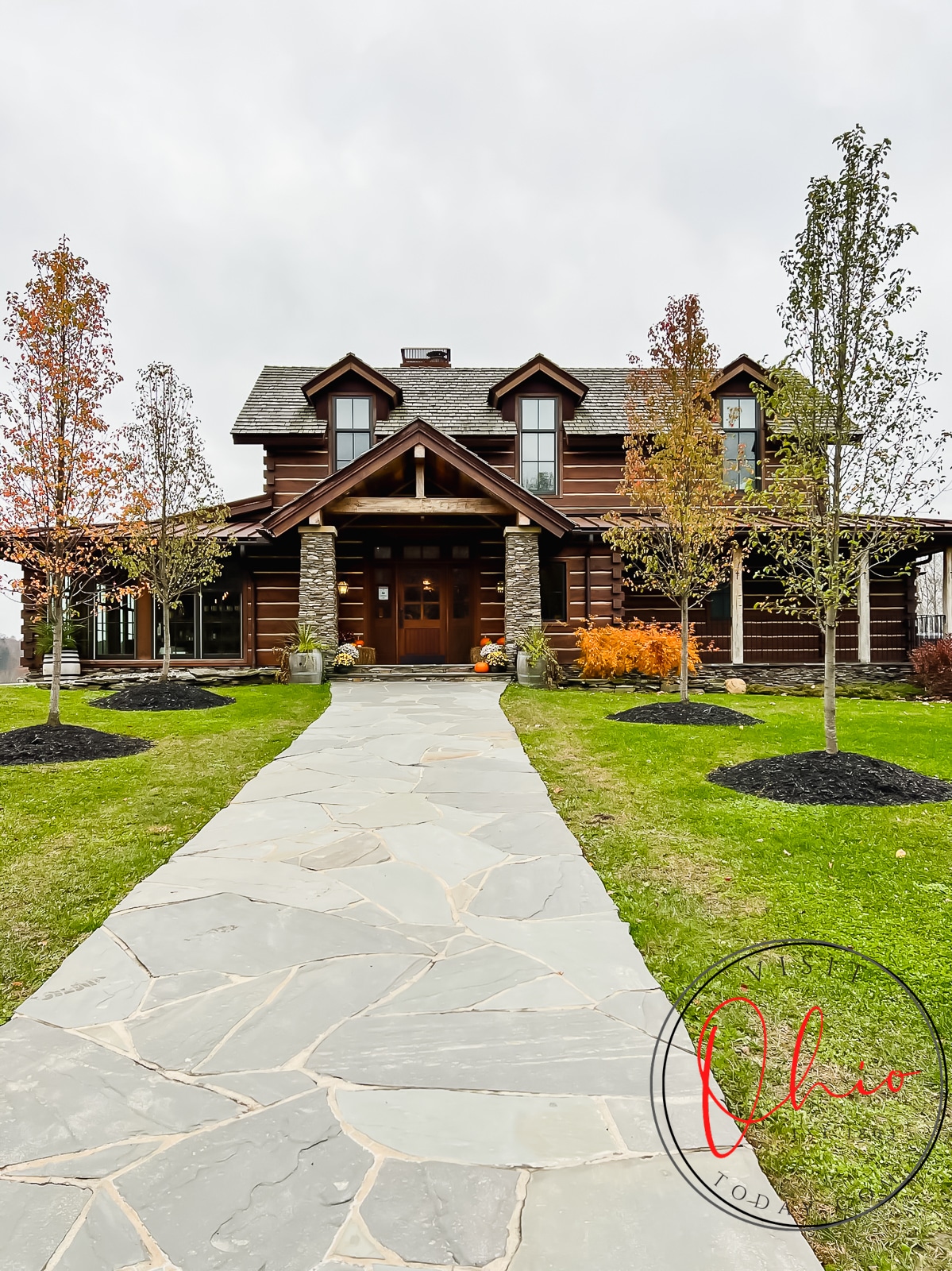 Visit Laurentia Winery
At first glance, Laurentia Winery looks like a large cozy log cabin. The winery sits far back off the road, you almost don't know it is there. It is seriously a hidden gem. There are two locations to enter and exit, be sure to watch for signs. Upon further inspection, once you arrive, you will see it has an open, yet inviting spacious interior and well as ample seating on the patio outside.
The inside decor is prominent with stone and wood and has a giant stone fireplace in the center of the building. When you enter there is a hostess table at which you are greeted and asked to wait until they are ready to serve you at the bar. When it is your turn you walk over to the bar top and order any tastings, glasses, bottles, and food. Then you are given a number and you head to the table the hostess assigned to you.
There is a "sunroom" attached to Laurentia Winery. It is filled with huge windows that open during the warmer months. The sunroom looks out over rows of grape vines, the large outdoor patio, and the pond. We would have to say there appears to be no "bad" table here! It is stunning inside and out.
Laurentia Winery is open each day of the week, however, hours vary by day. All tables are first come, first served. Reservations are not accepted and they currently do not permit more than 10 guests at a table. The entire estate, inside and out is beautifully decorated with simple, yet elegant rustic decor.
Laurentia Winery is the type of place where you could literally spend the day. Especially in the warmer months. We saw couples playing cards while sipping on wine at their tables and others just enjoyed the beautiful scenery. I have to say out of all the wineries in this Ohio region, I think this one most closely reminds me of Napa wineries. The atmosphere here was perfect.
Laurentia Winery has several award-winning wines. Their 2016 Cabernet Sauvignon Stoltz Block has won four awards: 1 – Ohio Wine Competition, Best of Show Red Wine 2 – Ohio Wine Competition, Best Ohio Grown Red Wine 3 – Ohio Wine Competition, Double Gold Medal and 4 – San Francisco International Wine Competition, Gold Medal.
Other award-winning wines include 2015 Estate Pinot Gris, 2016 Estate Rose, 2017 Estate Clone 90 Reisling, 2015 Cabernet Sauvignon, 2018 Estate Clone 90 Reisling, and the 2017 Estate Pinot Noir.
Buses and Lios are not accepted without prior arrangements, please plan and phone ahead. Arrangements need to be made at least 48 hours in advance. Buses and limos must arrive prior to 4pm.
Well-behaved leashed dogs are invited on the outside patio area only. Please keep your pups leashed and pick up after your pet.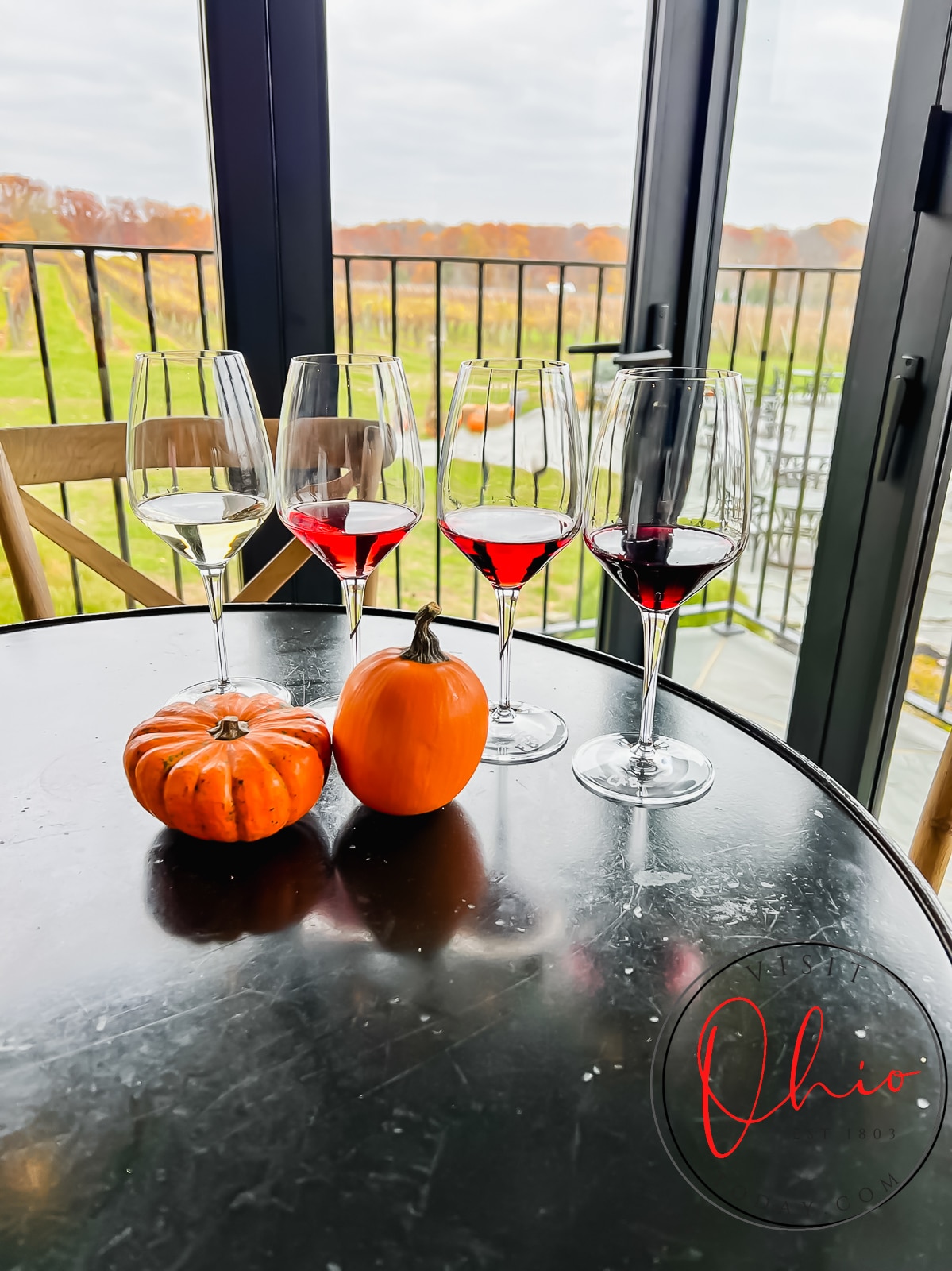 Laurentia Winery Wines
NV Laurel Blanc (white)
Estate Gewurztraminer (white)
Estate Riesling (white)
Vidal Blanc Ice Wine
Estate Pinot Grigio( white)
Estate Rose
Unoaked Chardonnay (white)
Off Dry Riesling (white)
They have many other options, the ones above are listed for sale on their website. When we visited we enjoyed both reds and whites.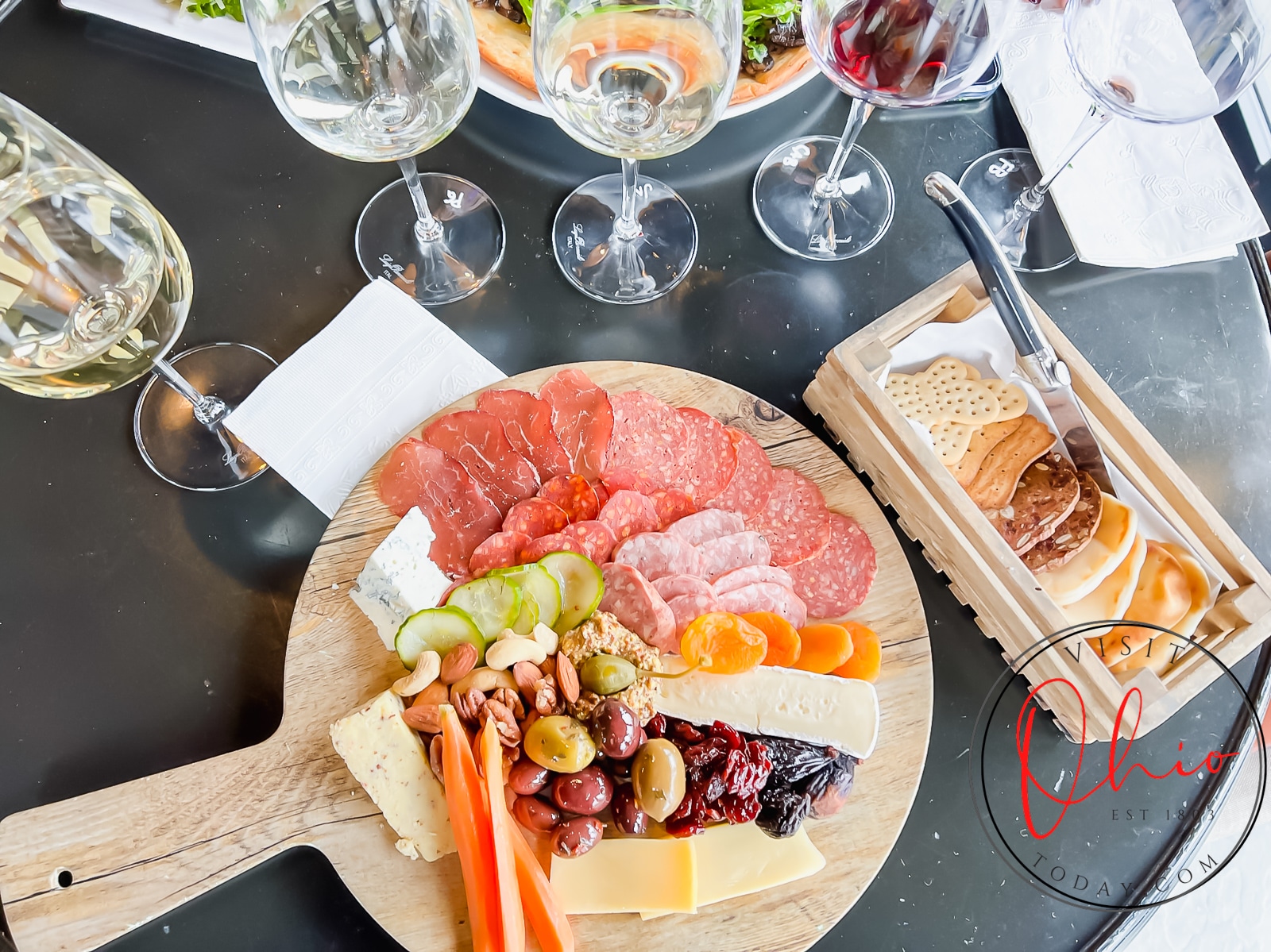 Laurentia Winery Video
Laurentia Winery Food
The food options at Laurentia Winery are vast! They serve everything from charcuterie boards, shared plates, and delicious flatbreads. The menu is seasonal to take advantage of seasonal produce. The menu is mostly made in-house and from scratch.
When it comes to small plates at Laurentia Winery you might see baked brie, roasted brussel sprouts, veal meatballs, venison blueberry sausage, and a romaine wedge salad.
The artisanal flatbreads are typically offered in 3-4 different varieties. When we visited, they had pepperoni flatbread, fig and brie flatbread, wild mushroom flatbread, and harvest flatbread.
Large plates at Laurentia Winery this fall included butternut squash ravioli, cedar plank salmon, tenderloin tips wellington, and pork stew. Laurentia Winery usually offers 1-2 dessert options.
Laurentia Winery did have gluten-free options as well as vegetarian and vegan options. Be sure to ask about your dietary restrictions as they are happy to accommodate you.
Laurentia Winery Wine Club
Laurentia Winery offers an exclusive wine club that provides hand-selected wines delivered to your doorstep. Members also get preferred pricing, seasonal offerings, and invitations to members-only events. A three-shipment commitment is required at the time of enrollment.
Both wine and food are phenomenal here, but we always plan to eat here when in town visiting the wineries. This time, for my wife's b-day and Valentine's, was no exception. They had a three-course $33 deal that was worth twice that. Especially when paired with the wonderful service and suggestions we always receive here. Don't miss!

Devin B (TripAdvisor)
Cindy's Insider Ohio Tips!
Laurentia has quickly become one of my favorite wineries in Northwest Ohio. For me, it's reminiscent of Napa Valley with its charming ambiance. The indoor and outdoor seating options make it a comfortable and inviting place. I especially love their rotating selection of delicious elevated dishes that perfectly match the seasonal changes. And, of course, their wine is simply outstanding.
Where is Laurentia Winery located?
Laurentia Winery is located at 4599 S Madison Road, Madison, Ohio 44057 – (440) 296-9175 – website
Laurentia Winery Post
Have you visited Laurentia Winery? Let us know! We can't wait to go back! Looking for other wineries to visit when you are in this area? There are so many! A few Ohio wineries we recommend you check out are Spring Hill Winery, South River Winery, Grand River Cellars, and Cask 307. We have a long list of Ohio wineries that we plan to write about! Check our Ohio wineries category often to see what we have written about lately!