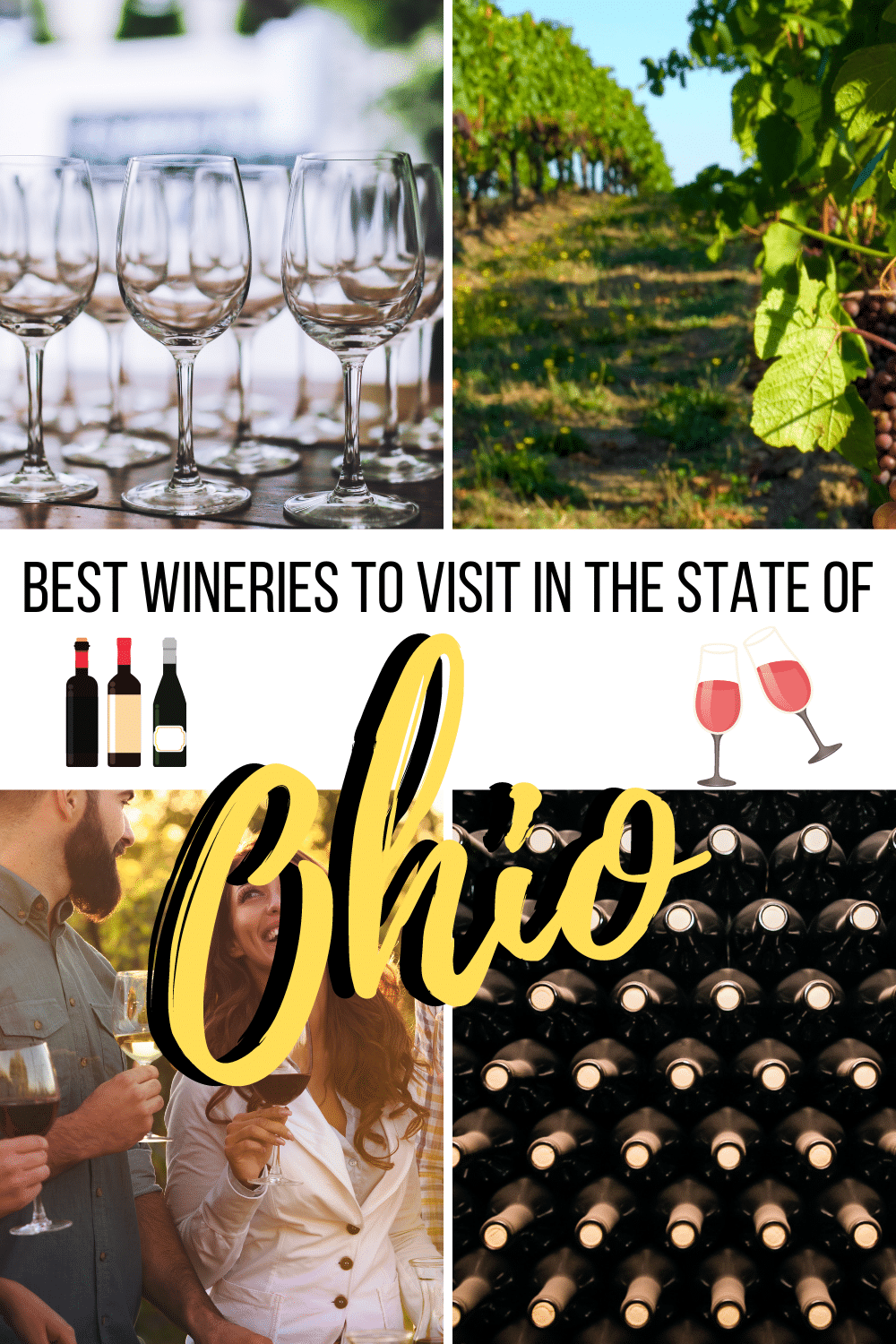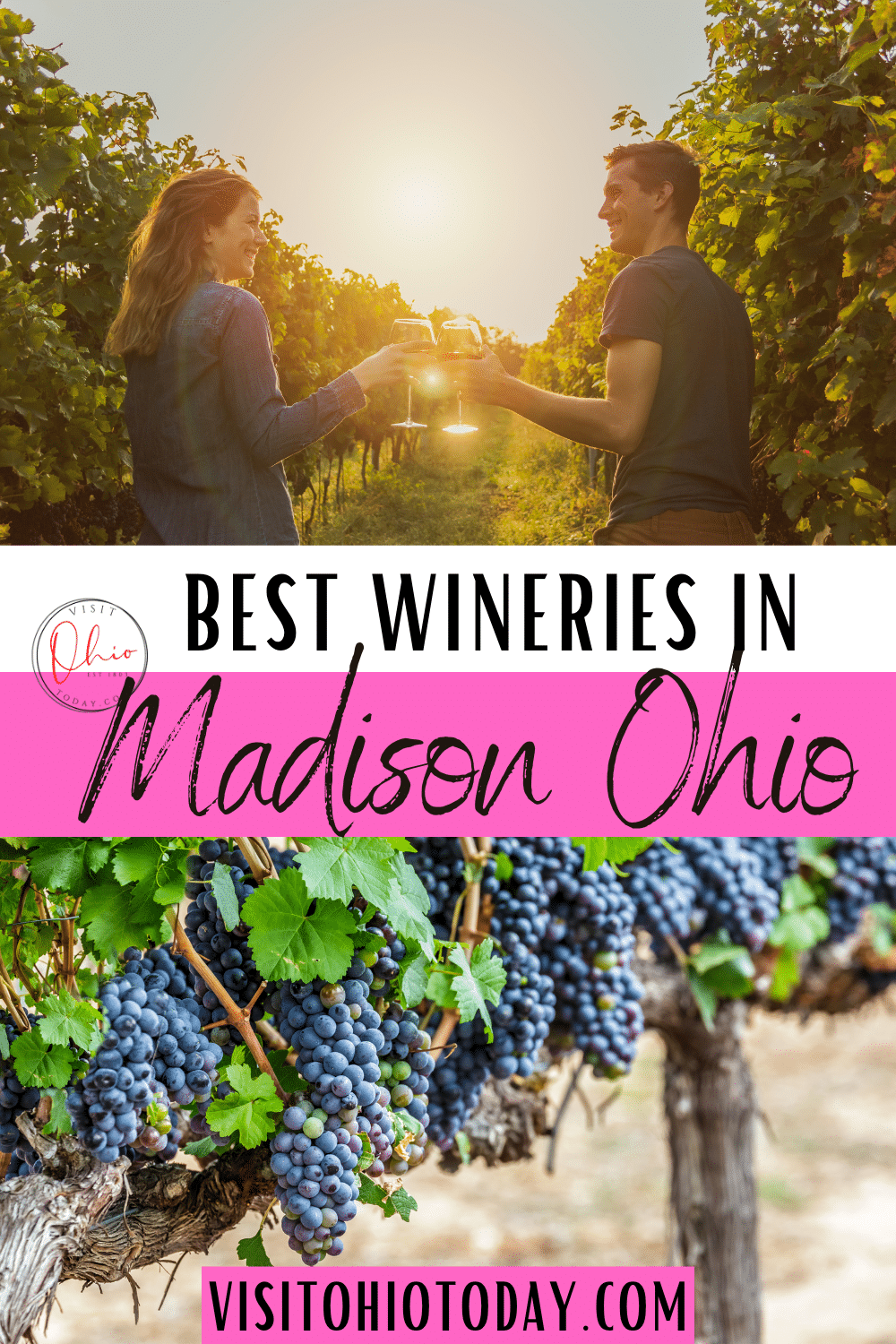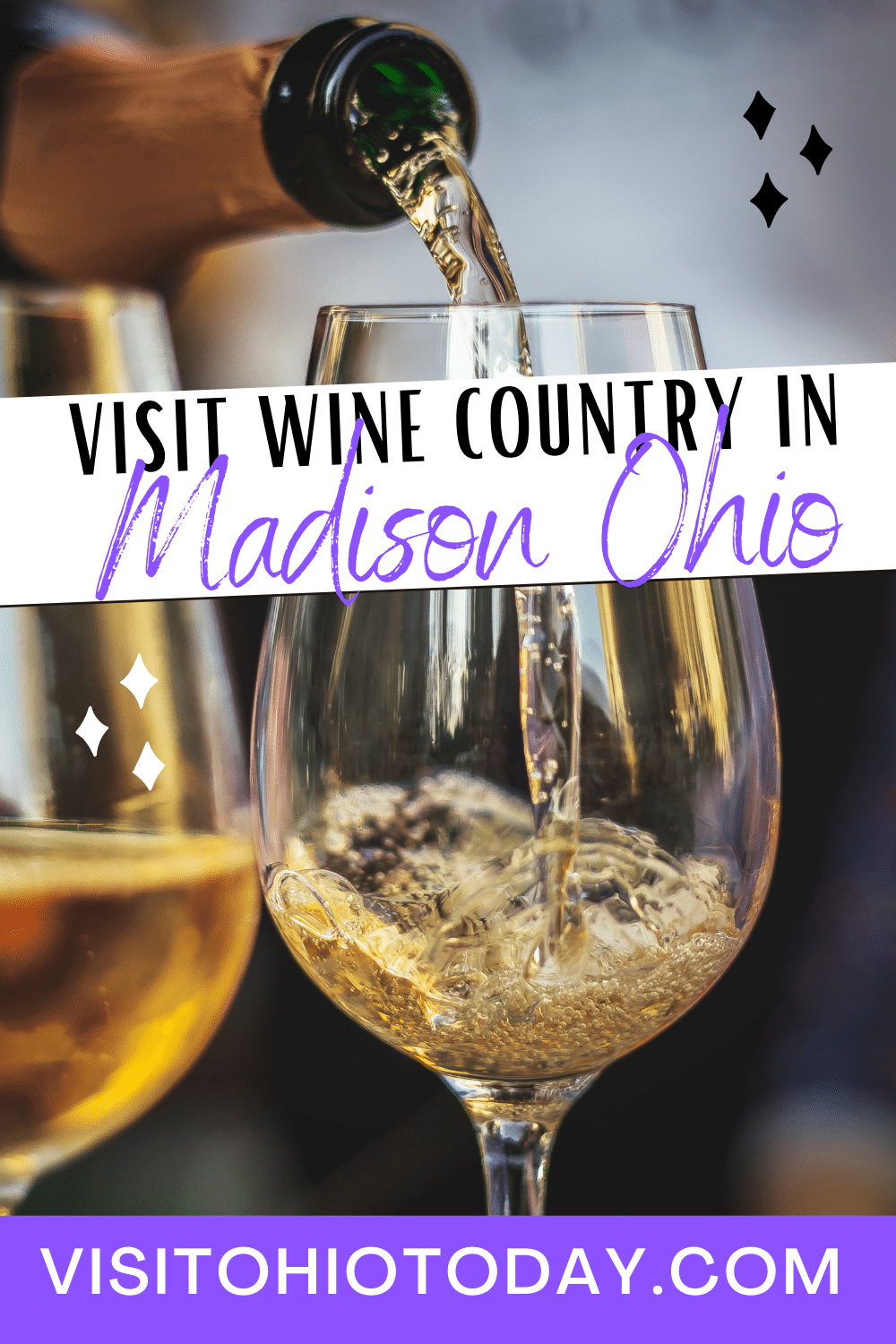 Last Updated on August 12, 2023 by Cindy
The Wineries in Madison Ohio are the perfect place to have a weekend of fun, food and great wine! There are plenty wineries in Madison Ohio to keep you entertained all weekend long!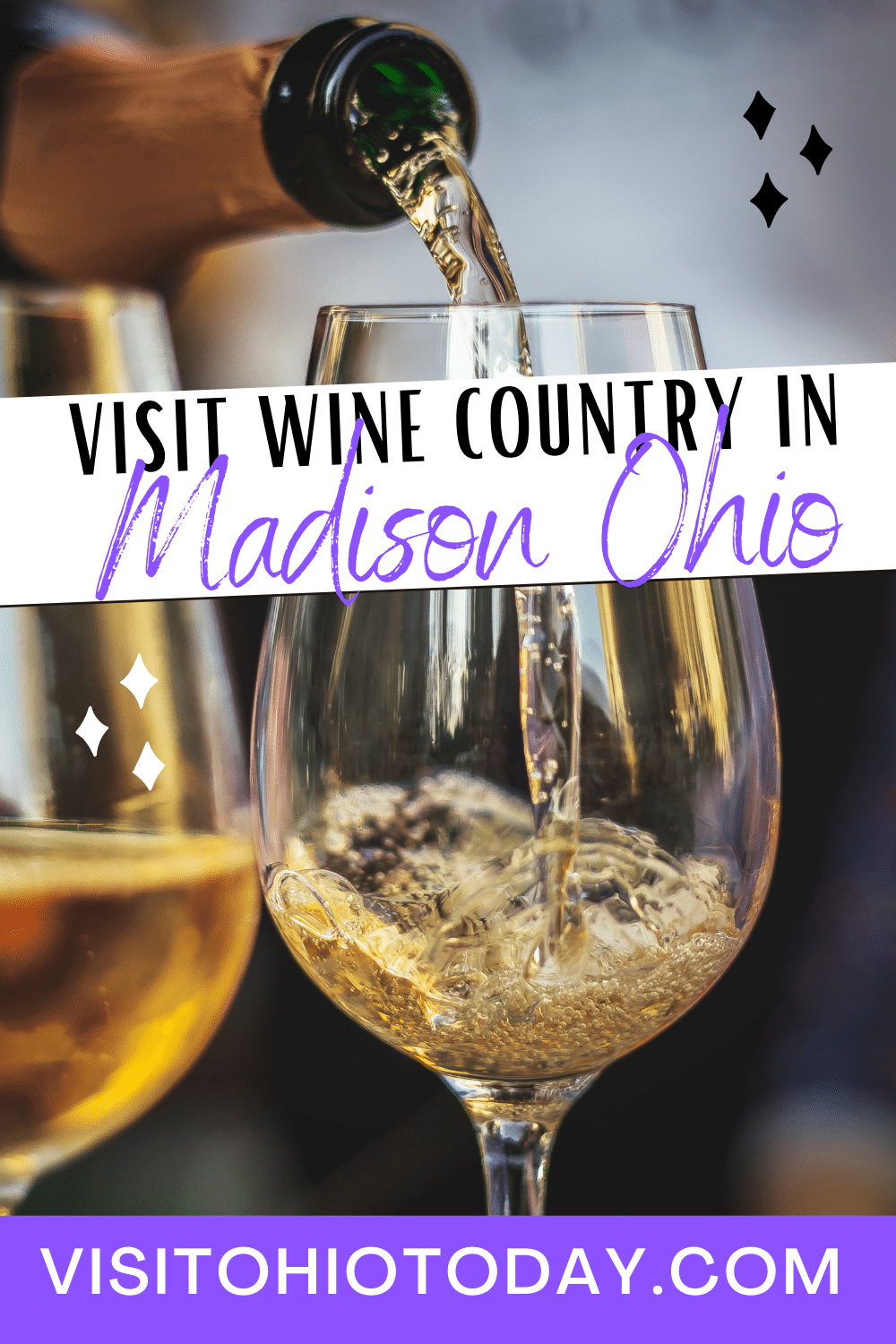 Let's visit some Wineries in Madison Ohio
Are you planning a visit to Madison Ohio? Specifically the wineries in Madison Ohio? Or maybe Geneva Ohio or simply Northeast Ohio? Well then you are in the right place! Madison is a fun town with beautiful scenery, fun attractions (Think Geneva-On-The-Lake) and amazing wineries!
Madison, Ohio is a village located in Lake County, Ohio (Northeastern Ohio). The village of Madison was incorporated as a village in 1867. The most recent census shows that there is a population of at least 3000+.
Madison Ohio is frequently visited because of the wineries in Madison Ohio and it is adjacent to the wineries in Geneva Ohio as well!
Did you know that Ohio is among the top 10 wine-producing states in the United States? The wineries in Madison Ohio produce a great variety of wines, but are best known for their ice wines! Ice wine is a type of dessert wine that is made from grapes that have been frozen while still on the vine.
It is the variety of wine that is produced by the Wineries in Madison Ohio that is the draw. The wineries in Madison Ohio produce everything from red, white, blush, ice wine, sweet and dry wines! You name it, it is more than likely made here. Visitors who enjoy sweet wine, seem to really enjoy the fruit flavored wines found here.
If you are ready to sip your way across the Grand River Valley, read on!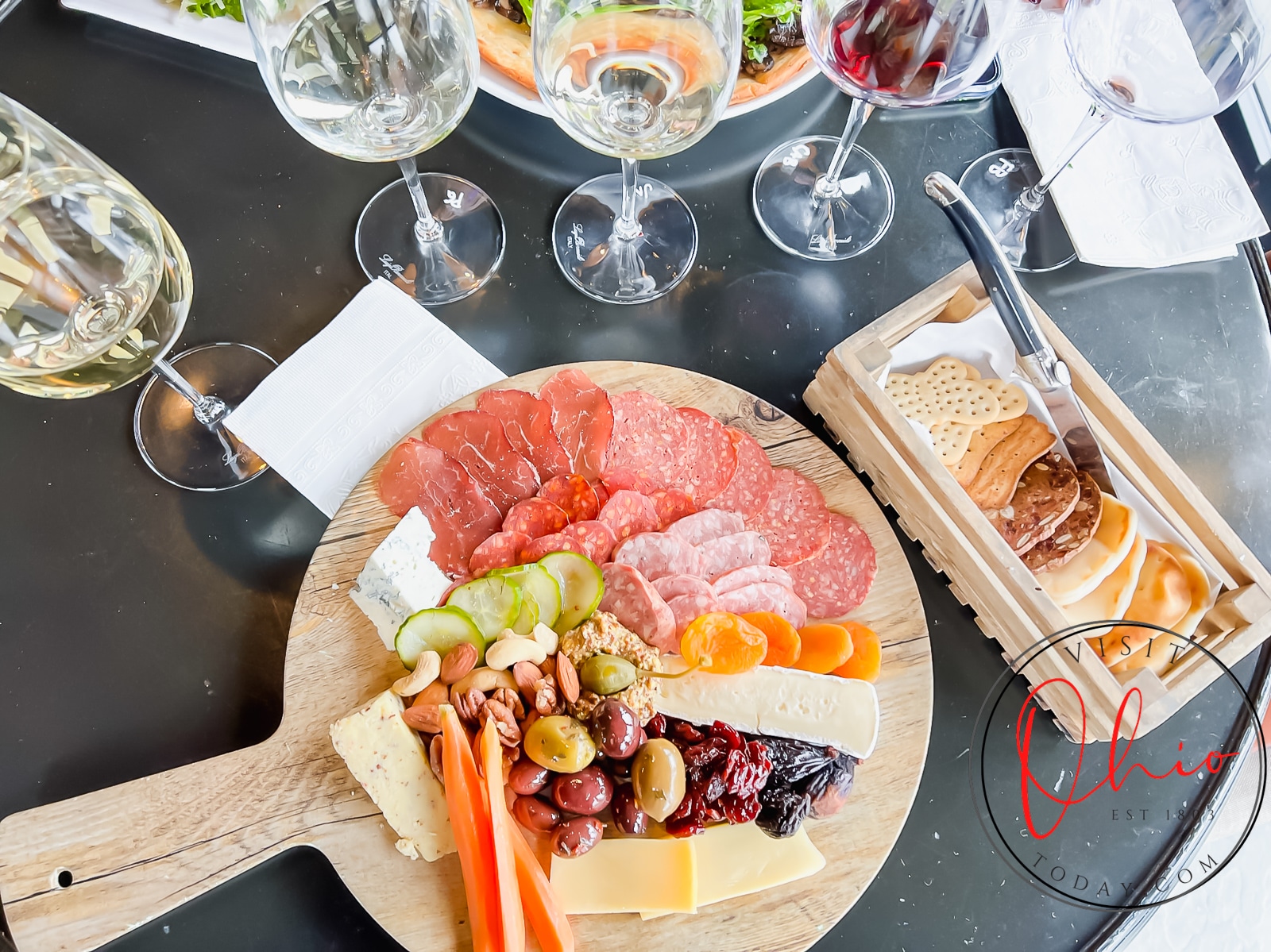 Wineries in Madison Ohio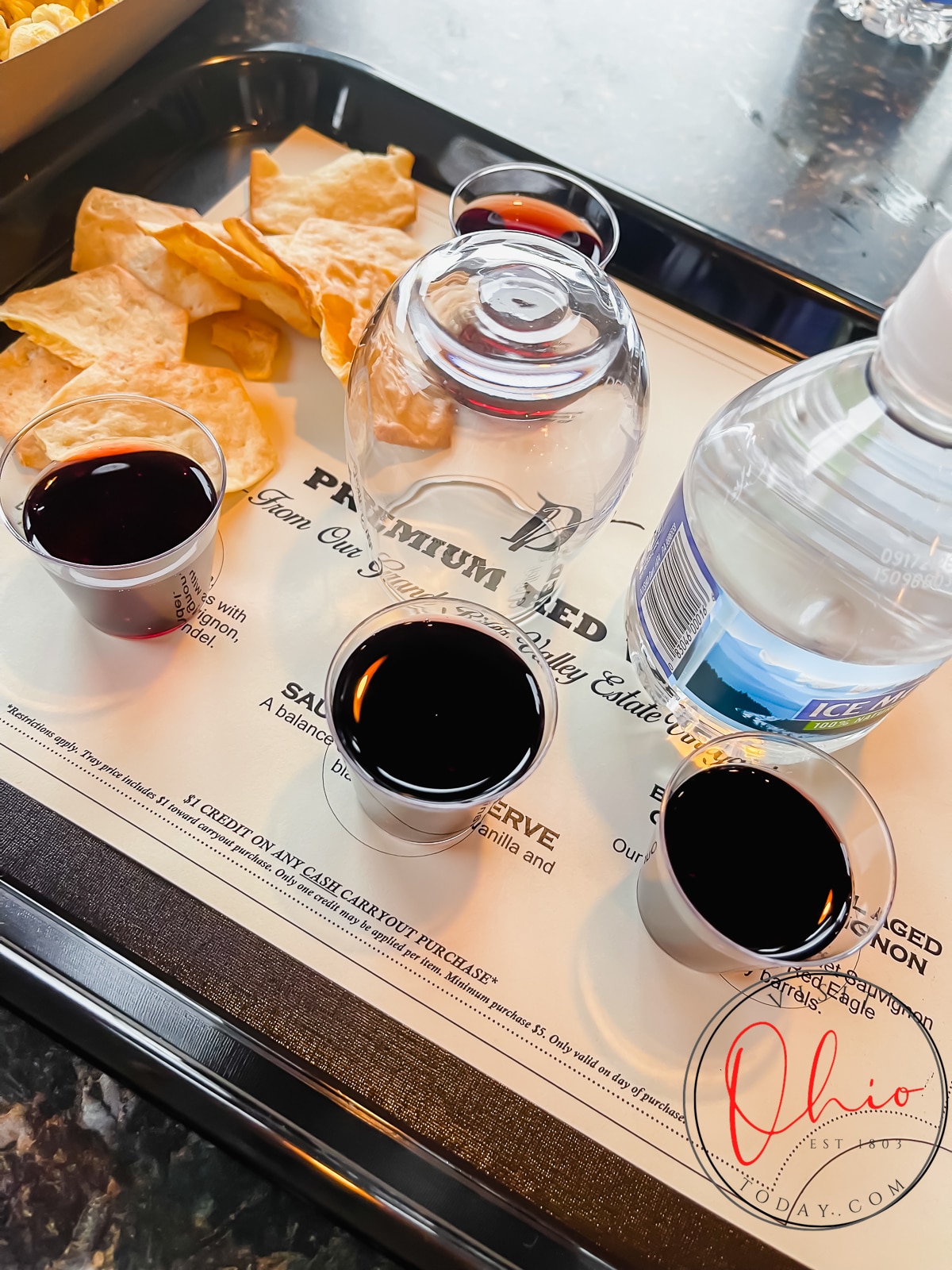 Wineries in Ohio
If you are looking for more wineries in Ohio, we have got you covered. Below is our comprehensive map of wineries in Ohio! If you do not see your favorite on the list, send us an email at team (at) visitohiotoday (dot) com If you want to level up your wine tasting knowledge, we recommend you read this book.
Grand River Valley
The Grand River Valley located in northeastern Ohio, previously covered by glaciers, now grows over 50% of Ohio's grapes and is the home of over 30 wineries. The micro-climate of the area is prime for grape growing due to the extended growing season. Many of the wineries offer events 12-months a year including tasting trails, live music, or pairing classes.
Winegrowers of the Grand River Valley
The Winegrowers of the Grand River Valley are a collaboration of Ferrante Winery and Ristorante, Debonne Vineyards, Grand River Cellars Vineyard and Restaurant, Laurello Vineyards, and Cask 307 whose mission it is to education the local wine consumer on wines from the Grand River Valley. This group of wineries frequently put wine trails together where wine lovers visit each of the six wineries and they receive a wine tasting that is perfectly paired with some sort of food. Go to the WineGrowers of the Grand River Valley website for the current calendar of events.
The Valley Wine Group
Debonne Vineyards, Grand River Cellars, Cask 307, South River Vineyards, Blue Dog, and Double Wing Brewing Company are all part of the Valley Wine Group. Wine, beer, and gourmet treats from the Grand River Valley area are available for order at one website to Lake, Geauga, Ashtabula, Cuyahoga, Medina, and Summit Counties. A $50 minimum order is required and is delivered for $5 (or free if you order over $150 in beer, wine, and treats).
How to taste wine
There are so many ways to taste wine, today we are sharing our simple beginner tips for how to taste wine. First, look at the wine. Note how the light may filter through the wine. Second, smell the wine. Are there any aromas you can pinpoint? Third, swirl the glass, then sniff again. Did any new aromas appear? Fourth, take a sip of the wine. Note how the wine feels in your mouth and how it tastes. Does the wine dry a certain part of your mouth, does it have an initial taste? Fifth and our final step is to swallow the wine and note if there is an aftertaste. Those are the basic beginner steps to taste wine.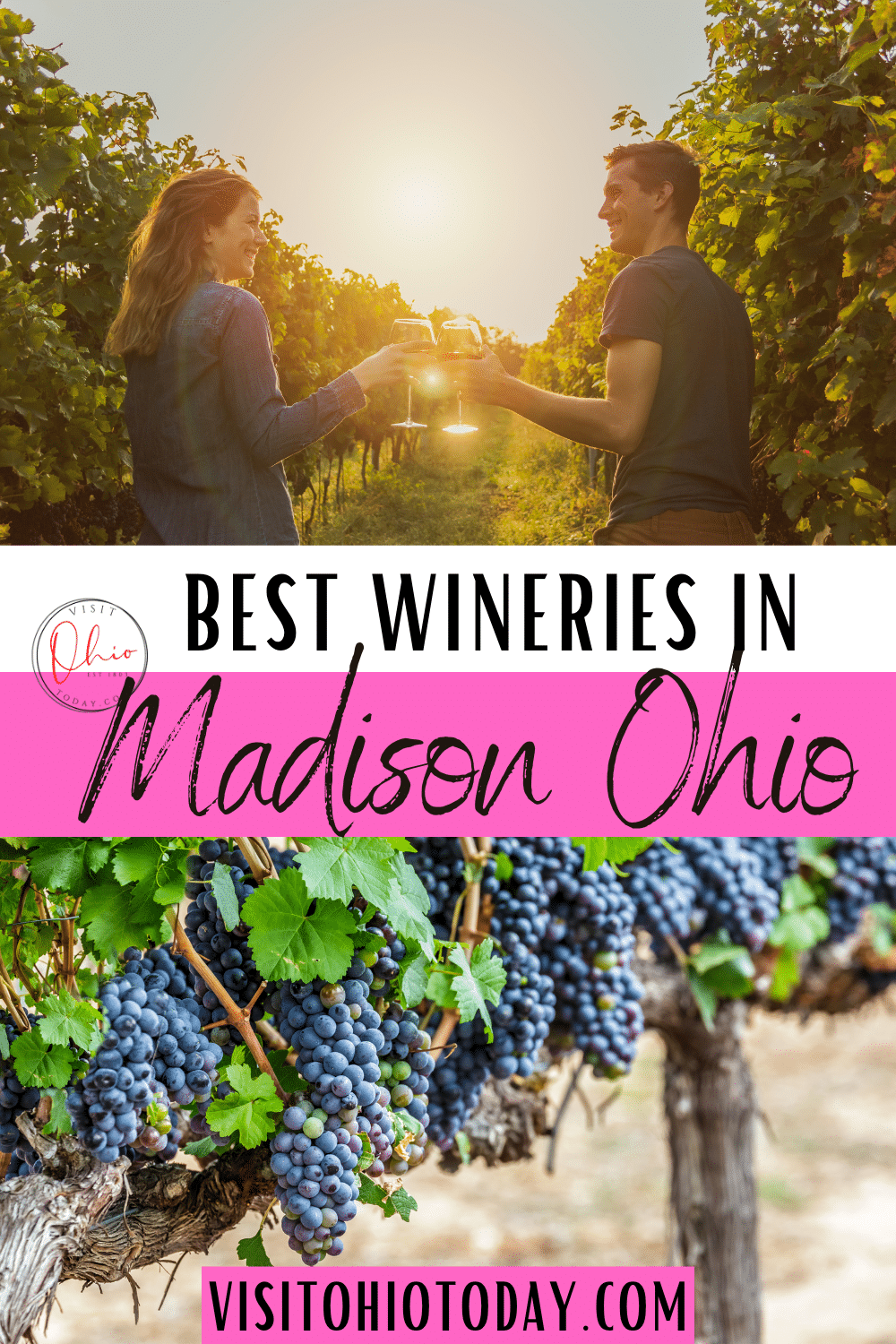 Tips for Wineries in Madison Ohio
With the current world situation, remember that many places of business including many wineries in Madison Ohio are taking extra precautionary measures. When it comes to visiting the wineries in Madison Ohio be sure to:
Check the hours. Hours of operation may vary during this time. Check their websites or social media for specifics on when they are open.
Visit during off peak times. After checking the hours/days of open operation, plan your visit for a week day when it will be less crowded.
Bring a mask. We have visited many of the wineries listed above before and during this time. It was mixed on whether masks were needed. It truly depended on the place. So be prepared and bring one. Many places will require masks unless actively eating or drinking.
Be responsible. That goes without saying, you are an adult if you visit and partake at the wineries in Madison Ohio. Be sure to be responsible. There are wine limos available if you plan ahead.
Lodging When Visiting Wineries in Madison Ohio
There are lots of housing options in and around Madison Ohio. You can opt to stay at the Lodge, a bed and breakfast, hotels, cottage rentals, campgrounds, airbnbs and vrbo options.
You can also stay at the Lakehouse Inn. We have visited the winery here several times and the spa but haven't stayed overnight here. We do plan to at some point. The Lakehouse Inn offers Inn Rooms, Cottages and a Beach House. We are excited to see that during the Winter of 2021 into 2022 some of the Inn rooms are under construction and updating. Adjacent to the bed and breakfast building you will find the three cottages that are available to rent. Each cottage has two bedrooms, bathroom, mini kitchenette and a stone patio. The Lakehouse Inn also offers rental of their Beach House. This is perfect for honeymoons or romantic getaways.
If AirBnb or VRBO's are more your speed, I would suggest you check out this rental in Geneva. We have not stayed there but we did stay at their other property in nearby Madison Ohio. Looking for a space to spread out? We highly recommend this rental (VOT Verified) in Madison, Ohio. It was clean and the hosts were perfect!
Another favorite and VOT Verified Property you could stay at while visiting the Wineries in Geneva Ohio is Laurello Premium Vacation Rentals. Name sound familiar? Yes, it's the same as Laurello Winery! They have three properties located at the heart of the Grand River Valley wine region, which is perfect for staying overnight for a wine weekend! They also have four properties located within walking distance to the strip at Geneva On The Lake.
We have personally stayed at a rental right next door to Laurello Winery. It was a nice sized house and fit three couples well. You can't beat the location! To find out more about the rentals, visit here.
There is The Lodge at Geneva on the Lake. This is VOT Verified, though we do not have the post completed for this. We have stayed at the lodge twice and the cottages at the lodge once. To say, we were NOT impressed with the service and accommodations for the price would be an understatement. We will be writing a post about our experiences. At this point we would not recommend it.
Have You Been to Any Wineries in Madison Ohio?
We are working to create a comprehensive list of the Ohio wineries, tasting rooms and vineyards local to Ohio! Honestly, our great state has so much to offer when it comes to wine!
If you want to follow along in real time when we visit Ohio Wineries be sure to follow our Visit Ohio Today instagram! If you want to catch up on all the Ohio Wineries that we have already visited you can view them under our Visit Ohio Today "Winery" highlights, here.
You can also visit our "Ohio Wineries" category on our site, to see full write ups of all the Ohio Wineries we have visited so far! Here is our list of the best Wineries In Geneva Ohio!
We would LOVE to hear what Wineries in Madison Ohio you have been too! Drop us a comment below and let us know!