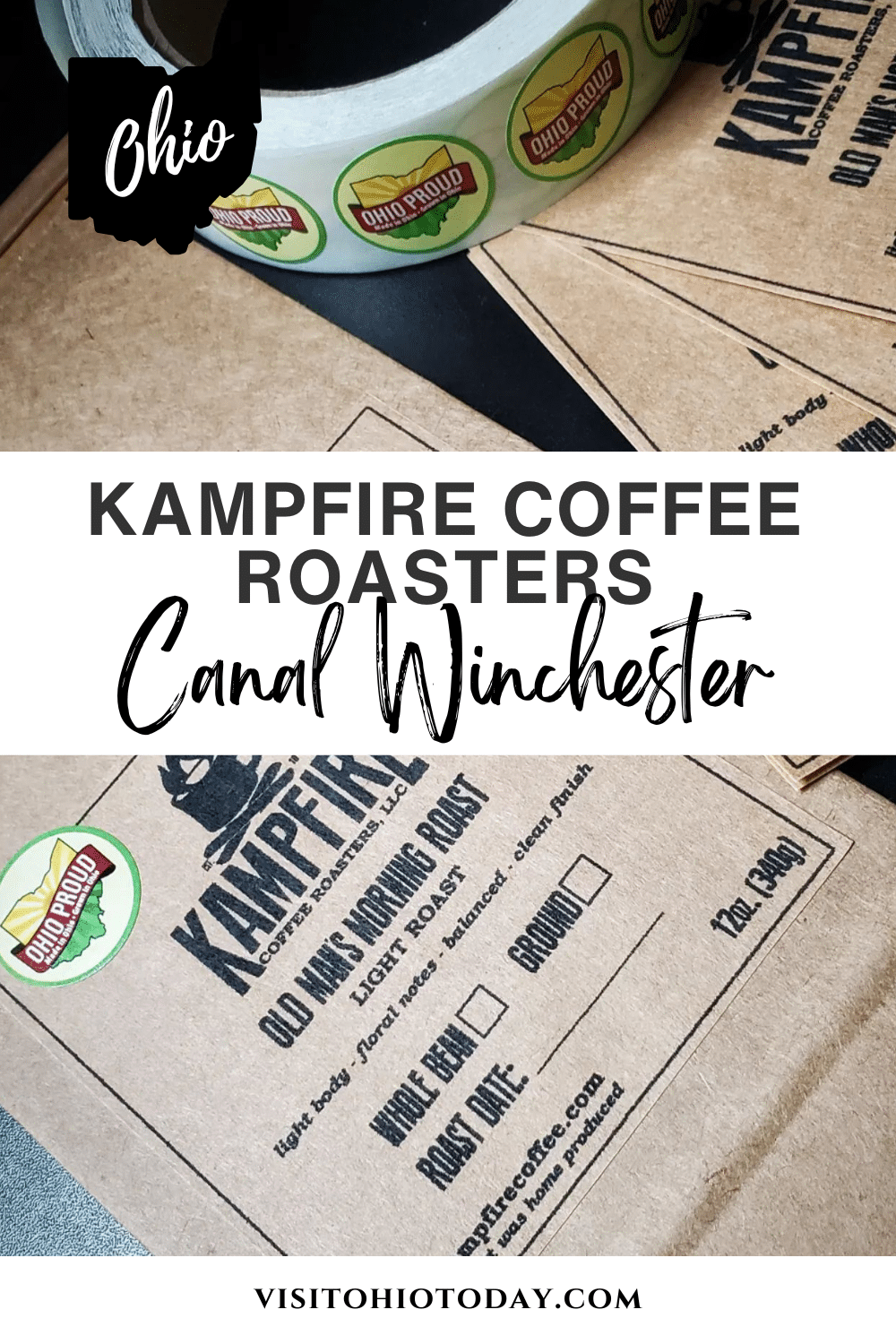 Kampfire Coffee Roasters is a home-roasting company, owned and run by Jesse Mohler, currently operating out of Canal Winchester.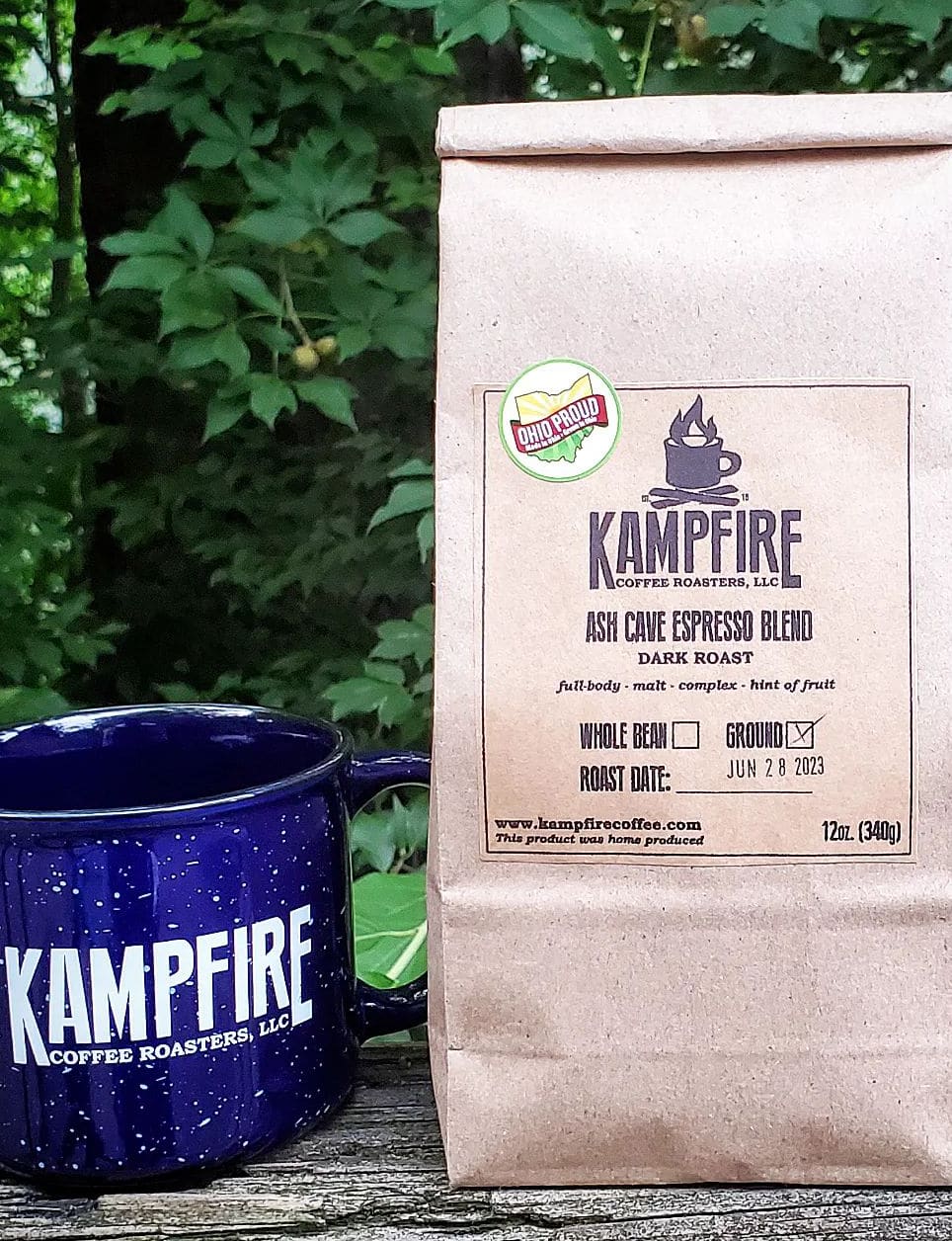 Image courtesy of Kampfire Coffee Roasters, LLC
Kampfire Coffee provides premium, hand-roasted coffee, sourcing high-quality coffee beans from around the world.
The packaging is purposely very minimalistic in design, using eco-friendly materials made from recycled products that will easily biodegrade.
As Jesse does most of the roasting and packaging by hand, the quality is closely monitored, and all green beans are roasted to perfection. The blends are available as whole bean or custom ground to your requirements.
All the packaging, logo design, website design, label printing, shipping, and social media is done by Jesse, so with a day job as a graphic designer, you can imagine what a busy life he has!
Kampfire Coffee is available at six retail locations in central/southeast Ohio. Those locations are:
Das Kaffeehaus – Lithopolis
Humble Crate Artisan Marketplace – Pickerington
Hocking Hills Outdoors – Logan
Hocking Hills KOA Holiday General Store – Logan
Fox + Mulberry – Baltimore
Lancaster Greenhouse
Kampfire Coffee is also available to purchase online. Some of the names of the blends are associated with Hocking Hills, such as Hocking River Medium Roast, Old Man's Morning Roast, Ash Cave Espresso Blend, and Konkle's Hollow Cold Brew Blend. There is also merchandise for sale, including Kampfire Mugs, T-Shirt, and hats.
Jesse works on the principle of 'leave no trace', and has the mission statement "No Fluff; No Frills. Just Great Coffee".
Watch out for Kampfire Coffee – we have no doubt that their products will soon be on the shelves of many more retail outlets!
Kampfire Coffee Roasters Contact Details
Images courtesy of Kampfire Coffee Roasters LLC
More Food and Beverages in Ohio
If you are in the Hocking Hills area, you might like to stop by the Hocking Hills Diner, or in Franklin County, Cap City Dublin serves great food and has a good gluten-free selection. Also in Dublin, Sweetwaters Coffee and Tea is a great place to grab a drink from their extensive menu!
Check out more small businesses in Ohio - The Boot Shop Outlet Hocking Hills, The Pearl Dublin, Gluten-Free from The Dipped, Lofts Coffee Company and Roastery, Yutzy's Farm Market, and Cork and Tap Excursions
🚨 Attention Ohio small business owners! Want to showcase your business on our site? We'd love to feature you! Connect with us today by sending an email to team@visitohiotoday.com. Don't miss this opportunity to gain more visibility and reach a wider audience.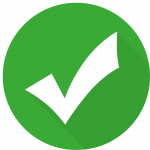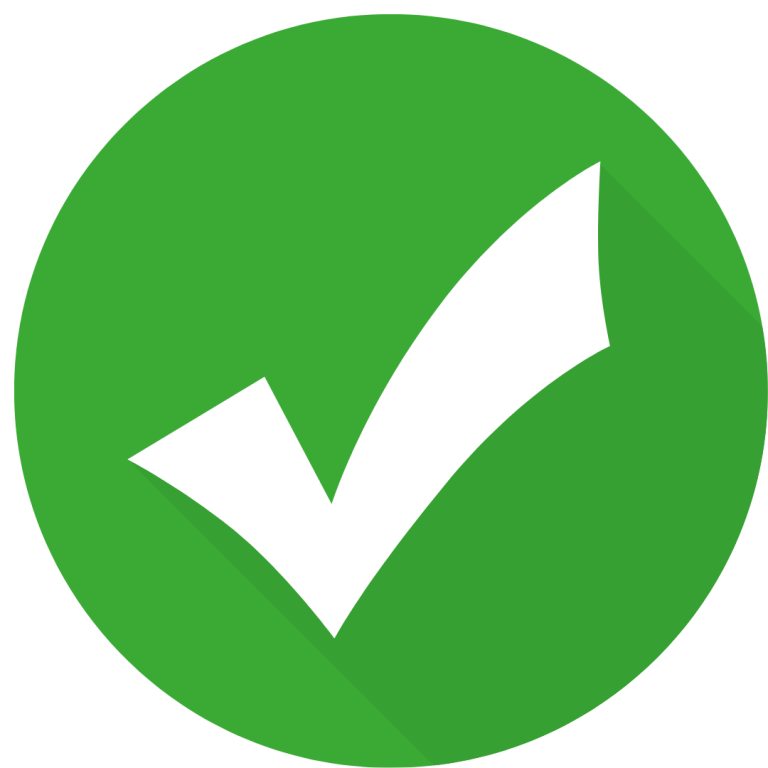 Hello! We have done our very best to ensure that the accuracy of events, hours, addresses, etc are up to date. Please know that information can change due to weather, updated health and safety challenges, etc. If you find incorrect information, please send us an email and we can get it updated.
To be updated and stay connected, subscribe to our newsletter.